This site uses affiliate links and we may earn a small commission when you use our links and make a purchase without incurring additional fee yourself. Many thanks for supporting this website. Please see our disclosure page for more details.
Winter in Banff National Park can mean a great deal of snow, but don't let the cold put you off. Even if you're not into skiing or snowboarding, winter holidays to Banff can be a ton of fun!
Wondering what to do in Banff in winter? We've put together a comprehensive guide to help non-skiers to plan a perfect winter itinerary for Banff. Read on to discover everything you need to know in our Banff travel guide, from must-see Banff attractions to festivals you just can't afford to miss!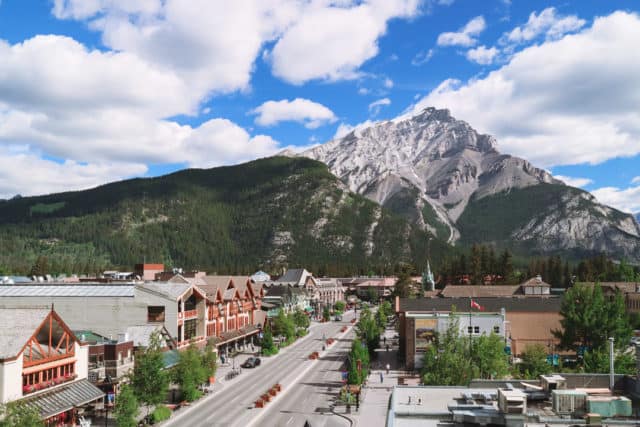 Where is Banff National Park?
If this is your first time to Banff, these are important things to know:
Banff National Park is located in Alberta, Canada and it is a part of the Canadian Rockies
To get to Banff, the closest airport to fly into is Calgary International Airport (YYC), as seen in the map below. From Calgary International Airport, the Trans-Canada Highway will take you straight to Banff National Park. The drive is about 90 mins (144 km).
You will need to purchase a Parks Canada Pass to enter Banff National Park. (These dollars are used to help Parks Canada create, maintain and restore the national parks.)
Day Passes (aka admissions) are available in-person at Parks Canada's park gates. Tell the staff how many days you are visting and they will calculate your
admission fee
. The other option is to purchase your pass online in advance (click
here
).
Lake Louise is a popular destination many visitors desire to visit. Please note that Lake Louise is 40 mins (58km) away from the town of Banff so make sure to leave yourself enough time to make the trip.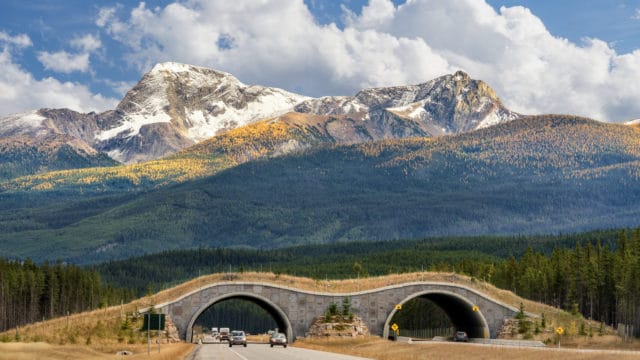 Best Time to Visit Banff National Park
Banff is beautiful all year round, no matter what season it is. Each season offers something special.

While there is no bad time to visit Banff, the peak season is from June to mid-September when the weather is warmer.

If you want to avoid the crowd, we would recommend visiting during the shoulder seasons: from late September through mid-December, and from late March to early June. This is when the park is quieter and the accommodations are much cheaper. (Take Fairmont Chateau Lake Louise for example, the summer room price can go as steep as $950 per night. In late November, you can find one for only $280 per night!)

[irp posts="10896″ name="8 Best Places To Spend Christmas In Canada For A Romantic Winter Escape"]

Even in winter, plenty of sightseeing and tours are available for outdoor enthusiasts. It's magical to see Banff transform into an enchanting winter wonderland of frozen waterfalls, picturesque villages, and snow-laden forests. It looks like straight out of a fairy tale!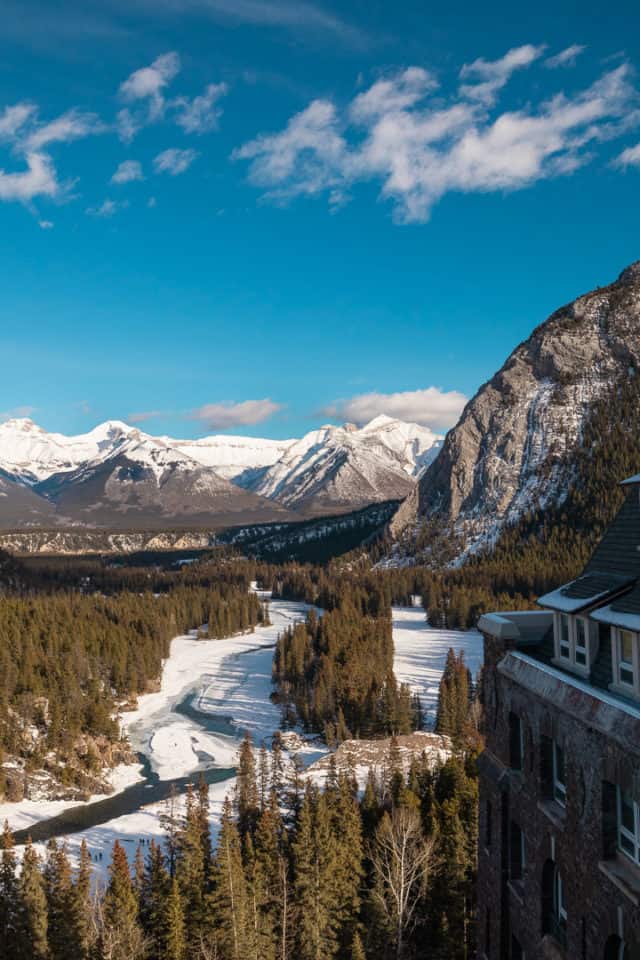 Top Banff Winter Activities – For People Who Don't Ski or Snowboard
1| Skating
Up for some frosty fun? Take a spin on an ice skating rink!
Skating in Banff is more fun than you could imagine because you can take it outdoor and surround yourself with the gorgeous scenery.
Vermilion Lakes, Lake Minnewanka, Johnson Lake and Two Jack Lake are frozen over in the winter, making them the most picture perfect ice rinks in the area. Make sure you check the conditions are safe prior to skating!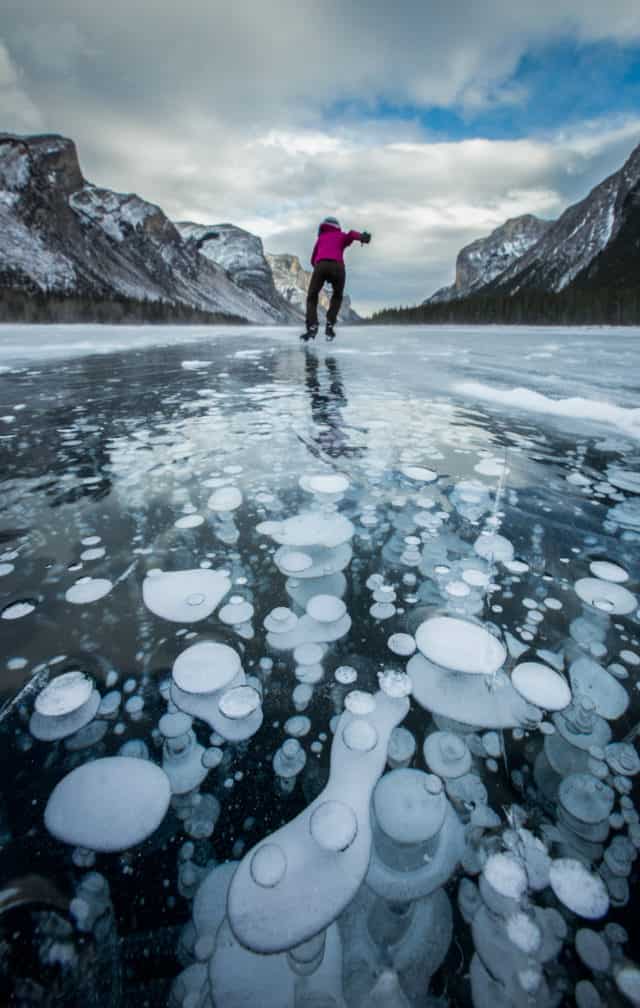 Many indoor and outdoor ice rinks are also maintained for your use. There's one easily accessible from downtown Banff at the Banff Community High School. If you prefer skating indoor, Fenlands Banff Recreation Centre ($6.5) is the place to go. Lake Louise ice skating can be done at the Sport and Recreation Centre, which has an outdoor rink for public use ($2). The castle-like hotels, Fairmont Banff Springs Hotel and Fairmont Chateau Lake Louise both have outdoor rinks onsite as well!
For skate rentals, see below at the Tips and Advice section.
2| Snow Tubing
If you're in for adrenaline-charged experiences, try snow tubing! It is one of the best things to do in Banff in winter. It's fun, fast, and exhilarating!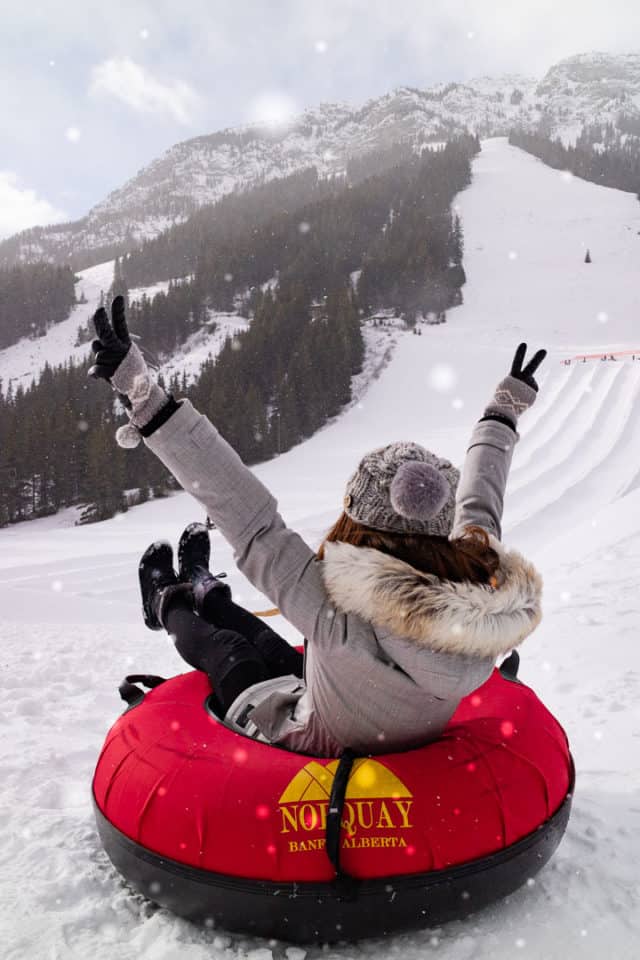 Mt Norquay tubing is a classic winter outdoor activity in Banff. It gets your adrenaline pumping as you speed down the slope. With 8 tubing lanes of varying height and speed, it is a great spot to enjoy the ultimate thrill!

Check Mt Norquay Ski Resort's website for hours and ticket prices. Note that the ski resort offers tubing + sightseeing packages. It also has extended hours on Fridays and Saturdays for those who'd like to go night tubing in Banff!

[irp posts="11358″ name="Canada Winter Vacation: What To Do In Jasper National Park When You Only Have 48 Hours"]
3| Soaking in Hot Springs
After a full day of activities, the perfect way to relax is to take a soak in a natural hot spring. Even just for a little while, it will help improve blood circulation and melt away muscle tension.
The best place to enjoy the soothing mineral waters is at Banff Upper Hot Springs. It is one of Banff's top attractions featuring a restored 1930s bathhouse. Coupled with the serene mountain views, it is a true winter oasis!
Remember to bring your own swimsuit and towel. Otherwise, rental is available.
Pro tip: Combine the hot springs with a trip to Banff's Cave and Basin. This National Historic Site is the lowest of the 9 natural hot springs on Sulphur Mountain. You can't swim in it, but it is a must see in Banff to learn about colorful plants and aquatic critters (like the endangered Banff Springs snail) that are exclusive to this area.
4| Sleigh Rides
There's no other experience like a horse-drawn sleigh rides through the sparkling snow-covered landscape. It is an iconic winter activity in Banff and Lake Louise.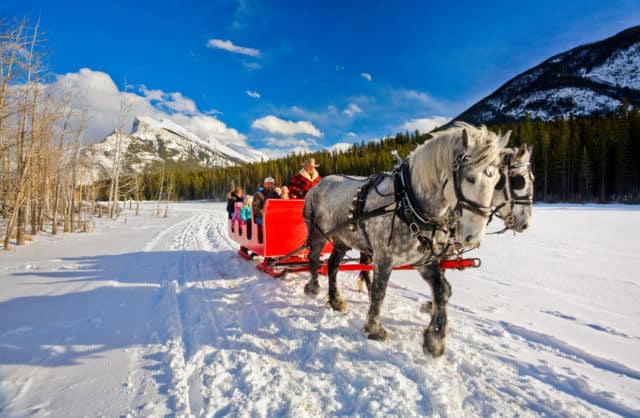 No matter how old you are, you will surely enjoy this special opportunity to take in the true beauty of the Canadian Rockies.
Winter sleigh ride tours can be booked via Banff Trail Riders. The tours are 45-min long and include a stable visit and campfire for hot chocolate and marshmallows.
Brewster Adventures is another great option. They offer winter sleigh rides in Lake Louise that will take you along the rail beneath Victoria Glacier. Rides are 45 to 60-min long, available during the day and evening.
5| Dogsledding
Try dog sledding in Banff and feel the excitement of gliding across snow-covered paths! It is a winter adventure you must not miss. The beautiful mountain scenery along the route makes it extra memorable.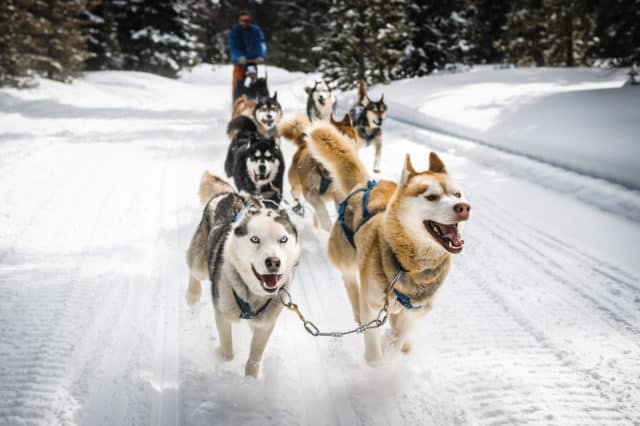 No experience is needed to enjoy dogsledding. Simply relax in the sled and take in the breathtaking views, or learn to drive the team alongside a professional tour conductor. It's your choice.
Kingmik offers half- and full-day tours for you to experience dog sledding in Lake Louise. Alternatively, you can book with Snowy Owl which is based in Canmore (a town just outside Banff). They have various tour options, including 2, 4, 8-hour and overnight excursions.
6| Snowshoeing
An easy winter sports to try is snowshoeing. It requires little to no experience and involves minimal equipment (equipment can be rented at ski shops).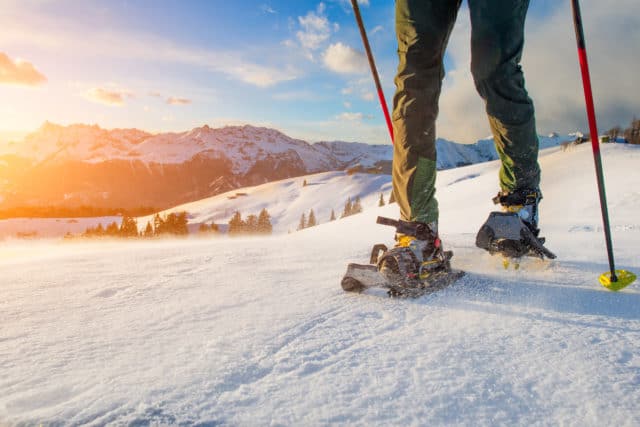 Just like hiking, you can go as fast or as slow as you want. It could be tiring at times, but we like the solitude and peace you can find in the experience. Not to mention the chance to take in the natural beauty of Banff in winter.
Here are some easy Banff winter hikes: Stewart Canyon (1.5 km, one way), Fenland Trail (2.1 loop), Marsh Loop (2.8 km loop), Johnson Lake (2.8 km loop).
Harder snowshoeing trails in Banff to try include: Hoodoos Viewpoint (2.3 km one way from Douglas Fir Resort, or 5.4 km one way from Surprise Corner parking lot), Tunnel Mountain Summit (2.4 km one way), and Ink Pots via Moose Meadows (5.3 km one way).
Stay safe: check avalanche forecast beforehand.
7| Canyon Ice Walks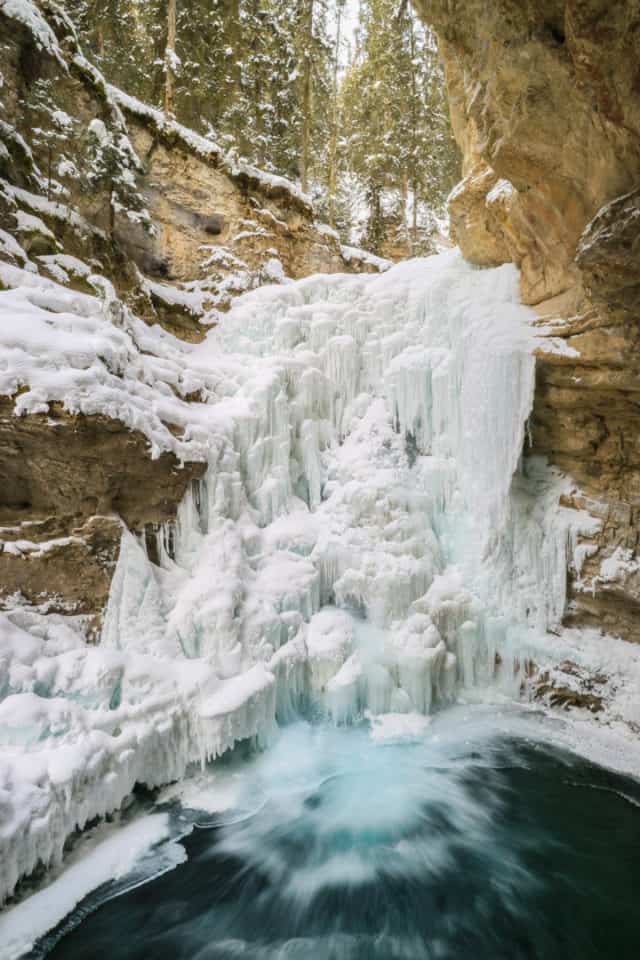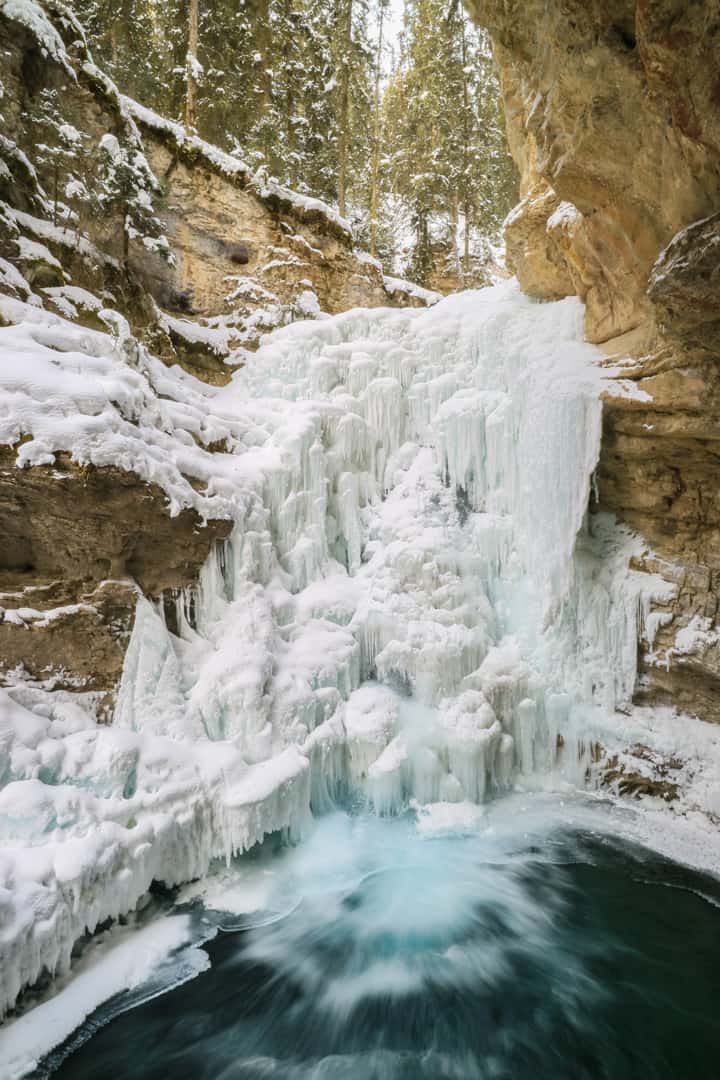 Imagine walking in a narrow gorge deep into a canyon, covered in snow and ice, to see frozen waterfalls. On the way, the cathedral of ice takes your breath away. That's ice walking – a magical winter activity you simply can't miss in Banff!

The most popular location to ice walk in Banff is at Johnston Canyon (5.4 km return, 3 hours). Both the lower falls cave and upper icefalls are spectacular and will make your jaw drop. The best part is you can explore the canyon after dark (make sure you bring a headlamp!).

[irp posts="11309″ name="Jasper In The Winter: 8 Tips To Make Your Maligne Canyon Hike A Memorable One"]
8| Banff Helicopter Tours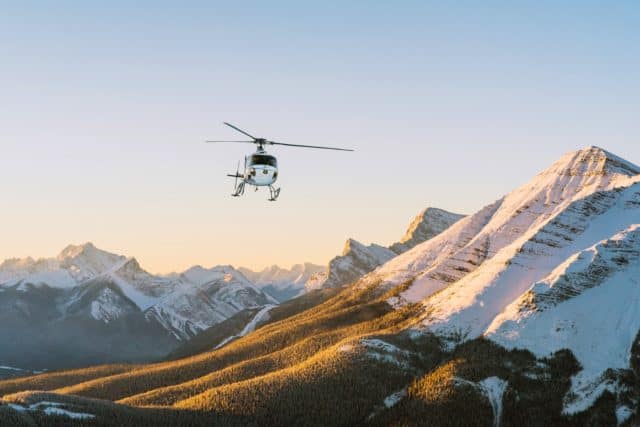 Want to get a unique visual experience of the stunning winter scenery of the Canadian Rocky Mountains? A helicopter tour might be well worth the investment.
Take a scenic flight tour high above the lakes, valleys and glaciers to get a perspective like no other!
Experience the beauty of Banff National Park with Rockies Heli Canada. Flight options vary in length from 20 to 55 minutes, and you can combine with a snowshoeing adventure. Alpine Helicopters also offers flights that bring you to discover the winter landscape of the Canadian Rockies.
9| Snowmobiling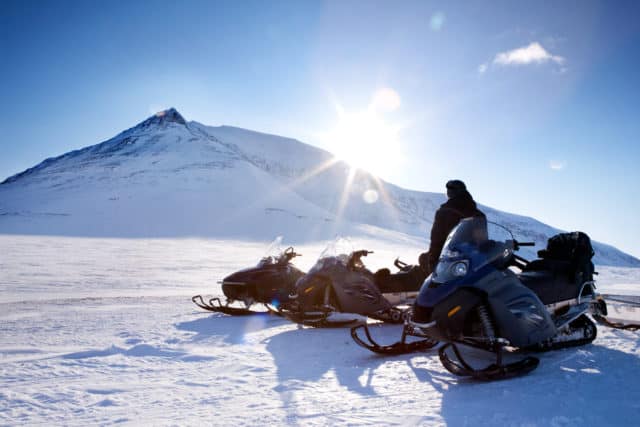 Are you in for some major excitement? Consider the thrilling adventure of snowmobiling! No experience required!
Combining speed, fun and exploration, snowmobiling is a fast way to cover plenty of ground and allows you to get to areas you normally won't be able to see. If you're interested in taking some epic wilderness photos, then this is a perfect option for you!
We'd recommend joining a guided snowmobile tour since the local operators know the trails the best. To book a Banff snowmobile tour, check out Toby Creek Adventures, Rocky Mountain Riders, and White 'n' Wild.
10| Ice Sculptures
Visiting Banff National Park in January? Join the annual SnowDays Festival for a true winter wonderland experience!
The 12-day long celebration highlights an impressive number of activities and events featuring all things ice – like ice climbing, skating, ice carving, curling, and snow sculptures!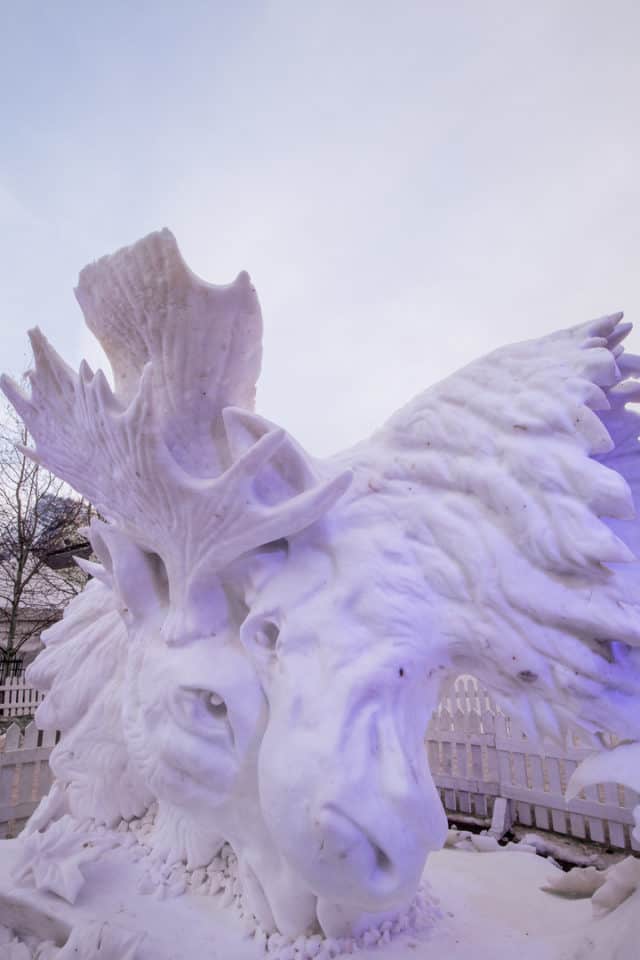 The key events you do not want to pass up include Ice Magic Festival (takes place in Lake Louise with opportunities to marvel at giant ice sculptures, drink at the ice bar and pretend to be Elsa at the iconic Lake Louise ice castle!) and International Snow Sculpture Competition (watching the world's best ice artists skillfully turn blocks of snow into creative art).
11| Wildlife Viewing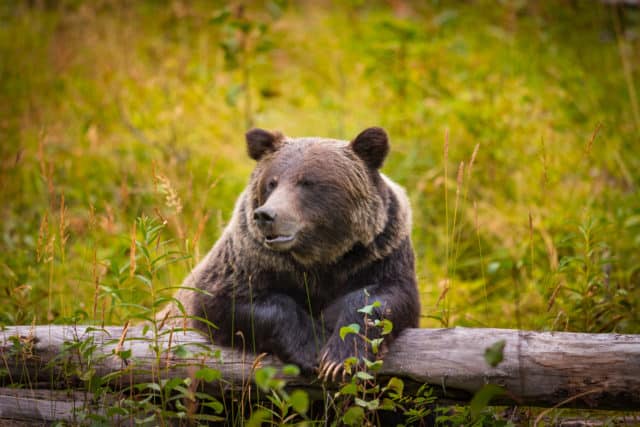 Even though animals are less active in winter, it is still possible to see them in the wild!
In Banff National Park, you can spot a variety of animals including elk, bighorn sheep, deer, grizzly bear, black bear, mountain goats, coyotes, wolves, moose and many more!
The best places to visit in Banff for wildlife viewing are Bow Valley Parkway (Highway 1A), Minnewanka Loop, Tunnel Mountain Drive, and Norquay Road. Go early morning or late afternoon as you have a higher chance of wildlife encounters.
Use responsible viewing practices: avoid harrassing wildlife, view from a distance with binoculars or telephoto lenses, and never feed wildlife.
Would like to see wildlife and do some Banff sightseeing at the same time? Why not join a wildlife watching tour? Let the local wildlife expert help you identify wildlife as you discover the highlights of Banff National Park! Check Discover Banff Tours for sightseeing options.
Drinking + Dining in Banff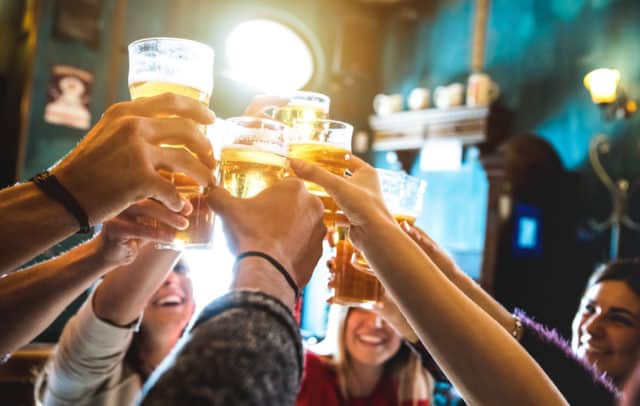 Banff Craft Beer Festival
In late November, Banff Craft Beer Festival (aka Banff Beer Fest) brings together beer lovers to sample Alberta's finest craft beers.
The event is set in the historic Cave and Basin featuring a wide variety of local craft beers from over 40 breweries as well as food from some of the best restaurants in Banff.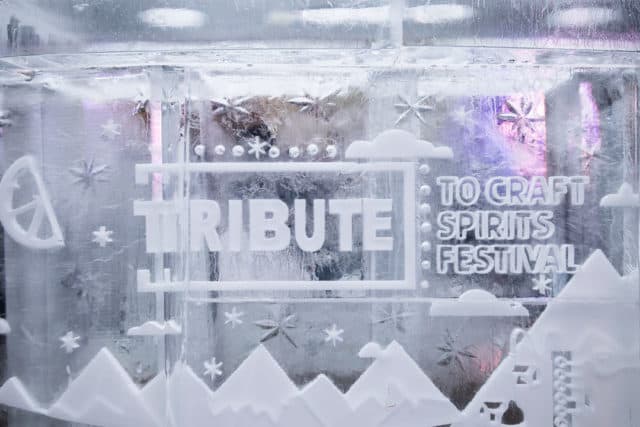 Tribute to Craft Spritis Festival
Newly added to Banff's SnowDays Festival's programme is the Tribute to Craft Spirits Festival. The 12-day celebration in January gives attendees the special opportunity to taste unique cocktails at selected Banff and Lake Louise restaurants and bars, featuring spirits from local craft distilleries.
Craft connoisseurs will not want to miss the two-day tasting event in downtown Banff to sample craft spirits, sip on cocktails and meet the distillers!
Distillery Tour
Wondering how spirits are made? Go behind the scenes with Park Distillery, the only distillery to operate in a national park!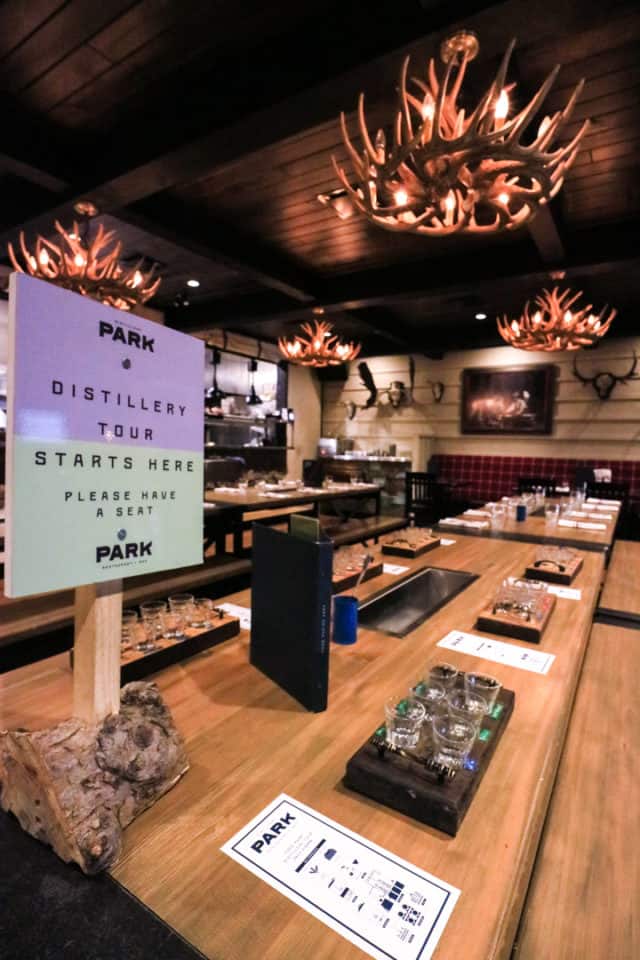 The free distillery tour runs daily at 3:30 pm. It guides you through the complete process of spirit production and introduces you to flavours unique to the brand. For those who are eager to sample something new, join in for a spirits tasting ($20) after the tour!
Where to Eat in Banff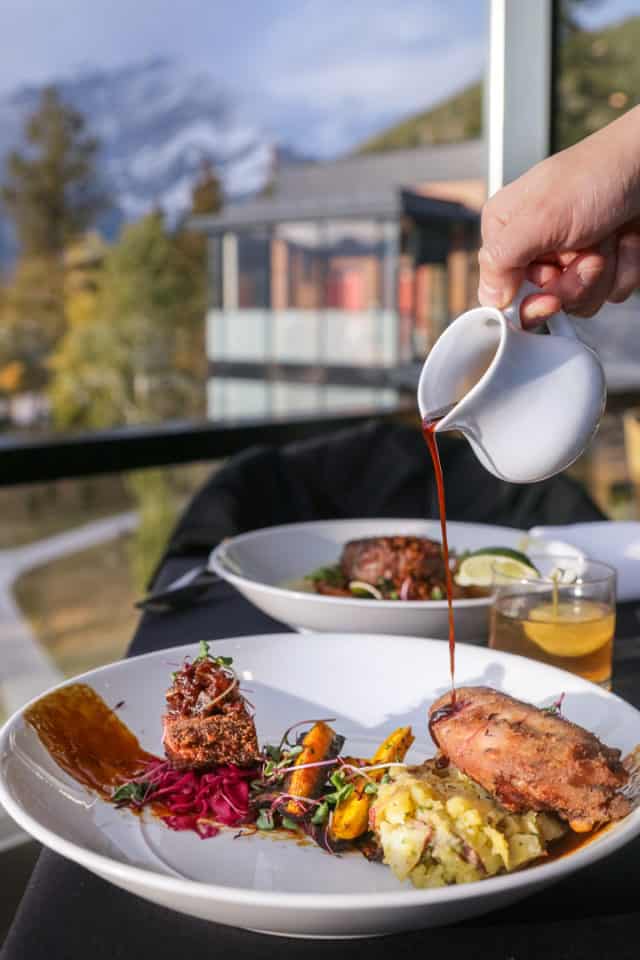 While Banff's dining options are abundant, only a few stands out. Here are our favourite Banff restaurants:
Three Ravens at Banff Centre: Our top pick for Banff restaurants with a view! The chefs present inventive cuisine using fresh, locally sourced ingredients. Dishes are beautifully plated. A perfect spot to bring a date!
Bison: one of the top restaurants in Banff for a good reason. The farm-to-table restaurant offers a unique dining experience by presenting what the region has to offer (their bison dishes are to die for!). Go for dinner for the best experience.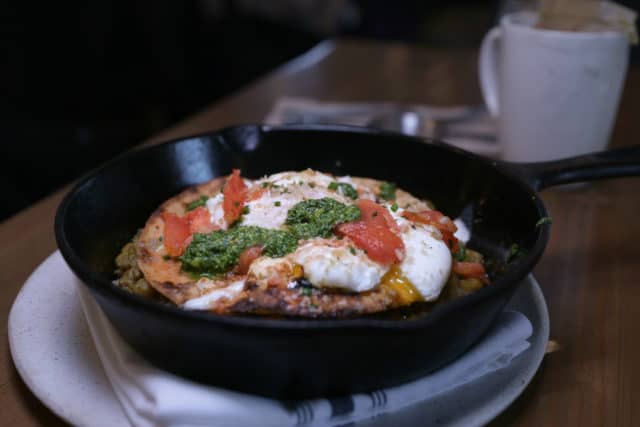 Juniper Bistro (inside the Juniper Hotel): hands down the best breakfast in Banff! The delicious dishes promise to tantalize your tastebuds and fuel you for a full-day of Banff activities. Must order: stuffed French toast.
Best Places to Stay in Banff
Mount Royal Hotel
Want to stay in the heart of Banff? Book a room at Mount Royal Hotel!
This newly renovated hotel is within easy walking distance to all downtown restaurants, bars, and attractions, perfect for those wanting to explore the area.
Best of all, Mount Royal Hotel is one of the few downtown Banff hotels with a pool on the rooftop (open year-round)! Overlooking the Tunnel mountain, it is a scenic spot to relax and unwind during a romantic getaway.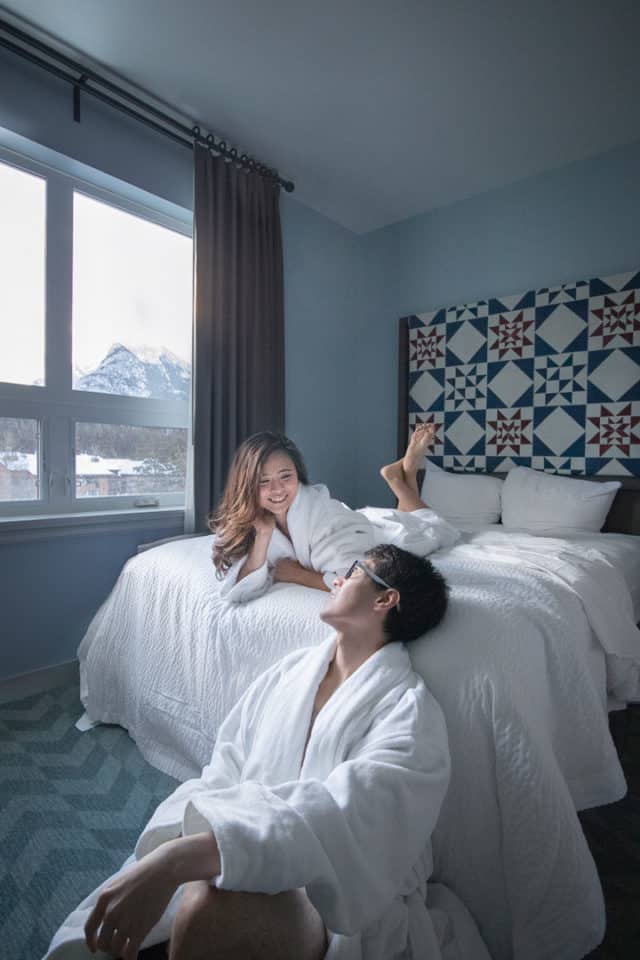 Buffalo Mountain Lodge
If you prefer a rustic feel, Buffalo Mountain Lodge is an excellent option. Situated on Tunnel Mountain, the hotel peacefully tucks away from the hustle and bustle of the world.
The cabin-style rooms come equipped with a wood burning stone fireplace and outdoor jacuzzi access. Seriously, there's no better place to experience the comfort of mountain lodge living!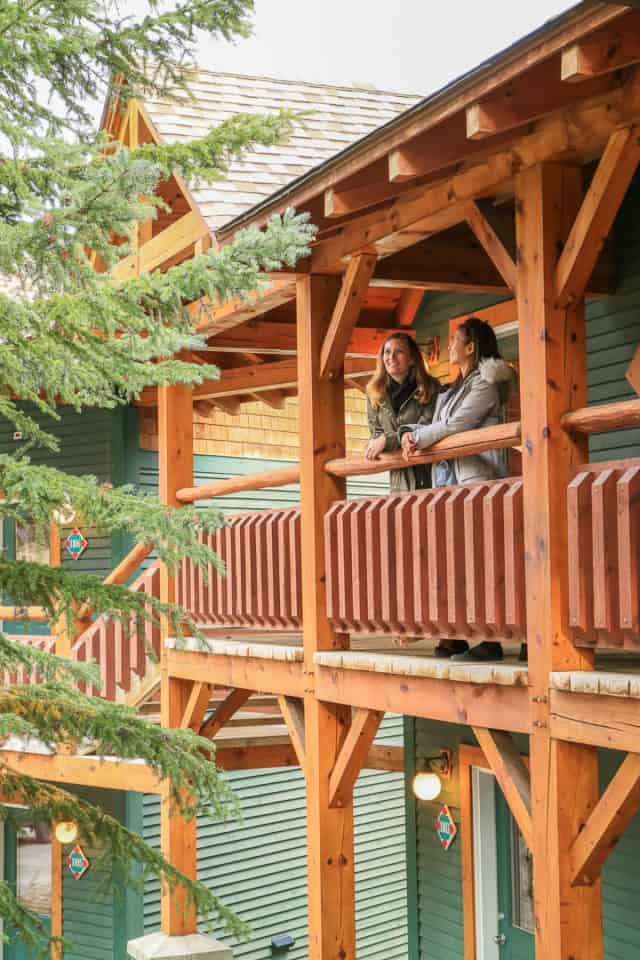 Fairmont Hotels
Let yourself be pampered by staying at one of the Fairmont Hotels. Styled to resemble a Scottish castle, Fairmont Banff Springs exudes timeless elegance and luxury. Even if you don't stay there, eating there will make you feel like a royalty.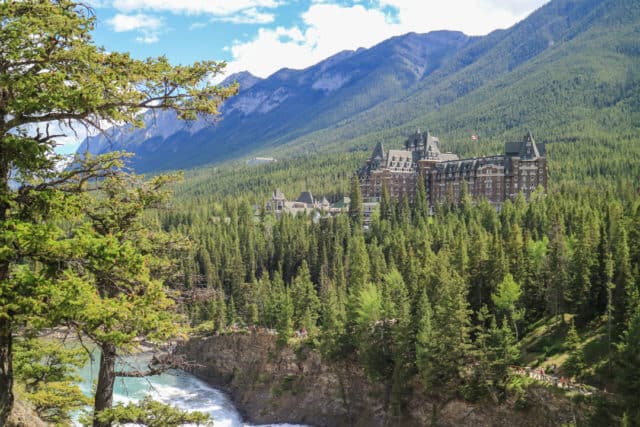 Fairmont Chateau Lake Louise is a world-renown iconic hotel sits majestically on the shores of Lake Louise. It is a beautiful setting for a true wilderness escape.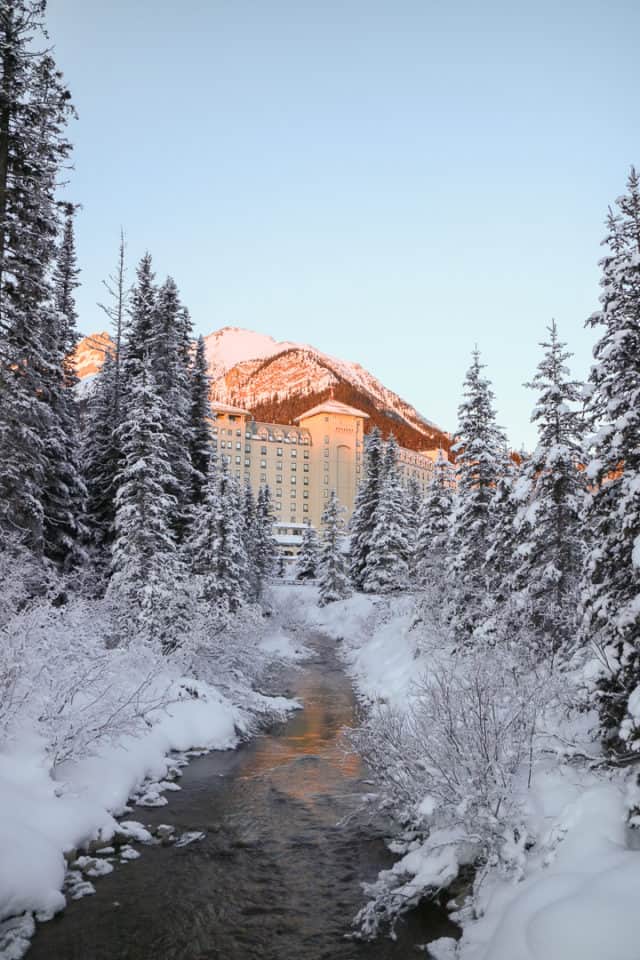 Tips and Advice
How to Get to Banff
Rent a car: we highly recommend renting your own car so that you can easily move between places. The easiest option is to reserve a car rental at Calgary International Airport.
Take transit: Banff Airporter and Brewster Express make frequent daily departures from Calgary International Airport.
Getting Around Banff
Driving: car rental services are available in Banff National Park. Avis, Budget, Enterprise and Hertz have rental locations in Banff. Lake Louise is served by National.
Make sure you have a valid Parks Pass displayed on the left side of your vehicle dashboard.
Bus: the public transit "Roam" connects Canmore, Banff and Lake Louise. Check their website for schedules and routes.
Hotel shuttles: many hotels provide a shuttle to the ski areas in the winter. Check the ski resort website or with your hotel for details.
Taxi: operates 24/7. you can hail a taxi along a road or ask your hotel to call one for you.
From Banff to Lake Louise
Roam Transit: route 8 runs frequently every day between Banff and Lake Louise.
What to Pack
Warm clothings: dress in layers (a good base layer + a warm, mid-layer + a shell layer). For example:

thermal underwear (top + bottom)
fleece jacket as an insulating mid-layer
waterproff & windproof shell jacket
snow pants

Sunglasses
Gloves
Beanie
Scarf
Earmuff
Wool socks
Snow boots
Sunscreen
Heat packs
Backpack
Camera
Equipment Rentals
For skate or ski rentals in Banff, check out Banff Adventures, Chateau Mountain Sports (inside Fairmont Banff Springs Hotel), Snowtips-Bactrax, and Fenlands Recreation Centre (for onsite use only).
In Lake Louise, you can rent gears at Wilson Mountain Sports and Chateau Mountain Sports (inside Fairmont Chateau Lake Louise).
Other Destinations in the Canadian Rockies
Have a few extra days in the Canadian Rockies? We would recommend explore other areas, such as Columbia Icefield, Jasper National Park, Yoho National Park, Golden, and Kootenay National Park.
---
Ready for a magical winter adventure in Banff? Pack your bags and discover the beauty of Banff in winter!