This site uses affiliate links and we may earn a small commission when you use our links and make a purchase without incurring additional fee yourself. Many thanks for supporting this website. Please see our disclosure page for more details.
Winter in Banff is simply magical. Ever since our visit to Banff last winter, Kev and I have completely fallen in love with this winter wonderland. I still couldn't forget the adrenaline of dogsledding through the snowy, picturesque landscape of the Canadian Rockies. This year, I returned to Banff with my friend, Terri-Lynn, to experience the natural beauty in Alberta's Rockies and embrace the remoteness of it all. Below is an one-day itinerary for photographers to explore Banff's magnificent wilderness – from snow-capped mountains, to pristine frozen lakes and waterfalls!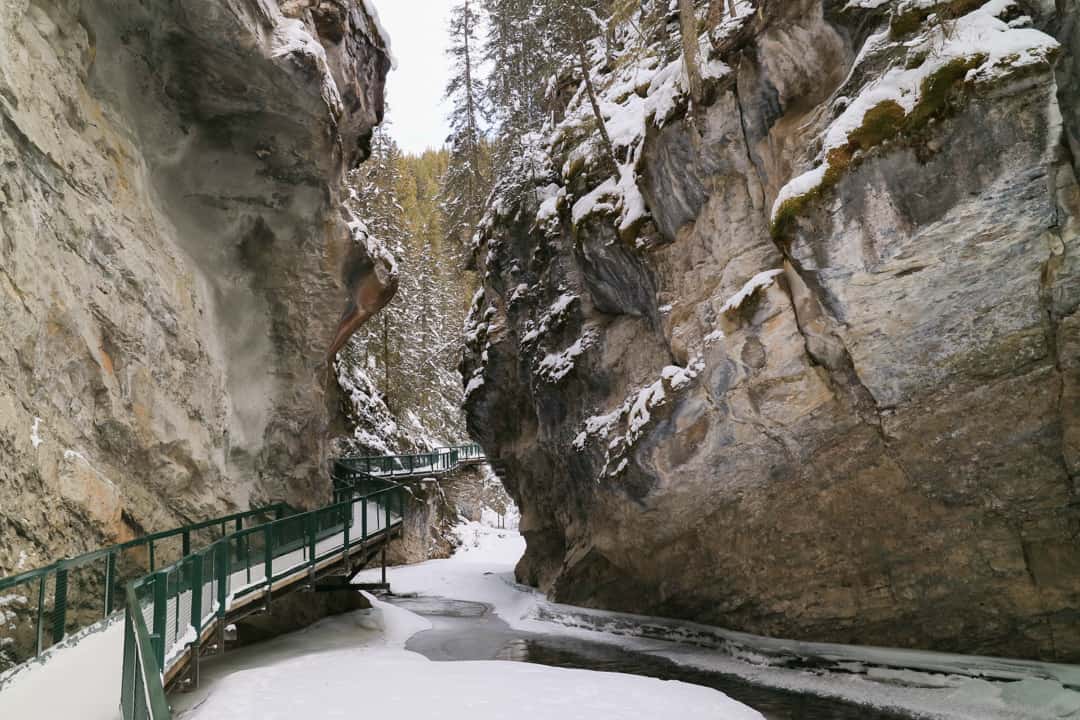 7:45 am | Catching Sunrise at Vermilion Lakes
Located immediately west of the town of Banff, Vermilion Lakes is a fantastic spot to view sunrise. Plan to arrive there 30 mins before sunrise to capture the early morning pink and purple tones and watch the sunrise over the iconic Mount Rundle and Sulphur Mountain. Sometimes, if you're lucky, you might even spot wildlife like bald eagles and elk! Vermilion Lakes actually consist of a set of three wetland lakes, but the view from the first one is the best to get a nice reflection of the mountains in the distance. Only 2.4 km from the town of Banff, it is easily accessible by walking, cycling or driving.
Duration: at least 1 hour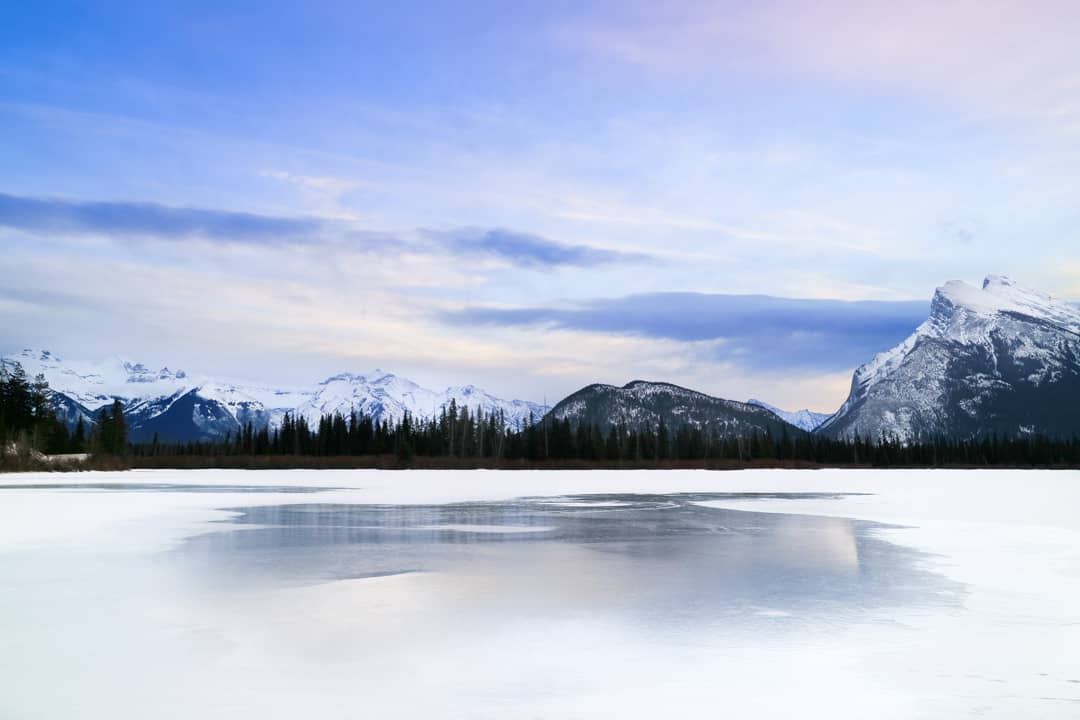 9:00 am | Hiking to Johnston Canyon's Frozen Waterfalls
A short 30-min drive from Vermilion Lakes will take you to Johnston Canyon, one of the most popular day hikes in Banff. This place is equally breathtaking in the winter, allowing you to see a world of frozen waterfalls and pillars of blue ice. An easy 1.1km walk (~30 mins) will lead you to the lower falls. Another 1.6km will take you to the upper falls, where ice climbers can often be seen scaling the frozen columns. There is no shortage of photo opportunities along the trail. Click here to read more about Johnston Canyon ice walk.
Duration: at least 3 hours
Pro tip: put on ice cleats for extra traction to tackle icy surfaces.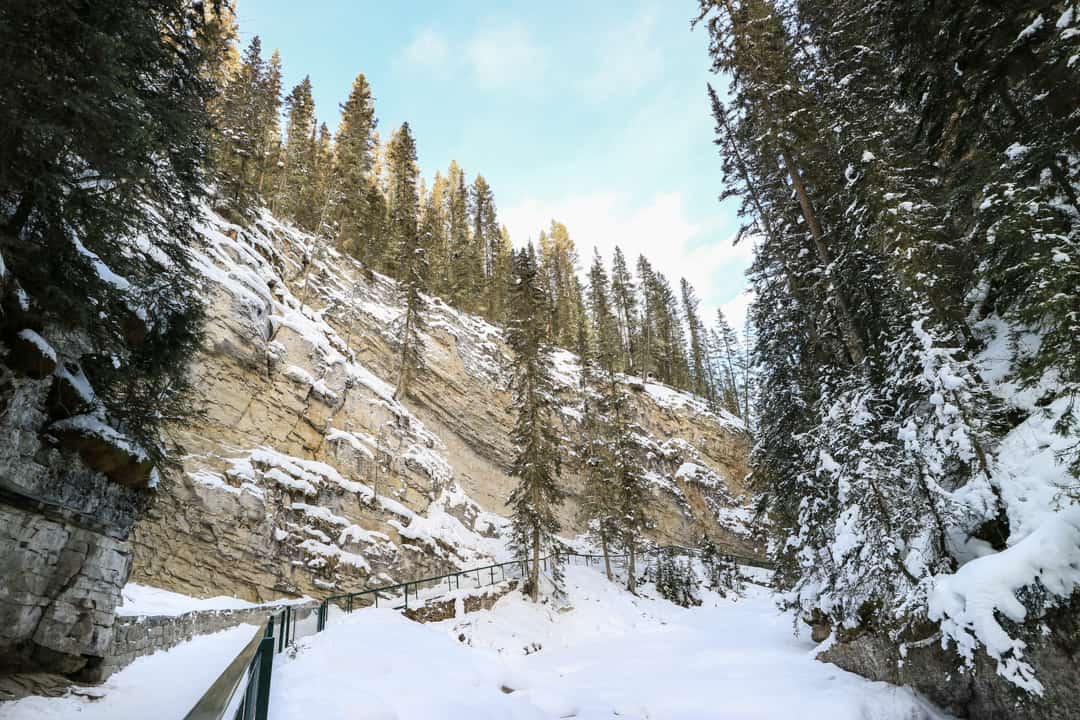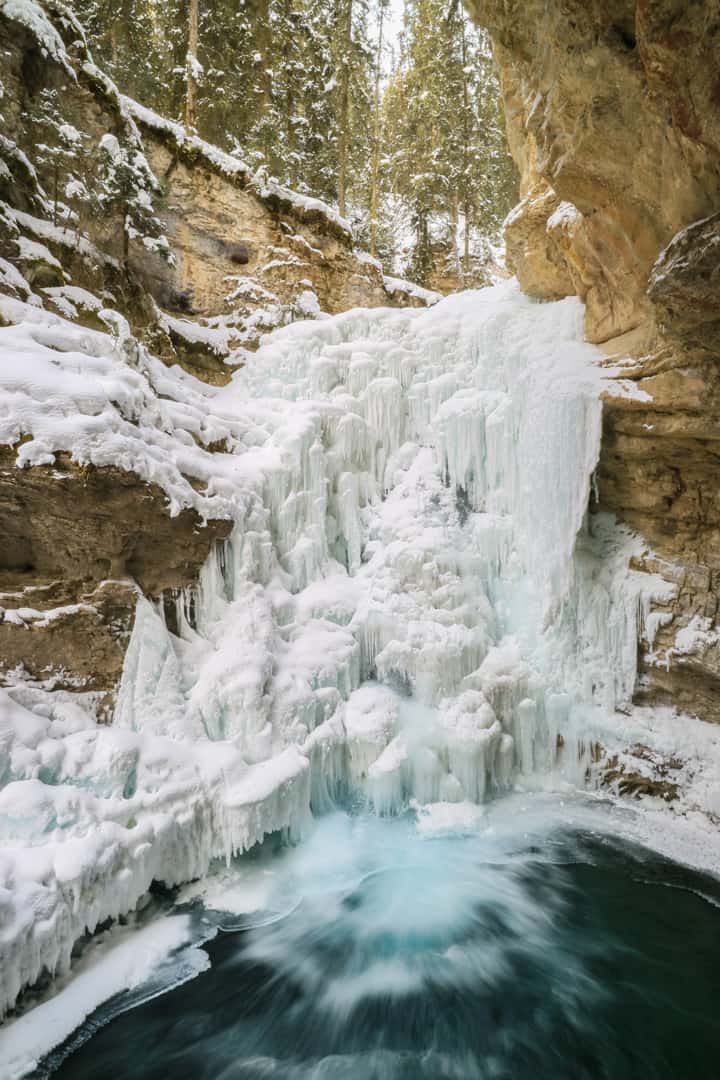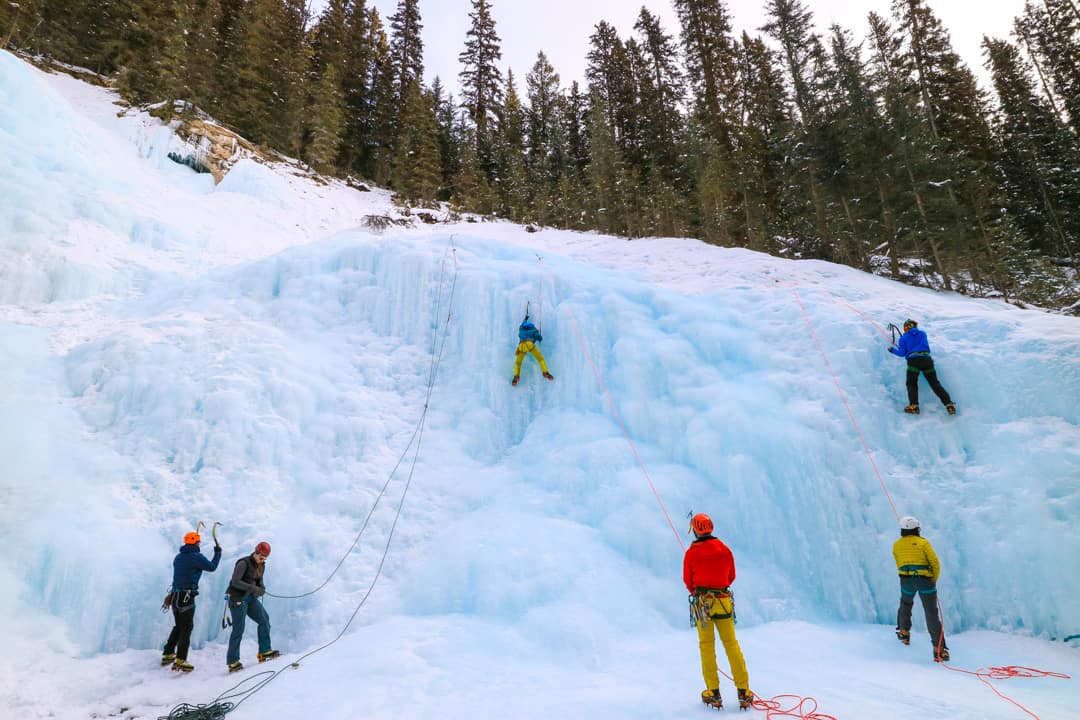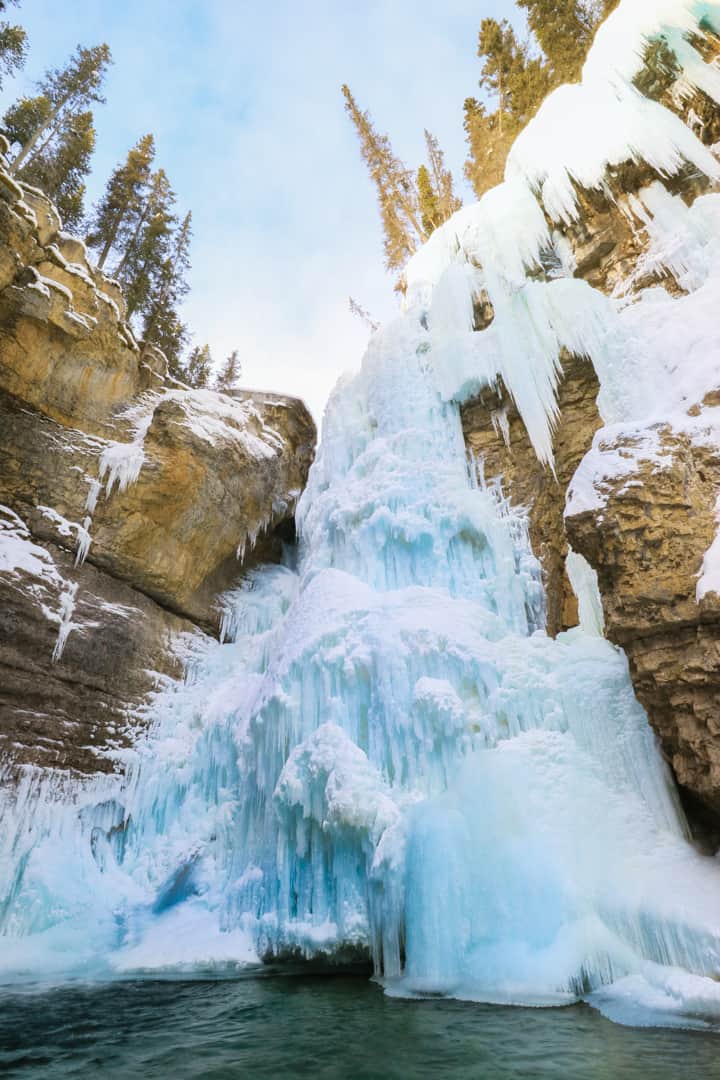 2:30 pm | Searching for Bubbles at Abraham Lake
Grab a quick lunch and embark on a journey to Abraham Lake! It takes approximately 2 hours from Johnston Canyon, but the spectacular views are well worth the drive. The artificial lake is famous for the methane bubbles that get trapped in the ice. Methane bubbles form when bacteria feast on dead vegetation, fish and animals at the bottom of the lake, and freeze as they come up to the colder surface. This creates stacks of bubbles, giving a very interesting and beautiful appearance to the ice during the winter months.
Abraham Lake is quite large with a surface area of 53.7 km. Plan to spend some time wander along the mountain-surrounded shoreline and find your perfect spot to capture the spectacular sunset!
Duration: at least 3 hours.
Pro tip: Bundle with wind-resistant jacket as the area can be very windy. Take extra caution when you walk on ice. Consider using crampons or ice cleats to prevent slipping or falling.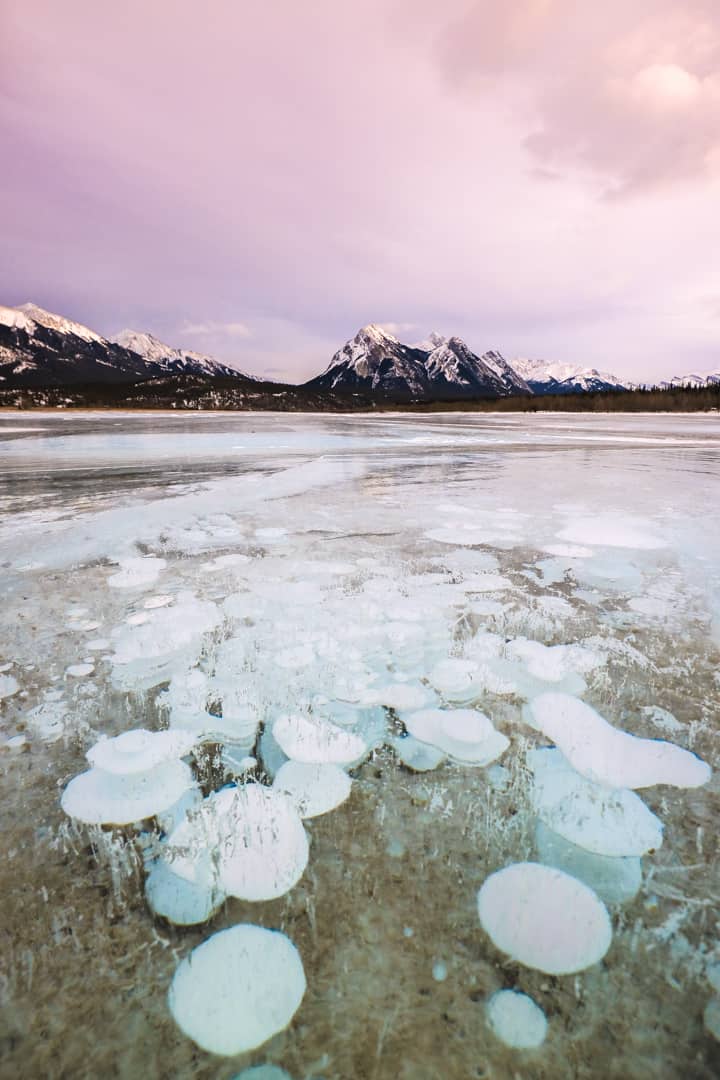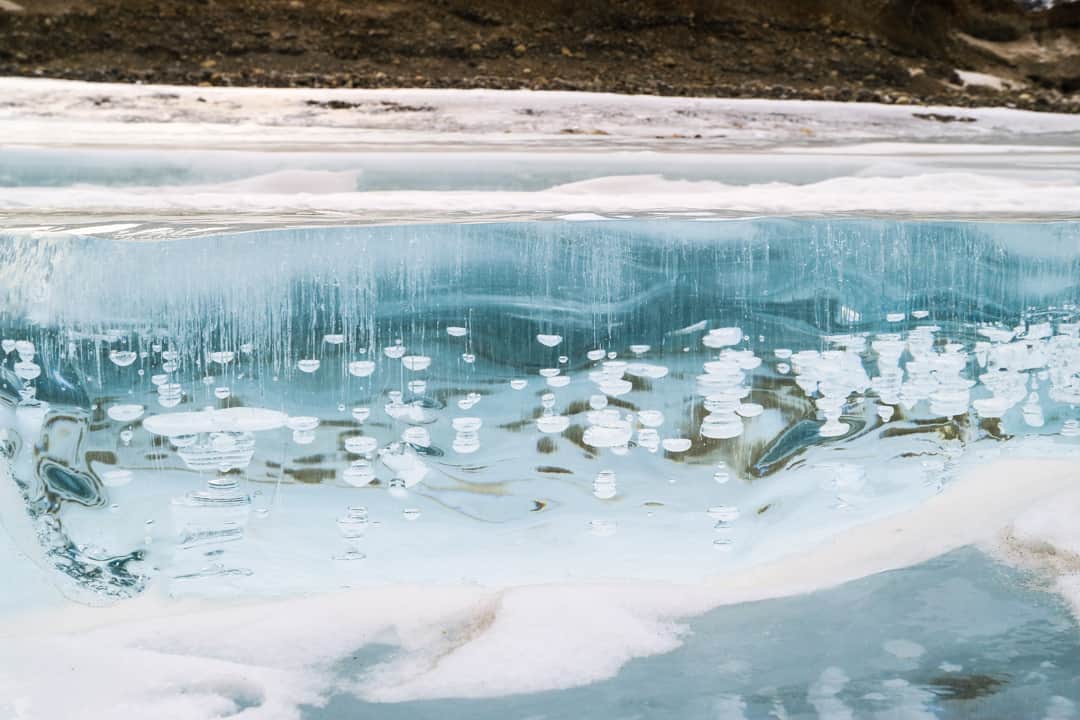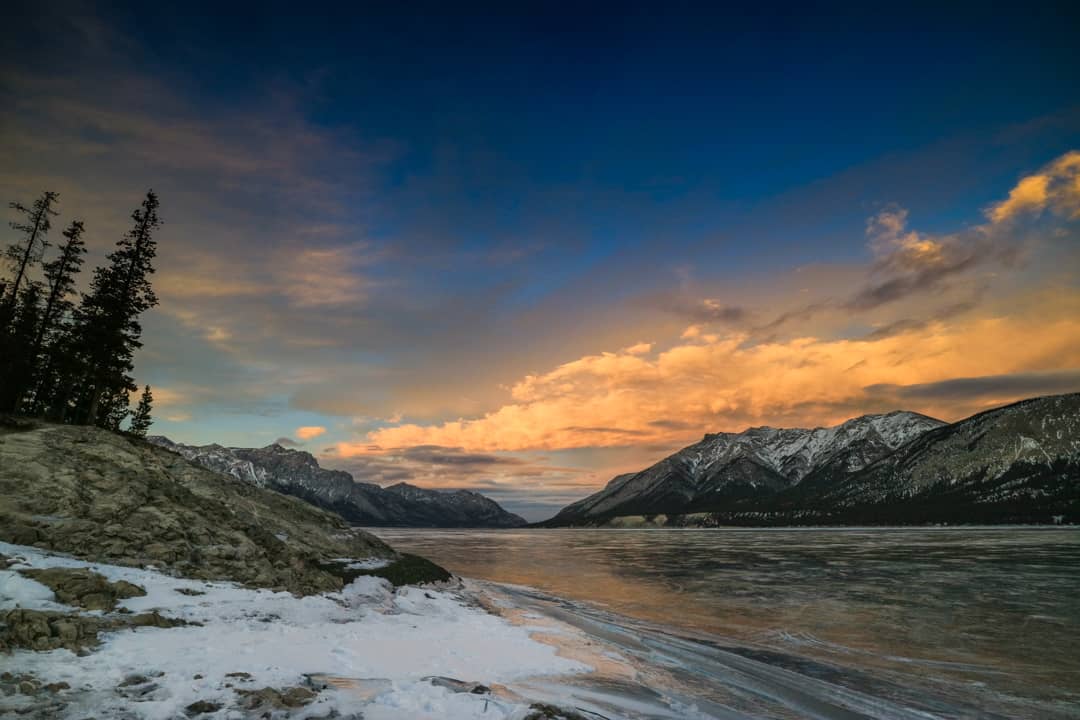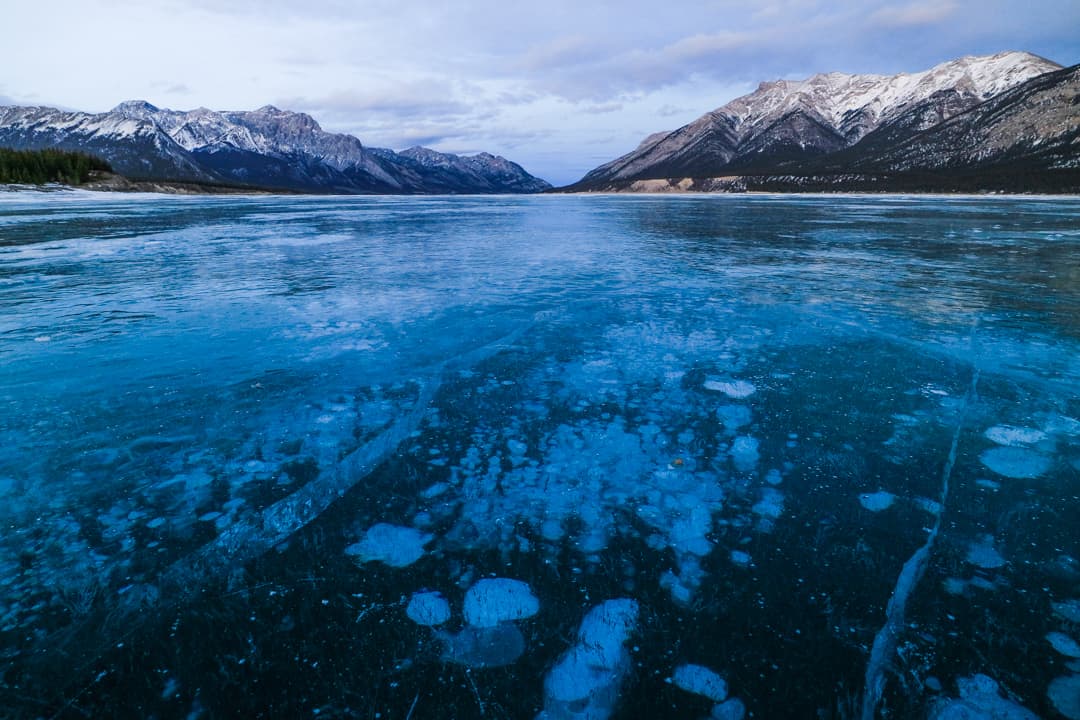 ---
There really is no better place to celebrate the snowy season than Banff National Park! With an abundance of beautiful nature, it's the perfect place for landscape photography. Now, pack your gear and make your way to Banff in the winter!
Pin it to read later!