This site uses affiliate links and we may earn a small commission when you use our links and make a purchase without incurring additional fee yourself. Many thanks for supporting this website. Please see our disclosure page for more details.
Don't hibernate this winter because winter just got more exciting with the new Acura Tube Park! This winter season, WinSport introduces the 9-lane tube park for Calgarians to enjoy the thrill and no-skill fun of snow tubing, without leaving the city!
Acura Tube Park Brings Extra Winter Fun to Calgary
If you're like me – not interested in going skiing or snowboarding, but still want to enjoy the slopes, Acura Tube Park is the place for you!
Last week, I headed over to Canada Olympic Park with my friend, Terri-Lynn, to check out Acura Tube Park, the largest of its kind in Western Canada. The new attraction features 9 lanes, each about 200 meters long and slightly varied in speed.
[bctt tweet="Celebrate winter & fly down the slopes @WinSportCanada's new Acura Tube Park! #yyc #travel" username="fortwoplz"]
Our Snow Tubing Experience
Watching the smiling faces of those who had just slid down the hill, we were both pumped up to feel the rush and exhilaration of flying down the slopes! Each of us immediately grabbed our own tube and carried it up the carpet conveyor belt which whisked us up to the top of the hill!
At the top, you could choose to ride down the lane by yourself, in a pair, or in a group of four. You could even race against your friend in adjacent lanes! I recommended trying them all to experience the different levels of fun!
Once we sat comfortably in the specially designed inflatable tubes, we held on tight and waited for the friendly staff to push us down the slope. We quickly hurtled down the snowy slope. Although we could neither steer nor stop, the sheer lack of control made it such screamingly good fun!
For extra fun, ask the staff at the top to give you a spin! No need to worry about crashing through barriers – hay or mat is spread at the bottom of the lanes to help slow the tubes down.
Tips for Visiting Acura Tube Park
Visit on weekdays: Weekends are busy. The best way to avoid the crowd is to visit the park in the evening (from 5pm-9pm) on a weekday.
Plan to arrive before noon if visiting on weekend: If weekend is the only free time you have, plan to visit the tube park before lunch time. After lunch, the line is long and it can take as long as 20 mins for your next turn!
Consider carpooling if visiting on weekend: there's limited parking space in the main lot, which is the closest to the Acura Tube Park. Vehicles will need to be parked far away when the lot is overflown. Although the park provides shuttle back to the main lot, it can be quite a bit of a wait.
Dress warmly: Bundle up! Put on warm winter boots, snow pants, wind-resistant jacket, hat, earmuffs and mittens!
Plan to spend 2-3 hours at the park: on a non-busy day, 2 hours should give you plenty of time to enjoy snow tubing fun. Consider adding an extra hour on a busy day as the wait time in between can be long.
Purchase the ticket online: if you need 2-hour passes, you can save time by buying your tickets online.
---
No skill or equipment required, Acura Tube Park provides a genuine downhill experience with a sense of adventure and excitement! Come celebrate this year's winter season by flying down the slopes in your own tube. The park will remain open until the end of March so don't miss out on this fun opportunity to enjoy the snow!
About WinSport's Acura Tube Park
Website: http://www.winsport.ca/activities/winter/tubepark.cfm
Address: 88 Canada Olympic Road SW, Calgary, AB
Hours: Mon-Fri 5pm-9pm; Sat-Sun 10am-5pm
Tickets: Adult $25.99 (2 hr), $27.99 (3 hr), $31.99 (4 hr)
Pin it for later!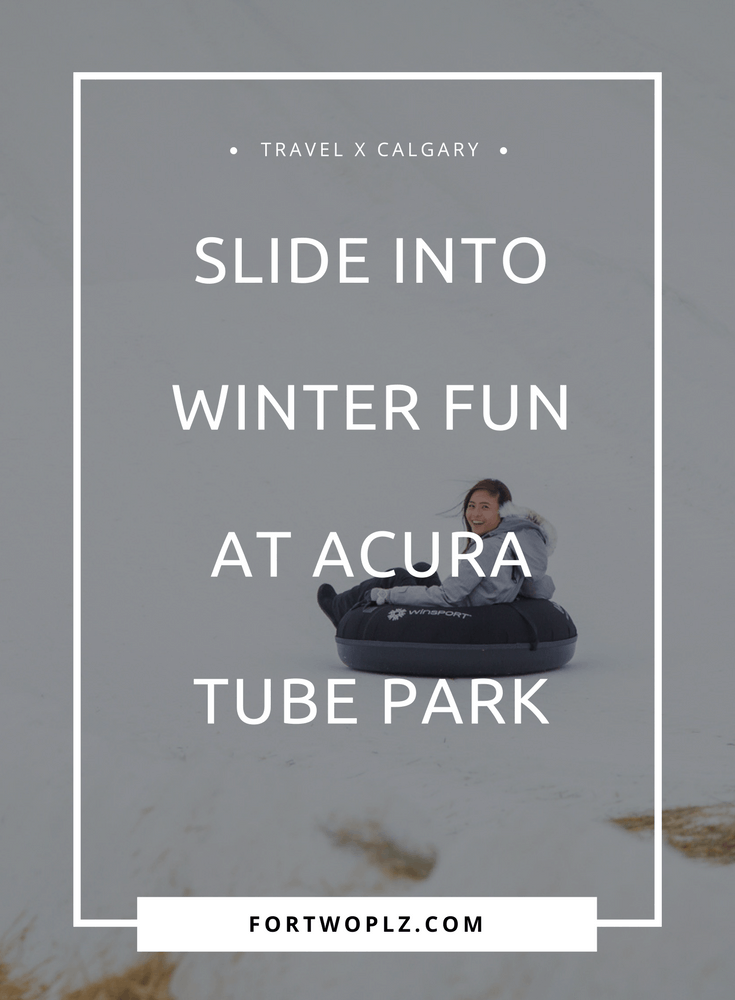 Disclaimer: This post is written in partnership with WinSport. As always, all opinions on For Two, Please are my own and I only recommend brands that I 100% stand behind.