This site uses affiliate links and we may earn a small commission when you use our links and make a purchase without incurring additional fee yourself. Many thanks for supporting this website. Please see our disclosure page for more details.
Winter in Alberta brings bitterly cold wind chills and deep snow. Even if it doesn't snow in the cities, the mountains are often covered in a blanket of glistening snow. Other than skiing and snowboarding, can you think of any reason to visit the Rocky Mountains in winter and exposing yourself to extreme cold weather?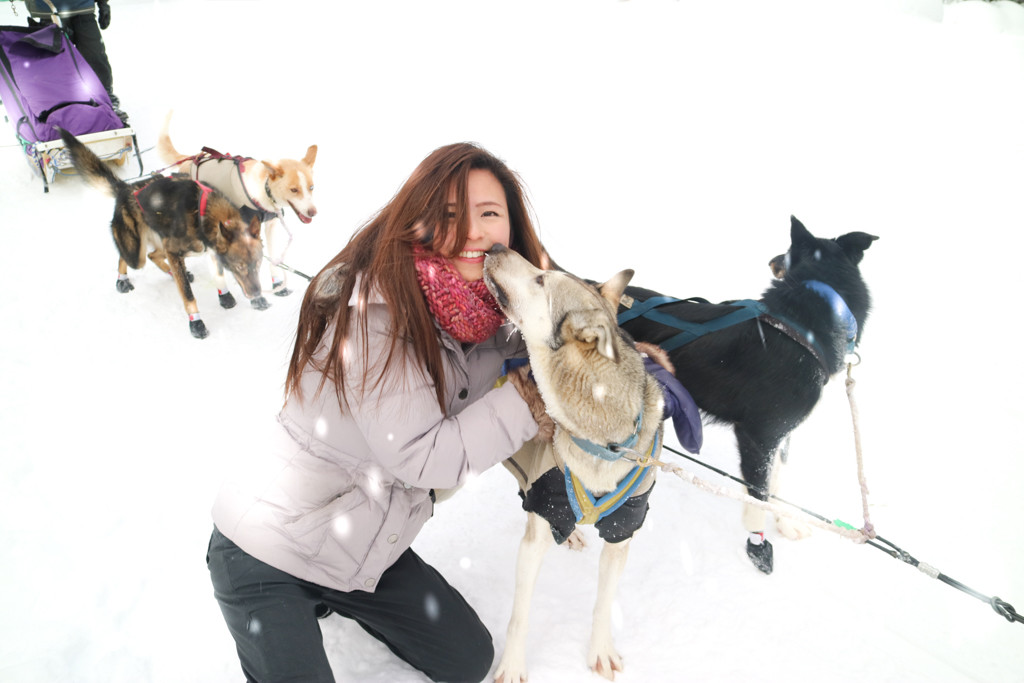 I used to think spending winter in the mountains is exclusively a skier-type of activity. Besides skiing, I really couldn't think of any other reason to visit Banff and Lake Louise in the winter. I didn't know then that you can hike through Johnston Canyon in the winter and it is stunning!
For the past two winters, we either traveled somewhere to escape the winter chills, or stayed indoor and hibernated. To help me appreciate Canadian winter a bit more, Kev booked us a dog sled tour in Banff this February, which turned out to be a fabulous winter adventure!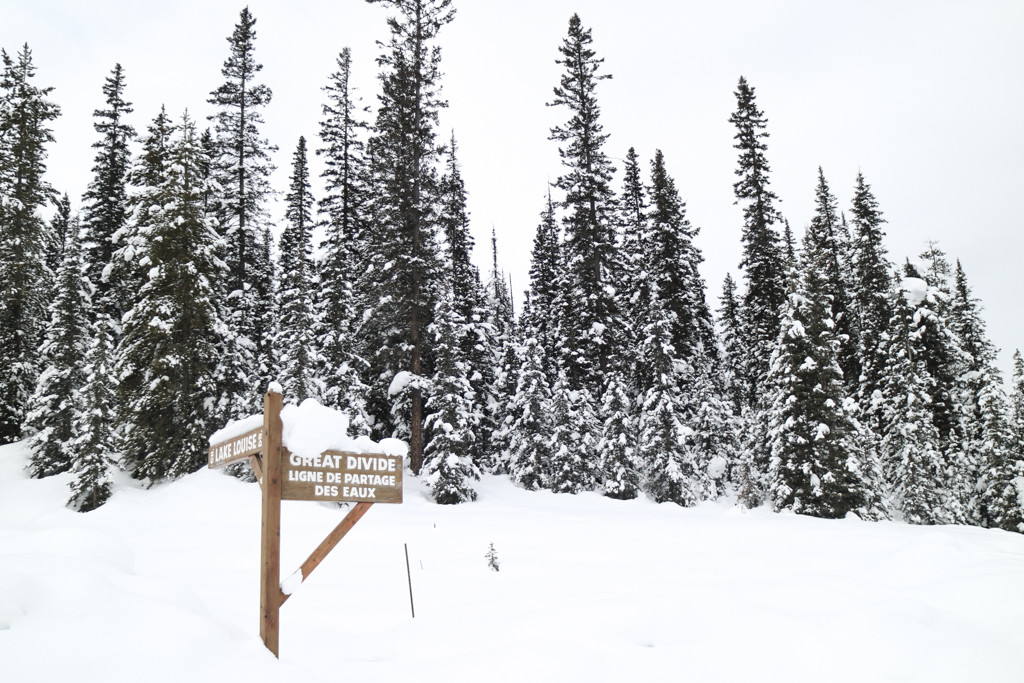 Dog Sled Tour – Alberta Version of Fast and Furious
This was our very first dog sledding experience and we were very excited! After a good night sleep and a hearty breakfast, we joyfully strolled down the hill from Chateau Lake Louise. At around noon time, we arrived at the Great Divide parking lot and checked in with the Kingmik dog led team. As we waited for the tour time to start, we went around mingling and bonding with the dogs. Those Alaskan Huskies might appear intimidating with their loud barks, but they were comfortable around humans and super friendly to strangers.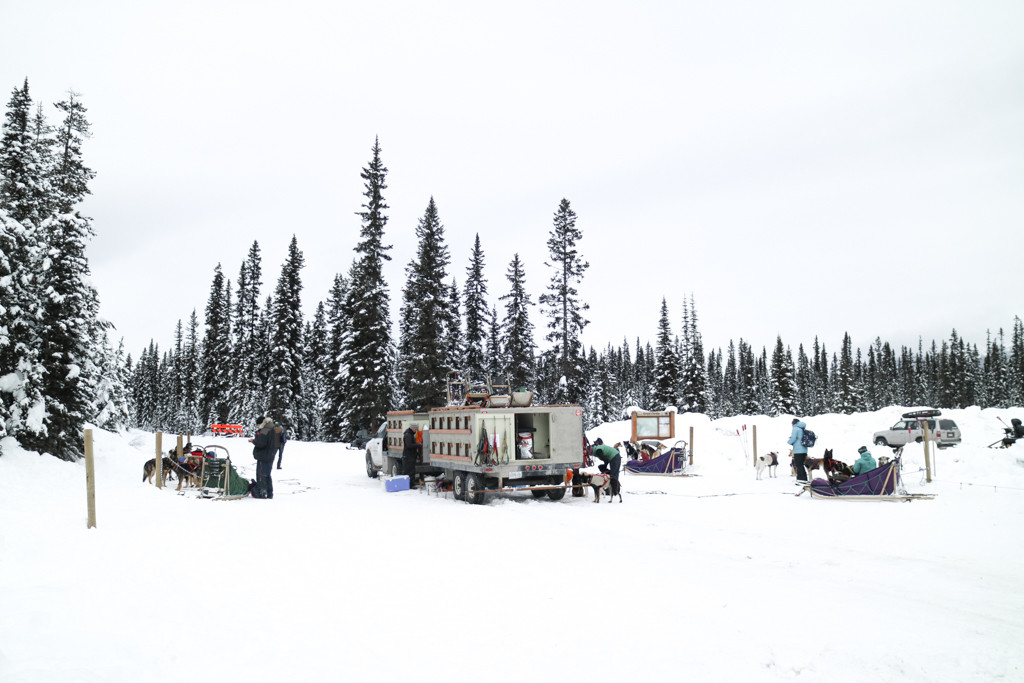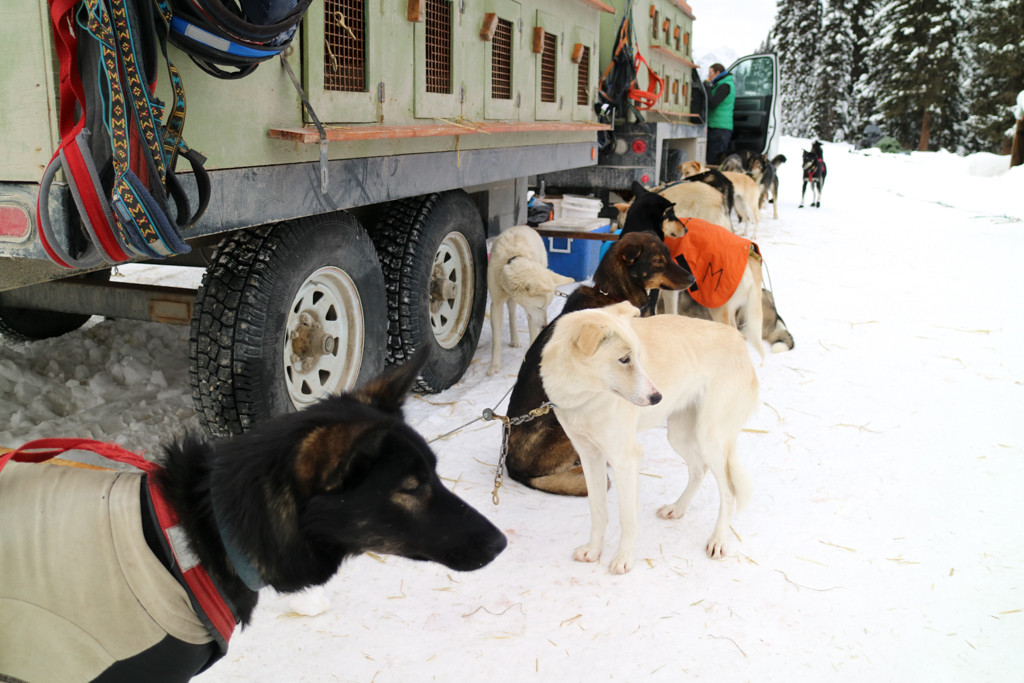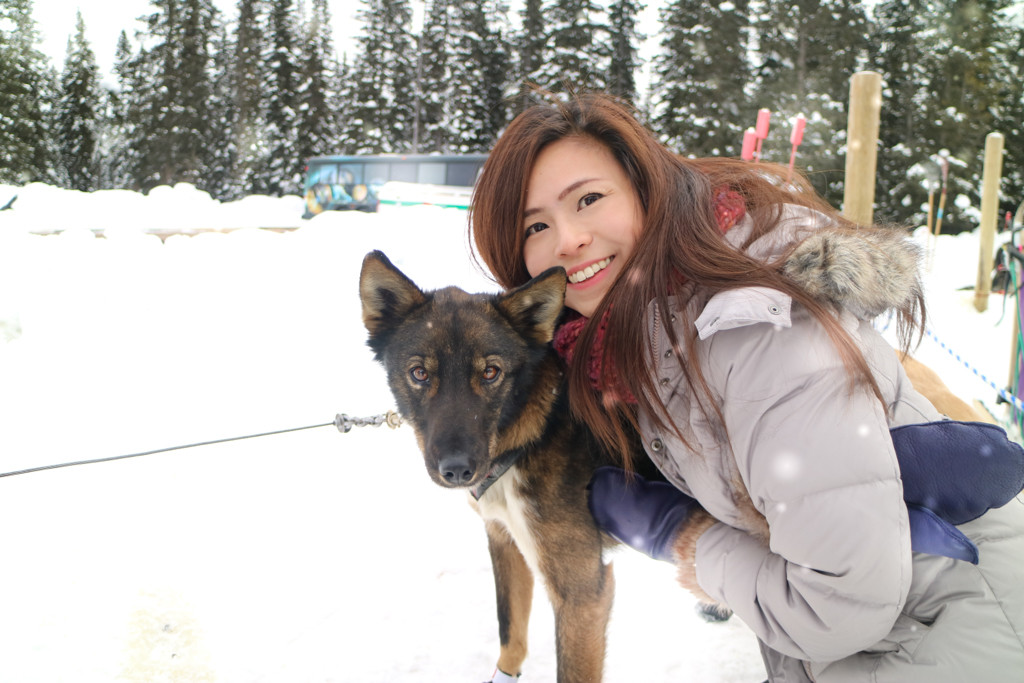 In the meantime, the guides selected the dogs to run the tour, put on little booties on their feet, and paired us with the right team. We greeted each Alaskan Husky on our team, learned each of their names, and couldn't wait for our fast and furious friends to take us on a running adventure!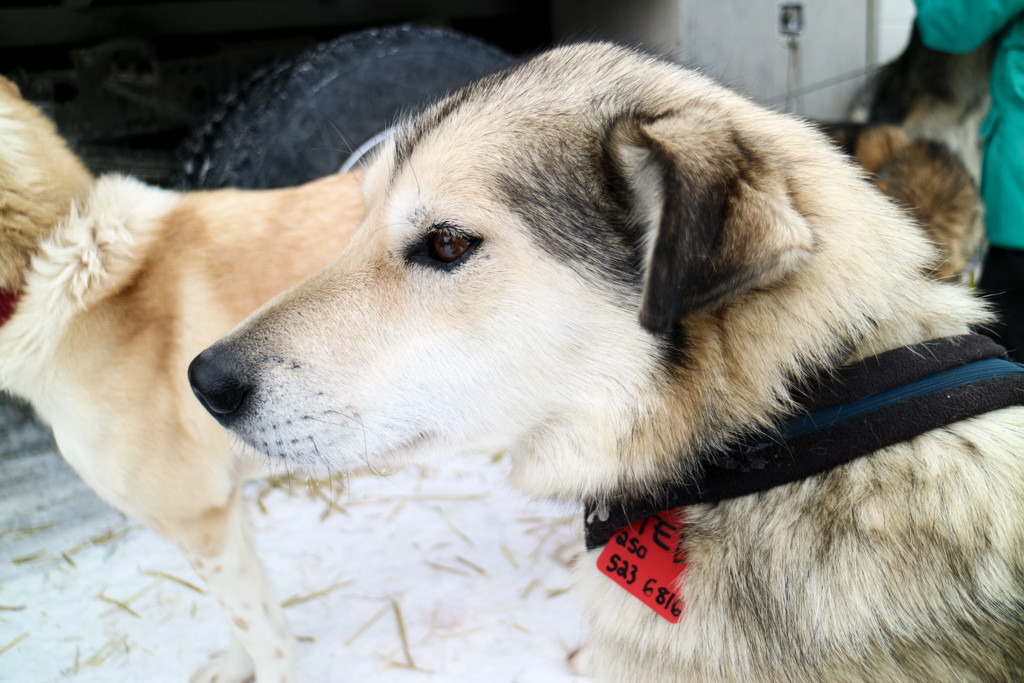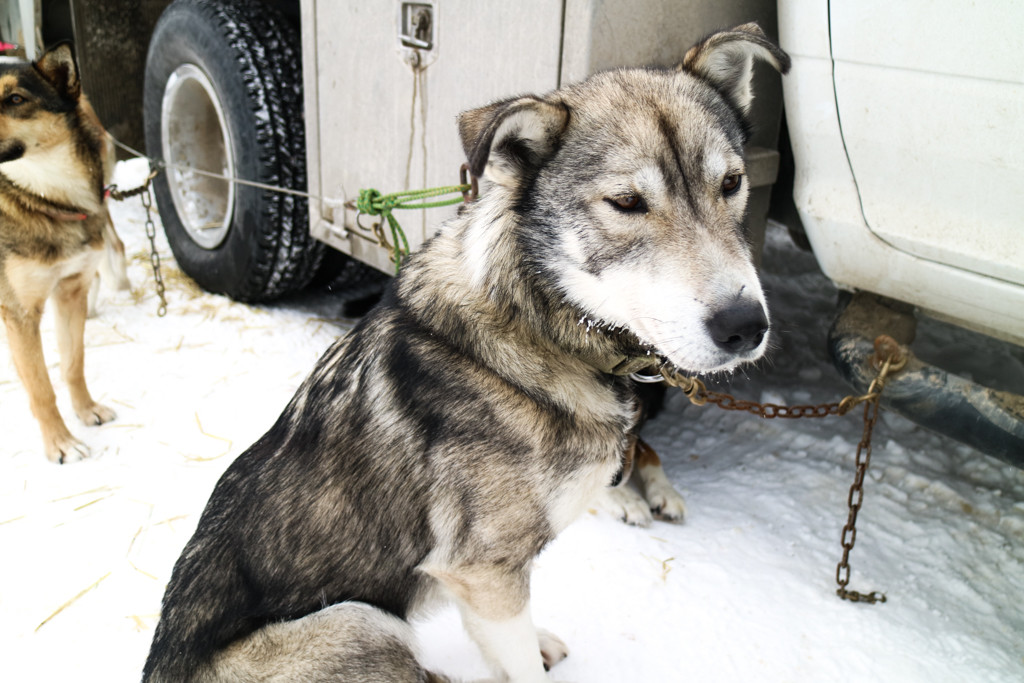 At 12 P.M. sharp, we hopped in the sled, bundled up in warm sleeping bag and cushions, and off we went!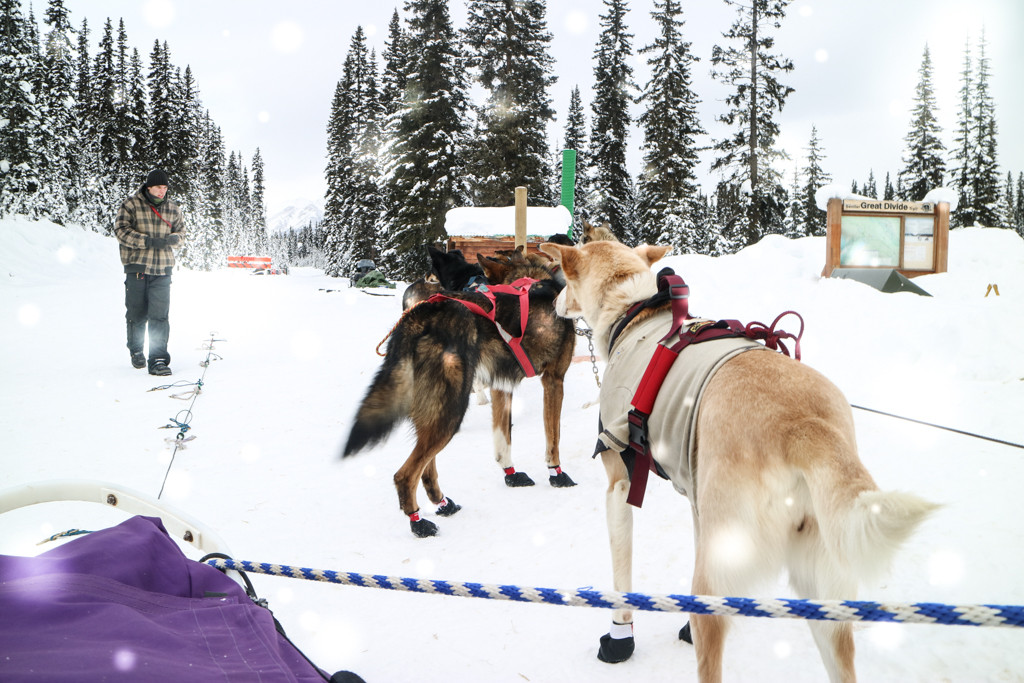 As soon as we hit the trail, all the dogs quieted down and ran happily along the old 1A highway that stretches 16 km long all the way to the B.C. border at Yoko National Park. For the next 1.5 hour, we simply lied back and enjoyed the spectacular scenery of a winter wonderland. It was really a surreal experience with cold wind blowing into your face!
Our team consisted of 1 musher and 8 ultra-athletic dogs who could run as fast as 20km/hour at the very start and on downhill. The pace of tour was set by the 2 lead dogs at the front who are trained to tune into the musher and take directional commands. We could really tell that these Huskies love running in the snow – some of them licked snow off the ground as they were running, others rolled into it as we stopped ? The snowy Rocky Mountains really make an ideal playground for these excited Huskies!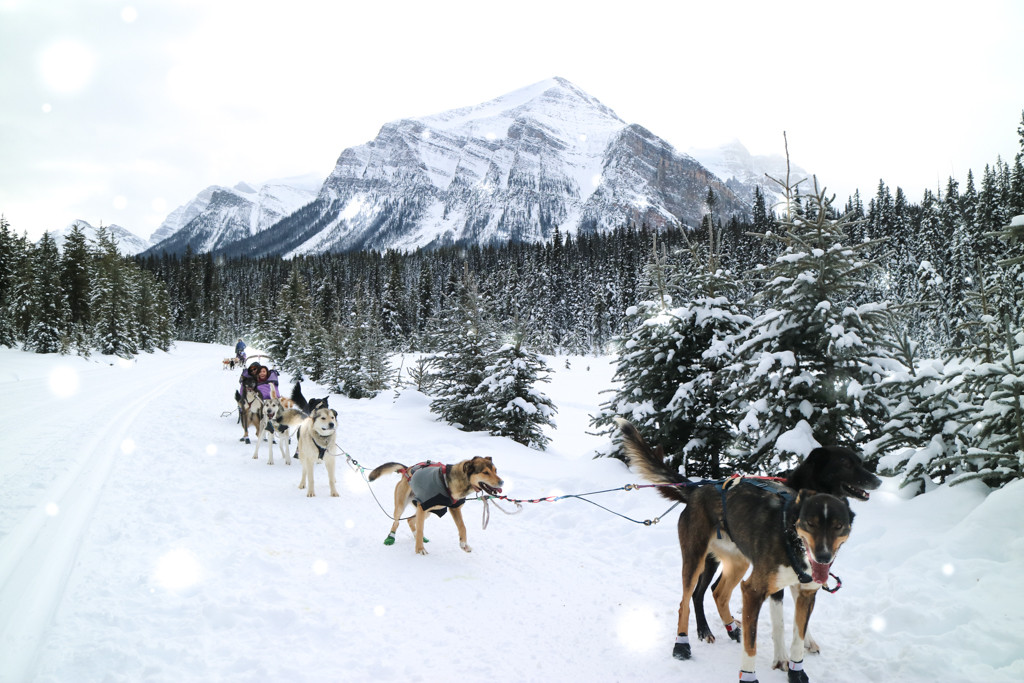 To capture this magical, once-in-a-lifetime experience, we stopped periodically along the trail for photography opportunities with the dogs as well as the magnificent views of the Rockies. If we stopped for too long though, our canine friends would start barking again as if yelling "Stopping is BORING. Let's go running!"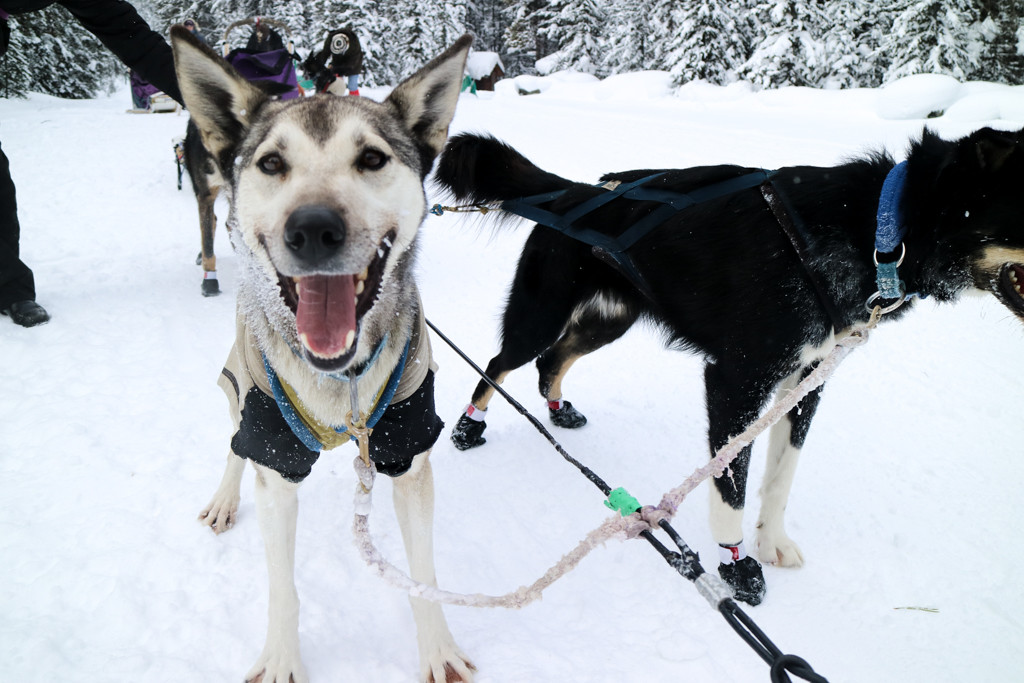 On our way back, Kev and I took turns switching from sitting to standing in order to get the thrilling experience of mushing the team of dogs ourselves (of course, under the supervision of our guide ?). Ohh… driving the sled was so much more fun and interactive, but it was also much COLDER. The majestic view of the frozen landscape made up for it though!
Before we headed back to the staging area, we made a slight detour to the close perimeter of Lake Louise to admire the Narnia-esque landscape! Isn't that beautiful?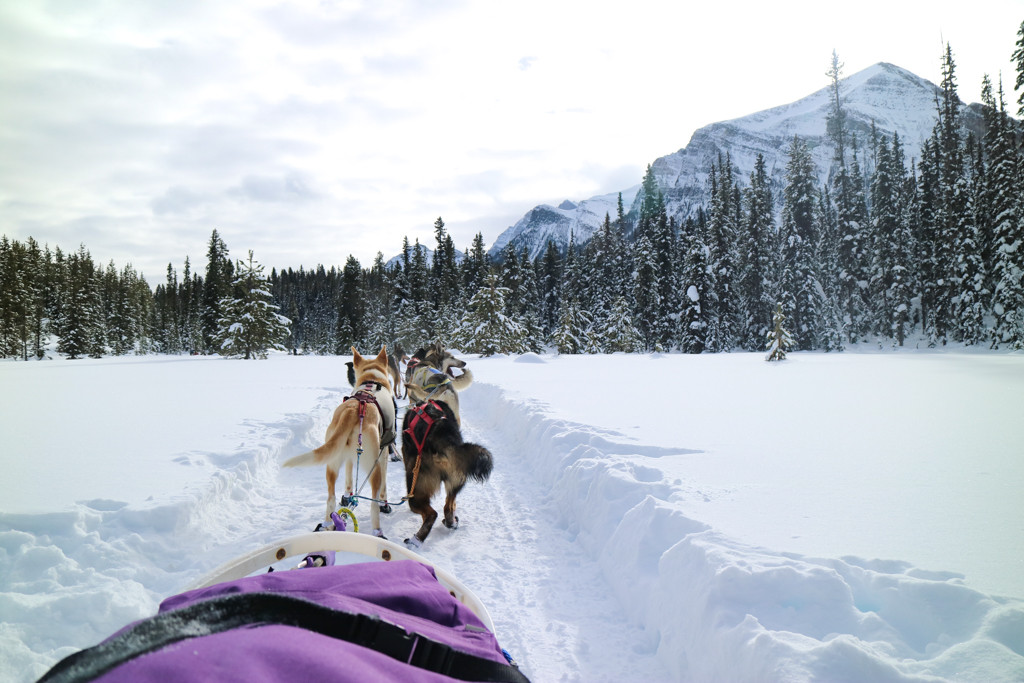 One last thing before we said goodbye to these excellent marathon runners – tossing them chunks of raw meat as a way to thank them for their day of hard work. Their accuracy in snapping the food out of the air saved me from embarrassing myself with my poor throwing skill ?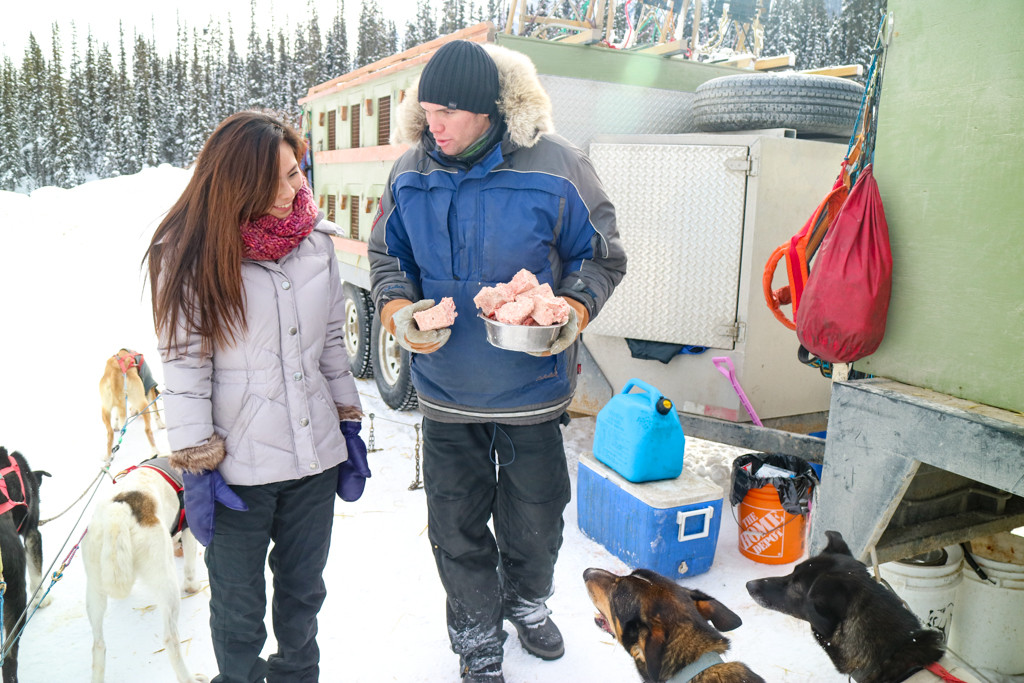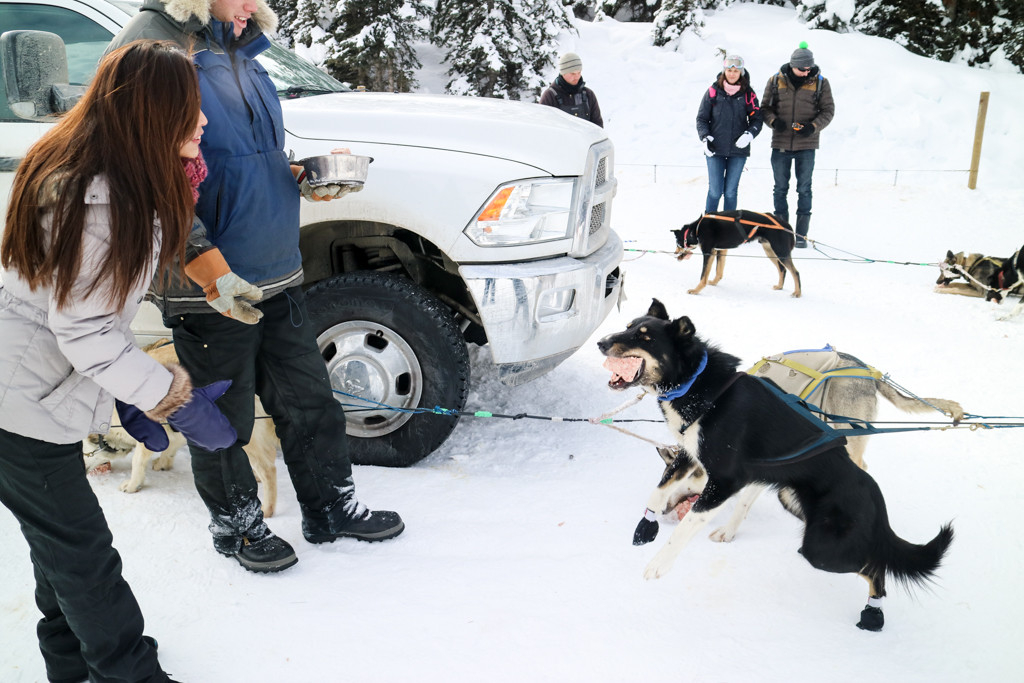 Conclusion
Have I convinced you yet to get out and participate in outdoor winter activities? I am not a fan of cold winter myself, but dog sledding is truly a memorable experience.
I can't help but look back at every photo we took. We were so thankful of Kingmik for the incredible time and hospitality. If you ever want to experience dog sledding, check them out – they are the only operator licensed to provide dog sled tour in Banff National Park. They never put strangers together on one sled to ensure you get that personable, intimate experience with your loved one.
Keep in mind that the tours are only offered from December to April and often fill up fast!
Tips – What to Wear?
Dress WARM with a hat, neck warmer, gloves, earmuffs as well as a warm coat and ski pants. Eye protection such as sunglasses and goggles is advisable, but not mandatory. Most important of all, do NOT wear running shoes. If you have hiking boots or snow boots, wear them to keep your feet warm!
---
Pin it for later!
[one_half]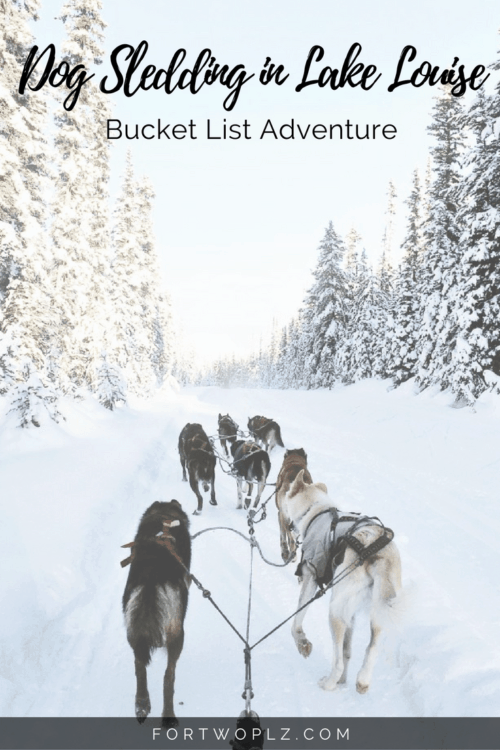 [/one_half]
[one_half]
[/one_half]