This site uses affiliate links and we may earn a small commission when you use our links and make a purchase without incurring additional fee yourself. Many thanks for supporting this website. Please see our disclosure page for more details.
Most people who have been to Banff are familiar with Johnston Canyon, one of the most visited tourist attraction in the national park. It is no doubt a popular destination for summer getaways, but many don't know that the scenic trails leading to the lovely waterfalls are equally breathtaking in the winter. Following last week's post on Dog Sled Tour, I will continue showing you today how to experience the best of winter in the Canadian Rockies and what fun activity you can do to explore Banff when it is all covered in snow!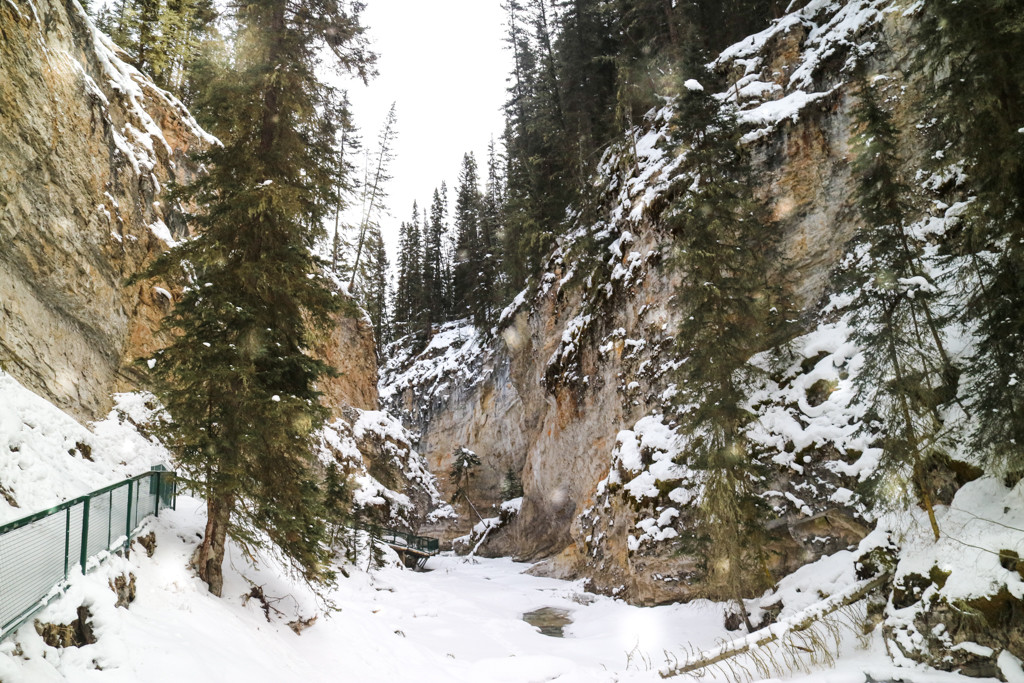 Last time when we were in Johnston Canyon, we drove there on our own, struggled to beat the crowd, and had a very hard time finding a parking spot (even on a rainy day!). This time, we stayed at Fairmont Chateau Lake Louise and booked the ice walk tour with the concierge. The benefit of that was not having to worry about driving on icy roads. Plus, they ensured that we had the appropriate hiking gears and matched us with a tour guide. All we really needed to concern about was getting to the meeting place (inside the hotel) at 8:15 A.M. Easy peasy.
Shortly after meeting up with our tour guide, we quickly hopped onto a van and drove down Trans-Canada Highway (Hwy 1). In 30 mins, we arrived at the trailhead and were ready to begin our adventure!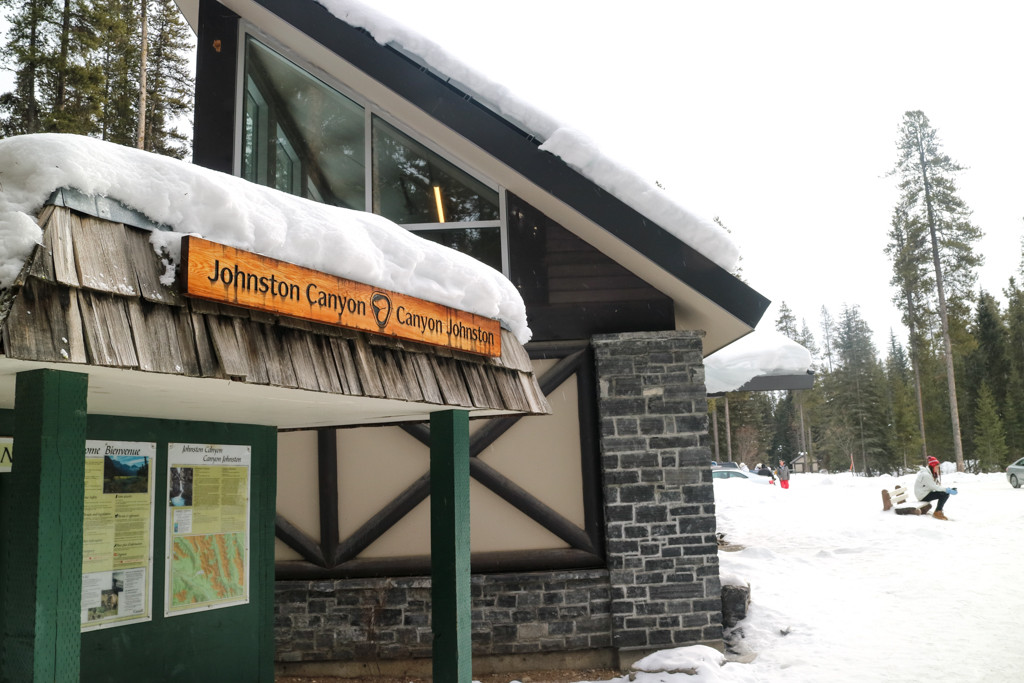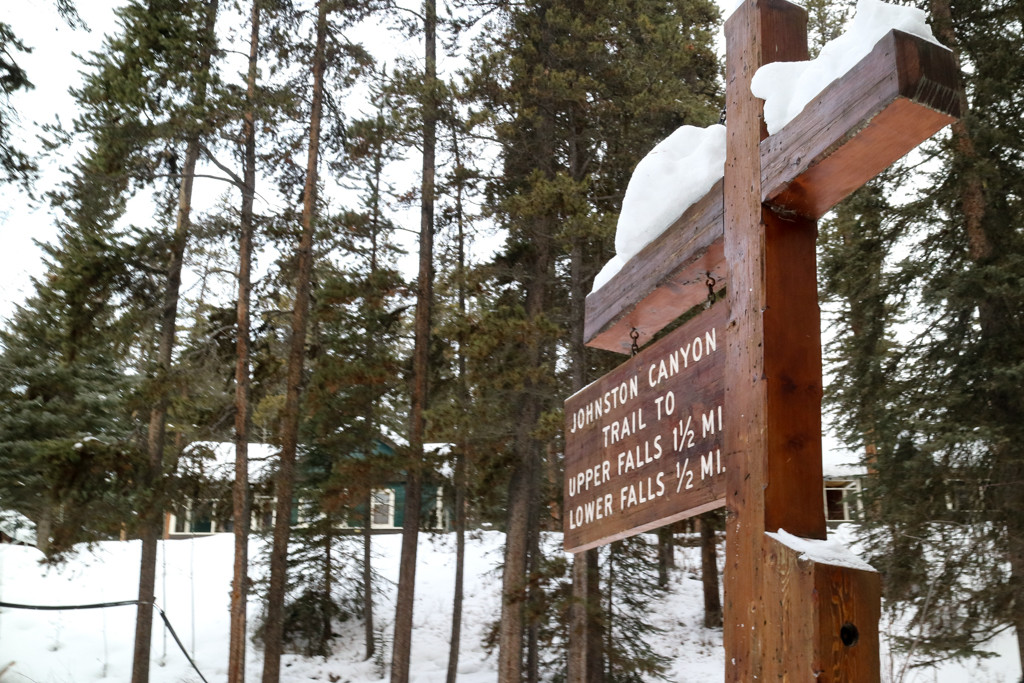 As a safety precaution, our guide advised us to slip ice cleats onto our footwear, which would provide extra traction that we needed to tackle icy surfaces. Safety before beauty, people! This is serious.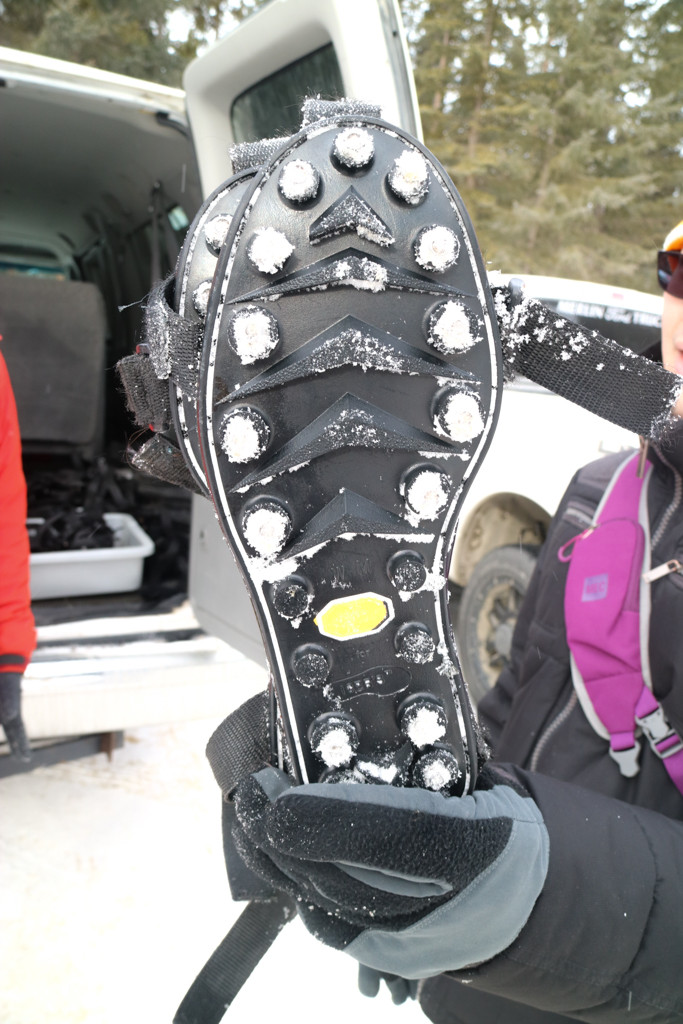 Johnston Canyon Ice Walk Tour
As soon as we ventured into the canyon, we were mesmerized by the stunning splendor of the nature. Submerged in a blanket of snow with dazzling pillars of blue ice as the backdrop, Johnston Canyon really had transformed into an icy wonderland!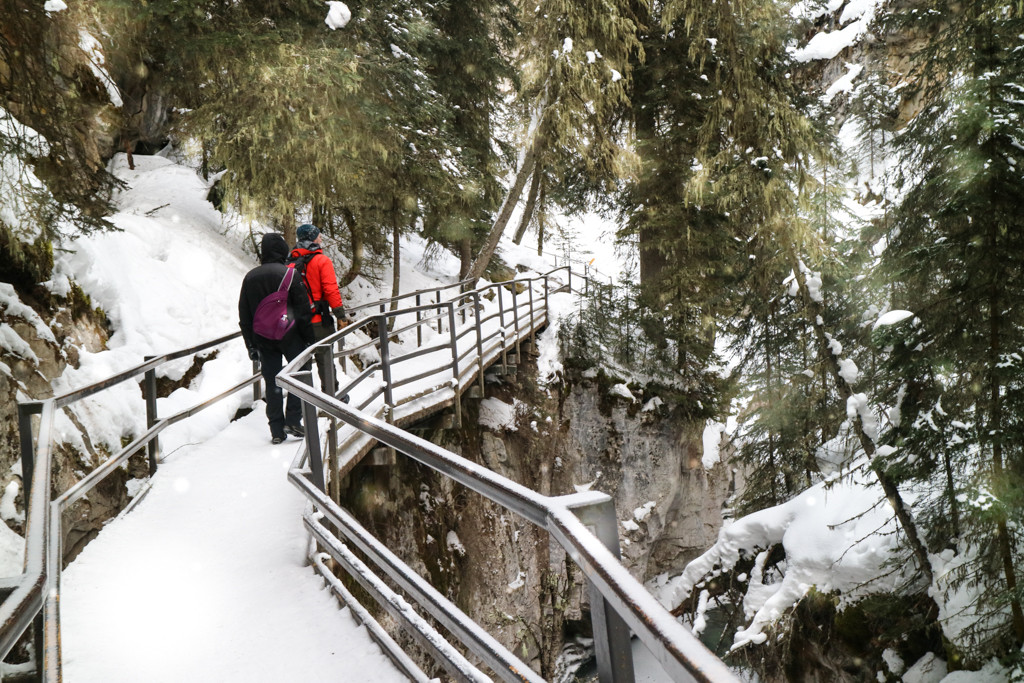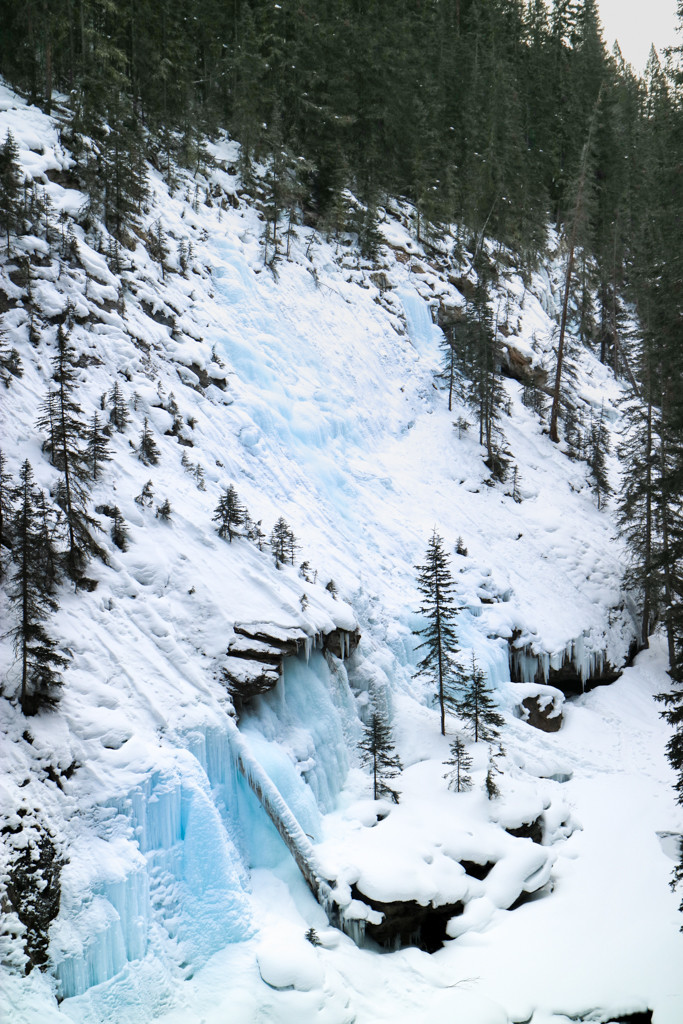 A series of trails and steel catwalks led us into a deep canyon to see the frozen waterfalls. As we hiked along the suspended walkway, we couldn't stop admiring the spectacular views of ice clinging on the canyon walls and semi-frozen river down below.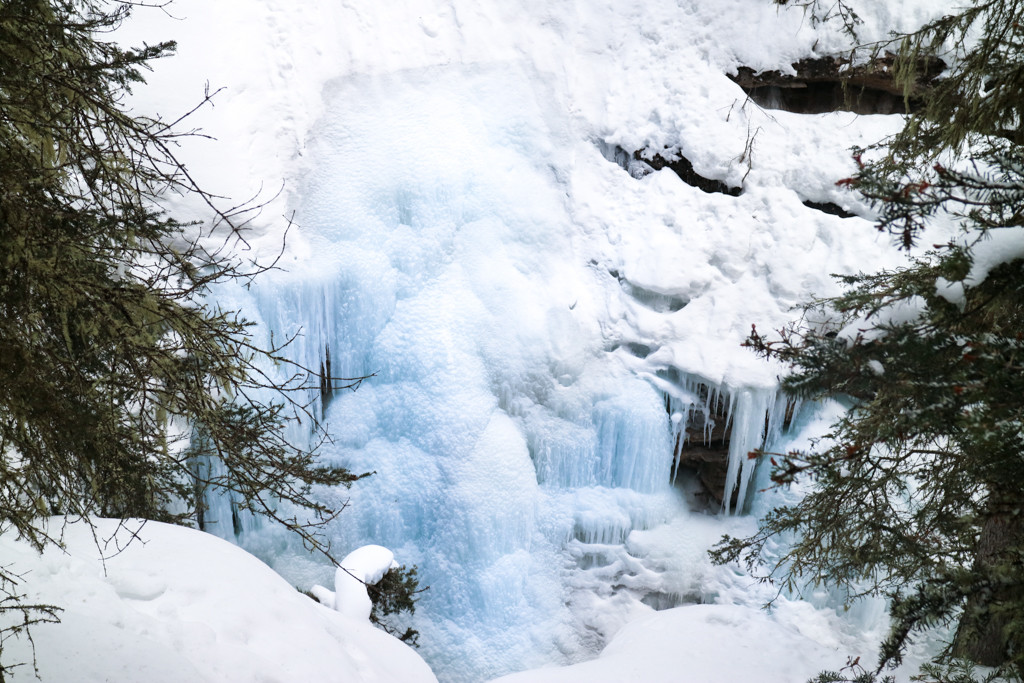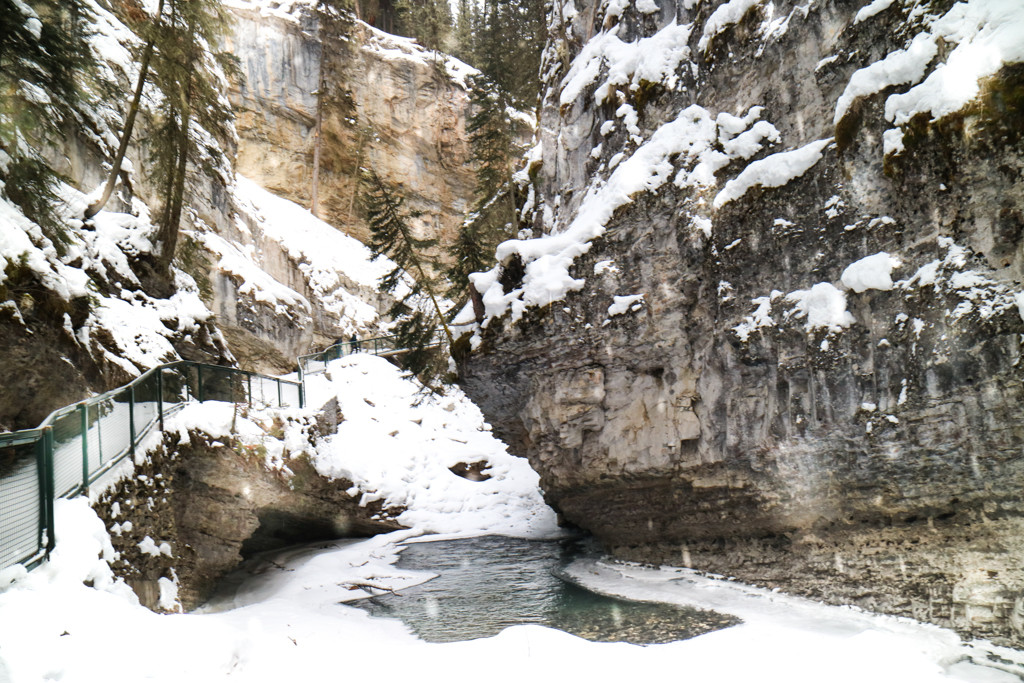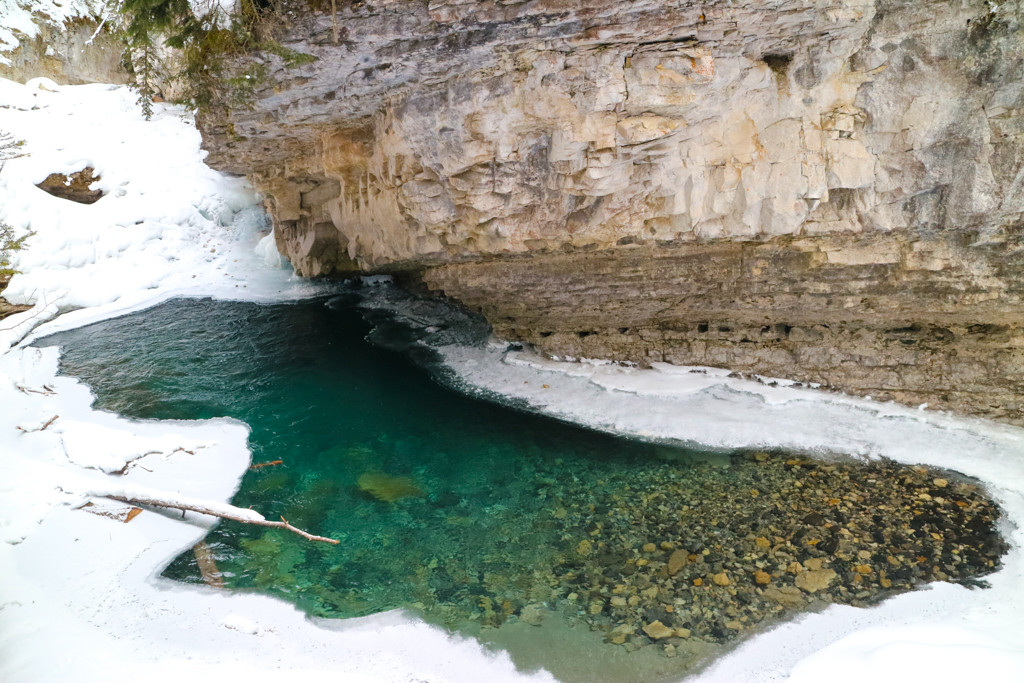 30 minutes into the hike (~1.1km walk), the relatively level walkway brought us to a fork in the trail. Turning right, we arrived at the bottom of the canyon to see the Lower Falls.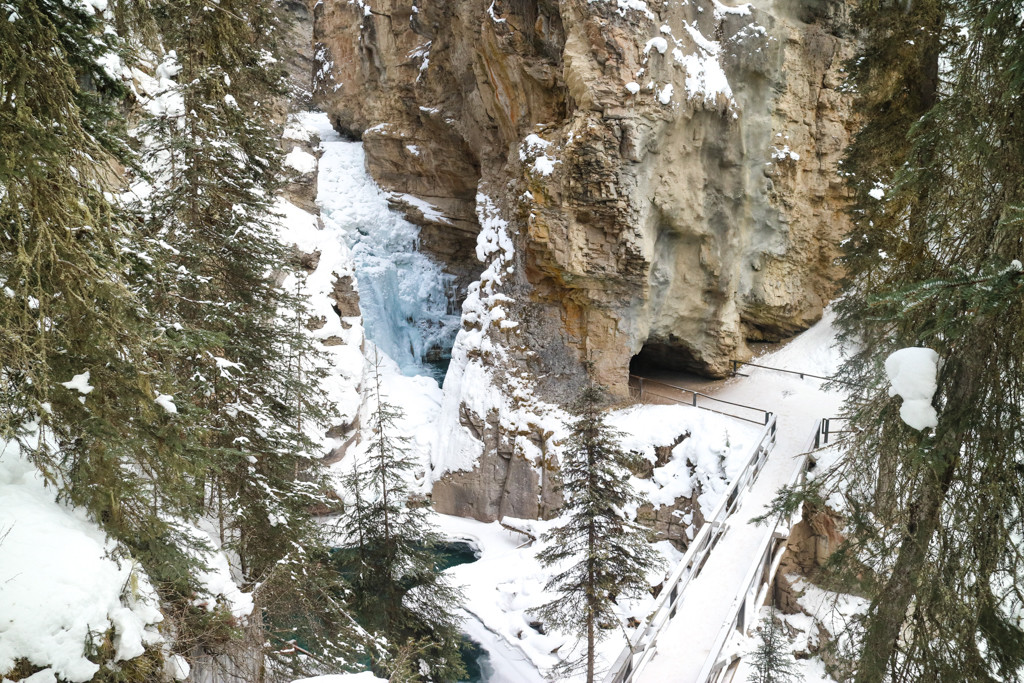 The bridge suspended over the stream provides a great frontal view of the thundering Lower Falls in the summer. To get more intimate view of the attractive waterfall, we ducked into the limestone cave which opened up to a reasonably sized viewing platform. Despite being covered in frozen ice, the waterfall didn't cease flowing and plunging into a jade-green pool. The sound of the rushing water somehow transported us to a place of peace and tranquility.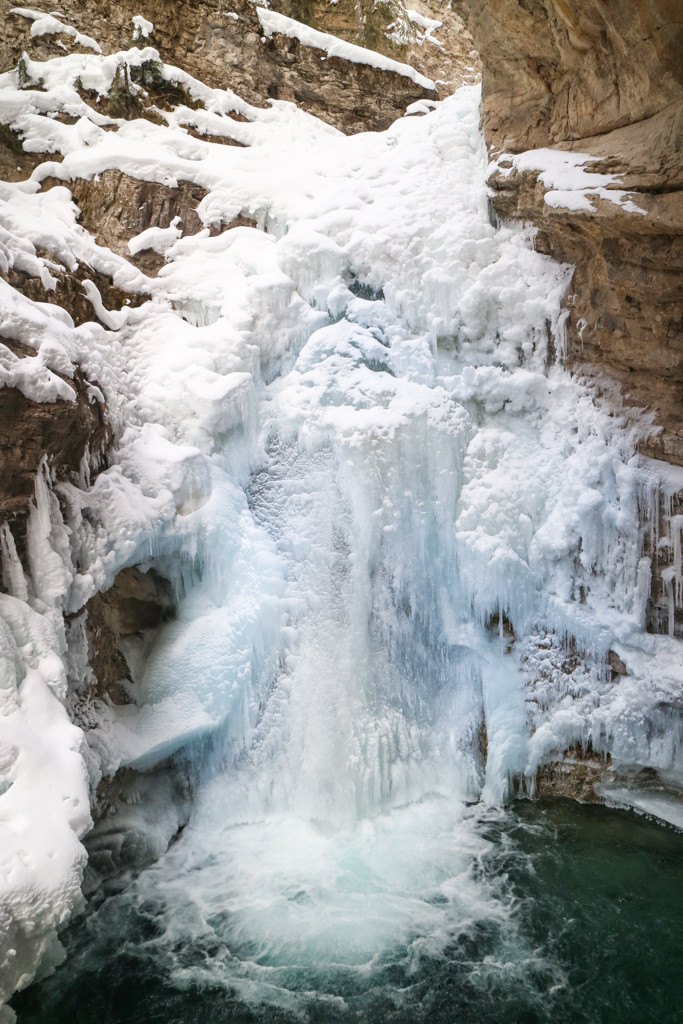 Back to the fork in the trail, we continued climbing upwards to our final destination, the Upper Falls. The trail started to get slippery, but as long as you had ice cleats on and zigzag-ed your way up the steep hill, you should be fine. Steep or flat, the twisting canyon never stopped fascinating us with its geological uniqueness and amazing formations. The beautiful landscape made me ponder whether I was in a dream.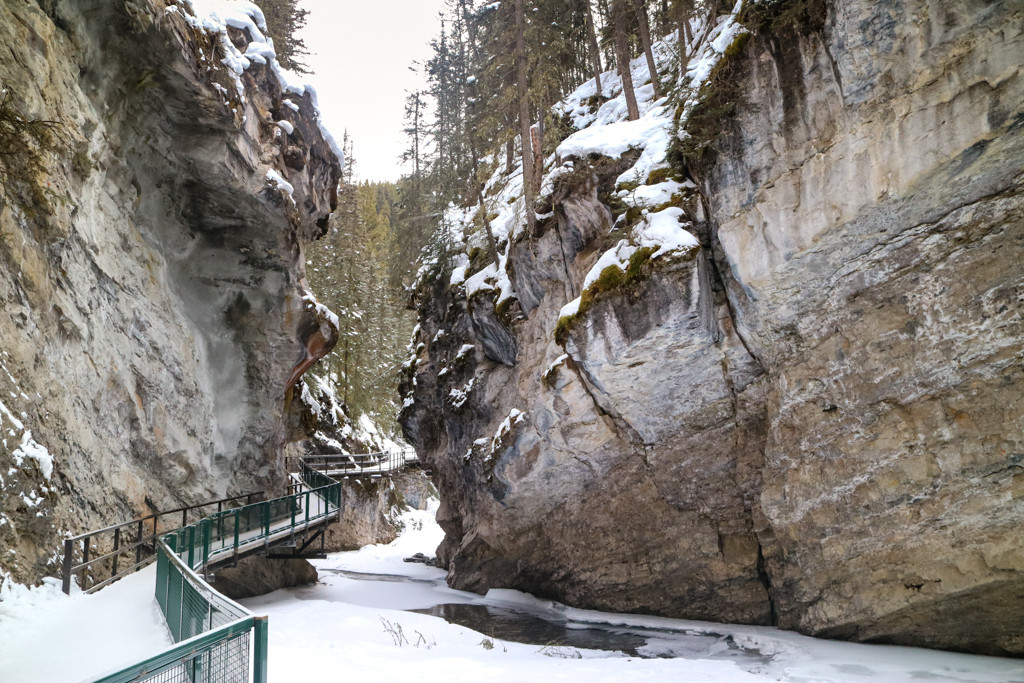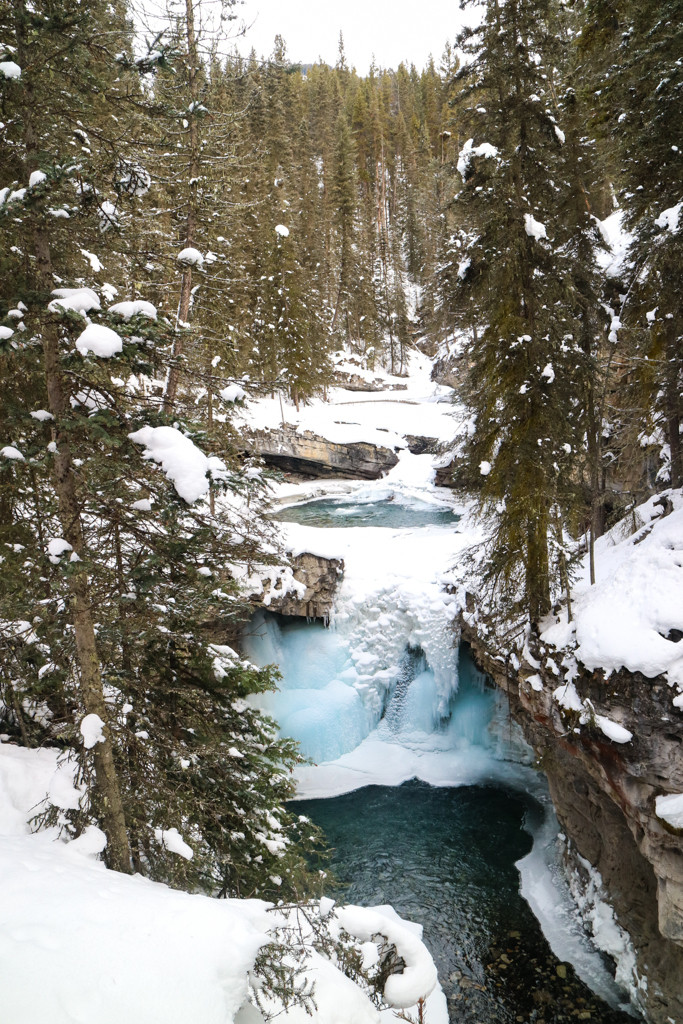 When we encountered another fork in the trail (~1.6 km from Lower Falls), we knew we had finally approached the Upper Falls. The right trail took us directly to the bottom of the waterfall.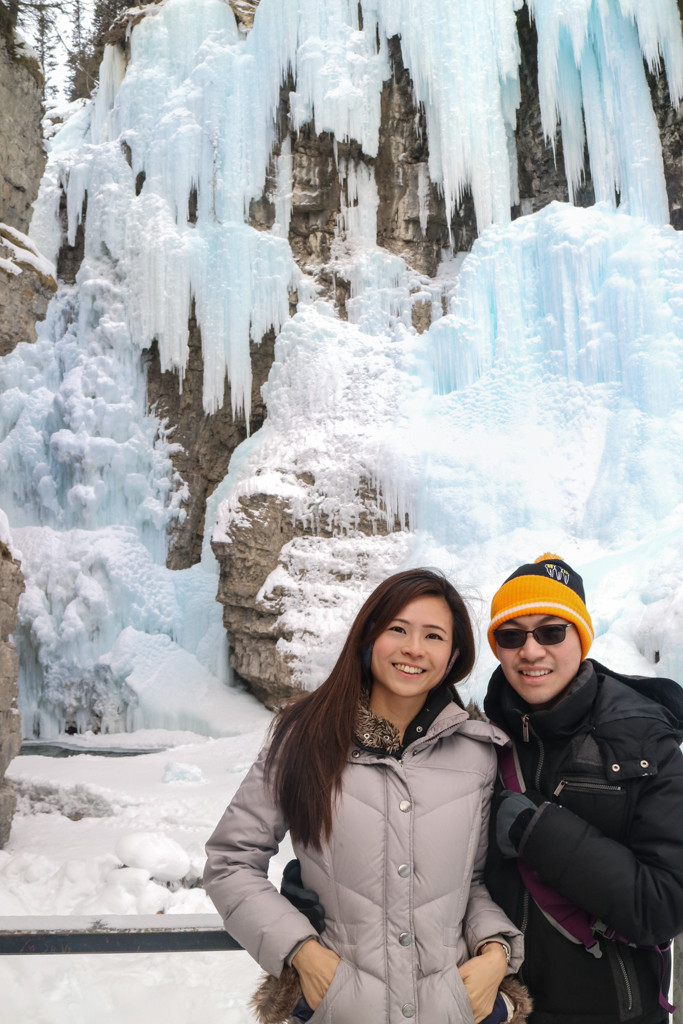 This was the highlight of our tour – being surrounded by the incredible cathedral of ice. Various shadows of blue and white icicles and and the magnificent sight of the frozen waterfall were simply awe-inspiring! On some occasions, you might see ice climbers practising their skills on these thick masses of frozen ice.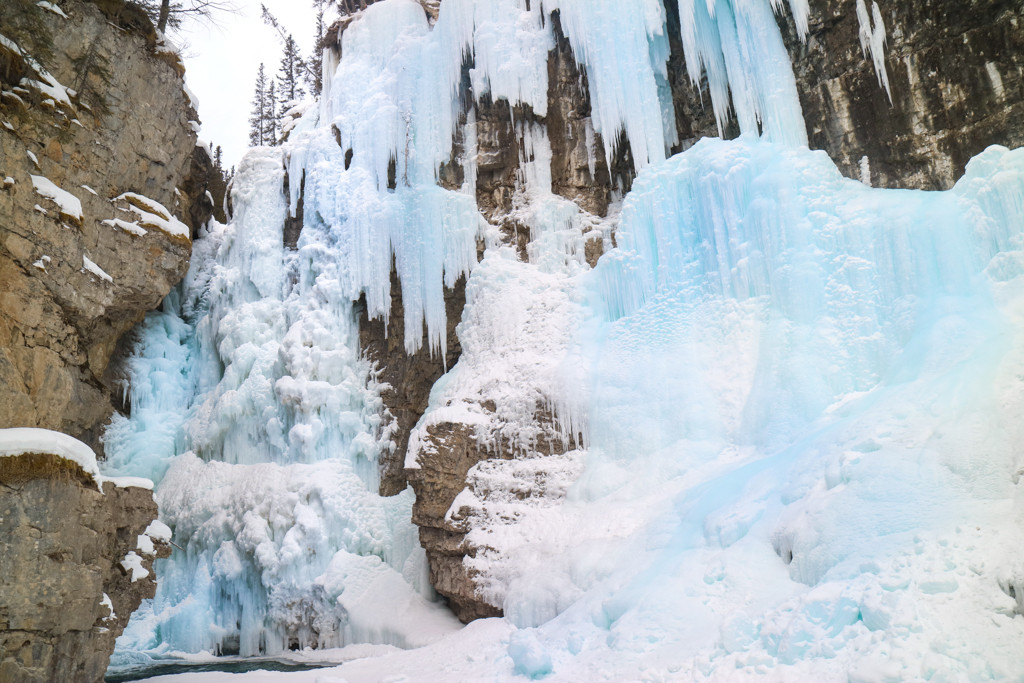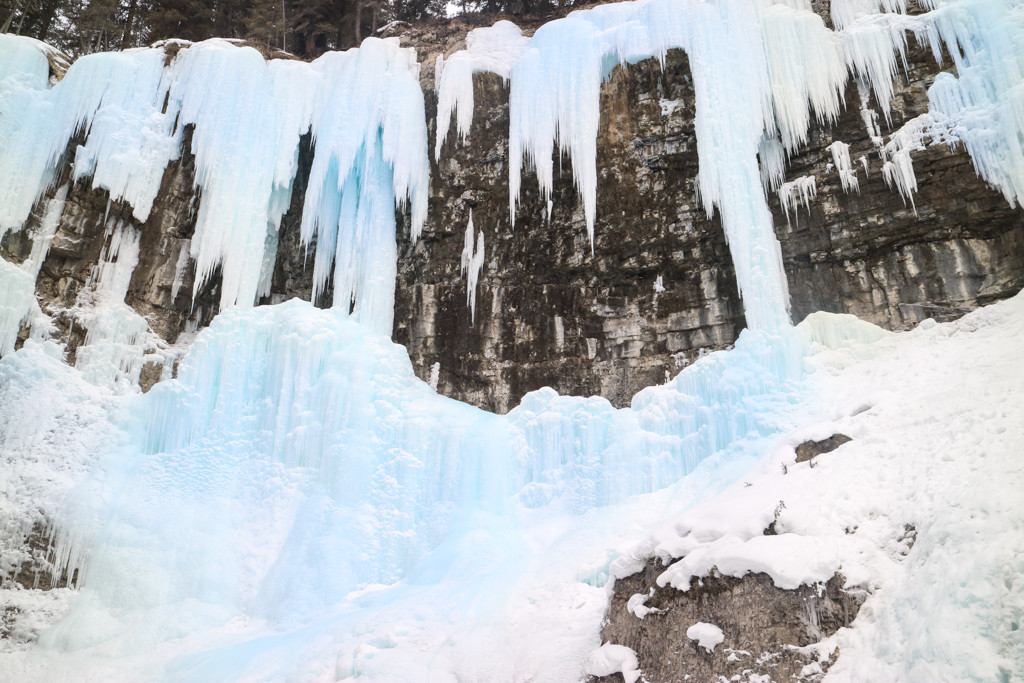 If you get back on the trail, you would eventually come to a viewing platform overlooking the summit of the cataract. There, we got a closer look of the ice pillars and a fantastic view from the top of the falls! It's also the perfect destination for a hot chocolate break as we listened to the muffled roar of the waterfall cascading beneath the frozen columns.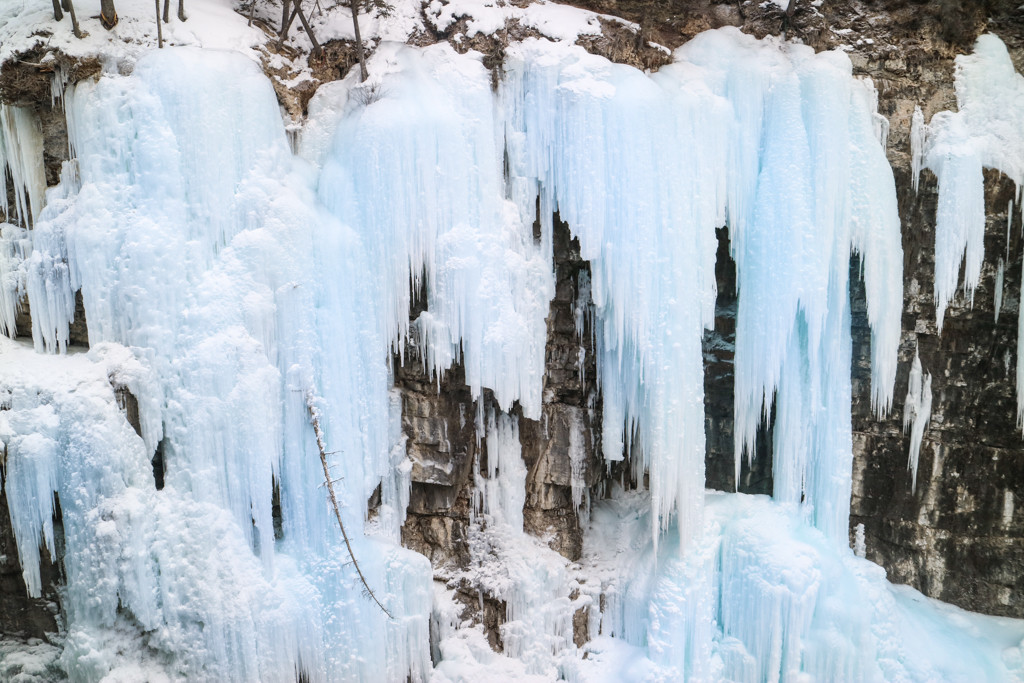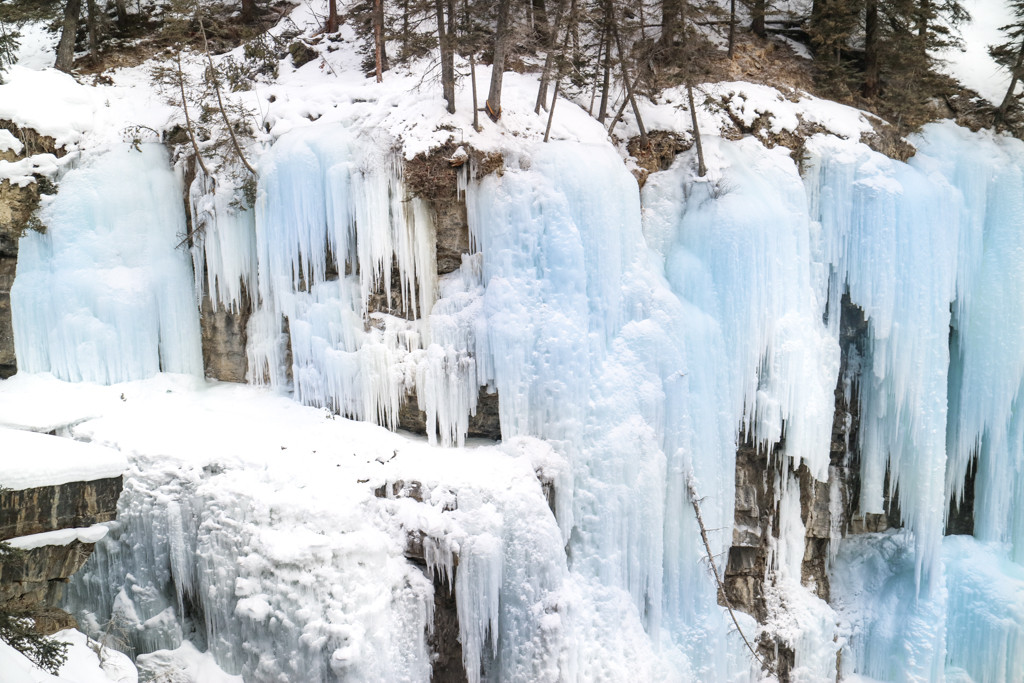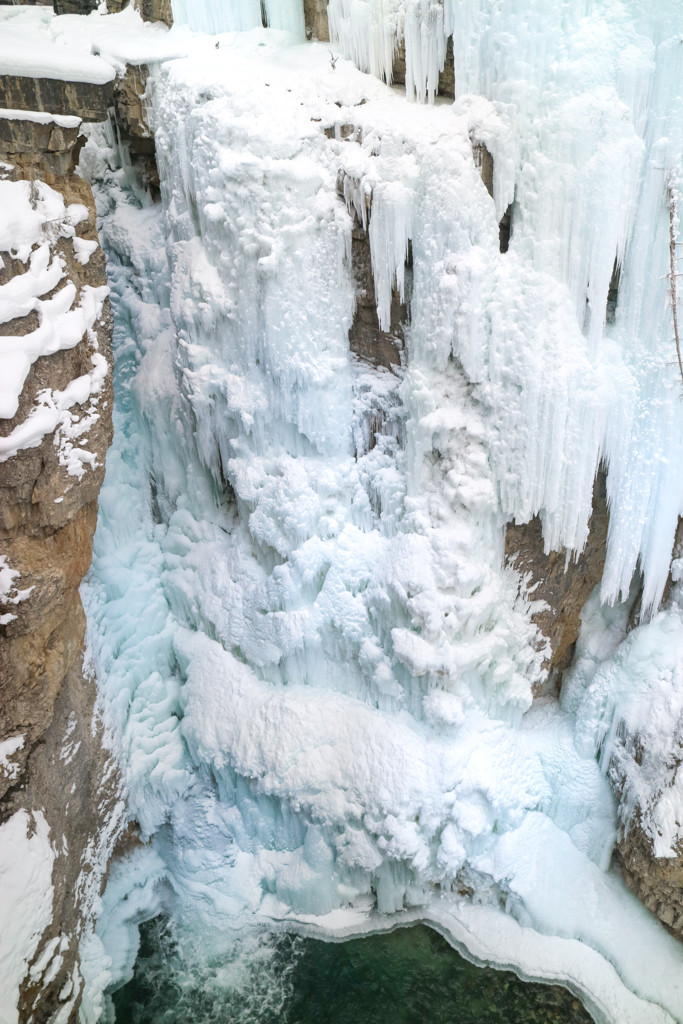 Conclusion
Johnston Canyon ice walk is a unique way to enjoy Banff in winter time. The beautiful hike showcases the natural beauty of the Canadian Rockies in an entirely different way. Perfectly quiet and surreal, it is truly a once-in-a-lifetime experience that you can't miss!
Tips – What to Wear and Bring?
Dress WARM with a hat, mitts, earmuffs as well as a warm coat and ski pants. Wear hiking boots or snow boots with traction devices such as crampons or ice cleats. If you're scared of falling, walking poles can be helpful in keeping you in balance. Lastly, don't forget your camera!
Doing an Ice Walk Tour
You can visit Johnston Canyon in the winter on your own. If you prefer to do it with a certified guide, here are some companies you can book an ice walk tour with: Discover Banff Tours and White Mountain Adventures. They generally provide ice cleats for your shoes as well as hotel pick-up and drop-off.
---
Pin it for later!