This site uses affiliate links and we may earn a small commission when you use our links and make a purchase without incurring additional fee yourself. Many thanks for supporting this website. Please see our disclosure page for more details.
Most people who have been to Banff and Lake Louise are familiar with Johnston Canyon, one of the most iconic attractions in Banff national park. Meandering through it in the summer lets you experience one of the easy hikes in Banff with a big payoff, but many don't know Johnston Canyon in winter is equally breathtaking.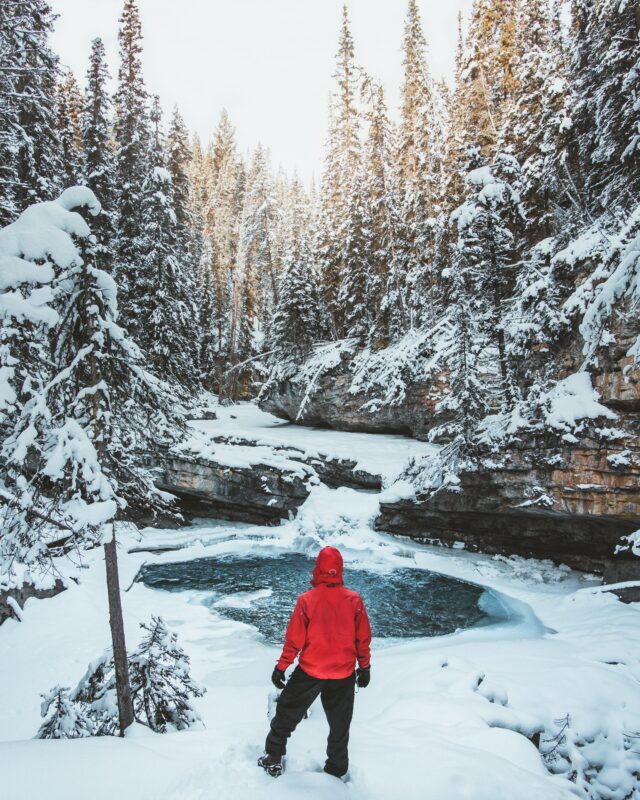 Can you hike the Johnston Canyon trail in the winter?
Yes, you can! Johnston Canyon is open in winter. Hiking the Johnston Canyon ice walk to frozen waterfalls is one of the most fun things to do in Banff in winter and it doesn't require much physical fitness to tackle!

Ready to get out and do some Banff winter hiking? Let's break the ice and take a look at 10 things you need to know about hiking Johnston Canyon in winter!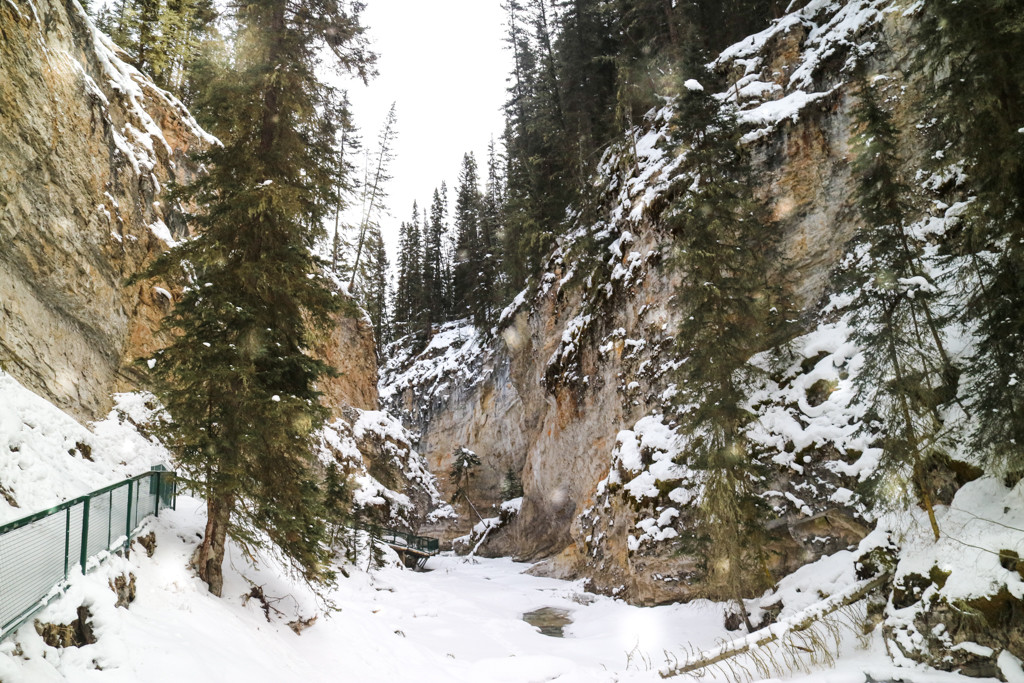 1| Johnston Canyon is much quieter in winter
With more than 4 million visitors, both domestic and international, wanting to experience Banff each year, you might think the national park is crowded nearly year-round.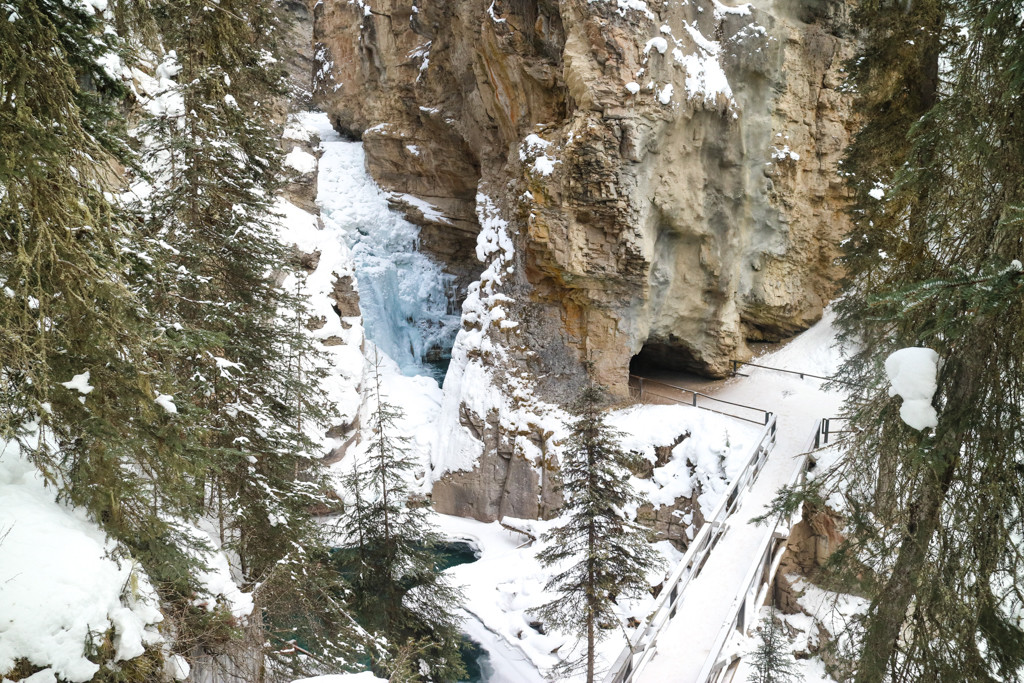 But don't worry! The majority of tourists choose to visit Banff between April and October. As a result, Banff and its famed attractions like Johnston Canyon are relatively quiet and crowd free during the colder, sometimes harsher winter months of December, January and February.
Johnston Canyon in the summertime is overpacked with people as early as 9 a.m. In contrast, during colder months, you will probably only run into a few souls on your Johnston Canyon winter hike during midday!
Banff is among the very best national parks in Canada and even the world. If crowds tend to keep you out of National Parks in the summer, you can rest assured Banff is just as wonderful and worth visiting in the winter when you have more space to yourself.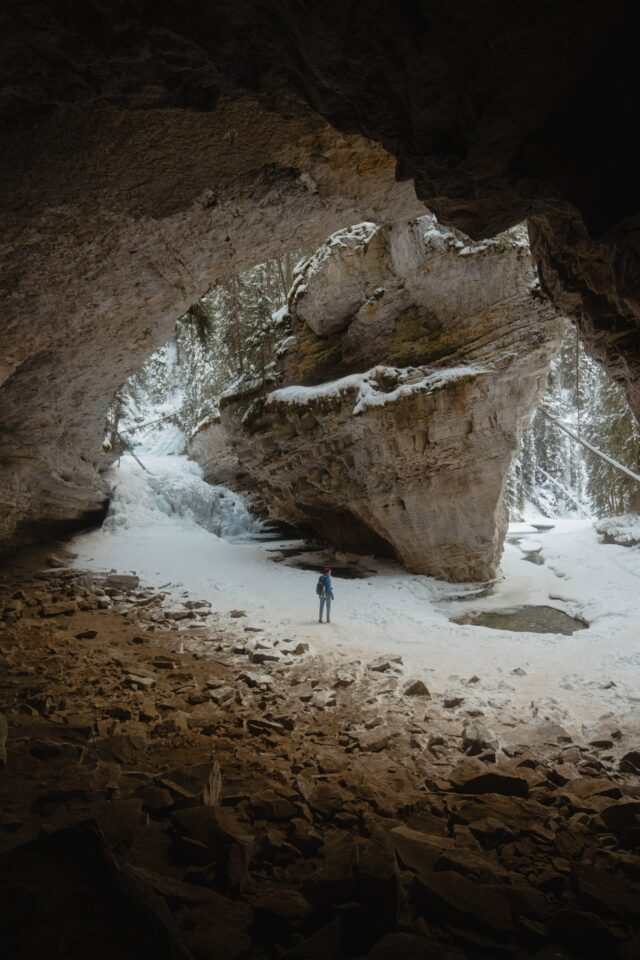 Imagine how much more pleasant and relaxed you will feel with fewer people on the Johnston Canyon trail. It will also be much easier to take photos with spaces available at popular lookout points. Plus, the snow adds extra charm to the canyon, offering a completely different experience than you would have in warmer months.
These reasons alone are justification for choosing winter as the perfect time to visit Johnston Canyon.
2| Expect variable conditions at Johnston Canyon during winter
Winter temperatures in Johnston Canyon can range anywhere from 0℃ (32℉) to -30℃ (-22℉).
Pro tip: You can follow the weather report and check Parks Canada trail conditions on the day of your visit.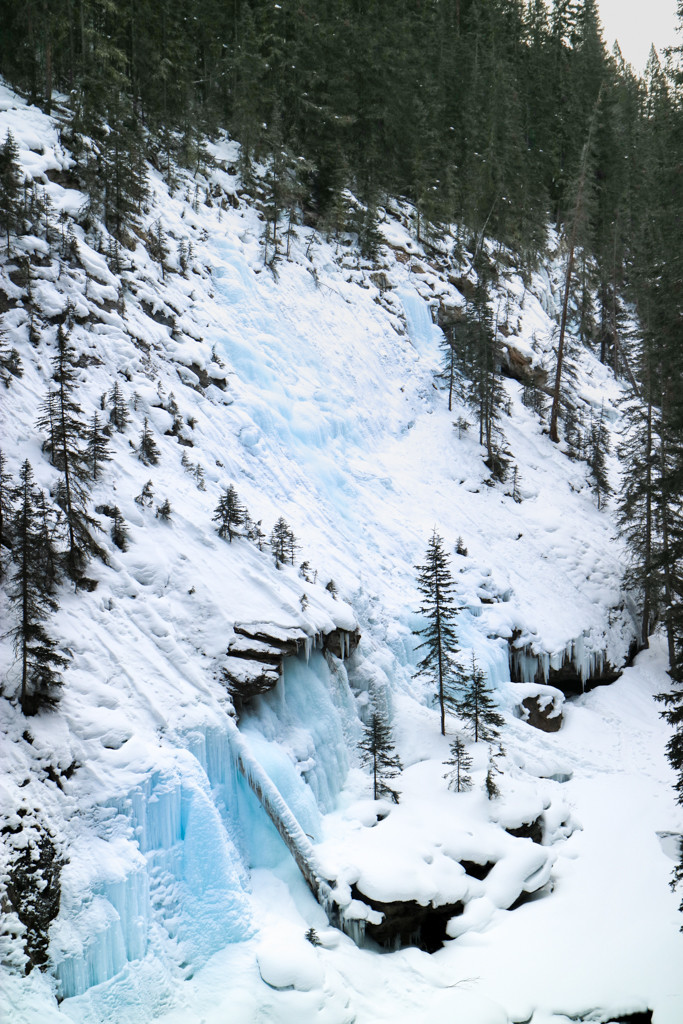 The trickiest thing about fluctuating temperatures and constant freeze-thaw cycles is that the trail can become extremely slippery. Winter boots simply won't cut it!
To prepare for this kind of treacherous condition, we recommend bringing ice cleats.
What are ice cleats? Can you buy or rent them in Banff National Park? We will go into more detail about this in a later section.
3| No public transportation to Johnston Canyon in winter
Banff National Park is well connected with public transportation in the summer months. However, all public buses and shuttles to major attractions stop operating in the wintertime.
Luckily, the major road to Johnston Canyon from Banff or Lake Louise, Bow Valley Parkway (Hwy-1A), remains open to public vehicle access.
Bonus: since less people visit Banff in winter, it is much easier to find a parking spot!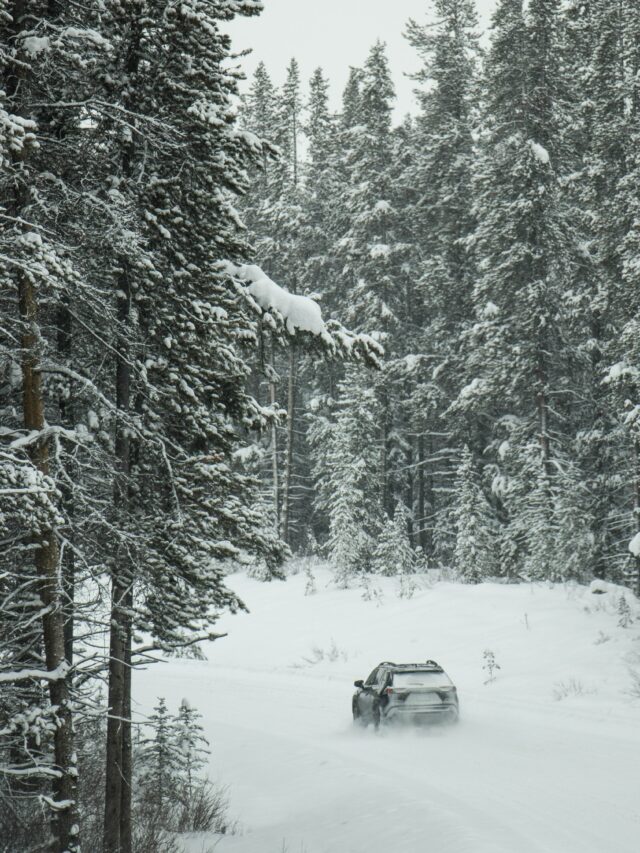 You can either hire a private transfer or drive to Johnston Canyon on your own. Winter fat biking is also an option if you're so keen.
Pssst, if you need to rent a car, we highly recommend using rentalcars.com to find the cheapest car rental deals from major brands such as Hertz, Avis, Alamo, and Budget!
If you choose to drive to Johnston Canyon, below are the driving directions.
Directions to Johnston Canyon trailhead
Coming from the east from Banff: head west on the Trans-Canada Hwy for approximately 5 km. Exit to Hwy 1A (or Bow Valley Parkway) and continue for 18 km to the Johnston Canyon parking lot which will be on your right hand side.

Coming from the northwest from Lake Louise village: take the overpass crossing the Trans Canada Highway and then take your first right. You will be on the Bow Valley Parkway (Hwy 1A). Follow it all the way to Johnston Canyon. The parking lot will be on your left hand side. You will find the trailhead to Johnston Canyon right at the parking lot.
4| Stunning photo ops: frozen waterfalls & ice pinnacles
You will find breathtaking photo ops around every corner at Johnston Canyon: columns of blue ice sitting on a canyon edge; snow-covered evergreens glistening in the sun; crystal clear emerald water rushing through the deep canyon.
As you make your way through the Johnston Canyon trail, you will encounter two main waterfalls: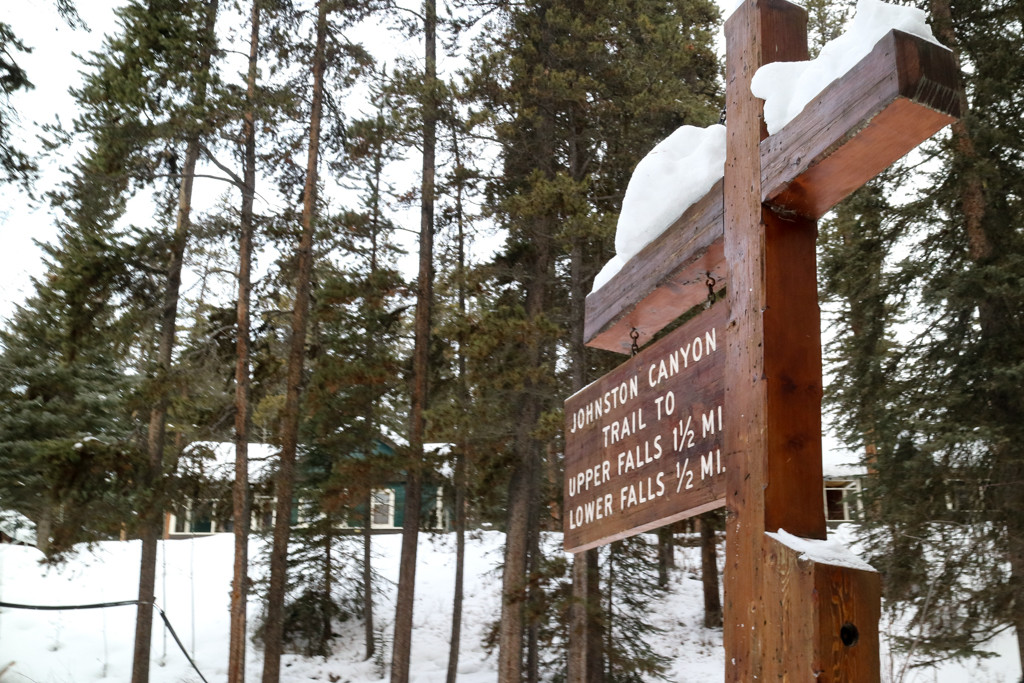 Johnston Canyon Lower Falls: 1.1 km (0.68 m) each way, elevation gain of 30 metres (98.4 ft).
Johnston Canyon Upper Falls: 2.7 km (1.68 m) each way, elevation gain of 120 metres (393.7 ft).
It generally takes around 3-4 hours round trip to see both the lower and upper falls in winter, and approximately 1.5-2 hours if you are just visiting the lower falls.
Once you reach the upper falls, you can continue on for another 3 km (1.86 m) to the ink pots, another key attraction on the Johnston Canyon hiking trail.
The ink pots stay open and unfrozen due to the warm spring water (4℃/39.2℉) bubbling up from the bottom of the ponds.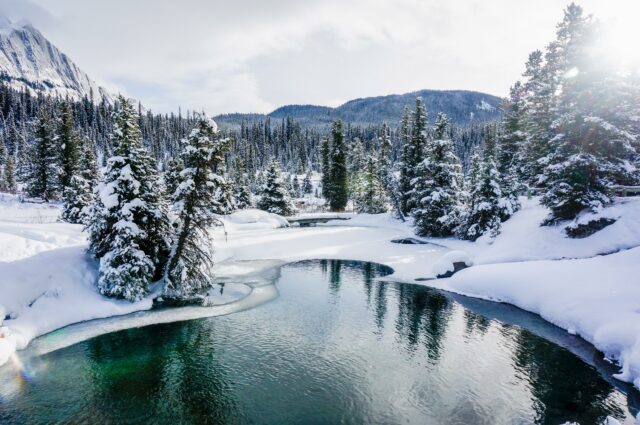 In the summer, the small round pools display different shades of blue and green due to varying amounts of deposited minerals. In the winter, the colours might not be as intense due to the change in angle of the sun, but they are still worth a stop on your Johnston canyon winter hike.
Map of Johnston Canyon
To get a better idea of where everything is located in relation to each other, refer to this google map of Johnston Canyon:
5| It is unlikely you'll see bears on your Johnston Canyon winter hiking trip
The various wildlife warning signs around Banff National Park probably make you wonder how likely it is that you will see wildlife on your Banff winter hiking through Johnston Canyon.
Bighorn sheep and mountain goats have been occasionally seen high up on the canyon walls but the trail is too busy for bears and the canyon is a real obstacle for them to move through the valley.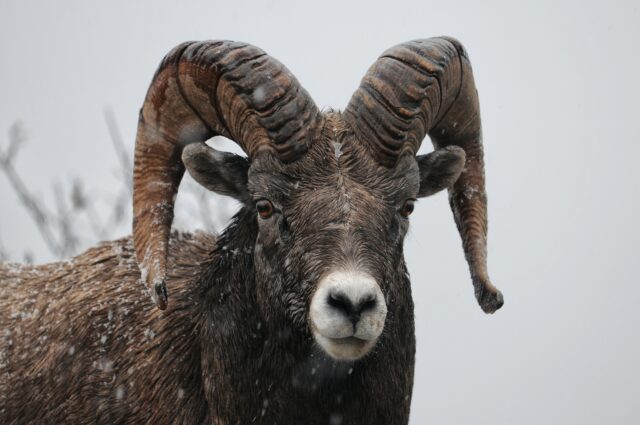 Having said that, always stay cautious while hiking in Banff national park:
Stay on designated trails.
Make sure you time your hike so that when you hike out, there's still daylight.
Travel in groups.
Make some noise, giving wildlife a chance to leave the area. This can be singing, talking, or even clanging hiking poles together.
6| Allow at least 4 hours for the Johnston Canyon winter hike
Johnston Canyon winter hiking is a half-day activity.
Getting to the trailhead itself takes at least 30 mins (by driving), no matter where you start.
Then, the hike to the Johnston Canyon upper falls takes 3 hours minimum. Bear in mind that the trail conditions in winter can be challenging and really slow you down.
You also want to leave extra time for photo-taking, resting, and fueling up!
7| Johnston Canyon is icy in the winter
As we mentioned earlier in this blog post, the Johnston Canyon trail can be super icy in the winter.
To safely hike through Johnston Canyon, hiking boots are not enough.
You need ice cleats, which are also known as crampons, nanospikes or microspikes.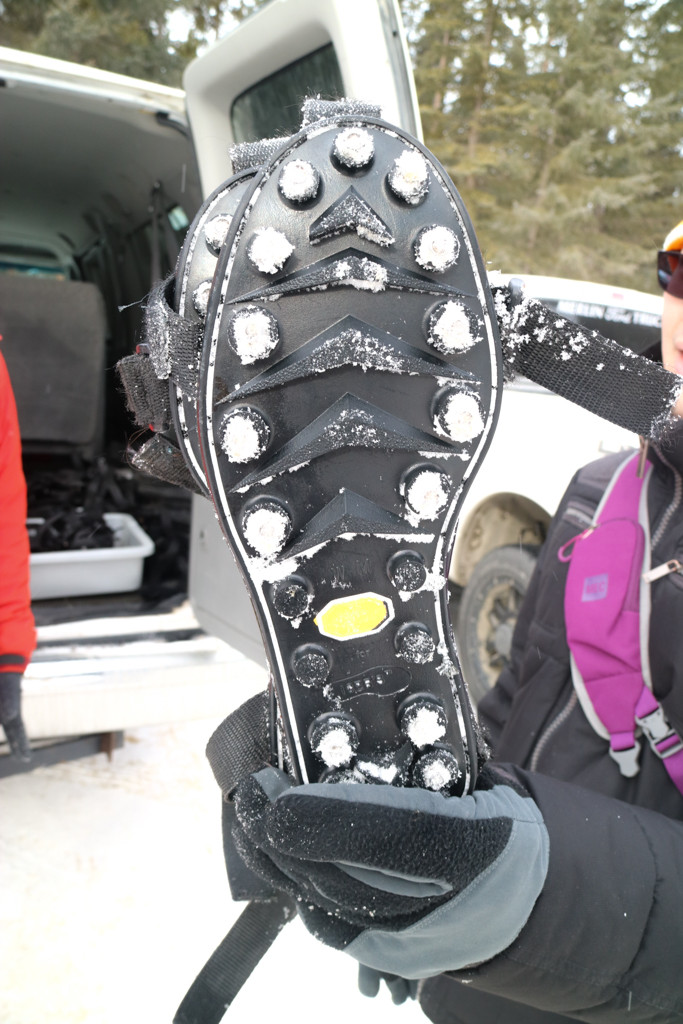 They are ice grippers for your shoes, with rubber harnesses that straps over the heel and toe.
These are super handy for winter outdoor activities because they provide extra traction and can help you maintain your footing to reduce the risk of slip-and-fall injuries on icy surfaces.
Where to rent ice cleats in Banff & Lake Louise?
Prices for a pair of ice cleats range from $12-$17 per day.
8| Dress in layers
Mountain weather can change quickly so you'll want to dress in layers. That way you can adjust your clothing if you get warmer or colder during the hike.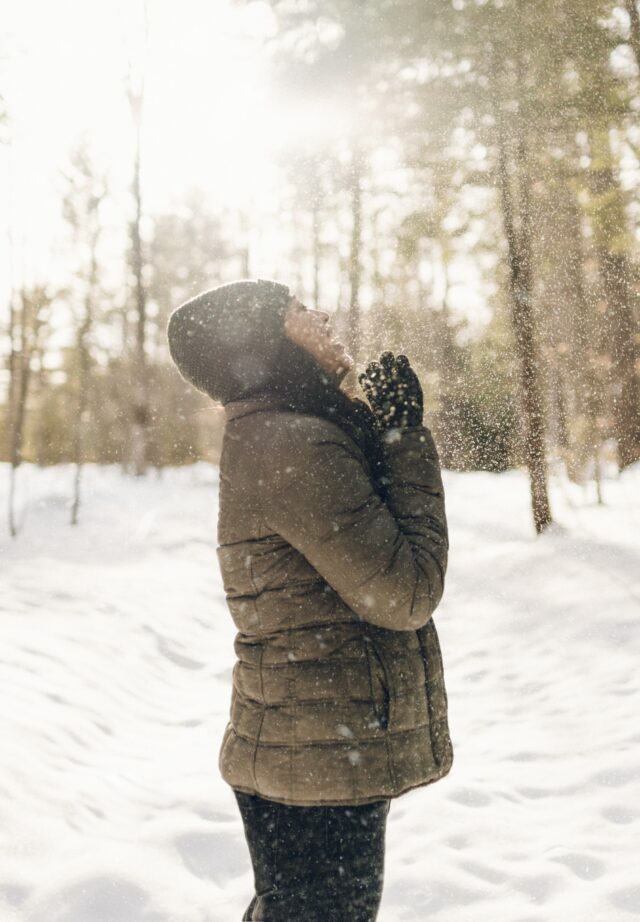 How to layer for winter hiking?
Here is what works well for us. We've included links to the items we wear so you can get more specific information.
The optimal winter system has three layers: base layer, insulating layer, and outer shell layer.
❋ Base layer: keeps you dry by wicking sweat away from your skin
Midweight legging / tights / long johns
Long sleeve polyester shirt
❋ Insulating layer: keeps you warm and helps you retain body heat.❋
Jacket synthetic insulation
Fleece pants or joggers
❋ Outer shell layer: protects you from wind, rain, and other elements that could make you cold.
Waterproof, breathable jacket or parkas
Water proof pants
❋ Accessories:
Merino wool socks
Insulated , waterproof mittens or gloves
Earmuffs
Winter hats
Scarves
9| The closest restaurant is 30 mins away
Unlike Maligne Canyon in Jasper National Park where there's a restaurant right by the trailhead, you won't find any eatery open near Johnston Canyon in the winter.
The closest restaurants in either direction (towards Banff or Lake Louise) are 30 minutes away. So make sure you eat a hearty breakfast before your drive to Johnston Canyon.
Better yet, prepare hiking snacks (trail mix, energy bars or fruits) and hot cacao! That sweet reward at the end of the day's hike will give you the energy you need to keep on walking!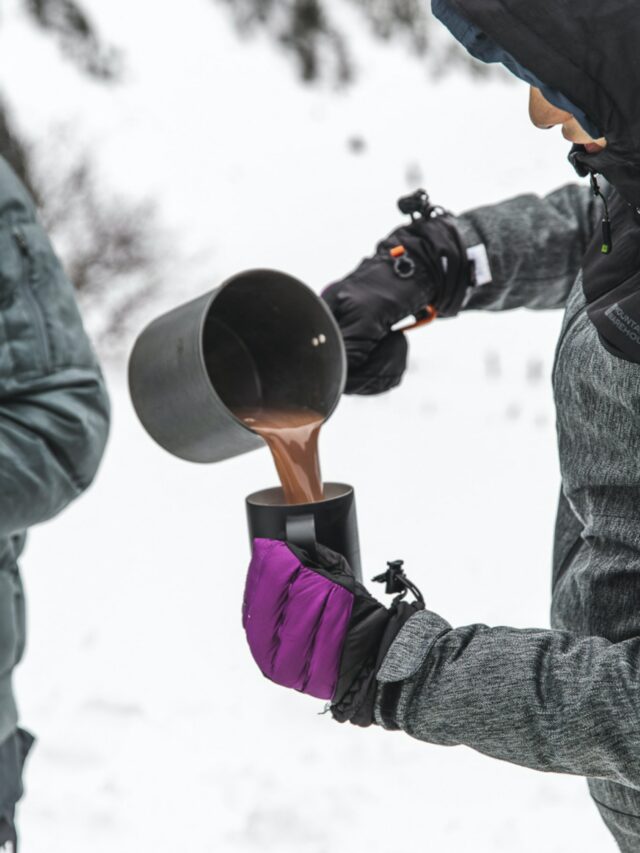 10| Explore hassle-free by joining a guided tour
You can visit Johnston Canyon in the winter on your own – if you don't mind driving in the snow and renting ice cleats beforehand.
That's too much work for you? Consider joining a tour with a certified guide!
We'd partaken in a Johnston canyon ice walk tour on our previous visit and we truly enjoyed it!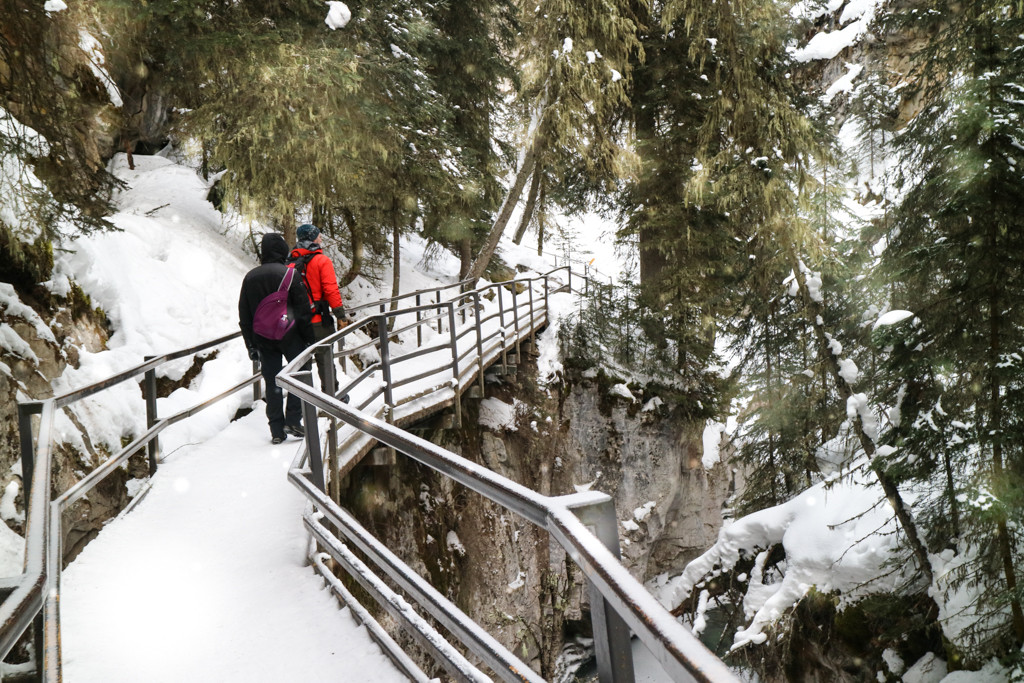 We recommend booking a Johnston Canyon icewalk tour for a hassle free experience. Included in the tour price are ice cleats for your shoes, hiking poles, transfer from Mount Royal Hotel, snacks and warm drinks, and educational commentary during your Johnston Canyon winter hike!
Our Johnston Canyon ice walk tour experience
At 8:15 AM, we met our tour guide at Fairmont Chateau Lake Louise, the hotel where we stayed for that winter visit.
Shortly after meeting up with our tour guide, we quickly hopped onto a van and drove down Trans-Canada Highway (Hwy 1). In 30 mins, we arrived at the trailhead and were ready to begin our adventure!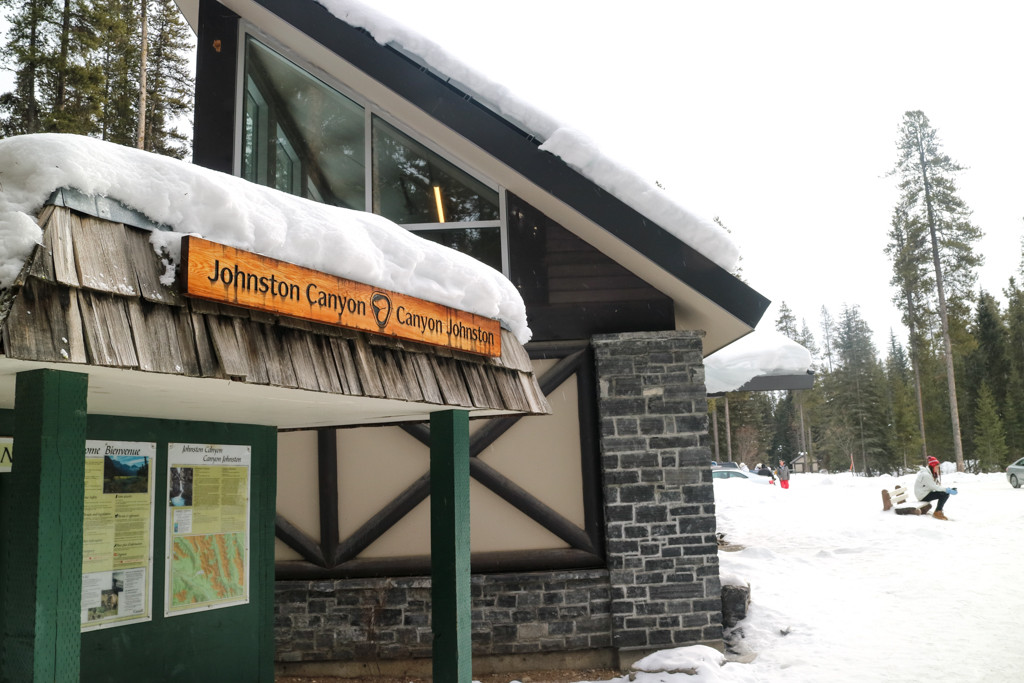 As a safety precaution, our guide advised us to slip ice cleats onto our footwear, which would provide extra traction that we needed to tackle icy surfaces. Safety before beauty, people! This is serious.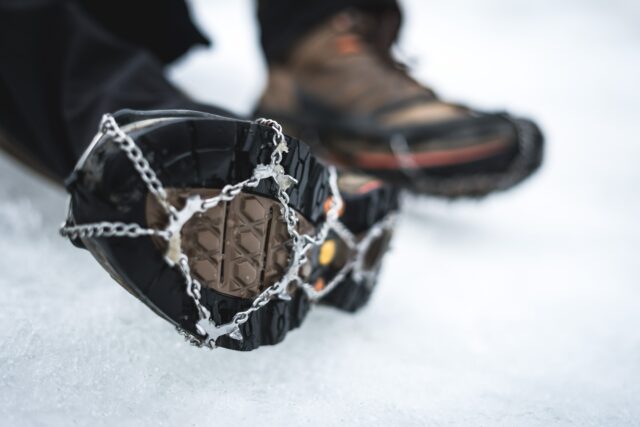 Soon after, we ventured into the canyon and were mesmerised by the stunning splendour of nature. Submerged in a blanket of snow with dazzling pillars of blue ice as the backdrop, Johnston Canyon really had transformed into an icy wonderland!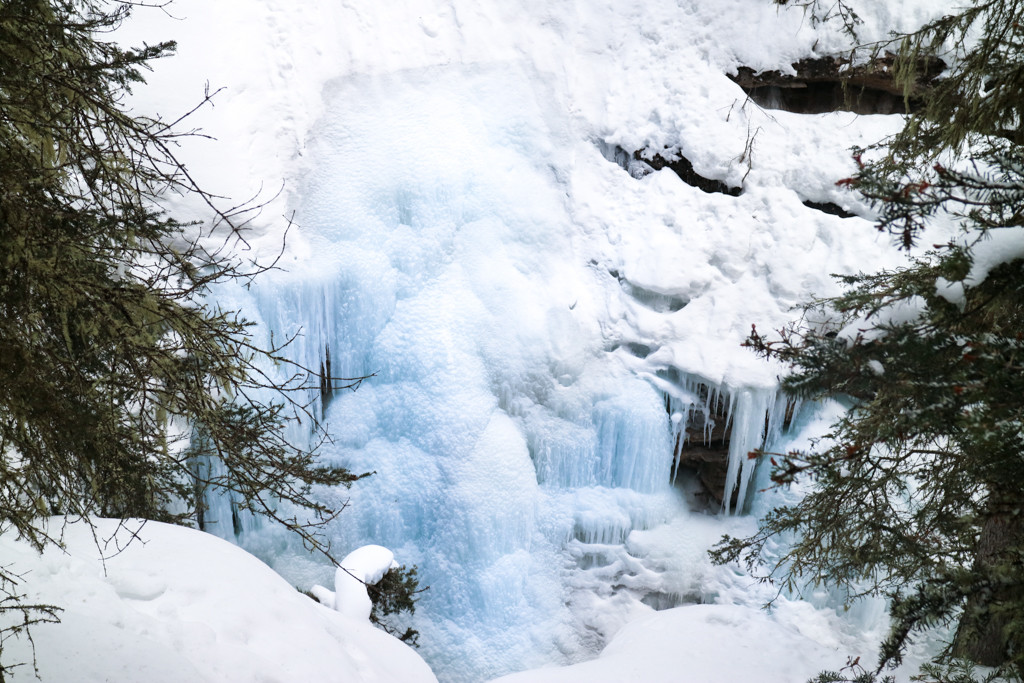 A series of trails and steel catwalks led us into a deep canyon to see the frozen waterfalls. As we hiked along the suspended walkway, we couldn't stop admiring the spectacular views of ice clinging to the canyon walls and semi-frozen river down below.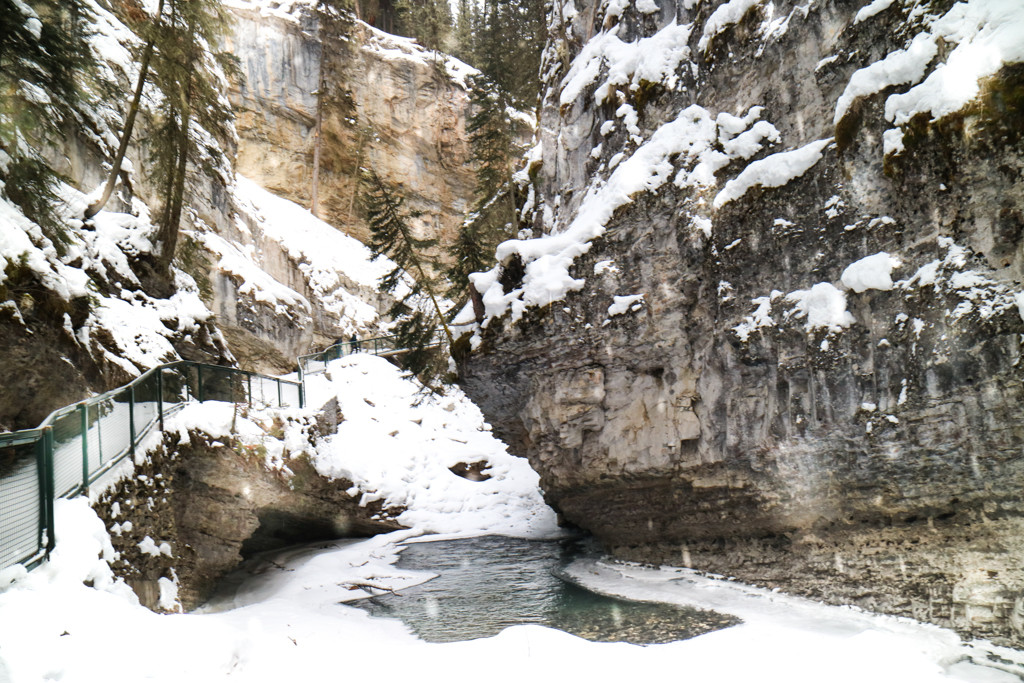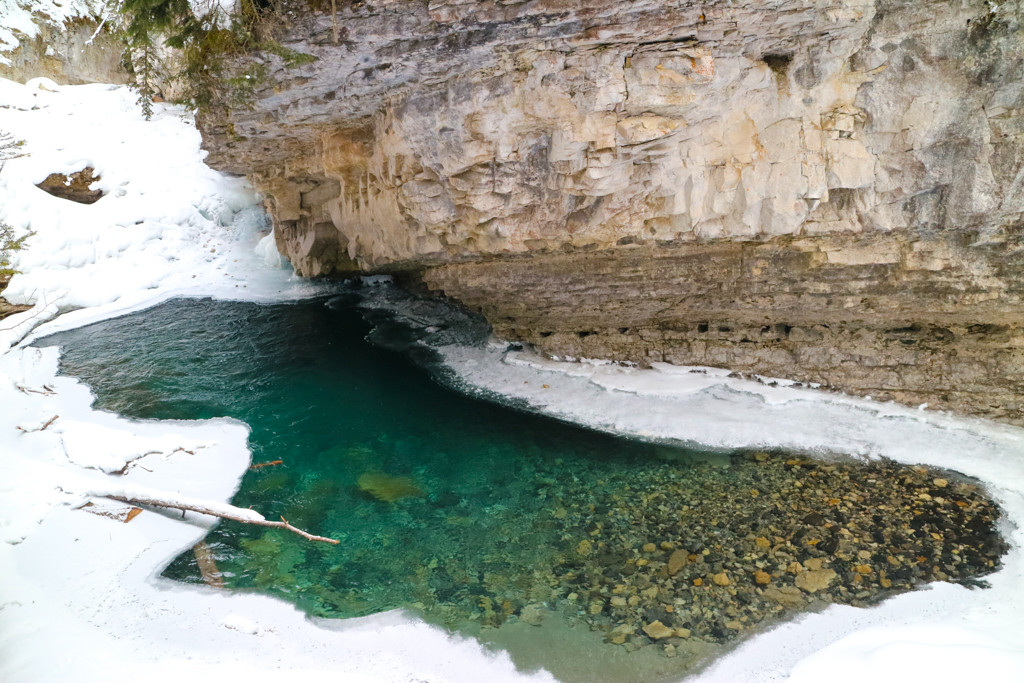 30 minutes into the hike (~1.1km walk), the relatively level walkway brought us to a fork in the trail. Turning right, we arrived at the bottom of the canyon to see the Lower Falls.
The bridge suspended over the stream provides a great frontal view of the thundering Lower Falls in the summer.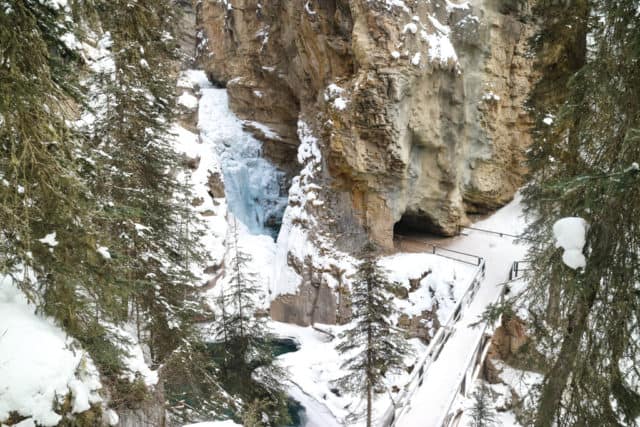 To get a more intimate view of the attractive waterfall, we ducked into the limestone cave which opened up to a reasonably sized viewing platform.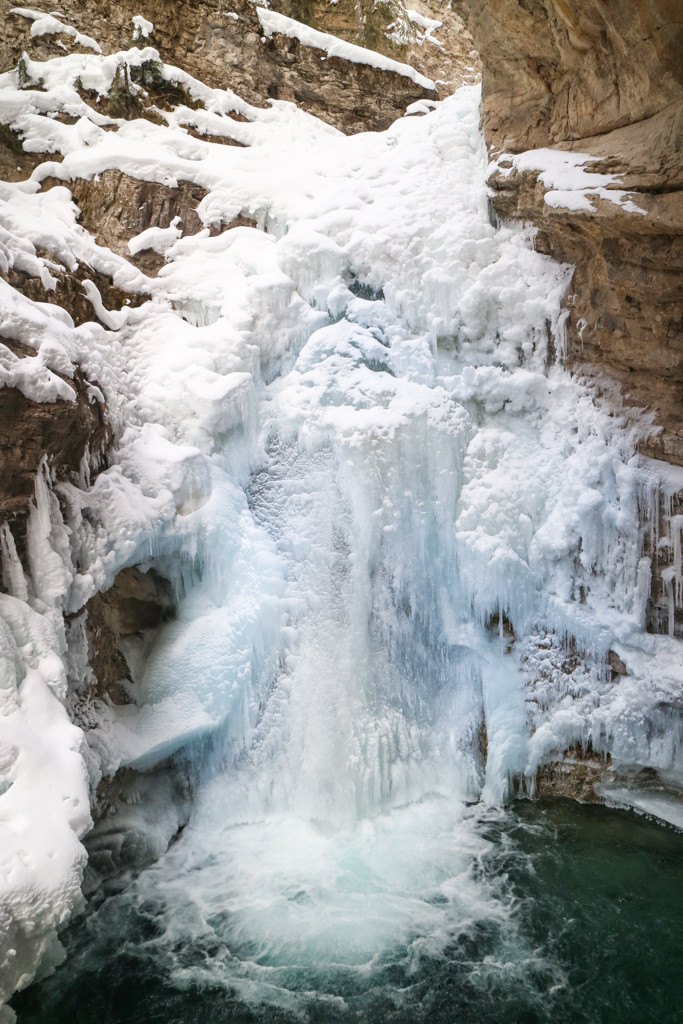 Despite being covered in frozen ice, the waterfall doesn't cease flowing and plunging into a jade-green pool. The sound of the rushing water somehow transported us to a place of peace and tranquillity.
Back at the fork in the trail, we continued climbing upwards to our final destination, the Upper Falls.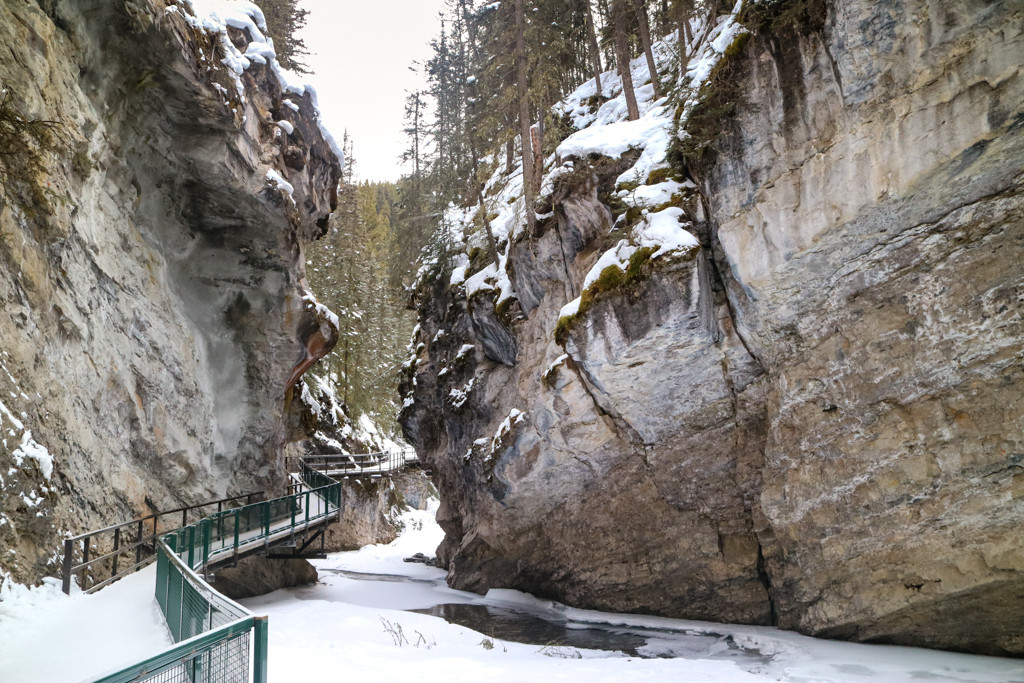 The trail started to get slippery, but by using our ice cleats and zigzagging our way up the steep hill, we were fine. Steep or flat, the twisting canyon never stopped fascinating us with its geological uniqueness and amazing formations.
The beautiful landscape made me ponder whether I was in a dream.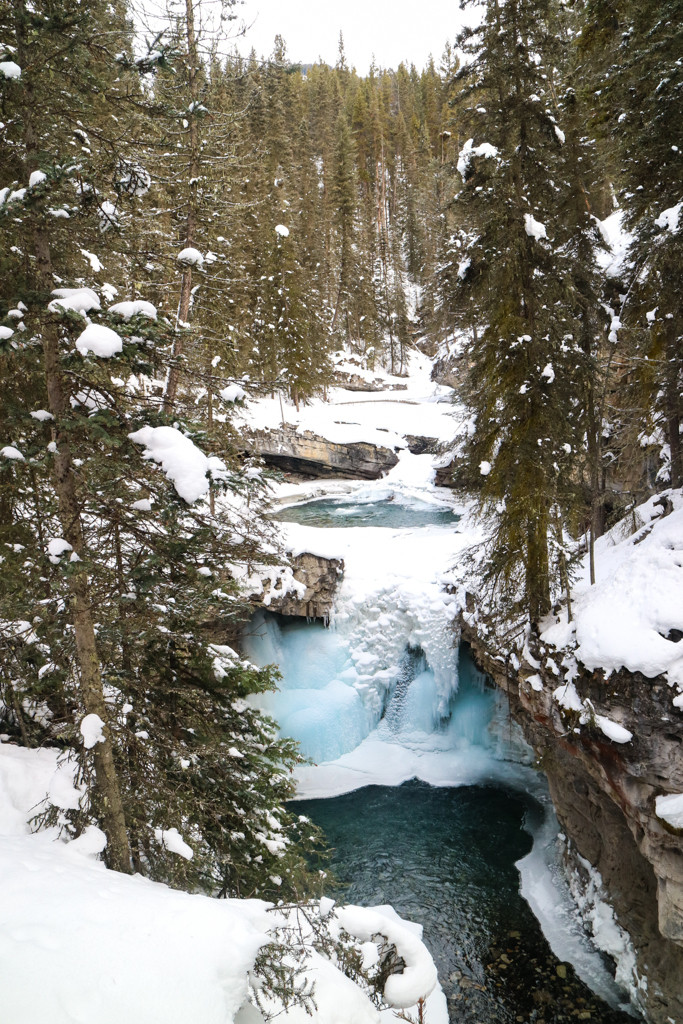 When we encountered another fork in the trail (~1.6 km from Lower Falls), we knew we had finally approached the Upper Falls. The right trail took us directly to the bottom of the waterfall.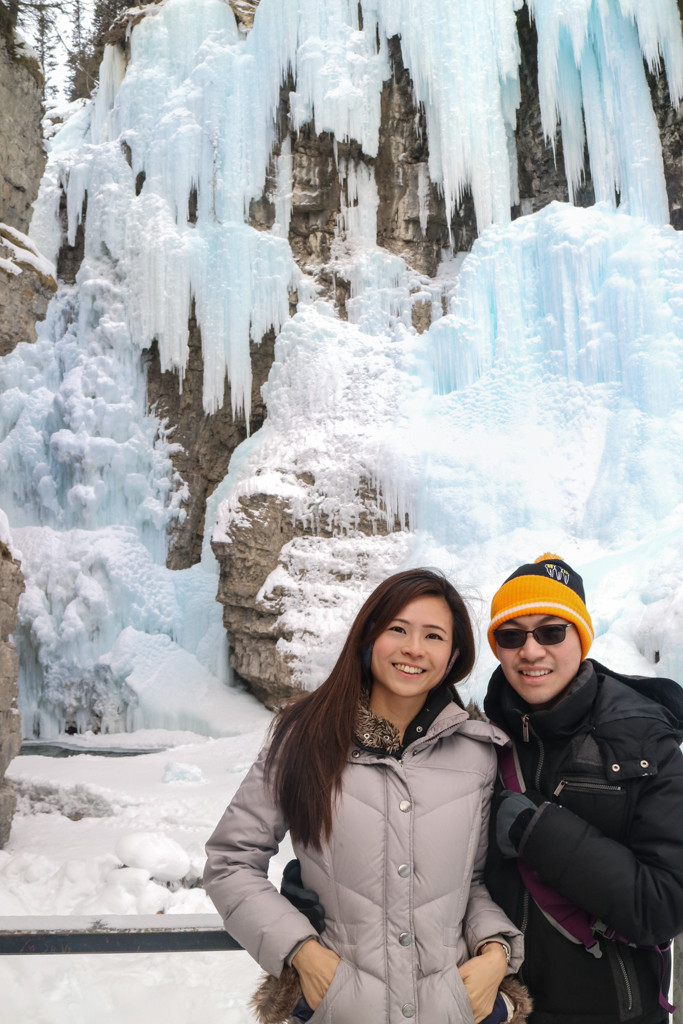 This was the highlight of our tour – being surrounded by the incredible cathedral of ice. Various shadows of blue and white icicles and the magnificent sight of the frozen waterfall were simply awe-inspiring!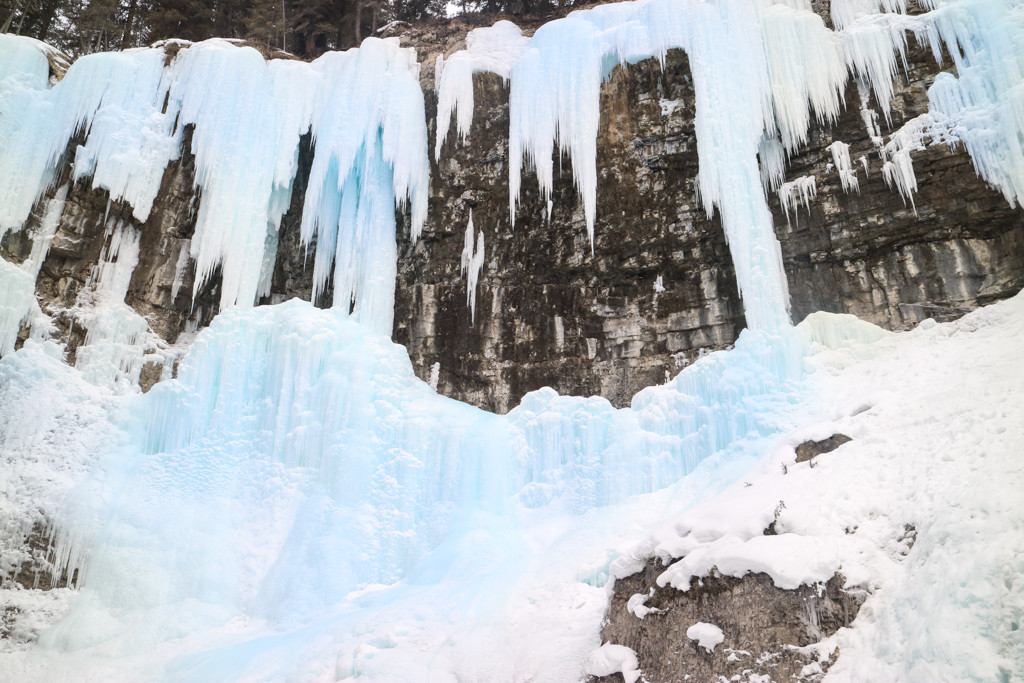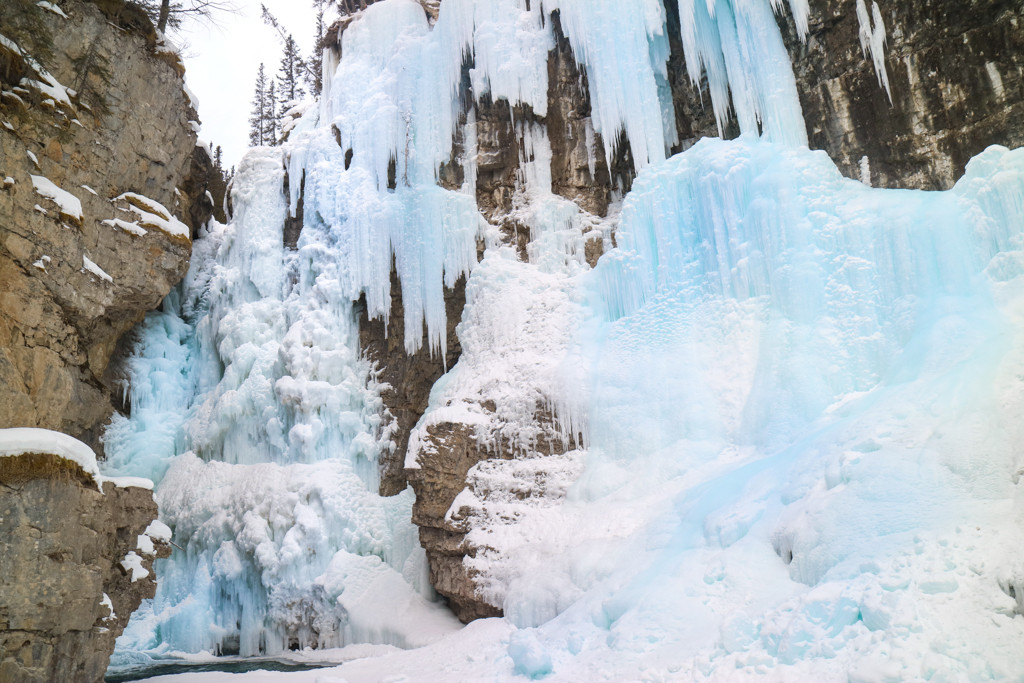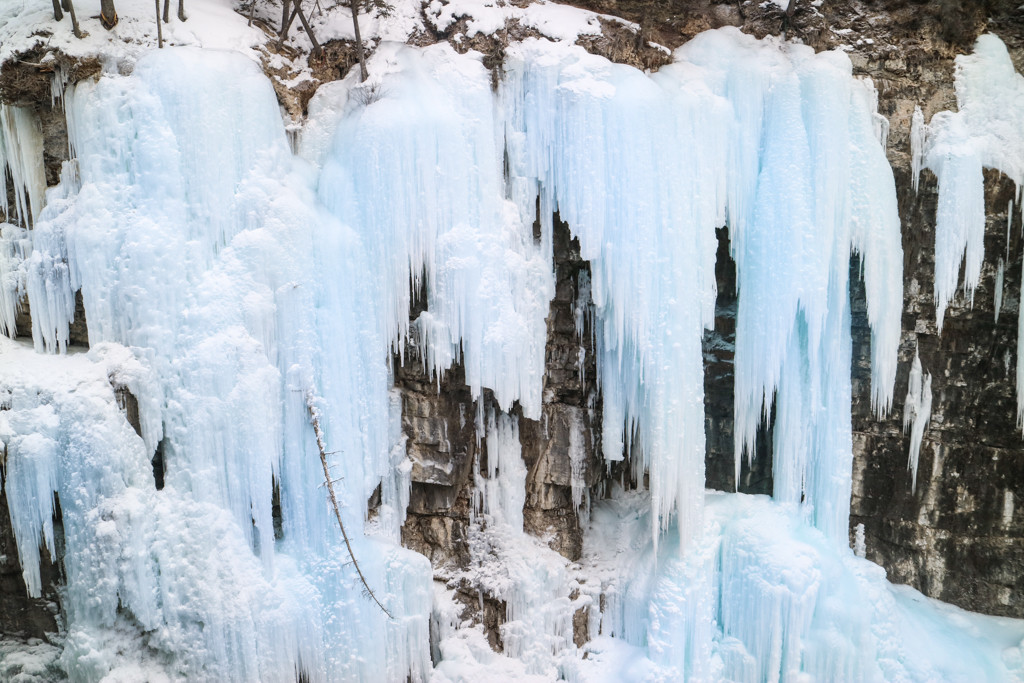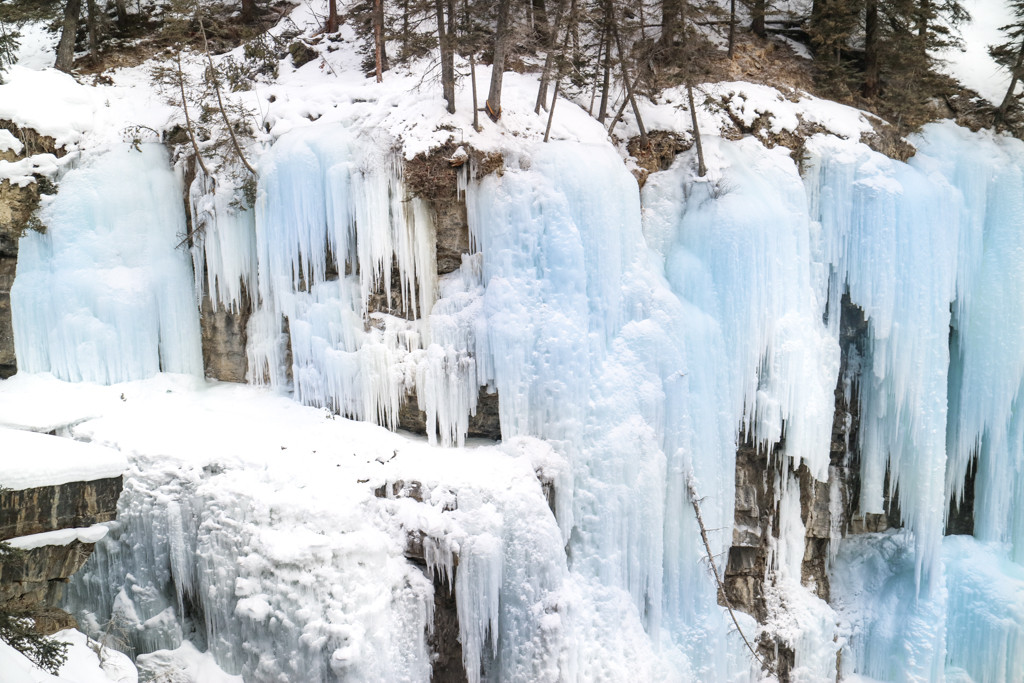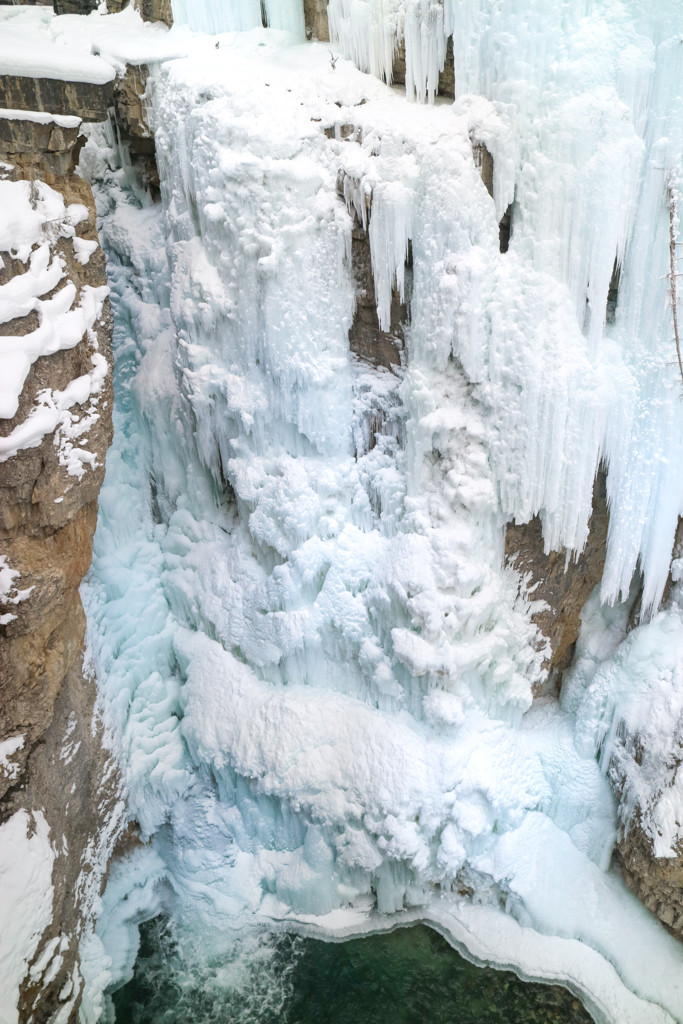 On some occasions, you might see ice climbers practising their skills on these thick masses of frozen ice.
Other fun things to do in Banff in winter
Try dog sledding!
Soaking in Banff Upper Hot Springs
Ice skating at Lake Louise
Snow tubing at Mt Norquay
Join the annual SnowDays Festival in January
For a full list of Banff winter activities, check out our non-skiers guide to visiting Banff in winter.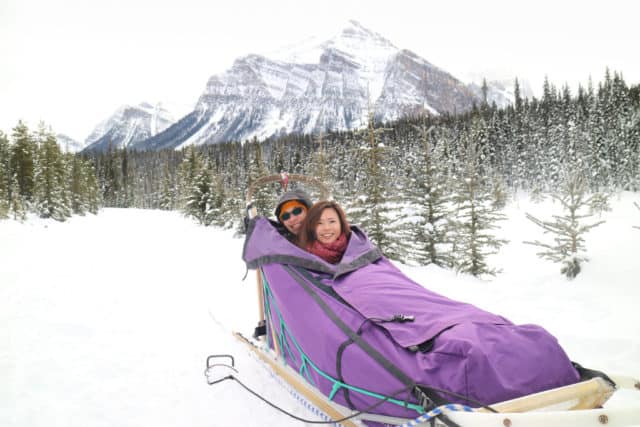 Where to stay in Banff during winter
Banff Town: Mount Royal Hotel
This newly renovated hotel is centrally located in the town of Banff. From its convenient location, you can access shopping, restaurants, and many other key attractions in Banff National Park in mere minutes!
Bonus: it has a rooftop jacuzzi open year-round!
Banff Town: Peaks Hotel & Suites
This 3-star modern hotel is the newest addition to the town of Banff. It is beautiful, clean, quiet, and close to everything you need in the mountain town!
Outer Banff: Fairmont Banff Springs Hotel
The luxury Fairmont Banff Springs Hotel is your home away from home. The resort is housed in a historic castle and a National Historic Site nestled high in the mountains. On site, you'll find 12 different restaurants, a fitness centre, swimming pools, and an award-winning spa to keep you entertained throughout your stay.
Outer Banff: Buffalo Mountain Lodge
For a rustic mountain getaway, consider Buffalo Mountain Lodge instead! Situated on Banff's historic Tunnel Mountain, the lodge offers a peaceful retreat in the forest.
On property, you'll find an outdoor hot tub and several options for dining. What we loved most are the fieldstone wood-burning fireplaces, patios and clawfoot bathtubs inside the rooms!
Lake Louise: Fairmont Chateau Lake Louise
This iconic property sits on the shores of Lake Louise, offering panoramic views of the famed lake and the Victoria Glacier. This 4-star resort includes a heated indoor pool, a fitness centre, a full-service spa and hair salon, 8 on-site dining options, and a skating rink in winter!
Need help planning a trip to Banff National Park?
Banff is one of the most visited National Parks in Canada. Its landscapes will genuinely blow you away and we know how important it is to get your trip off to the best possible start by planning everything in advance.
We have been lucky enough to visit Banff multiple times over the past few years at different times of year and with different goals.
If you're planning a trip to Banff and Lake Louise and need a hand with planning where to stay, where to eat, how to get there and how to use the shuttles, which hikes to do, which overlooks to visit, where to watch sunrise or sunset and any other question you have about your trip, our 50+ page Banff guidebook with example itineraries is perfect to download to your phone or print a hard copy.
Click below to see the details and have a great time in Banff!