This site uses affiliate links and we may earn a small commission when you use our links and make a purchase without incurring additional fee yourself. Many thanks for supporting this website. Please see our disclosure page for more details.
If you are a barbecue fanatic, the name "Gyu-Kaku" might not be foreign to you. Specializing in Japanese yakiniku (barbecue) dining, Gyu-Kaku is a popular international chain that has approximately 600 locations within Japan and more than 30 branches in Asia and North America. Last month, the bustling chain made the bold move to open in downtown Calgary, which resulted in instant popularity. Arriving 30 minutes after its opening time will most likely put you on the wait list. Many wonder if Gyu-Kaku is worth the inevitable long wait. Let's find out.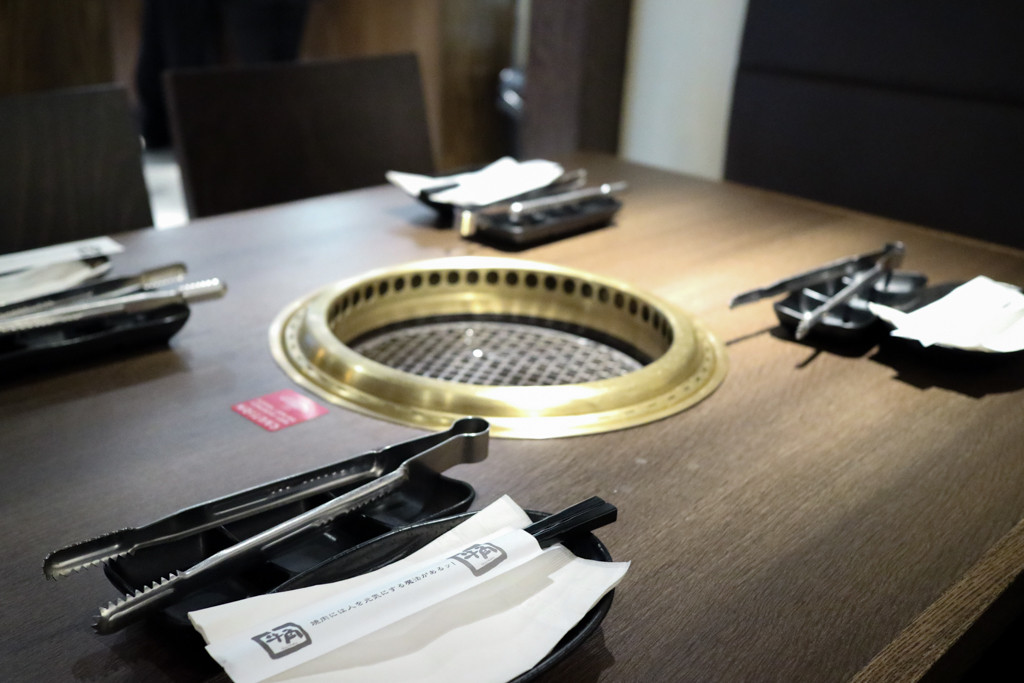 The first time I dined at Gyu-Kaku was back in 2011 when I was still living in Taiwan. The hip barbecue restaurant was already well-received in the Taiwan market for offering inexpensive high quality meat. On top of that, the do-it-yourself yakiniku concept was a novel idea, making the experience a lot more entertaining and interactive, especially for those who liked to play with food. In Calgary, these 2 things remain unchanged and are what the restaurant boasts of providing to its guests.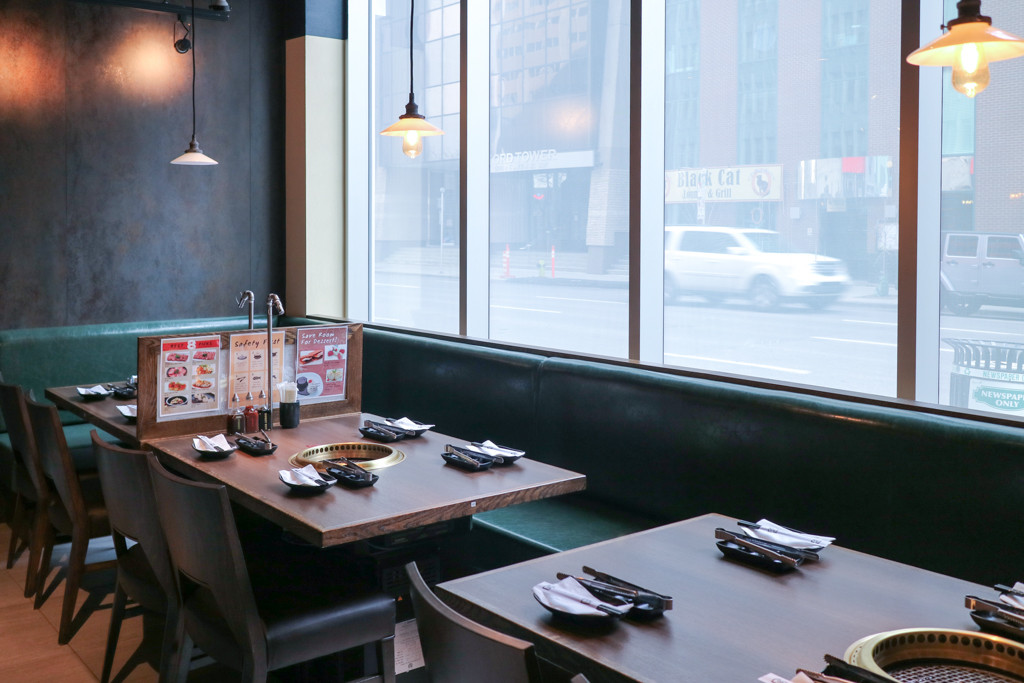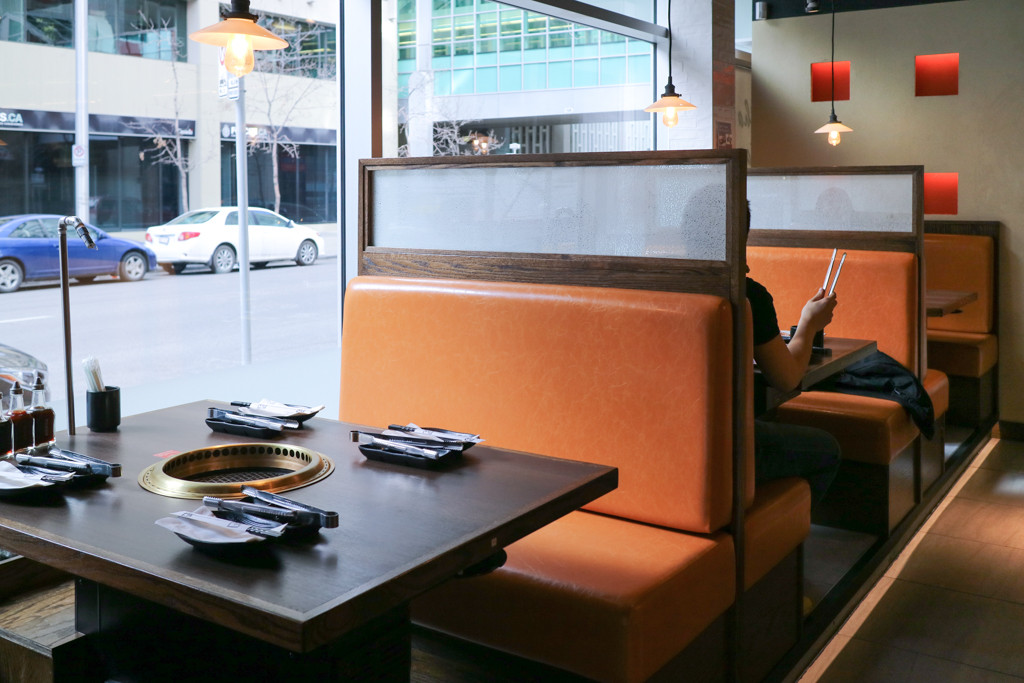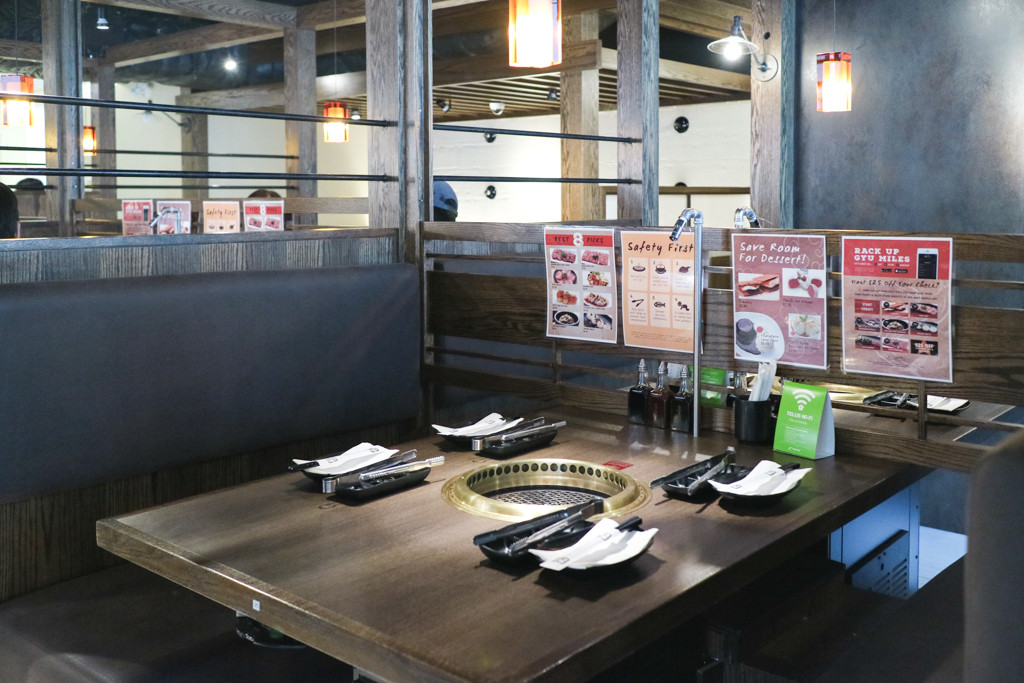 Be Your Own Chef at Gyu-Kaku
Yakiniku ("grilled meat" in Japanese) is the Japanese-style barbecue where bite-sized meat and vegetables are cooked over a charcoal or gas grill. At Gyu-Kaku, the entire grilling experience is self-service. After the uncooked meats are delivered to your table, you grill over a flaming charcoal grill yourself and dip them in your choice of sauces. YOU decide what meat to try and how you want it done!
The best way to enjoy Gyu-Kaku (or barbecue in general) is to go in a big group – that way, you get to try a variety of dishes! Its extensive menu features pork, poultry, seafood, vegetables and a full range of beef cuts, the majority of which are aged for 21 days to give them a great charcoal flavour and help keep them juicy when cooked. A selection of alcoholic and non-alcoholic drinks, cooked dishes, and desserts are also available.
To save time and hassle, that night, the four of us ordered 2 set courses – "Meat Lover's" ($55) & "Geisha" ($60), which included miso soup, house special salad, hot-stone sukiyaki bibimbap, chicken karaage, tuna tataki, 13 different bbq items, and ice cream and s'mores for desserts.
Appetizers
Freshly made and served in big portion size, the appetizers were not bad, but not worth taking up the stomach space. Putting together cabbage, daikon, egg, cucumber, tomato with Japanese mustard miso dressing, the zesty sweet salad made a refreshing start to the meal. Ditto for the tuna tataki that was lightly seared and served rare with citrus-based soy sauce. On the contrary, the rather-dry chicken karaage (Japanese fried chicken) and plain-tasting sukiyaki bibimbap weren't impressive at all.
Barbecue Items
The crackling sound of the charcoal, food sizzling on the grill, and the smell of barbecue made me drool and my stomach growling. In total, we tried 8 different cuts of beef including bistro hanger steak, angus beef ribs, new your steak, yaki-shabu beef, toro beef, harami miso shirt steak, filet mignon, kalbi chuck, plus spicy pork, shrimp garlic, mushroom medley and spinach garlic. All the meat came with the default marinades. If you order it à la carte, you can choose the marinade from the selections (miso, garlic, basil, tare sweet soy, shio white soy, salt & pepper seasoning, yuzu, or teriyaki).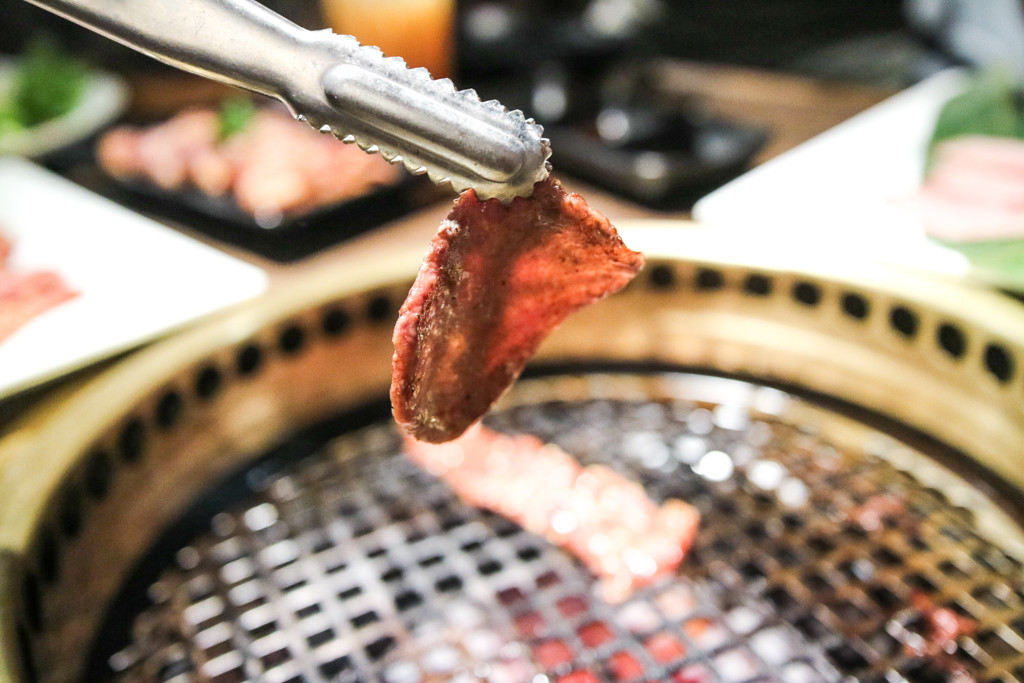 How to grill? If it is your first time, not to worry. The server will guide you and tell you how long to leave the meat on the grill. Generally, beef requires a shorter grilling time (~30 sec each side for thin cut, 45 sec for medium cut, 60 sec for thick cut) while pork, poultry and seafood needs to be thoroughly cooked (about 2~3 mins per side). Vegetables are packed in toil and need to be steamed for 2-3 mins each side.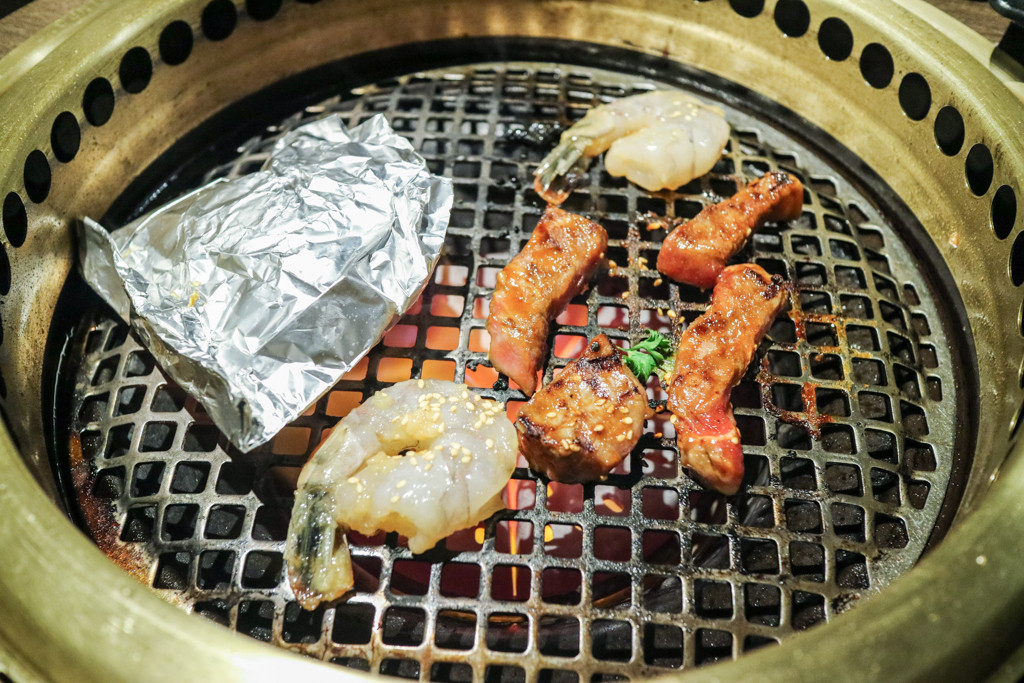 [easy-image-collage id=4788]
[easy-image-collage id=4796]
Of the many meats we tried, the thinner slices were my favourites. Yaki-shabu beef, toro beef, harami miso shirt steak, and bistro hanger steak are all excellent choices for their full-bodied flavour and melting tenderness. I strongly recommended ordering the premium beef tongue ($9.95) that tasted pretty darn good!
If, for some reasons, the meat doesn't have much flavour, you can dip it in one of the 3 different sauces (sweet soy, spicy, ponzu) that are readily available on the table.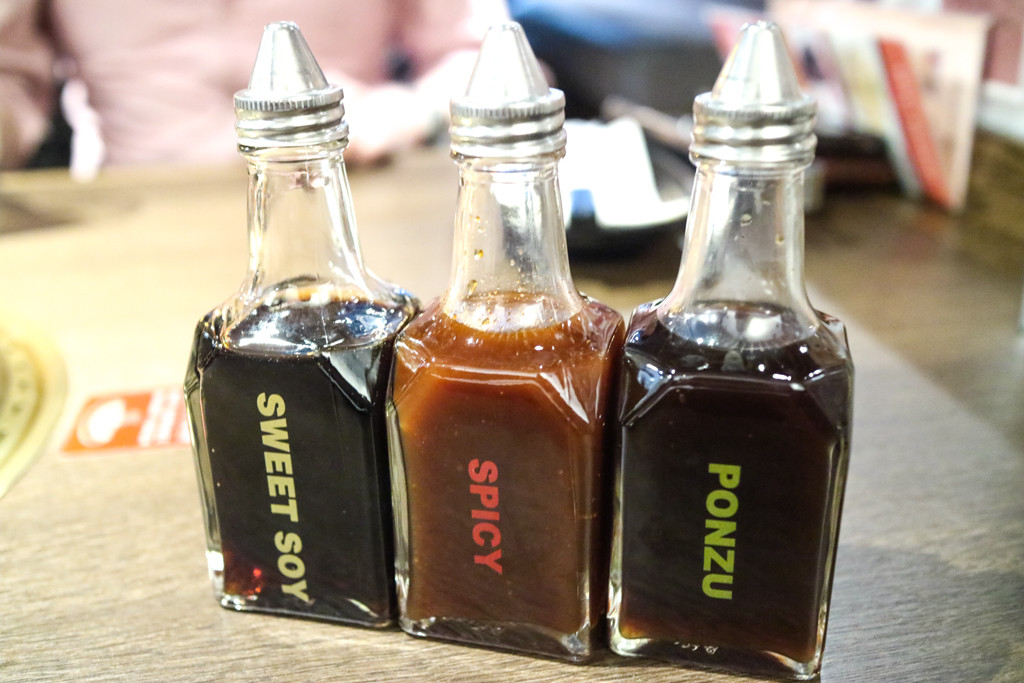 Desserts
The evening was ended with some maple syrup ice cream and, even better, we got to replicate the taste of a chocolate-marshmallow-graham cracker s'more. The at-table s'more experience transported us back to childhood campfires. When the marshmallow was torched, the smokey and caramelized flavor was just insanely good!
[easy-image-collage id=4795]
Conclusion
Back to the question: if Gyu-Kaku is worth the long wait. The restaurant definitely offers a fun, communal experience. Whether you're with friends or family, it is the place to go and show off your bbq skills. Because it is a giant chain, it could offer top quality meat at affordable prices. Nonetheless, we felt the service a bit rushed – the dishes just kept coming even when we had a full table. At one point, I had to ask the server to slow down and give us some time to finish the existing plates. My advice would be: give it a couple weeks, wait till the "fever" dies down, then make your visit. When you go, skip the appetizers and order the meat.