This site uses affiliate links and we may earn a small commission when you use our links and make a purchase without incurring additional fee yourself. Many thanks for supporting this website. Please see our disclosure page for more details.
It's an exciting year for Calgary: numerous restaurants sprout up all across the city as the weather warms up. Exploding with so many options, it's hard to decide which one to try first. Let me make this task easier by introducing you to Ten Foot Henry – not only is it one of the most highly rated newcomers in the Calgary food scene, it is also the new home for Henry, a comic-strip character created in the 1930s.
Henry is no stranger to this new home at all. In fact, the location at 1209 1st SW used to house The Night Gallery where Henry resided for 19 years before its closure. Inspired by the story of Ten Foot Henry, Chef Stephen Smee and his wife, Aja Lapointe, decided to integrate Henry into their new venture and name the restaurant after him.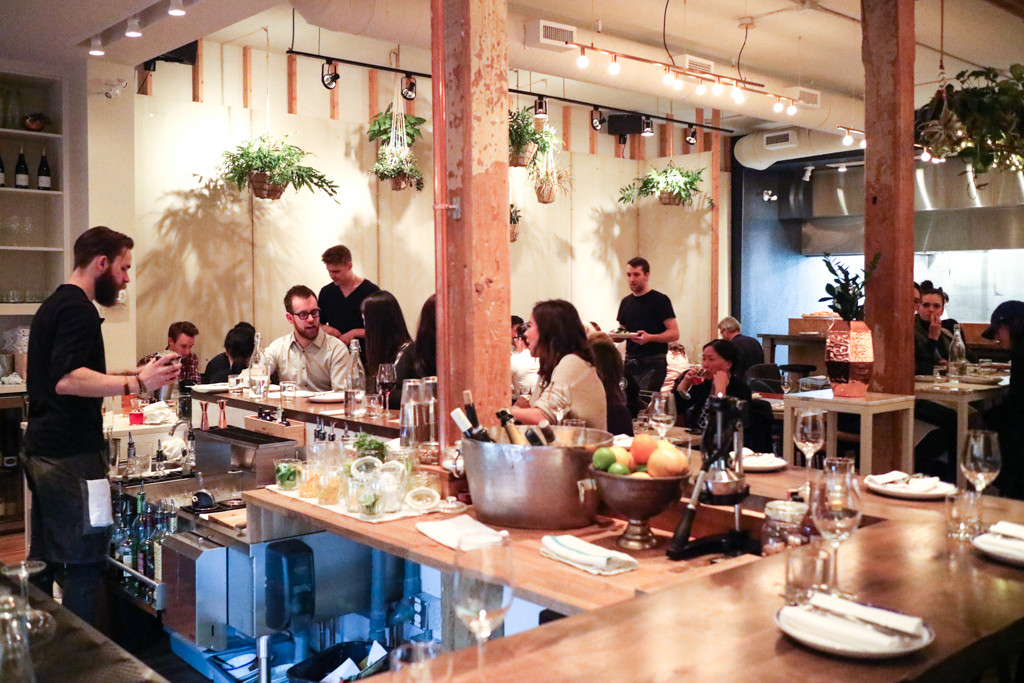 There's nothing quite like the cozy garden-style ambience inside the 78-seat eatery. Exposed wood beams, wooden furnitures, blue wall tiles, and lush hanging plants have the magical power to provide warmth and comfort to its guests no matter how cold it gets outside.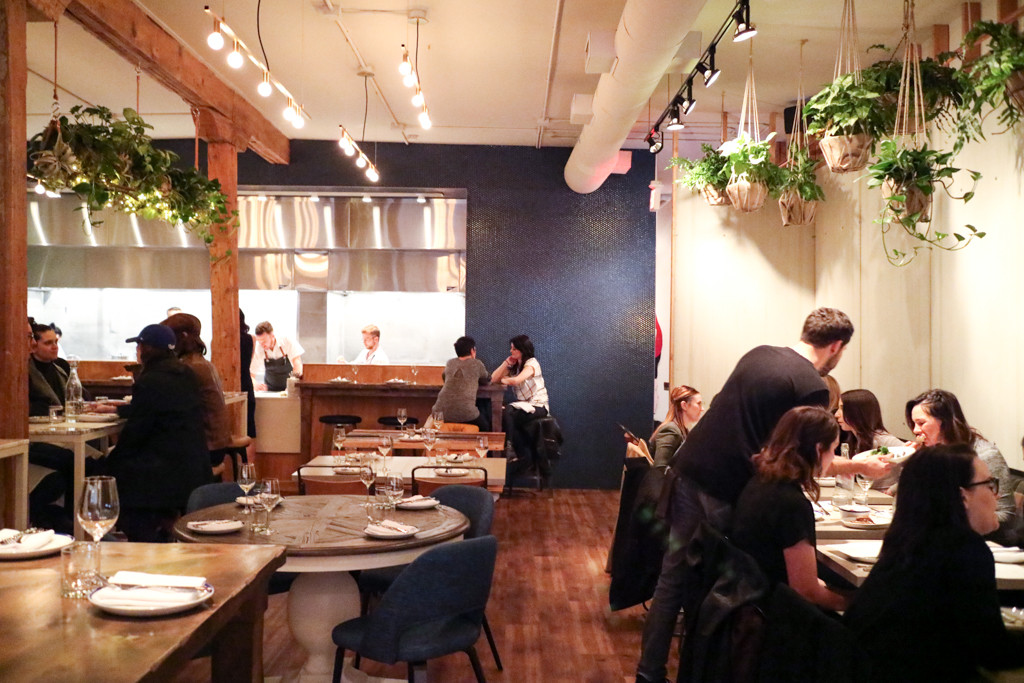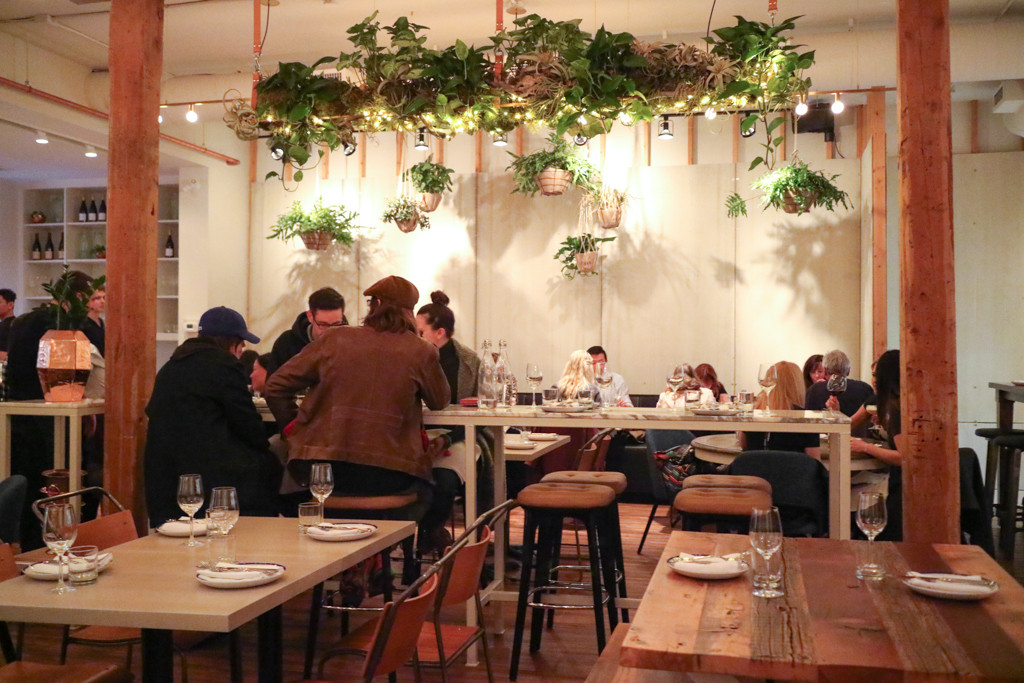 Vegetable-Focused Menu
Offering family-style dining, Ten Foot Henry focuses on bold flavours of North American cuisine and is driven primarily by vegetable dishes with a handful of meat and fish selections. The menu showcases the cultural diversity in North America through tantalizing food with strong cultural elements. It sorta reminded me of another restaurant Kev and I have recently grown fond of, Pigeonhole.
That evening, we were joined by Lisa and her fiancé for a casual farewell dinner. It has never been easy to say goodbye to a good friend, but since Lisa and I met through food, we decided to celebrate our friendship and the beginning of her new journey with outstanding food ?
Vegetables
How good could caesar salad be? Isn't it just lettuce, parmesan, croutons and dressing? That's what I used to think until Ten Foot Henry completely changed my perspective and showed me this classic salad doesn't have to be boring. Served in big portion, the caesar salad ($14) was brought to life with a citrus cashew dressing, a perfect sunny-side egg, and shaved parmesan cheese. Lightly coated with yolk, the lettuce leaves took on an unexpected buttery richness that made this dish awesome.
As a spicy maniac, I loved how the salt roasted potatoes ($11) was done. That was the day when I realized shishito peppers and chilies make a delicious accompaniment for the buttery flavour of fingerling potatoes. The dish packed a punch with mayo hidden at the bottom to balance the heat level.
The mushroom & kale tempura ($11) perfectly illustrated how simple things could taste incredible. Wrapped in light tempura batter, the deep fried veggies were out of this world with a hot, crispy exterior. These little textural treats went particularly well with the smoky aioli. This was one of my favourite dishes of the evening!
Another dish that blew my mind was the charred broccoli ($11). Seared but still crunchy, the florets was brightened by a mouthwateringly savory celery root soubise, crispy garlic and sweet blueberries. Not only was this a healthy dish, but it was incredibly tasty too!
Meat & Fish
Many praised the yellow fin crudo ($14) which involved raw tuna, chimichurri, sesame and chili. I was expecting the dish to be layered with a vibrant and bright flavor of chimichurri, instead I found the sesame overpowering. We were all quite underwhelmed by the fact that it only came in 3 slices.
The combination of hanger steak and gai lan (Chinese broccoli) is seldom seen in western restaurants; nonetheless, the creative attempt didn't fail to invigorate our taste buds. The chargrilled hanger steak ($22) offered a distinct full flavour which was nicely balanced by the pleasantly bitter taste of the greens and sweet roasted onions.
Sides
I was not a fan of the handmade bread dumplings ($9) – they were just small pieces of dough without a filling. However, I loved the borscht, a long time favourite in Ukrainian cuisine. In deep ruby colour, the cold, swee-tart soup comprised mainly of beets and was garnished with a large dollop of sour cream and a refreshing burst of fresh dill. It was so full-flavoured yet light that made me crave for more.
Yam agnolotti ($14) is a beautiful creation that I would strongly recommend to anyone. The pillowy soft yam pasta had a sweet, aromatic flavour that was amplified by the lusciously earthy sweet pea purée. It made me dream about my garden herbs and summer!
Dessert
For dessert, we shared a cherry-stuffed pampushky ($4), Ukrainian-style doughnut, which was fairly average. Filled with alcohol-soaked cherries, the sweet treat was soft, fluffy, but unsatisfying. It left me feeling something was missing…
Conclusion
After trying out a fair amount of food off the menu, we were glad to conclude that Henry has found a great new place to continue his adventure. Ten Foot Henry is a fantastic gathering place to share good food with good friends. While the menu is heavily vegetarian, even carnivores will find something they like. Don't miss out on this new spot and a chance to say hi to 10-ft Henry!