This site uses affiliate links and we may earn a small commission when you use our links and make a purchase without incurring additional fee yourself. Many thanks for supporting this website. Please see our disclosure page for more details.
Food forms an integral part of a memorable Barcelona travel experience. The city is a gastronomic paradise, filled with eateries – from traditional tapas bars to world-famous Michelin star restaurants – serving uniquely Catalan flare that is unmatched anywhere else in the world.
With thousand's of Barcelona restaurants to choose from, it can be difficult to look for the perfect place for a romantic dinner with that special someone. We've got you!
Here you have our list of the most romantic restaurants in Barcelona for couples. They all have the right combination of romantic ambience and tasty Barcelona food to make for an unforgettable night. Try one of these romantic places in Barcelona – you won't regret it!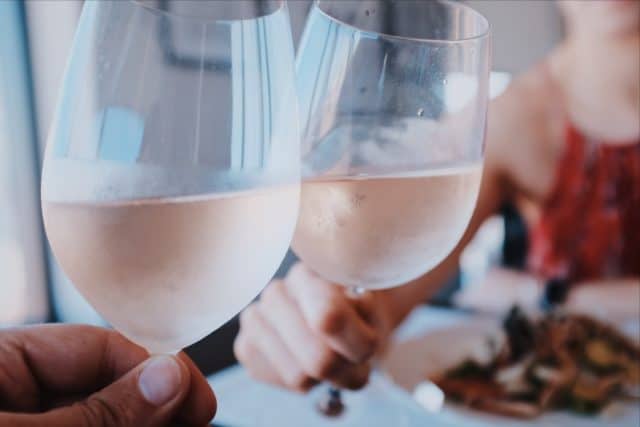 Don't have time to read? Save THIS PIN on your Europe Travel board on Pinterest so you can refer back for the best Spanish restaurants in Barcelona!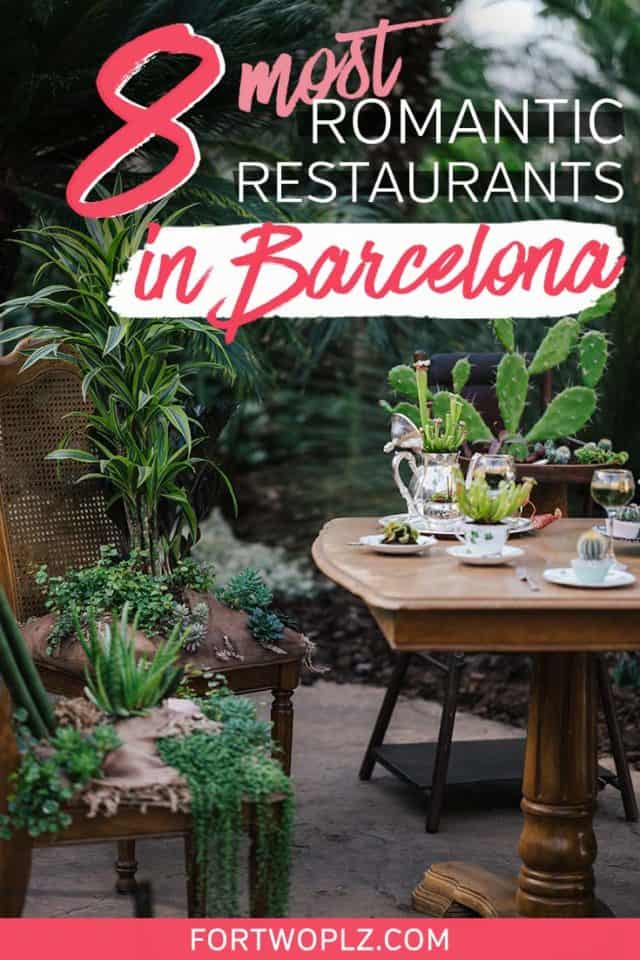 Arume
Address: Carrer d'En Botella, 11, 13
Some of the best local restaurants in Barcelona can be found in the bohemian neighborhood of El Raval. But for quality, value, and vibe, Arume is probably the best.
The top-rated restaurant is always lively, packed with locals and tourists alike. The dimly lit rustic interior creates a charming and intimate setting for a romantic dinner in Barcelona.
Paella, comes in seafood and duck, is what they are known for. But we encourage you to expand your palette and try other dishes on the menu, which is designed to showcase Galician cuisine's coastal flavors.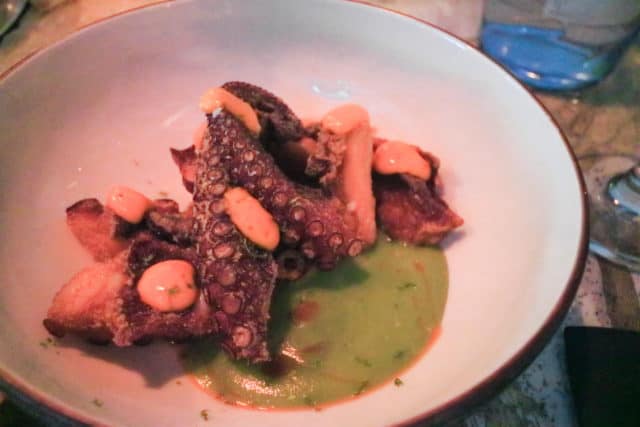 The crispy octopus prepared with potato foam and paprika mayo has earned rave reviews, but the Galician creamy steak tartare with cured egg yolk gets plenty of attention as well.

Food aside, the Galician restaurant is steeped in history. The place is where the famous writer Manuel Vázquez Montalbán was born. With that, Arume certainly stands out in Barcelona's restaurant scene.

Tips: look to make a reservation well in advance

[irp posts="7273″ name="Food Lovers Company: Barcelona's Best Food Tour"]
Nuba
Address: Carrer del Dr. Fleming, 12

This plush, ultra-modern restaurant is one of our favourite romantic Barcelona restaurants, not just for the atmosphere, but also for the food, featuring a wide selection of international dishes.

A visit to Nuba takes you away from the hustle and bustle, into the uptown residential area of Sant Gervasi – Galvany. You will arrive at a spectacular country house, where the interior is contemporarily styled, with a stunning outdoor terrace attached to it.

[irp posts="11450″ name="The Most Beautiful Cities In Spain To Visit Besides Barcelona"]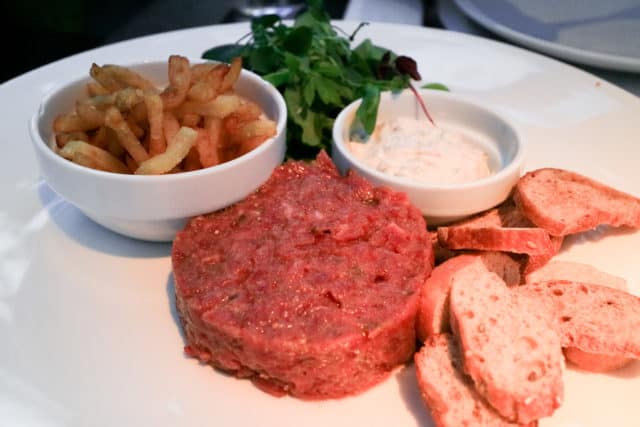 The food is just like the space itself – modern, creative and all beautifully presented. Expect Mediterranean cuisine with a Japanese touch. From Iberian ham croquettes to black codfish with miso and yuzu sauce, there are plenty to choose from.
You can also go super "Oriental" and order from its sushi menu. Or splurge on the black truffle dishes to elevate the experience. Either way, you will have a night to remember!
Botafumeiro
Address: Carrer Gran de Gràcia, 81
Botafumeiro's seafood is some of the best you can find in the city, procured directly from the wholesale fish markets in Catalonia and Galicia.
This iconic restaurant is perfectly situated in the heart of Gràcia, making it a convenient stop for a bite, before or after visiting Barcelona's famous attractions like Park Güell, La Sagrada Família, and Casa Milà.
Instead of paella, look for dishes like percebes (goose barnacles) or share a mixed seafood platter of lobsters, crab legs, shrimps and oysters. Complete the meal with crêpes suzette, which will be prepared in front of you.
As if the menu isn't swoon-worthy enough, the elegant décor and impeccable service will definitely take your date's breath away.
To help your evening at this romantic seafood restaurant in Barcelona go as smoothly as possible, we recommend making a reservation in advance.

El Xampanyet
Address: Carrer de Montcada, 22
Recommended by Gemma from Two Scots Abroad
For a hugely romantic evening experience in Barcelona, do as the locals do then take a detour for a sundown drink at an incredible viewpoint.

Wander through the small streets of the El Born district, window shopping at the independent boutiques and bookmarking your favourites for a shopping day.
Once you've fed your eyes, it's time for a romantic dinner in Barcelona at the bustling El Xampanyet.
Don't be put off by the crowds, pop in and make eye contact with the staff. They'll fix you up with a seat or standing space and then ask you, beer or wine? White or red? The options are simple here and that's part of the experience.

White wine is served in darling Gatsby-style glasses or crafts.
Enjoy the chatter that fills the small beautifully tiled tapas bar. So now on the food!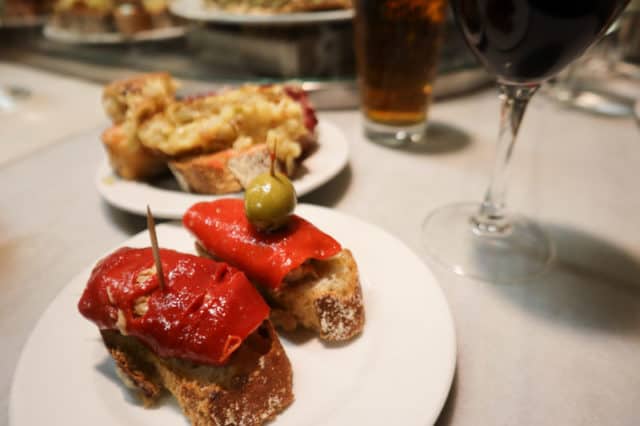 The bar staff will ask if you are eating. There's a small glass cabinet where plates are stored but they don't stay there for long. Expect small plates of omelette on bread, sardines and meats.
Next, head to Hotel Colon and take the elevator to the terrace or balcony below for waiter-served drinks and view of the towering Barcelona Cathedral at sunset.

For more advice on what to do in the city, check out Gemma's 2 days in Barcelona itinerary.
Don't have time to finish reading? Save THIS PIN on your Spain Travel board on Pinterest so you can come back later and check out the other cool restaurants in Barcelona!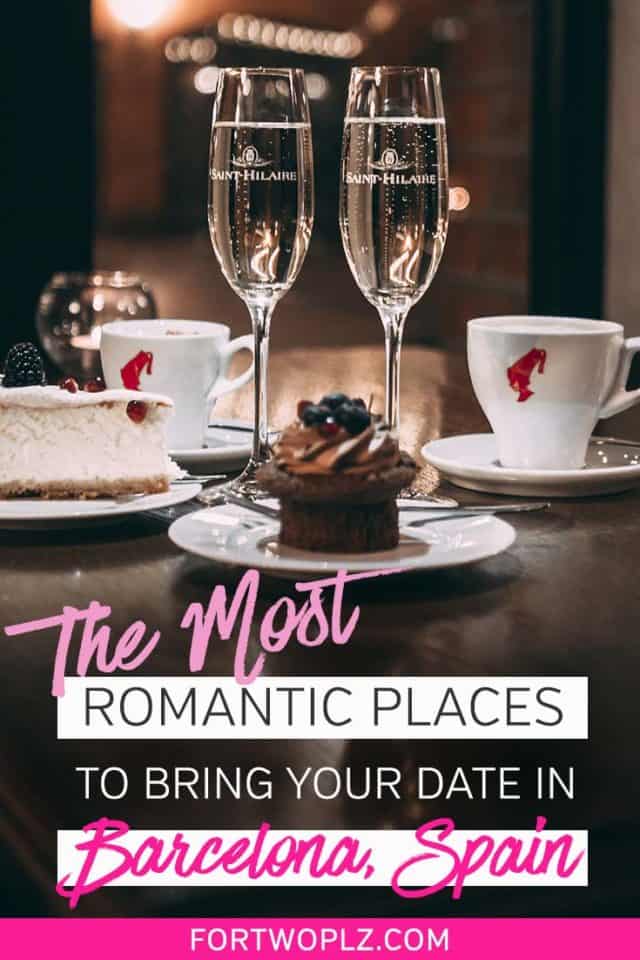 BarCeloneta Sangria Bar
Address: Carrer de Sevilla, 70
Recommended by Jyoti from Story At Every Corner
BarCeloneta Sangria bar in Barcelona has amazing vegan food. It serves a combination of traditional and modern Barcelona foods – all in a delightful vegan version. It's not the cheapest nor too expensive, but definitely reasonable for the quality of food and service.
BarCeloneta is located not too far from the beach, in the lively Barceloneta neighborhood. If you're visiting the beach on a warm day, BarCeloneta is a great place for a lovely meal.
They are famed for their plant-based version of the seafood paella, featuring vegetable "prawns" and battered konjac rings, along with a wide variety of vegetables, hydrated chia gelatin lemon, and seaweed. Aside from the paella, other vegan tapas like turmeric polenta, chickpea croquettes, and mushroom cubes are just good!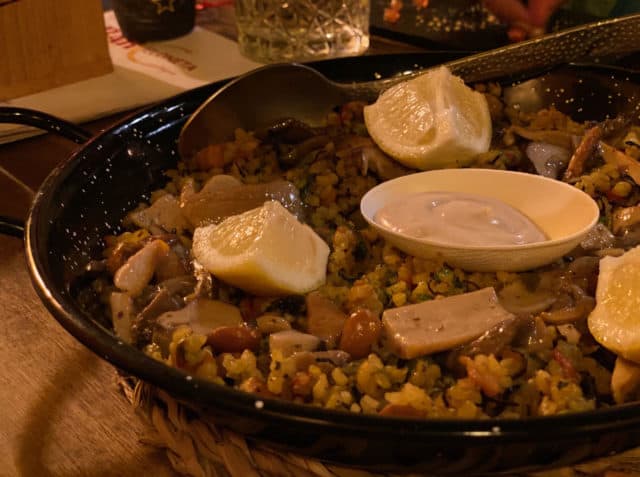 Don't forget to leave room for desserts. The raw vegan tiramisu is a lovers' treat. It will definitely be the perfect delicious finish to a romantic night with your Valentine.
For those with vegan diet, BarCeloneta Sangria Bar is one of the best restaurants in Barcelona for an intimate outing with your bae. Its quiet location in addition to the cozy ambience and delicious meat-free meal make it the perfect valentine dinner venue.
El Cercle
Address: Carrer dels Arcs, 5
Recommended by Wendy from Empty Nesters Hit The Road
Looking for the best romantic restaurants in Barcelona with a view? Check out El Cercle.
Located in the Gothic Quarter of Barcelona, just around the corner from the cathedral, El Cercle offers diners delicious food and a lovely view of the old part of town.

While the restaurant offers a stylish indoor setting, the highlight here is the outdoor terrace. Since the outdoor dining area is located on the second floor, it provides a view of the Gothic Quarter below.
If the weather is a bit chilly, don't worry, El Cercle provides blankets on the terrace. Do be aware that reservations cannot be made for the terrace, it's first come first served.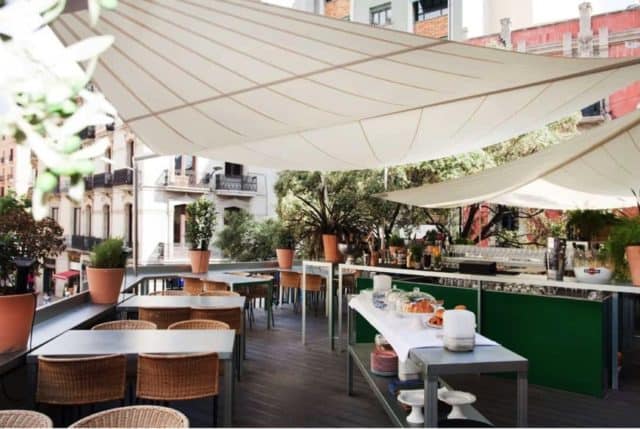 Visitors are always wondering what to eat in Barcelona, and the decision is easy – paella! Fortunately, El Cercle serves up a wonderful seafood paella with mussels, clams and prawns. Don't eat meat? They have a vegetarian version on the menu!
Be sure to order a glass of cava with your meal and then enjoy the romantic ambience with your partner.
Note: El Cercle serves a variety of cuisines from Catalan fares to Japanese specialties in different settings (bar, library, four seasons, terrace).
Teresa Carles
Address: Carrer de Jovellanos, 2
Recommended by Wendy from The Nomadic Vegan
This family-owned vegetarian restaurant has been around since 2011, long before veganism became trendy, and has established quite a reputation for itself.
Its roots go back even further to 1979, when Teresa Carles and her husband opened their first vegetarian restaurant in Lleida, a city in Catalunya near the small village where she grew up. That original restaurant was called Paradis, but nowadays everyone knows it by the name of the chef herself, Teresa Carles, which is also the name of the Barcelona branch.
If you ask a Barcelona local where to find the best vegetarian food in the city, odds are they will mention this place in Eixample, just steps away from Plaça de Catalunya.
With dim lights and chilled out ambient music, it's perfect for a romantic dinner in Barcelona. Of course, this is especially true if you or your partner are vegetarian or vegan, but meat-eaters will love this place too.
If you want to try a little bit of everything, order the vegan tasting menu for 30 euros. It includes small portions of six different savory dishes and two desserts, plus drinks.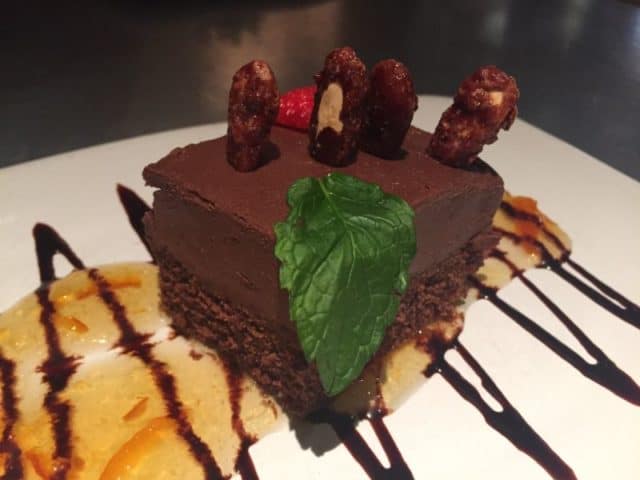 Enoteca Paco Pérez
Address: Hotel Arts, Carrer de la Marina, 19, 21
Want to splurge and treat the one you love to the best of the best? There's no better option than this highly-acclaimed Michelin star restaurant in Barcelona, a testament to the city's fine dining capabilities.
Chef Paco Pérez is at the top of his game and designs his evolving menu that highlights the freshness of Mediterranean products while being playful with textures, flavors, colors, and aromas.
There's no need to worry about what to order at Enoteca – just leave the wining and dining to the expert service's guidance while you focus your attention on the one you're sharing the evening with.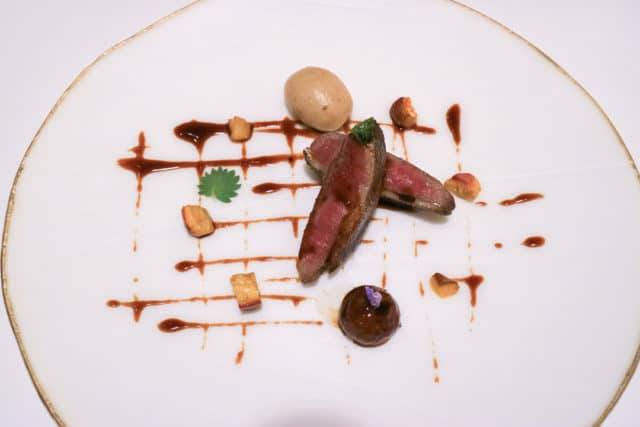 It might be one of the more expensive restaurants in Barcelona, but it will be an evening that your palate (and your date!) will fondly remember.

Note: Enoteca is housed inside the 5-star luxury hotel, Hotel Arts Barcelona. Make sure to dress respectfully with a jacket (no sandals, shorts, or jeans).

[irp posts="7311″ name="Luxury Romantic Escape At Hotel Arts Barcelona"]
Bonus
For star chasers, other Michelin star restaurants in Barcelona worth trying include: LaSarte, Àbac, Enigma, Moments, Cinc Sentits, and Aürt.
The Arcano restaurant and Rilke are also extremely popular. But if you're specifically looking for Barcelona restaurants with a view, the Winter Garden restaurant inside the El Palace Hotel offers spectacular 360-degree views of Barcelona, as well as Marea Alta on the 24th floor of the Colón building.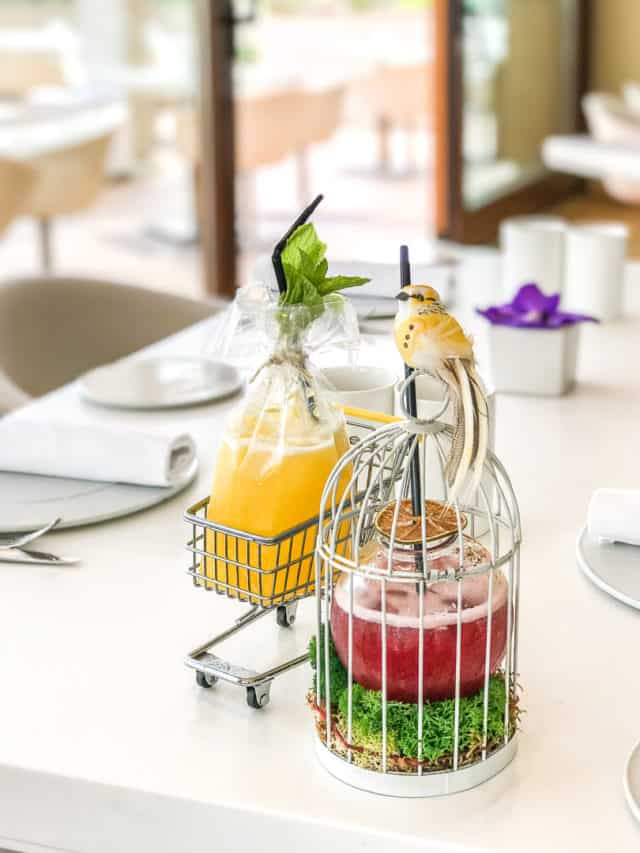 Those who are vegan are welcome to eat your way through this list of vegan restaurants!
For the cocktail enthusiasts, check out these best bars in Barcelona: The Bowery, rum bar Caribbean Club, James Bond-themed Solange Cocktails & Luxury Spirits, and P41 Bar.
---
There you have it! These romantic Barcelona restaurants are full of charm and make a seductive setting for a romantic meal for two.
Enjoy this post? Save THIS PIN on your Barcelona Travel board on Pinterest so you can remember to take your date to the most beautiful restaurants in Barcelona!