This site uses affiliate links and we may earn a small commission when you use our links and make a purchase without incurring additional fee yourself. Many thanks for supporting this website. Please see our disclosure page for more details.
We've all seen pictures of the Canadian Rockies: its mesmerizing landscapes and fascinating wildlife have been made famous, thanks to social media. Whether you're just there for the photos or to reconnect with nature, it is undeniable that the Rockies is one of the best places to vacation in Canada.
Most people opt to visit Banff and Jasper in the summer, but don't know that winter is just as breathtaking! Instead of hibernating this winter, we set out on a weekend road trip to see what winter activities Jasper has to offer.
Read on to find out what to do in Jasper in winter over a weekend. We hope, by the end of it, you are convinced why winter is the best time to visit Jasper National Park, and are ready to explore Jasper on your next winter vacation to Canada!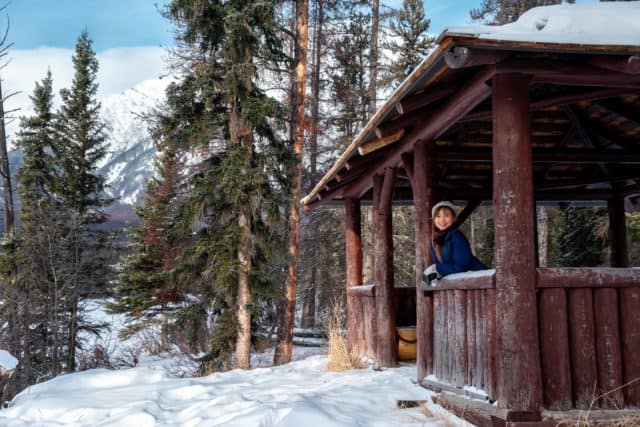 Getting To Jasper
First off, let's get the logistics out of the way.

Most visitors include Jasper as part of a larger trip and will typically drive from Calgary, stopping in Banff and Lake Louise along the way.

Another option is to drive from Edmonton, straight to Jasper. This route cuts down the drive time by one hour, but is a lot less scenic.

[irp posts="6679″ name="One-Day Winter Excursion to Banff for Photographers"]
The Calgary to Jasper Drive
The distance from Calgary to Jasper is 413 km. Normal driving time from Calgary to Jasper is about 5 hours, without any stops. Road conditions vary in the winter so we'd suggest factoring in an extra hour. Don't forget, winter tires are essential for safe driving!
You can easily break down the 5-hour drive into smaller segments and extending it into a multi-day trip.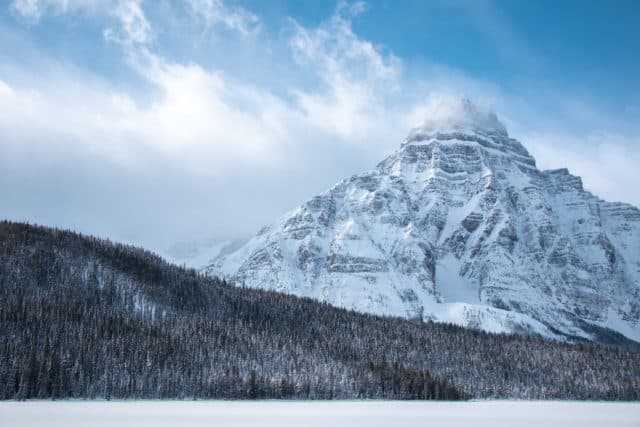 We usually divide the route into two parts:
1) a 90-min Calgary to Banff drive, where you can see the landscape transition from the flatlands to the mountains.
2) a 3.5-hr Banff to Jasper drive. Named one of the most beautiful drives in the world, the Banff to Jasper highway (aka Icefield Parkway) winds through ancient glaciers, cascading waterfalls and turquoise (or frozen) lakes. Keep an eye out for bighorn sheep and bears as you travel through the 230-km mountain road.
Don't have time to read? Save THIS PIN on your Best Winter Vacation Destinations board on Pinterest so you can refer back for things to do in Jasper in the winter!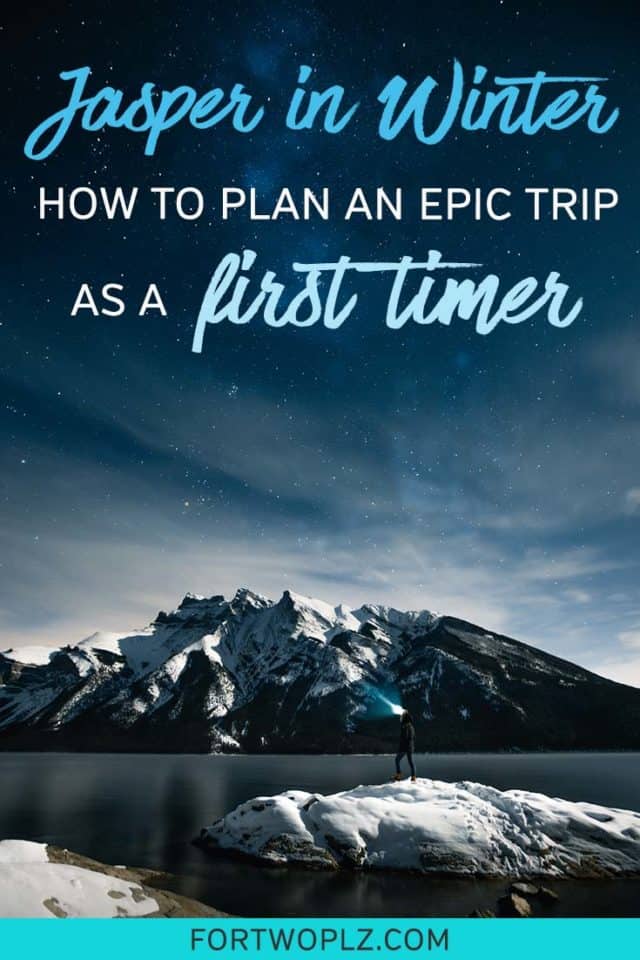 Day 1 Afternoon
Arriving at Pyramid Lake Resort
After a long drive, check in at Pyramid Lake Resort, located 6 km from the Jasper townsite.
Unlike other Jasper hotels, this resort houses chalet-style rooms, all boast a fireplace and mountain views. It is also the only accommodation in Jasper National Park with exclusive access to Pyramid Lake. A perfect place to escape from the hectic pace of life and soak in natural beauty.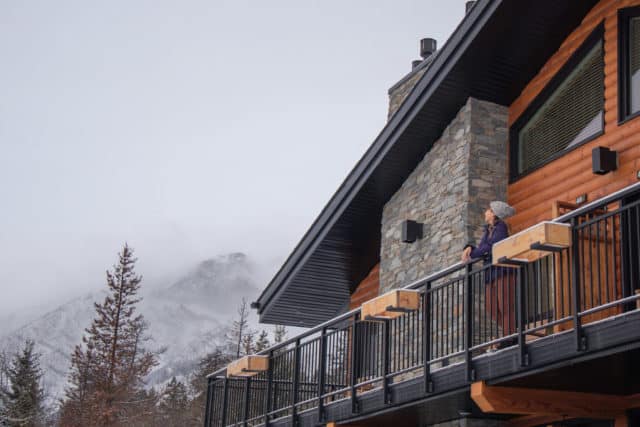 Aside from the seclusion and peacefulness of this place, Kev and I appreciated the recent renovation done to the rooms, giving them a cleaner and newer look!
Best of all, the property has an outdoor hot tub to ease away any stress you may have. If that doesn't make it the best hotel in Jasper, then we don't know what would!
Day 1 Evening
Dinner at The Pines Restaurant
Treat your taste buds to a sumptuous dinner at the onsite restaurant, The Pines. Their wild game-inspired fare features locally-sourced ingredients to give you a taste of the mountains.
Our favourites include the local charcuterie that comes with venison sausage, smoked duck breast, air-dried beef, roasted duck breast with saskatoon berry sauce, and venison loin with juniper jus. Do note, the menu changes seasonally so we can't guarantee they will be there when you visit Jasper!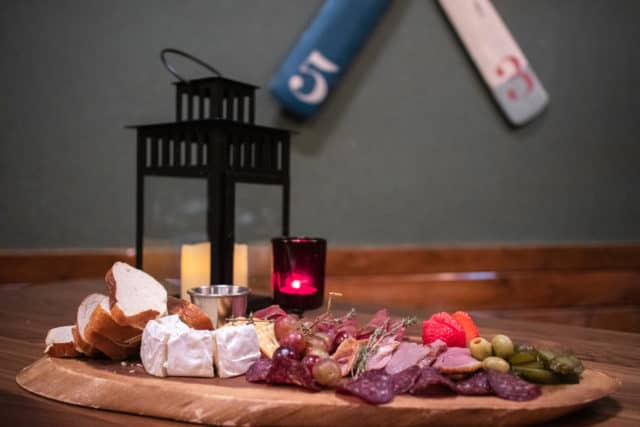 Don't have time to finish reading? Save THIS PIN on your Winter Vacation Spots board on Pinterest so you can come back later to plan your Canada vacation!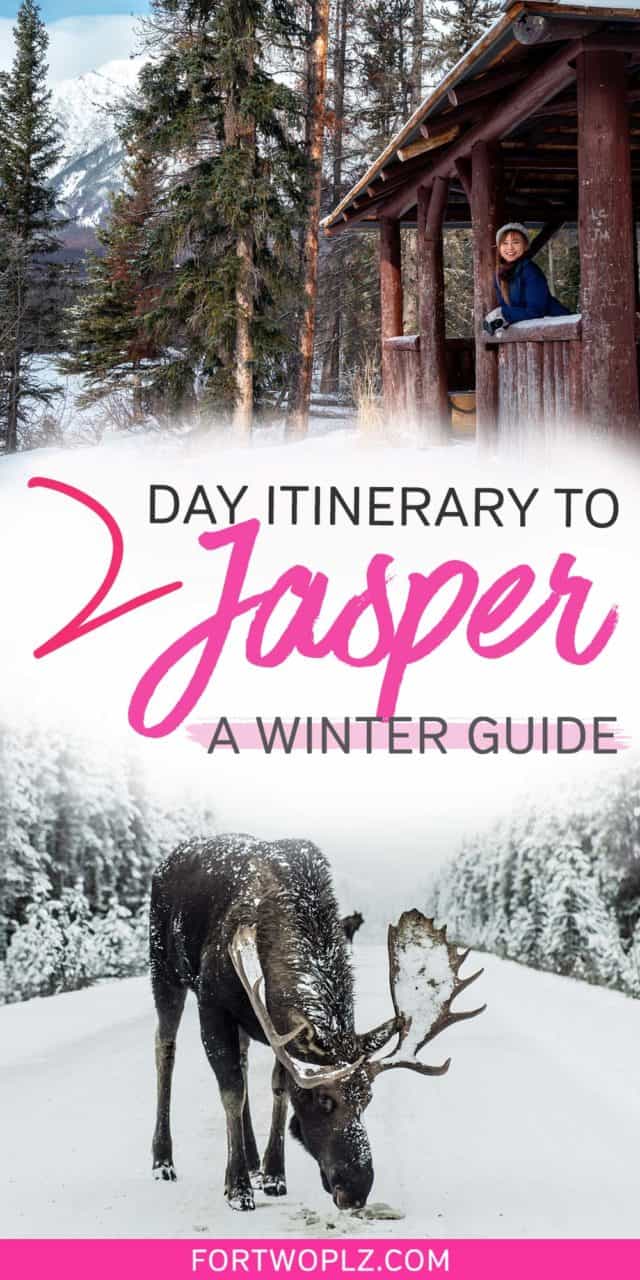 Day 2 Morning
Winter Fun at Pyramid Lake
Grab your winter coat, mittens, hats and snow boots for some outdoor fun at Pyramid Lake, right outside your doorstep!
From snowshoeing to skating to fat biking, there is plenty of fun activities in Jasper National Park to keep you entertained. Pyramid Lake Resort has snowshoes and bike rentals available for you to take advantage of these Jasper winter activities. If the condition permits, you can even sign up for a sleigh ride on the lake!
A few trails are located nearby:
⇢ The shortest and easier trail to take is the 1-km pathway from the resort to Pyramid Island. Secluded and unspoiled, with the majestic Pyramid Mountain in the backdrop, Pyramid Island not only is one of the most popular attractions in Jasper National Park, but also a highly sought-after wedding destination.
⇢ For something more challenging, consider the 5.3-km Overlook Loop. The trail takes you high above Jasper town and provides one of the best views in the area.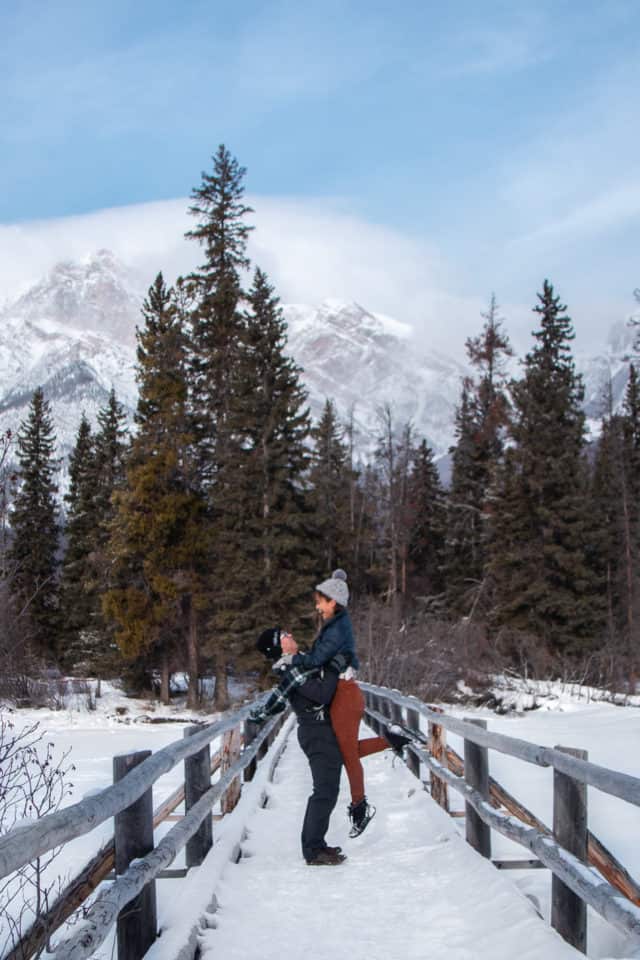 Day 2 Afternoon
Maligne Canyon Icewalk
Have a quick bite and get ready for Maligne Canyon ice walk, one of the top things to do in Jasper in the winter!
This signature winter experience is your chance to walk on the frozen canyon floor and to get up close to the frozen waterfalls, ice caves, and fascinating natural ice sculptures.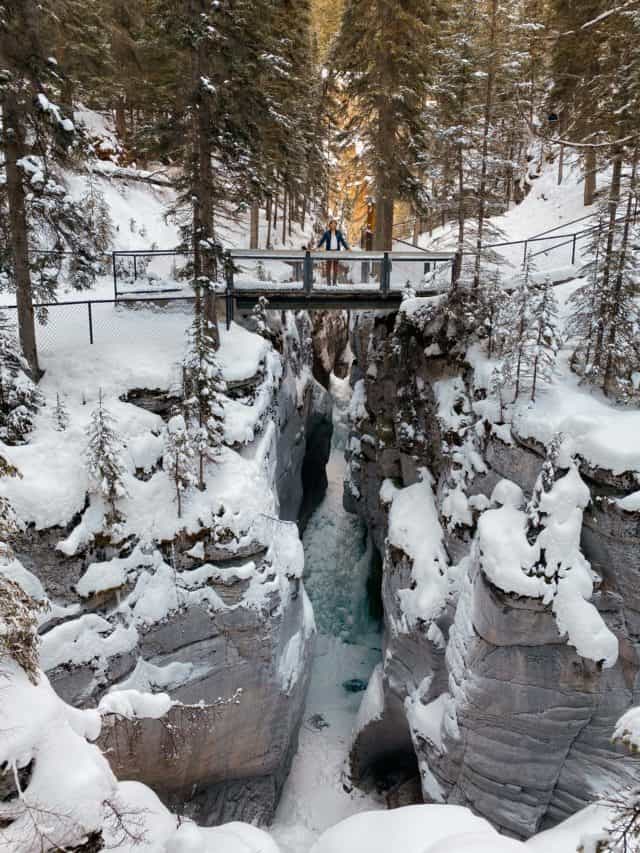 [irp posts="11309″ name="Jasper In The Winter: 8 Tips To Make Your Maligne Canyon Hike A Memorable One"]

It is totally fine to do the Maligne Canyon winter hike on your own, but for the best experience, we recommend going with a guide who is knowledgeable about the geology and history of the Maligne Valley.

Our Maligne Canyon Icewalk tour with Pursuit was a memorable one. Transportation and gears (including boots, cleats, and helmets) were provided – no fuss. Plus, we got to check out picture-perfect lookout points and the secret entrance to the underground cave system, thanks to the guide!!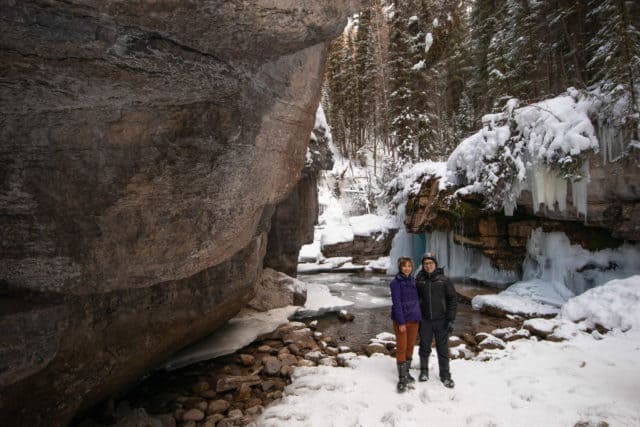 [irp posts="4739″ name="Winter Adventure in Banff: Johnston Canyon Ice Walk"]

This Jasper winter hike left us absolutely speechless at the vastness and beauty of the canyon. Hands down one of the best hikes in Jasper National Park to do in the wintertime!

Pursuit's Maligne Canyon Icewalk tour runs 3 times a day – at 9 am, 1 pm, and 6 pm, and lasts about 3 hours. Book early to avoid disappointment.
Day 2 Evening
Dinner at Maligne Canyon Wilderness Kitchen
Cap off the eventful day with a hearty meal at Maligne Canyon Wilderness Kitchen. The rustic, modern eatery serves the best food in Jasper with a menu loaded with mouthwatering smokehouse inspired food.
All meat, includes slow-cooked brisket, chicken, and venison sausage, is smoked with hickory wood and locally sourced from the region. To enhance the dining experience, pair the smoked food with their uniquely Canadian cocktails, and perhaps even catch live music (on Saturday evenings)!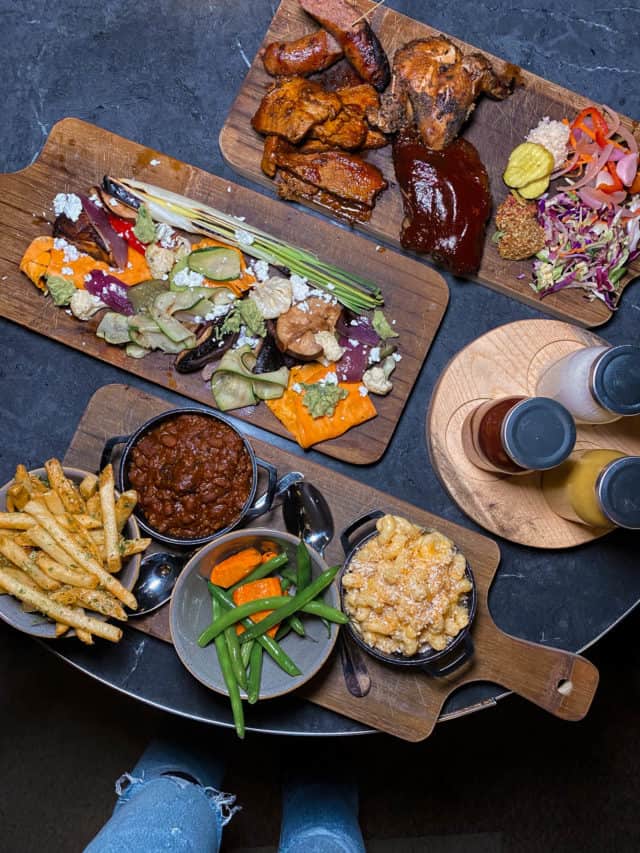 Food, drinks and ambiance are what make Maligne Canyon Wilderness Kitchen one of the best restaurants in Jasper, Alberta, and we promise it will live up to the promise!
Day 2 Overnight
The Crimson Hotel
For those who want to stay close to town, this is the best place to stay in Jasper National Park.
The Crimson Hotel is a relatively new hotel with a modern and thoughtful aesthetic that pays tribute to Canadian culture. Its convenient location to the shopping and dining district makes it a perfect base to explore Jasper.
Day 3 Morning
Breakfast at Walter's Dining Room
Fuel up the tummy at Walter's Dining Room located inside Sawridge Inn. Reportedly one of the best places to eat breakfast in Jasper, the restaurant serves a wealth of a la carte dishes (including our favourite: eggs benedict) to get you going. Just as amazing is its space, beautifully designed to preserve First Nation heritage and culture.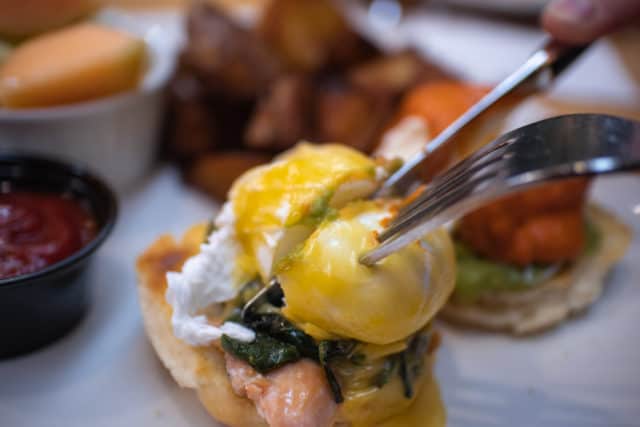 [irp posts="9876″ name="Banff Food Guide: Discovering The Best Places To Eat And Drink In Banff"]

Get a sense of the town before you leave. The town is much smaller than Banff, with only two main streets (Patricia Street and Connaught Drive), and can be explored in about half an hour. Check out boutiques and shops for locally made Canadian gifts to bring back home!
Spending More Time In Jasper?
Looking to do more sightseeing and hit up more attractions in Jasper National Park? Here are some other fun winter activities in Jasper worth exploring:
⇢ See the northern lights: Jasper is the second largest Dark Sky Preserve in the world. So in Jasper, you have a pretty high chance of catching a spectacular natural light show on a dark, moonless night.
⇢ Wildlife discovery tour: Yes, you can do this in the winter! Although it is unlikely to see bears in Jasper during this time of the year, it is almost guaranteed you'll catch a glimpse of the deer, elk, mountain goats, or bighorn sheep!
⇢ Dogsledding: How awesome would it be to feel the thrill of dogsledding in Jasper across a frozen wonderland? Sit back, relax, and enjoy the snow-covered landscape, or mush your own team of huskies – either way, you'll have a blast.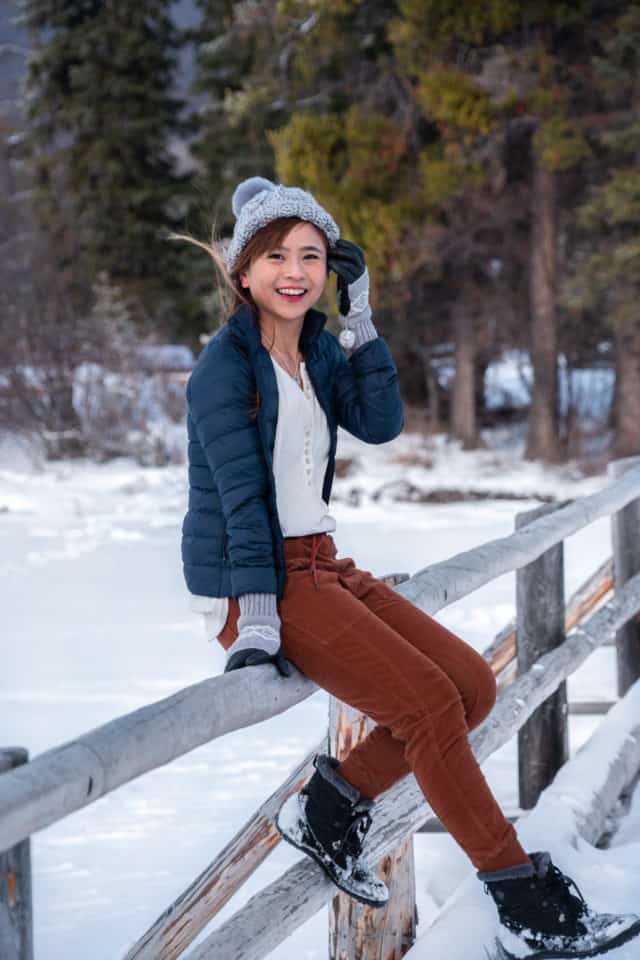 ---
Now, you'll never have to wonder what to do in Jasper in winter! Ready to plan your epic road trip to Jasper?!
Enjoy this post? Save THIS PIN on your Winter Travel board on Pinterest so you can come back later to plan your Jasper trip!
Disclaimer: We were hosted by Pursuit. As always, all opinions on For Two, Please are our own and we only recommend brands that we 100% stand behind.