This site uses affiliate links and we may earn a small commission when you use our links and make a purchase without incurring additional fee yourself. Many thanks for supporting this website. Please see our disclosure page for more details.
Banff is beautiful in every season. In the summer, warm temperatures and long daylight hour allow easy access to natural attractions and better chances for wildlife viewing. While in the winter, Banff transforms into a winter wonderland, perfect for sleigh rides, dogsledding, snowshoeing and ice walk.
But the best time to visit Banff is in late September when the crowds have mostly gone home and when the leaves show off their golden colours. Last month, my friend Monica and I took a week-long road trip to the Canadian Rockies and had the time of our lives! This post highlights the best things to do in Banff in fall AND our discovery on the perfect locations for amazing photos.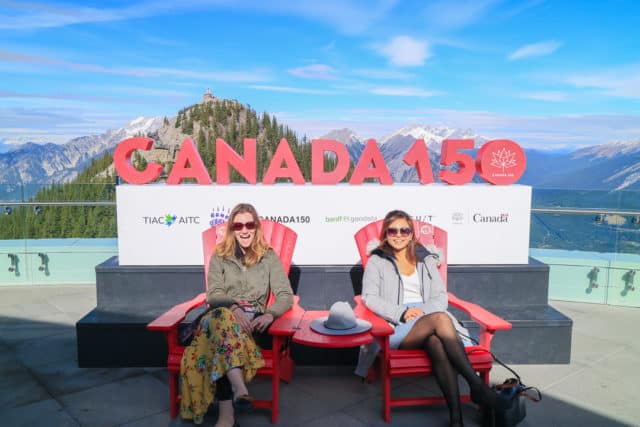 Seeing the Best of Banff in Fall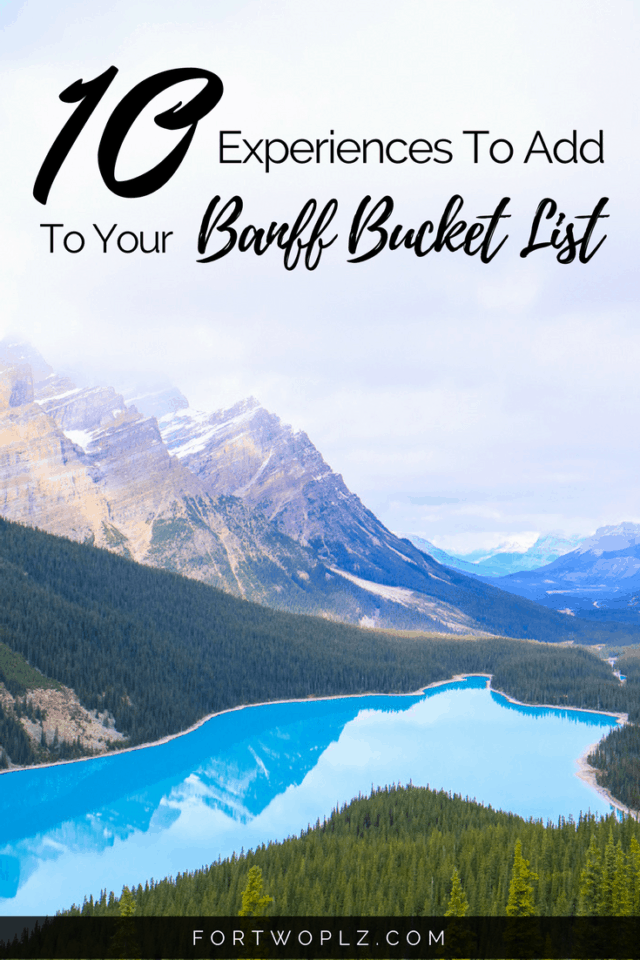 1 | Watch Sunset From the Top of Sulphur Mountain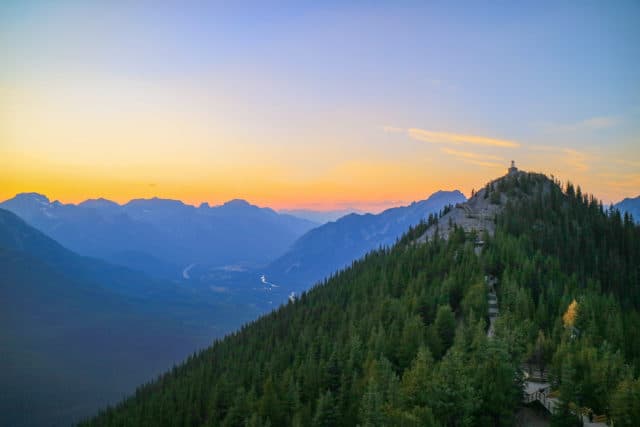 Taking the Banff Gondola up the Sulphur Mountain is a must when visiting Banff in fall. Even though I've been up there a couple times already, the views from the top of the mountain never get old!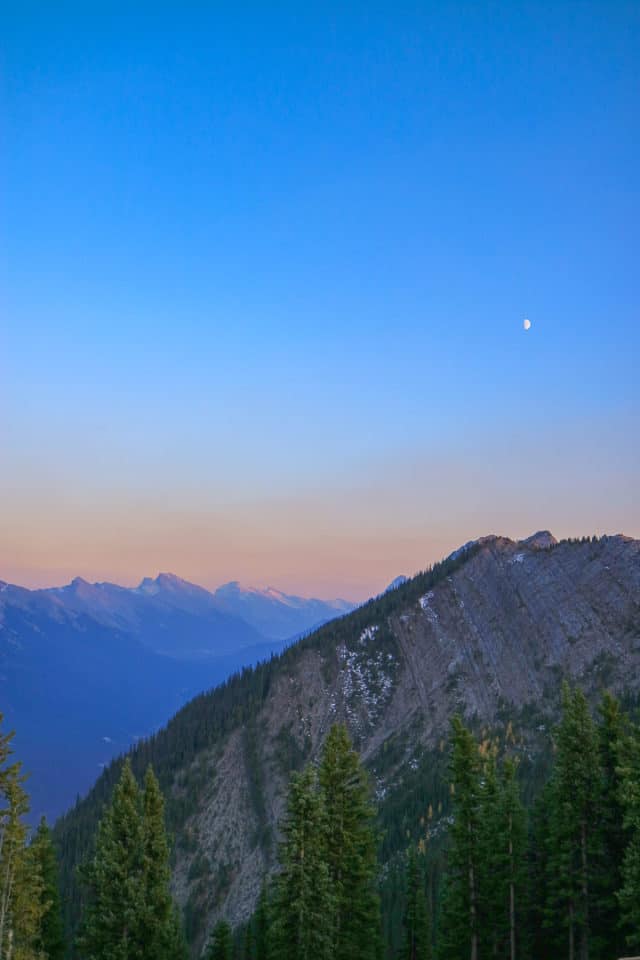 Standing high at 7,486 feet above sea level, the upper terminal offers panoramic views of the town of Banff, the Bow Valley, and the surrounding mountains in the far distance. You can, on a clear day, see the Rocky Mountaineer train pulling into the station.
The sunset there is one of the most unforgettable moments we've had on our Canadian Rockies road trip. Throw in a dinner at the Sky Bistro and you've got an experience worth remembering!
Best picture spots: 1) Take the Sulphur Mountain Boardwalk to Sanson's Peak. The 1 km trail leads to the Sulphur Mountain Cosmic Ray Station – a National Historic Site of Canada. The viewpoints along the way give spectacular vistas across the town of Banff and the six mountain ranges. 2) If you don't have time for the 1 km hike, at least stop by the Rooftop Observation Deck. At the 360-degree rooftop terrace, you can embrace the breathtaking beauty of Banff National Park in every direction!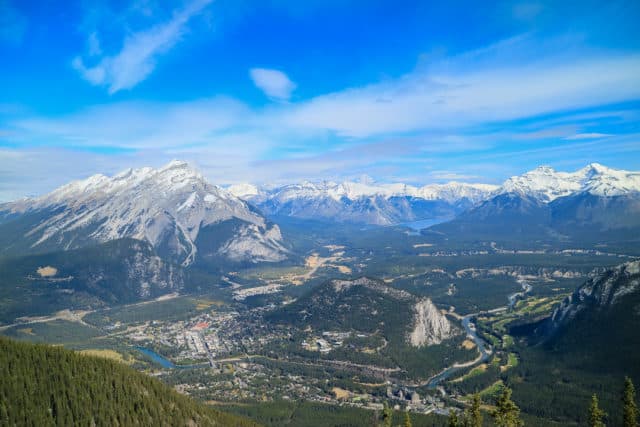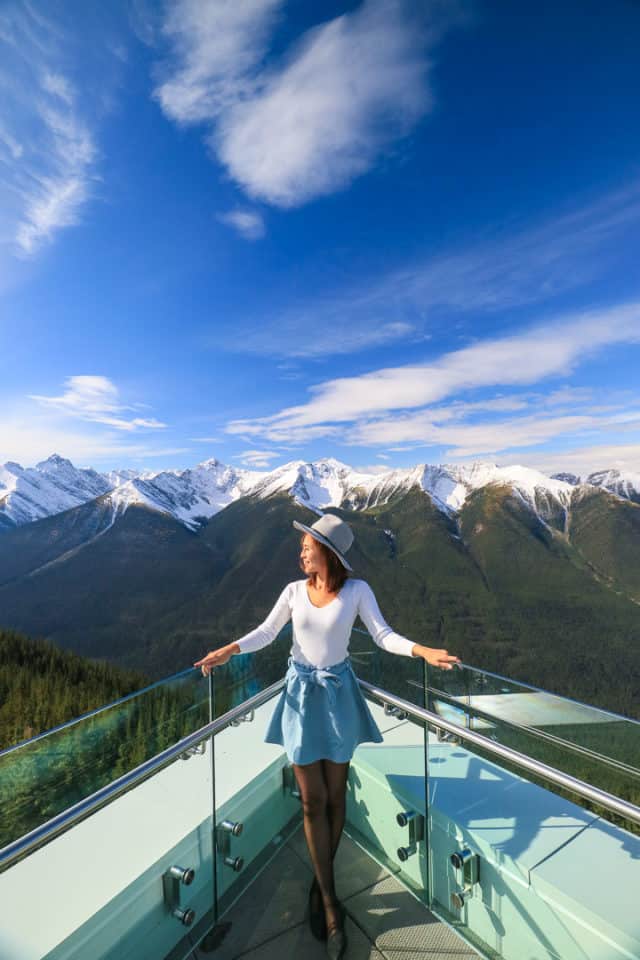 [irp posts="6248″ name="Elevate Your Rocky Mountain Experience at Banff Gondola Summit"]
2 | Take a Leisurely Cruise Along Lake Minnewanka
A short 15-minute drive from Banff town will take you to Lake Minnewanka – the largest and deepest lake in Banff National Park. Take a 1.5-hour interpretive boat tour and discover the spectacular scenery found nowhere else. On the Lake Minnewanka cruise, you will learn about the history, geology, wildlife, and vegetation that inhabit the nearby mountains. You might even see wild animals on the shoreline!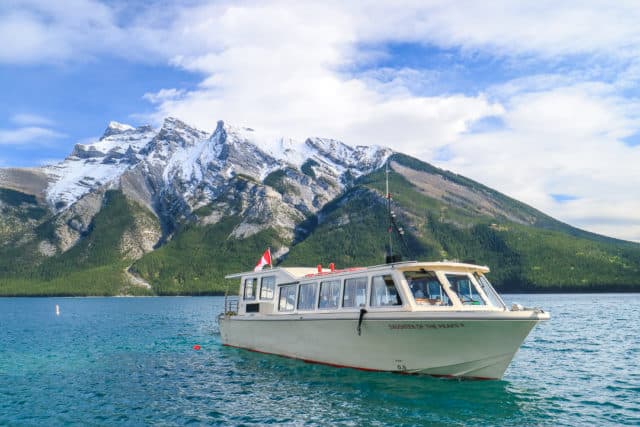 Best picture spot: Stroll along the lake and you'll find some benches looking at to the snow-capped mountains!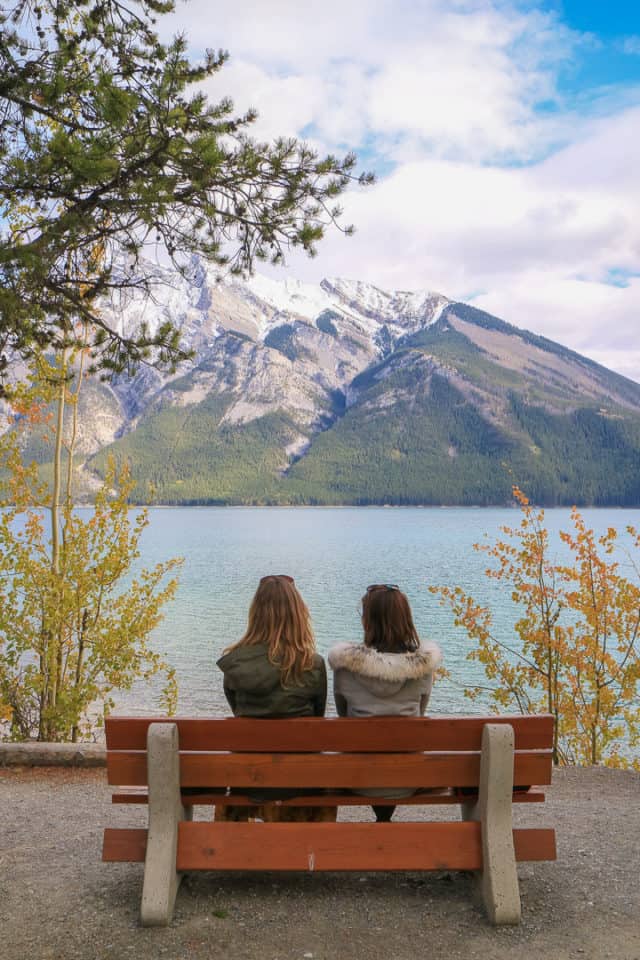 3 | Chase Waterfalls at Johnston Canyon
Johnston Canyon is a popular hike for a good reason. The 2.6 km trail (one way) will take you through the narrow gorge carved by Johnston Creek, a lush forest, and a series of waterfalls!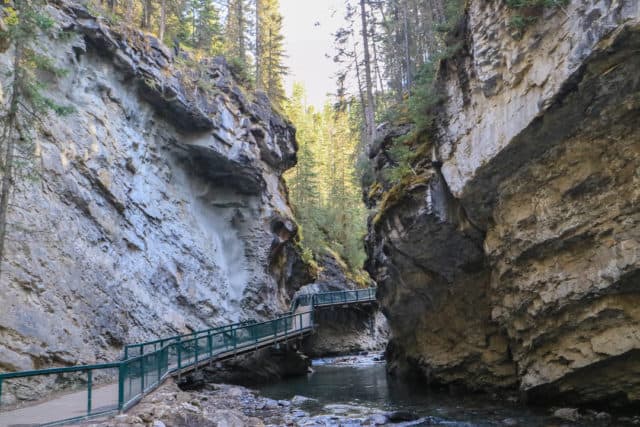 The main attractions here are the Lower and Upper Falls. The pathway to the Lower Fall is fairly flat and easy. It takes about 30 mins. The Upper Falls is an hour away from the Lower Falls and the trail is longer and steeper. To read more about the hike, check out this post.
Best picture spots: 1) A short tunnel through the canyon bedrock will take you to an intimate vantage point for the Lower Falls. 2) To capture the Upper Falls, continue on the trail AFTER the Upper Falls sign. Take a steep climb (about 5 mins) to a viewing platform. There, you will be standing across from the top of the falls and watching the water drops into a deeply carved pothole.
[irp posts="4739″ name="Winter Adventure in Banff: Johnston Canyon Ice Walk"]
4 | Vodka Tasting at Park Distillery
Do you know that there is a distillery in Banff National Park? Situated in the heart of Banff Town, Park Distillery creates small-batch vodka, gin, and rye in a variety of styles. Their products have won several awards from around the world – which is quite impressive given that they have only been opened for 2 years! Besides the pure, classic vodka, they have many interesting flavours such as chili, espresso, and maple.
Delight your taste buds with a spirits tasting ($20). The staff will teach you about the process of making each spirit and guide you through the flavours and textures unique to the brand. The tasting runs daily at 3:30 pm and includes a behind-the-scenes distillery tour!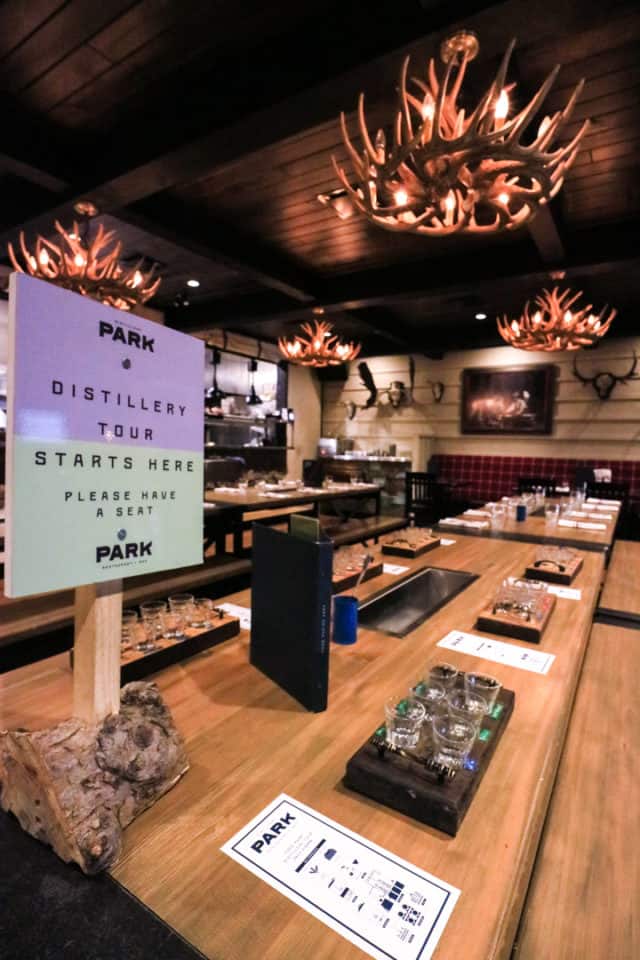 5 | Explore the Pristine Moraine Lake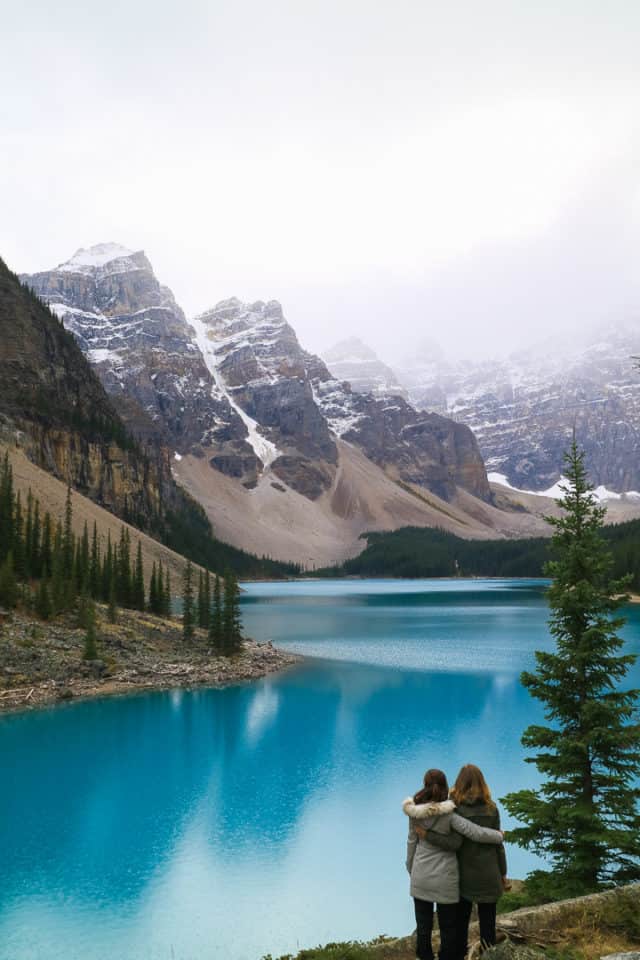 Moraine Lake is a must-see in Banff in fall. Nestled in the majestic Valley of The Ten Peaks, this glacier-fed lake is best known for its mesmerizing turquoise water. Just look at the photo above and you'll understand why it is one of the most photographed locations in the Canadian Rockies.
The road to Moraine Lake is only accessible from June through September, and this means it can get extremely busy. Plan to get there before 10 am or after 5 pm.
Best picture spot: Hike up the Rockpile Trail (300 m) to a spectacular viewpoint. The lake has a vivid shade of teal blue that will sure to take your breath away!
6 | Walk Along the Majestic Lake Louise
When visiting Banff in fall, don't miss the chance to visit the world famous Lake Louise. The emerald turquoise water, surrounded by snowy mountain peaks and the stunning Victoria Glacier, creates the perfect backdrop for a photoshoot! Simply walk along the lake and you'll find inspirational views in every direction! No wonder it is one of the best spots to visit in Canada.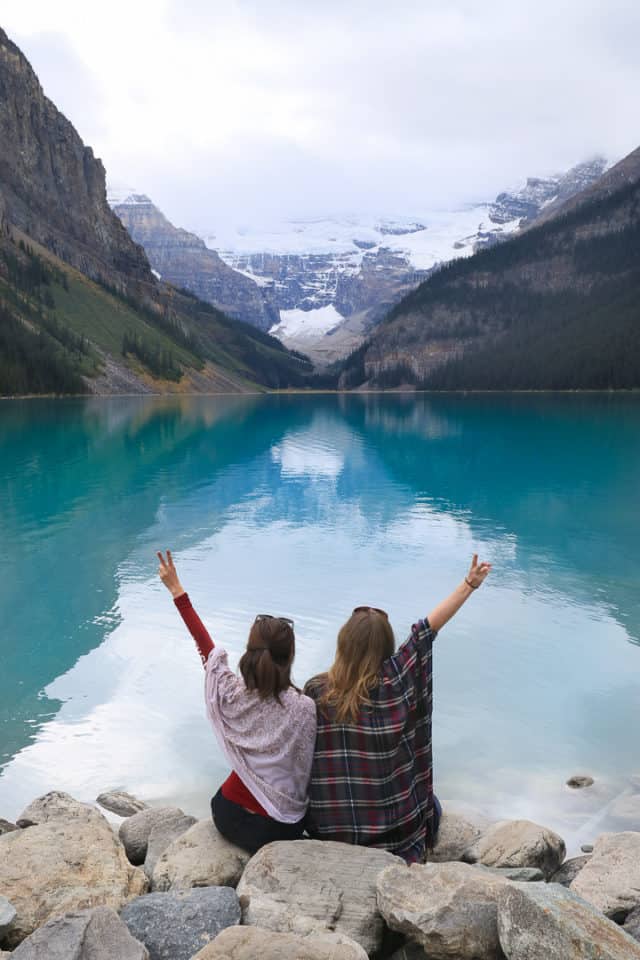 [irp posts="6098″ name="How to Tour Lake Louise in One Day (Summer Edition)"]
7 | Picnic at Herbert Lake
To get away from the crowds, consider Herbert Lake. Located just 6km north of Lake Louise, this quaint little lake is a slice of paradise. With incredible views of Mount Temple in the backdrop, it is no doubt an excellent place for a picnic. Many photographers also like to come here at sunrise and sunset.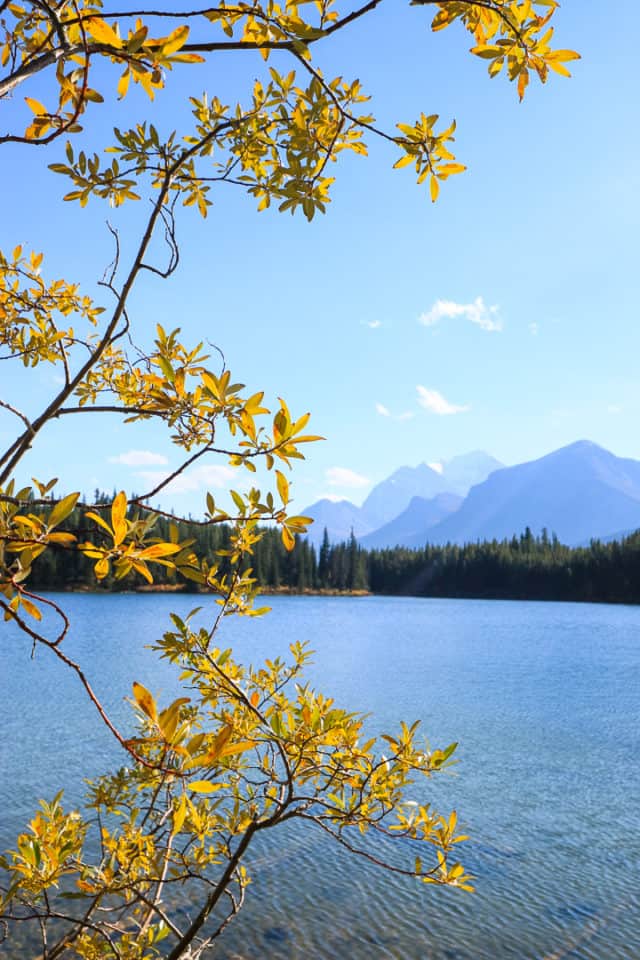 8 | Visit the Scenic Bow Lake
Bow Lake is another gem in Banff National Park. Different from the other lakes, the lake boasts spectacular aquamarine water and a crystal clear reflection of the surrounding mountains. It is an easy stop on the Icefield Parkways (Hwy 93) that worth pulling over for photos!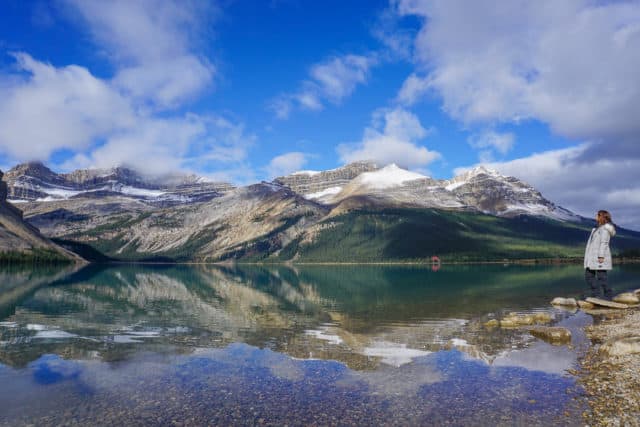 9 | Hike Up Bow Summit to the Famous Peyto Lake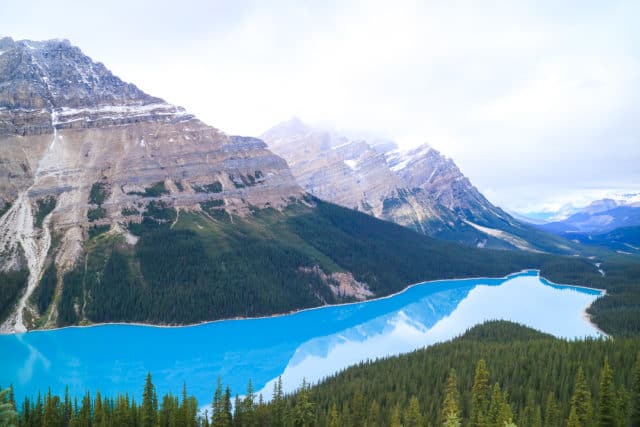 Peyto Lake is an absolute must when exploring Banff in fall. Seeing such bright baby blue water set in an enchanting surrounding is a surreal experience. Does the water really look THAT blue? Yes, no filter needed!
On the Icefield Parkway, follow the sign for Bow Summit. After arriving at the parking lot, hike up the trail (15 mins) and it will lead you to the viewing platform overlooking Peyto Lake.
10 | Stay at Buffalo Mountain Lodge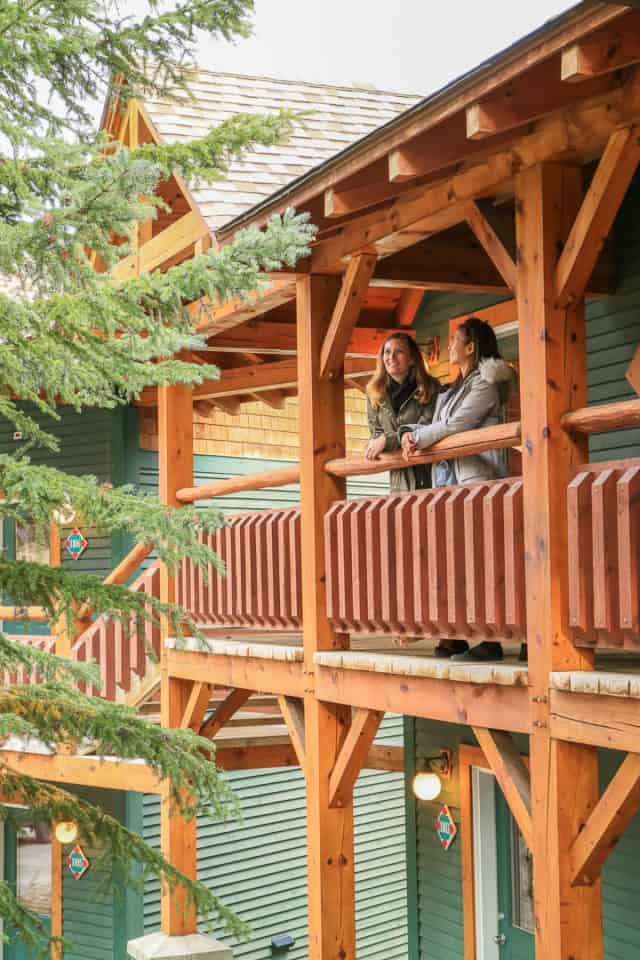 Looking for a place to rest after a day of exploration in Banff? Then enjoy a peaceful night in Buffalo Mountain Lodge! This rustic hideaway lies on the slopes of Tunnel Mountain, just a few minutes drive away from Banff town, in a quiet setting perfect to reenergize, rest and relax.
The rooms are beautifully designed and combine luxury with traditional country living. When settling into our premier room, with a huge freestanding bathtub and a cozy wood-burning fireplace (stocked daily with firewood!), Monica and I knew we have found a paradise away from home. Our room even comes with a private balcony, where we sipped wine while enjoying nature!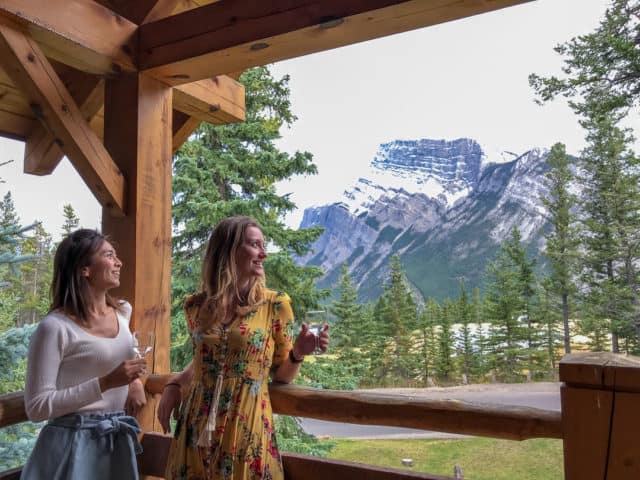 Besides the room, our favorite hangout spot is the outdoor hot tub! Every night, we took a dip there to relax our weary legs and soak away tired muscles.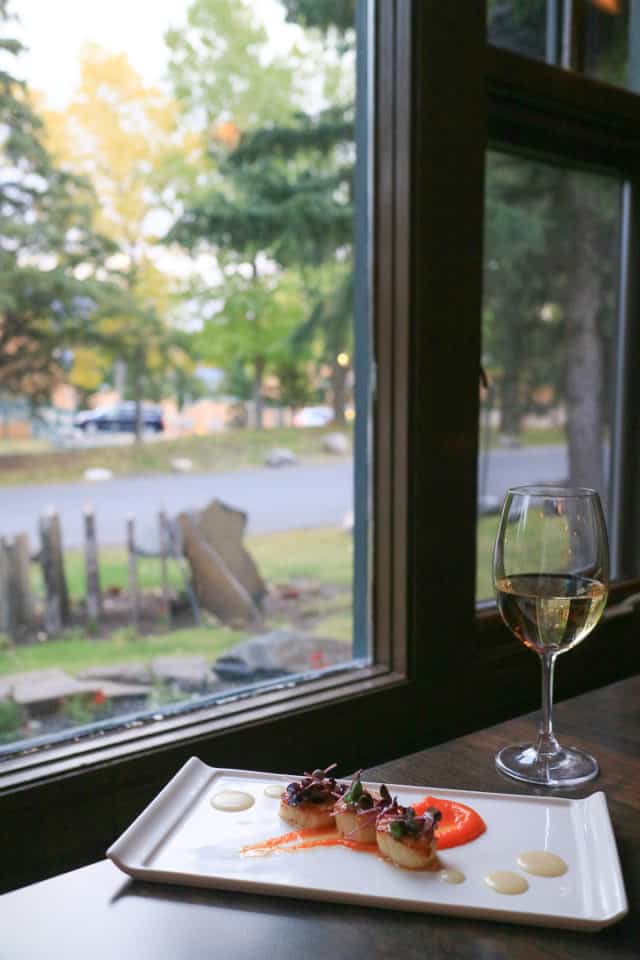 Food at the onsite restaurant, Sleeping Buffalo Dining Room, was spectacular. In the morning, the restaurant prepares a delicious, gourmet buffet breakfast for guests to fuel up for a day in the mountains. In the evening, the menu focuses on Rocky mountain cuisine featuring fresh local produce and game from their own farm. Be sure not to miss the mouthwatering seared scallop, northern caribou, and wild boar tenderloin!
Reminders
Rent a car. Using an express bus service directly from Calgary International Airport and transferring to local buses, it is possible to explore Banff without a vehicle. However, I highly recommend renting one so that you have more flexibility. There are some spots you can't get to with public transport. Compare car rental deals on Discover Cars now!
Carry a bear spray. Bear encounters are rare but the risk is still there. Carry one if you're going hiking, camping, or picnicking. Parks Canada talks more about bear safety here.
Dress in layers. Temperatures vary greatly from day to evening. Dress in layers so you can add or remove clothing as temperature changes.
---
September is the shoulder season and is the best time to plan a trip to Banff. With warm weather and fall foliage in full splendor, it is perfect for outdoor activities!
Disclaimer: This post is written in partnership with Buffalo Mountain Lodge. As always, all opinions on For Two, Please are my own and I only recommend brands that I 100% stand behind.