This site uses affiliate links and we may earn a small commission when you use our links and make a purchase without incurring additional fee yourself. Many thanks for supporting this website. Please see our disclosure page for more details.
In San Miguel de Allende, you won't find beaches and ocean waters. There isn't even an international airport nearby. Yet, thousands and thousands of national and foreign travelers visit this colonial city every year – with a good reason. Walking down the cobblestone streets of San Miguel, you'll see the city radiates charm and old-world ambiance. Colorful houses line the streets. Spanish colonial-style buildings tell the story of San Miguel's lively history. It's hard not want to stay a little longer, or even move here! If you have 48 hours to spend in San Miguel, read on below for things to do and see, best places to eat and drink, and luxurious hotels to stay at!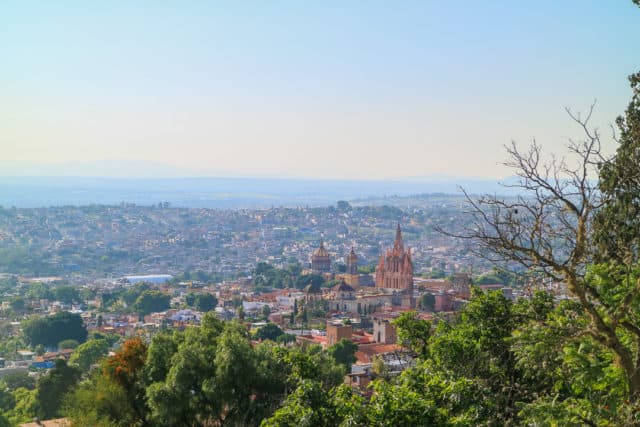 Day 1 at San Miguel
San Miguel de Allende is known for being the cradle of the Mexican independence movement, where Miguel Hidalgo y Costilla rallied Mexicans to rebel against Spanish rule. At this UNESCO World Heritage City, you'll see history, culture, and art come alive!
Morning: Begin the day with a classic Mexican breakfast at El Correo. Then, walk around town and visit the iconic temples and attractions.
Start from Jardin Principal, the town's main square, take time to explore the pastel pink La Parroquia de San Miguel Arcangel. Originally constructed in the 17th century, the neo-Gothic facade was built in the 18th century by master builder Don Zeferino Gutierrez, who reputedly based the design on a Belgian church. From there, you can see Templo de San Rafael next door, with its bell tower rising high above the old flower market.
Across the street is Museo Historico de San Miguel de Allende, the birthplace of Ignacio Allende, a Spanish army officer who fought as a leader for Mexican Independence. Here, you can learn about the interesting history of San Miguel. Historic paintings and Mexican folk art can be seen at Casa de Cultura Banamex, once owned by the wealthy and influential De La Canal family. Even if you're not into history, the compelling architectural details will blow your mind!
[irp posts="7547″ name="5 Reasons Why Guanajuato Should Be Your Next Mexico Destination"]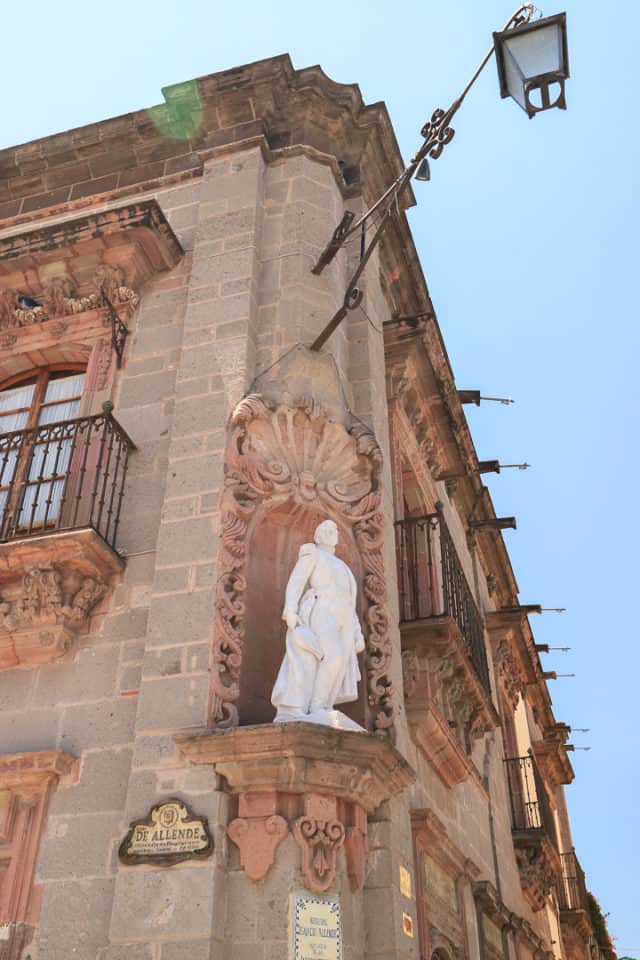 Follow the tall yellow dome and you'll find Templo de la Purisima Concepcion, also known as Las Monjas. Inside houses paintings by Juan Rodriguez Juarez, one of the most famous painters in New Spain. Speaking of art, you do not want to miss the murals at Centro Cultural Ignacio Ramirez "El Nigromante", especially the one by renowned Mexican muralist David Alfaro Siqueiros. Or the dramatic murals at Biblioteca Publica by artists David Leonardo.
For hand-painted ceramics, mirrors, and Day Of The Dead artwork, head over to Mercado de Artesanias. Make sure to try local sweets and pulque (fermented agave drink) while you're there!
Then, go inside the Templo del Oratorio de San Felipe Neri to see paintings by Miguel Cabrera as well as the lavish Capilla de la Santa Casa de la Virgen de Loreto. Admire the intricate facade of Templo de Nuestra Senora de la Salud. Make a stop at Plaza Civica where a large statue of Ignacio Allende on a horseback situates in the center. Lastly, end your tour at Templo de San Francisco.
All attractions are close by, so it is totally walkable. It will take about 2-3 hours to see everything.
Lunch: Rest up at the courtyard of Maria Xoconostle. One of the best places to please your palate if you're wondering where to eat in San Miguel de Allende. They have authentic Mexican dishes to fuel your soul. Try escamoles (ant eggs – it is yummy!) and beef fillet medallions with "manchamanteles" sauce.
Afternoon: San Miguel is not all about colonial architecture and historical elements. At Doce 18 Concept House, you'll see a harmonious blend of modern minimalist decor and old world charm. The space houses numerous shops, restaurants, bars, and galleries.
Don't miss the opportunity to visit Casa Dragones Tasting Room. A tasting of Casa Dragones Joven (World's best sipping tequila!) and Casa Dragones Blanco will completely change your impression of tequila! Reservation is required.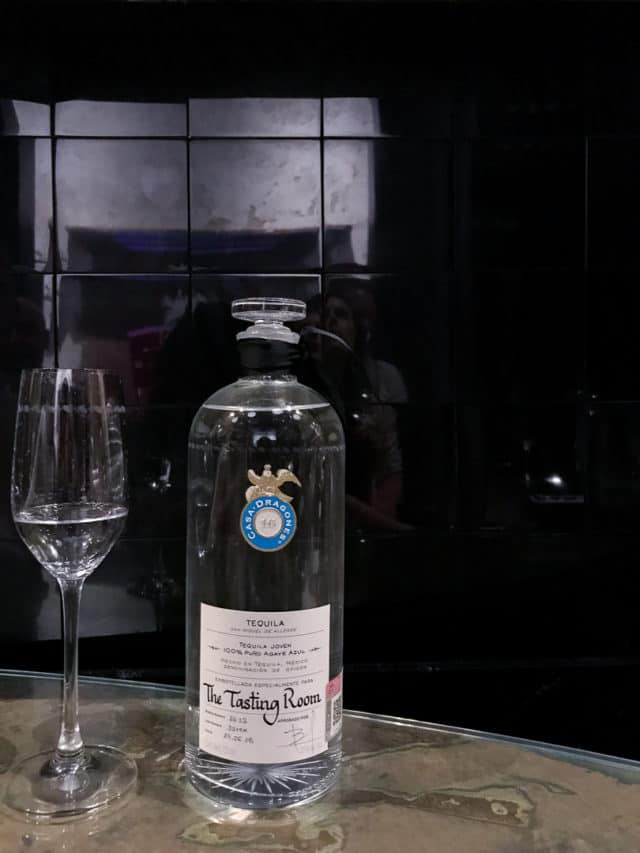 Dinner: Reward yourself with a hearty meal (and a panoramic view of the whole town!) at Antonia Bistro. Their tempura shrimp tacos hit the spot. Also, the grilled octopus, rack of roasted lamb and sweet potato creme brulee do not disappoint!
Stay at: L'Ôtel on the top floor of Doce 18. Each room is bright and airy, equipped with modern amenities. The rooftop terrace and pool are to die for!! There are only 10 guestrooms though. Alternatively, you can stay at Rosewood or Clandestino.
[irp posts="7545″ name="6 Fun Things To Do in Guanajuato City, Mexico For First-Timers"]
Day 2 at San Miguel
Morning: Power up your day with a healthy breakfast at Los Milagros, which serves a great selection of Mexican dishes that are worth waking up for!
Next, pay a visit to the Mask Museum, where an extraordinary collection of 600 Mexican ceremonial masks are stored. The owner Bill LeVasseur has spent over 25 years, traveling to indigenous villages throughout Mexico to collect them. The history and culture behind mask-making and masked dancing are fascinating!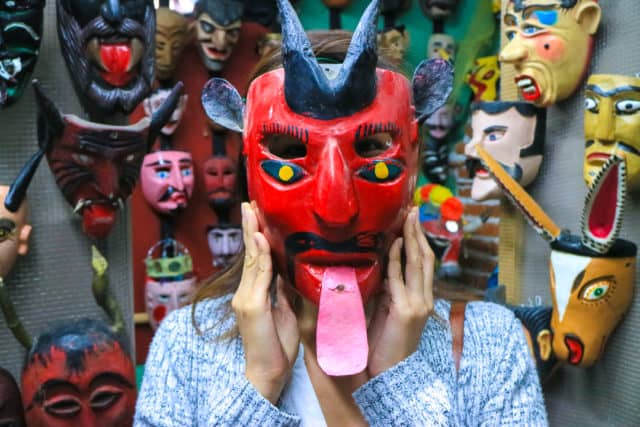 Fabrica La Aurora is also worth a visit. Previously a textile factory, this century-old building is converted to an art and design center. More than 50 art studios and galleries, antique showrooms, furniture shops, and design stores can be found here. If you're lucky, you might even see some talented artists at work!
Lunch: Let Chef Juan Carlos Escalante surprise you at Nirvana with his creative fusion cuisine. Sitting at the idyllic outdoor terrace surrounded by nature will make you forget all your troubles and worries!
Afternoon: Not too far away from the restaurant is Santuario de Atotonilco. This baroque style temple stands out for its 18th-century murals and architectural details that make it, along with San Miguel, World Heritage Site by UNESCO!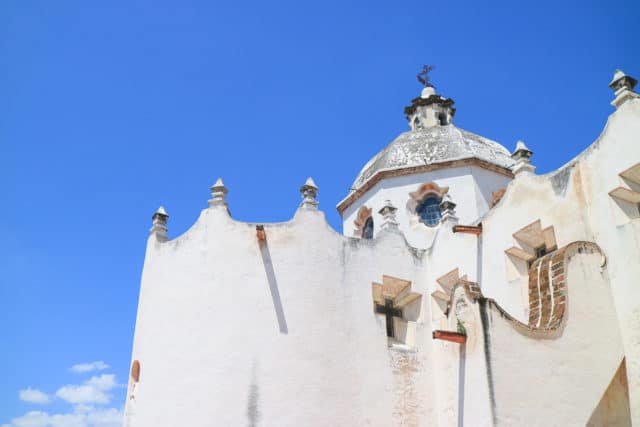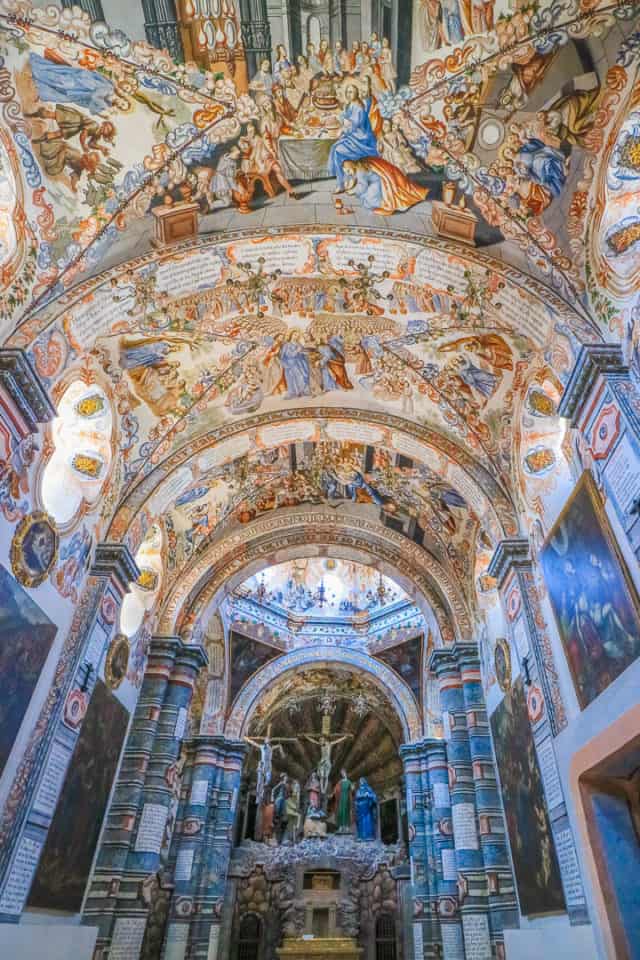 Saddle up for a horseback ride through the picturesque landscapes of San Miguel and ride off into the sunset with Coyote Canyon Adventures. The tour will take you back to the city center, where a mariachi band will greet you with cheerful music!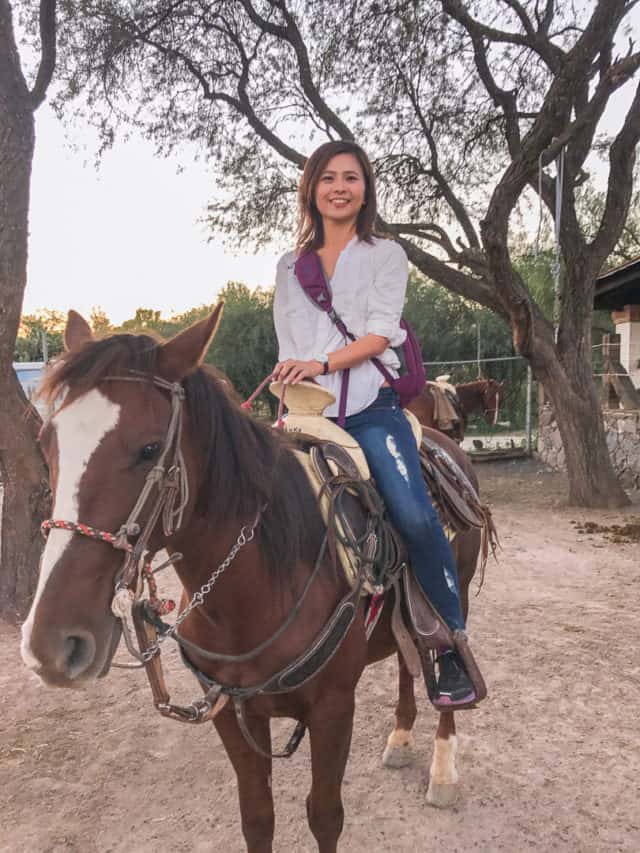 Dinner: Kiss the night goodbye at Luna Rooftop Tapas Bar. The incredible food, inventive drinks, and breathtaking view will make you not want to leave San Miguel.
---
There are plenty more things to do in San Miguel de Allende, 48 hours are simply not enough! Hopefully, this post will inspire you to visit this brightly-colored, colonial city, and get you started on your trip planning!
All the above attractions are marked on this map: