This site uses affiliate links and we may earn a small commission when you use our links and make a purchase without incurring additional fee yourself. Many thanks for supporting this website. Please see our disclosure page for more details.
Riviera Maya on the northeastern Yucatan Peninsula is a popular spot in Mexico for beach vacations. Home to white sandy beaches and turquoise waters, this glorious stretch of Caribbean coastline offers an unmatched paradise. It is tempting to chill at your resort doing nothing but there is an incredible variety of fun things to do in Riviera Maya. For those seeking an unforgettable trip, I've rounded up 10 activities you must do before going back home!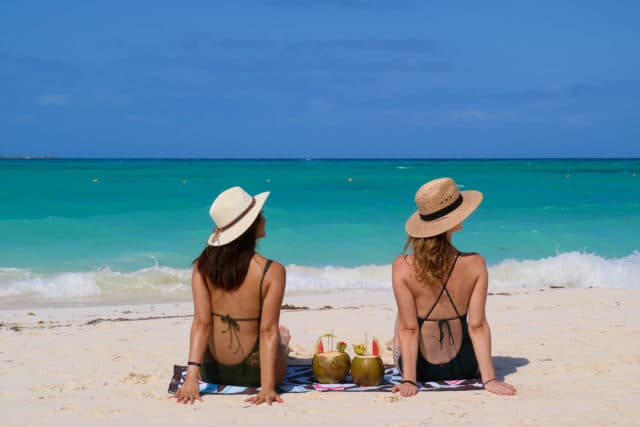 Top 10 Things To Do In Riviera Maya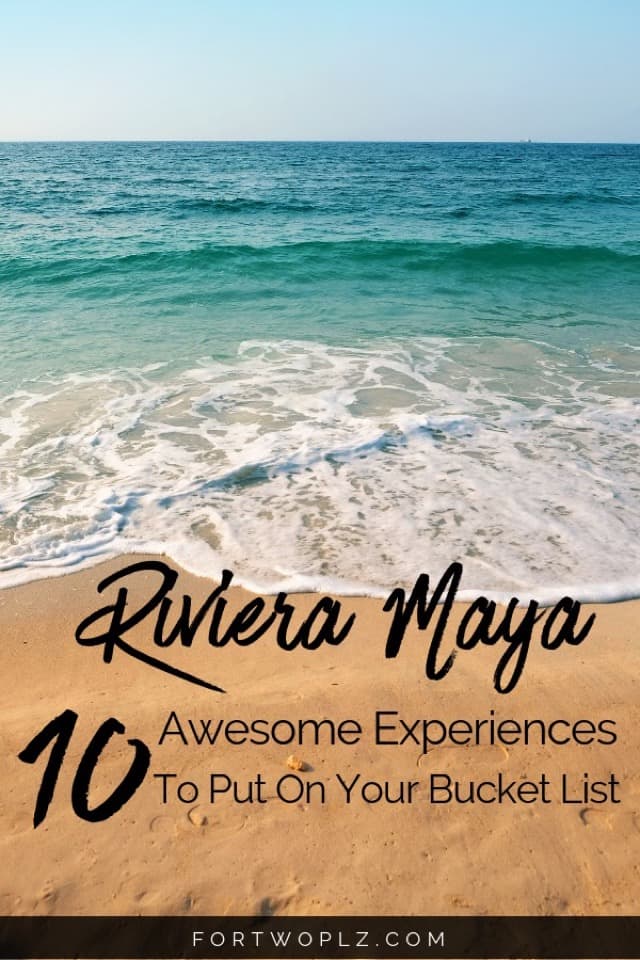 1| Walk on the White Sand Beaches
This is one of the reasons you're here, right? You're not gonna disappoint!
There's something magical about the dreamy sandy beaches that draws throngs of people to Riviera Maya year after year. With miles of pristine powdery beaches and the clearest water you'll likely ever encounter, there's no question why Riviera Maya is one of Mexico's best travel destinations.
Where are the best beaches in Riviera Maya?
There are many amazing beaches in Riviera Maya, including Maroma Beach, Xpu-Ha, Xcacel, and Akumal. But if you're visiting in spring (March & April), be prepared to see a remarkable amount of seaweed on the shore. This has become a problem since the past few years. We traveled to Tulum, Playa del Carmen, and Puerto Morelos this March – all of them were affected. The only area that we didn't see much seaweed around was the northern part of Cancun's "hotel zone."
The hotel we recommend:
For beach lovers, I'd recommend a luxury stay at Grand Fiesta Americana Coral Beach in Cancun. The resort features spacious oceanview suites with private terrace offering spectacular views of the Caribbean. You can even see the nearby Isla Mujeres on a clear day!
As a guest at Grand Fiesta Americana Coral Beach, you will not only have access to the private beach (no crowds, no seaweed!), but also to its vast outdoor heated pool. For the utmost comfort and privacy, I would suggest upgrading to The Grand Club, which will pamper you with privileges such as VIP check-in and check-out, a club concierge, the penthouse lounge, the private beach club and sundeck, and culinary services throughout the day! You will even get a complimentary jet-ski session and ferry tickets to Isla Mujeres!
After a long day on the beach, treat yourself to the Gem Spa (one of the best in Latin America and the Caribbean) and indulge in the unique 10-step hydrotherapy ritual.
2| Snorkel or Scuba Dive in Cozumel
Get your gear ready and jump into the ocean! In Riviera Maya, you gotta take advantage of that crystal clear water!
The best place for underwater explorations is Cozumel, an island just off the coast from Playa Del Carmen. 
This sun-baked island's southwestern coast lies the Mesoamerican Reef System, which is the second largest barrier reef system in the world. 
There are 25 major dive sites around the island, all of which are protected by the National Marine Park. It's no wonder that Cozumel is consistently ranked as one of the top scuba diving destinations on the planet!
Aside from scuba diving, you can also head out for a snorkeling adventure. The shallow turquoise water makes it so easy to see the colorful reefs and the magnificent marine life.
Note: To get to Cozumel, take a ferry ride from Playa del Carmen. There are 2 companies run the ferry service: Mexico Waterjets and Ultramar. Services begin at 7 am and end at 11 pm the latest. The crossing takes about 40 mins and costs 163 pesos one way, 300 pesos round trip.
3| Chill Out at The Prettiest Bohemian Town
If you're on Instagram, you must have seen tons of beautiful photos of Tulum on your feed. I'm not gonna lie, I first heard about Tulum on Instagram as well.
Unlike other places in Riviera Maya, this idyllic beach town has a charming and laid-back bohemian vibe that attracts chilled-out travelers in need of a break. Yoga resorts, upscale boutiques, stylish hotels and world-class restaurants build up along the beach strip. There's a never-ending stream of epic photo ops for Instagrammers and photographers. This puts Tulum on the map as one of the top places to visit in Mexico.
Tulum is very expensive though. Don't be surprised if you're being charged USD$300 per night for a 3-star hotel room.
[irp posts="8094″ name="A Practical Travel Guide To Tulum, Mexico"]
4| Try Out Traditional Dishes of Yucatan
Interested in traditional Yucatecan cuisine? Treat your taste buds to a meal at The Dining Experience – Tulum!
The Dining Experience – Tulum isn't your typical restaurant but rather an interactive gastronomic adventure that immerses you in the vibrant flavours of the Yucatan. The dinner is led by knowledgeable hosts who will introduce you to the region's cuisine through tasty Mexican dishes, inventive cocktails, and hands-on participation.
Guests are seated on a long communal table, limited to only 21 people. The evening starts with a tequila and mezcal tasting followed by a fun cocktail making lesson. Once your drink is ready, the 7-course dinner commences, featuring the best ingredients the region has to offer!
The chef, Emme Prieto, presents on an unforgettable multi-course journey that's exemplary from start to finish. Whether it is the prawn & pineapple al pastor skewer or the smoked turkey with poblano mole, the food impressed us with every bite during our recent visit. The highlight of the evening? Hands down, the cacao mousse with mezcal-infused caramel, which teased our palate with a melt-in-your-mouth goodness!
If you're in Tulum, The Dining Experience – Tulum is a must visit. It is an experience you'll never forget.
If you're in Cancun, then book a memorable meal at La Joya (inside Grand Fiesta Americana Coral Beach). On Fridays and Saturdays, the restaurant presents "The Table" experience. The gourmet 8-course dinner is set on a video-mapping table (with a narrative and music) and takes you on a culinary adventure that follows the fascinating history of the Yucatan peninsula. Each dish and drink correspond to a specific chapter from the past. "The Table" promises a memorable and delicious experience.
5| Relax and Unwind in a Small Beach Village
Want some downtime and escape the crowds? Head for a low-key beach community like Puerto Morelos!
Unlike other beach towns in Riviera Maya, Puerto Morelos has a calmer pace. There's no big hotel or glitzy attractions, but you'll find groomed beaches, friendly locals, and amazing food in this small Mexican fishing village. If you need to unplug, relax, and enjoy the beach in its purest, simplest form, the blissfully quiet Puerto Morelos is the place to go!
Note: In the main plaza, there's a famous stall that sells marquesitas (rolled-up crispy crepe that is filled with melted shredded cheese and sweet fillings such as Nutella and strawberry jam). Prices range from 35 to 40 pesos, depends on how many fillings you choose. It's open every day from late afternoon to late evening. Art market occurs every Saturday and Sunday evening.
[irp posts="11218″ name="10 Romantic Things To Do In Key West, Florida For Couples"]
6| Tour the Mayan Ruins
Don't leave Riviera Maya without a visit to at least one Mayan ruin!
These archaeological sites are masterpieces of the Mayans prior to the Spanish colonization. They offer a glimpse of what life was like for the Mayans thousands of years ago.
There are many ancient ruins scattered throughout the Riviera Maya, but the most well-known ones are:
Tulum: A small site that can be explored within an hour. It is the only Mayan ruin site that is located along the oceanfront, offering spectacular views from the cliffs. Wear your swimsuit under your clothes and take a swim in the ocean after your visit!
Coba: Located in the middle of the jungle, about 44km from Tulum or 109 km from Playa del Carmen. Rent a bike to get to the impressive Nohoch Mul pyramid, the highest one in the Yucatan Peninsula. 120 steps will take you to the top for a remarkable view of the surrounding jungle!
Other ruin sites in the area include Muyil (south of Tulum), Xel-Ha (south of Hel-Ha Eco-Park), and Akumal. If you have more time and willing to travel a bit further, visit Chichen Itza. It is a UNESCO World Heritage Site and named one of the 'New 7 Wonders of the World'!
For more details on the ruins, please check out this post.
7| Take a Dip in The Cenotes
From our friend, Meagen, at Food Fun Travel:
When visiting the area of Riviera Maya, one of the must-see attractions are the cenotes. Cenotes are sinkholes that reveal crystal clear water that's perfect for swimming, snorkeling, or even scuba diving.
There are reportedly over 12,000 cenotes in the region, but honestly, there's probably way more, as every year more and more cenotes are discovered in the region. If you are looking to enjoy these local phenomena there are a few quality ones to choose from. Some are more popular than others so be warned you might be sharing some of these with quite a few other tourists.
The number 1 cenote on the tourist trail is Cenote Ik Kil which is situated right near Chichen Itza. It's best to get here first thing in the morning, as by afternoon, busloads of hot tourists leaving Chichen Itza will start arriving. It's beautiful and worth a visit, but it is a bit 'man made' and gets very, very busy.
If you are looking for something a little quieter, our recommendation is Cenote San Lorenzo Oxman which is close by to the town of Valladolid. This cenote has everything you want, lush blue water, tree vines snaking down to the water below, and a hacienda (old plantation building) with bar and a pool nearby.
If you are looking for the ultimate Instagram pic then head to Cenote Suytun Valladolid which has a platform to the center of the cenote with a hole up top that shines sunlight down upon the people below – it's amazing.
As I mentioned before, there are so many cenotes to discover in the area. I highly doubt that you will be disappointed by any one you choose to visit.
Find out more about cenotes in the area in Meagen's post on 24 best cenotes in Yucatan.
8| Get Closer to Nature at Sian Ka'an Biosphere
From our friend, Raphael, at Journey Wonders:
When it comes to wonderful destinations in the Riviera Maya, the Sian Ka'an Biosphere is a MUST-SEE for sure.
Featuring exotic wildlife and incredible sights, the number of animals you will see is out of this world: sea turtles, mantas, manatees, dolphins and countless of endemic bird species.
The best part? You can totally snorkel at the coral reef and explore the wonderful underwater world of the Riviera Maya.
To get to the Sian Ka'an Biosphere, you need to hire a tour, ideally from Tulum so you spend less time on a van although you can do it from Cancun or Playa del Carmen as well.
Ready to explore the Sian Ka'an Biosphere? You'll love it for sure!!!
9| Take a Day Trip to Isla Mujeres
Want to get away from all the hustle and bustle, consider taking a day trip to Isla Mujeres.
Sitting 13 km off the shore of Cancun, Isla Mujeres is a refreshing option that offers the ultimate tranquil escape. The sleepy island is only a 20-min ferry ride away and can be easily explored in a day!
The best way to explore Isla Mujeres is by golf cart ($250 pesos per hour; driver's license required). I'd recommend driving to Punta Sur, the southern tip of the island, where you can admire endless ocean views of the cliffs. Don't forget to stop by the lighthouse, Mayan temple, and sculpture garden nearby. When you're hungry, enjoy freshly-caught seafood at local restaurants. You can also take some time strolling through the streets of the island and shopping at quirky stores. Or, you can simply do nothing but relax in Playa Norte, one of the best beaches in the Caribbean!
Note: Ferries to Isla Mujeres are available from Gran Puerto in Puerto Juarez (near downtown Cancun). Boats operate from 5 am to 11:30 pm, departing every half an hour. Fares are $160 pesos one way, $300 pesos round trip. If you're staying in Cancun Hotel Zone, ferries leave from 3 locations: Playa Tortugas, El Embarcadero, and Playa Caracol. Fares are $14 USD one way, $19 USD round trip. Operation hours are shorter and boats leave less frequently.
[irp posts="11147″ name="Miami To Key West Drive: How To Plan The Perfect Florida Keys Road Trip"]
10| Swim with Whale Sharks in Isla Holbox
From our friend, Meagen:
If you are looking to see one of the most majestic creatures of the sea, then head to the stunning tropical island of Isla Holbox, Mexico, and book yourself a whale shark experience. While they have the name 'shark' in their title, they are in no way scary and are stunning gentle creatures that eat only krill. It's also best to know that Mexico has a limited season when the whale sharks are migrating, which is from May to September, so this is the best time to book. As always, remember that they are wild creatures and that sightings can take time. Be patient, it's worth it!
Once a whale is spotted in the water, it's time to suit up with your life jacket, snorkel, and don't forget your underwater camera – you're going to want it for this experience! The thing we really appreciated was the fact that the whole boat doesn't jump overboard at once and bombard the poor creature. You are only allowed off the boat two at a time and you are given about 5 minutes to swim alongside the whale sharks. Then it's someone else's turn. This repeats over again (so you can get a couple of swims with the whale sharks) until the whale shark disappears or everyone gets tired and hungry.
And that's it. It might seem simple and rushed, but it's not at all. It will leave you feeling exhilarated to have had the chance to swim alongside these peaceful creatures. I have never heard a single person complain about their experience swimming with whale sharks. They are just that awesome!
You can learn more about the whale sharks experience in her post on Isla Holbox.
---
Have you been to Riviera Maya in Mexico? Let us know in the comment what your favorite activity was!
[one_half]
[/one_half]
[one_half]
[/one_half]
Disclaimer: This post is written in partnership with Grand Fiesta Americana Coral Beach and The Dining Experience Tulum. As always, all opinions on For Two, Please are my own and I only recommend brands that I 100% stand behind.