This site uses affiliate links and we may earn a small commission when you use our links and make a purchase without incurring additional fee yourself. Many thanks for supporting this website. Please see our disclosure page for more details.
Tulum's spectacular coastline and hippie-chic vibe make it one of the best destinations in Mexico. Almost every beach lover has Tulum on their bucket list. So naturally, we had to see it for ourselves! Last month, I went on a girls' getaway to the sun-drenched Riviera Maya with Monica and Jasmine and had a five-day escape to Tulum. We experienced a mix of good, bad, and ugly – which inspired me to put together a travel guide to Tulum. If you're considering visiting the area, read on and learn what to expect at this popular Mexico beach destination.
Tulum Guide: Everything You Need To Know About Tulum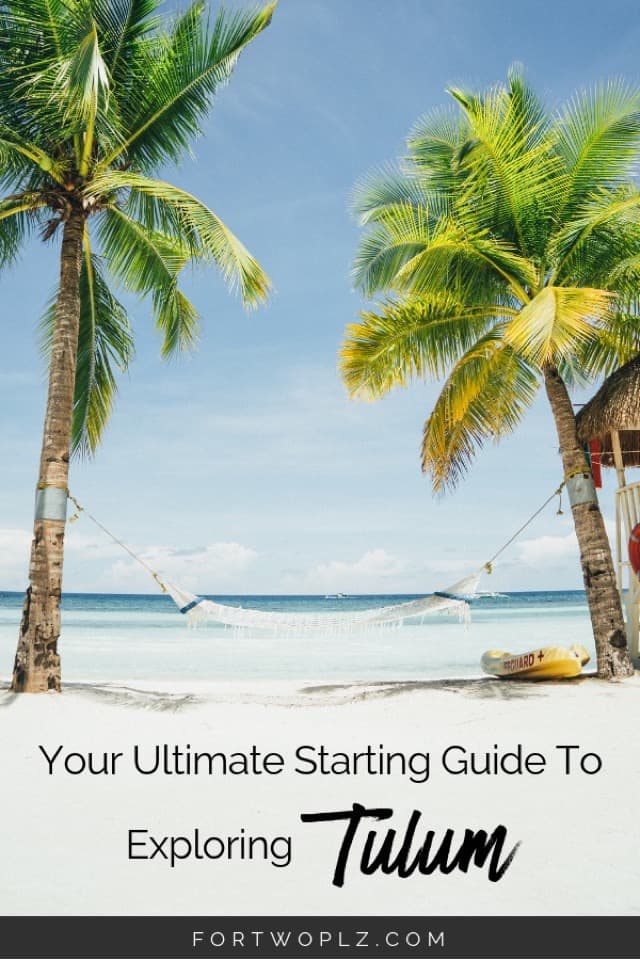 Where Exactly Is Tulum?
First, let's look at a map and get an idea where Tulum is.
As you can see below, Tulum is on Mexico's east coast – in the state of Quintana Roo on the Yucatan Peninsula, to be specific.
To put into perspective, Tulum is about 2 hours from Cancun Airport and an hour from Playa del Carmen.
How Is Tulum Different From Other Beach Towns?
Located on Mexico's Caribbean coast in Riviera Maya, Tulum boasts sugary-white sand, turquoise sea, and looming palm trees. But so do other beach towns in the area.
Why makes Tulum unique? Why are people going there instead of Playa del Carmen or Cancun?
The answer is its secluded location and boho-chic vibe.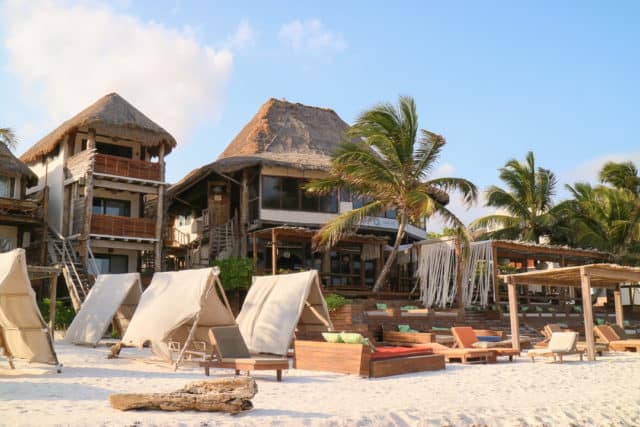 Because it is not-so-easy to get to, you can stroll the long stretches of beach with only a few other people sharing your little paradise. Sunshine and solitude make it the ideal destination for yoga retreats. As a result, a plethora of eco-boutique hotels, indie designer stores, farm (and sea-)to-table and vegan restaurants have sprung up. You likely won't find this anywhere else.
[irp posts="8061″ name="10 Unexpectedly Awesome Things To Do In Riviera Maya"]

Is Tulum Right For You?
Tulum is a gorgeous and popular beach destination in Mexico, but it is not for everyone.
Tulum is undeniably a hotspot for Instagrammers and bloggers. Everywhere you turn, there's a stylish, Instagram-worthy spot awaiting you. It's truly an Instagrammer's paradise.
But because of its increase in popularity, Tulum has also become ridiculously expensive. As luxury travelers, we want to make it clear that – it's one thing to offer a high-end service and charge accordingly, it's quite another to charge an outrageous price for a mediocre service. Sadly, Tulum falls into the latter category based on our experience.
To give you an idea how costly Tulum is, we paid US$300 per night to stay at a 3-star hotel on the beach. Compared to other hotels along the strip, that was at a lower end. Our room had the bare minimum – 2 beds, a bathroom, and a safe with the inclusion of beach towels, shampoo, shower gel and A/C (thank god!). That's it. No food was included during our stay. Wi-Fi barely worked. Inconsistent hot water in the shower. Oh, and there was no hairdryer. Want to stay at a nice place? Sure, but you gotta pay more. Be prepared to see a whopping US$700, $800, or even $1000+ in price tags. And it's not just the hotels. Taxis, restaurants, shopping work the same way.
Don't get me wrong, we still had a great time in Tulum. Just that it's not a destination I see myself going back anytime soon. Been there, done that. Let's go somewhere else.
Aside from that, Tulum is also a fantastic escape from reality for those seeking for a health and wellness vacation.

How Many Days Should I Spend in Tulum?
4-5 days should be sufficient to see the town and enjoy some beach time. I would recommend 1 day on the beach, 1 day sightseeing, 1 day exploring the beach strip, and 1 day eating, drinking and shopping.
Worried about the cost of accommodation? Consider staying at the town (pueblo) instead of the beach (playa). If you're willing to travel 20 mins to get to the beach, the town offers much cheaper hotel and hostel options for your considerations.

[irp posts="11147″ name="Miami To Key West Drive: How To Plan The Perfect Florida Keys Road Trip"]
When Is The Best Time To Go?
Tulum is a tropical destination, but it has dry (December to April) and wet seasons (June to October).
June, September, and October are the rainiest months. January to March are the busiest months, plus you might see a tremendous amount of seaweed on the shore (just like we did). July and August are hot and humid. So, the best months to visit Tulum would be during the shoulder season: May and November. It's cheaper, less crowd, and cooler!

How To Get To Tulum, Mexico?
There are 4 ways to get to Tulum:
By ADO Bus: pronounced AH-DEE-O, ADO is a major Mexico bus company that operates in many cities. The buses are air-conditioned and fairly clean and comfortable. Luggage can be stowed in the bottom compartment of the buses. At Cancun International Airport, you can find ADO stand at all terminals. Buses leave every 30 or 45 mins. To get to Tulum, you will need to take a bus to Playa del Carmen first (190 pesos, no stop in between). Once you arrive at the ADO station in Playa del Carmen, you can transfer to another bus heading to Tulum (41 pesos). The whole journey takes about 2.5 hours (1.5 hr to Playa del Carmen, 1 hr to Tulum). Both tickets can be purchased together at the airport terminal.
Note: the ADO bus terminal in Tulum is located in the town (pueblo). If your hotel is on the beach (playa), you will need to get a taxi from there.
By Colectivo: these white shuttle vans are how the locals get from town to town. They are cheaper and smaller (holds about 10-12 people). They don't operate on a fixed schedule. Instead, they just leave whenever the bus is filled up. You can catch a colectivo from Cancun downtown in the parking lot of "La Comercial Mexicana" on Tulum Ave. It will take you to Playa del Carmen for 30 pesos. From there, you can catch another one to Tulum (pueblo) for another 30 pesos. The colectivo will drop you anywhere along the main avenue in Tulum, just remember to tell the driver where you want to get off. From Cancun to Tulum, it takes approximately 2 hours in total.
Note: if you have large luggage, colectivo might not work as it is usually crammed with people and there's no storage space. Usually, the driver doesn't speak English well. You will need to speak a bit Spanish (Time to practice Espanol!).
By Private Shuttle: If any of the above sounds too complicated or too much hassle, a private shuttle is another option. This can be arranged through the hotel or on your own. The price for a round trip ranges from USD$135-$200.
By Car: If you're planning to do a lot of exploring in the Riviera Maya area, you might want to consider renting a car rather than taking a taxi all the time. It is about US$40-45 per day with full insurance. Make sure you DON'T book from third-party booking sites such as Expedia or Kayak – they often quote $5 per day and don't fully disclose hidden costs. Book directly from the rental car company, such as Avant and Easy Way.
Tulum Pueblo vs Tulum Playa
It's important to know that the main town of Tulum is not on the beach. Tulum is divided into 2 parts: Tulum Pueblo (town center) and Tulum Playa (beach strip).
The main town (pueblo) runs along Highway 307 and it is where the local lives. Almost everything you need is located along the main avenue, from convenient stores, pharmacies, ADO bus stations, bike rental shops, to authentic local restaurants and bars.
The beach (playa) is 15-20 mins drive from the town. If you're looking for the pretty bohemian hotels and cute Instagram spots, this is where you want to be. The long strip runs along the coast, with hotels on the left facing the ocean, and shops and restaurants on the right.
How To Get Around Tulum
By Bike: There's a nice bike path connecting the town to the beach. You can rent one for about 150 pesos a day. Make sure it comes with a lock.
By Taxi: Taxis are everywhere. It's very easy to find one. From the town to the beach, it's approximately 120-150 pesos. To get from one place to another along the beach strip, it's about 100 pesos, but you can negotiate down to 80 pesos.
By Colectivo: These shared vans will take you from the town to anywhere on the beach for 15 pesos (they sometimes charge tourists 20 pesos). They can be found on the main avenue. You can also wave it down if you see one on the road, going in the same direction as you want to go. Once you hop on, tell the driver your destination.
By Car: as I mentioned earlier, if you're planning to do a few day trips, consider renting a car. We spent 1000 pesos (round-trip) to go to a cenote that is 30 mins away and got into a nasty fight with the taxi driver. That's a story I will save for another time. But seriously, if we could do this trip all over again, we would rent a car, at least for the day when we venture outside Tulum.
Things To Do In And Around Tulum
Visit Tulum Ruins: One of the most popular things to do in Tulum is to visit the Mayan ruins, and you don't need to go too far to see one! Tulum Ruins is merely 10 minutes drive away from the playa. This iconic attraction of Tulum remains so popular because it's the only Mayan city built on the coast! Entrance fee is 80 pesos. Add 70 pesos to join a tour with a professional guide.
Note: The gate opens at 8 am. Be sure to come early if you want to beat the crowds. The beach opens at 9 am. Remember to wear a swimsuit underneath your clothing if you want to take a swim in the ocean!
Relax on the beach: There's nothing wrong with a relaxing beach day! When you're surrounded by turquoise waters and silky white sand, you gotta take advantage of it. Where else can you find better beaches? Spend a day lazing about in a hammock, sipping margaritas, and basking in the ocean at this tropical paradise!
Explore the Beach Strip: Running alongside the beaches is the long narrow paved road called Boca Paila (a.k.a. Road 15). It runs from the Tulum town all the way to Punta Allen. With so many beautiful boutiques and stylish restaurants lined the street, you will never run out of photo ops!
Pro tip: Because the shops are fairly spread out, we recommend renting a bike to explore all the quirky, chic spots!
Go shopping in Tulum Town: Looking to buy a straw hat, a pair of sunglasses, or souvenirs to bring home? The best place to shop is in the town, not on the beach strip. In comparison to the beach strip which is filled with expensive local designers shops, the shops in town are more budget-friendly. You can find anything from handbags to hammocks. Having said that, the rates are usually hiked up so don't be afraid to haggle on the prices.
Swim in cenotes: Your trip to Tulum is not complete without a visit to a cenote. Cenotes are natural sinkholes with clear blue water, perfect for swimming, snorkeling and diving!The Yucatan Peninsula in Mexico has an estimated 12,000 cenotes, many of which are easily accessible from round Tulum. Some of the beautiful ones include Gran Cenote and Dos Ojos. If you want a more exclusive experience, check out Cenote Labnaha, which is only open for a few visitors daily.

You might also like this post: Gran Cenote Photography Guide
Take a Day Trip: Want to see more Mayan ruins? No problem! There are a few nearby, including Muyil ruins (20 mins south of Tulum, Coba ruins (45 mins away hidden deep inside the jungle), and the world-famous Chichen Itza (a UNESCO World Heritage Site and one of the 'New 7 Wonders of the World'!!). Other than the ruins, Sian Kaan Biosphere Reserve is also worth a visit. Located just south of Tulum, the reserve is home to a spectacular variety of exotic wildlife. You can even go boating and snorkel amongst the huge diversity of fish and corals! To go there, you will need to book a tour.
For more fun things to do in Riviera Maya, check out this post.
[irp posts="11218″ name="10 Romantic Things To Do In Key West, Florida For Couples"]
Best Places to Eat in Tulum
Burrito Amor: If you ask the locals, they'll tell you Burrito Amor is home to the best breakfast burritos. Their menu is paleo and vegan-friendly and offers gluten, dairy, egg-free options!

Raw Love: If you're into raw vegan food, check out Raw Love. This discreet cafe serves delicious smoothies and acai bowls that will keep you energized for the rest of the day!

The Dining Experience Tulum: For traditional Yucatecan cuisine, book a dinner at The Dining Experience Tulum. During the 7-course dinner, the hosts will take you on a gastronomic journey across the Yucatan Peninsula. Expect a lot of laughter and interactions throughout the evening!

Hartwood: The most sought-after restaurant in Tulum, owned by Eric Werner and Mya Henry from New York. The restaurant is known for serving up exquisite meals using wood-fire cooking. Their menu changes daily and celebrates fresh local ingredients. If you want to dine there, you better be quick and make a reservation one month in advance.
Ginato: This open-air jungle bar right next to Hartwood is the perfect spot for small bites and drinks! They have a fabulous Mezcal-infused cocktail list. I highly recommended the Jungle Fever!
Flor de Michoacan: Popsicles, anyone? This cute tiny store is hidden on the main ave in Tulum town. In the freezer, you will find a wide variety of brightly colored fresh fruit popsicles. Grab one and beat the summer heat!

[irp posts="7547″ name="5 Reasons Why Guanajuato Should Be Your Next Mexico Destination"]

Best Luxury Hotels In Tulum
We didn't have a great lodging experience in Tulum. But if I were to do this trip again, I would have stayed at these luxury hotels:
El Pez: Located in the south end of Tulum, El Pez boasts gorgeous ocean views from all their rooms. On top of that, breakfast is included with freshly brewed coffee delivered to your room daily. El Pez also guarantees 24-hour hot water, daily turndown service, air-conditioning, and free Wi-Fi inside the room. Sounds like a truly luxurious experience.
Mi Amor: This boutique hotel is beautifully designed. All the rooms are tastefully furnished and come equipped with a fully stocked mini bar, a Nespresso coffee machine, and a wireless Bluetooth speaker. Of course, toiletries and hairdryer are provided so you don't need to worry about bringing these!
Azulik: Fairytales do exist! If you want to stay in a treehouse in an actual jungle, Azulik is the place to be! There's no TV, A/C, or WiFi at the property, but you will be rewarded with amazing ocean and jungle views. Each villa is artistically and ecologically designed, with swings and private pool on the balcony!
Other Advice
Tipping: You are expected to tip 10% at restaurants and bars.
WiFi: Be ready to disconnect because WiFi connectivity is slow in Tulum. Some places don't even get cell service.
Language: Practice your Spanish. Although there are many English-speaking tourists visiting Tulum, most of the locals don't speak English. Learn some Spanish before you arrive!
---
This guide sums up everything you need to know about Tulum. I hope you find it helpful and informative for your planning. Have a wonderful trip to Tulum!