This site uses affiliate links and we may earn a small commission when you use our links and make a purchase without incurring additional fee yourself. Many thanks for supporting this website. Please see our disclosure page for more details.
Earlier this month, I officially turned the big 3-0. Instead of popping champagne, I chose to celebrate this special day in an extra-memorable style – with a wolf encounter! Among all the crazy bucket list ideas, this is an especially meaningful way to welcome the new chapter of my life. In this post, I want to share with you this unique experience on my recent adventure to Quebec Maritime!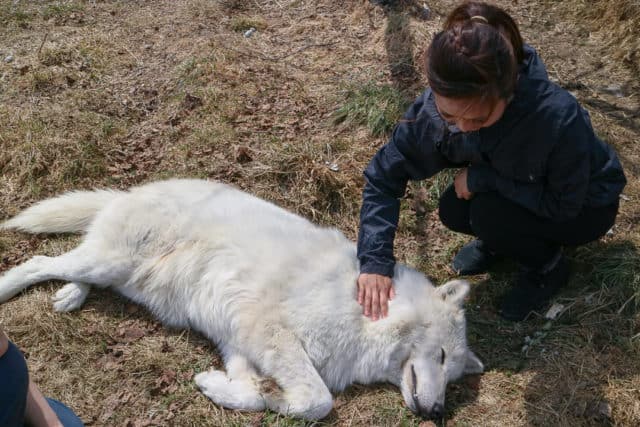 All About Wolves: Gray Wolf and Arctic Wolf
Our preconception of the wolf
Let me ask you something first. What's the first word that comes to mind when you think of "wolves"?
Is it vicious? deceitful? dangerous?
It is undeniable that many of us perceive wolves in a negative light, often driven by fairy tales and ancient fables. I was no exception. The mythical Big Bad Wolf from Little Red Riding Hood was all I could think of when someone mentioned "wolf."
Do you know that the Little Red Riding Hood was originally a French tale? Back in the day, the wolf was seen as a threat to herders and farmers. Dead sheep started to be found on their ranch and they believed that the wolf was the cause of their death. People became afraid of wolves and began telling stories – that's how fables like Little Red Riding Hood came to exist.
To protect sheep and livestock, a systematic extermination of the gray wolf began in France. In the 1930s, wolves were hunted almost to extinction!
But it was unfair to blame the wolf! Delphine Brossaud, our guide at Ferme 5 Etoiles explained that back in the day, the task of herding sheep was delegated to a young child, instead of an adult. This setup made it easy for the wolves to attack livestock.
Killing the wolf was an easy solution back then, but little did the people realize the undesirable consequences followed after.
The eradication of wolf has disrupted the ecosystem, leading to an increase in wild boar and moose populations and even deforestation!
Now, France is actively reintroducing the wolf. Same goes for the province of Quebec, in areas north of the St. Laurence River.
[irp posts="8432″ name="Best Things To Do In Quebec: Let's Go Whale Watching in Tadoussac!"]
So, what do we know about the wolves?
Wolves are social animals. They stay with their family and live in packs. That's why the First Nations consider the wolf a sacred animal that represents love and family.
Each pack has about 4 to 6 members and consists of an alpha male and female, chosen by the pack as the leaders. The alphas hunt for the group and they are the only pair that breeds and reproduces. They can produce 0 to 6 pups per year. When the pup is born, not only the mother wolf but also the other females in the group will lactate so they can help "babysit."
Even though the entire pack participates in raising the pups, 60% of them don't survive the first year, and only 25% reach sexual maturity (3 years of age).
Wolves are carnivores. They primarily prey on large herbivores like deer, moose, and elk. But when necessary, they will also eat rabbits, beavers, and fish.
Gray Wolf is the most commonly known species in North America. They can range in color from pure white, reddish brown to solid black despite its name.
Arctic Wolf is a subspecies of gray wolf that lives in northern Canada, in the region that is above 67 degrees north latitude. Their thick fur and small ears allow them to retain body heat in extremely cold temperatures. Can you believe that they can survive in as low as -57 degrees Celcius?
[bctt tweet="Want to get up close and personal with wolves? Here's where you can do it!" username="fortwoplz"]
My Wolf Encounter: Meet Jacob and Luna
To demystify the fear of the wolf resulted from stories, Ferme 5 Etoiles in Sacre-Coeur, Quebec offers a unique and exciting opportunity for visitors to get up close and personal with the wolves at their wildlife refuge and observation center.
Ferme 5 Etoiles has two wolves on-site: Jacob and Luna.
Jacob, a gray wolf, arrived at the farm in 2010 with his brother when they were only 18 days old. They were adopted from a wolf sanctuary nearby. Jacob's brother unfortunately died shortly after due to an accident. To accompany Jacob, they put a dog named Maikan with him. Oddly enough, they got along well and Maikan is dominant over Jacob!
In 2013, two female Arctic wolves Nalu and Luna joined Ferme 5 Etoiles. Nalu, the dominant wolf, passed away in 2016 from natural causes. Luna currently lives alone and enjoys her freedom!
After the briefing and signing the waiver, it's finally time to meet the wolves!
"Jacob and Luna love to play. They might jump at you or pull your hair," Delphine warned us before we headed into the enclosure. "Make sure you tie up your hair and take off sunglasses and camera strap. Only wear clothes that you don't mind getting dirty."
Pulling hair? That got me a bit nervous. To comfort us, Delphine quickly explained, "If you want them to back off, fend them off with your arms."
I took one deep breath, gathered my courage and got ready for my very first wolf encounter!
Together with my seven new friends, we slowly moved towards Luna's enclosure. Upon seeing us, Luna started pacing back and forth behind the fence, eagerly anticipating our visit.
To not overwhelm the wolves, we split into 2 groups, 4 people each. Delphine entered first to check on Luna, making sure she's okay. Four of us carefully followed after, with our back against the fence as instructed.
At first, I wasn't sure what to expect. The ferocious characteristic of a wolf that was deeply rooted in my mind wasn't shown much on Luna. To me, she just seemed like an overly friendly dog, except much larger and furrier.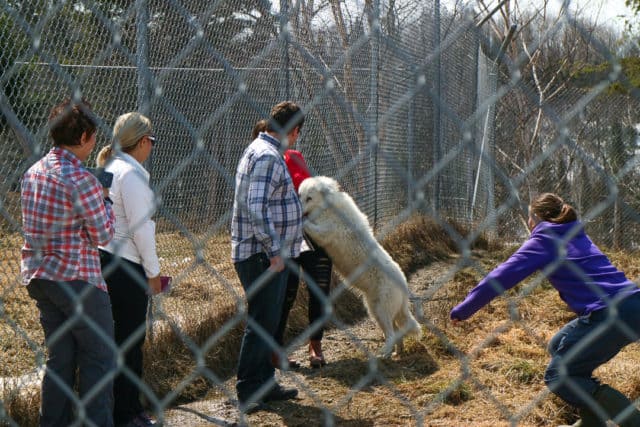 Luna wasn't shy at all. She came straight up to each one of us, sniffing around and getting to know us. We cautiously made our first move by patting her back. She seemed to enjoy it very much that she responded with hugs and kisses!!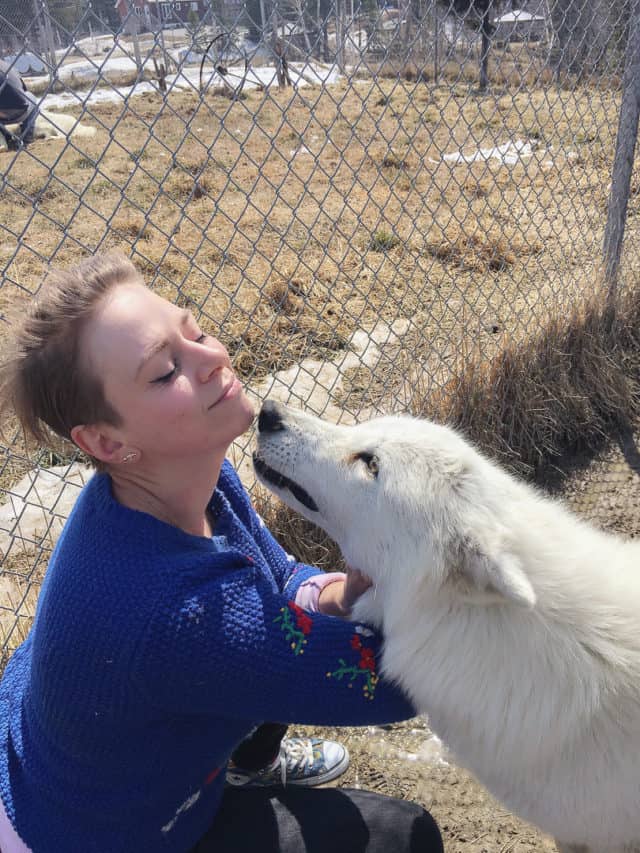 In contrast to Luna, Jacob appeared to be more relaxed and cool. He was approachable, but not overly excited around people. Somehow I found his presence therapeutic!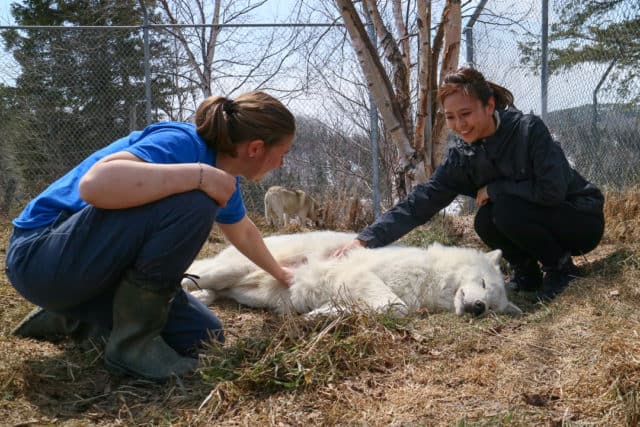 My Takeaways From The Wolf Encounter
YES! I did it! I met the wolves, played with them, and made a connection!
I was proud of myself to have put my fear and stereotype aside and get up close with the wolves. To my surprise, this predatory animal was not as aggressive and defensive as we thought!
My encounter with wolves at Ferme 5 Etoiles was certainly an unforgettable one. It has taught me so much about the wolves and most importantly, it reminded me to not let stereotypes and prejudice warp our mind.
"Don't judge a book by its cover" – an expression we have heard at least a hundred times, but it is easier said than done. With my close encounter with Jacob and Luna, I will for sure remember to refrain from making a judgment about an animal or an individual prior to any actual contact.
[irp posts="10970″ name="22 Unmissable Stops On A Québec Road Trip To Gaspé Peninsula"]
About Ferme 5 Etoiles
If you're interested in having a close encounter with wolves, I strongly recommended a visit to Ferme 5 Etoiles.
The aptly named "5 Star Farm" is dedicated to providing the utmost care for wounded and abandoned animals found in nature. Besides the wolves, you can also meet white-tailed deer, lynx, skunk, porcupine, marmot, and snow gooses!
The farm operates in conjunction with a bed and breakfast and is open year-round to all types of activities, including dogsledding, snowmobiling, ice fishing, and snowshoeing in the winter, and hiking, horseback riding, kayaking, whale watching, and ATV ride in the summer.
For those of you who wish to get a taste of pure maple syrup, you can visit their sugar shack in the spring!
---
I thought turning 30 would be scary, but after my wolf encounter in Quebec, I felt so empowered and ready to embrace this new chapter of my life!
[one_half]
[/one_half]
[one_half]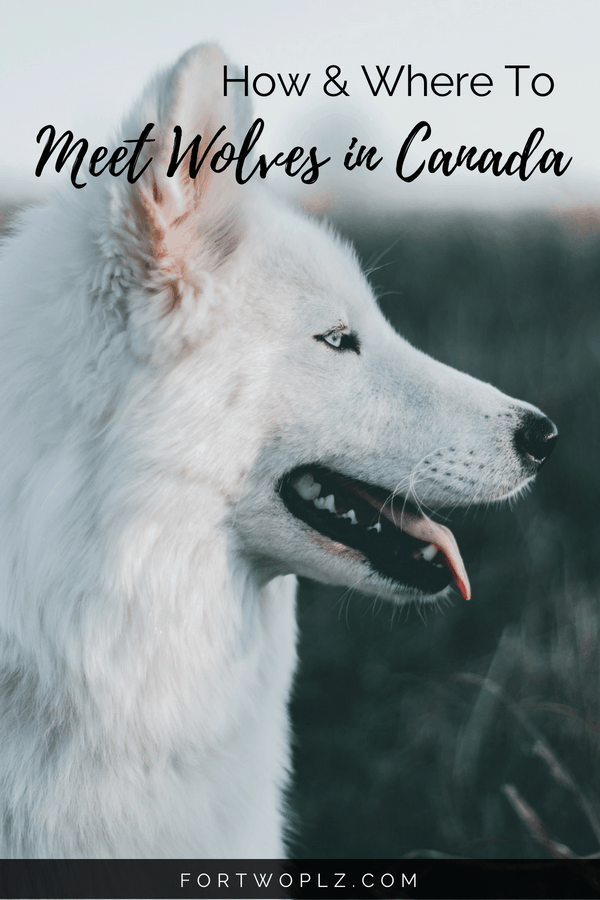 [/one_half]