This site uses affiliate links and we may earn a small commission when you use our links and make a purchase without incurring additional fee yourself. Many thanks for supporting this website. Please see our disclosure page for more details.
One of the best things to do in Quebec is to get outdoors and explore nature. Home to an abundance of wildlife, Quebec provides many opportunities to observe wildlife in their natural habitat. One of the most majestic creatures you can see here is the WHALES! If you are into whale watching, this is the place to be!
Earlier this month, I had an amazing opportunity to join Quebec Maritime for a whale-watching excursion! Given that it was the beginning of the season, we were truly blessed to catch glimpses of this magnificent mammal. This experience was the adventure of a lifetime and marked another highlight of our Quebec wildlife tour! Whale watching in Quebec is seasonal, but if you're looking for a trip that has whale watching year round, try Monterey and Carmel, CA!
Here are the details you need to know if you'd like to go whale watching in Quebec.
Where Exactly in Quebec Can You Find Whales?
Whales are found in the Gulf and Estuary of St. Lawrence. Due to its rich waters and high production of phytoplankton, St. Lawrence is one of the best places in the world for whale watching!
To observe whales in Quebec, some people would travel along the north shore of St. Lawrence River from Tadoussac to Blanc-Sablon. This 1250 km-long coastline is designated the Whale Route because up to 13 species of whales can be found here!!
However, not all of us have time to embark on a multi-day road trip.
Good news is that you don't need to travel too far to see the whales. Just 3 hours away from Quebec City, Saguenay-St. Lawrence Marine Park offers excellent opportunities to have a whale encounter!
What's so special about Saguenay-St. Lawrence Marine Park?
This marine park is the meeting point of the Saguenay River and the Saint Lawrence River, where salt and fresh waters mix, making it an attractive habitat for a diversity of marine life. Jointly managed by Parks Canada and the Sepaq, it is the first park in Quebec to protect a purely marine environment, covering 1245 square km.
The park can be explored from 4 different tourist regions: Saguenay, Cote-Nord, Bas-Saint-Laurent, and Charlevoix. If you'd love to go whale-watching, I'd recommend visiting Tadoussac in Cote-Nord. The village is one of the best observation spots for whale sightings and serves as the departure point of many whale watching cruises. There is also a Marine Mammal Interpretation Center (CIMM) for visitors to learn about the whales!
What Kinds of Whales Are in Quebec Maritime?
Quebec Maritime is home to 13 species of whales, including the minke whale, the fin whale, the humpback whale, even the blue whales! They visit on a seasonal basis, except for the beluga whales that live year-round in the St. Lawrence Estuary.
[bctt tweet="Let's go whale watching in Quebec! Here's everything you need to know to plan an epic adventure. " username="fortwoplz"]
What do we know about the belugas
Belugas are most recognizable for their white skin and 'smiling' upturned mouth. But do you know that they are not born white?
Baby belugas have brownish-grey colour and gradually fade to white as they mature (at about 6 to 8 years old). They are one of the smallest species of whales, yet an adult beluga can grow up to 5 m in length and weigh up to 1900 kg!
Belugas are very vocal and social animals. They live, hunt, and travel in pods, averaging from 2 to 10 individuals.
In the summer, belugas gather in shallow areas like St. Lawrence Estuary and the Saguenay River Fjord, where there is plenty of food. They also come together to molt, give birth, nurse their young, and socialize. Little is known of their whereabouts and how they spend their winter.
If you've seen the movie Finding Dory, then you know belugas use sound to search for food and navigate the ocean. This is done through the fatty organ, called the melon, that sits at the front of its head. They 'echolocate' by sending out high-frequency clicks and interpreting the resulting echo. Believe it or not, they are extremely good that this and are even better that bottlenose dolphin!
In the Arctic, polar bears and killer whales are the main predators of the belugas. But in St. Lawrence, humans are their main predator.
And the sad news is… the St. Lawrence belugas are considered endangered now.
[irp posts="10970″ name="22 Unmissable Stops On A Québec Road Trip To Gaspé Peninsula"]
The story about the St. Lawrence belugas
It all started in the 1920s when there was a drastic decline in cod and salmon. The fishermen blamed the St. Lawrence belugas for the depletion of fish stocks and pressured the government to take action. Rifles and cartridges were distributed and bonuses were offered to fishermen to kill as many belugas as possible.
Years later, research was conducted and showed that the belugas were not the one to blame.
Regretfully, it was too late. Damages had already been done. The population of belugas was severely reduced by hunting, which continued until 1979.
From tens of thousands, the beluga population dwindles to less than 900 today. It continues to decline at the rate of 1 to 1.5% every year.
What happened? Scientists think there are a number of factors, including noise and vessel traffic in Beluga habitat, chemical pollution in the river, less ice and rise in water temperature due to global warming, reduced food sources…etc.
Why is this important? Beluga whales are close to the top of the marine food chain and are powerful indicators of the environmental quality and the health of the St. Lawrence ecosystem.
What other animals live in St. Lawrence?
Besides the whales, seals are also frequently spotted throughout the St. Lawrence Estuary and Gulf. Four different species of seals can be found here: grey seals, harp seals, hooded seals, and the full-time resident, harbour seals.
To learn more about the mammals, visit Marine Mammal Interpretation Center (CIMM) in Tadoussac. They also have the most recent whale news!
[irp posts="8404″ name="Crazy Bucket List Ideas: Close Wolf Encounter in Quebec, Canada"]
When is The Whale Watching Season in Tadoussac, Quebec?
Whale watching is available from May to October, but the best time is September and October when the whales are both numerous and active.
Every year, whale watching attracts as many as local and international 200,000 visitors to Tadoussac, Quebec!
How to See Whales?
In Tadoussac, there are a few different ways you can see these beautiful animals:
By boat: Set out on a whale watching excursion on a large, 3-level observation boat.
By inflatable boat: Board a small, open-air zodiac boat for a more thrilling, better viewing experience!
By kayak: This adventure sport gives you an intimate way to observe the animals.
By sailing: How about an exhilarating voyage and experience the wild on a sailboat?
By seaplane: Looking for something more unique? Why not admire the whales and the Saguenay Fjord from the air?
Note: Boat tours are generally 3 hours long. An alternative option is a helicopter ride. Those flights depart from the bay of Sainte-Catherine. Click here for more information.
[irp posts="7126″ name="Maui Must-Do's: Whale Watching, Dolphin Sighting, Lanai Snorkelling"]
Which company to go with?
Here are a few things you need to ask:
If the company and its captains respect the whale watching code of ethics?
A captain who respects the code of ethics will not actively approach marine mammals closer than 200 m. Belugas and blue whales are endangered species. For this reason, all boats must maintain a minimum distance of 400 m from them.
If they have onboard interpretation service? Is it given by a bilingual naturalist guide?
What does the itinerary look like? Will there be time to observe seabirds, seals, lighthouse…etc?
We went with Croisieres AML on a zodiac that held up to 48 passengers. On board with us was a certified bilingual naturalist guide, who taught us so much about the belugas and seals that we spotted in St. Lawrence!
My only advice is dress warmly even in summer. We were freezing because of the wind chill and the ocean spray!
Tips For Identifying Whale Species
Beluga whales are easy to see from a distance. If you spot something of bright white color without a dorsal fin near the surface, that's a beluga! They don't fluke (i.e. bringing its tail out of the water). Oftentimes, you will meet groups of 5 to 20 individuals.
Minke whales, on the contrary, are generally solitary. Their body is dark grey or black on the back and has a curved dorsal fin that is visible almost immediately as they surface.
Fin whales let go a loud and highly visible blow (4 to 6 m) when they surface. They have a large dorsal fin that appears soon after the blow. They don't usually fluke. Like belugas, they often travel in groups.
Blue whales are the largest animal on the planet. They travel alone or in pairs. They emit a loud explosive blow (more than 6 m high) that can be seen and heard up to several kilometers away.
Humpback whales show their tail with every dive. If you see white underside on the tail, you can almost be certain that it's a humpback!
For more tips on how to recognize whales, check out Whales Online, where you can learn all about the whales in St. Lawrence.
Other Advice
I can't emphasize this enough: Dress warmly! Wear long pants, a windbreaker or raincoat, warm socks, gloves, and a hat and a scarf.
Put on sunscreen
Wear sunglasses
Bring a camera (make sure you can protect it from humidity) and binoculars
---
Are you ready to go on a whale watching adventure? This summer, don't miss out on the opportunity to watch the whales (and seals) in Tadoussac!
[one_half]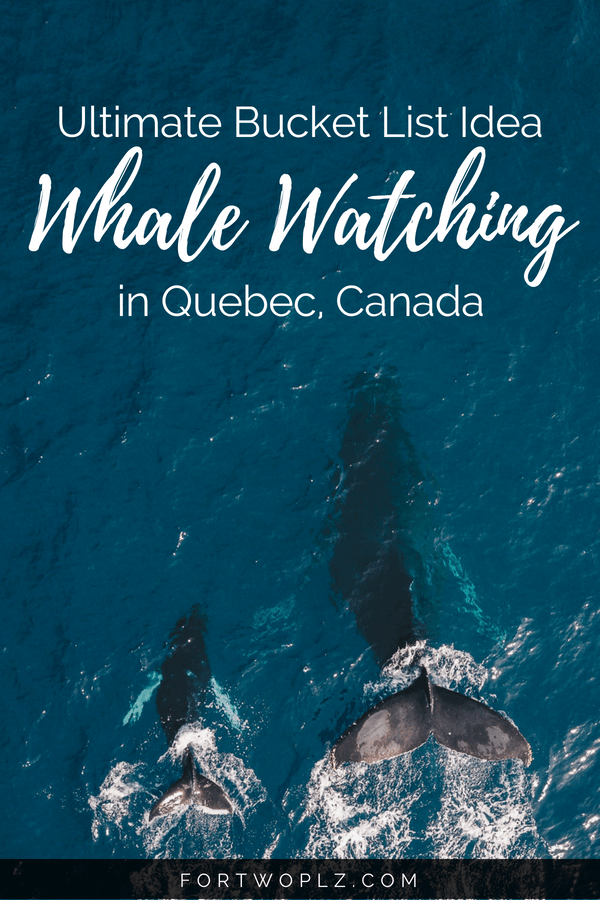 [/one_half]
[one_half]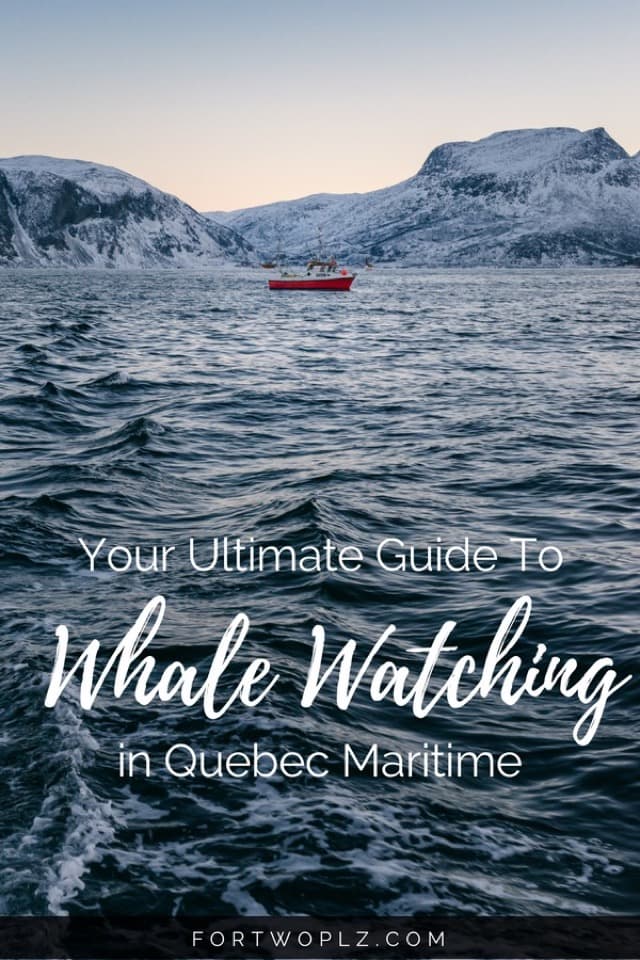 [/one_half]