This site uses affiliate links and we may earn a small commission when you use our links and make a purchase without incurring additional fee yourself. Many thanks for supporting this website. Please see our disclosure page for more details.
Quebec City is undeniably the most romantic destination in Canada. With picturesque historic buildings, delicious restaurants, and exhilarating views, Quebec City offers plenty of romantic things to do for couples. Planning a honeymoon or a romantic getaway this summer? Here are 10 things that will make you fall even more in love with your significant other!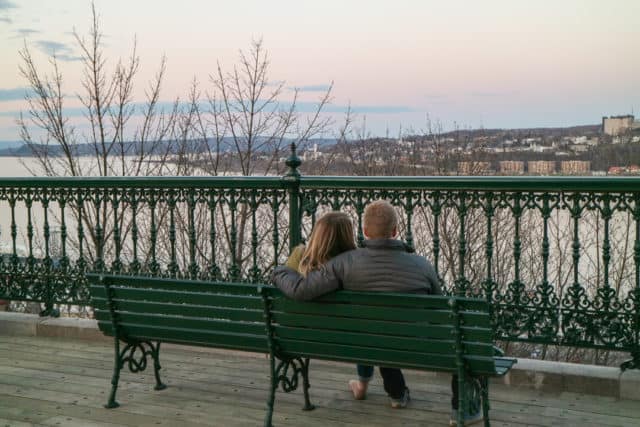 1| Explore Quebec City in a Horse Carriage
Imagine riding on a horse carriage like Cinderella. How romantic!
In Quebec City, you can do just that.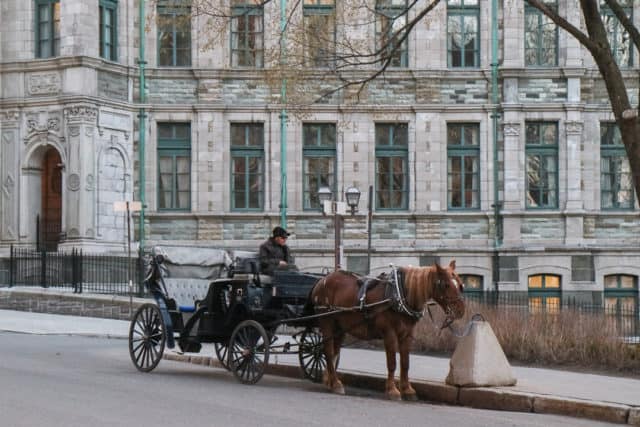 Hop on a horse carriage and explore Old Quebec in an old-fashioned way. Sit back and relax while your knowledgeable guide takes you on a journey of discovery to the iconic attractions in Quebec City.
The tours range from 30 mins to 3 hours, depending on the itinerary. Advance reservation is strongly recommended. Check here for more information.
[irp posts="6820″ name="13 Places You Must Visit in Montreal"]
2| Ride the Funicular
Old Quebec is a UNESCO World Heritage Site and is divided into the Upper Town and the Lower Town.
One of the best (and easiest) way to travel between the two sections is by the funicular (an old-fashioned vertical railway).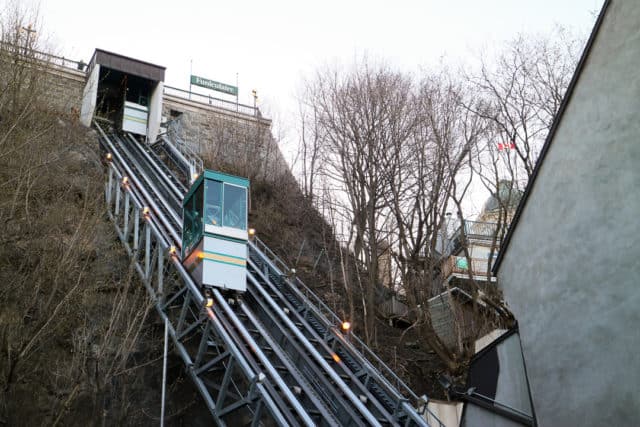 Instead of a strenuous climb, the glass-encased funicular will transport you from Petit Champlain to Fairmont Le Chateau Frontenac in a mere 2 mins! On top of that, it offers a unique vantage point of the St. Lawrence River as you reach the top. A single ride costs CAD$3.
Alternatively, you can use the stairs. Can you believe that Quebec City has over 30 sets of stairways linking the Upper and Lower Town? The famous Breakneck Steps are the oldest of all.
3| Take a Walk Through Quartier Petit Champlain
The Petit Champlain district is an absolute must-see in Quebec City.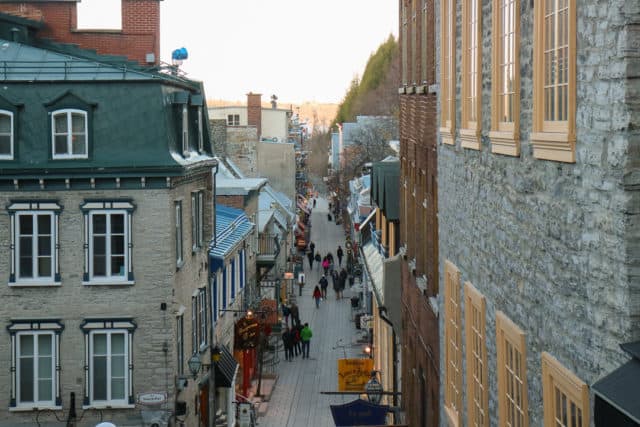 This picturesque neighborhood in the Lower Town was once a small portside village with fur trading posts. Today, it is a restored shopping district and one of Old Quebec City's most beautiful sites. With cobblestone streets lining with quaint bistros and handicraft boutiques, it seems to come straight out of a fairytale!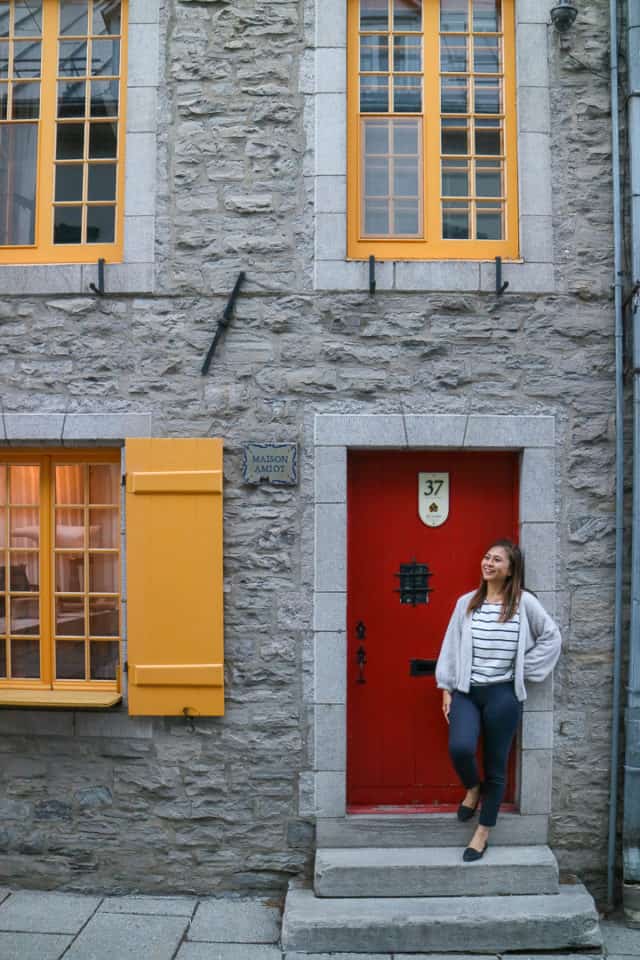 Strolling through this picture-perfect neighborhood, you will be enchanted by its European charm. As the first permanent French settlement in North America, it is possible to find houses of the former French colony from hundreds of years ago!
4| Enjoy a Relaxing Massage Together
Bring your love to a relaxing couples massage!
It is a great way to rekindle romance while getting pampered from head to toe.
There are a few places offering massage in Quebec City. Moment Spa provides couples treatments inside the historic Fairmont Le Chateau Frontenac. If you book a service with them, you are granted access to the indoor pool, hot tub, and steam room.
Siberia Station Spa is another great option. With more than 60 massage therapists on site, they offer a wide variety of services to suit your need, including Swedish, Lomi-Lomi and Thai. They are also known for their Scandinavian-style spa – a thermal experience that alternates between hot, cold and rest. This luxury spa is located outside the city (about 20 mins away) and is considered one of the best spas in Quebec.
[bctt tweet="Escaping to Quebec City this summer? These 10 romantic things will make you fall in love all over again!" username="fortwoplz"]
5| Explore Quebec City's Hidden Culinary Gems
For those who love to eat, join a food tour!
Quebec's cuisine is heavily influenced by the French and English. Why not partake in a food tour to help you discover the culinary history? It is a great way to experience the best food and drink Quebec City has to offer.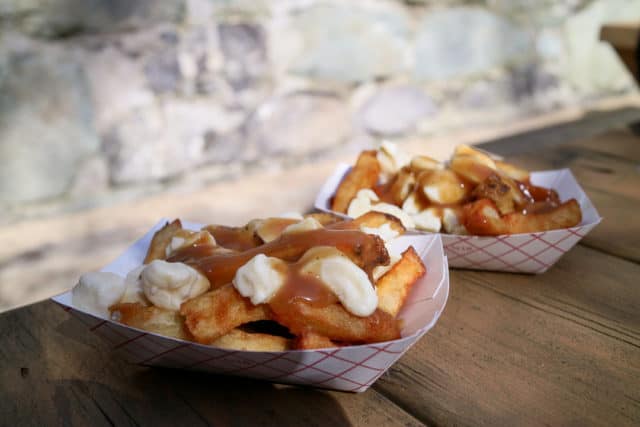 We recommend The Food Tour by Tours Voir Quebec. Their expert foodie guide will take you around the city and sample classic Quebec delicacies. During the 2.5-hour tour, you will get a taste of the traditional Quebecois poutine, try a savory buckwheat crepe, experience the sweetness of maple syrup, and satisfy your sweet tooth with chocolates from a local chocolate store. Come prepared because alcoholic drinks will be paired with the food. Expect to try local wines, apple cider, and Caribou, a Quebecois alcoholic beverage!
Seriously, there's no better way to explore Quebec City than through food.
[irp posts="8545″ name="Plan Your Own Quebec City Food Tour By Hitting These 13 Spots"]
6| Surprise Your Date with a Romantic dinner
Treat your date to a delicious dinner at one of the best restaurants in Old Quebec City!
Chez Muffy, set within the stylish Auberge Saint-Antoine, is long known among locals. The exposed stone walls and wooden beams form a warm, inviting atmosphere to experience family-style, farm-to-table dining.
Its culinary program reflects classic French Canadian cuisine with a contemporary twist. Focusing on ingredients from the hotel's own farm on Ile d'Orleans and food from the local community, Chez Muffy highlights the delicious tastes and flavours unique to the region. Slow cooking techniques like braising, rotisserie and grilling are used to further bring out the natural flavours of the ingredients.
Pan-seared duck foie gras, beef carpaccio, venison pie, and oxtail daube were some of our favourites. Each bite was a taste sensation. Remember to leave room for desserts. The chou pastry and maple pecan pie are not to be missed!
Chez Boulay is another one of our favourites. This trendy bistro specializes in nordic-inspired cuisine. Its ever-evolving menu features fresh ingredients found in Northern Canada: Labrador tea spice, wintergreen, and birch syrup, just to name a few.
For an appetizer, we recommend cappuccino onion soup. The comforting soup is loaded with caramelized onion and melty cheese. Its deep, rich flavour will leave your taste buds yearning for more!
As for the entree, the meat cheek is a must-try. Braised in red currant vinegar, the meat becomes meltingly tender and incredibly flavorful. The old-fashioned potato puree, glazed carrots, and seared mushrooms served alongside are sure to leave you feeling satisfied.
End the night with a sweet treat. Tasty desserts like sea buckthorn and meringue pie are the perfect way to cap off the unforgettable meal.
[irp posts="10745″ name="2 Days In Québec City: Honeymoon Itinerary For Foodie Couples"]
7| Impress Your Love with the Best View of Quebec City
Head over to Observatoire de la Capitale for a stunning panoramic view of the city.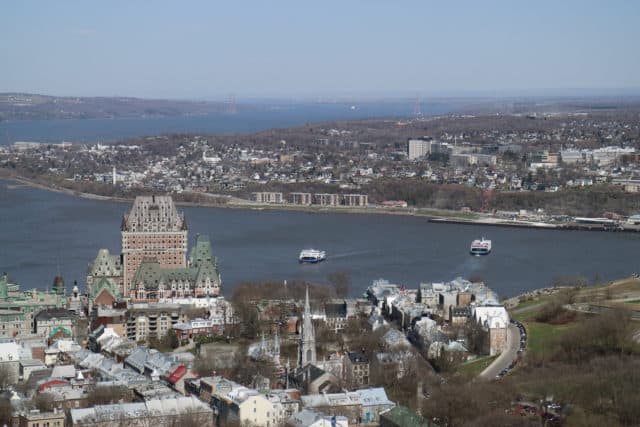 Located on the 31st floor of the Marie Guyard Building, the observatory is the highest point of Quebec City. From 221m above ground, you can admire winding streets of Old Quebec, look out to St. Lawrence River, and get an obstructed view of the cityscape!
[irp posts="8404″ name="Crazy Bucket List Ideas: Close Wolf Encounter in Quebec, Canada"]
8| Take a Leisure Bike Ride to Montmorency Falls
Looking for an outdoor activity to do together? Jump on your bike and enjoy a scenic ride to Montmorency Falls!
From downtown Quebec City, a 13 km long cycling route will lead you to the majestic Montmorency Falls. The path follows the St. Larence River and is mostly flat.
To get the most out of your trip, we recommend joining a bike tour with Cyclo Services. The local guide will explain the history and geography of Quebec City and take you to important landmarks along the way!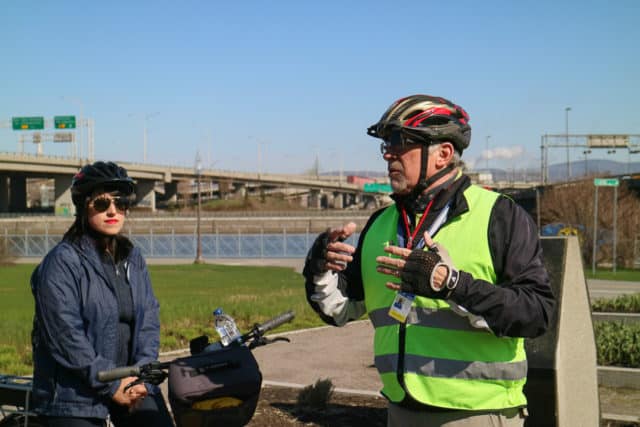 Upon arrival at Montmorency Falls, its magnificent sight and powerful force will leave you in awe. The guide will take you to various viewing platforms for photo opportunities and across the suspension bridge for a close-up view of the falls!
As you explore the falls, your guide will tell you about local history and the legend of the White Lady.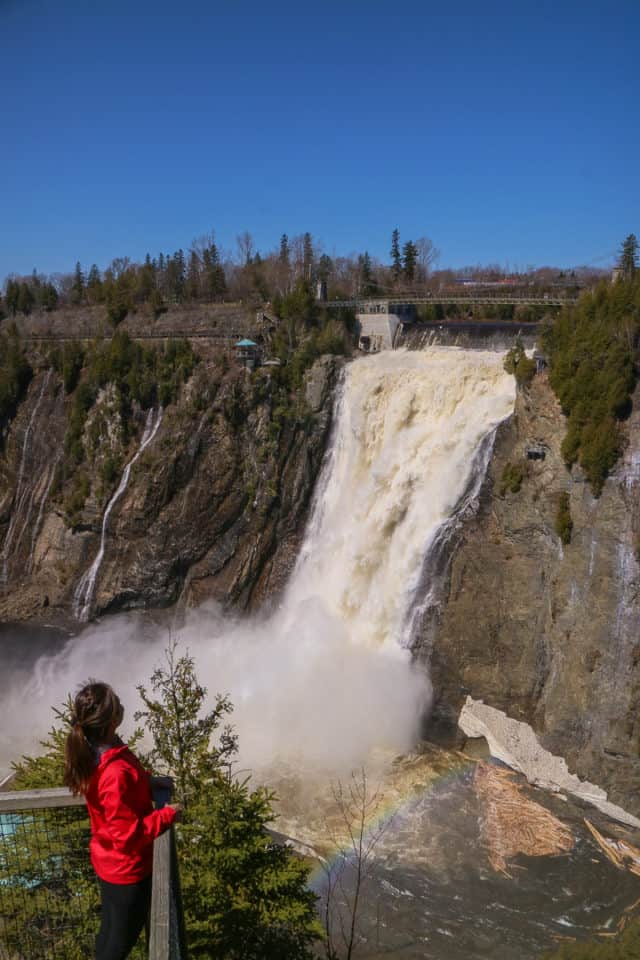 You will follow the same route back. This Montmorency Falls bike tour takes 4 hours so make sure you set aside enough time. If you're worried about your physical condition, feel free to take the electric bike instead!
[irp posts="8432″ name="Best Things To Do In Quebec: Let's Go Whale Watching in Tadoussac!"]
9| Catch a Ferry Across St. Lawrence River
Hop on a ferry and get a unique perspective of Old Quebec City!
Board the ferry to Levis from the Lower Tower. A 12-min breezy boat ride will take you across St. Lawrence River. From the town of Levis, enjoy the breathtaking views of Old Quebec. It is especially beautiful early in the morning and at night. Check here for the schedule.
When you're in Levis, seize the opportunity to stop by Chocolats Favoris. This shop is recommended by our foodie guide and is known for its chocolate dipped ice cream cones and fondue!
10| Treat Yourselves to a Luxury Hotel Stay
To make your vacation even more romantic, stay at one of the luxury hotels in Quebec City.
Auberge Saint-Antoine is an award-winning contemporary boutique hotel and a proud member of the Relais & Chateaux. Located in the Old Port, the hotel seamlessly blends historic charm and modern comfort. With distinctive service and exceptional in-room amenities such as heated floors, Auberge Saint-Antoine promises to deliver a luxurious experience that pampers its guests.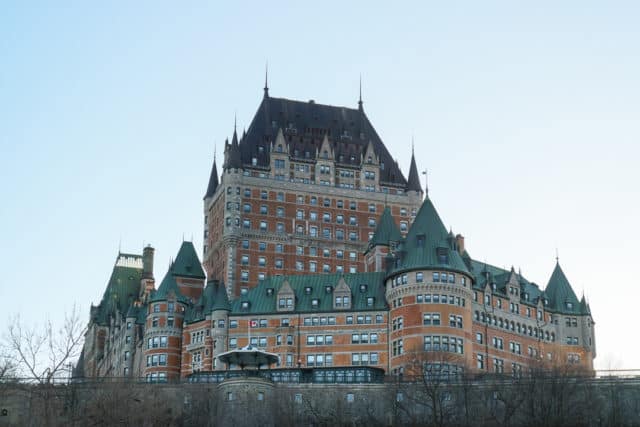 Alternatively, spend a night at Fairmont Le Chateau Frontenac, one of the most romantic hotels in the city. Opened its doors in 1893, the magnificent hotel remains an iconic landmark and was designated a National Historic Site in 1981. Its elegant, European-style rooms have a distinct historic charm and guarantee a memorable stay.
---
These romantic ideas are wonderful ways to create unforgettable memories with your loved one. I hope this post inspires you to take a romantic trip to Quebec City this summer!
[one_half]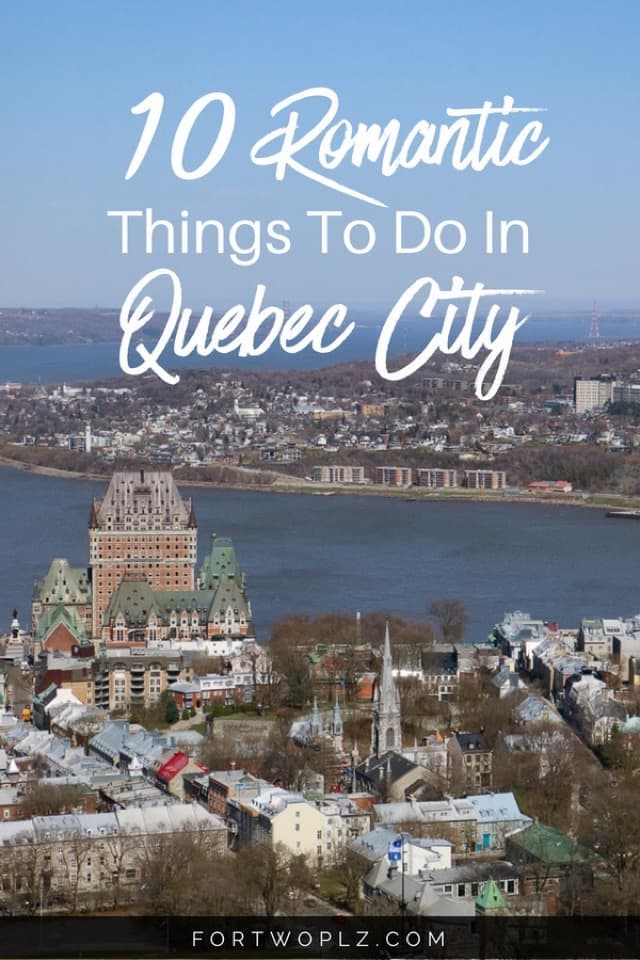 [/one_half]
[one_half]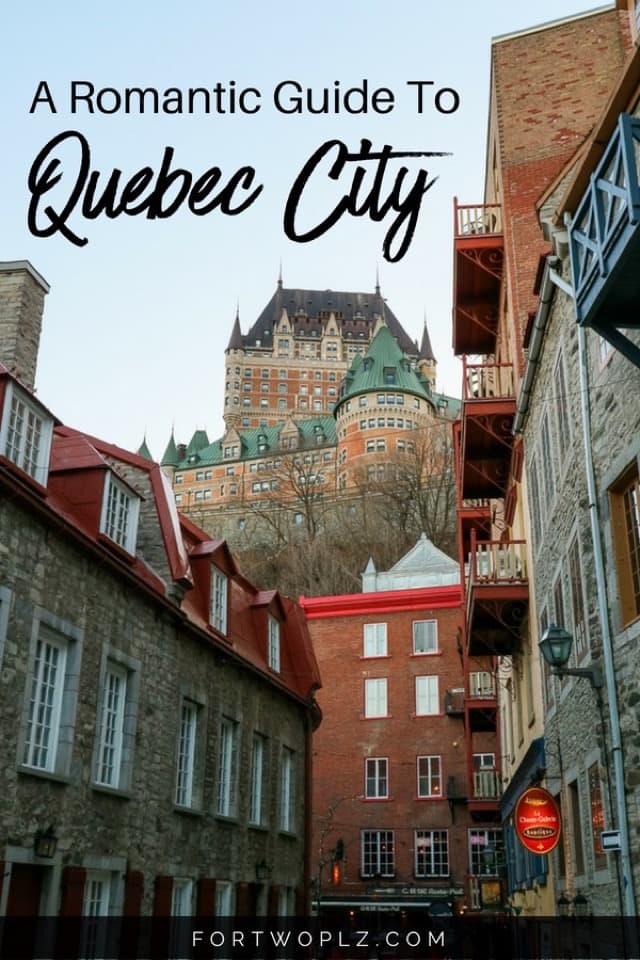 [/one_half]