This site uses affiliate links and we may earn a small commission when you use our links and make a purchase without incurring additional fee yourself. Many thanks for supporting this website. Please see our disclosure page for more details.
Whether you live in Eastern Canada and are looking to honeymoon close to home or just want an unforgettable weekend getaway, Québec City has loads to offer for newlyweds to celebrate their new life together. The European ambiance, historic charm, and most importantly, the exquisite cuisine are sure to make your travel to Québec City nothing short of spectacular! Use this Québec City guide to plan your 2-day Québec city getaway. It covers all the romantic things to do in Québec City as a couple and delicious places to whet your appetite without tiring you out!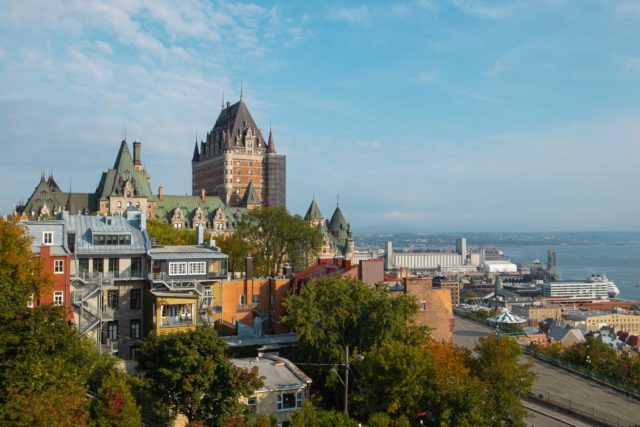 Don't have time to read? Save THIS PIN on your Canada Travel board on Pinterest so you remember to come back when you plan your weekend in Québec City!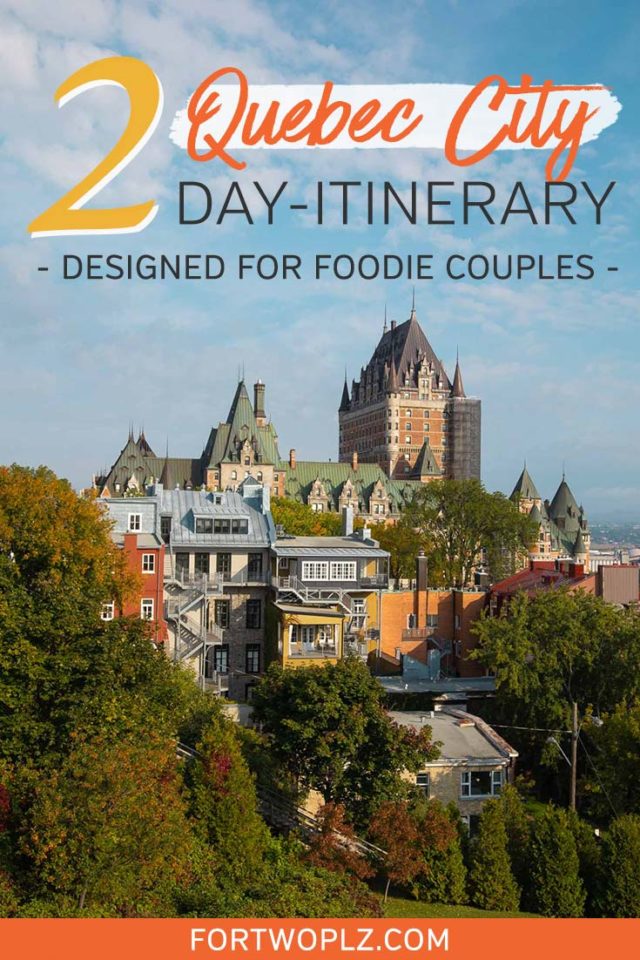 Day 1 in Québec City
Morning
Start your Québec City travel with breakfast at Paillard. This pastry shop in Old Québec is a go-to for locals, serving up classic French pastries, savory bites and sweet treats including croissants and eclairs.
We recommend stopping by for a cup of Joe and pair it with a freshly made-to-order sandwich. Classic (chipotle chicken, smoked meat, porchetta…etc) or seasonal (like lobster brioche), no matter what you pick, you can't go wrong!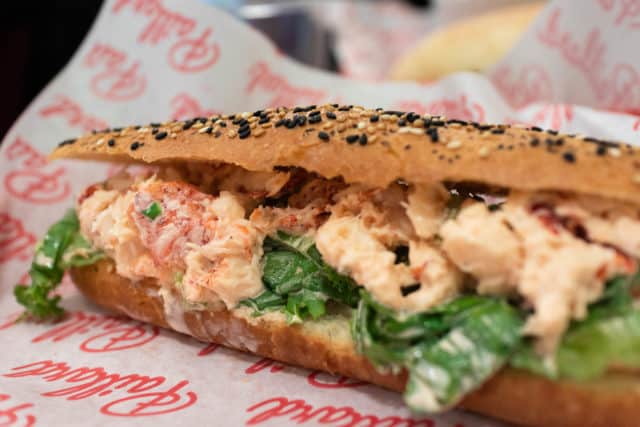 Nothing is as fresh as the food grown, produced and harvested locally. Le Grand Marché connects you with regional food producers and farmers. The indoor food market is one of the newest Québec City attractions and a must-visit for foodies. Hosting close to a hundred vendors, the farmers' market is a fantastic place to sample high-quality local products and hunt down some gastronomic treasures to bring home!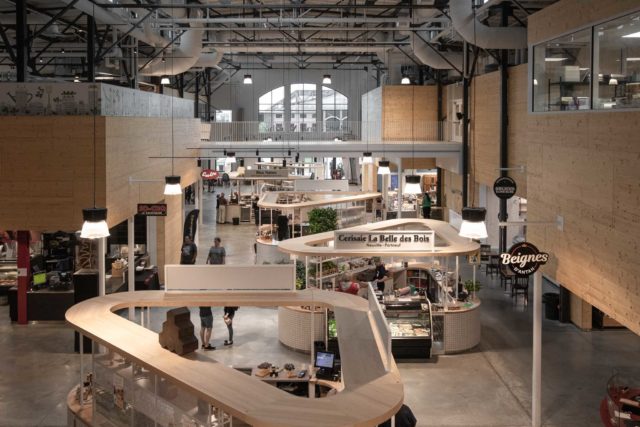 Le Grand Marché is located in downtown Québec City, accessible by bus (routes 801, 802, 3 or 4) or by bike (an easy 10-15 min ride from Old Québec).
Lunch
Re-fuel your energy with a midday meal at a restaurant in Vieux Québec. Both Bistro Tournebroche and La Bûche are great options.
Bistro Tournebroche prides itself on using locally sourced organic ingredients. This classy French restaurant cultivates its own culinary garden on the rooftop and makes everything from scratch (from bread, sauces to ice cream) to ensure the food is of the best quality. The restaurant even has its own beehives!
Their wild boar pate, shepherd's pie, and deconstructed french onion soup are to die for – so addicting that you won't want to share!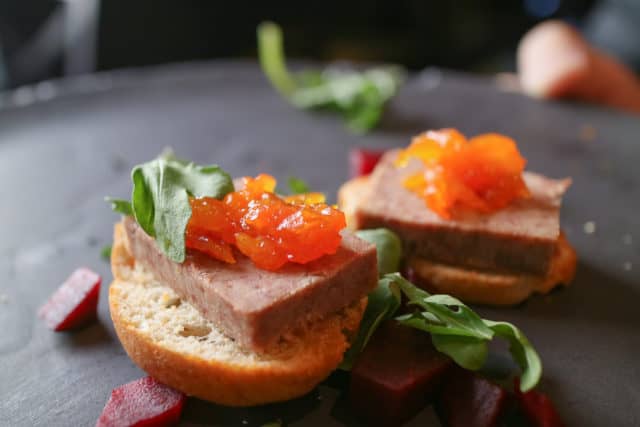 If you'd like somewhere more casual, La Bûche is the place to go. The hip and funky restaurant dishes out traditional French-Canadian cuisine with a modern spin. Their iconic dishes include smoked salmon, deer tartare, and rabbit wings.
To get a complete Québécois experience, try a shot of Kalibu (their homemade Caribou). This sweet alcoholic beverage is typically served at the Québec Winter Carnival. It contains a mix of red wine, hard liquor, maple syrup, and spices.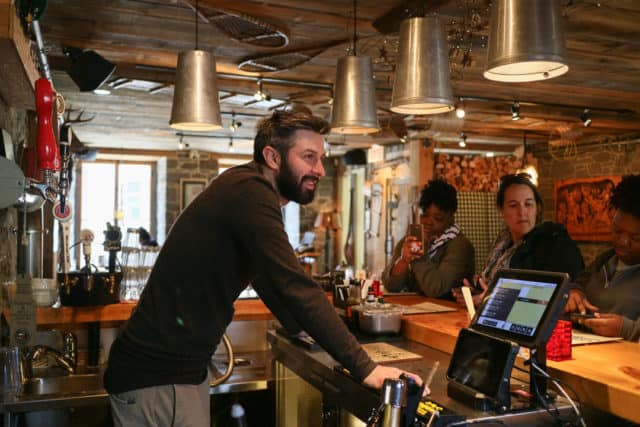 Afternoon
Now that we have kept the tummy happy, it's time for some sightseeing. When it comes to what to see in Québec City, we recommend biking along Promenade Samuel-de-Champlain. The 4.3 km-long park runs along the St. Lawrence River between the Pierre-Laporte Bridge and côte de Sillery.
As you cycle along the scenic path, you will see several landmarks and attractions including Quai des Cageux, Observation Tower, four themed gardens (Quai des Brumes, Quai des Flots, Quai des Hommes, and Quai des Vents), Boisé de Tequenonday – perfect spots for photos!
[irp posts="8499″ name="Romantic Things To Do In Quebec City In The Summer"]

Parc de la Chute-Montmorency also makes a popular half-day trip from Québec City. To see the majestic Montmorency Falls, follow the 13 km-long route from downtown Québec City along the St. Lawrence River.

Once you get to Montmorency Falls, you can get to the top of the falls via the cable car ($35.88 per couple) or climb the panoramic staircase (487 steps) from the bottom which offers multiple lookout points to get a close-up view of the 83 m-high falls!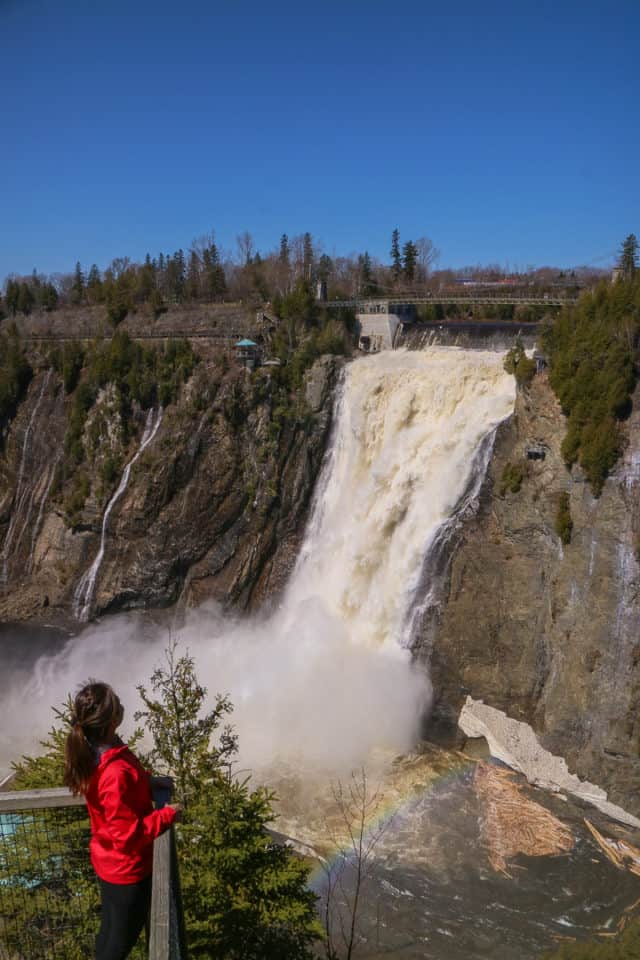 Make sure to leave sometime walking across the suspension bridge to view the landscape, feel the mist and hear the waterfall roaring beneath your feet! For additional fun, thrills and chills, whoosh down the zipline – it is sure to get your adrenaline pumping!
Pro tip: You can rent bikes from Cyclo Services. They also provide guided bike tours if you prefer to have company and support.
Dinner
Aux Anciens Canadiens is absolutely a can't miss while visiting Québec City. A key player in the Québec City dining scene, Aux Anciens Canadiens cooks up good old fashioned Québec food.
Housed in the historic Maison Jacquet (oldest in Québec), the restaurant impresses guests with the highest level of culinary delights. Classic dishes like meatball ragout, Québec meat pie, salt pork grillades, and maple syrup pie capture the essence of French-Canadian cooking and bound to make your mouth water!
Don't have time to finish reading? Save THIS PIN on your Canada Travel or Couples Travel board on Pinterest so you can refer to it later!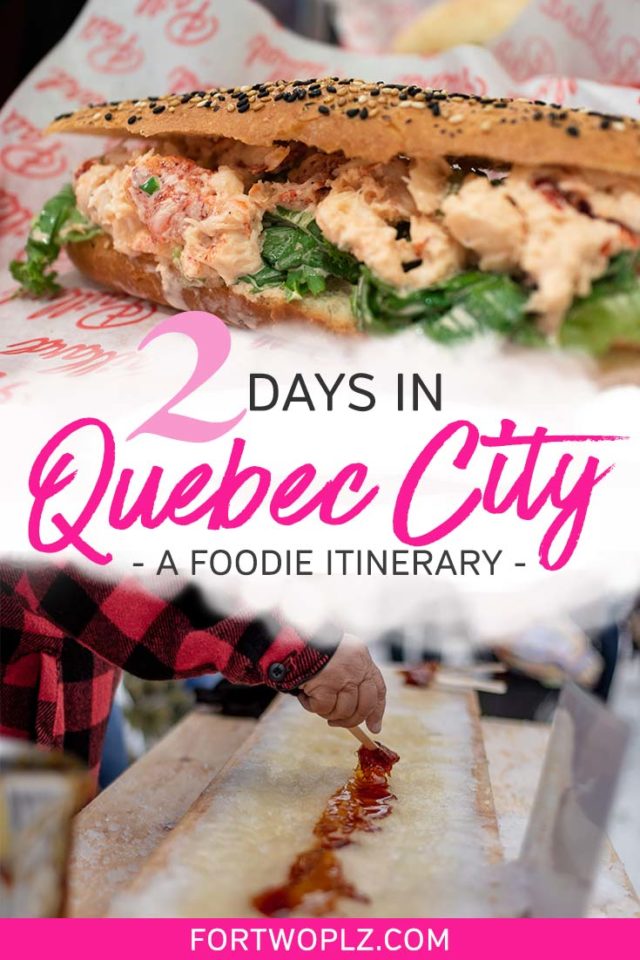 Day 2 in Québec City
Morning
Offering an abundance of farm products, Île d'Orléans, just 5 km away, makes the perfect foodie destination to embark on a Québec city day trip (or half a day!).
You can spend the day visiting a chocoalte factory, go apple picking, and indulge in wine tasting!
→ Chocolaterie de Île d'Orléans will satisfy all your sugar cravings. Their maple butter chocolate and maple-dipped ice cream promise to satiate your sweet tooth.
→ A visit to Cassis Monna & Filles will make you fall in love with all things black currant, from their award-winning crème de cassis, black currant ketchup to black currant mustard. We have no doubt you'll struggle with the dilemma of what to buy!
→ Cidrerie Verger Bilodeau, the first ciderie on the island, has more than 3500 apple trees (10 apple varieties) growing in the orchard! Sample their apple ciders, ice cider and mistelle and discover your favourite. Don't miss the chance to taste their apple products as well!
→ La Nougaterie Québec makes handcrafted nougat using the classic Mediterranean recipe. You will be surprised how soft and tender these sweet, nutty confections are! In store, you will find 50 different flavours including matcha and pina colada! Their marshmallows are also worth trying.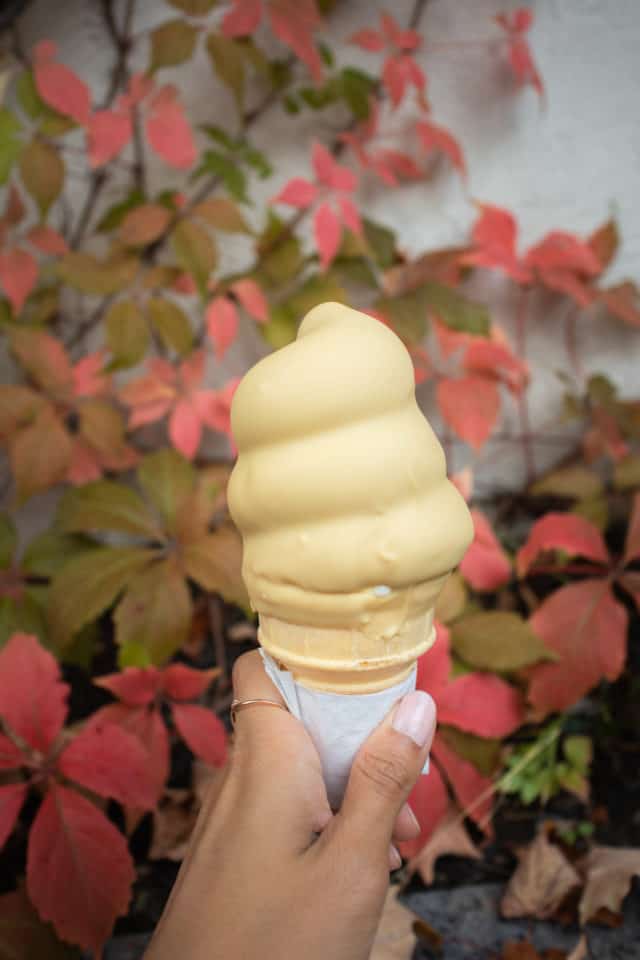 Quebéc Bus Tour offers the Taste Trail on Îles d'Orléans, taking you on a tasty adventure to five delicious spots on the island. A great way to learn about the history and enjoy plenty of tasting if you don't want to explore on your own.

[irp posts="8545″ name="Plan Your Own Quebec City Food Tour By Hitting These 13 Spots"]
Lunch
You can't leave Québec without trying the French-Canadian staple – poutine! The best poutine in Québec City can be found at Le Chic Shack or Snack Bar Saint-Jean.
Snack Bar Saint-Jean in Saint-Roch is known for serving traditional poutine using just three ingredients: thick-cut french fries, brown gravy and squeaky-fresh cheese curds. It will turn you into a true poutine addict!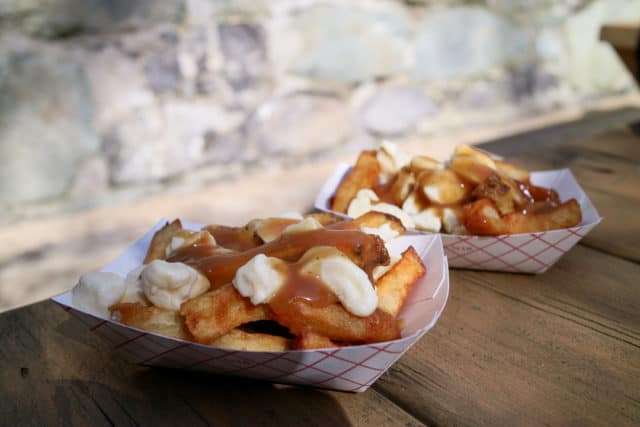 Le Chic Shack, on the other hand, is a popular spot for unconventional poutine creations. Whether you like it plain with veggie or topped with hearty meaty goodness, there are plenty of irresistible options there.
Afternoon
Old Québec, a jewel of UNESCO World Heritage Site, is filled with many incredible things to see. A relaxing and romantic way to explore the old town is hopping on a horse carriage and embarking on a Québec City tour.
Calèches Québec offers a variety of tours in different lengths, taking you to different districts (lower town, upper town, old port). The tour will give you an overview of the city and discover some of the National Historic Sites.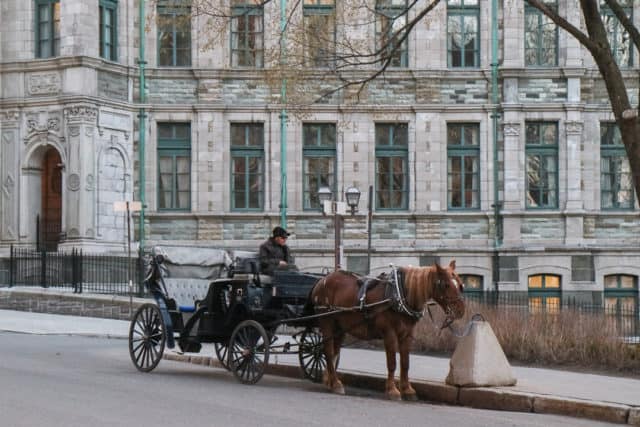 While you're in Old Québec City, we highly recommend taking a stroll on the narrow streets of Quartier Petit Champlain. The area is one of the many picturesque places to visit in Québec City dotted with little shops, boutiques, bistros and eateries.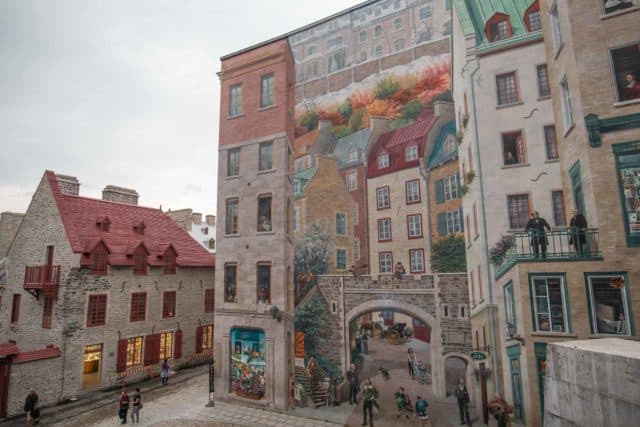 Be sure to stop by La Fresque des Québécois (near Place Royale) and Fresque du Petit-Champlain – both murals pay homage to the history of Québec City.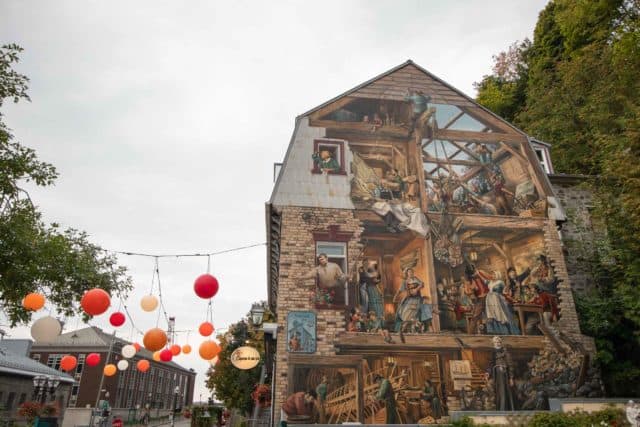 If the weather permits, take a ferry across St. Lawrence River to Lévis. The town of Lévis offers an extraordinary view of Old Québec at sunset!
Dinner
Wrap up your weekend in Québec City with a romantic meal at Le Sam. The trendy restaurant inside Fairmont Le Château Frontenac features a creative menu that shows off local ingredients such as St. Lawrence seafood, potatoes from Île d'Orléans, and pork from the local farm. In addition, the restaurant boasts a stunning view of the city and the river. Dining at Le Sam guarantees a good time!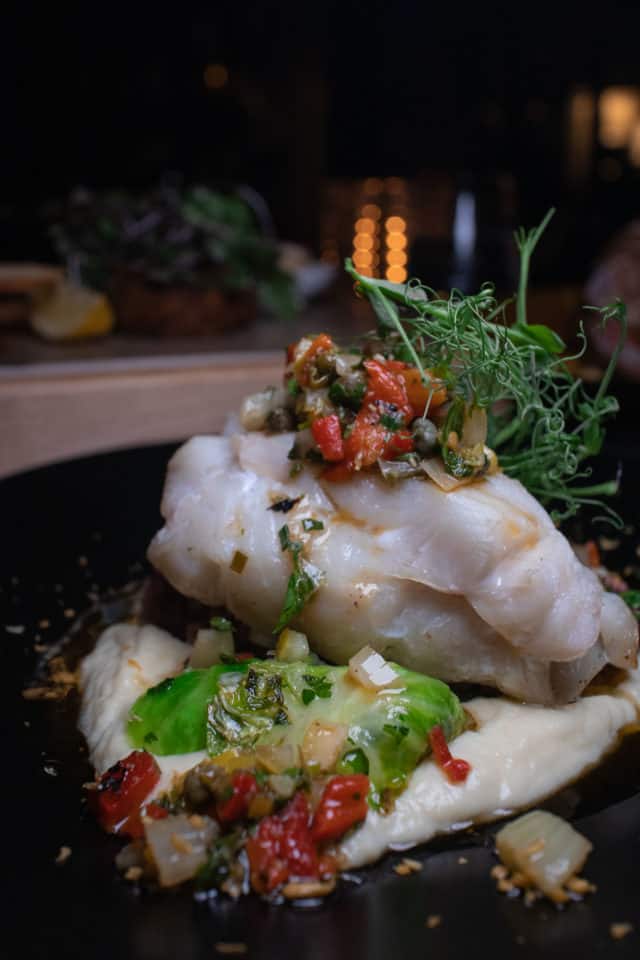 [irp posts="10970″ name="22 Unmissable Stops On A Québec Road Trip To Gaspé Peninsula"]
Québec City Accommodations
Need suggestions on luxurious places to stay in Québec City? Below are some of our top picks:
→ Auberge Saint-Antoine: The contemporary boutique hotel is a proud member of the Relais & Châteaux. Located in the Old Port, the hotel seamlessly blends historic charm and modern comfort. With distinctive service and exceptional in-room amenities such as heated floors, Auberge Saint-Antoine promises to deliver an unforgettable experience that pampers you with genuine comfort and luxury.
Check prices and availability of Auberge Saint-Antoine on Expedia.
→ Fairmont Le Château Frontenac: This famous, castle-like property is one of the most romantic hotels in the city. Opened its doors in 1893, the magnificent hotel remains an iconic landmark and was designated a National Historic Site in 1981. Its elegant, European-style rooms have a distinct historic charm. Perfect for a romantic escape!

Check prices and availability of Fairmont Le Château Frontenac on Expedia.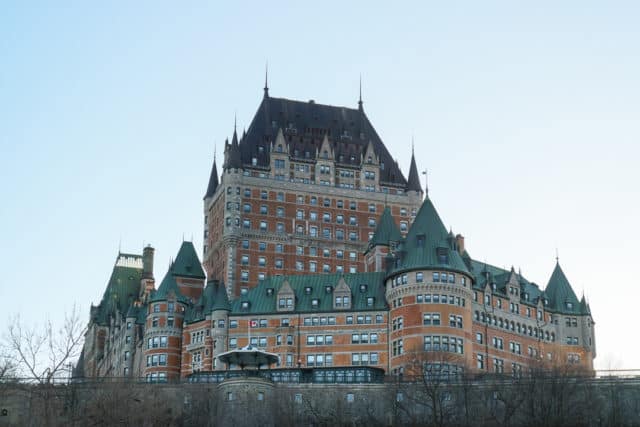 → Hôtel Le Germain Québec: Nestled in Quebec City's Old Port, this lovely property is an eclectic mix of nostalgia and modernity. The amenities for the guest rooms (like the goose down comforter and Nespresso coffee machine) have been carefully selected to add an additional level of comfort for your stay.
Check prices and availability of Hôtel Le Germain Québec on Expedia.
Have Extra Time in Québec City?
Looking for other things to do in Québec? Head over to Observatoire de la Capitale! It is located on the 31st floor of the Marie Guyard building, right beside the Parliament Building.
Standing at the highest point of Québec City, the observatory gives you a 360-degree view of the city below. You can admire winding streets of Old Quebec, look out to St. Lawrence River, and discover the city's main landmarks all at once!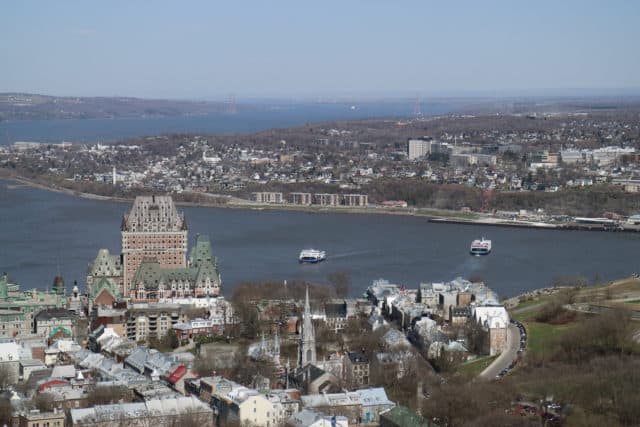 [irp posts="8432″ name="Best Things To Do In Quebec: Let's Go Whale Watching in Tadoussac!"]
---
Ready to plan your tasty honeymoon to Québec City? With so much yummy food and a wealth of places to visit, Québec City is certainly a place you could never get bored of as foodies!
Enjoy this post? Save THIS PIN on your Canada Travel or Couples Travel board on Pinterest so you can come back later to plan your trip!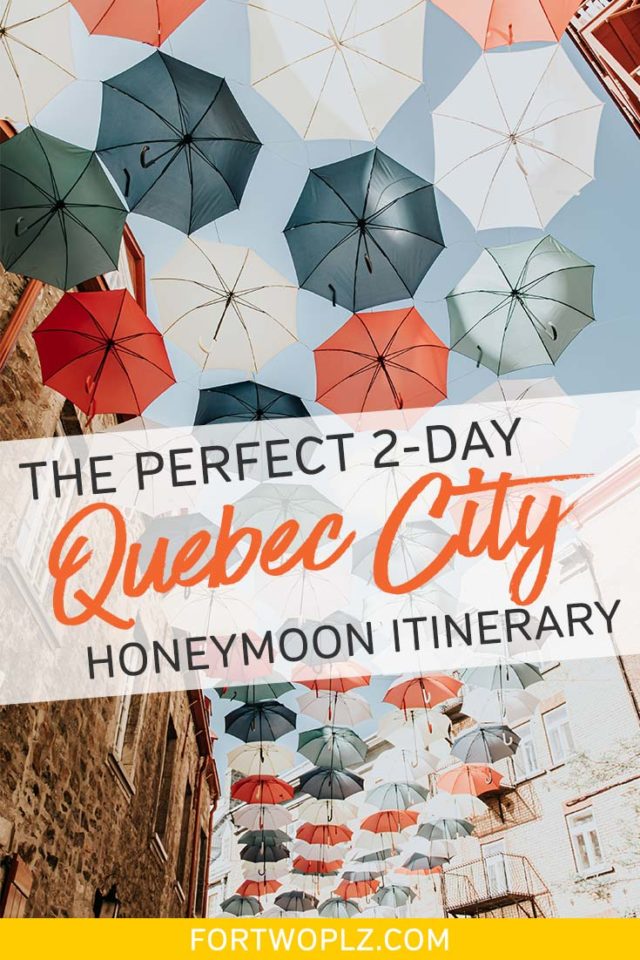 Disclaimer: We are hosted by Québec City Tourism. As always, all opinions on For Two, Please are our own and we only recommend brands that we 100% stand behind.