This site uses affiliate links and we may earn a small commission when you use our links and make a purchase without incurring additional fee yourself. Many thanks for supporting this website. Please see our disclosure page for more details.
People say one of the best ways to experience a new city is through food, and I couldn't agree more. Earlier this month, Kev and I had the opportunity to join a food tour and explore Barcelona like a true local. Under the guidance of Nuria from Food Lovers Company, we savoured the flavours of authentic Spanish tapas at hidden local gems while delving into the city's rich history and culture. In half a day, we learned so much more about Barcelona than we ever would have been able to otherwise! Today, I am sharing my food tour experience and showing you what makes Food Lovers Company the best food tour to join in Barcelona!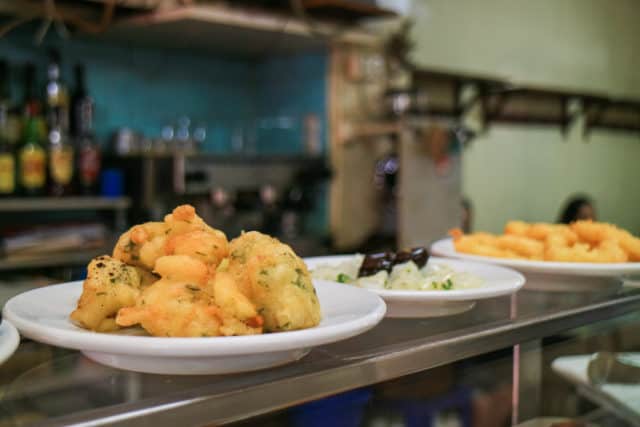 Tasting the best authentic Spanish tapas
Barcelona has a lively culinary scene and there's no shortage of wonderful eateries in this Spanish culture hub. However, like many other major cities, the rise of tourism has brought in outside influences and innovations, causing Spanish cuisine lose its authenticity. More and more local gems are disappearing, making it harder to find authentic Spanish tapas bars.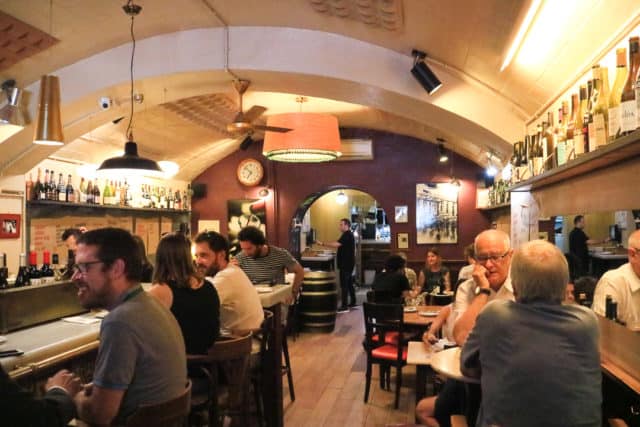 But it is not impossible. To get a taste of authentic local Barcelona food, joining a food tour with Food Lovers Company is a wonderful choice. Our guide, Nuria, has been living in Barcelona for the last 30 years and has great knowledge about the city's gastronomic scene. She brought us to Barcelona's best, but least known, tapas bars that only the locals know about.
In 4 hours, we visited 4 places in Barceloneta and Gothic Quarter, trying out traditional Spanish dishes! Some of our favourites include:
Bomba: a deep fried ball of mashed potato and pork, topped with spicy sauce. We visited the tapas bar where it is invented!
Butifarra christorra y secas: a combination of butifarra (a traditional sausage from Barceloneta) and chistorra sausage (a cured sausage from Spain's Basque region), mixed with white kidney beans.
Torrija con crema Catalana: a typical Spanish dessert that is very popular during Lent and Holy Week. It consists of a slice of bread soaked in milk, sugar, and cinnamon, dipped in egg, then fried in olive oil. It is served with Catalan cream and sprinkled with sugar. One word: YUM!
Boquerones fritos: These fried anchovies are an excellent starter and so hard to resist! The filleted, salt-cured, olive oil-packed anchovies are equally delicious!
[irp posts="11404″ name="Secret Date Spots: The Most Romantic Restaurants In Barcelona, Spain"]
If we went into a tapas bar without ordering any alcohol, then we were doing tapas wrong. At each location, Nuria ordered a glass of aromatic vermouth (vermut in Spanish) for us to try. It is a fortified and aromatized wine that often enjoyed as an aperitif in Spain. You can drink it straight or lighten it with a little soda water. Cava, Spanish sparkling wine, is another popular drink. It is made the same way as Champagne, but with different grapes.
If you are a big fan of cheese, you might know that Spain produces a wide variety of cheeses. During our tour, we did cheese tasting at a cheese shop, sampling the finest quality cheeses in Northern Spain. The fine, sophisticated flavours made us fall in love with every bite! For a fuller experience, we even tried housemade cheese ice cream!
Strolling through historic neighborhoods and learn about the history of Barcelona
Eating is not all we did on our tour with Food Lovers Company. In between places, we strolled through the charming, narrow streets of Barcelona's old neighborhoods and explored historic sites along the way. It's not just an intimate culinary adventure, but also a historical and cultural experience!
As we made our way through the quaint, lively neighborhood of Barceloneta, we learned that this area was once a fishing village up until the 18th century. In the middle of the 18th century, Felipe V ordered the construction of the famous Parc de la Ciutadella, causing the people living there suddenly became homeless. It was then decided that Barceloneta was where they would be relocated.
[irp posts="7311″ name="Luxury Romantic Escape At Hotel Arts Barcelona"]
We noticed that Barceloneta is a perfect grid of straight, extremely narrow streets, lined with long, thin buildings that are between three and five stories high. Beautiful hues of pastel colours adorned the apartment buildings, mimicking ones found on Western Mediterranean shores. It is not unusual to see people have clothes hanging out to dry on the balcony.
A leisure walk through the Gothic Quarter took us back in time, to 15-10 BC when Roman Emperor Augustus settled in Barcelona and founded the colony Barcino. Remains of the ancient Roman wall and other Roman ruins could still be seen in the Gothic Quarter.
Unlike Barceloneta, the Gothic Quarter is a labyrinth of narrow, winding alleys. It has a fascinating mix of old and new buildings, history and shopping, peaceful and high energy.
[irp posts="11450″ name="The Most Beautiful Cities In Spain To Visit Besides Barcelona"]
Reserved especially for you: a secret spot with killer views of Barcelona
Barcelona has many places that provide scenic lookouts over the entire city. It is no secret that Palau Nacional, Park Güell, the towers of La Sagrada Família, Tibidabo, and Bunkers del Carmel offer incredible views of Barcelona. However, these places are oftentimes filled with an excessive number of tourists. Plus, many of them are not that easy to reach. With Nuria, we were able to gain access to a secret spot that offers stunning panoramic views of the city, without venturing too far!
The best part is: we could appreciate the striking views of Catedral de Barcelona and La Sagrada Família up close, without dealing with the crowds!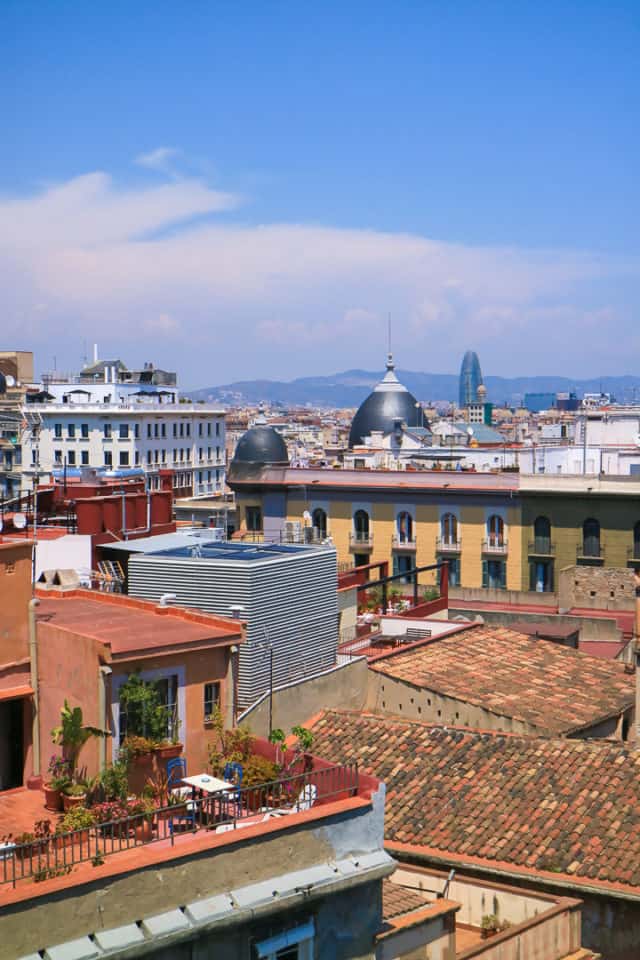 Enjoying a private intimate experience that allows for more guide time — for questions and for pictures!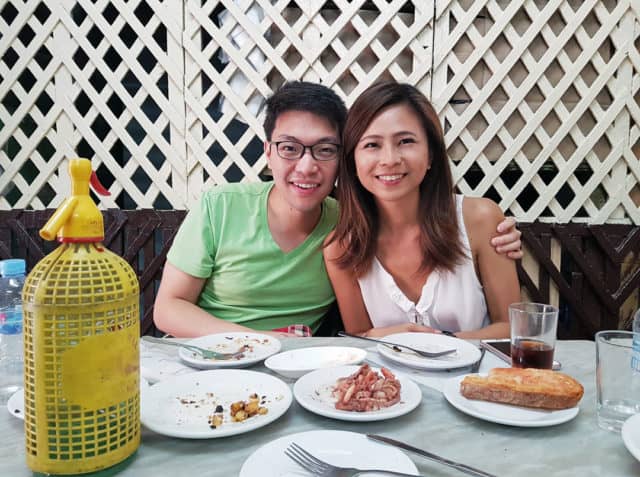 What made our experience with Food Lover Company so memorable is the small group size. The tours never exceed 8 people. This granted us plenty of time to connect with the guide and locals. And of course, there was no shortage of opportunities to take photos!
On top of that, Nuria is so enthusiastic and knowledgeable. In just 4 hours, we learned so much about the history and culinary culture of Barcelona. Her warm, easy-going personality made it such a pleasant experience that it's like enjoying an afternoon with a new friend!
---
We were so glad to have joined Food Lovers Company for an unforgettable culinary adventure. Not only had we learned more about Spain, we have also developed an appreciation for authentic Spanish cuisine. If you are visiting Barcelona seeking for a true taste of the local cuisine, definitely squeeze this tour into your Spain itinerary!
While in Barcelona, don't forget to experience its vibrant nightlife. These tips will help you dive into Barcelona's nightlife like a local!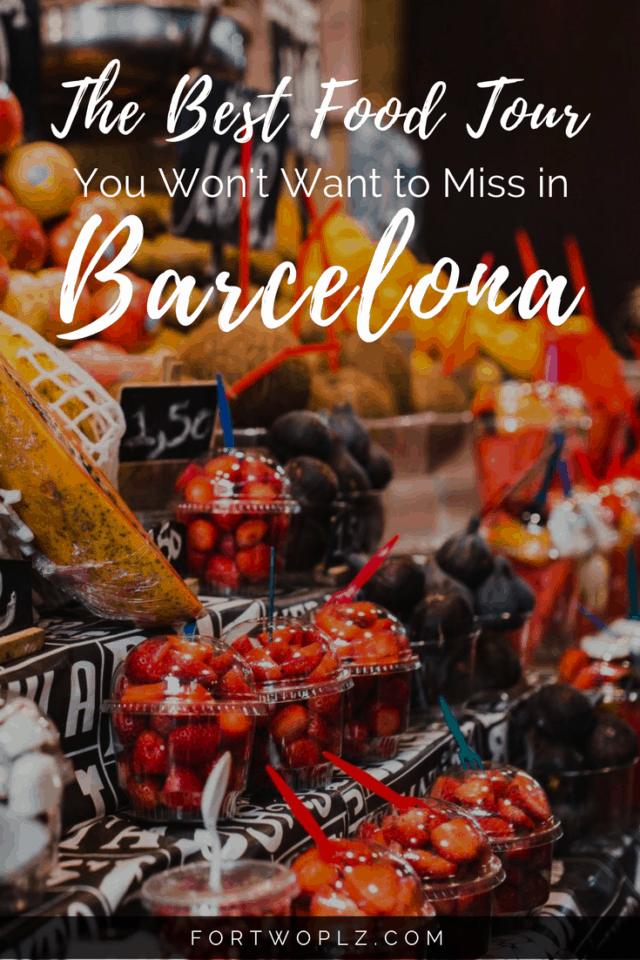 Disclaimer: This post is written in partnership with Food Lovers Company. As always, all opinions on For Two, Please are my own and I only recommend services that I 100% stand behind.