This site uses affiliate links and we may earn a small commission when you use our links and make a purchase without incurring additional fee yourself. Many thanks for supporting this website. Please see our disclosure page for more details.
It's almost impossible to imagine Spain without thinking of Gaudí's playful architectural design or the traditional Catalan fare in Barcelona. We are not gonna deny, Barcelona is colorful, lively and youthful. It will never fail to enchant you — especially if it is your first time visiting Spain.
Nevertheless, Spain has so much more than just Barcelona.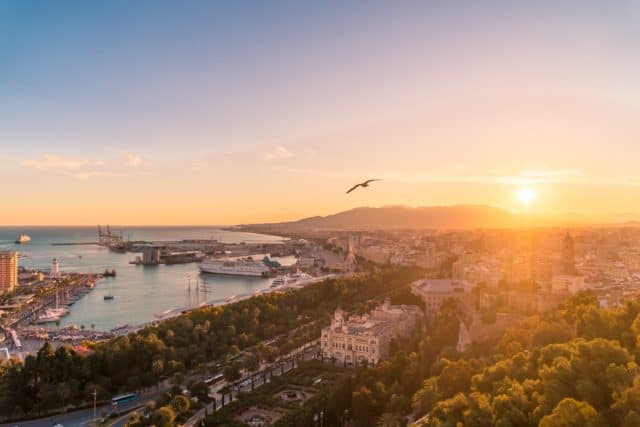 When you've seen and done La Sagrada Familia, Parc Güell and Casa Batlló, add these beautiful cities in Spain to your bucket list. From medieval cities to low-key Spanish coastal towns, you will be amazed by what Spain has to offer!
To make things easier for you, we created a map of all the beautiful cities in Spain mentioned in this list, available to you at the end of the post. So the next time you're choosing the best places to go on holiday in Spain, you know exactly where to go!
Now, let's see which are the most beautiful cities in Spain that deserve a visit!
Don't have time to read? Save THIS PIN on your Spain Travel Destinations board on Pinterest so you can refer back to this list of cities and towns in Spain later!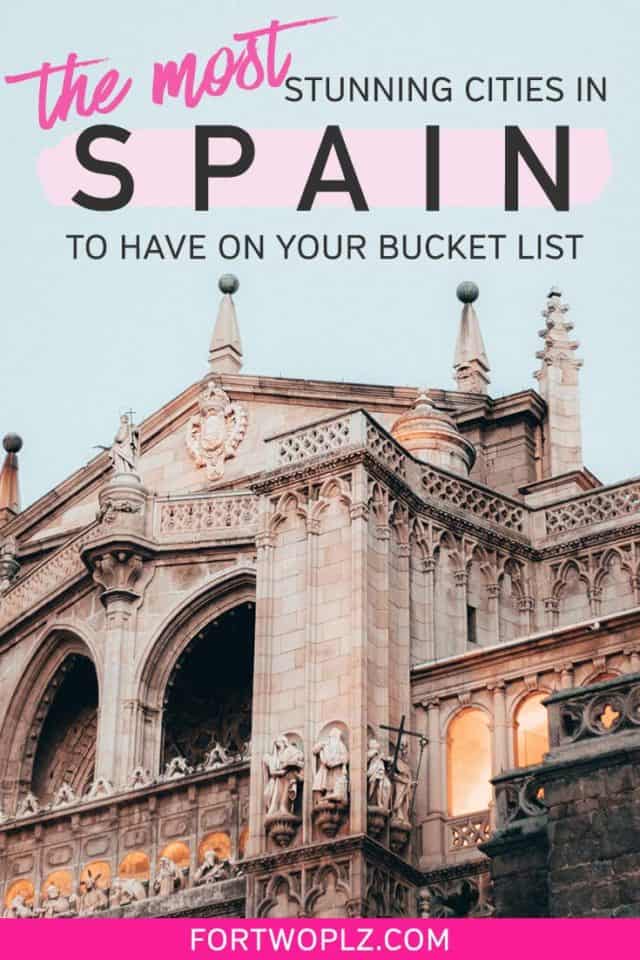 Zaragoza
Sitting between Madrid, Barcelona, Bilbao, Valencia and Toulouse, Zaragoza is one of the biggest cities in Spain (fifth, to be precise) and the oldest settlement with over 2,000 years of history.
This northeastern city was once ruled by the Romans, the Moors and the Christian kings, giving it a rich history and leaving a ton of beautiful ancient Spanish sites for visitors to explore today.
What really puts Zaragoza on the map is the fact that it has the best Moorish architecture outside Andalusia. Aljaferia Palace is one of the best examples. This stunning Moorish palace is truly a remarkable gem and a rare historical architectural monument from the Taifas time that is still standing today. Absolutely a must see in Spain!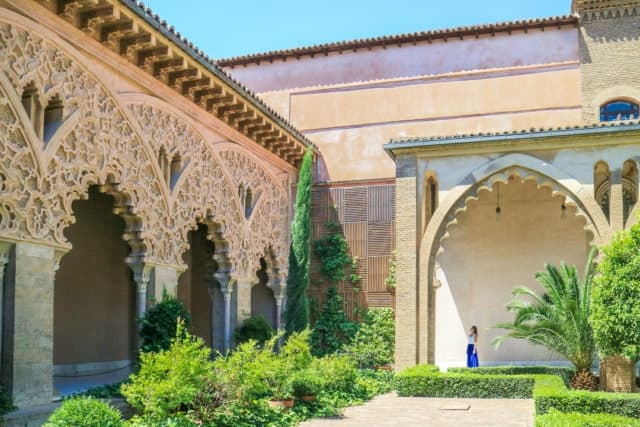 Basilica del Pilar, the biggest baroque church in Spain, is another breathtaking architecture. A quick elevator ride will take you to the top of the North Tower where you can soak in for a panoramic view of the entire city!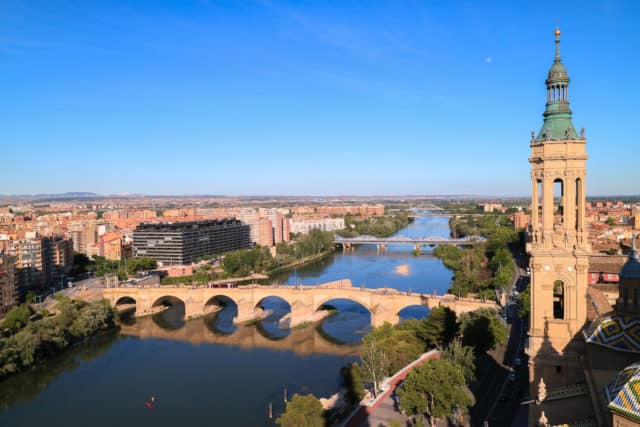 Aside from historical attractions, Zaragoza is also the best place to see the works of Francisco de Goya, the most important Spanish artist of the 18th and early 19th centuries. The Goya Museum alone houses 15 of the most famous paintings and artworks by the artist.

As one of the most historic cities in Spain, Zaragoza is set to take you on a journey through the country's past. Its convenient location makes it easy to plan a day trip from Barcelona or Madrid – just hop on the high-speed AVE train and within 1.5 hrs, you will be in the city.

[irp posts="7311″ name="Luxury Romantic Escape At Hotel Arts Barcelona"]

In terms of season, the best time to visit Zaragoza is spring (March-June) and fall (September-October) as summer can get quite warm.
Besalú
recommended by Claudia from My Adventures Across The World
Besalú is one of the nicest places to visit in Spain. Located in the region of Garrotxa, in the part of Costa Brava (Catalonia), Besalú is within easy reach from Barcelona, making it one of the best Spain destinations for a day trip out from there. However, you are better off spending at least a night there to take in the lovely atmosphere and explore it in full.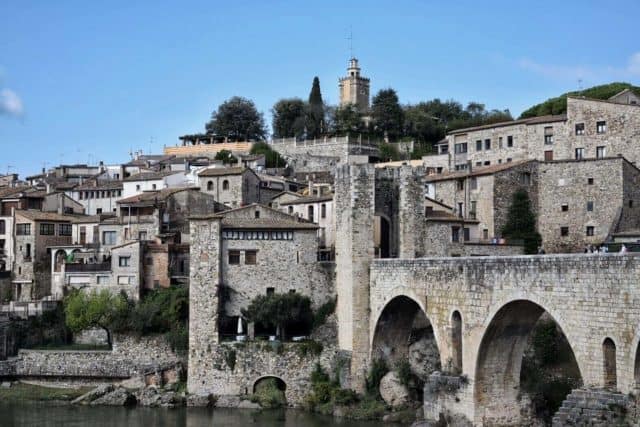 Besalú is full of charm. This small town in Spain consists of a series of narrow alleys, small courtyards, historical buildings, churches and a stunning bridge connecting its two sides over a river that flows gently.
The bridge, called Pont Vell (Old Bridge) is Besalú's main feature. It was built in the 12th century in Romanesque style to connect the two sides of the River Fluviá. Make sure to take photos of the bridge from both sides of the river as well as photos of the city from the bridge.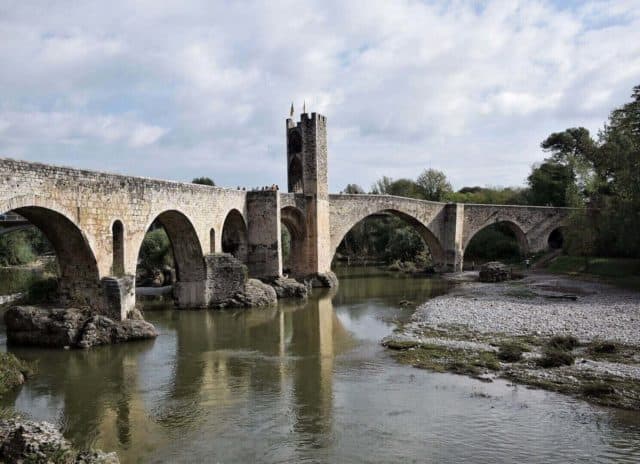 Other historical places to visit include the Monastery of Sant Pere and the remains of Jewish baths – a testimony of the presence of a large Jewish community in the past. Finally, the Miniatures Museum is another interesting find.
Besalú one of the best places to go in Spain for those who'd like to concentrate on culture and history.
When it comes to planning the best Spain vacation, choose to visit Besalú on the first weekend in September. It is when the town puts on a medieval festival with people dressed in medieval costumes, doing medieval re-enactments and playing medieval music!
Girona

recommended by Laura from Laura No Está
If you're in Barcelona and have one extra day, take the train and get to know the beautiful city of Girona.
Girona is located in Catalonia and, despite the small city center, it's one of the largest cities in the region.
Those well versed in history would know that Girona is well known for having been one of the most important cities in Spain during the Roman Empire – although nowadays it has become the hottest place in Spain for being one of the Game of Thrones filming locations.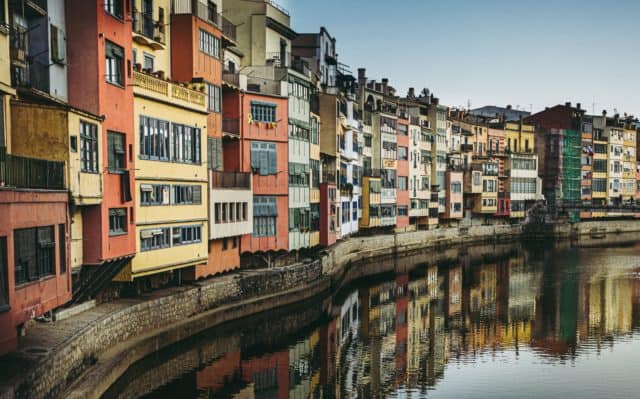 You can explore Girona in just one day because everything that you need to see is near.

To get to Girona you can take the train in Barcelona Sants, there are different kinds of services that can take you there but the cheapest one costs €20 (round trip) and the journey takes around an hour and a half.

There are some famous places you have to know when in Girona, for example, the beautiful Cathedral that you can almost see from every area of the city. Another great must see is the fortifications built in the IX Century, where you can even walk along the walls and be amazed by the magnificent city views.

Take time to wander around the Jewish neighborhood, one of the best preserves of Catalonia and similar to the original Barcelona Jewish neighborhood.

[irp posts="11404″ name="Secret Date Spots: The Most Romantic Restaurants In Barcelona, Spain"]

In case you get hungry, one of the best places to have lunch is König, located in the Square of Independence. You can have a really good sandwich there and, for dessert, the Rocambolesc Ice Cream Shop is one of the most famous in the city.

Every season is perfect to visit Girona but, if you can, try to avoid summer because it is usually crowded, it's better to go there around May or in September.
Tossa de Mar
recommended by Mal from Raw Mal Roams
One of the most beautiful and best vacation spots in Spain is Tossa de Mar, located about 100 km north of Barcelona on Spain's famous Costa Brava. The town is a small yet charming with a gorgeous beach situated centrally, called Platja Gran.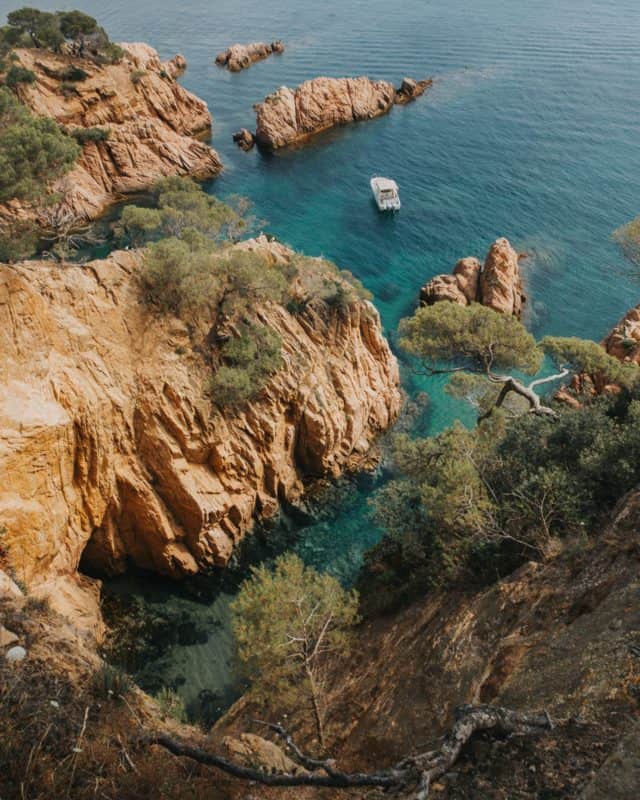 The beach is wide with gritty sand and crystal clear water. But what makes Tossa de Mar particularly special and unique is a stunning castle located right by the beach on Mount Guardi.
The castle was built in the medieval era and it's very well preserved. So in addition to a great day on the beach, you can take a leisurely walk to the neighboring hill and explore this picturesque structure that was constructed to defend the residents of what once was a fishing village.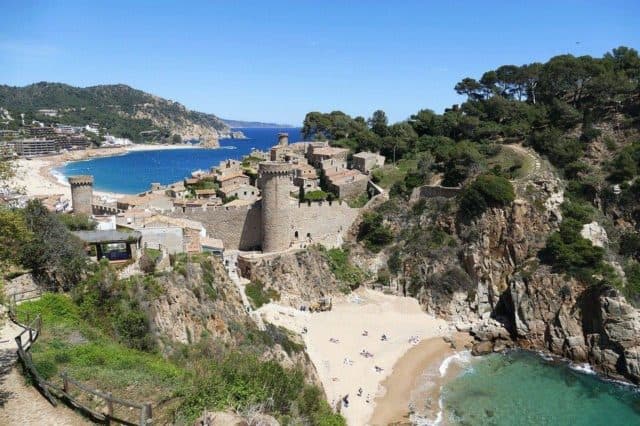 You can still see the cannons guarding the castle towers. And when you get to the top, there is a truly spectacular view of the Spanish coastline and the Mediterranean Sea awaits you. It is easy to understand why Tossa de Mar is one of the top holiday destinations in Spain.

There are many good restaurants on the beach that specializes in freshly served seafood. Bahiton Tossa and Maritim Restaurant make the perfect spot for a light lunch or dinner, complemented with a great view of the bay.

In terms of transportation, you can fly into the closest airport in Girona and take a bus from there. There are also buses departing directly from Barcelona.

[irp posts="7273″ name="Food Lovers Company: Barcelona's Best Food Tour"]

To visit Tossa de Mar, it is best to visit in late spring or early autumn when it's still warm and sunny, but not as busy as in the summer.
Tarragona

recommended by Elisa from World in Paris
Wondering where to go in Spain for a bit of old town exploration? Look no further than Tarragona – a beautiful city in the region of Catalunya, bathed by the Mediterranean Sea. The city's perfect location, at only one hour from Barcelona by train, and mild weather make Tarragona a great day trip or weekend getaway from Barcelona.
The city of Tarragona exists since Roman times with the name of Tarraco and it was an important city of the Roman Empire. Many wonderful and well preserved Roman ruins, such as the amphitheater and the Roman walls, are still witnesses of the city's glorious past and they are one of the main attractions to visit in Tarragona.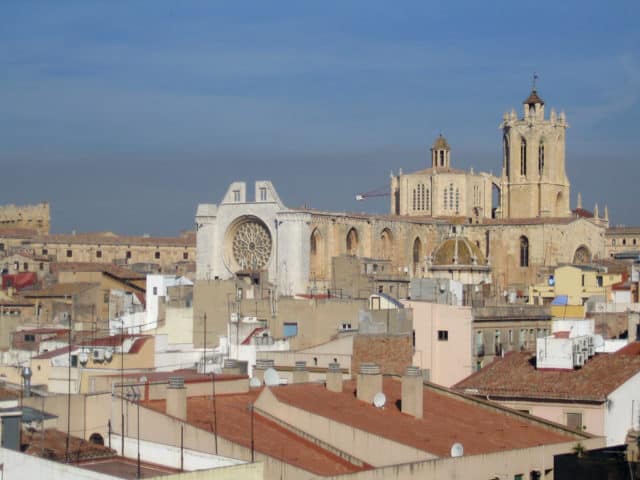 Another interesting area to explore (and to take good pictures) is the medieval streets in the old part of the city. There are a couple of winding covered walkways and the Cathedral on the top of that magnificent staircase is pretty impressive.
Finally, don't leave Tarragona without tasting some of the traditional Catalan dishes such as botifarra amb mongetes, escudella, or calçots and wines.
From history to food, Tarragona definitely is no stranger to a good time. It truly is one of the best small cities in Spain that you surely won't forget
There's no best season to visit Tarragona, this is a city blessed by the sun all the time – yes, even in January! Obviously, people who also want to spend some time on the beach and take a bath will prefer to go to Tarragona in the summertime.
Valencia

recommended by Chrysoula from Travel Passionate
The Spanish city of Valencia is the third largest in the country (after Madrid and Barcelona) and one of the best coastal cities in Spain for those seeking beach relaxation and Spanish culture.
Valencia is a fantastic destination for a rich and varied vacation as it offers a wealth of history, a collection of UNESCO World Heritage Sites, plenty of green spaces, some avant-garde architecture and, of course, long stretches of beach which are begging to be enjoyed.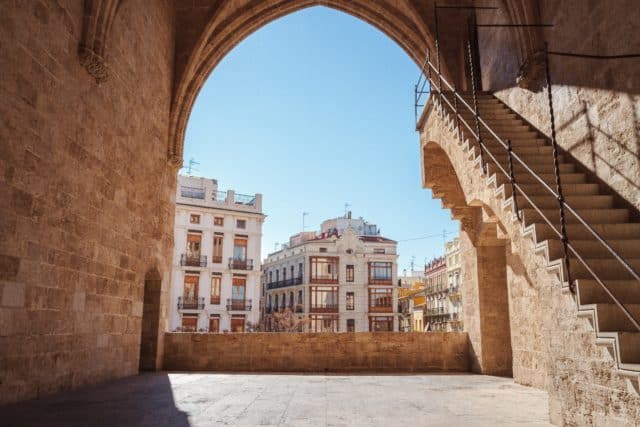 Plus, Valencia boasts around 300 days of sunshine a year with an average temperature of 18 degrees year-round, so it's perfect for those searching for a sunny city break. The best time of year to visit is arguably spring or autumn, as you receive the amazing weather without the crowds or summer prices.
Valencia features iconic buildings and monuments to explore, some of which are the top sights in Spain for culture lovers including Apostles Gate and the Cathedral of Valencia, and the Silk Exchange. While there, you should not miss the chance to take a glimpse into the city's modern architecture such as the Veles e Vents building, Ciutat de les Arts i les Ciències (City of Arts and Science)and the Feria Valencia exhibition centre.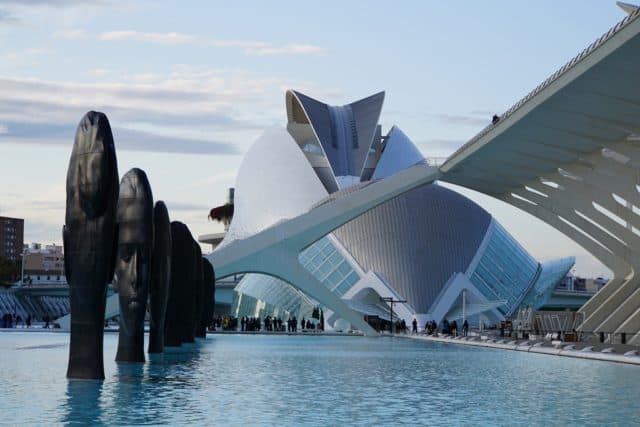 A blend of old and new really puts Valencia on the list of the best places to visit in Spain, not to mention the wild festivals and mouthwatering Mediterranean cuisine the city has to offer. The paella here is second-to-none and they have some incredible wines to pair with it too!
Located on Spain's east coast, Valencia is really easily accessible from across Europe, with direct flights from most major cities as well as train links from Barcelona which can connect to the TGV in France for access to Paris and beyond.
Almería

recommended by Paulina from Visit Southern Spain
One of the most beautiful cities in Spain is still a hidden gem. I am talking about Almería, in the southeastern part of Andalucia. Whereas the crowds often flock to Málaga, Seville and Granada, Almería still managed to preserve its authenticity and true Andalusian spirit, making it one of the most ideal places to travel in Spain.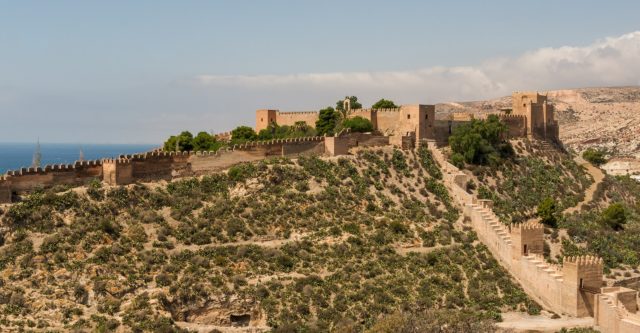 However, the beauty of Almería often reveals itself on second sight. After visiting the most important Spain attractions such as the Alcazaba or the majestic Castillo de San Cristóbal, the visitor should head to Barrio de la Chanca to enjoy the rough, Andalusian atmosphere. The district is known for the gypsy families and qualitative flamenco presentations.
The Alcazaba of Almería got particularly famous after being the setting for Games of Thrones episodes. Indeed, the scenery is just breathtaking.
Other things to do in Almería are dining at tapas bars and do a day trip to Cabo de Gata to explore some of the most beautiful beaches in Spain.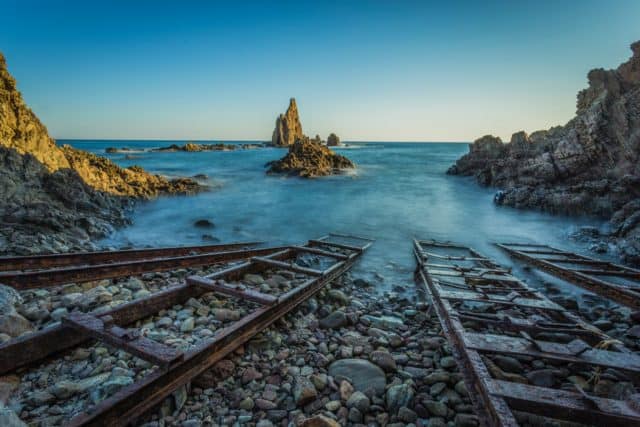 To get to Almería by public transport: From Málaga, bus tickets cost about between €9- €25 and takes between three and five hours. There are no direct trains from Málaga to Almería. From Granada, bus tickets cost from €5- €20, with journey times from two to four hours.
The best time to visit is in spring or in autumn because temperatures are still mildly warm. In summer, Almería can be suffocatingly hot.
Granada

recommended by Aga from Traveling with Aga
Granada is a city located in Andalusia, often regarded as the most beautiful part of Spain. With its Moorish past on full display, snow-capped Sierra Nevada mountains as a backdrop and endless hills offering some of the best views, Granada sure is a beauty.
The biggest attraction and the reason Granada is ranked as one of the top cities to visit in Spain is the Alhambra Palace. With stunning details and beautiful gardens, the UNESCO recognized the Moorish ancient palace as one of the most impressive places you'll ever see.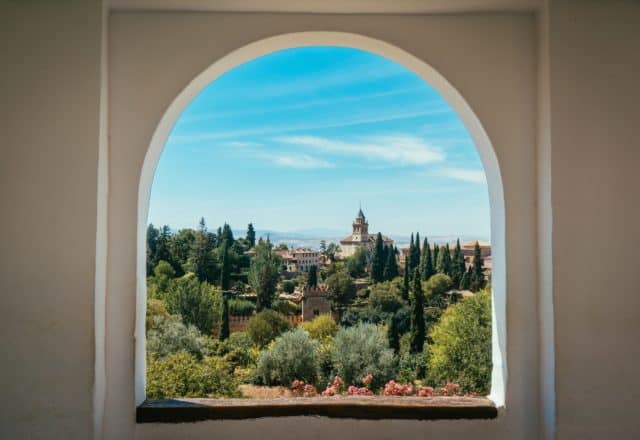 Granada is also home to some beautiful neighborhoods. Sacromonte, with its whitewashed houses and caves, and Albaicin, with a maze of narrow streets, are both perfect for getting lost.
Seeing a flamenco show is a must do in Spain and there's no better place than Granada to check this off your bucket list. As a birthplace of Flamenco, the city has some of the most authentic shows from all of Spain.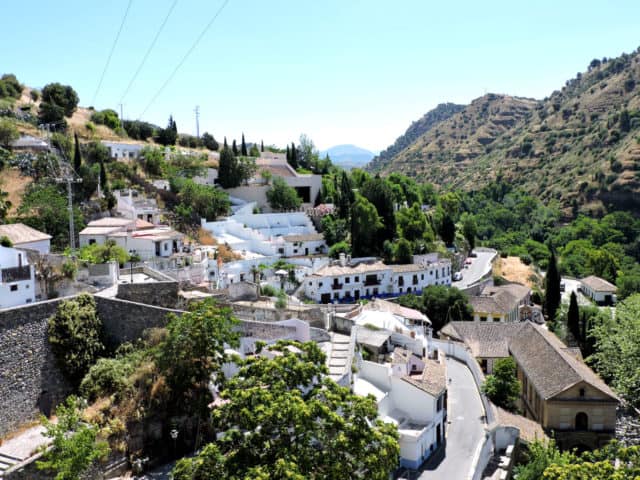 No visit to Spain is complete without indulging in some delicious tapas and it's no different in Granada. In fact, the city is one of the last few places where tapas are complimentary with each drink order.
A well-balanced combination of history, food, entertainment and culture, no wonder Granada is often chosen by many as the most popular cities in Spain to visit.
Spring and fall are the best times to visit Granada when the weather is beautiful and the temperatures are comfortable. Summers in Andalusia can be brutally hot, so it's not the ideal time to visit, unless you don't mind sightseeing in the scorching heat.
The best way to get to Granada depends on where you are coming from:
If you are already in Spain, the easiest and cheapest way is to take the ALSA bus.
If you choose to fly, Granada has a small airport, that is very well connected with the city center by the airport bus. However, since flights are usually much cheaper to Málaga, most people choose to fly there then take a 2-hour ALSA bus ride to Granada.
Salobreña

recommended by Joanna from Andalucia In My Pocket
Interested in slow travel? Put Salobreña on your list of best places to visit in southern Spain.
Salobreña is the jewel of Costa Tropical, a gorgeous area of Spain, just north of Málaga. Getting to Salobreña is very easy, following the A7 motorway from Málaga and you'll get there in about an hour's drive.
Salobreña is a whitewashed town with a very well-preserved Moorish castle on top of the rocks, overlooking the gorgeous sea below.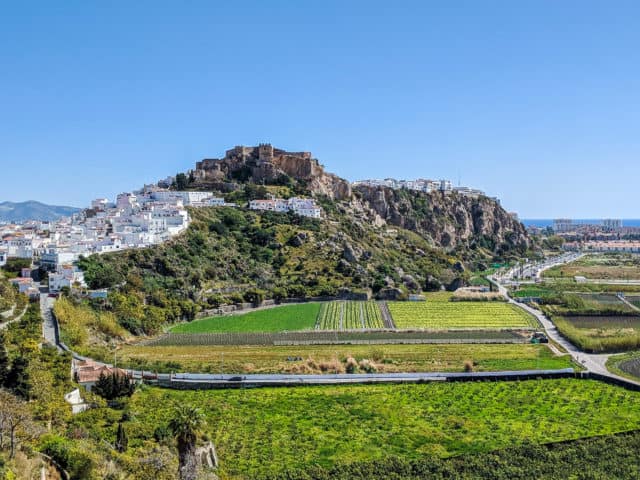 Due to its turquoise waters, many people consider Salobreña one of the best beach towns in Spain. For that reason, this southern Spain destination can get quite crowded in summer.
However, Salobreña is worth visiting in any season, as there are other things to do besides going to the beach.
Walking uphill, on the narrow, cobbled streets, will reveal the beauty of the town. At every corner, you will stumble upon houses decorated with flowers, and walls covered completely by the beautiful pink bougainvillea, which is a pleasure to admire in spring.
Once you reach the castle, the views are majestic, with vistas both over the sea and cliffs along the coast, and the Sierra Nevada mountains in the back.
As a coastal town, Salobreña has many restaurants that specialize in fish and seafood dishes:
Head over to one of the chiringuitos on the beach and order espetos – sardine skewers grilled over an open fire.
For a more adventurous culinary experience try the octopus grilled in the same way or the local Quisquillas de Motril – a specific type of shrimp found only in the local waters.
Málaga

recommended by Alexander from Gourmand Trotter
Málaga is located in southern Spain in the autonomous region of Andalucia. The beach city is a popular weekend destination but is also lively on its own without tourists.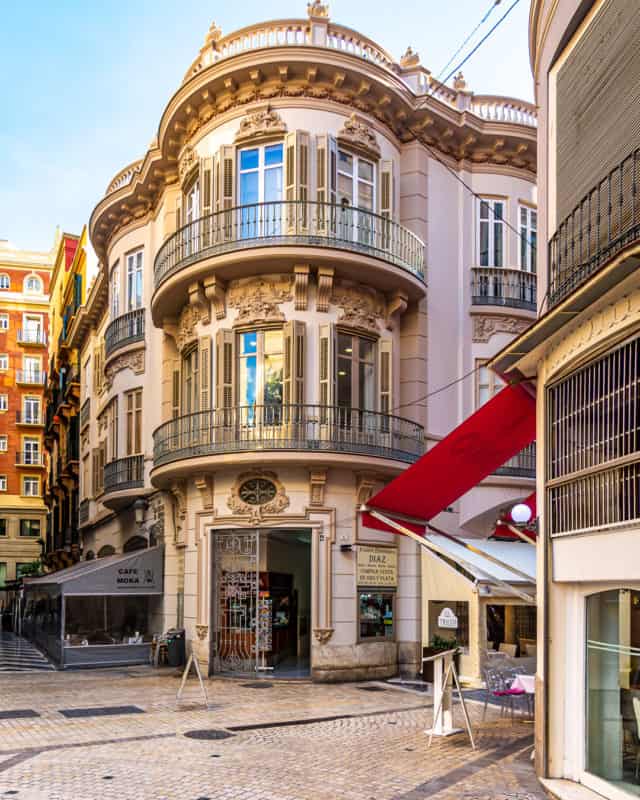 It's a historical city that dates back at least 2,800 years old, making it one of the oldest cities in Europe. It was likely founded by Phoenicians in 770 BC and since then various time periods and civilizations have influenced this beautiful Spanish city.
Visitors today can admire the heritage of Moorish architecture and extravagant Spanish architecture from the times when the Spanish Empire was one of the richest empires worldwide.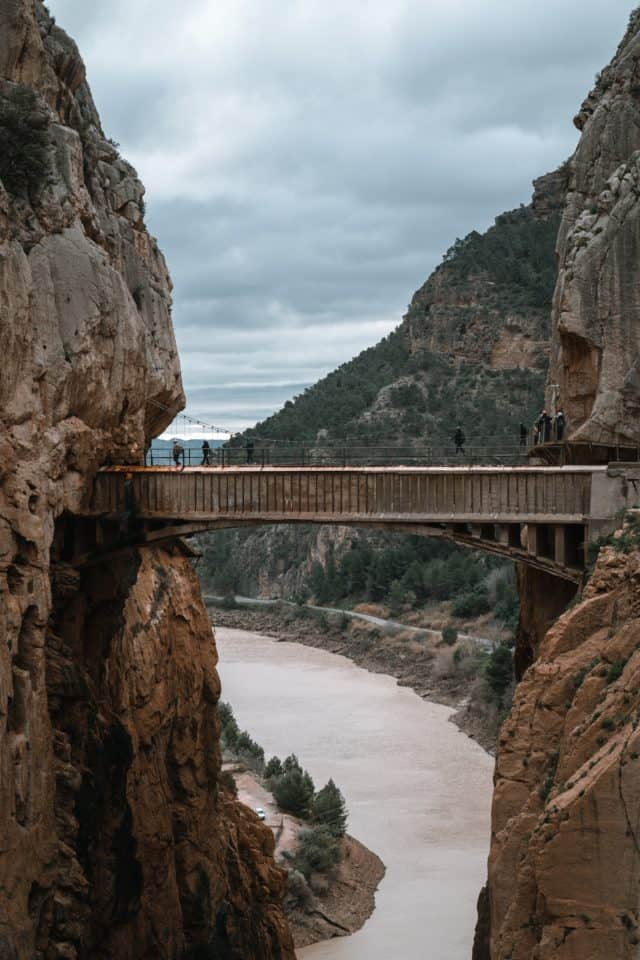 The city is also one of the best beach cities in southern Spain for foodies, You can expect to find many tapas bars that serve traditional Spanish food. Additionally, its old town center is full of charming buildings and alleys.
The best time of the year for photography is to go here before the high-season during summer. May and September are ideal to visit Málaga.
As a transport hub for the southern Spain region, it is easy to get to Málaga. There are flights from all over Europe to Málaga, and even high-speed train from Madrid and other destinations in Spain. From the airport, you can either hop on the metro that takes 15 minutes to the city center or go by taxi.
From Málaga, you travel around Costa del Sol conveniently where Marbella, Estepona, Nerja, Frigiliana and other beautiful coastal towns in Spain.
Jerez de la Frontera

recommended by Linn from Brainy Backpackers
An incredibly beautiful city in Spain, not yet prone to overtourism, that holds a traditional Spanish feel to it is Jerez de la Frontera in the province of Cádiz.
While there are not that many foreign tourists who make it to this cultural gem, it is undeniable that there is so much to see and do in Jerez de la Frontera. Wine drinkers will be delighted to find that it is one of the best cities in Spain to sample world-class sherry!
Other than sherry, there are so many beautiful places to see in Jerez. The old town is packed with mesmerizing churches. The most visited tourist attractions include Cathedral of Jerez, which is an astounding gothic building, Basílica de Nuestra Señora de Carmen Coronada and the Religiosas Enclavas de Santismos y de la Merced.
However, if you walk past a church, make sure you enter. There are so many and they are all so beautiful!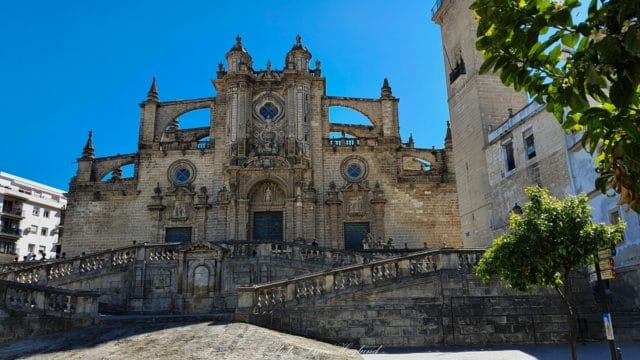 Foodies would not want to miss the chance to try tapas and drinks at food markets and get lost in the streets of the old town.
The best time to go to Jerez de la Frontera is probably February-March when the orange trees blossom. The sweet scent fills up the entire city and is so beautiful! During winter and spring, it's even fewer tourists around and you can enjoy the streets with the locals.
Jerez de la Frontera has its own international airport, and it's only an hour to drive south from Seville.
Corralejo

recommended by Megan from Megan Starr
One of the most beautiful cities to visit in Spain is definitely Corralejo, a city that sits on Fuerteventura in the Canary Islands, a short distance and ferry ride from Playa Blanca, Lanzarote.
Corralejo is one of the hippest and underrated places in the Canary Islands and its laid back vibe attracts visitors from all over.
If you're looking for the best things to do in Corralejo, a can't-miss activity is to head to Lobos Island, a nature reserve on an uninhabited island a short ferry ride or boat trip across the channel from Corralejo.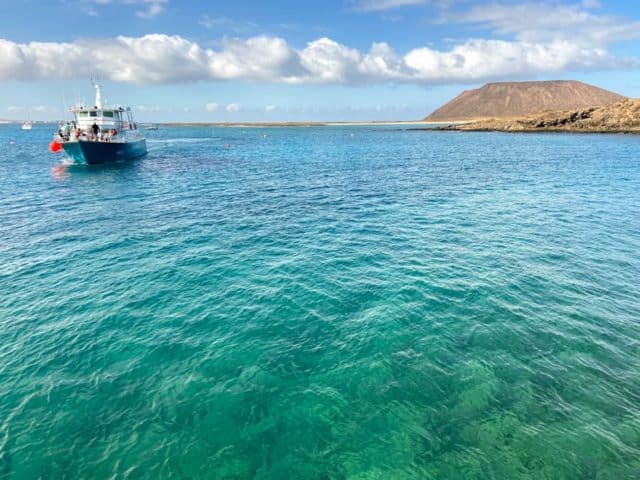 It is affordable to visit and the rugged scenery and views there will blow your mind! Once you get back to Fuerteventura mainland, you can check out the many hippie bars, cafes, and restaurants waiting to serve guests.
There are also several places to try fresh seafood as well as many international cuisines.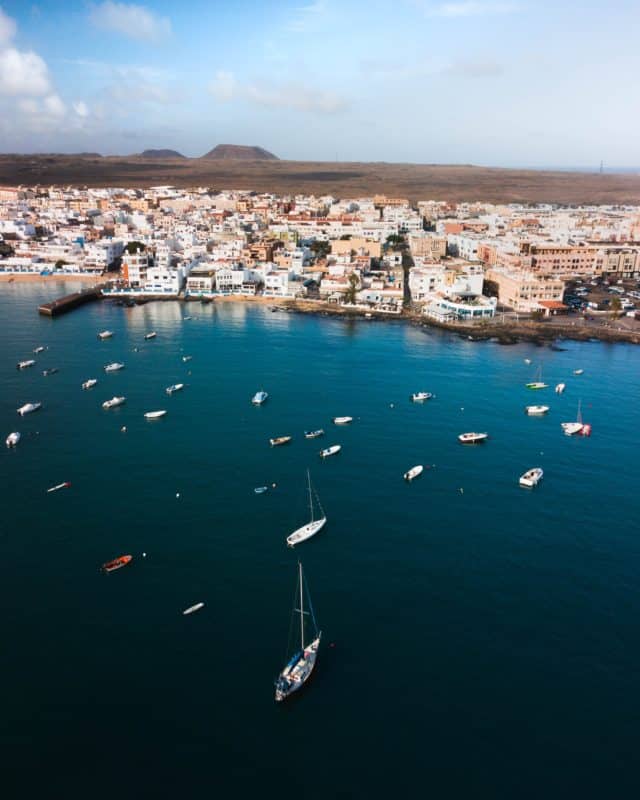 Corralejo is a fantastic place to base yourself if you're looking to take day trips around the island. You're close to the sand dunes and while you can reach them by public transportation, you can also book affordable tours and catch them on your way to many of the amazing southern spots on the island, such as Morro Jable, Cofete Beach, and Ajuy.
The city of Corralejo is a wonderful city and certainly is one of the most beautiful places to visit in Spain if you're into surfing, kitesurfing, and many other adventurous activities.
The best time to visit Corralejo is during summertime as many things are shut at other times of the year.
Don't have time to finish reading? Save THIS PIN on your What to See in Spain board on Pinterest so you can come back and pick the best Spain destinations for your next trip!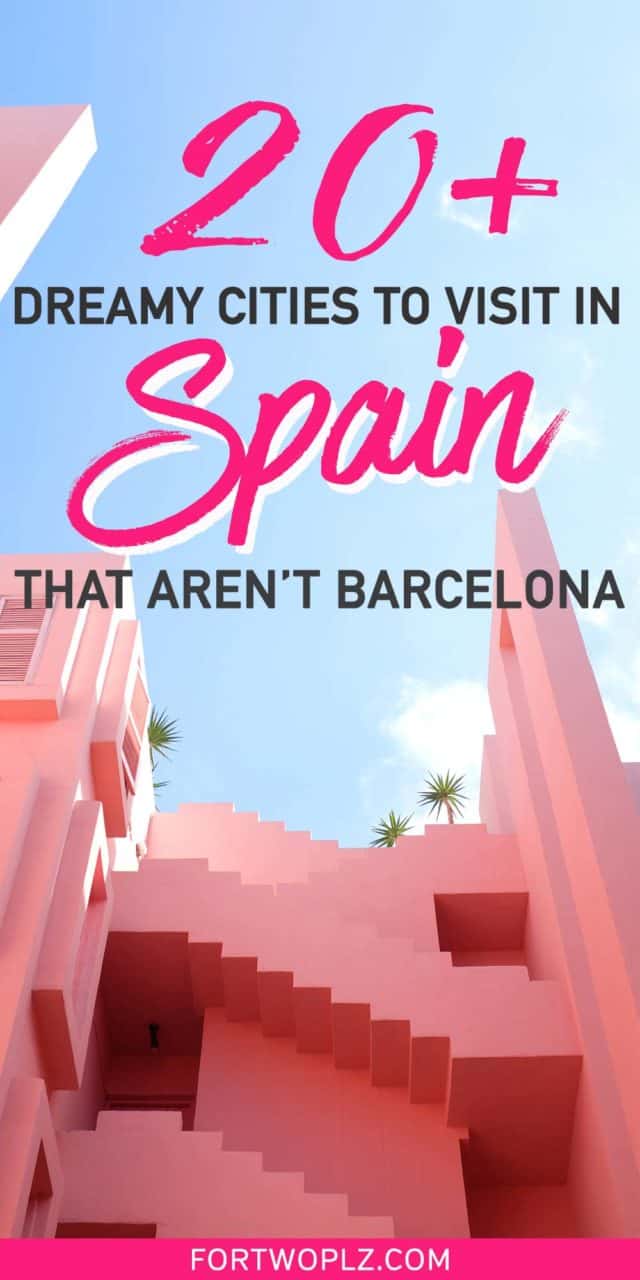 Seville

recommended by Caroline from CK Travels
Seville is Spain's fourth biggest city located in the southern region of Andalusia, where you'll find beautiful Moorish architecture, UNESCO World Heritage Sites, excellent wining and dining, and many gorgeous landscaped parks.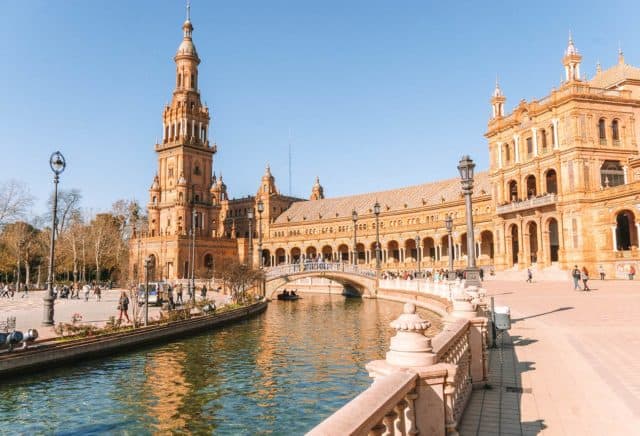 Seville has an international airport with many budget airlines flying there making it an affordable destination to visit.
The city is sunny all year round but avoid visiting during the summer months of June-August as the temperatures can be unbearably hot.
As one of the must visit places in Spain, Seville offers tons of things to do for visitors, but it is recommended to take time strolling through the labyrinth of charming narrow streets and alleys of the El Barrio de Santa Cruz neighbourhood, before heading over to Plaza de España to admire the gorgeous architecture and exquisite tilework.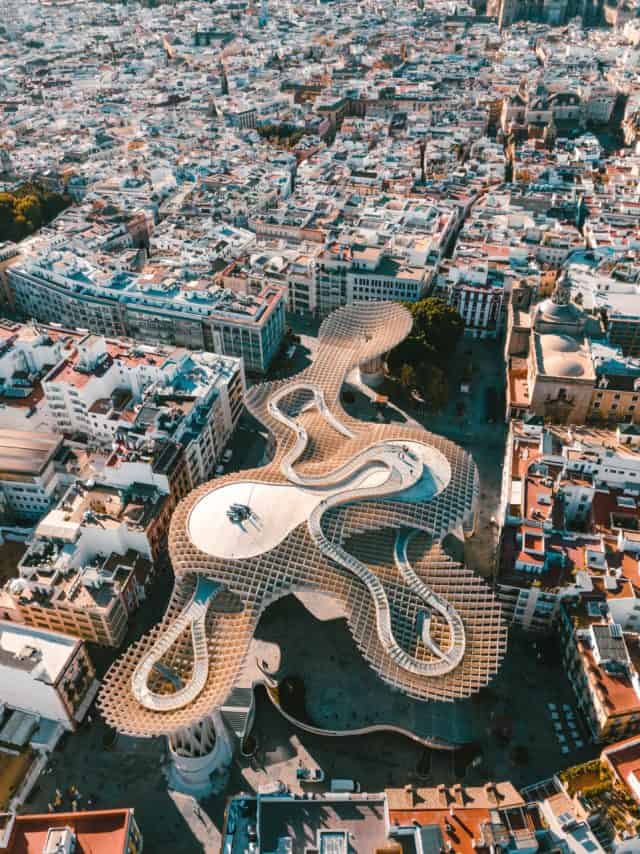 As you head towards the end of the day, enjoy a meal at one of Seville's many cozy and historic tapas bars for a glass of local wine and some fresh and delicious seafood or pork with whiskey sauce (a popular Seville dish).
Follow up dinner with an intimate traditional flamenco show at either Casa del Flamenco or Casa de la Memoria, and if you still have energy afterwards, head to Hotel Doña Maria's rooftop bar for a drink with one with the best views of the Cathedral lit up at night!!
Córdoba

recommended by Faye and David from Delve Into Europe
Córdoba, in the heart of Andalucia, is one of top places to visit in Spain. It's a fairly quiet city nowadays, but around the time of the first millennium AD was the most powerful city in Western Europe, a flourishing Islamic city with a population twenty times that of London or Paris.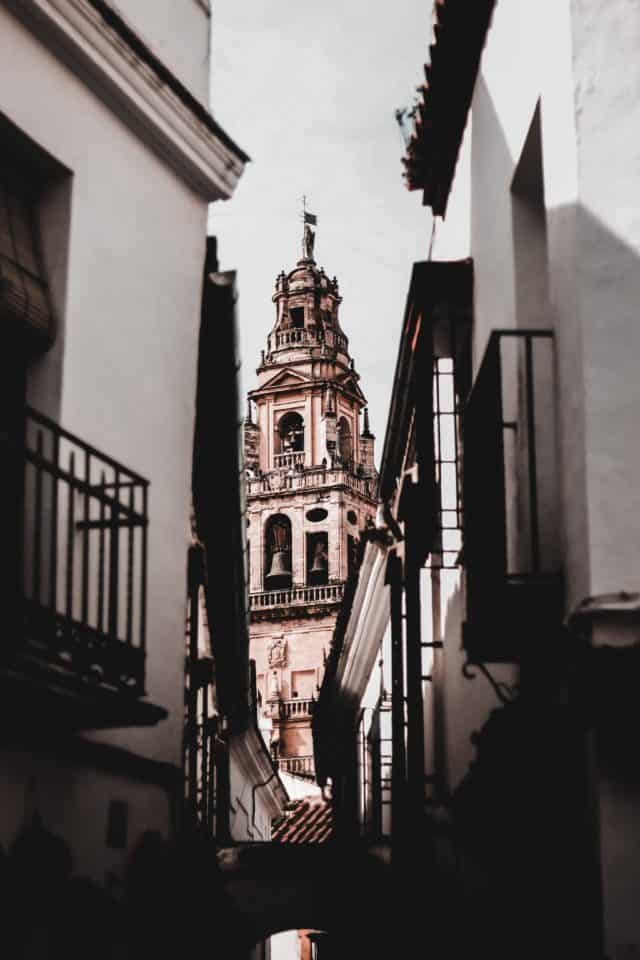 Córdoba doesn't have an airport of its own, so getting there involves a train or bus trip from wherever you arrive. The capital, Madrid, is 1 hour 45 minutes away by the high-speed AVE train, and beautiful Seville is 45 minutes away on the same train.
Many flights from elsewhere in Europe arrive at Málaga, which is an hour away to the south by AVE.
Córdoba is a well-preserved ancient city, and much of it is a UNESCO World Heritage Site. Among all the Spanish landmarks, the highlight is the Great Mosque, or Mezquita, a sublime 8th-century building stunning in its simplicity. The prayer hall is full of seemingly endless red and white striped arches, a magnificent sight. A Catholic Cathedral has been built around it, but doesn't detract from the beauty of it.
Spring is undoubtedly the best time to visit, especially if you plan on photographing the city. It's when the city's many patios, or courtyards, are opened to the public, each decorated with hundreds of plants and flowers.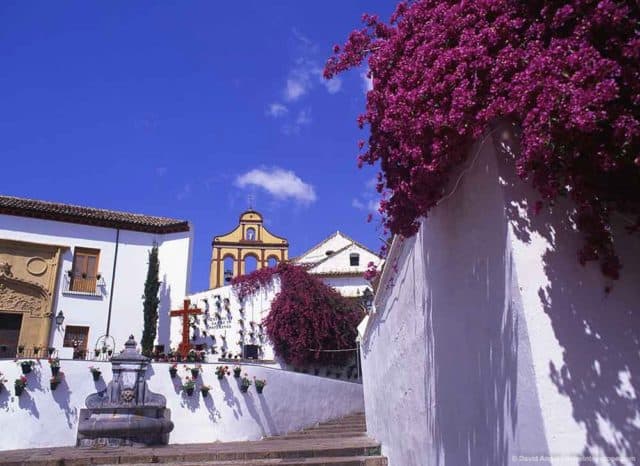 The narrow streets of the Judería (Jewish Quarter) are the best place to see these patios, which are usually open in early May. The flowers are out everywhere in the city, and another great place to see them is at the Alcázar de los Reyes Cristianos, the Castle of the Christian Monarchs.
Córdoba is also great for food, whether you want a full sit-down meal or to flit from bar to bar trying different tapas. The local specialty is salmorejo, a creamy tomato puree that's thicker than gazpacho.
Cáceres

recommended by Wendy from The Nomadic Vegan
Cáceres is known as the Ciudad Monumental, or "Monumental City", and it's easy to see why.
The small, compact old town is absolutely filled with ornate palaces, churches and towers. Church of San Mateo, the Concatedral de Santa Maria, and the Church of San Jorge are some that worth exploring. Climb the bell tower of the latter for a terrific bird's eye view of the city's rooftops – and you can see it for yourself why Cáceres is one of the most beautiful towns in Spain.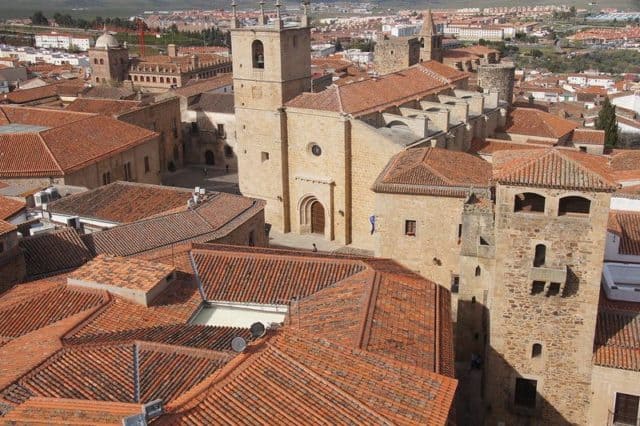 Located in the remote Extremadura region in western Spain, Cáceres can be reached from Madrid either by bus or train. As there is no high-speed rail network, the train tends to be slower but is very picturesque.
Summer months can be quite hot here, but on the flip side, this is also when you're least likely to get rained on.
Overall, spring is probably the best time to visit, as the temperatures are not too hot and precipitation is less than in the autumn. And if you can time your visit to coincide with Semana Santa (Easter Sunday), you'll be able to enjoy the solemn parades of religious brotherhoods carrying heavy wooden statues of Jesus.
If you're not able to catch the parades, do look out for the monument to these brotherhoods, sculpted by Antonio Pedrero. The sculpture features one hooded man carrying a cross and another ringing a bell.
A great place to stop for lunch is El Halcón Milenario, a fun bar and coffee shop with a Star Wars theme that offers board games, a book exchange, and a menu with several vegetarian and vegan options.
Toledo

recommended by Alex from The Wayward Walrus
If walking around a fairytale land of rolling hills, castle walls, impressive bridges and architectural stunning cathedrals sounds like your thing then look no further than Toledo, Spain.
Nestled right outside of Madrid, Toledo was the center of a flourishing Golden Age in 1085. During this time Toledo was known as a place of acceptance for the three major religions of the time – Christianity, Judaism and Islam.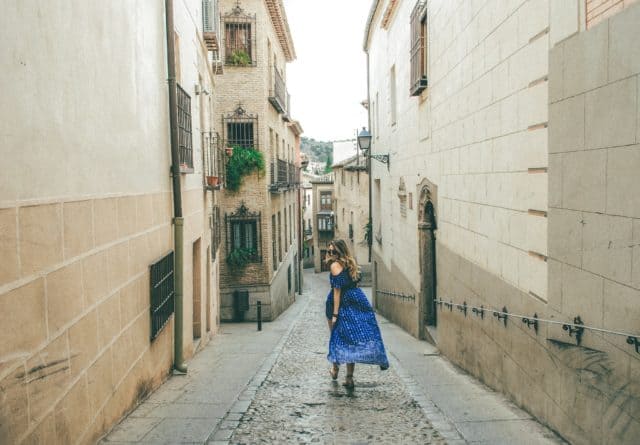 Walking around the historical cobblestoned roads and tall castle walls you can feel the presence of ancient beauty and has since been named a UNESCO World Heritage Site.
Toledo has grown to be one of the popular holiday destinations in Spain – thanks to its close proximity to Madrid. You can easily reach Toledo by a quick 35-min train ride from Madrid's Puerta de Atocha central station.
Although many accommodations can be found for a longer stay in Toledo, the city can easily be tacked onto shorter holidays as a day trip from Madrid.
Fill your day checking out some of these tourist sites within the old city walls of Toledo:
Walk across the Alcántara Bridge
Toledo Cathedral
Get lost within the city walls
Check out a sword shop
La Judería (Jewish Quarter)
Plaza Zocodóver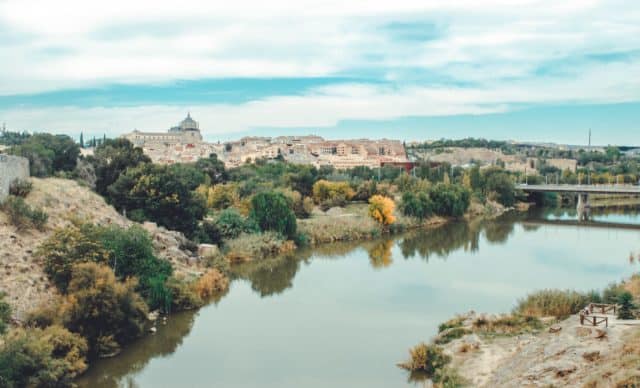 Trains run throughout the day with a few evening trains. It is strongly recommended to stay past sunset when the bulk of visitors have left for the day to see the sun setting behind the hills perched atop the castle walls. It reveals a truly magical city.
Although you can easily visit Toledo at all times throughout the year, springtime is one of the best times to explore the city when the surrounding hills are blooming with color and the weather isn't too hot yet.
Madrid

recommended by Sam and Veren of Alternative Travelers
Madrid, one of the prettiest cities in Spain, needs no introduction. When it comes to Spain sightseeing, the city has it all – from wonderful monuments to charming parks. Madrid's various attractions effortlessly make it one of the most beautiful cities in Europe to visit.

However, Madrid is best experienced slowly, at the rhythm of local life. So take your time strolling Madrid's vibrant streets rather than rushing to tick off a checklist of landmarks.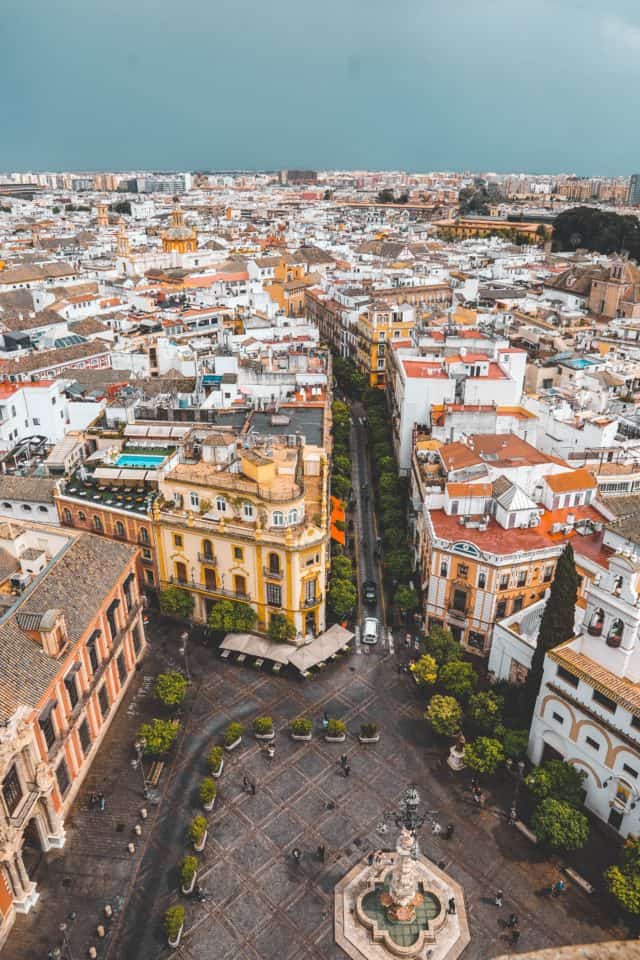 Enjoy the colorful buildings in reds, pinks, oranges, and yellows that stand out against the city's perpetually sunny skies. Dine on an outdoor terrace, bathed in the soft hues of the famous sunsets that coat the sky with cotton candy pinks and purples.
While Madrid is beautiful in every season, photography buffs will want to keep in mind that spring and fall are the best time for photos. The city's trees burst with blossoms in the spring and shed bright orange leaves in the fall.

When you do want to visit famous sites, there's no shortage of places to explore in Madrid, including a stunning palace, world-class museums, countless ornate churches, hidden plazas, bustling city life, a sprawling city park (El Retiro), and of course, neverending tapas.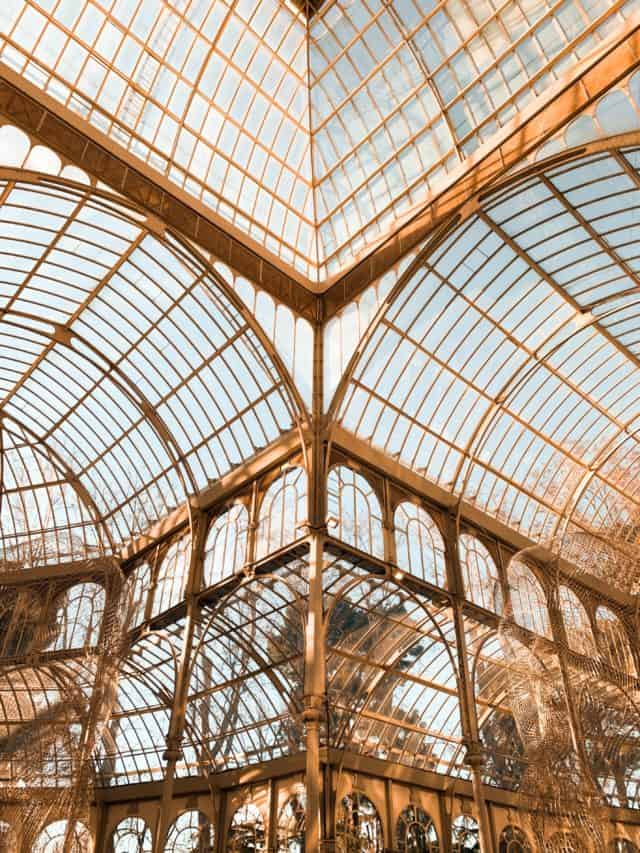 Stop in one of the city's neighborhood markets for a local tapas experience and a glass of local wine or sweet vermouth, a favorite of Madrileños. Each market has a wide variety of stalls, so there is something for everyone, including traveling vegetarians and vegans in Madrid. Buen provecho (enjoy)!
The capital city is located in the center of the country so it's very easy to get to by high-speed train from other Spanish cities. Those coming from further afield will be able to find direct and affordable flights, as the Adolfo Suárez Madrid–Barajas Airport is a major international airport.
Segovia

recommended by Pauline from BeeLoved City
Outside of Madrid, smaller cities await to be explored. Segovia, in Castilla-León, represents one of the most important historical places in Spain. If you are a culture and history buff, it is a definitely must-see!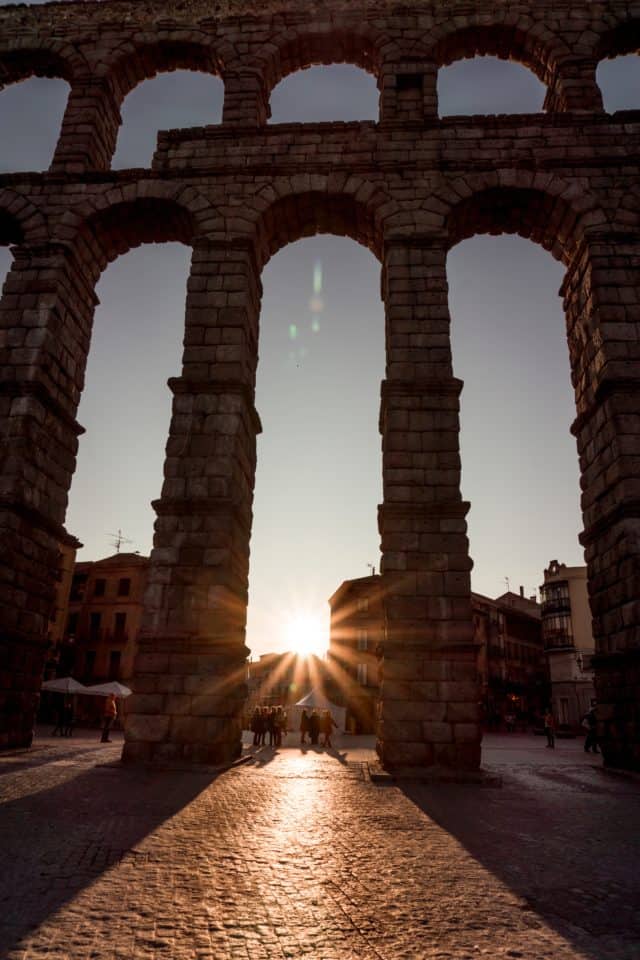 Segovia is a perfect day trip from Madrid. It will take you between 1 and 2 hours to get there (via car or train). The best season to go to Segovia would be from May to September. It can get a bit hot in July and August but not as much as on the Spanish coast. No matter what, don't forget to take a hat.
Segovia is a true melting pot. Many civilizations once settled there and they all left their marks! This includes the Celts, Romans, an important Jewish population during the Medieval Times and eventually the Spanish kings.
Segovia was declared a UNESCO World Heritage Site in 1985 and is mainly known for these 3 historical landmarks: the Roman Aqueduct, the cathedral (Catedral de Segovia) and the castle (Alcázar de Segovia).
The Alcázar castle is one of the most beautiful castles in the world and will for sure take your breath away! Fun fact: it was used as inspiration for the Disney World Cinderella castle!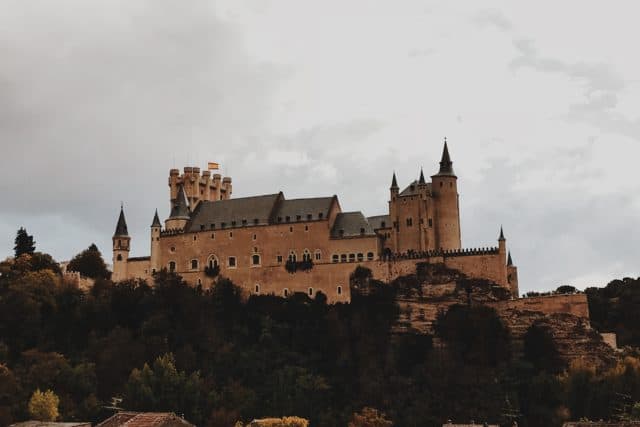 There is nothing better in Segovia than just walking around the city and admiring the historic buildings. The old Jewish quarter is particularly interesting. It is highly recommended to go on a guided tour to retrace the steps of history.
For those interested in sampling the classic dish of Segovia, head to Meson Don Jimeno, the longest-running restaurant in Segovia. They serve the best roast suckling pig in the city!
Salamanca

recommended by Margarita from DownshiftingPRO
Located 2.5 hours north-west of Madrid, Salamanca is in fact closer to the Portuguese border than the centre of Spain.
Salamanca's Old City is a UNESCO World Heritage Site and is the home of the 4th oldest university in Europe. The University of Salamanca celebrated its 800 anniversary in 2018 and well worth a visit.
Another unique feature is actually two buildings in one. The Old and New Cathedral stand side by side connected together but were built in two different Epoque and styles. The Old was built between the 12-14th century in the Romanesque style and the New Cathedral the Gothic style. Building on The New Cathedral began in 1513 and was consecrated in 1733.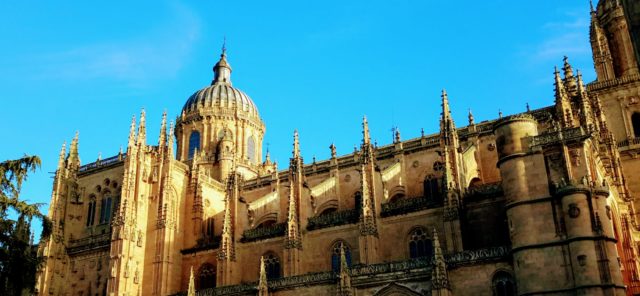 One last must-see is the focal point for government and commerce. To compete with Madrid's main plaza, the Salamanca Plaza Mayor was completed in 1755 and cited as an important criterion to become a World Heritage Site.
In Plaza Mayor, you may want to order 'raciones' a serving larger than a traditional tapas of patatas bravas and Jamón Ibérico with a glass of Rioja – a full bodied red wine from the northern region of the same name.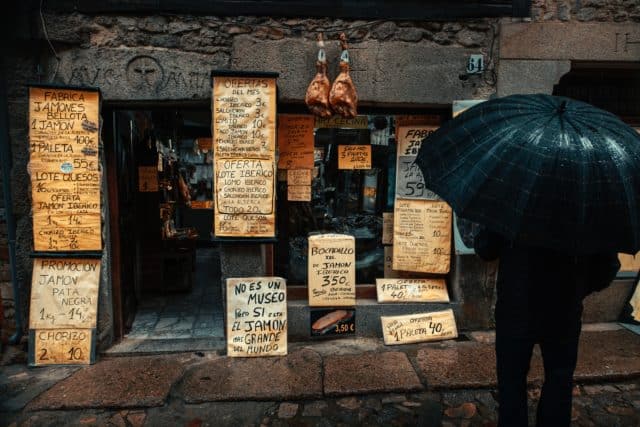 Although touristy, there is no question, you will love the people watching while you relax at one of the many cafes in the square. The Salamanca Plaza Mayor is considered one of the most important urban plazas in 18th century Europe.
The best way to get to Salamanca is by car. The roads in this part of Spain are marvelous. But once you get to Salamanca, you can rely on foot. Known as one of the best walking cities in Spain, attractions in Salamanca are closely located to one another.
As for the best time to visit, it would be in the spring or fall as the heat in Spain in the summer can be quite overwhelming.
Santiago de Compostela

recommended by Sheree from Winging The World
Santiago de Compostela is not only one of Spain's most beautiful cities, but also one of the most historically important places in the country.
The famous Camino de Santiago (Way of St. James) route officially finishes at the cathedral in Santiago de Compostela which sees thousands of pilgrims flock there each year.
The most common Camino route is the French Way, which traditionally begins in St Jean Pied de Port, France before finishing in the north-west of Spain where Santiago de Compostela is located.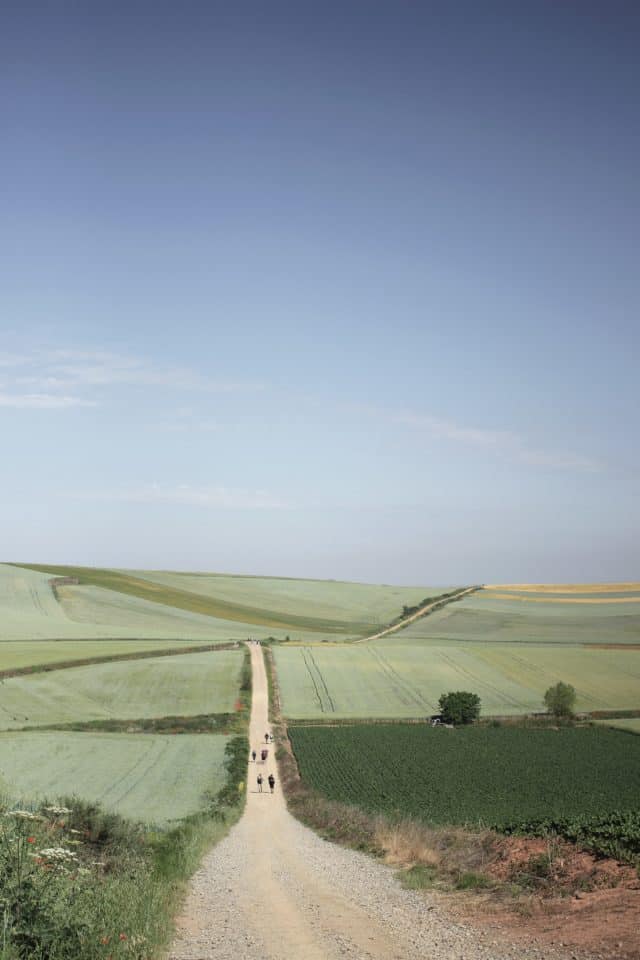 Although many walk to the city, there is an international airport nearby as well as a train station which serves many other cities in Spain. If you can, try to time your visit with the annual St James Festival which takes place on the last two weeks of July.
When St James Day falls on a Sunday, the year is considered to be a holy year. It is one of the few times throughout the year where the Botafumerio at the cathedral is guaranteed to swing. The city also goes into full-on party mode with fireworks and light displays. It is a great time for photos.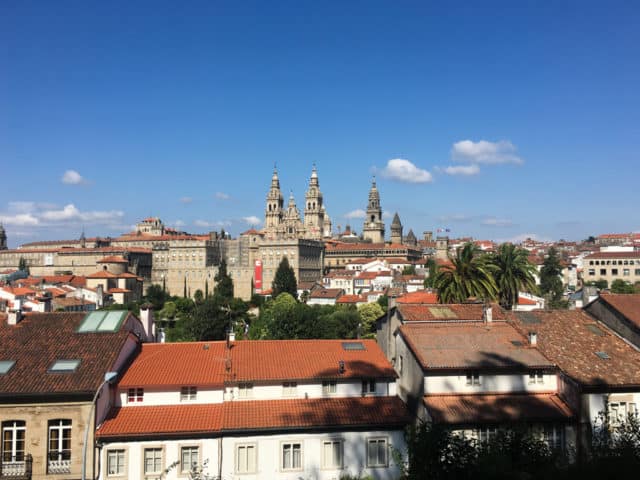 When it comes to the best things to do in Santiago de Compostela, there is plenty to choose from, especially if you are interested in the Camino de Santiago. A free walking tour is a great place to start and will give you a good base of information about the city.
Build on this with a visit to the Museum of Pilgrims and sit in Praza do Obradoiro to watch the pilgrims finish their journey. Regardless of whether you have walked yourself, you'll be touched by the display of raw emotion present in the city square.
La Coruña

recommended by Stuart from Just Travelling Through
Whilst Santiago de Compostela usually gets most of the attention due to being the end of the Camino, nearby La Coruña is a city that shouldn't be ignored.
Located on the wild Atlantic coast in Spain's north-western region of Galicia, La Coruña is a picturesque combination of beaches, twisting streets, stunning viewpoints and a bustling city centre.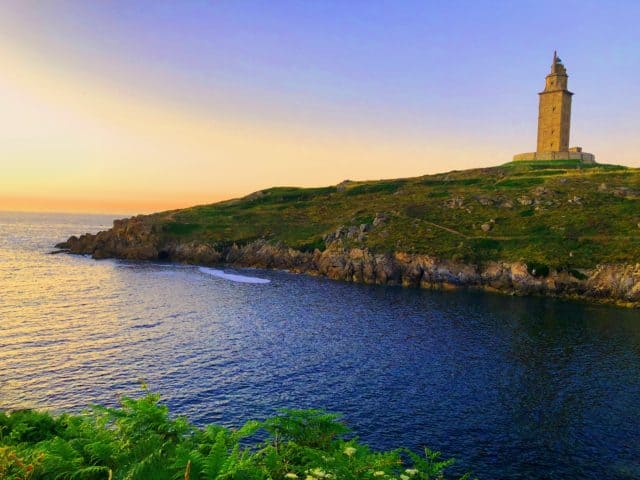 It's easy to lose your way in La Coruña with many visitors becoming confused by the narrow lanes. Yet if anything that only adds to the beauty of the place as you randomly come across small churches crammed in the corner of a little square or groups of locals sat around enjoying a quiet drink.
Along the coast are many points to stop and admire the incredible
scenery such as the jagged cliffs overlooking the waves as they crash below and the coastline that disappears into the green of the countryside.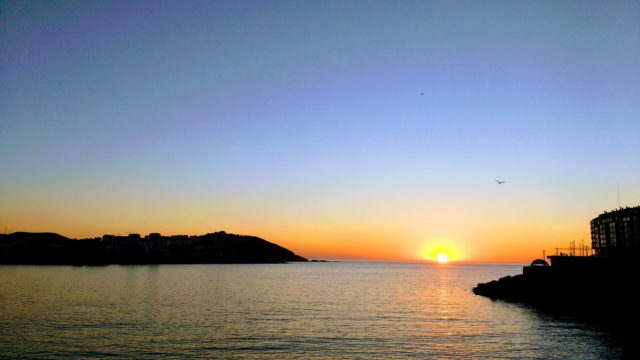 La Coruña has no shortage of viewpoints either. The Tower of Hercules (an ancient Roman lighthouse and the oldest still functioning in the world) and Monte San Pedro are both perfect places to admire the city and its surroundings.
La Coruña changes so quickly, from the side streets packed with restaurants and people to the long stretch of beach by the football stadium or the rugged coastline around the port and Tower of Hercules.
It's a city famous for many things including history, football and of course, food. Mention to any Spaniard you're going on holiday to Galicia and their eyes light up as they discuss the local delicacies. Padrón peppers and Galician broth are two favourites but seafood is the true specialty, particularly Pulpo a la Gallega (octopus).
Reaching La Coruña takes about 30 minutes by train from Santiago, whilst there are flights throughout the day from Madrid, Barcelona and other destinations within Spain. From outside the country, the only real option is London Heathrow, unless flying to Santiago and taking a train from there.
Spring is the best time of year to visit La Coruña as the weather is warm and the crowds attracted by the summer holidays have yet to arrive.
Add La Coruña to your list of cities to see in Spain – especially if you're yearning for a chilled beach holiday in northern Spain!
Santander

recommended by Derek from Robe-Trotting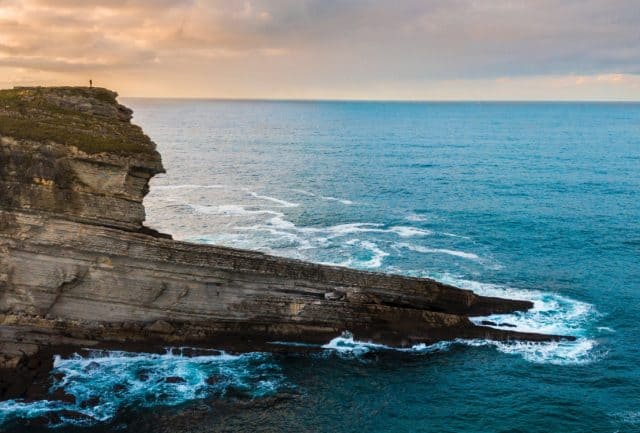 One of the unique places to visit in Spain is beautiful Santander. The northern city, located on the coast of Spain's Basque country, is often overlooked by many as attention is usually given to famous cities in Spain like Madrid and Barcelona.

There are indeed many fun things to do in Santander. Spend time on the Sardinero beach, one of the best in the region, where you can enjoy the ocean or learn to surf. Visitors also love Magdalena Palace, the former royal residence with an interesting history. Another must-see tourist spot is the iconic Mouro Island lighthouse, great for photos!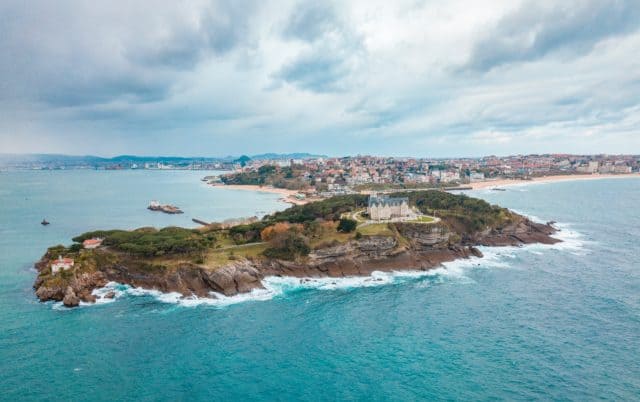 With so much to do and see, you'll be sad if you miss delicious pinchos. Along Plaza de Cañadío you can find some of the best pinchos bars and expect to pay about €2 each per selection. It's a great place to eat and continue your evening indulging in the nightlife in the area.
Santander is easily reached by a flight within Europe as well as domestic buses and trains. There are even ferry options for reaching Santander.
In the summer, you have the best chance for sunny and warm weather. In northern Spain, the temperature can be cooler than other regions of the country, but in the shoulder season, you should have pleasant weather with fewer crowds.
Spring can be hit or miss for beach weather so to avoid peak season but still enjoy the beach and snap gorgeous photographs – September is an ideal time of year to visit.
Bilbao

recommended by Erick and Kirsten from Travelaar
Basque Country is growing in popularity after its turbulent recent past where the ETA reigned. Luckily, the days of terror are over and the region has transformed into an amazing place to visit with lots of nature, cool cities, but mostly an amazing vibe.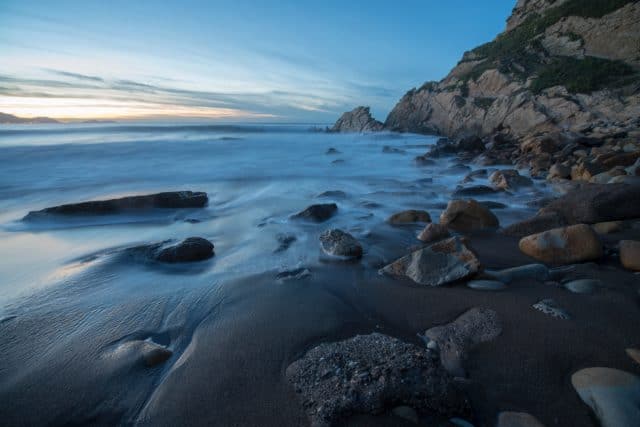 At the center of all this awesomeness is Bilbao, Basque Country's largest city. It is not too big to get lost in, but big enough to spend a few days.
The old town, north of the canal, is a maze of small streets with a lot of cute restaurants and bars.
The region is known for its pintxos (or pinchos) – small pieces of food, mostly on slices of baguette. The best place to go for pintxos is Plaza Barria, which houses a few dozen small restaurants.
Aside from food, make sure to visit the main attraction in Bilbao -the Guggenheim Museum, which is one of the key reasons for the city's steady growth in tourism.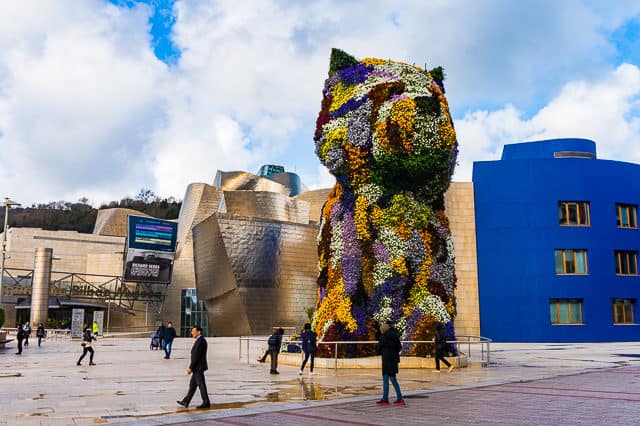 Bilbao has the largest airport in the region, so the easiest way to get there is by plane. Visit during late spring or early summer to get the best lighting for your photos. The weather during these seasons is also nicer to enjoy your Sangria outside on a terrace.
San Sebastián

recommended by Campbell & Alya from Stingy Nomads
San Sebastián or Donostia is a coastal city in the Basque Country, in the North of Spain. It's one of the most beautiful Spanish cities with a perfect combination of the beautiful architecture, wide sandy beaches, green hills surrounding the city and the sea. No wonder the city was chosen as the location for one of the major European Film Festivals.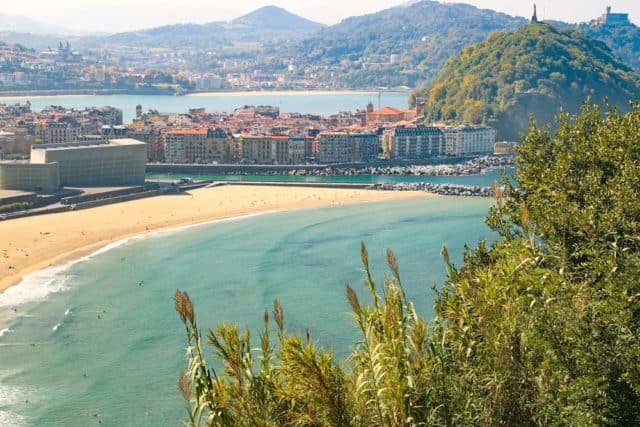 San Sebastián is a real paradise for outdoor lovers; surfing, kitesurfing, paragliding, mountain biking and hiking are probably the most popular activities here.
Surfing culture in the region is quite big; surf shops, gear rental places, schools and even surf hostels can be found for those who want to learn surfing.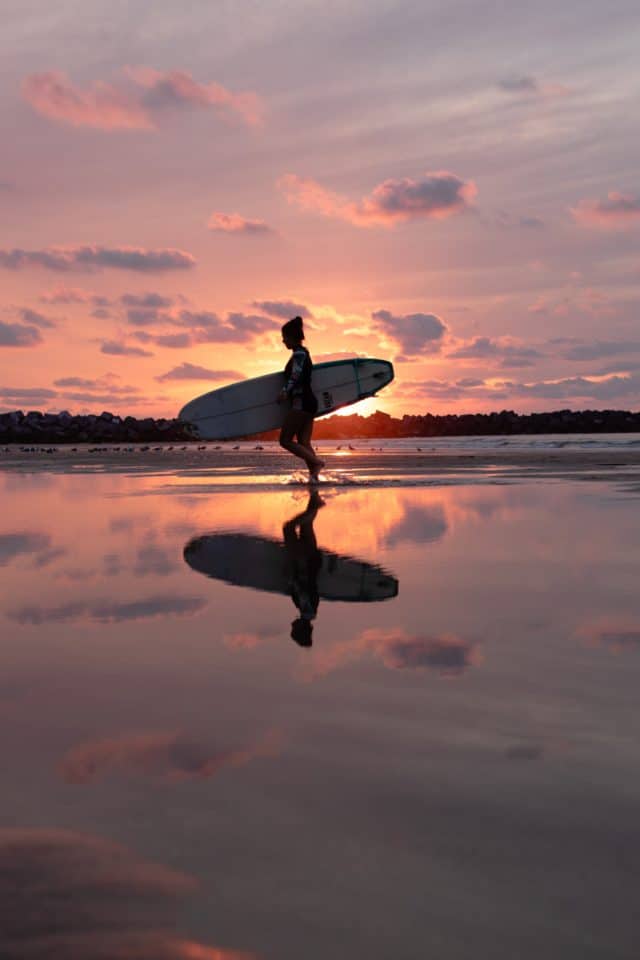 Hiking is another popular activity. There are several short hikes to the look-outs and view-points in the city as well as longer walking routes including the Camino del Norte, one of the pilgrimage routes to Santiago de Compostela.
One of the most scenic hiking trails is the route from San Sebastián to Pasaia, a small beach town, about 10 km away. The trail follows the coastline and offers fantastic views.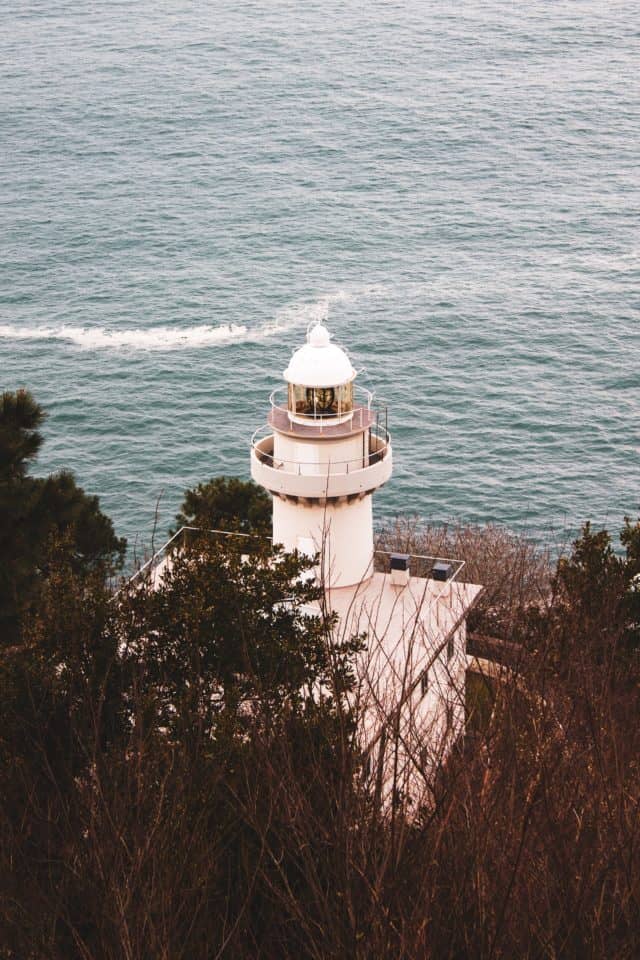 It is worth noting that San Sebastián has amazing seafood. You'll be surprised by the diversity and complexity of pincho-dishes you can get here!
Summer is the best season for visiting San Sebastián with July and August being the busiest months here. For those who want to escape the crowds and still be able to enjoy the good weather, June and September are good alternative months.
There is a local airport 30km from San Sebastián with several daily flights from Madrid, Barcelona and other major cities in Spain.
The nearest international airport, however, is in Biarritz, a French town on the border with Spain, just 38km from San Sebastián.
---
As promised, here is a map of Spanish cities mentioned above, making trip planning a little easier:
Of all the cities in Spain we've introduced in this post, which one intrigues you to visit next? Tell us in the comment below!
Enjoy this post? Save THIS PIN on your Spain Holiday Destinations board on Pinterest so you know exactly where to travel in Spain next time!