This site uses affiliate links and we may earn a small commission when you use our links and make a purchase without incurring additional fee yourself. Many thanks for supporting this website. Please see our disclosure page for more details.
You can think of Okanagan Valley in British Columbia as the Napa Valley of Canada – a place where people flock to for exquisite wines paired with farm-to-table fare in dreamy vineyard views.
There's a lot to explore in the 200km-long Okanagan Valley, and if you're a first-timer, Kelowna is a great place to start! Within a 20 min drive, you can find more than 40 wineries, a handful of cideries, and an impressive amount of locally-driven pubs and eateries – enough to keep you busy for a week!
Wining and dining are no doubt one of the top things to do in Kelowna. If that sounds like your type of vacation, keep reading. I (Cat) have compiled a list of the best Kelowna wineries, cideries and eateries to tempt your palate!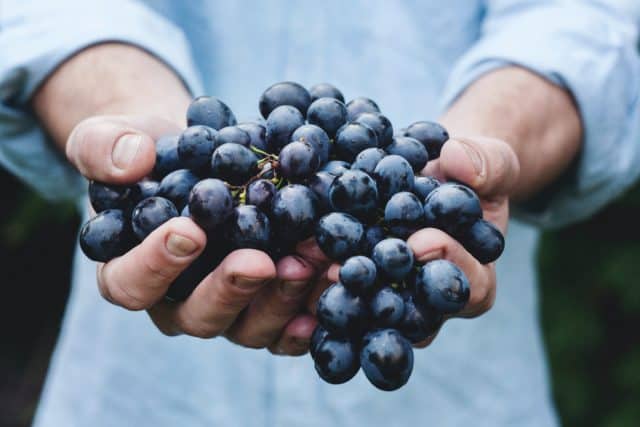 Can't make it all the way to Kelowna? Get a taste of the Okanagan Valley at Lulu Winery in Richmond!
1| CedarCreek Estate Winery
CedarCreek has been around for three decades, is one of the first pioneering wineries in Kelowna, BC, and has won the "Canadian Winery of the Year" title three times in its wine-making history. Not many Okanagan wineries can boast those credentials.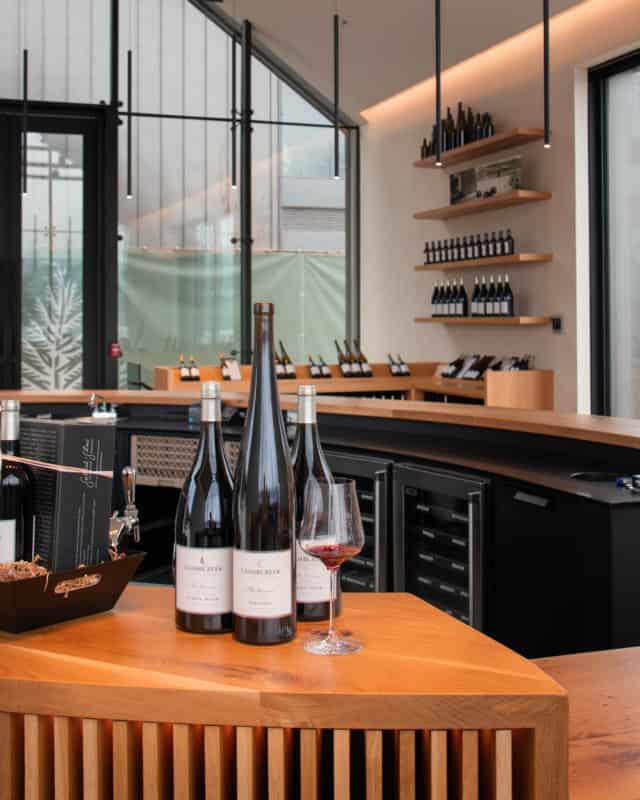 After a round of wine tasting, it quickly became evident to me why their wines have collected so many awards. Whether it is the signature Pinot Noir or award-winning Riesling, their wines are bright and expressive. That's probably one of the reasons why it has built up such a loyal following.
As much as I loved the wines, what really stood out to me about CedarCreek is the dazzling tasting room. High ceilings, soaring windows, and breathtaking views of Okanagan Lakes – the modern space is, hands down, the most beautiful place to indulge in wine tasting in Kelowna.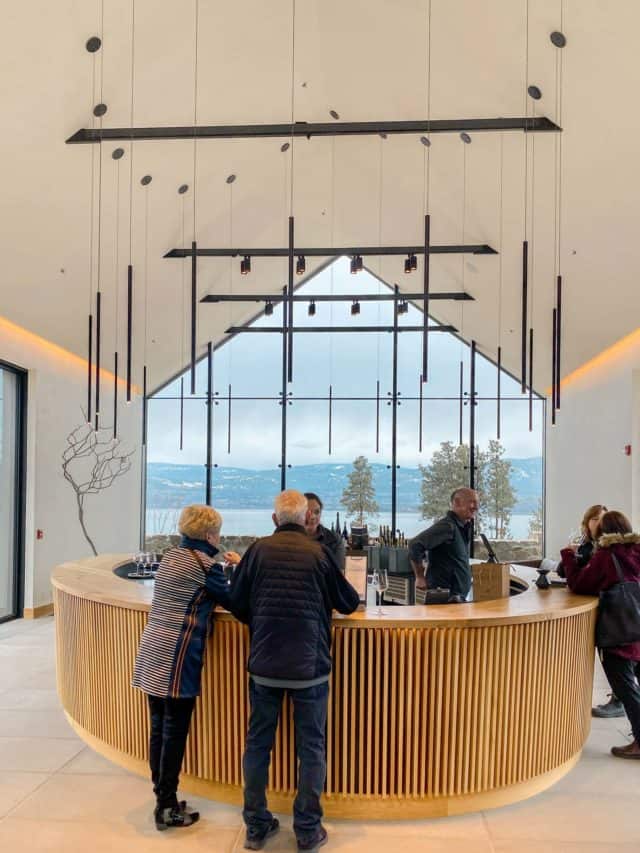 Estate vs Platinum wines: At CedarCreek Estate Winery, they produce two tiers of wines — Estate and Platinum. The best of the wines are designated "Platinum", making from grapes representative of interesting local sites and old heritage blocks. It is not to say that Platinum will taste better than Estate (after all, taste is subjective); instead, the designation suggests that the wines have a taste profile that is distinctly CedarCreek.
2| Summerhill Pyramid Winery
Natural, organic and biodynamic wines are on the rise among wine lovers. We first learned about these production techniques on our trip to Nova Scotia and got really intrigued by this approach to farming and producing wines.
We're sure you would too because… is there any reason not to drink wines that have fewer chemicals and are kinder to the environment?
When it comes to organic and biodynamic wines in Okanagan Valley, BC, no one does it better than Summerhill Pyramid Winery. It is the first and only winery in the BC to have its vineyard certified by Demeter, an international organization that sets the standards for biodynamic agriculture.
Another selling point for Summerhill wines is that they have all been aged in the "pyramid" for 30 days. It is believed that the pyramid has a clarification effect on the wines, like the Roman arches, and will make the liquids smoother and more aromatic. Does it actually work? Taste tests proved it does!
It is also worth noting that Summerhill specializes in sparkling wines, and it is BC's largest producer of sparkling and icewines. One sip and you'll fall in love with them!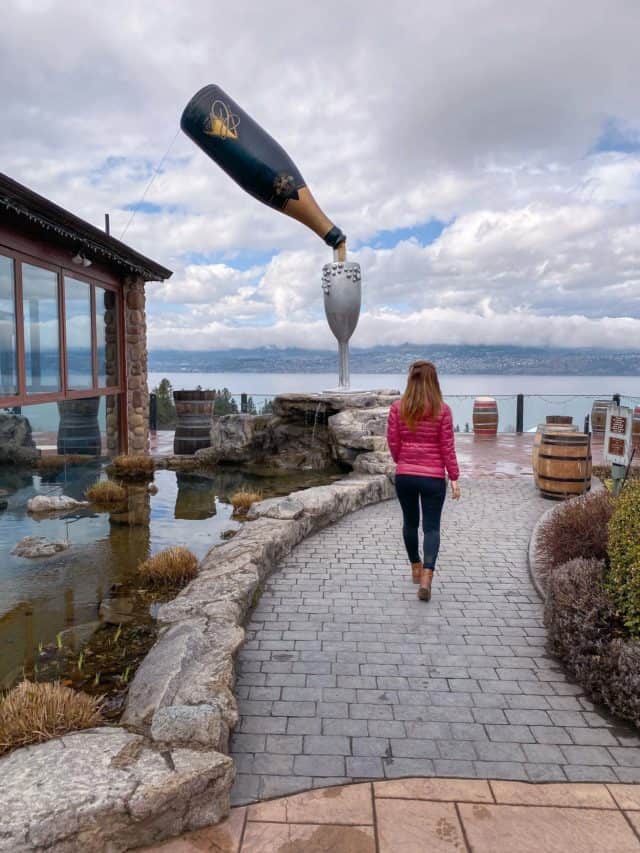 Whether you believe in pyramid power or not, we encourage you to visit Summerhill and taste for yourself why it is consistently named the best Kelowna winery!
3| Vibrant Vine Winery
Vibrant Vine might not have a pyramid to market itself, but its funky 3D art will definitely catch your attention. Welcome to the home to the world's only 3D-art tasting room!
Unlike other Kelown, BC wineries, Vibrant Vine does things in unconventional ways. Instead of a wineglass, you will be handed a pair of 3D glasses upon arrival because everywhere you see – the walls, the bottles, the clothing – is 3D.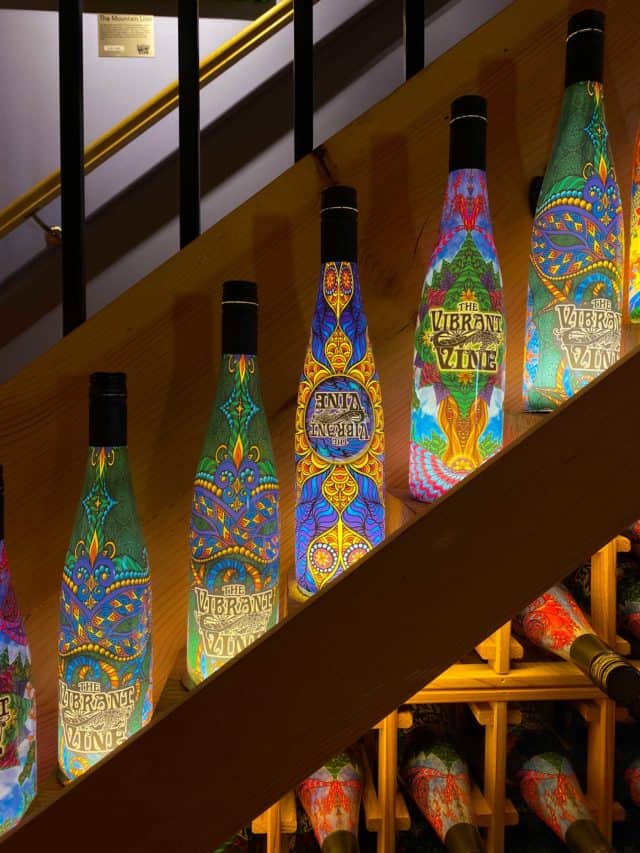 The goal at Vibrant is to help people find the wine they like through interactive art. Each bottle expresses its individuality in its own way, starting from its label.
Aside from their art pieces, Vibrant Vine also makes delicious Okanagan wines. In fact, their famous "Woops" has won them the Best White Wine at the 2013 World Wine Competition in Geneva, Switzerland!
If you're in a mood to try something different, definitely check out Vibrant Vine!
4| Sperling Vineyards
With so many trendy wineries popping up in Kelowna, it can be easy to overlook the originals. Let's not forget these trailblazers and their role in shaping the BC wine industry.
Sperling Vineyards, the oldest vineyards in Kelowna, BC, hold so much history. From planting grapes in the 1920s to launching the family wine label in 2008, Sperling has passed down through four generations and continued to evolve. As of 2017, all wines from the Sperling family estate are organic!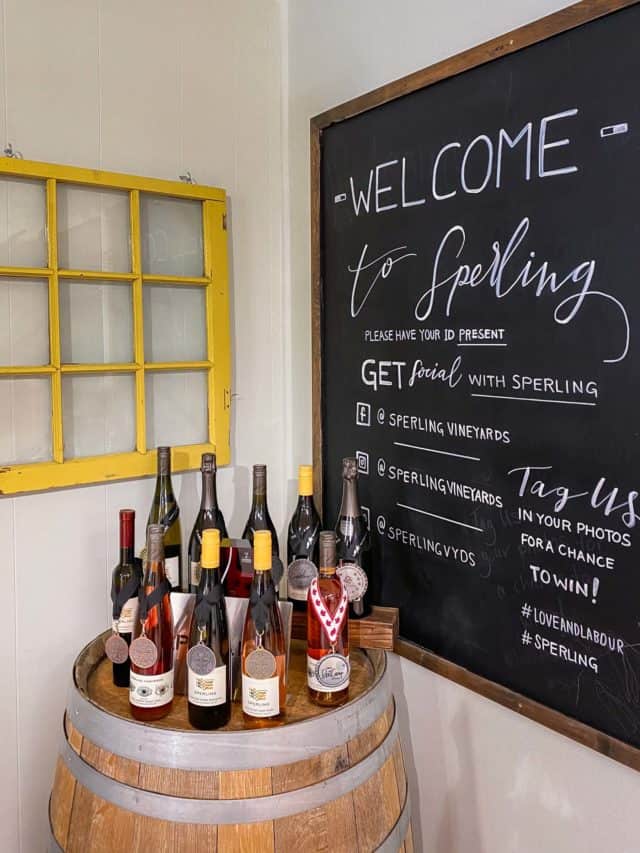 Sperling's broad selection of wines is divided into three different series: "Heritage," "Market," and "Vision." Heritage focuses on bright, mineral-driven wines from old vines; Market wines are blends of several varieties; and Vision is all about the estate's small lot, "reserve" wines.
Winemaker Ann Sperling has also extended her footprints to Southbrook Winery in Niagara-on-the-Lake (the first biodynamic winery in Canada) and Versado Wines in Mendoza, Argentina. So if you enjoy Sperling wines, you might also like her other projects!
5| BC Tree Fruits Cider
Sure, we can go on and on about the top Kelowna wineries and their astonishing achievements. But can we take a moment and give cideries the appreciation and attention they deserve?
BC Tree Fruits Cider is a popular Kelowna cidery. They take their cider-making game seriously – 100% BC apples, no artificial flavours, no refined sugars, no added water.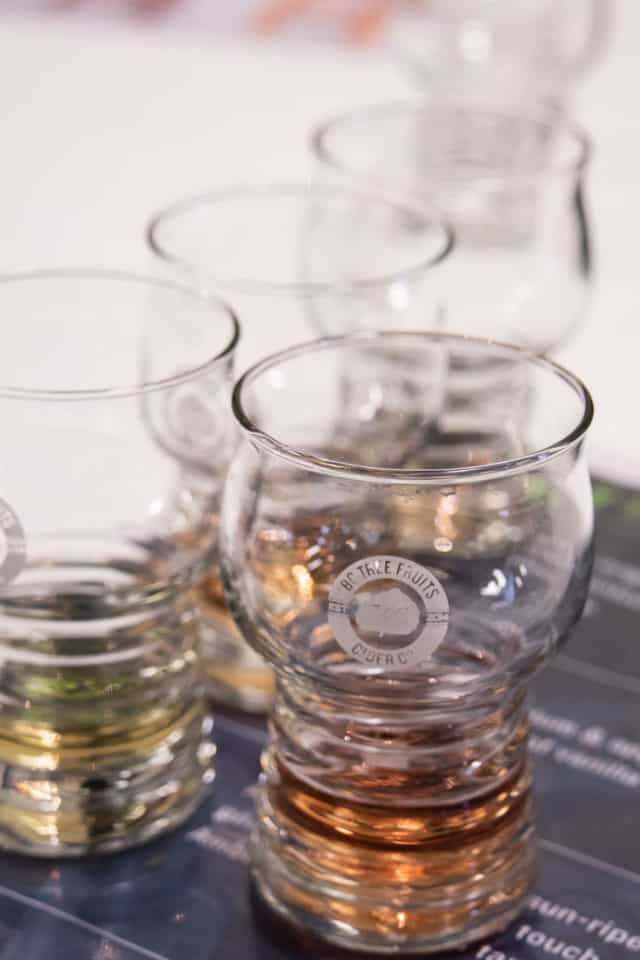 The results? Clean, crisp, fruit-forward ciders that won them many awards and praise. For three straight years, BC Tree Fruits Cider was voted the best cidery in Kelowna!
What surprised me the most is the many different flavours of ciders they produce. From plum and basil to fermented Syrah grapes, there is a great selection to try, and you will sure to find one that pleases your palate!
Don't have time to finish reading? Save THIS PIN on your Canada Travel board on Pinterest so you can refer back for the top wineries and restaurants in Kelowna!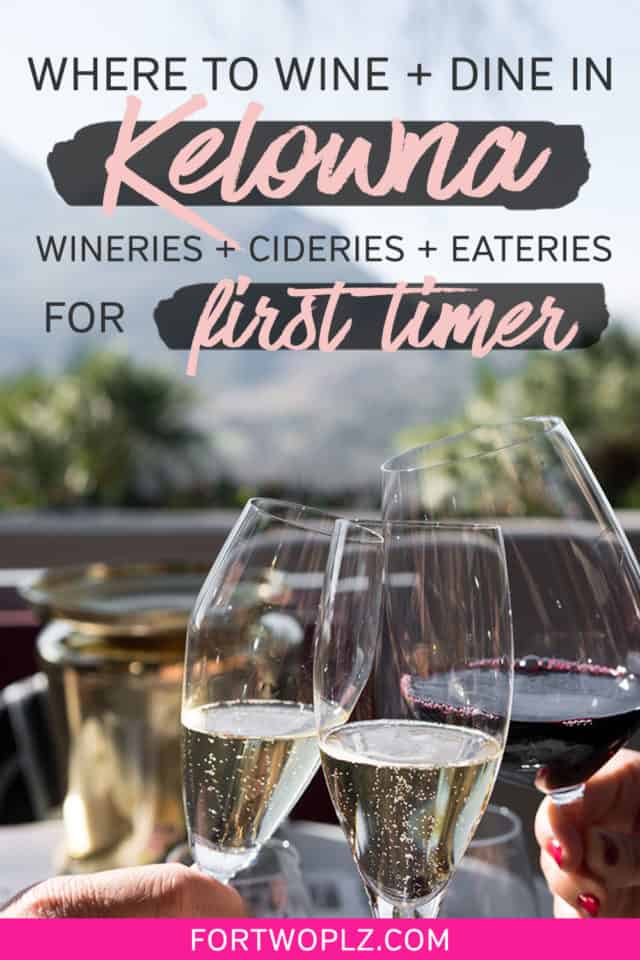 6| Upside Cider
Upside Cider is the new kid in town, but it differentiates itself by fully committed to environmental sustainability and biodiversity.
Using only organic fruits, Upside prides itself being the first organic cidery in Kelowna, striving to produce the finest ciders with tasty, complex flavor profiles.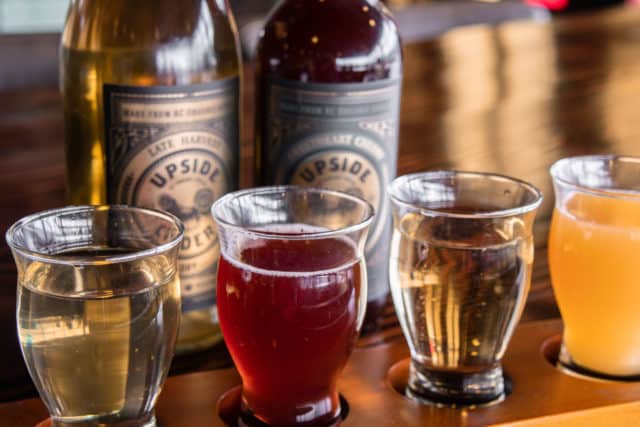 Even though they originally launched with just 4 varieties, their line of ciders is continuously growing to include new and innovative flavours by combining apples with other fruits!
Upside is only minutes away from the Kelowna International airport, allowing those who fly to start or end their Kelowna vacation on a very tasty note.
7| Home Block
Where there is good wine, great food follows. In Kelowna, there is no shortage of places to grab a delicious meal.
For formal dining, I recommend Home Block, one of the best Kelowna winery restaurants. This farm-to-table is located right at CedarCreek Estate Winery and serves up seasonally inspired fare that showcases the bounty of the region.
The beauty of this restaurant is that it gives you sweeping lake views, regardless you sit indoor or outdoor.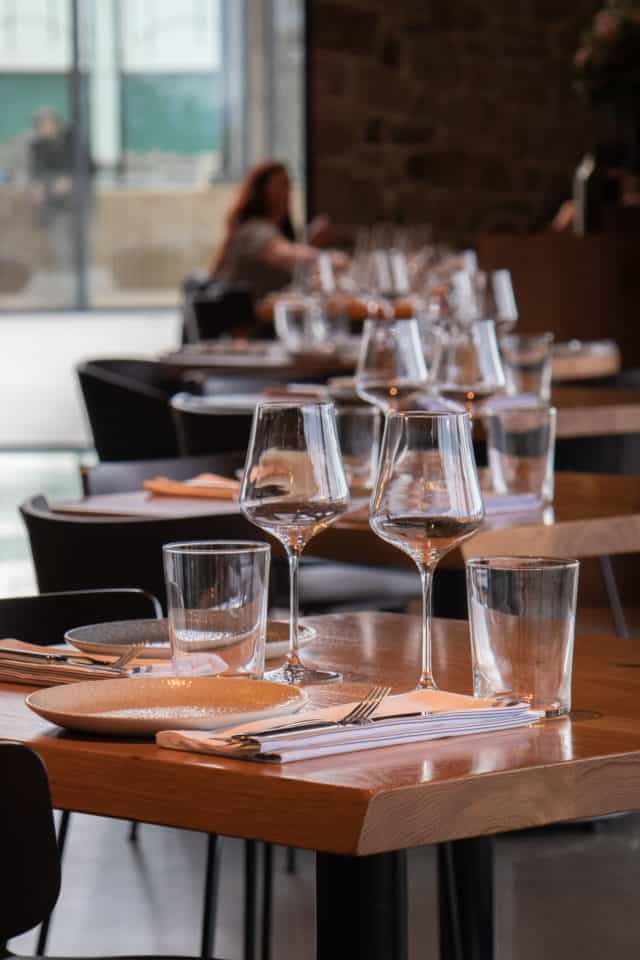 Home Block has truly created a spot where you can sit down and enjoy delicious food paired with excellent Kelowna wine. Go light with a 2- or 3-course wine-paired meal, or immersive with a 5-course menu (plus barrel-tasting!!), either way, the journey at Home Block will be truly special.
If you're doing any food and wine exploration in Kelowna, plan a lunch or dinner here. As one of the best restaurants in Kelowna, Home Block will craft you a memorable dining experience.
8| Skinny Duke's Glorious Emporium
If you're wondering where locals actually hang out, head over to Skinny Duke's Glorious Emporium. This 70's-themed retro restaurant is funky, eclectic and will make sure you have a good time.
They are known for their thin-crust pizzas, baked fresh from the oven (inherited from the former owners of the building). But you will also find ultra-creative plates like thai dim sum and crispy rice salad on the menu.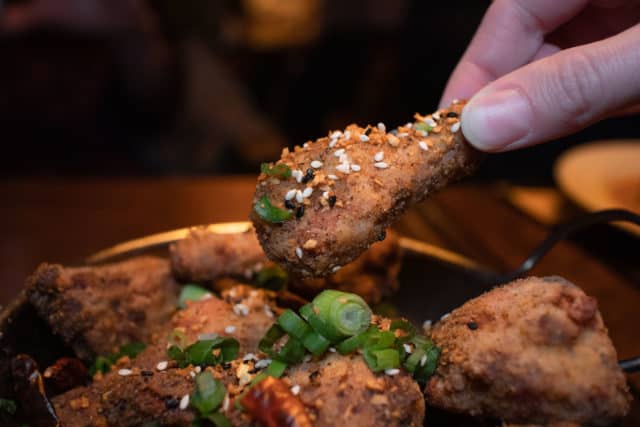 To go with the food, Skinny Duke's also offers up a menu of terrific cocktails. One sip will leave you wanting more!
9| Jack's Pizza & Liquor
Adventurous drinkers will not want to miss Jack's Pizza & Liquor, a humble hole-in-the-wall eatery in downtown Kelowna.
Their cocktail list is replete with inventive cocktails to accompany a menu of delicious small bites and lip-smacking thin-crust pizzas.
Can't find the drink to match your mood? Tell them what you like and the skillful mixologist will whip up a tantalizing drink tailored to your preference. A perfect place to take your taste buds on exotic adventures!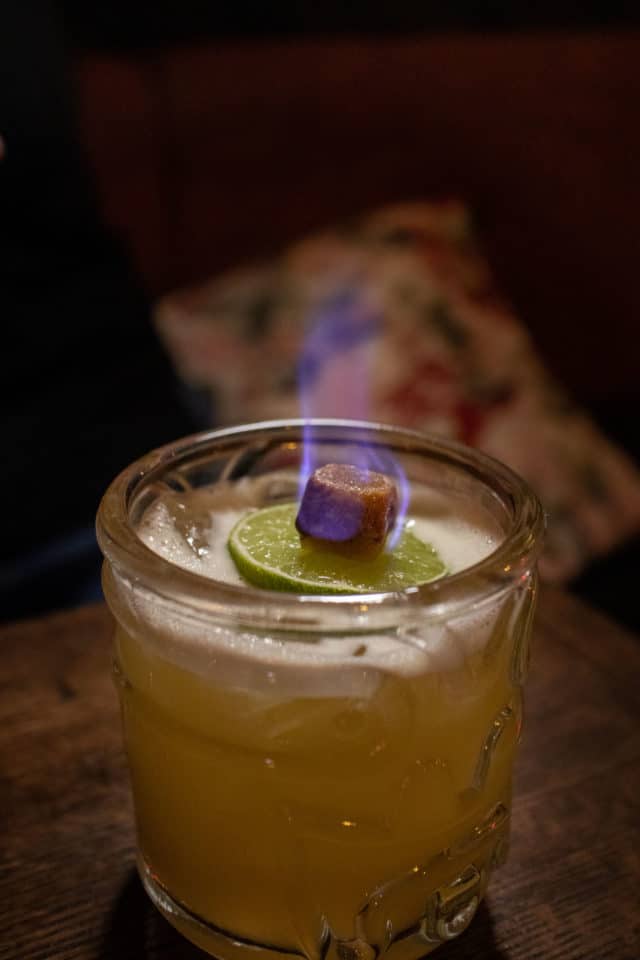 10| The Whisky Room
Any whisky aficionado out there? I've got a recommendation for you – The Whisky Room at Hotel Eldorado.
With over hundreds of whiskies, the bar is the best in town for those after some good old liquid gold. You'll find whiskies from all corners of the world. Whether you are Scotch, Bourbon, Japanese, or other whisky lovers, you will find your favourite here.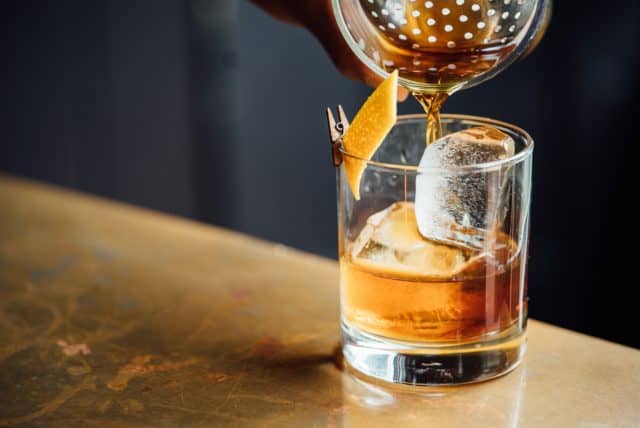 Aside from whiskies, The Whisky Room also offers barrel-aged whisky cocktails to give you the smoothest possible taste!
11| Bright Jenny Coffee

Started out of a trailer in 2015, Bright Jenny Coffee (formerly known as Canoe Coffee Roasters) rapidly gained popularity in the Kelowna communities. As the business grew, Bright Jenny expanded its operation into a brick-and-mortar site.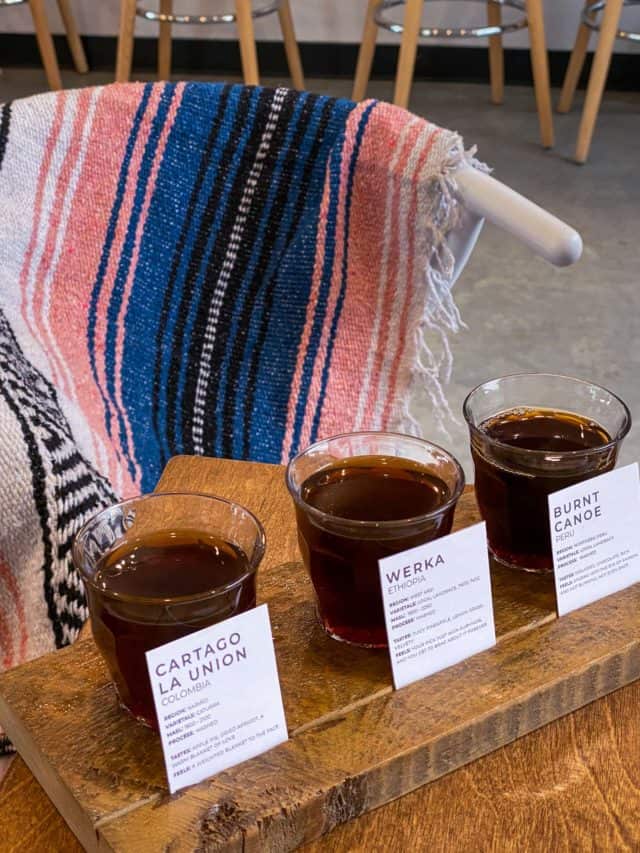 Many factors played into this Kelowna cafe's popularity and it is hard to pinpoint just one. But I know for a fact that they roast their own beans, and profiles are typically on the lighter, brighter side, allowing the true characteristics of the coffee's origin to shine.
Instead of ordering a drip to go, why not sit down for a deconstructed latte and a coffee tasting flight? This way, you can appreciate the flavors of the coffee much more.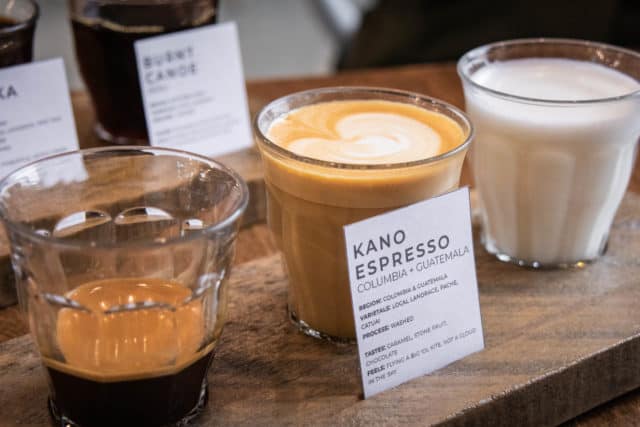 Aside from a roastery and a cafe, Bright Jenny's open-concept warehouse space also hosts coffee classes, concerts, and other events. This popular cafe in Kelowna is absolutely a must-visit for coffee fanatics!
12| Karat Chocolate + Pastry Boutique
Finish your Kelowna trip off right with a visit to Karat Chocolate + Pastry Boutique. I promise, their gorgeous-looking desserts will have you ooh and ahh and forget all about dieting!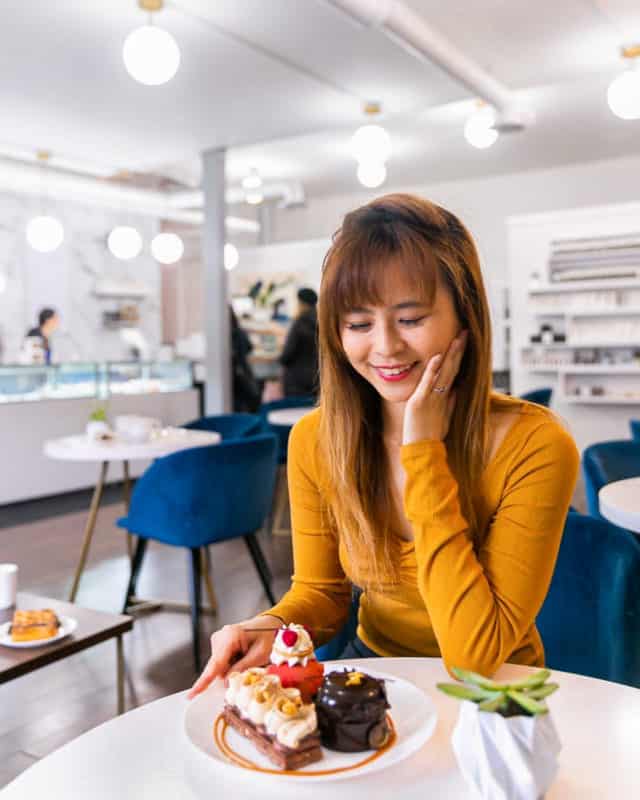 Owned and operated by award-winning pastry chef Julian Helman, this boutique pastry shop is home to some of the best desserts in Kelowna.
Karat started off being famous for its handcrafted chocolates (take a look at their colorful, glossy bon bons!), then expanded its menu items to incorporate pastries and desserts.
Combining his passion for design and dessert, Chef Julian is constantly crafting new and innovative creations that are not just cool for the 'gram, but also taste amazing.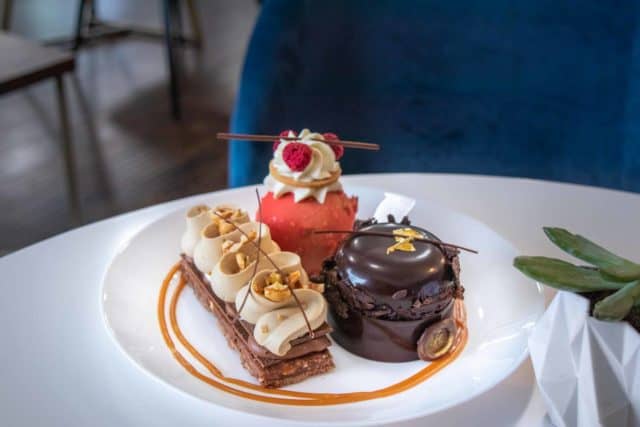 Their commitment to using seasonal and local ingredients means the dessert lineup is subject to change so you're always in for a surprise!
---
So… are you ready for a foodie road trip to Kelowna?
Use the map below to help you plan your next Kelowna foodcation:
One last thing… before your trip to Kelowna:
make sure to check British Columbia's Travel Guidelines and Tourism's Kelowna COVID-19 Updates on if non-essential travel is permitted, if there is any specific precaution to take when visiting the region, and what to do if you become ill during or after travel
understand the new safety protocols and guidelines of the businesses you're visiting, many of which (including wineries) require guests to make reservations in advance
make sure to you understand the cancellation and/or refund policies when making reservations
Enjoy this post? Save THIS PIN on your Canada Road Trip board on Pinterest so you know exactly where to visit in Kelowna on your trip!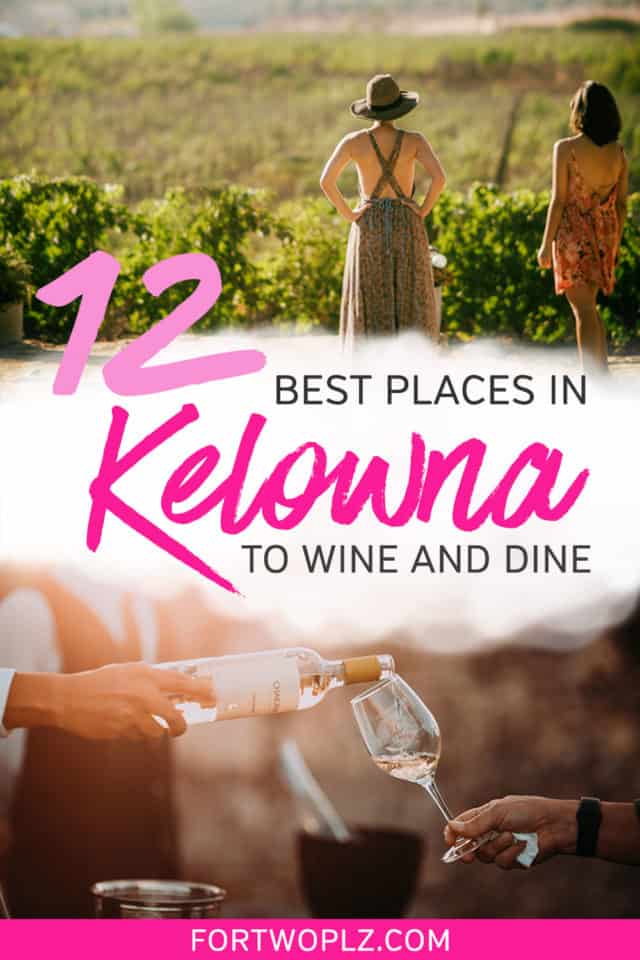 Disclaimer: We were hosted by Tourism Kelowna. As always, all opinions on For Two, Please are our own and we only recommend brands that we 100% stand behind.