This site uses affiliate links and we may earn a small commission when you use our links and make a purchase without incurring additional fee yourself. Many thanks for supporting this website. Please see our disclosure page for more details.
Imagine taking a stroll through a vineyard and feeling the warm summer breeze while sipping a chilled glass of Icewine. Wouldn't life be perfect if you could do that every single day? In Niagara, Kev and I had a taste of that perfect life on our wine tasting tour with
Lakeview Wine Co
. From white, to red, to Icewine, we smelled, tasted and pleasured our senses until we got a sugar hungover. Before I knew it, I already had 2 bottles of Icewine in my hands and was ready to check out! What exactly did we do on our wine tasting tour? Read on!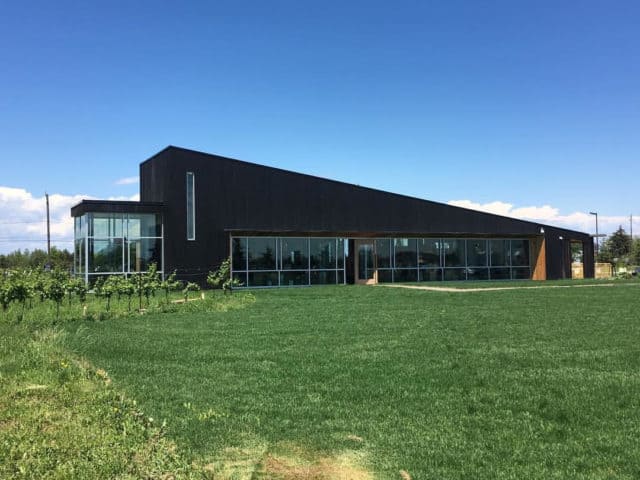 Niagara Wine Tasting Tour at Lakeview Wine Co.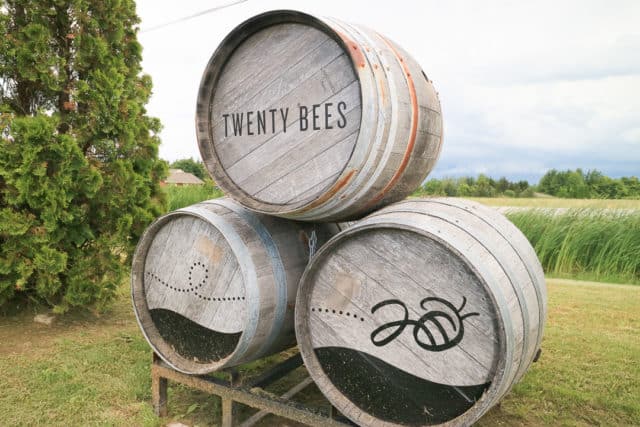 If you've had 20 Bees, Lakeview Cellars, or Dan Aykroyd before, then you're no stranger to Diamond Estates. As Ontario's 3rd largest producer of VQA wines, Diamond Estates produces a wide range of wines crafted to suit every palate. Whether you are a seasoned connoisseur or a novice, you should have no difficulty finding one that you like!
In late 2016, Diamond Estates opened Lakeview Wine Co, the new flagship retail and wine tasting centre in Niagara-on-the-Lake. Here, you will find all sorts of delicious reds, whites, rosés, sparkling wines, Icewines, and even kosher wines!!! It's truly a wine lover's paradise!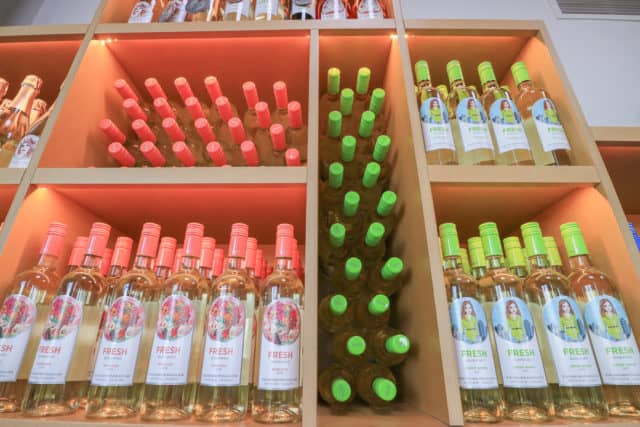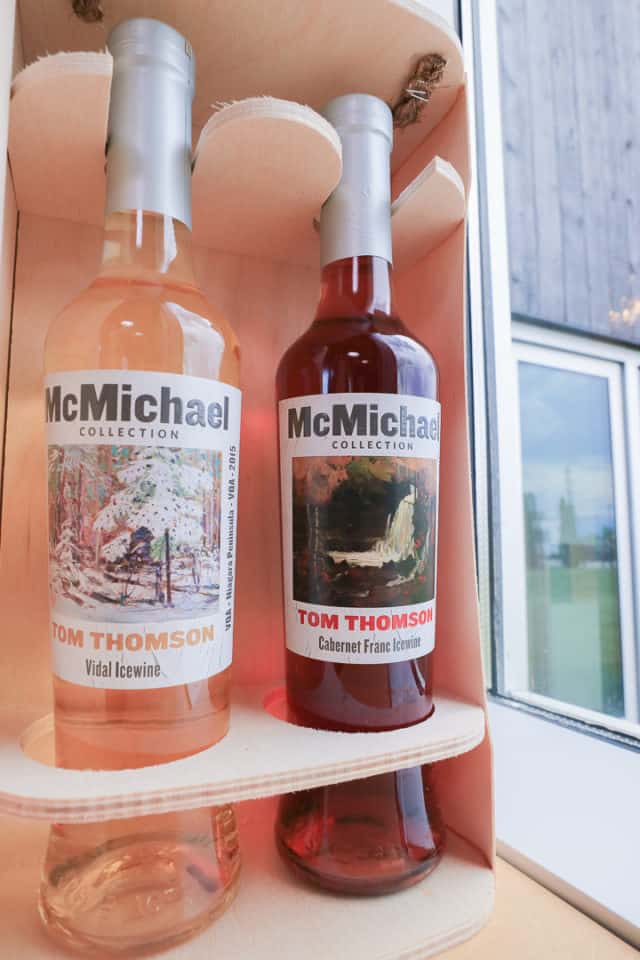 Awakening Our Senses with FRESH
We started our wine tour with guided tasting at the welcoming new space. To match our adventurous spirit, the Wine Expert specially wines from the FRESH line to impress us.
Launched in 2012, FRESH wines are crafted in a vibrant and approachable style that appeals to intrepid millennial palates. This is especially evident in its colorful and creative labels. On top of that, what really caught our attention is its philosophy. No matter which wine you pick – be it the fresh opportunities, fresh ideas, or fresh adventures – you can see that it is all about the discovery or celebration of life!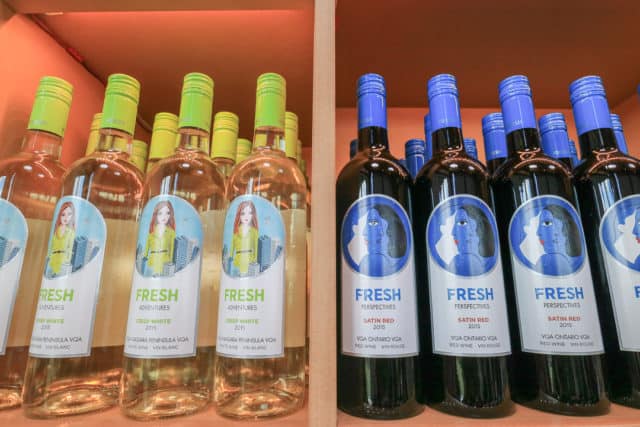 Instead of delving straight into the wines, the Wine Expert walked us through the basic steps of wine tasting:
Look: Slightly tilt the glass and inspect the wine under neutral lighting. Check for clarity and colour. Healthy wines should be clear and without sediments. The colour of the wine tells you its age. Generally speaking, the older a white wine is, the darker its color will be. The opposite is true for red wines which get lighter with age.
Swirl: Give the glass a swirl. Pay attention to the "legs" or "tears" that run down the sides of the glass. Wines that have more legs have more alcohol content. The slower the wine tears drop, the higher sugar content a wine has.
Smell: Stick your nose into the glass and take a good sniff. Identify key fragrances.
Taste: Finally, take a taste!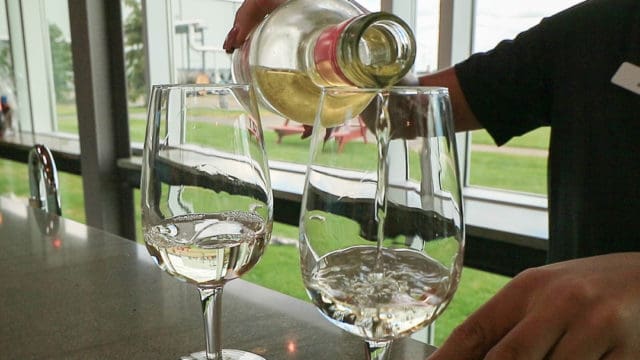 I instantly fell in love with the Fresh Beginnings Moscato 2016! This refreshing white was strikingly sweet and bursting with perfumed floral aromas and wonderful hints of peach, citrus, and pear.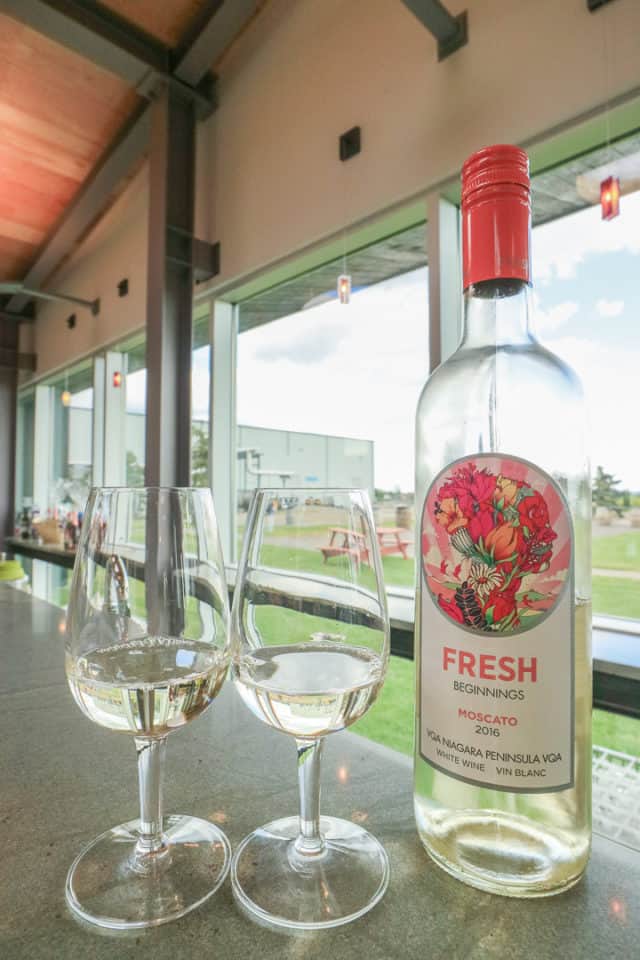 What surprised me more was the Fresh Perspective Satin Red 2015. Blending together Baco Noir, Gamay Noir and Merlot, this red showed a light pepper aroma, accented by notes of ripe red berries and dark chocolate – very different from the reds we had tried before!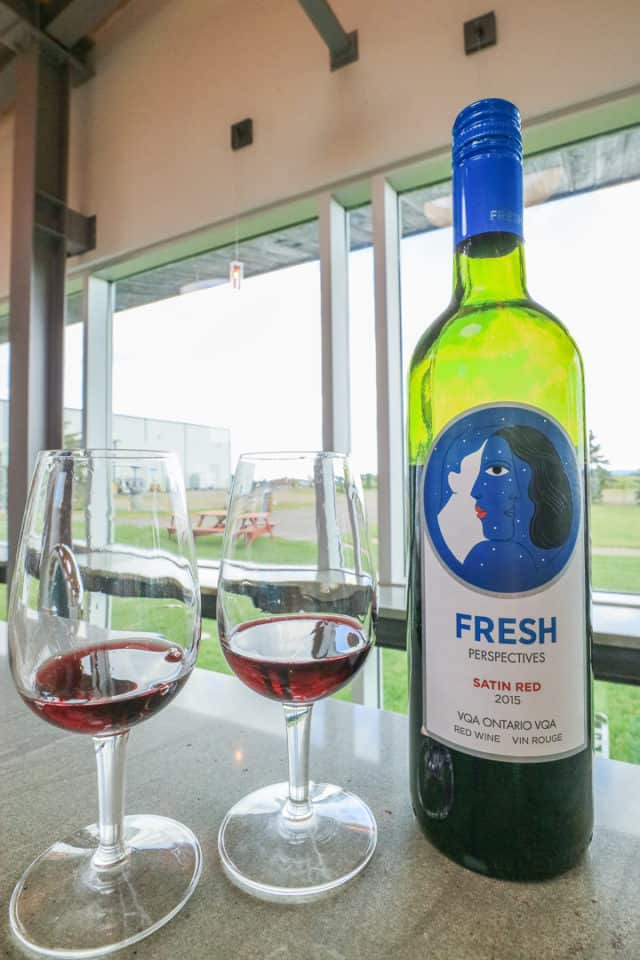 [bctt tweet="Attention #WineLover: Join this tour to taste the best wines in #Niagara! #travel" username="fortwoplz"]
A Sweet Escape with Lakeview Cellars Icewine
Then came the highlight of our wine tasting tour – the famous Icewine!
We proceeded to the vineyard as the Wine Expert explained to us how Icewine is made. This lusciously sweet wine is renowned for its rich texture and mouthfeel. The thick golden liquid and its high sugar content are created from grapes that have been left to freeze naturally on the vine.
To be qualified as Icewine, certain requirements must be met, for example:
It must be produced from approved grape varieties
The grapes must be naturally frozen on the vine and harvested and pressed in a continuous process while the air temperature remains at or below -8°C. No artificial freezing is permitted!
The average sugar level of the juice used must reach at least 35° Brix (Brix is the measurement of sugar in grapes)
Both the alcohol and residual sugar in the finished wine must result exclusively from the natural sugar of the grapes
And these requirements are monitored by VQA to ensure high quality is maintained.
Note: VQA stands for Vintners Quality Alliance. It is Canada's appellation of origin system, similar to France's AOC, Italy's DOC, and the United States' AVA. If you see VQA on the label, it means the wine is made from 100% Ontario-grown grapes, which have been approved through a strict quality assurance program.
Pro tip: An easy way to tell if an Icewine is real or fake is through the label! If Icewine is spelled as two words and if the VQA symbol is not present, it is a counterfeit.
The most common grape varieties used to produce Icewines are Vidal Blanc, Riesling, and Cabernet Franc. We were lucky to try Gewürztraminer, Cabernet Sauvignon and Shiraz Icewines from Lakeview Cellars that are produced in smaller amounts!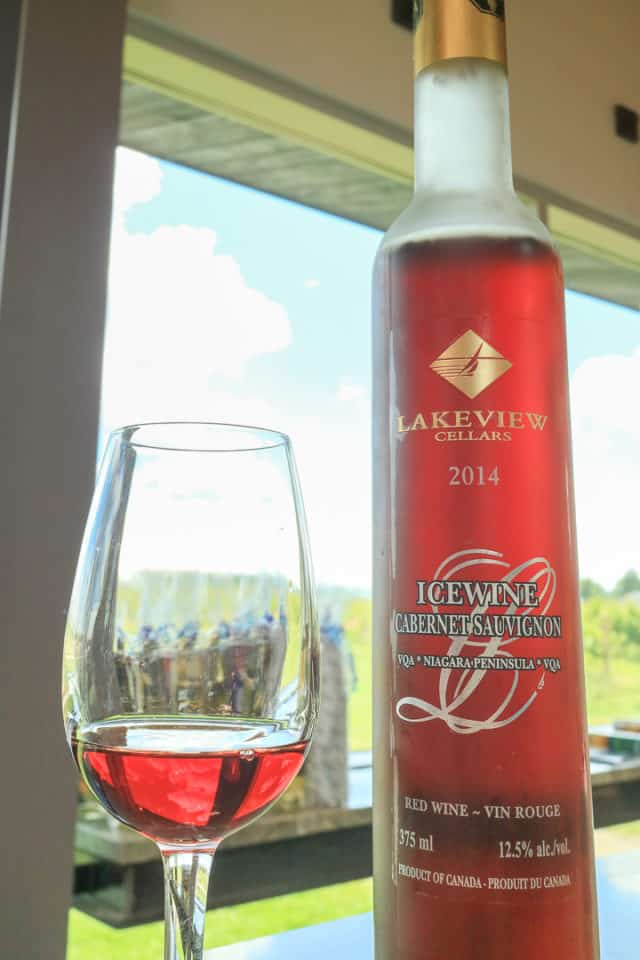 We absolutely adored Gewürztraminer Icewine's intense floral scent and sweet-spice flavors. We were also amazed by Shiraz Icewine's inviting strawberry jam aromas. Knowing that these Icewines are difficult to come by, we immediately add them to our shopping cart. Plus, Lakeview is the only winery in the Niagara region that produces Shiraz Icewine! #GottaGetThat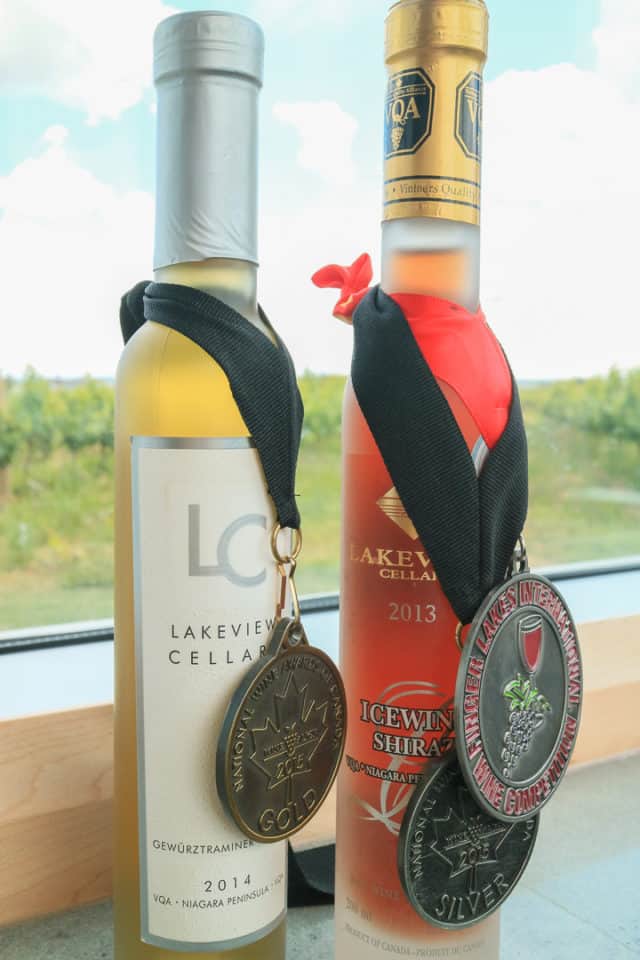 Pro tip: Lakeview sells value packs. You can buy a set of 2 or 5 Icewines at a much cheaper price than purchasing them individually! If you love what you sampled, buy it there because they are not sold at airport's duty-free.
An Insider's Look into the Winemaking Process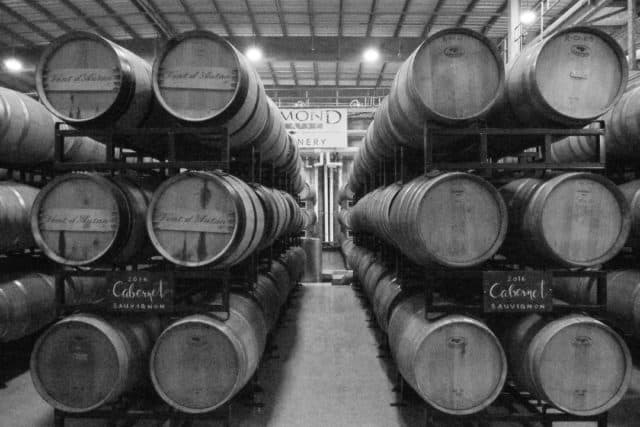 Our Niagara wine tasting tour ended at the cellar floor. The Wine Expert led us through the 1000 sq. ft. space and gave us an insider's look into the winemaking process.
What makes the Niagara region so suitable for growing wines? What are the winemaking processes for red, white and Icewine? What does a typical year in the vineyard look like? We had our questions answered.
Interesting fact: On average, 1.5 grapes make 1 ml of table wine, but you will need 10 Icewine grapes to produce 1 ml of Icewine. That's why Icewine is so much more expensive!
---
Kev and I had an incredibly educational and fun afternoon touring with Lakeview Wine Co. If you're in the area, be sure to stop by and delight your taste buds on this top Niagara wine tasting tour!
About Lakeview Wine Co.
Website: https://www.lakeviewwineco.com
Address: 1067 Niagara Stone Rd., Niagara-on-the-Lake, Ontario