This site uses affiliate links and we may earn a small commission when you use our links and make a purchase without incurring additional fee yourself. Many thanks for supporting this website. Please see our disclosure page for more details.
People usually don't think of Niagara Falls as an adventure travel destination. If you ask those who have visited before for things to do in Niagara Falls, they would tell you to take a boat tour. Or, go right behind the Horseshoe Falls to feel the magnitude of the rushing water. Or, join a wine tour in the Niagara-on-the-Lake region. I did those 10 years ago when I visited for the very first time and had a fabulous time. This year when Kev and I revisited, we tried something different. Something more thrilling! In this post, I want to share with you my version of top Niagara Falls activities, specially designed for adventure seekers!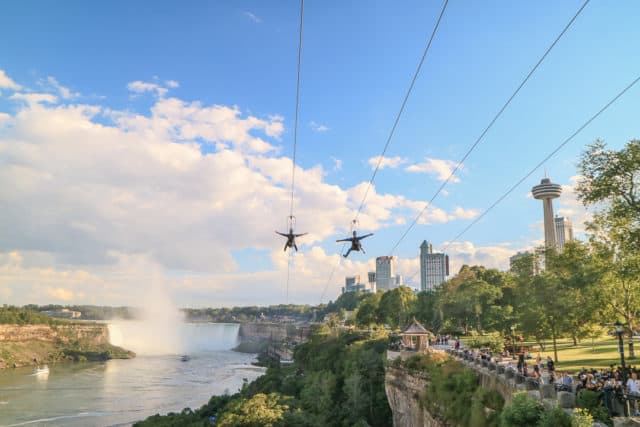 1| MistRider Zipline to the Falls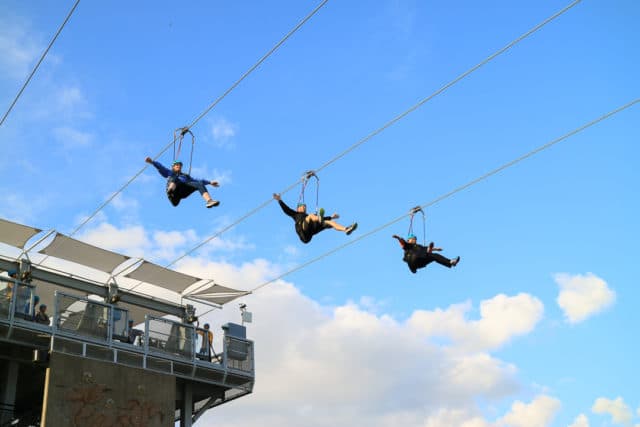 Do you feel the need for speed? Then you'll love WildPlay's MistRider Zipline to the Falls! This new attraction offers a unique perspective of the world-famous natural wonder.
Suspending 67m above the gushing falls, Kev and I glided side by side, traveling over 670m towards the mist of the mighty Falls at an incredible speed of 70+kph. We started at the top of the tower near the Hornblower Niagara Cruises and ended near the base of the Horseshoe Falls. The whole ride lasted about 60 seconds and it was EXHILARATING!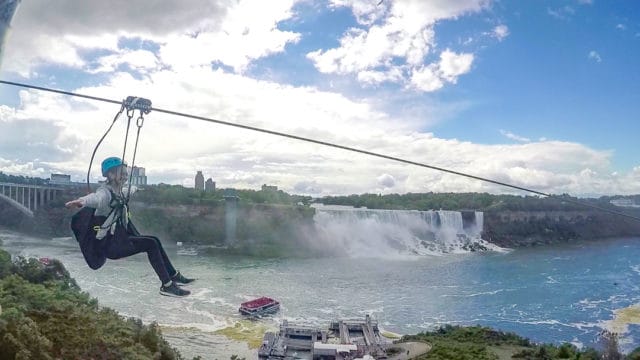 And the views? Best of the best! Not only was it incredible to be so close to the American, Bridal Veil and Horseshoe Falls, the wind and the mist splashing on our face really made us feel the incredible power of nature!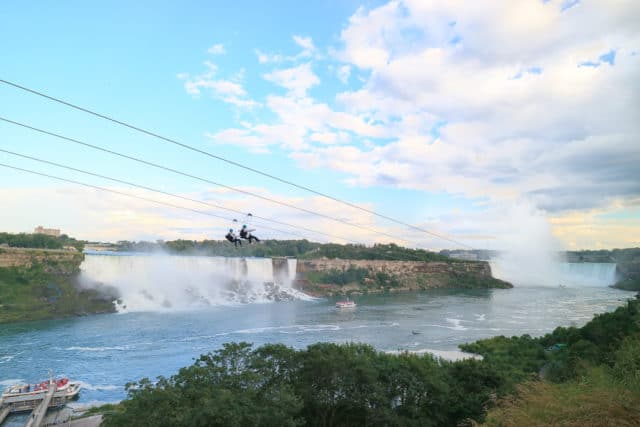 If you're worried about safety, don't be! The staff will get you outfitted in a seated harness, helmet, and other necessary gear. There's gating system at the starting point that will only open when all four ziplines are clear. When you get to the bottom, the automatic braking system will safely bring you to a complete stop. These guys do the best they can to keep things safe and fun!
Pro tip: Don't bring a selfie stick. If you want to take videos/photos, you'll need a chest mount or wrist strap (or anything that stays within the 6-inch limit) for GoPro and cameras.
2| Whirlpool Adventure Course
If you want to get your thrill-on, WildPlay's Whirlpool Adventure Course will take the challenges to a whole new level.
This aerial adventure course is basically a playground for adults! It involves a series of suspended obstacles that challenged our physical skills and pushed us out of our comfort zone.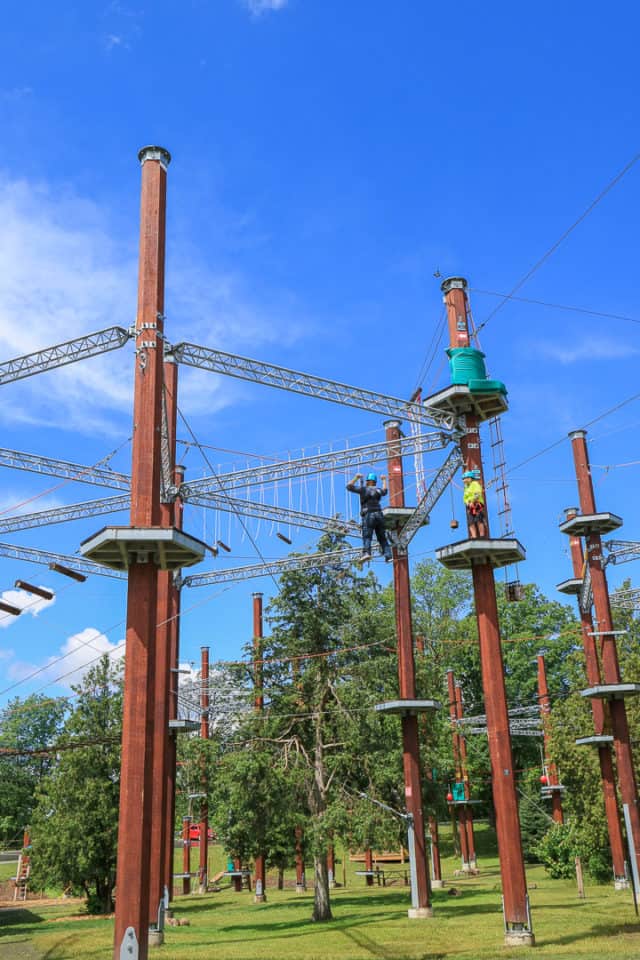 We passed over wobbly bridges, whizzed down mini ziplines, and climbed across suspended cargo net. Oh, and walking across those rope swings made of spinning balls – that was my worst nightmare!! I almost gave up after watching Kev struggled. But he cheered me along the way. When I finally finished the game, I was so proud of myself!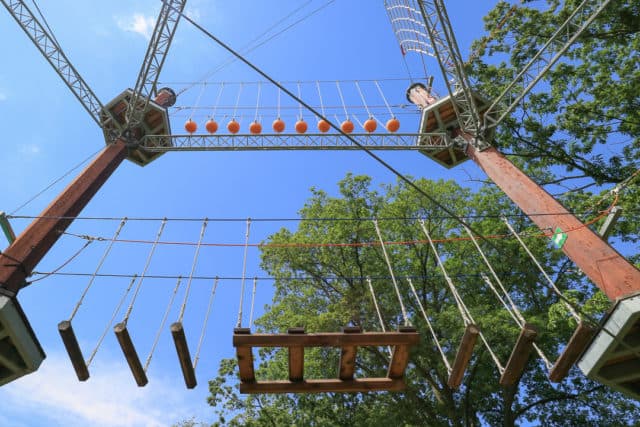 [bctt tweet="These 3 activities in #NiagaraFalls will get your adrenaline pumping! #travel #adventure" username="fortwoplz"]
The entire course is self-guided. After getting fitted for the safety harness, we were given basic instructions on how to use the gear. Once we demonstrated that we knew how to get in and out of a game, we were free to navigate on our own. The classic course has three levels of 38 games and 7 zip lines. It took us 1.5 hours to complete.
What we loved most about this adventure course is the awe-inspiring views of the Niagara Whirlpool and Gorge. As we climbed higher, the game became more challenging. In return, we were rewarded with the majestic beauty of the Niagara River Whirlpool Rapids below!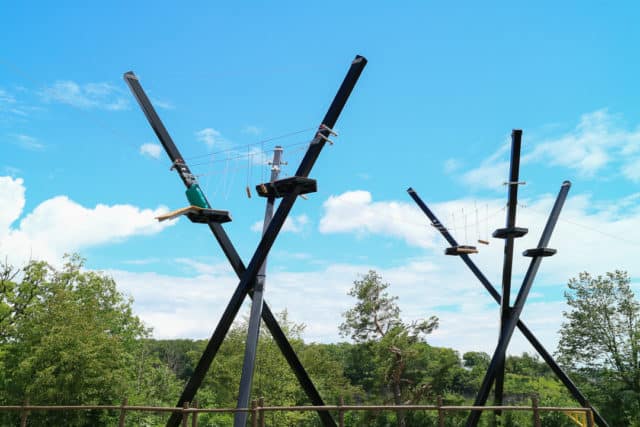 3| Whirlpool Jet Boat
For a real adrenaline rush, take a ride on the speeding Whirlpool Jet Boat! The 1500 horsepower Jet Boat will take you right into Niagara's class 5 rapids.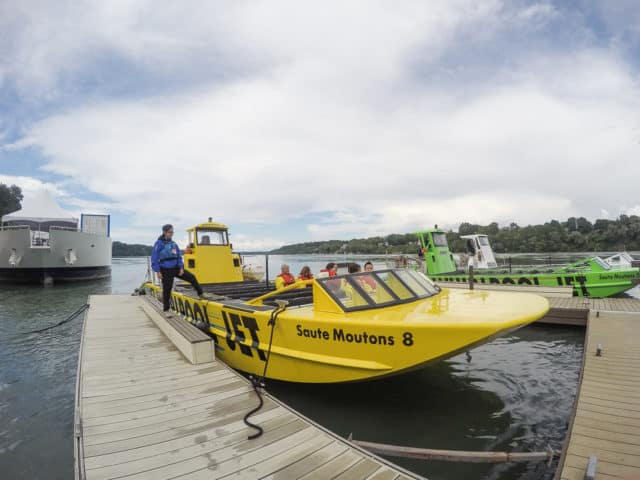 The 45-min thrill ride is packed with turns, spins, and plenty of splashes! Kev and I had never encountered a Class 5 whitewater before. At Devil's Hole, we felt its powerful rush and got completely devoured by the crashing waves. We came out soaking wet. Our hair was a mess. Yet, it put a big smile on our face.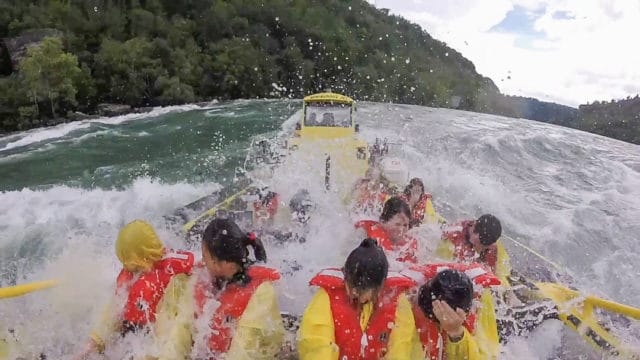 Besides riding the rapids, we also did some sightseeing. We immersed ourselves in the stunning scenery of Niagara Gorge and witnessed the magnitude of the famous Whirlpool.
To read more about our Whirlpool Jet Boat adventure, check out our previous post on Niagara Falls Bucket List.
Note: If you prefer not to get wet, you can opt for the jet dome tour instead. It follows the exact same route as the wet jet tour but keeps you dry.
---
Are you up for an action-packed adventure in Niagara Falls? These 3 activities will make your heart pound and your toes curl. And of course, win you some well-earned bragging rights!
Love it? Pin it!
Disclaimer: This post is written in partnership with Whirlpool Jet Boat Tours and WildPlay Element Parks. As always, all opinions on For Two, Please are my own and I only recommend services that I 100% stand behind.