This site uses affiliate links and we may earn a small commission when you use our links and make a purchase without incurring additional fee yourself. Many thanks for supporting this website. Please see our disclosure page for more details.
Jet boating was high on my bucket list ever since I learned about its existence while curating a series of adrenaline-pumping activities a few months ago. When I saw this activity is available in Niagara Falls, I couldn't resist booking a thrilling jet boat ride. Especially when "Class 5 whitewater" is in the description, I knew it was going to be a hell of a ride and a lot of fun! And to top it off, the tour provider, Whirlpool Jet Boat Tours, bundles it with a helicopter ride. Double the fun and save 30%? We certainly didn't want to pass up that offer! This was the perfect chance to check off our Niagara Falls bucket list!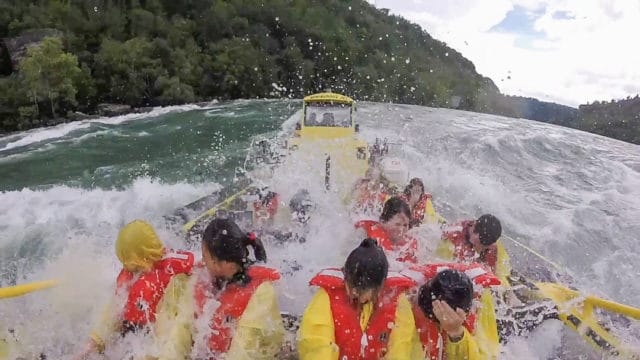 Niagara Falls Bucket List Item #1: Whirlpool Jet Boat
Wet or dry, that's the dilemma. On a wet jet, you're guaranteed to be soaking wet. While it sounds fun, it is also going to be freezing cold! The jet dome takes you on the exact same route but keeps you dry. At first glance, the jet dome seems to be a perfect choice. But like my friend said, "You can't eat a cupcake without the frosting. Go all the way and have fun!" I was convinced. Wet jet it is!
45 minutes before our scheduled tour time, we arrived at the check-in counter. We signed the participation agreement and waited to be transported to the dock. On the shuttle bus, our trip leader Natalie went over the safety briefing. Leave valuables in the locker, put on the poncho, wear a life jacket. You know the drill.
As soon as the bus came to a stop, everyone was quick to spring into action. Within minutes, we were all queued up, waiting to feel the power of the Niagara's class 5 whitewater rapids!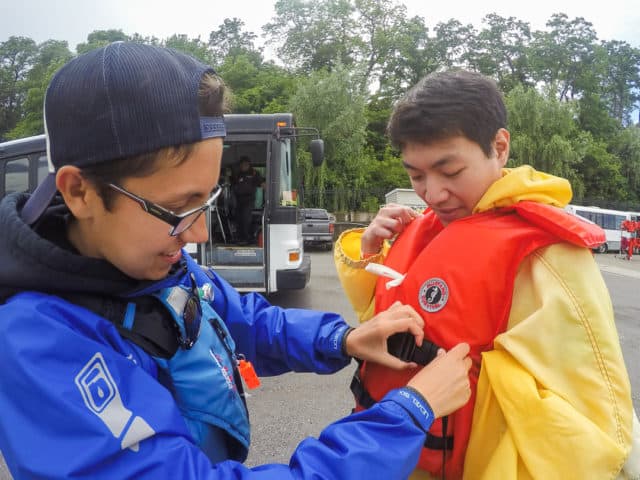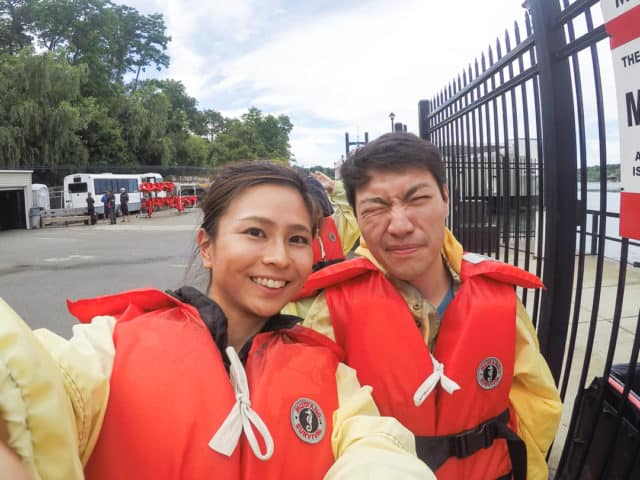 "The first 3 rows are the power rows where you will get the most water and impact. So choose wisely!" Natalie warned us. Without giving a second thought, we hopped on the boat and took the very first row. Crazy? I called this maximizing the thrill level 😛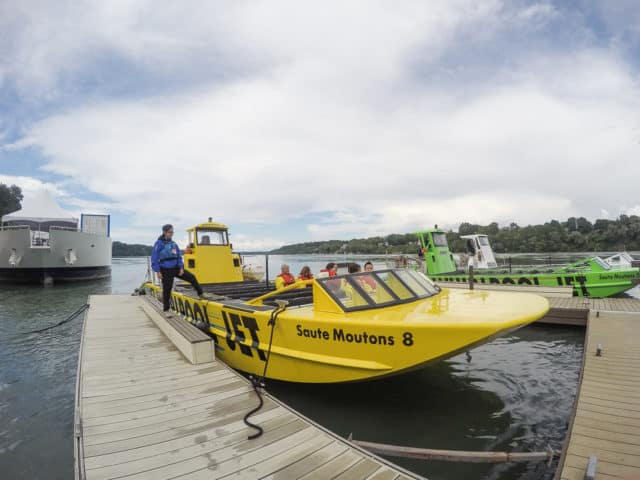 Engine, on and off we go!
Captain Mike started off by showing off the jet boat's contrasting prowess. He deftly maneuvering the boat to give it a quick spin. The boat slid across the surface of the waters, doing a 360-degree spin, and stopped on a dime with a large spray of water. That's Hamilton Turn! Our first stunt of the day! And this triple turbo diesel water jet, pumping out 1500 horsepower, was capable of making us fly!
As we headed deep into the upriver, spectacular vistas of the Niagara Gorge set in. It was hard to believe that this was where the mighty Niagara Falls stood 12000 years ago! All the way down here in the lower Niagara! The immensely powerful currents of the Falls' carved its way through solid rock, over centuries, and this is how the 11 km-long gorge came into existence.
Natalie continued to fill us in on all the interesting facts about the surrounding. On the way, we saw Lewiston-Queenston Bridge, one of the 4 bridges in Niagara that connect Canada to the U.S., Sir Adam Beck Hydroelectric Power Stations that carry power to the whole southern Ontario, and Robert Moses Niagara Power Station right across the river, feeding power to Atlanta, Georgia.
As we traveled further, we could see the walls of the gorge started to get narrower and narrower. The water became fierce and wild. We all knew what was waiting for us.
To ensure all of us would come out safe and sound, Natalie quickly reminded us of the whitewater safety. The boat started picking up the speed and when on cue, we locked our body in the safety position. Staring at the angry rapids, I could feel my heart pounding hard in my chest.
Fearlessly, the boat plunged into Devil's Hole class 5 rapids. We bounced up and down with the raging waters like on a roller coaster. Then all of a sudden, a massive surge of water swallowed us all. Continuously, we hurtled through gushing bursts with barely enough time to catch a breath. When we finally reached a calm spot, we coughed and spluttered. No doubt, we all got completely drenched. We looked at each other's bad hair and burst into laughter.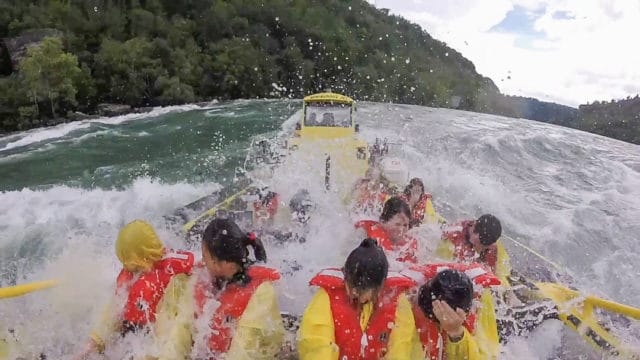 We did this over and over again for several times. More screams, more laughter, more waves, and more bad hair. Did we get tired of it? Not at all! We did, however, take a break at the swirling Whirlpool, where the Niagara River makes a sharp right-angled turn, forming a 38m-deep basin. Following the Niagara River, we saw the treacherous class 6 Whirlpool Rapids that stretch for 1.6 km and runs as fast as 9 m per second! Because the rapids are too dangerous to ride, we were only able to admire it from a distance.
To see how much fun we had, check out the video below!
[bctt tweet="Visiting Niagara? Here are the 2 activities you can't afford to miss! #travel #bucketlist #adventure" username="fortwoplz"]
Niagara Falls Bucket List Item #2: Helicopter Ride
After a quick change into dry clothes, we made our way to the next Niagara Falls bucket list adventure – a helicopter ride over the Niagara Falls with Niagara Helicopters!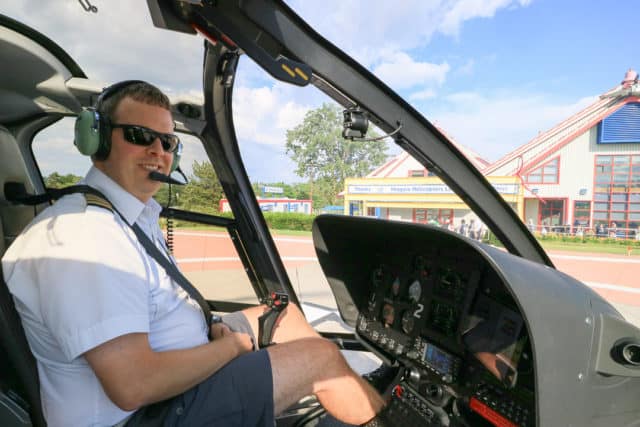 It didn't take us long to jump into a chopper for a ride. We buckled up and put on the headset as instructed. A few minutes later, we hovered up into the sky.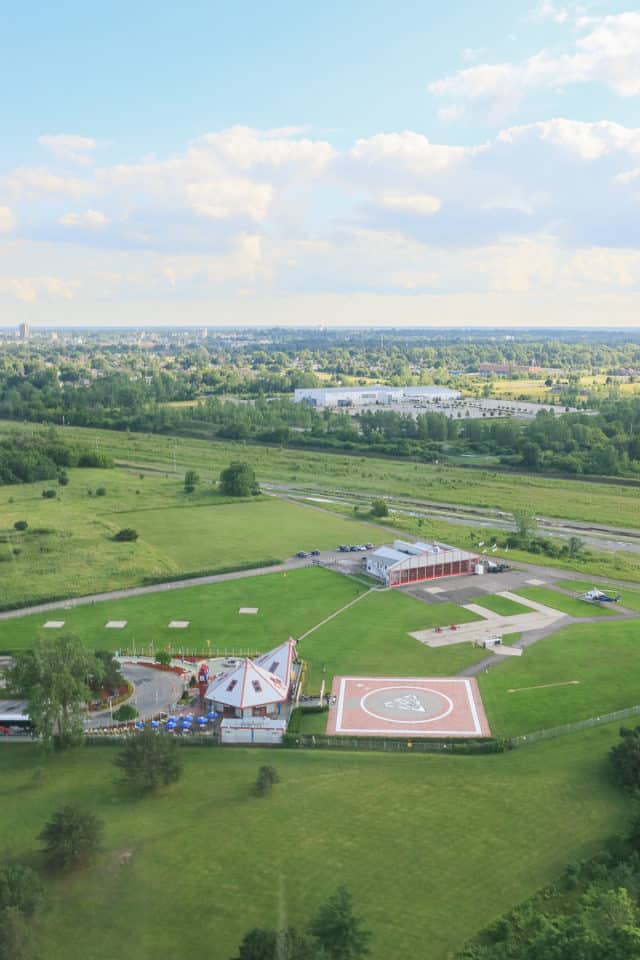 I could see why this is such a popular tour. Soaring high, we caught a bird's eye view of the entire Niagara Region. Starting from the Niagara Gorge, we followed the brilliant green Niagara River to the Whirlpool area. Remember that's where we were at for our jet boat tour? It was a totally different experience looking down from above. I could now see how spectacular the gorge really is!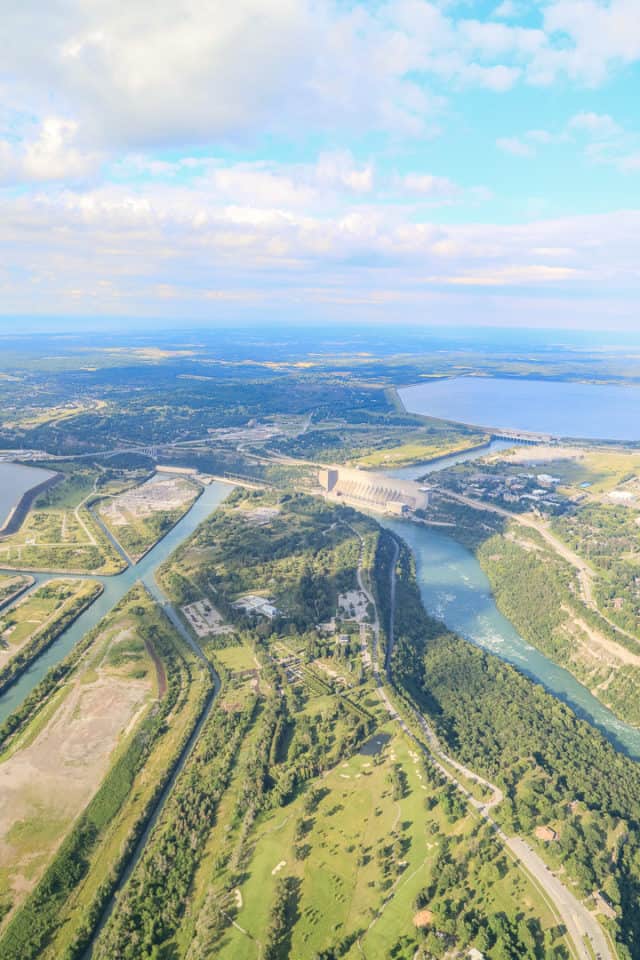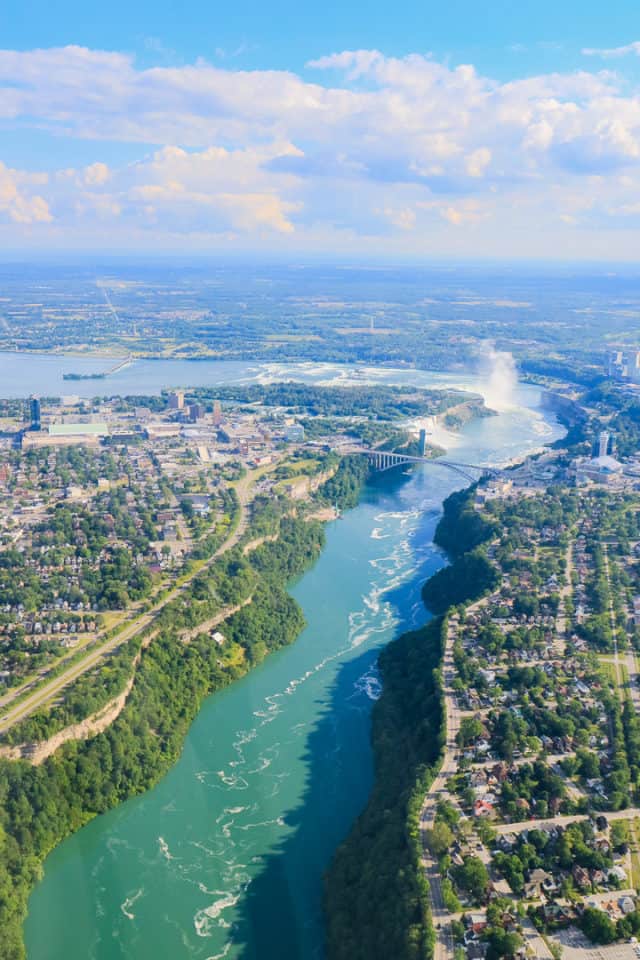 Soon after, Rainbow Bridge came into view, signaling the impending arrival of the American Falls and Bridal Veil Falls. At the base of the waterfalls, Maid of the Mist boat courageously approaching the mighty Horseshoe Falls.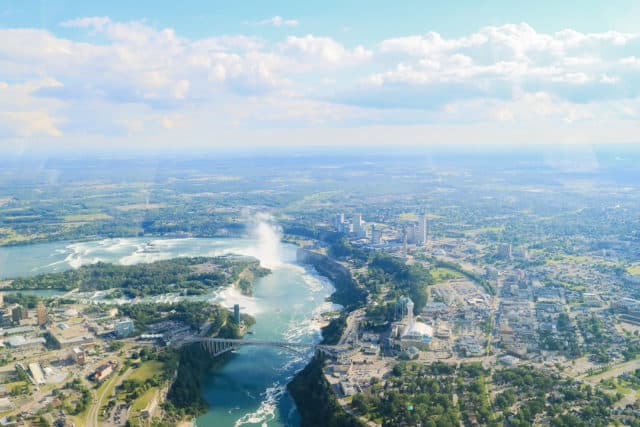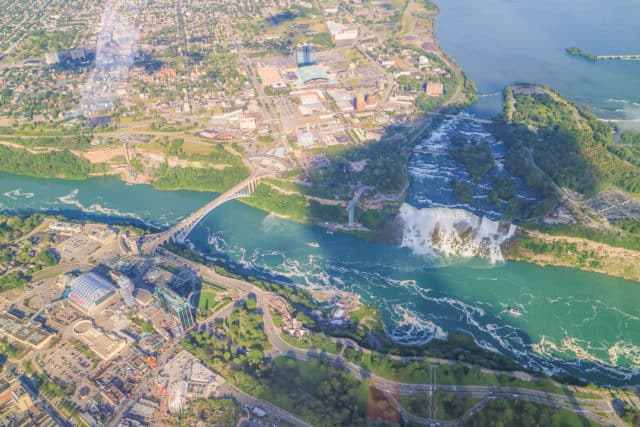 Over on the other side of the river, we saw Queen Victoria Park stretched below, accompanied by the iconic landmark – Skylon Tower. It was then, the chopper made a turn, following the curve of the Horseshoe Falls, and offered us stunning close-up views of the Falls. It was quite a sight seeing a massive amount of water cascading over the crest of the Falls!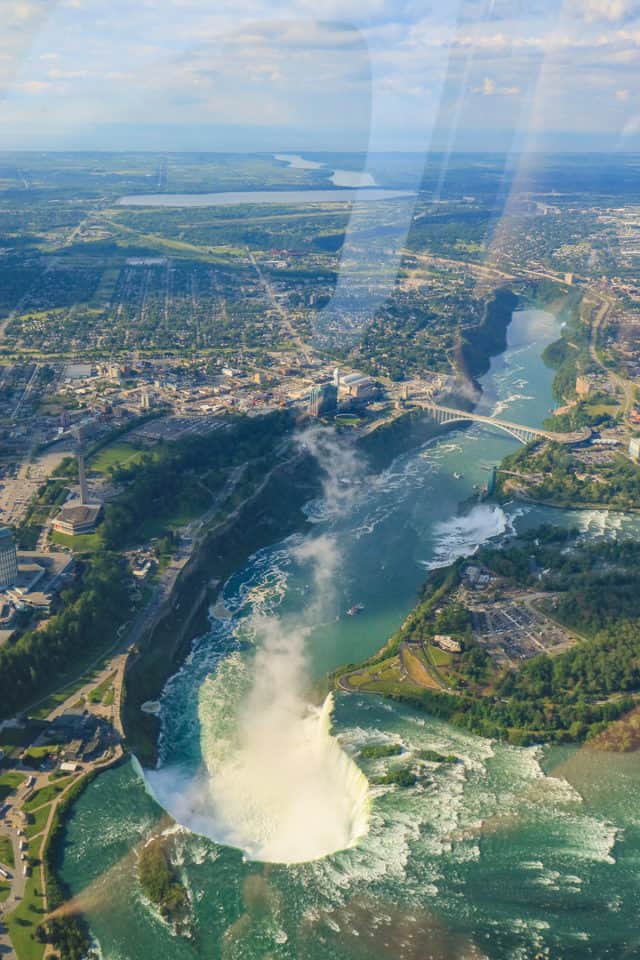 Before we said goodbye, the sun shone through the dense mist and we were rewarded with a radiant rainbow!
---
We had a blast experiencing Niagara sky high and river wild with Whirlpool Jet Boat Tours and Niagara Helicopters. If you're in to get your dose of adrenaline rush during your time in Niagara, check out their H2Air Package! You will not regret it!
You can find more about Whirlpool Jet Boat Tours on their website. In case you're curious, here are a few things to keep in mind when going on a wet jet boat tour:
Arrive 45 minutes prior to your departure time
Bring a change of dry clothes and towels
Leave all your valuables in the locker. Take only things you will bring into the swimming pool.
Bring a GoPro (with a wrist strap) or waterproof camera
Ladies, tie your hair up – if you don't want to come back like a mad woman.
The tour at Niagara Falls lasts about 45 mins. If you're booking it along with a helicopter tour, make sure you leave at least 2 hours in between. So if you book a 2 pm jet boat tour, make sure the helicopter tour is at 4 pm or after.