This site uses affiliate links and we may earn a small commission when you use our links and make a purchase without incurring additional fee yourself. Many thanks for supporting this website. Please see our disclosure page for more details.
Planning a trip to Niagara Falls for your next vacation? In our opinion, the best way to see this natural wonder is to do a scenic road trip from Toronto! On the way, you will encounter hidden waterfalls, Canada's most famous warship, and the largest botanical garden in the country, all to be found in the interesting historical city, Hamilton, Ontario. In today's post, I have created a 5-day itinerary to Niagara Falls, highlighting the best places to eat, stay and play!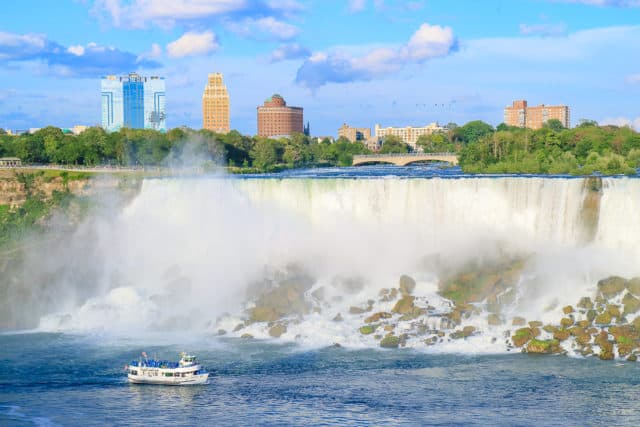 While planning a trip to Niagara Falls, remember this…
You will need to rent a car if you want to follow this itinerary. So, make sure you have a valid driver's license. U.S. driver's licenses are valid in Canada, but if you're visiting from other countries, you'll need an international driver's license.
In Canada, the steering wheel is on the left-hand side of the car and we drive on the right-hand side of the road.
We practice ultimate safety here. This means seatbelt must be worn at all times, for both drivers AND passengers. And, hand-held electronic devices are banned while driving.
Visiting from the US side and wondering how to cross the border at Niagara Falls? It's really easy. All you need is heading towards the Rainbow Bridge and a valid passport (and possibly a visa if you're not a US Citizen. Please check!).
Car rental company suggestions: We personally love using National Car Rental because as an Emerald Club member, we get to choose any car available on-site and go! You can find major car rental companies at Toronto Pearson International Airport, including Avis, Budget, Enterprise, Hertz, National, and Alamo. You can also rent a car in downtown Toronto if you prefer not to deal with the city traffic (traffic congestion in downtown Toronto can drive you crazy, especially in the area where they have streetcars).
Cool? Alright, now we have all the serious stuff sorted out, let the journey begin!
A 5-Day Itinerary: Summer Road Trip From Toronto To Niagara Falls
Day 1: Exploring the Art & Culture in Toronto
We've been to Toronto many times, and there's no doubt an endless number of things to see and do in Toronto. But since we only have one day in the city, my top suggestion is to focus on the exciting art and theatre scene!
Morning: Start your trip at Canada's largest museum of art, world cultures, and natural history — Royal Ontario Museum. Housing more than 6 million artifacts, the museum will take you on a journey around the globe and across ages. You will encounter ancient dinosaurs, discover a bat cave, and see the mysterious Egyptian mummies! For lunch, enjoy South American staples at Lena Restaurant!
Afternoon: Take a leisure walk around the downtown area, which is brimming with both historic and modern architectures. Nathan Phillips Square, Osgoode Hall, St. Lawrence Market, Harbourfront, and the Distillery District are a few places you do not want to miss.
Distillery District is our absolute favorite where we visit every time we're in Toronto. If you're there, be sure to stop by Izumi, Ontario's first sake brewery, and try sake tasting!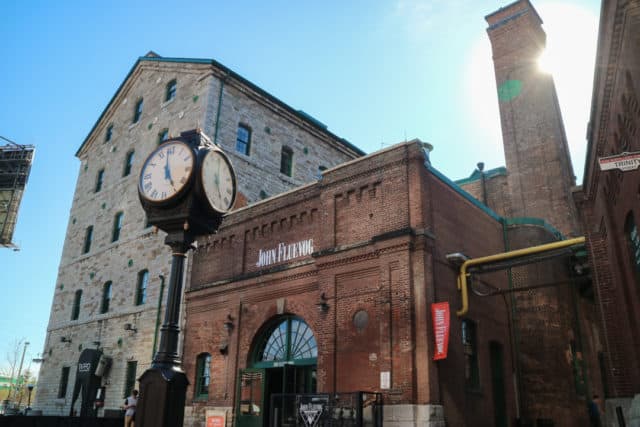 You can see CN Tower from many places in Toronto, but at the top of this 553m tall skyscraper, you will get unmatched views of the city skyline! The best time to visit CN Tower is at sunset. If this doesn't sound unique enough to you, try the Edgewalk where you stand on the edge of the tower and see the whole city below you!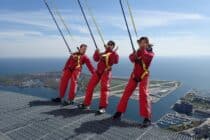 Evening: Craving for sushi? Then you must check out JaBistro – the best sushi restaurant in Toronto! Their fish is so fresh and their lightly charred aburi style sushi is amazing! Reservation is a must at this place.
Perfect your evening with a musical, play or concert! Last year, we saw The 7 Fingers Cuisine & Confessions and LOVED IT! Click here to find out what Broadway shows, plays, dramas, and comedies are running in Toronto.
Accommodations: Downtown Toronto has many luxurious hotels, including Ritz Calton, Fairmont Royal York, Shangri-La, Adelaide Hotel, and Le Germain.
Day 2: Seeing the Best of Hamilton
Morning: Start your morning slow and enjoy a cup of coffee at an indie cafe! Some of the popular ones include Fahrenheit Coffee, Dineen Coffee Co., Jimmy's Coffee, Balzac's, and Early Bird Espresso & Brew Bar.
Afternoon: Pick up your rental car if you haven't already. Then, start driving out to the city and grab brunch at La Cubana in Ossington for some exotic Cuban food! This charming retro diner serves spectacular pressed sandwiches and unique Cuban coffee!
After the meal, make sure to go across the street to Bang Bang Ice Cream and have their notoriously fabulous ice cream sandwiches (or ice cream in the Hong Kong Waffle cone for photo ops).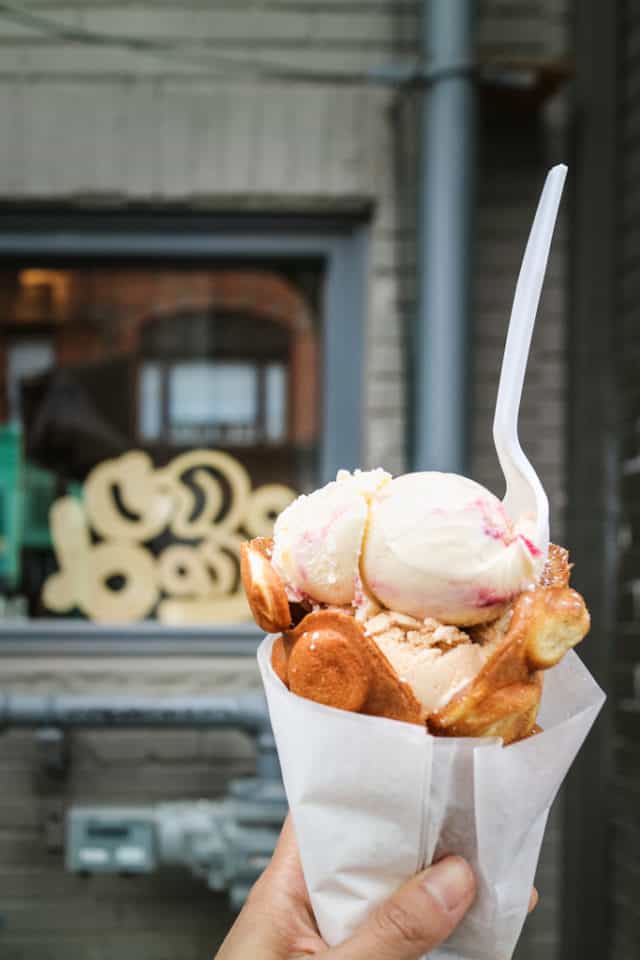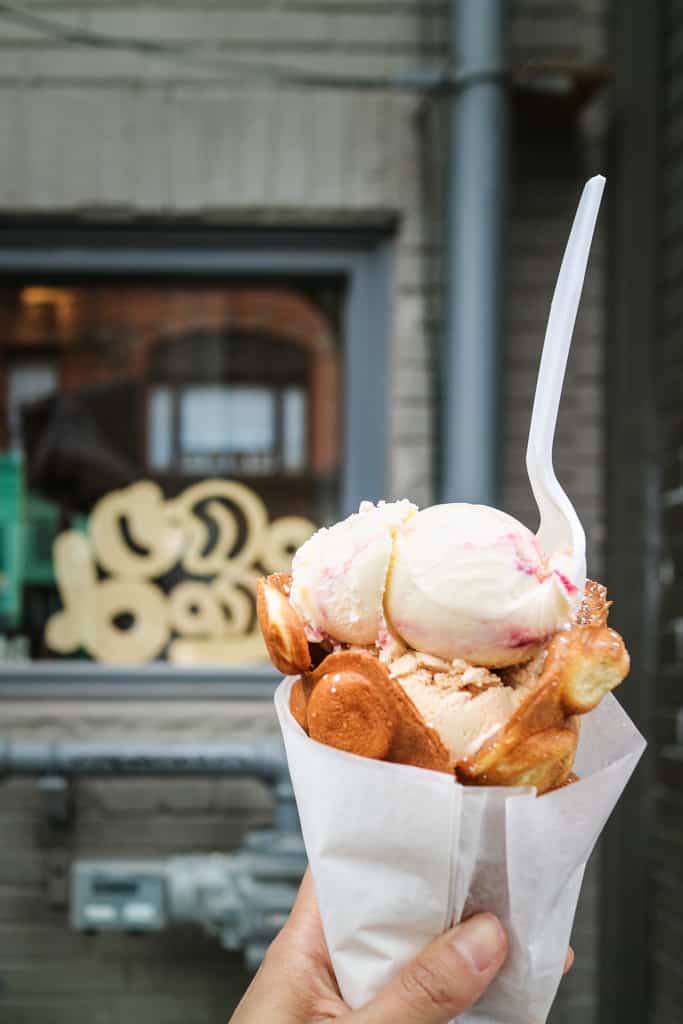 Now we're ready to hit the road!
The drive to Hamilton will take about 1.5 hours. Compared to Toronto, Hamilton is a small city, but one rich in history and surrounded by stunning nature! There are 2 attractions you must see here:
Royal Botanical Gardens: It is Canada's largest botanical garden as well as a National Historic Site! Your admission fee ($16) will grant you access to multiple gardens, nature sanctuaries, and various walking and hiking trails! Be prepared to spend a few hours here. The highlight includes the lilacs (bloom in May-June and make up the world's largest collection), irises and peonies (June) and roses (June to July).
HMCS Haida National Historic Site: This is Canada's most famous warship and also the last surviving Tribal Class destroyer in the world. It served from 1943 to 1963, through WWII, the Korean War and the Cold War. Now docked at Hamilton Harbour's Pier 9, you can relive the history and experience how the sailors lived, worked and fought aboard the fightingest ship in the Royal Canadian Navy! Allow an hour here.
Evening: Treat yourself to a hearty seafood dinner at Fsh & Chp! Everything is so fresh here! Our favourites include the signature fish & chips and lobster mac & cheese.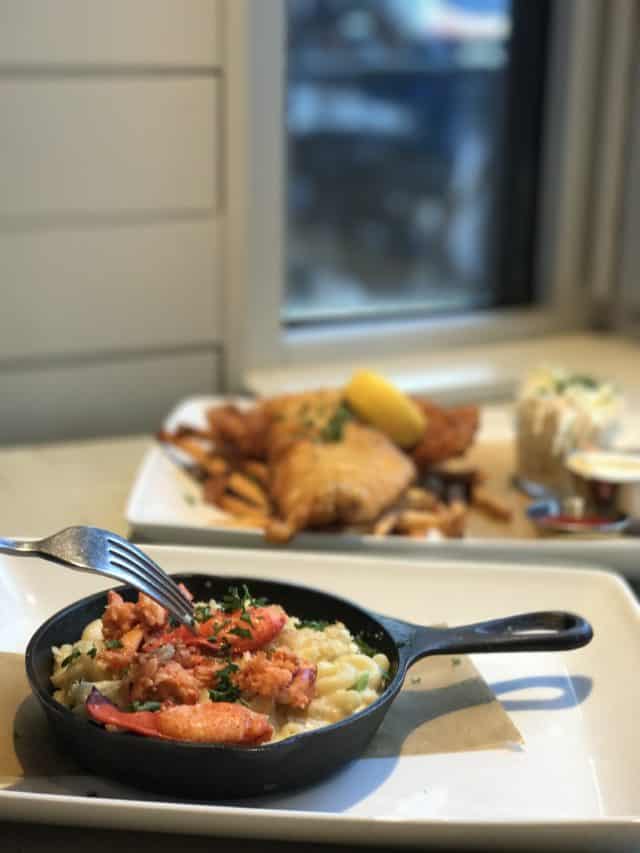 Accommodation: You don't get a lot of luxury options here. There are many business hotels that offer a comfortable stay, such as Sheraton, Homewood Suites, and Staybridge Suites.
Day 3: Wine Tasting in Niagara-on-the-Lake
Morning: Ever wish you could just roll out of bed and take a lovely walk to the waterfalls. In Hamilton, this is not a dream. Named "The Waterfalls Capital of the World," you can find as many as 100 waterfalls just minutes from the downtown core! All you have to do is find Bruce Trail and it will take you to many beautiful hidden waterfalls. Check out this website for more information.
At around 11 am, continue on our road trip to Niagara Falls and start heading out to the next destination: Niagara-on-the-Lake.
Afternoon: Stop for lunch at the town of Niagara-on-the-Lake. You can find a lot of restaurants along Queen St. HOBNOB and Cannery are the two popular options.
Niagara is a famous wine region and is the best place to sip on Canadian wines! After lunch, go on a winery tour and do a wine tasting! Make sure you try Icewines, Canada's famous sweet wine. Once you take a sip you'll understand how irresistible it is. Lakeview Wine Co., Peller Estates, and Inniskillin are great places to start off if you are not familiar with Canadian wineries.
Get The Complete NOTL Winery List
Sign up below & we'll send you a list of all wineries in Niagara-on-the-Lake PLUS a map!
Evening: Dinner at Peller Estates is a must. The chef serves up delicious regional dishes using the freshest seasonal ingredients to blow your mind! After dinner, dress up like an Eskimo and sip Icewines at Niagara's only ice lounge. This is one of our favourite experiences in Niagara-on-the-Lake that you must not miss!
At 10 pm, watch the spectacular fireworks dazzle the night sky above Niagara Falls. Fireworks only set off on weekdays.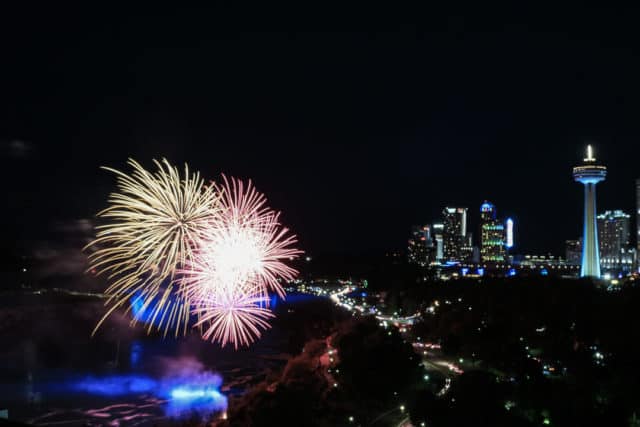 Accommodation: For the best view of the Niagara Falls, I recommend staying at Sheraton. You can watch the fireworks right from your balcony! Otherwise, The Oakes Hotel, Embassy Suites, Radisson, and Marriott are also good options.
Day 4: Outdoor Adventures in Niagara Falls
Morning: Today is a day full of outdoor fun! Out of all the different ways to see Niagara Falls, my favourite is through ziplining. Imagine how THRILLING it is to soar across the sky with a full view of Niagara Falls right before your eyes. It is an experience you can't get anywhere else!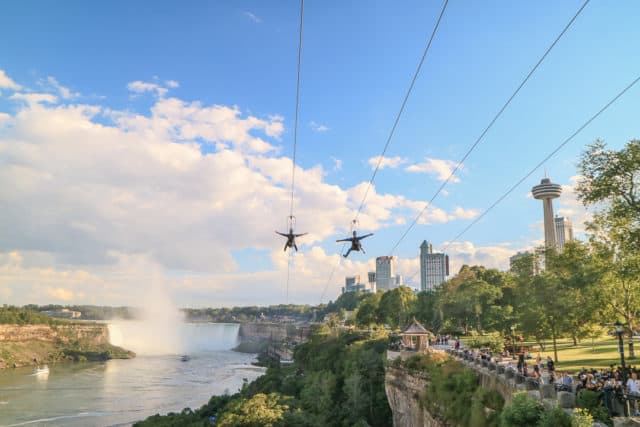 Besides ziplining, another way to get an amazing view of the Falls is from up above! Go on a helicopter tour for stunning close-up views of the Falls. Ask for front seats if you can to get some great aerial shots like I did!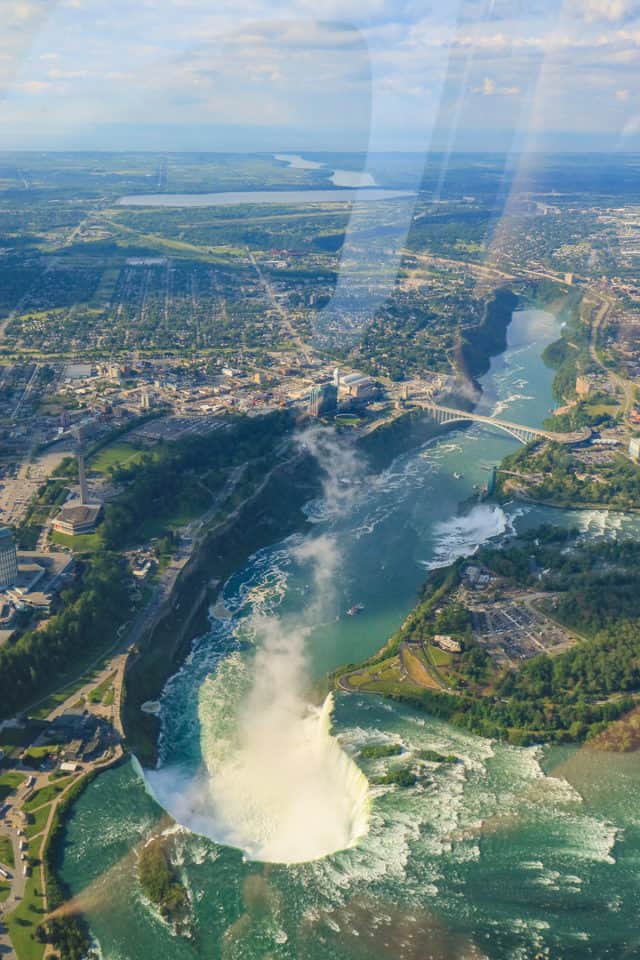 If that sounds too daring, go on a Niagara Falls boat tour (Hornblower or Maid of the Mist) to feel the mist and see the magnificent beauty right in front of your eyes! Cruises are operated by Hornblowers (from the Canadian Side) and Maid of the Mist (from the American side)
Afternoon: Fuel up at Queenston Heights Restaurant on the Niagara Parkway, or at Queen Victoria Place in the entertainment district. Then, hop onto Whirlpool Aero Car and experience a unique ride above the Niagara River! Looking down at the class 6 rapids, you can almost feel the power of these fierce waters rushing below you.
To top off the experience, hop abroad the Whirlpool Jet Boat for an exhilarating ride! It will take you through Niagara's class 5 whitewater rapids and make you feel the fury of the river!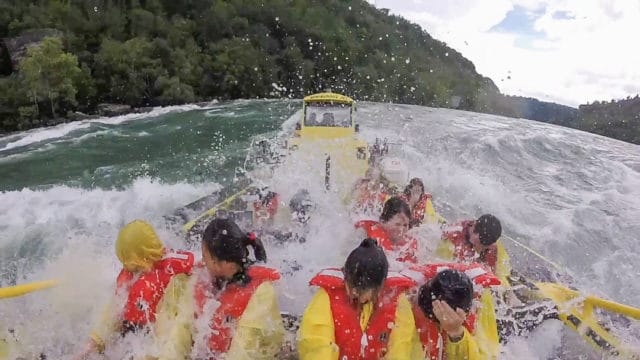 Evening: After a long day, it's time for a hearty meal. Try Windows by Jamie Kennedy (inside Sheraton), you won't be disappointed!
Day 5: A Quick Getaway to Toronto Islands
Our 5-day road trip to Niagara Falls has come to an end. It's now time to drive back to Toronto.
If you are back to Toronto early and would like to explore the city more, I'd recommend checking out Toronto Islands and Casa Loma. Or, hit up some food spots, such as PAI, WVRST, and Ruby Watco.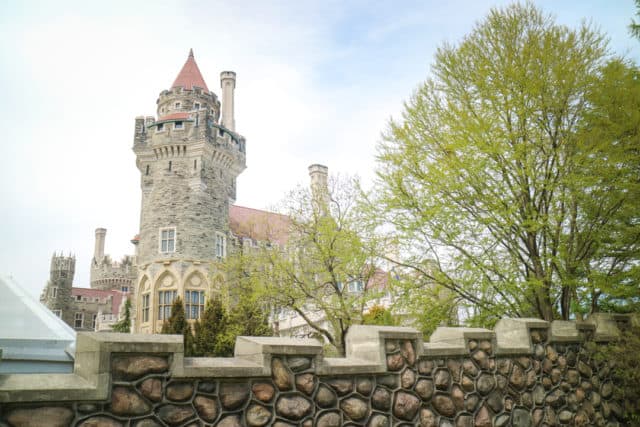 ---
To help you keep track of all the places I have mentioned in this post, I have created a map:
Have you done a road trip to Niagara Falls before? Any activities or attractions that I miss?