This site uses affiliate links and we may earn a small commission when you use our links and make a purchase without incurring additional fee yourself. Many thanks for supporting this website. Please see our disclosure page for more details.
Blindfolded, I sat in a circle with 4 other 'kids' on a lawn. The teacher told us he received our parents' permission to take us out on a campfire birthday party. It was our birthday party, apparently, and a blindfolded one. Celebrating birthday without sight was quite unusual, but we still had a good time. We sang bonne fête, did a silly drawing of our teacher, shared candies, and even blew out the birthday candles! Taking off the blindfold, we then quickly realized there was no cake, no candles, no candies, no campfire. We smelt them though! Was it all our imagination? The answer is to be found at Beakerhead, the greatest Calgary festival in fall!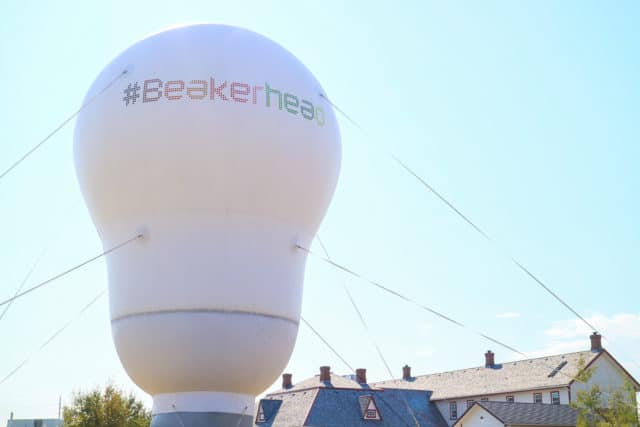 Beakerhead – What Is It?
I first heard about Beakerhead in 2015 because of Kev. He told me about engineered eats, which was part of the Beakerhead program (we will dive into the details later), and you know that when it comes to food – you've got my attention.
But Beakerhead is more than just a science-infused culinary experience. It is a delightful celebration of mashed up art, science, and engineering. The focus is to make science easier to understand and open the doors for ordinary people of all ages to appreciate it in real life.
This year, I got the opportunity to experience multiple aspects of this 5-day citywide spectacle – from bizarre art installations, street parties, theatre performances to culinary wonders! Seeing how science exists in every part of our lives and how it can transform the world was truly fascinating!
How fun was Beakerhead? you ask. Here are the highlights of this year's program to give you a taste of what Beakerhead is all about!
14 Installations To Track Across The City of Calgary
You know Beakerhead is on when you see art installations everywhere, even in the places you least expect them to be! This year, 14 engineered artworks and interactive experiences could be found across downtown Calgary, making city exploration more fun than ever!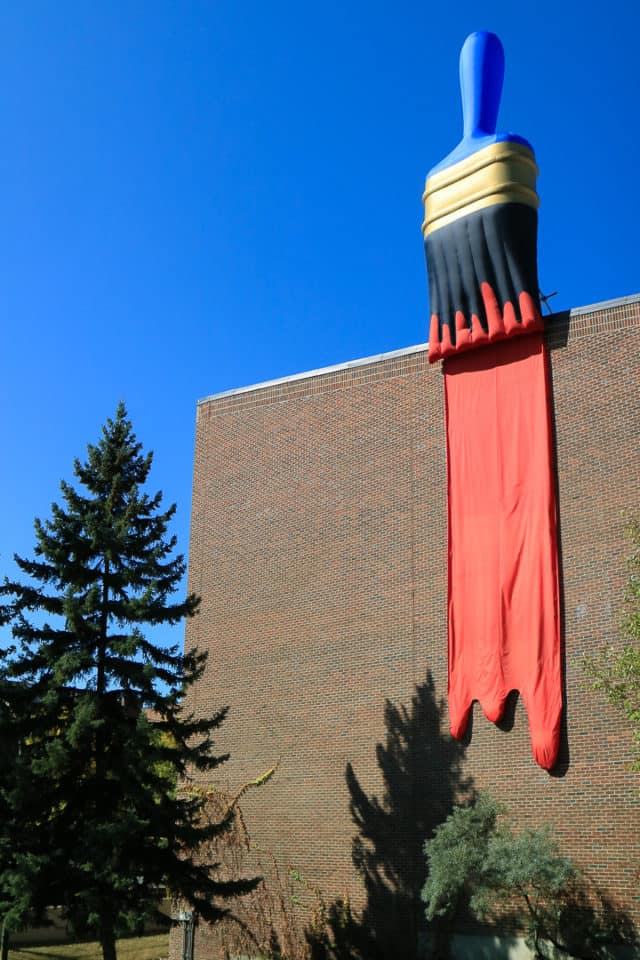 We came across ginormous inflatable rocket and paintbrush at local art and technology colleges, SAIT and ACAD, which were to mirror the connection between the sciences and the arts.
At an office building, a tipi was set up to tell us the First Nations legend related to the Big Dipper.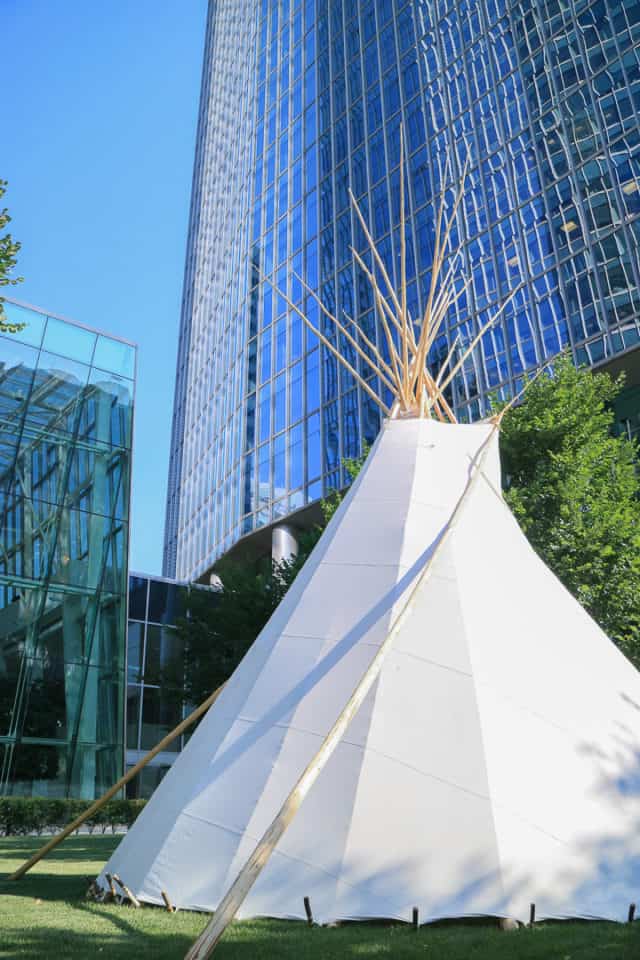 At night, we watched the lights swing wildly as we bounced up and down a giant teeter-totter. The coolest display must have been the Serpent Mother – a 168-feet long stainless steel snake armed with 40 pillars of fire!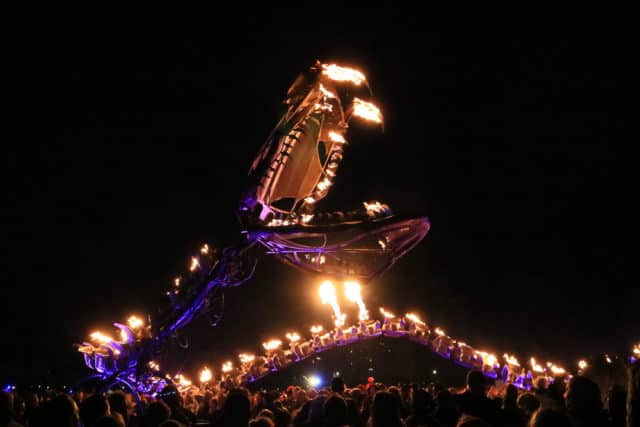 Engineered Eats: Foodies, Rejoice!
Don't forget that a lot of science goes into the food we eat! Every year, Beakerhead would pick a theme ingredient for participating restaurants to work with. Chefs and bartenders become scientists to transform the ingredient and create something that's cool and unique to eat and drink!
Engineered eats are full of surprises, creativity, and craziness! But the end goal is to educate curious foodie enthusiasts the science behind food science.
This year, 25 bars and restaurants took the challenge to turn barley into mouthwatering treats!
Pro tip: if you prefer a more structured tour, reserve your spots for the Field of Dreams Tour. You'll get to sample drinks and dishes at 3 restaurants and meet the chefs who invent those unique creations! Make sure you book your tickets well in advance (at least one month ahead).
Hands-On Workshops: Delving Deeper Into Sciences
To get a fuller experience at Beakerhead, I highly recommend checking out the paid workshops. There is a wide variety of topics to choose. From VR technology, astronomy, photography to food science, there's something for everyone!
As someone who is obsessed with food, I am constantly looking to expand my knowledge of gastronomy. At Cooking in the Arctic workshop, I learned to create Inuit dishes while hearing from researcher and Inuit art dealer how climate change is affecting lifestyle and food security in the Arctic.
Another favorite of mine was Coffee In Parts Per Million workshop with chemist Stephen McNeil and the co-founder of a locally owned coffee roaster, Phil & Sebastian. It was fascinating to learn how small changes in water chemistry can affect the flavour of coffee. The most interesting part was to participate in a series of tastings to help Phil find the perfect combination of elements in coffee!
Let Your Inner Geek Out at Beakernight
Get wild and crazy with other Calgarians as the sun sets at Beakernight! Fort Calgary and River Walk in East Village were buzzing with lights and music. Quirky inventions and glowing installations filled the venue. Adults and children were out exploring their science curiosity. It was a night not to be missed!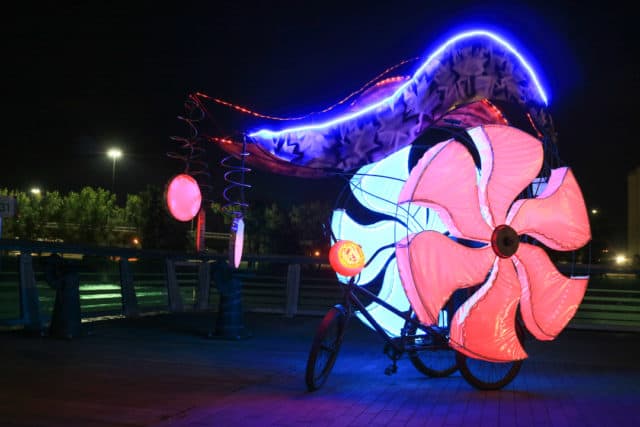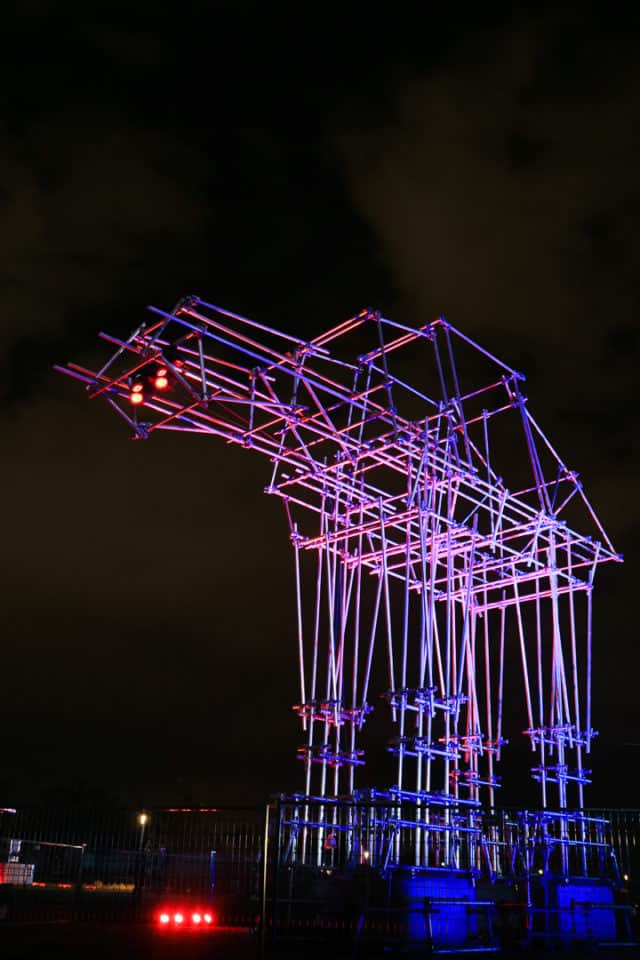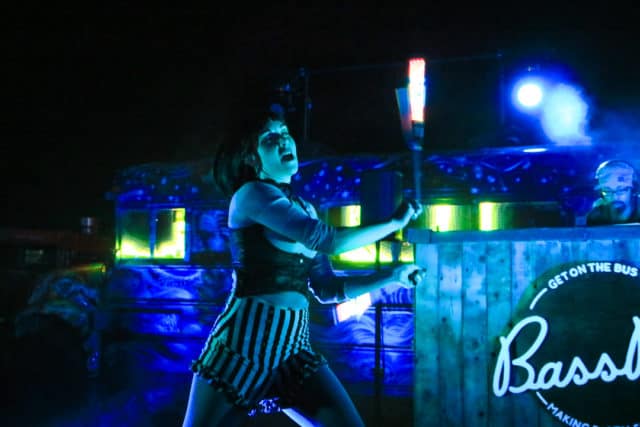 Be Inspired At Beakerhead Shows
What's truly inspirational and magical of Beakerhead was the shows. At Seven Wonderers, 7 great minds in science share their personal stories of curiosity and wonder, topped off with live music. We were reminded to take risks and embrace life with open arms and courage.
My ABSOLUTE favourite was Scent Bar, the 4th installment of the Six Senses Series by Ghost River Theater. This is the blindfolded experience I mentioned earlier in the post. Instead of a cocktail bar where you drink and mingle, GRT created a pop-up scent bar. You order your scent cocktails at the bar. Put on your blindfold. Follow the performer's guidance and let the scent transport you to somewhere else!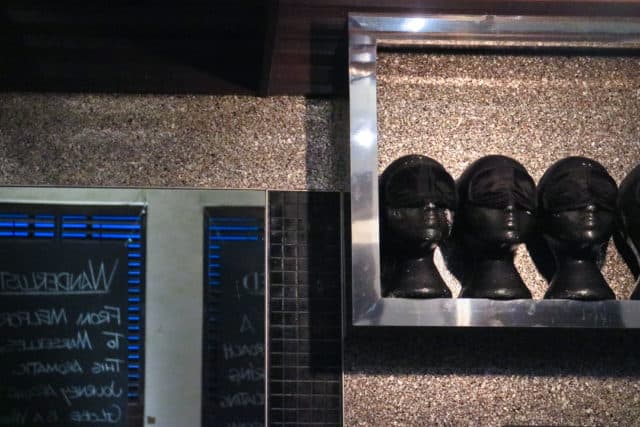 Note: Next year, Ghost River Theater will bring on their 5th installment – intuition. Make sure you reserve your tickets fast!
---
5 days filled with music, art, food, and performances – you can see why I enjoyed Beakerhead so much this year! Beakerhead is growing bigger with better events year after year. It is a science festival that you should attend at least once in your life! I hope to see you next year 🙂
Disclaimer: This post is written in partnership with Beakerhead. As always, all opinions on For Two, Please are my own and I only recommend events that I truly love.