This site uses affiliate links and we may earn a small commission when you use our links and make a purchase without incurring additional fee yourself. Many thanks for supporting this website. Please see our disclosure page for more details.
Niagara Falls is jam-packed with activities to do and attractions to see in the summer! To help you get the most out of your summer vacation at Niagara Falls, I partnered with a few of my favorite bloggers to put together a list of unmissable fun-filled experiences. With 10 exciting ways to experience Niagara Falls, you will definitely not be bored!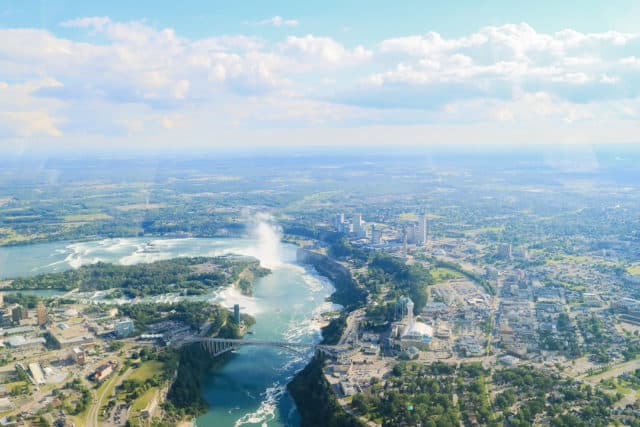 1| Zip through the air with WildPlay's MistRider Zipline
Does it get any cooler than soaring high and fast towards the thundering waters of Niagara Falls? Offering sweeping views of the magnificent Falls, WildPlay's MistRider Zipline to the Falls is a unique way to take in Niagara's beauty.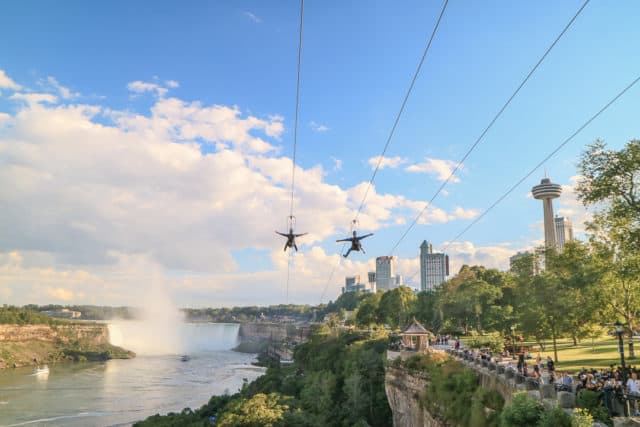 You will start at 67m above the ground on the Canadian side and zoom across 670m at an incredible speed of 70+kph! Within 60 seconds, you will ride along the edge of the vast Niagara Gorge, past the American and Bridal Veil Falls.
As you hurtle towards the base of the awe-inspiring Horseshoe Falls, the mist will wash over your face and the wind blowing through your hair. You will feel the incredible fury of nature!
Click here to read more about our ziplining adventure!
2| Take the Hornblower Cruise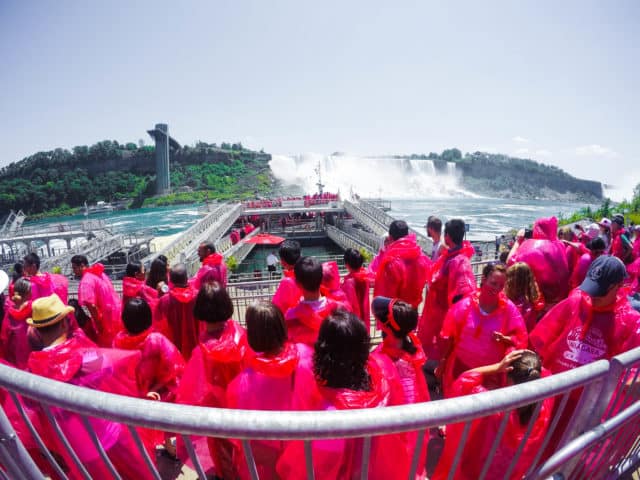 Addie Gray from Addie Abroad: Be sure to take a cruise with Hornblower Cruises (on the Canadian side) for the experience of a lifetime! Sure, seeing the falls from a viewpoint is cool, but being sprayed by the mist is another thing entirely. The 20-min Voyage to the Falls tour gets you up close and personal with this natural wonder, and it is totally amazing. Just be sure to take the free rain ponchos they hand out!
In the summertime, be prepared for long waits. So buy your tickets online ahead of time to avoid one of the lines!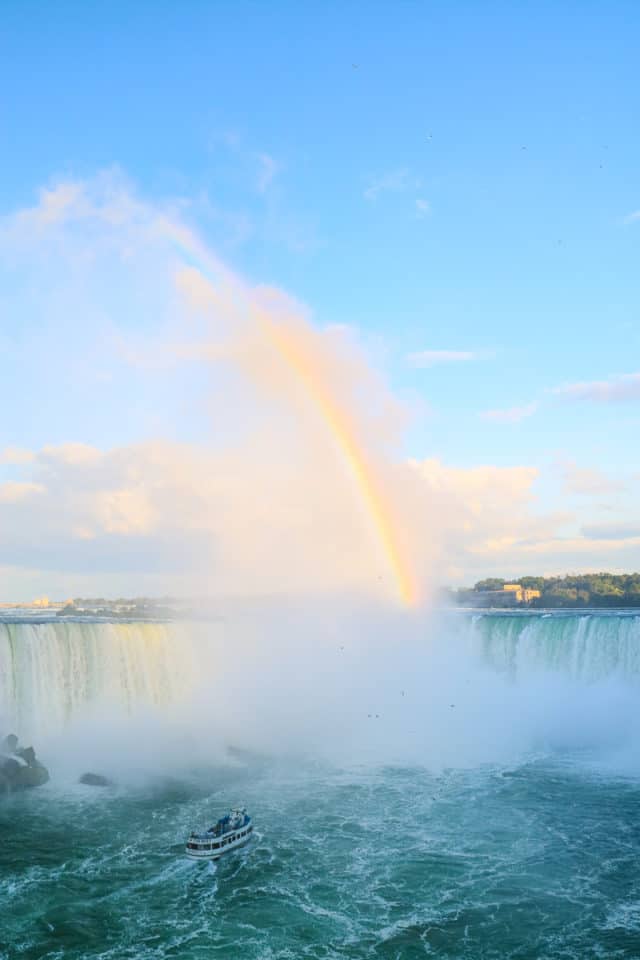 You can follow more of Addie's adventure at her blog: http://www.addieabroad.com/, and on her Instagram @addieabroad
3| Go on the Journey Behind the Falls
Janine Good from Fill My Passport: As part of your trip to the magnificent Niagara Falls, the newest crowned 10th Natural Wonder of the World, do ensure you head to the Journey Behind the Falls. Not possible in winter, this excursion takes you down 150 feet to explore and enjoy the 130-year old tunnels beneath waterfalls that represent 1/5 of the world's fresh water! Hear that fury, get educated, and sport that fashionable yellow poncho for many a photo.
Then, head to the observatory deck right at the foot of the Horseshoe Falls and marvel at the stunning views of this gorgeous natural phenomenon that sits 13 storeys above you.
This is a must-do excursion on your trip! You may get a little wet, but it is so worth it!
You can follow more of Janine's adventure at her blog: https://www.fillmypassport.net, and on her Twitter @fillmypassport6
4| Explore the Falls with a helicopter ride
So far, I've shown you how to see the Falls up close and from behind. How about a bird's eye view of this magnificent natural wonder?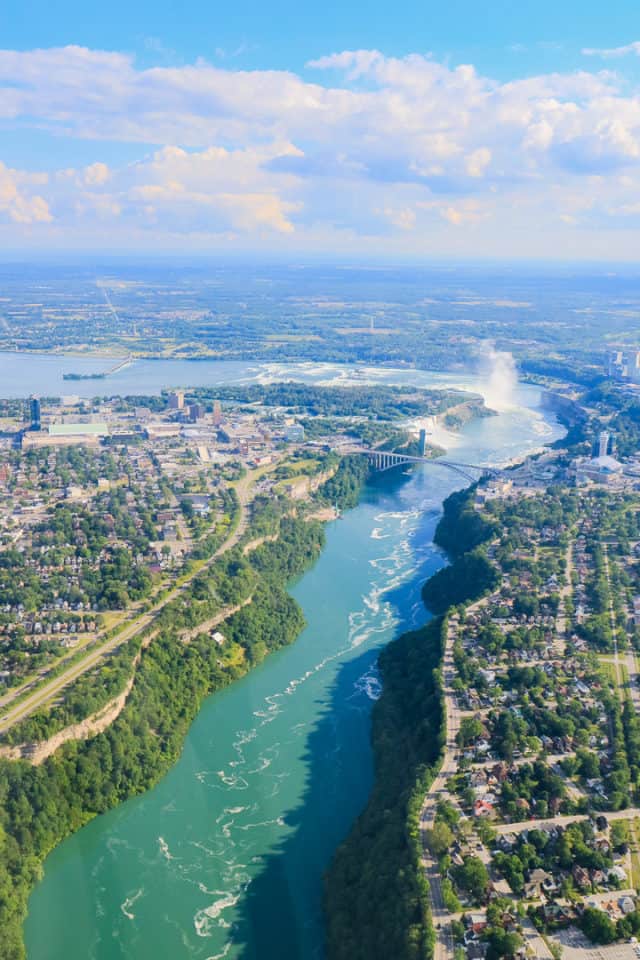 A helicopter ride is a fun and exciting way to tour the scenic Niagara region and see Niagara Falls from a whole new perspective! The flight will take you on a ride up the beautiful Niagara Gorge, hovering over the furious Whirlpool Rapids, then soaring high above the Falls for unparalleled aerial views! This is the perfect opportunity to capture incredible images of majestic Falls.
Several companies offer heli tours. Niagara Helicopters is the most well-known operator in the region. You can book a standalone 12-min tour, combine it with a winery experience, or bundle a jet boat ride into the tour package like we did!
Read more: Niagara Falls Bucket List Adventure
5| Get a unique view from the Goat Island State Park
Karen from Wanderlustingk: Goat Island State Park is one of the best things to do in Niagara Falls. This attraction on the American side has one of the best viewpoints as it allows you look straight down the falls. However, you'll miss out on the epic views that you get from the Canadian side, but if you plan accordingly, you can do both sides in one day.
This side of the falls is a bit less crowded than the Canadian side (besides the best selfie points), so it's perfect for a relaxing picnic!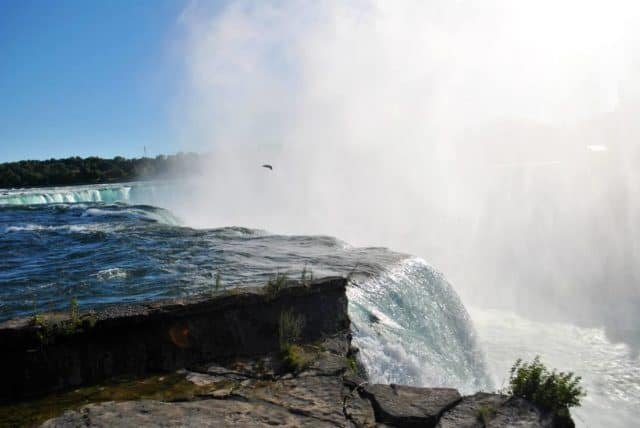 You can follow more of Karen's adventure on her Instagram @wanderlustingk
6| Watch the spectacular fireworks
As the sun sets and the sky darkens, the mighty Niagara Falls continues to impress. Lit up in an array of colours, the Falls transforms into a fairyland.
In the summer, watch a stunning shower of fireworks floods the sky and sparkles high above the natural wonder! Its magic promises to mesmerize and leave you in awe of the unmatched beauty of the illuminated splendor of Niagara Falls. It's the climax to the day and not to be missed!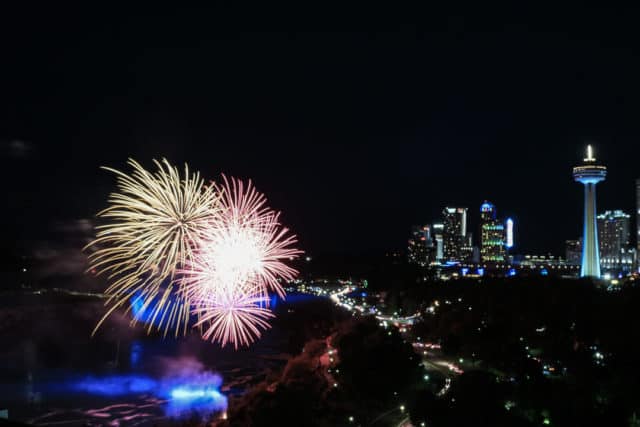 The dazzling fireworks spectacle starts at 10 pm on weekdays in July and August. If you don't want to walk to the edge of the Falls to catch the show, I'd recommend booking a room at the Sheraton on the Falls for the best viewing experience. It will give you the privilege of enjoying the breathtaking fireworks from inside your room!
[bctt tweet="Visiting #NiagaraFalls this summer? Put these 10 things on your list! #travel #adventure #ttot" username="fortwoplz"]
7| Join a winery tour and have a wine tasting
Besides the Falls, the Niagara region is famous for its wine. With latitude matching Bordeaux, France and northern California, Niagara has the ideal microclimate and soil conditions for producing high-quality wines!
To take in the wine experience, you don't have to stray too far from the tourism district in Niagara Falls. Just about 15-20 mins outside the Falls is Niagara-on-the-Lake. This remarkable region has over 37 wineries for you to visit!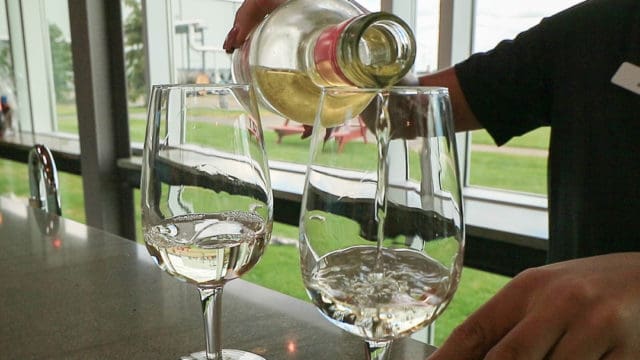 Most wineries offer guided tours through their vineyard and wine cellar as well as tastings of their award winning wines. Many even have restaurants on-site, where they create delicious dishes to pair flawlessly with their exceptional wines! I recommend starting out with Lakeview Wine Co., Peller Estates, and Inniskillin.
Whether you're a wine connoisseur or not, you will have a great time here and come to appreciate the beauty of viticulture!
You can read about our wine tour with Lakeview Wine Co. here.
8| Chill at the 10Below Icewine Lounge
What truly sets Niagara apart from other wine-growing regions is the incredibly delicious Icewine! A lot of hard work is put into producing this rich and succulent "liquid gold": grapes must be naturally frozen on the vine, hand harvested at night when temperatures fall below -10°C, then pressed while frozen. This laborious process is essential to ensure the intensely sweet, concentrated flavors are captured!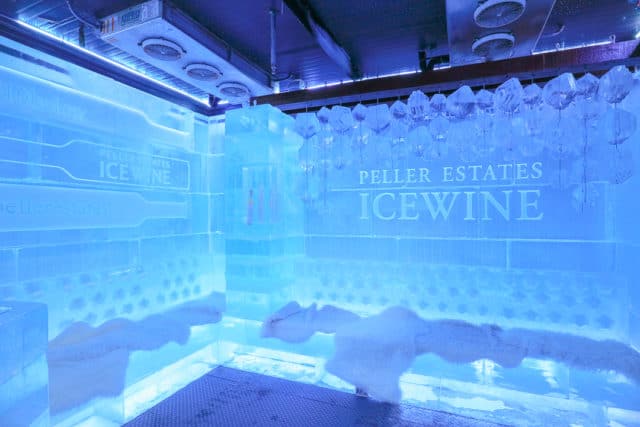 To experience what -10°C feels like, you can visit the 10Below Icewine Lounge at Peller Estates Winery in Niagara-on-the-Lake. Inside the igloo-like lounge, you will find yourself being surrounded by ice walls, ice furniture, sculptures, an ice chandelier and an ice bar. A good 5 minutes is enough to feel the extreme temperature at which Icewine grapes are harvested.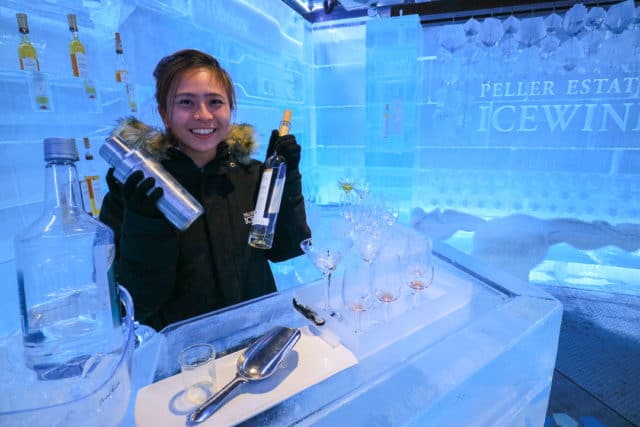 Just when you think you're turning into a human icicle, the Icewine expert will pour you samples of their signature Icewines to help you warm up the body. You will even get a chance to learn making the famous Icewine Martini! There really is no better place to experience Icewines than at an ice lounge like this!
To access the Icewine Lounge, you will need to book the Greatest Winery Tour or the Ultimate 10Below Experience. The Peller Estates will provide a parka and gloves to keep you cozy.
9| Cross the Canada-U.S. border on the Whirlpool Aero Cable Car
Jennifer Ruiz from Jet on a Jet Plane: Niagara Falls is known for its breathtaking views, but few people realize that the immediate area is filled with natural wonders too. To see the Falls from a different perspective, you should board the Whirlpool Aero Car!
Suspended more than 200 feet above the Niagara River, the cable car crosses over the Niagara Whirlpool, formed by a convergence of Class 6 rapids escaping through a narrow channel in the gorge. On one complete trip, you will cross the Canada-U.S. border 4 times!! Since both terminals are on the Canadian side, passport and visa are not required.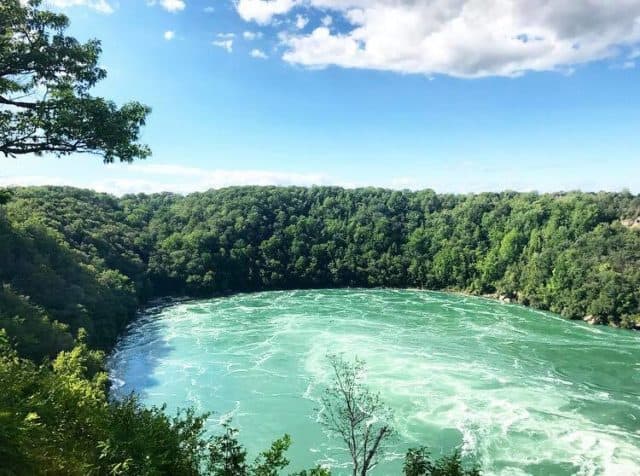 The attraction is open seasonally from April to November but is dependent on wind conditions to operate, so be forewarned that strong winds could cancel your trip. Thankfully, refunds are issued on the spot for all affected. You can call ahead to check the weather conditions before making a trip. Otherwise, if you're already in the area and need an alternative activity, visit the White Water Walk just down the street.
You can follow more of Jennifer's adventure at her blog: http://jenonajetplane.com/, and on her Instagram @jenonajetplane
10| Get your adrenaline pumping with an exhilarating jet boat ride
For a high-adrenaline adventure, hop aboard the Whirlpool Jet Boat for an exhilarating ride. The 45-min thrilling ride will take you through the legendary Niagara Gorge, where you will experience the rush of class 5 whitewater rapids!!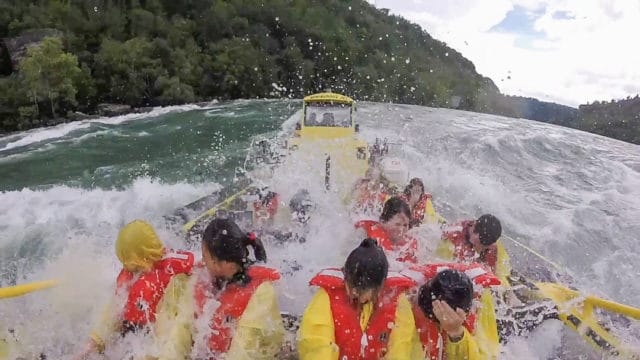 Action-packed with high-speed twists, turns, and splashes, it will leave you absolutely soaking wet, but with a smile on your face! In between getting soaked, you will get a nice trip up the Niagara River and a history lesson. Awe-inspiring scenery plus pulse-pounding fun, this is a tour you will never forget!
For more details about this fun jet boat adventure, check out our recent tour with Whirlpool Jet Boat!
---
There are so many exciting summer activities in Niagara Falls. Which one has caught your attention?
Like it? Pin it!
[one_half]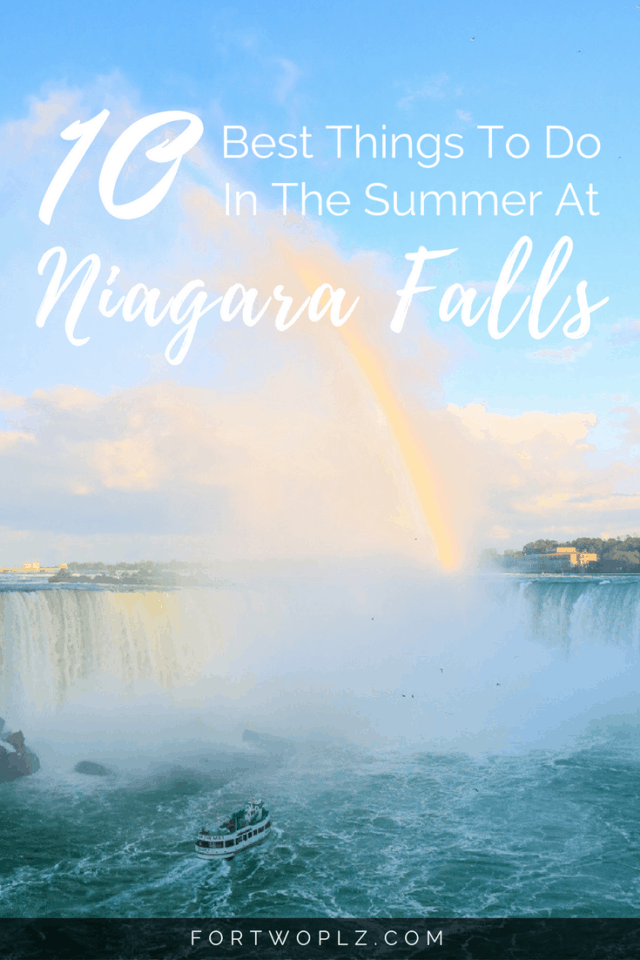 [/one_half]
[one_half]
[/one_half]