This site uses affiliate links and we may earn a small commission when you use our links and make a purchase without incurring additional fee yourself. Many thanks for supporting this website. Please see our disclosure page for more details.
So, you make it to the Canadian Rockies and wonder where to find the best food in Banff. You're in luck! Having been to Banff so many times, we have tried tons of restaurants and discovered a few of our personal favourites. This guide not only rounds up the top restaurants in Banff, but also highlights the food and drink festivals to expand your palate and senses!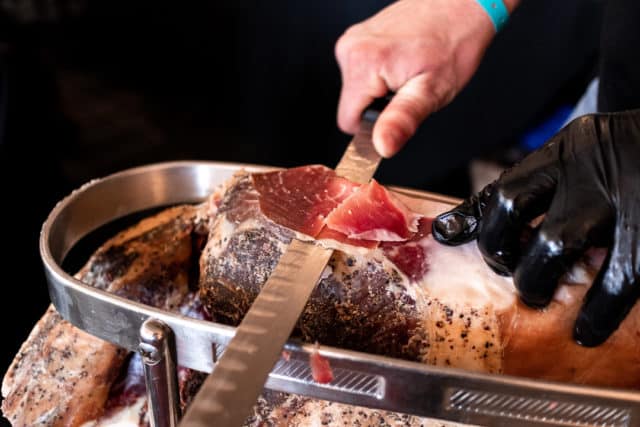 Best Restaurants in Banff
Juniper Bistro
Start the day off right with the best breakfast in Banff. Sit on the lower slopes of Mount Norquay, Juniper Bistro gives you the most incredible backdrop to fuel up for the day. From locally inspired dishes to Canadian classics, this lovely Banff brunch spot serves up mouthwatering temptations that will please both sweet and savoury eaters!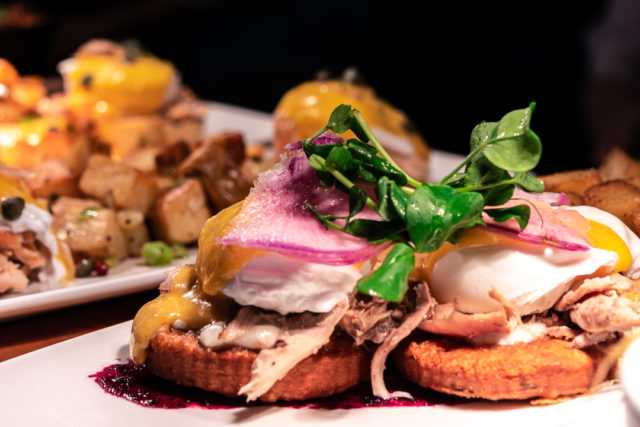 What to order: stuffed french toast, shakshuka
Maple Leaf Grill and Lounge
There is a reason why Maple Leaf is repeatedly ranked high on the list of where to eat in Banff. With excellent food, an elegant log cabin interior, and a warm and welcoming ambience, Maple Leaf ticks all the right boxes when you're looking for a fancy spot in downtown Banff to enjoy a delicious meal.
Maple Leaf's food scream freshness and are made with the best Canadian ingredients possible. Whether you're looking for the best lunch in Banff or a date night dinner, this is the perfect spot to treat your tastebuds!
What to order: eggs benny (bacon or smoked salmon)
Bison Restaurant + Terrace
Bison is arguably the best restaurants for foodies who are meat eaters. This farm-to-table restaurant sources their bison from family-run farms in Alberta to ensure you're eating the highest quality fresh-tasting food every time you come in.
Sample their bison carpaccio. Sink your teeth into the signature bison short ribs. You'll definitely leave the restaurant full and happy!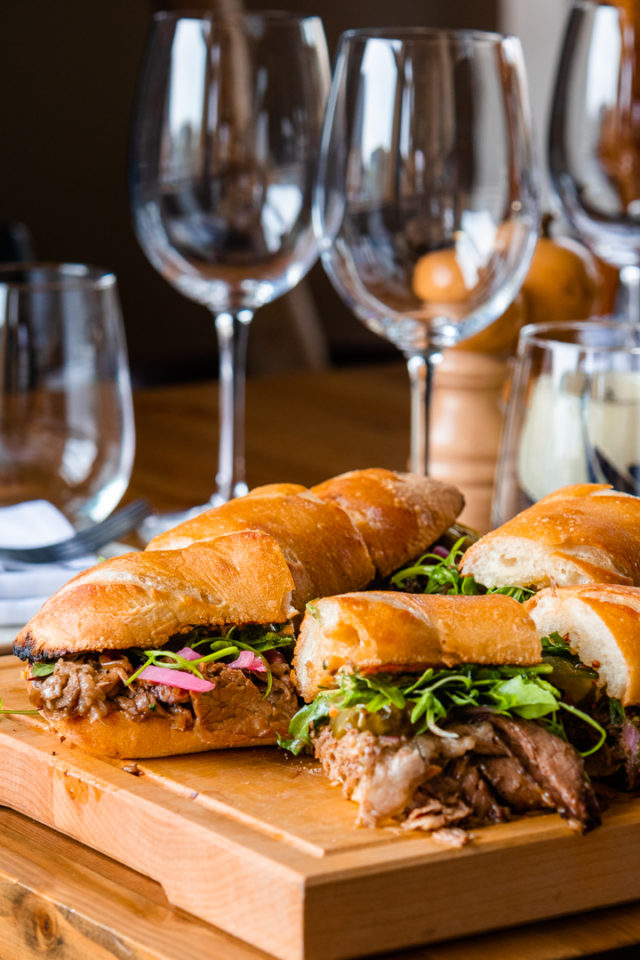 What to order: anything bison – bison carpaccio, bison short ribs, bison ribeye, or bison striploin!
Block Kitchen + Bar
Block Kitchen + Bar has been dishing out global-inspired food for years, and is regularly flooded with devoted locals. Everything from beet & za'atar flatbread to char siu pork belly are solid options, and the red devil calamari – which is drizzled with spicy Thai sauce – is particularly smart order.
Pair the food with a glass (or two) of creative cocktail and you'll have a memorable Banff dining experience!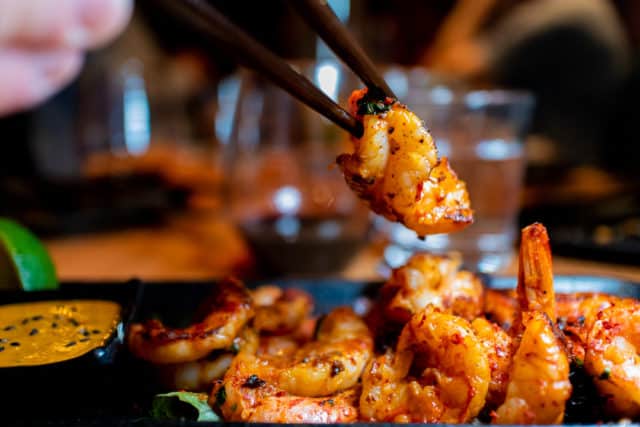 What to order: beet & za'atar flatbread, char siu pork belly, red devil calamari, grilled hanger steak, pan-flashed spicy prawns.
Three Ravens Restaurant & Wine Bar
There are a lot of restaurants with a view in Banff, but not many that serve food as good as the Three Ravens. Located in the Banff Centre up on Tunnel Mountain, this top-rated restaurant delivers some of the most exciting food in Banff right now.
Executive Chef Sébastien Tessier uses local ingredients as inspiration to build a menu that will appeal to almost any palate. Wines, beer and cocktails are also sourced from the region. It's ideal for a date night out!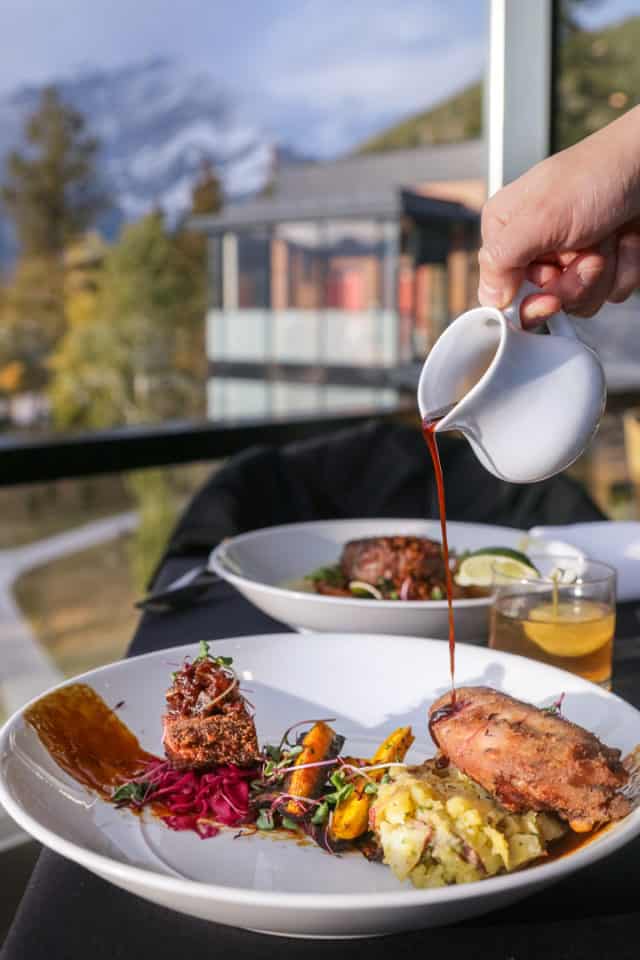 What to order: menu changes seasonally, but if you have a chance, give octopus carpaccio, bison tenderloin, and smoked Alberta trout a try!
Chuck's Steakhouse
If you're craving for steak, Chuck's Steakhouse sets the stage for an unforgettable Banff dinner! This Banff steakhouse, in the heart of downtown Banff, prides itself in offering Alberta's premium beef experience. The dry-aged prime, local-raised wagyu, and natural Angus steak all live up to the promises of what a good Alberta steak should be, without overcomplicating it.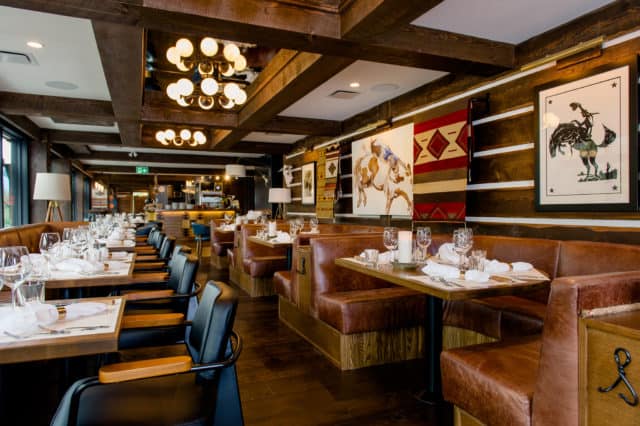 What to order: can't go wrong with their dry-aged steak!
Best Banff Bars to Put on Your Radar
Park Distillery + Restaurant + Bar
Part distillery, part bar and part restaurant, Park has people buzzing from the get-go over its relaxed vibe adorned with "glacier-to-glass" drinks and campfire-themed cuisine.
Touted as the only distillery to operate in a national park, this Banff distillery prides itself using the best drinking water – from six rocky mountain glaciers – to create a medley of hand-milled, hand-mashed, and hand-distilled small batch spirits.
If you are curious about how their spirits are made? Join the free distillery tour that runs daily at 3:30 pm. The behind-the-scenes tour guides you through the complete process of spirit production and introduces you to flavours unique to the brand.
Pro tip: For those who are eager to sample something new, pay $20 to get a flight of spirits for tasting!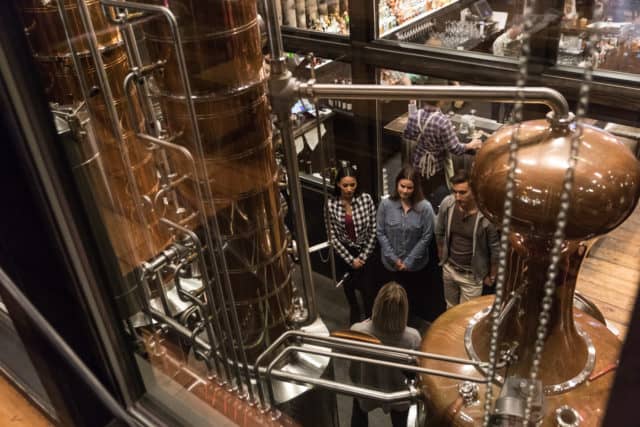 Banff Ave Brewing Company
If you are more of a beer connoisseur, Banff Ave Brewing Co. will be a better match for you.
Brewed on site, their craft beer are made from mineral-rich glacier water with hops and malts sourced from around the world. Sip on the crisp, refreshing Banff Ave Blonde Ale, or something more unique like the botanical-flavoured The Remedy Gruit.
Grapes Wine Bar
For those solely interested in wine, Grapes is a stand out wine bar. Hidden inside Fairmont Banff Springs Hotel, Grapes showcases an incredible selection of Canadian wine.
Don't overlook the food here either. Their charcuterie and cheeses complete the wines so seamlessly that will make you indulge in one bottle after another.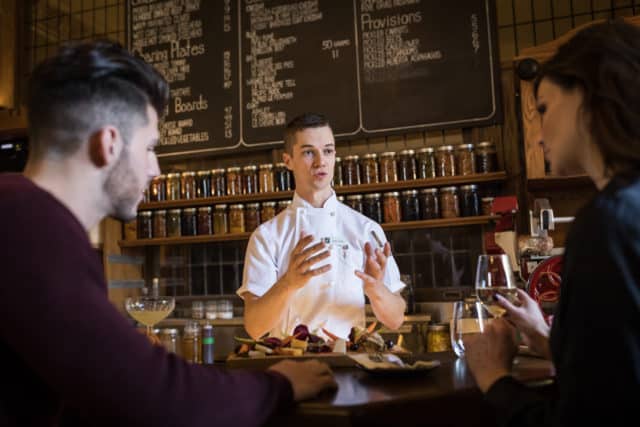 Banff Festivals for Serious Foodies
Cochon555
Pork lovers, rejoice! Every April, the Cochon555 tour makes a stop in Banff National Park with the goal to support family farmers and educate consumers about the agricultural importance of eating heritage breed pigs.
At this epic North American culinary competition, 5 local chefs, each cooking one whole heritage breed pig raised by a family farm, prepare six different dishes for the event guests and celebrity judges for voting. The winner will be crowned the "Prince or Princess of Pork" of Banff National Park and will advance to the finale, the Grand Cochon.
In addition to the creations from the competing chefs, ticket holders will enjoy all sorts of swine-splendid bites put together by participating local chefs alongside artisan wines, boutique spirits and handcrafted cocktails for tasting!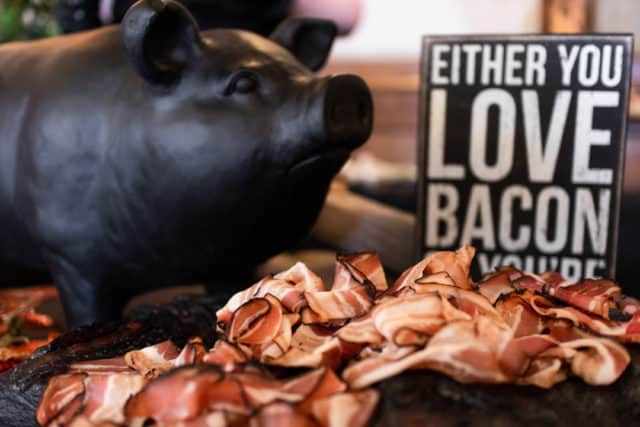 The Banff Whisky Experience
Due to popular demand, the Banff Whisky Experience is back for a second year! This 2-day event in September is your chance to sip through hundreds of different whiskies from around the world.
The program includes the highly anticipated Grand Tasting and 12 Master Classes that brings you deeper into the world of whisky. Whether you are whisky enthusiasts or someone who is just getting into whisky for the first time, there is something for everyone to enjoy.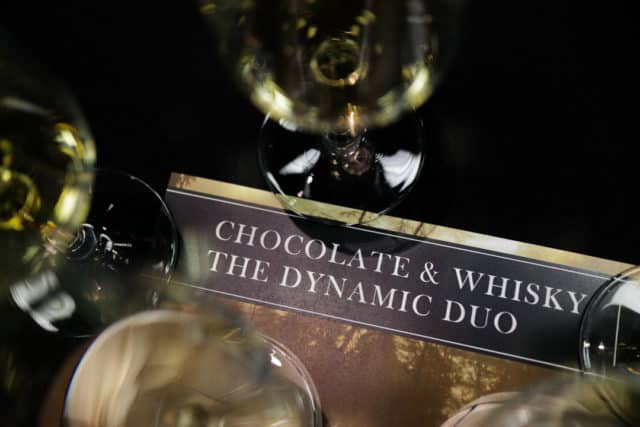 Banff Craft Beer Festival
In late November, Banff Craft Beer Festival (aka Banff Beer Fest) brings together beer lovers to sample Alberta's finest craft beers.
The event is set in the historic Cave and Basin featuring a wide variety of local craft beers from over 40 breweries as well as food from some of the best restaurants in Banff.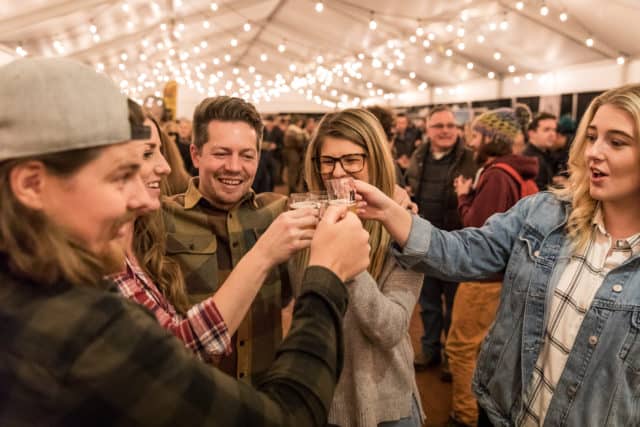 Tribute to Craft Spirits Festival
Newly added to Banff's SnowDays Festival's programme is the Tribute to Craft Spirits Festival. The 12-day celebration in January gives attendees the special opportunity to taste unique cocktails at selected Banff and Lake Louise restaurants and bars, featuring spirits from local craft distilleries.
Craft connoisseurs will not want to miss the two-day tasting event in downtown Banff to sample craft spirits, sip on cocktails and meet the distillers!
Can't-Miss Foodie Experiences in Banff
Eat the Castle Food Tour
Can you believe that there are as many as 10 restaurants in Fairmont Banff Springs Hotel? These restaurants take great pride in providing the finest food from local land and sea, and the best way to get an authentic Canadian culinary experience is by joining the "Eat the Castle" food tour.
Come hungry: You start this walking tour of the majestic Fairmont Banff Springs with a smoked meat sandwich and local beer pairing. The eats only get better as you visit beautifully appointed restaurants like The Vermillion room, Grapes Wine Bar, and the 1888 Chop House.
It's not all about the food either: Your guide from Alberta Food Tours will explain the fascinating history, art and architecture of this iconic hotel as you walk.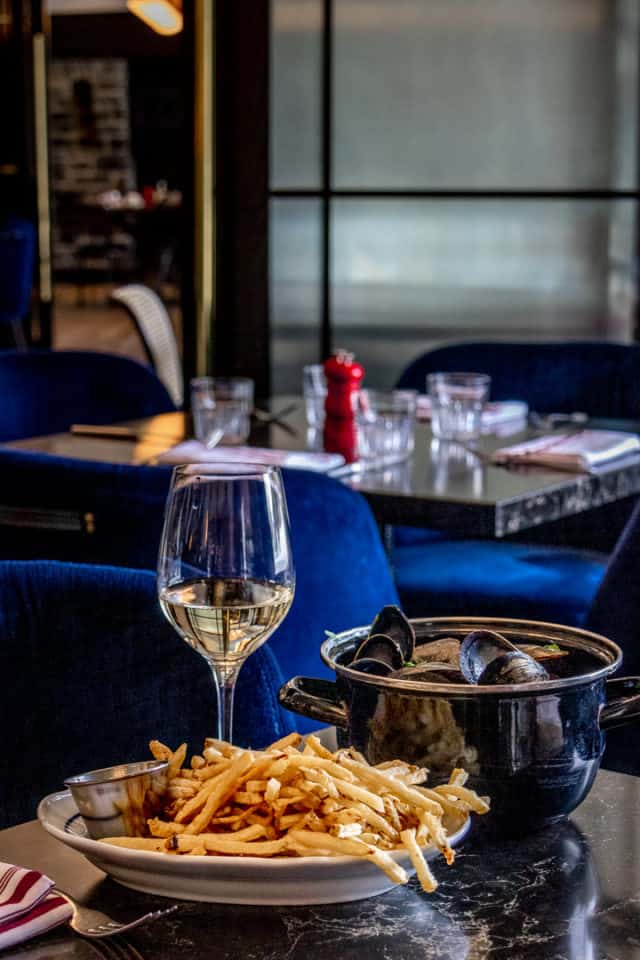 BeaverTails
Follow the deep-fried pastry scent down Banff Avenue to BeaverTails. Hand-stretched to resemble beaver's tails, this traditional Canadian pastry comes out scandalously delicious, thanks to its crispy-chewy texture. With endless flavour combinations, your sweet tooth will be sated in every possible way.
The company opens 2 storefronts on the same street – that's how good it is!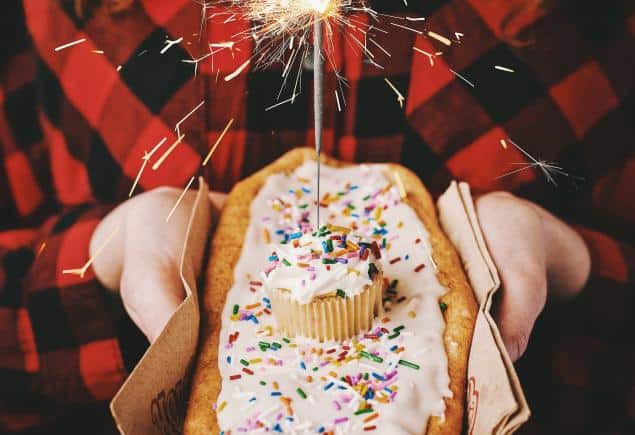 Baked Goods & Coffee at Wild Flour Bakery
This tiny Banff bakery on Bear Street is certainly more locals-driven than touristy. They are known for their artisan bread and handcrafted treats that are freshly baked every day. Aside from the pastries, Wild Flour Bakery also serves healthy meals and lighter bites like soups and salads, many of which are wheat-free and vegan.
Insider's tip:
Wild Flour Bakery runs another coffee shop in Banff called
Little Wild Coffee
, a great spot for a quick bite and a tasty cup of coffee.
---
Now you know all the insiders' secrets on the best places to eat in Banff, you'll have no problem picking a good restaurant on your next trip to Banff!