This site uses affiliate links and we may earn a small commission when you use our links and make a purchase without incurring additional fee yourself. Many thanks for supporting this website. Please see our disclosure page for more details.
Snow is gone, birds are out, it's time to come out of hibernation! There are so many fun events in Calgary to celebrate spring – Rosé festival being one of them. Hosted in-house in Parc, this was the first time ever the French restaurant held a rosé-themed party. Not only was it a joyful event to welcome spring, it was also an evening to celebrate Parc's first birthday!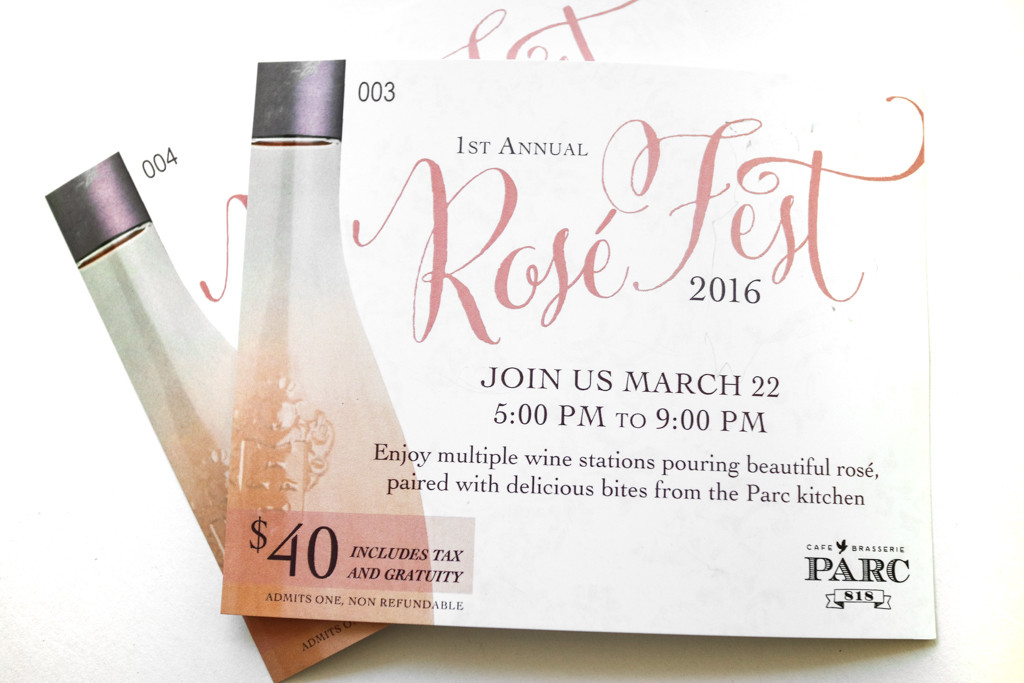 Kev and I were super excited ever since Parc's announcement for the Rosé Fest. Not to mention that Parc is one of our favourite French restaurants in the city, it would be our very first time tasting rosé wine and champagne! In this post, we will focus on rosé (of course) and the different kinds we tasted throughout the event. If that sounds good to you, let's dive right into this incredibly fun-filled wine event!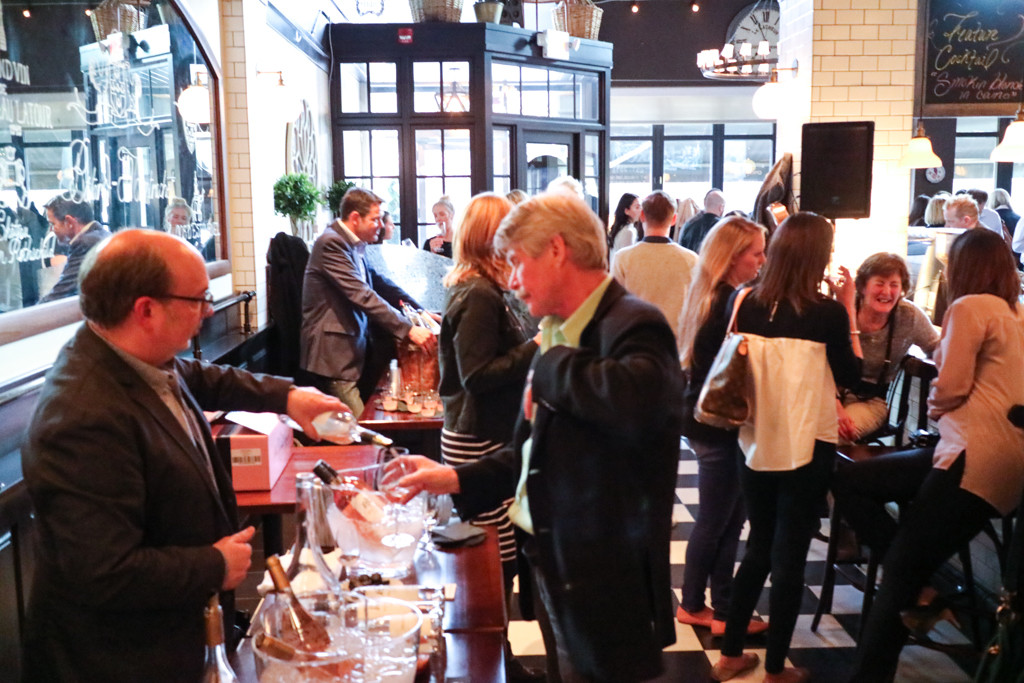 The exciting evening featured multiple wine booths with a representative pouring and discussing the wines, along with food stations scattered throughout the dining area and a DJ in the house to get things heated up with live music. First things first, if you're unfamiliar with these delicate, beautiful pink-hue wines, you might wonder "what exactly is rosé?"
Rosé – Pink is the New White

How is Rosé Made?
White wine from white grapes, red wine from red grapes….so pink wine comes from mixing red and white wine together? NO, as logical as it may sound, that's not how winemakers typically create rosé. To make rosé wine, black-skinned grapes are crushed and the skins are left in contact with the juice for a very short period of time (usually within the span of a few days). When the wine reaches the desired colour, the grape skins are removed and the juice is left to complete the fermentation process. Some rosé have a darker colour than others, that's because the grapes' skins are left in contact with the juice for a longer period. This method is called maceration. Saignée is another common method, which involves bleeding off some of the juices during red wine production and putting it into a separate vat for fermentation to produce rosé. Blending (mixing white wine with red wine) is very uncommon and often frowned upon as a way to create still rosé wine, but some used the method to produce sparkling wine.
Rosé is typically produced from blends of multiple grapes and can be found growing in many different regions around the world. Common grape varieties include Grenache, Sangiovese, Pinot Noir, Cinsault, Syrah, and Zinfandel. France is one of the biggest producers of rosé in the world, with Provence being the largest region. Other countries with large volume of rose wine production include Italy, USA, and Spain.
How does Rosé Taste?
Many say that rosé has regained its popularity over the past few years. Regardless if it's true or not, I love how fresh it tastes on the palate, even more so than the white wine! The pink wine tends to have lots of fruit flavours and nice acidity. The flavours more often than not lean towards watermelon, rhubarb, strawberry and raspberry. Of course, the types of grapes used can change how the wine tastes. You might hear the terms "old world" vs "new world" floating around. The main difference is that old world rosé (aka produced from Europe) tends to be more dry while new world rosé (from everywhere else) can be a little sweeter.
What Food to Pair Rosé with?
Best consumed slightly chilled, rosé generally goes well with any summer dishes because of its versatility. When it comes to food pairing, it works especially well with seafood, grilled meat, ribs, burgers, and surprisingly, pizzas!
Rosé Wines at Parc
Now that we are all caught up with what rosé is, let's see what wines we tried at the Rosé Fest! Various importers and distributors in Calgary, including BonVida Wines, Artisan Wines, Crush imports, Fluid Imports, Metrovino, and Thirsty Cellar Imports, joined together for the evening and knocked us out with the finest varieties of rosé ?
Here are some of the wines we tasted:
Domaine De Pellehaut Rosé 2014: A blend of Marlot and Tannat gives this wine a soft texture and delicious touches of strawberry.
Chateau Des Sarrins – Cotes de Provence Rose 2014: Made with Cinsault, Grenache, Syrah and Mourvedre, this gorgeous rosé offers an aromatic richness well balanced with acidity. It is lightly herbal, brimming with soft fruit-punch strawberry flavour and notes of black pepper.
Chateau De L'Aumerade – Cuvee Marie-Christine 2014: Made with a blend of Grenache, Cinsault and Syrah, this salmon-pink rosé is fresh and fruity, with bright strawberry and fleshy rhubarb flavours, nuanced by spicy notes.
Canard-Duchêne – Charles VII Smooth Rosé: Composed of 59% of Chardonnay, 21% of Pinot Noir, and 20% of Pinot Meunier, this champagne contains sweet and harmonious flavours, with delicate notes of raspberries. It has 2 of my favourite things – bubbly and fruity. Definitely my top pick of the night!
Food Stations
Aside from the wine, Parc also set up multiple food stations featuring appetizing bite-size foods that were designed to complement the wine. Never-ending supply of fresh oysters, delicious comfort food from the kitchen, charcuterie, and cheese from Peasant – the evening was absolutely fabulous!
Conclusion
Aight, say no more, go grab a bottle of rosé the next time you're in a wine store. There's no better time than now to expand your wine horizons!
Joyeux anniversaire, Parc!
---
This post is part of the Fiesta Friday link up. Please click here for more cooking inspiration!