This site uses affiliate links and we may earn a small commission when you use our links and make a purchase without incurring additional fee yourself. Many thanks for supporting this website. Please see our disclosure page for more details.
Remember last month I shared my top 6 restaurants for Valentine's Day? I started regretting publishing that post when I was booking our romantic date 2 weeks prior to Valentine's Day. Not a single spot left! Could you believe that? But no biggie, what mattered the most was WHO you spent with, rather than WHERE you actually went. So being as adventurous as I usually am, I picked a restaurant we had never visited before to spice up this year's Cupid's day! Let me introduce you to Black Pig Bistro.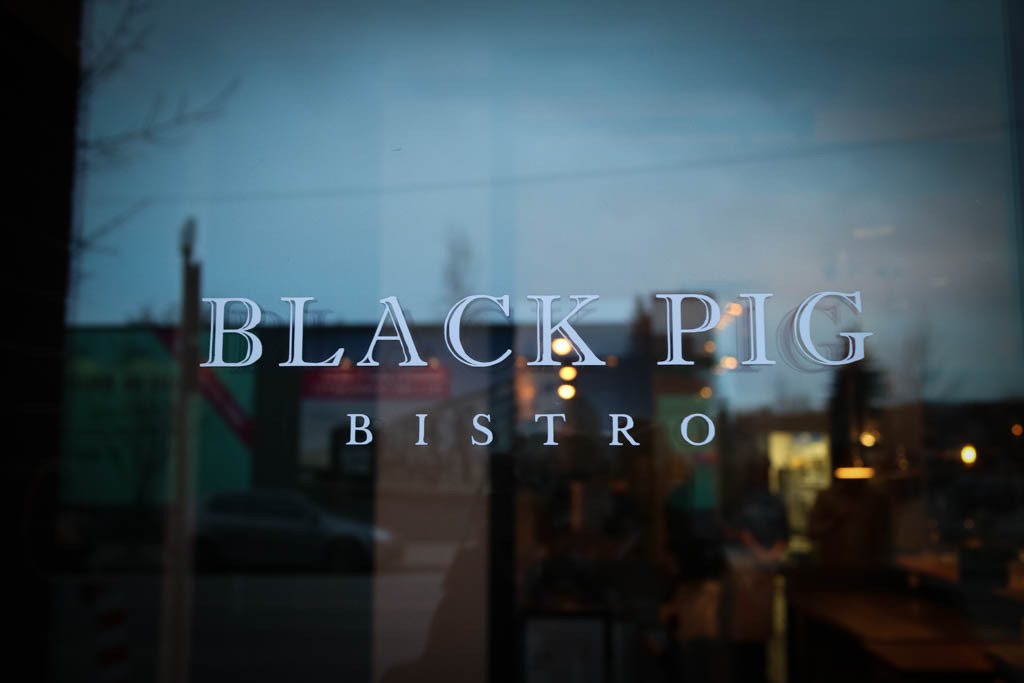 Ever since it opened its door in 2014, the pork-centric restaurant has received much recognition and was frequently listed as one of the best new restaurants in Canada. For all that attention it has garnered, there's one key character we must not leave out – the Black Iberian Pig. Commonly found in parts of southern Spain and Portugal, the free-roaming Iberian pig is known for its distinguished flavor as a result of its strict diet of olives and acorns. After 1~4 years of aging, the best quality Iberian ham (aka Jamón ibérico or pata negra) is produced. Deep red in color and marbled with fat, it is best eaten on its own or simply on baguette as an appetizer!
If you ever want to meet this restaurant star, you can find it behind the counter ?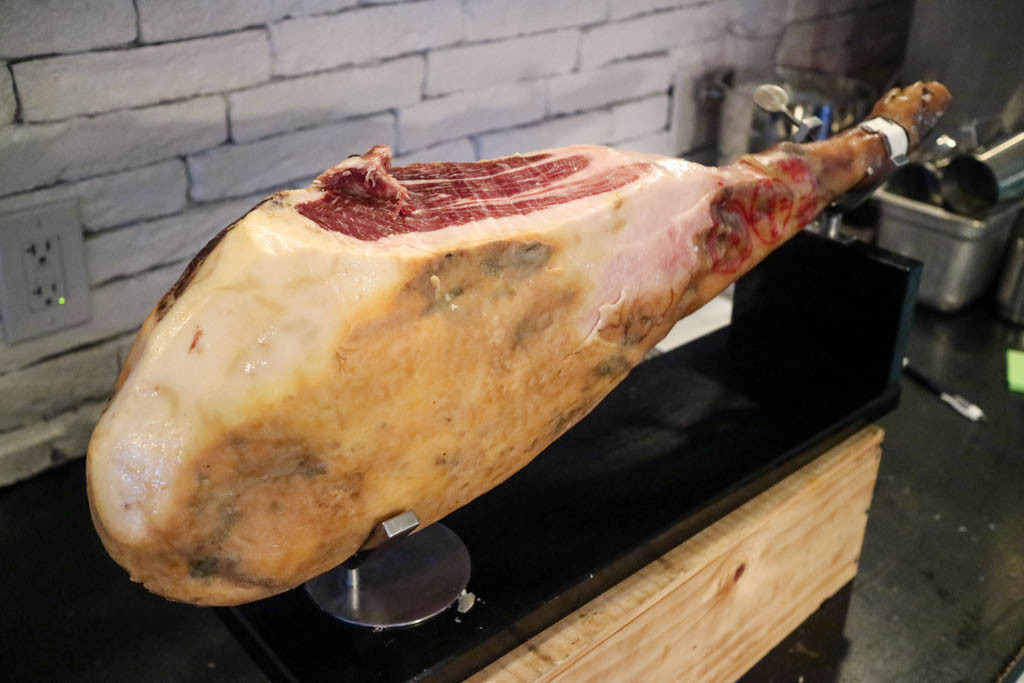 After greeting the king of the hams, we made our way through the chic, casual dining space that's full of neighbourly charm. For Valentine's Day, the Spanish bistro especially designed a 4-course chef-tasting menu ($65 pp) that promised an evening of casual elegance ❤️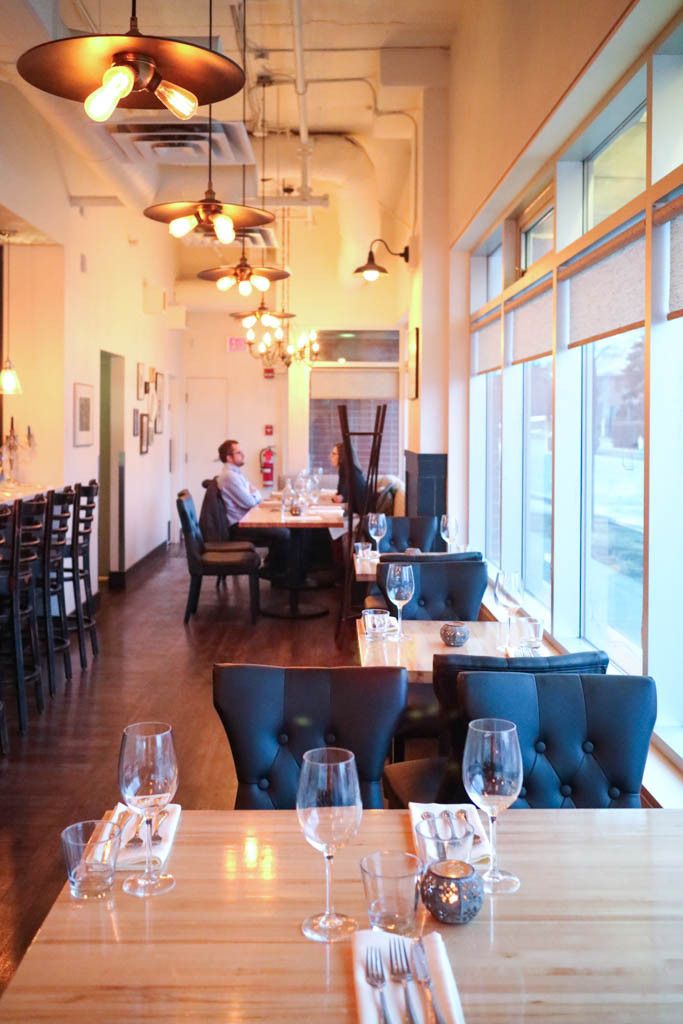 Valentine's Day Chef's Tasting Menu
The first course featured fresh garden ingredients in tapas style, including olive tapanade, green beans, and mushroom arancini. I am not a fan of olives so I might not be the best person to judge the olive tapanade. But I could tell you that the dip was awfully salty and bitter. As much as I tried to appreciate it, I just couldn't make myself enjoy it. On the other hand, the sautéed green beans, broccolini and asparagus were much more delightful – simple, fresh and light, making it a great starter dish. Interestingly, the mushroom arancini were not as heavy as we thought. Instead, the fried rice balls were wonderfully soft with the mushroom filling. The beurre blanc sauce and tiny pieces of iberico ham on the side certainly added a little bit of extra taste to the dish. If they were a bit more cheesy and crispy, it would have been heavenly tasty.
The second course continued to work up our appetite with a variety of seafood, including fresh pink moon oyster from PEI, lobster tail, and sautéed prawns. These cocktail-sized oysters had a mild, pleasantly salty taste. Garnished with caramelized lemon gel, they left a clean lemony taste lingering in the mouth. The Norway lobster tail served on a bed of sautéed kale was the reason we came here for – it was amazingly succulent and delectably creamy! Same for the prawns, we loved how fresh, meaty and juicy they were! The piquillo pepper puree was a nice touch up that wasn't overly heavy but brought a little heat to the tongue.
Enough with the appetizers, let's bring out the star of the night! Served in family style, the roasted cornish hen made a hearty dish that warmed our soul. The slow cook approach kept the meat extremely moist and tender. Poured over with bourbon fennel gravy, it was like Thanksgiving all over again! Equally delicious were the roasted potatoes – so buttery and packed with herbal flavors. And smokey, charred brussels sprouts… healthy had never tasted so good!
By the time we finished the hen, we barely had room for desserts. Amongst the 3 types of desserts, I found the chocolate chip sous vide bread pudding particularly interesting. Tasted somewhat like French toast, the dessert was savoury and had a crisp outer layer. In comparison, the café pot o créme was rather ordinary – as usual, it delivered a creamy texture and intense coffee flavor. To our disappointment, the puff pig pastry and vanilla bean ice cream didn't taste as good as it looked, the pastry was a little hard on the teeth and was completely tasteless. You really had to pair it with the ice cream to pick up some flavors.
[easy-image-collage id=4492]
Conclusion
Romantic ambiance? Check. Friendly service? Check. Affordable pricing? Check. Exquisite food? Hmmm….I was only half-impressed. As a pork-centric restaurant, I was a little disappointed that not any pork dish was incorporated in the chef-tasting. Moreover, I didn't see a lot of Spanish element in the food. I might go back to try the Iberian ham (just so I could say I've tried the king of Spanish hams), at most the seafood, but that's about it.