This site uses affiliate links and we may earn a small commission when you use our links and make a purchase without incurring additional fee yourself. Many thanks for supporting this website. Please see our disclosure page for more details.
Cajun food in Lafayette, LA is out of this world, but Lafayette has so much more to offer. Besides its incredible food scene, Lafayette has a rich culture waiting to be explored. There, you will get a taste of its rich French heritage blended with Spanish, American, Indian, and African influences. In this post, we highlighted 12 exciting things to do in Lafayette to make your Louisiana road trip an unforgettable adventure! 

Looking for inspiration for similiar road trips in other parts of the US? Check out our guide for the ultimate Miami to Key West Road Trip!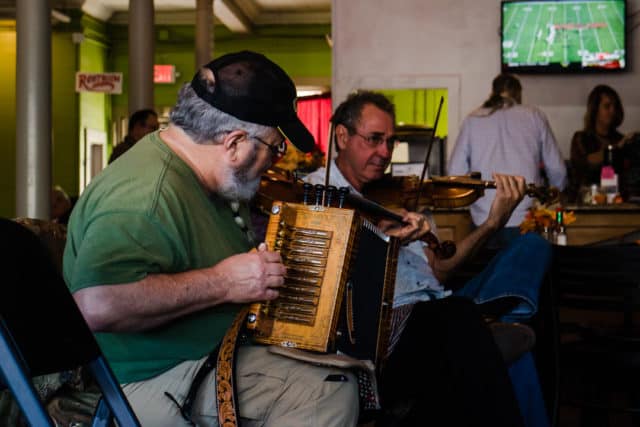 1| Explore the Vibrant History of Acadiana
What makes Lafayette (or Southern Louisian in general) unique is its Cajun culture. But who are the Cajuns and where did they come from?
To truly understand what Cajun really culture is, we need to go back and explore its French heritage. It dates all the way back to 1755 when the French-speaking Acadian people were expelled from their home in Acadie (now Nova Scotia, Canada) by the British. They found refuge in southern Louisiana and settled in the swamps, bayous and prairies.
Over the years, the Acadians adapted to their new environment and shared what they brought with them with the other cultural groups already in the area, including American Indians and immigrants from Europe, Asia, Africa and South America. The Acadians became Cajuns and developed their own distinct Cajun French dialect, societal norms, music and food.
To learn more about the Acadians, the Acadian Cultural Center at Jean Lafitte National Historical Park & Preserve is a wonderful place to explore the cultural diversity in the Acadiana area in Southern Louisiana. The park rangers tell fascinating stories of the Acadians and their rich traditions of dances, food, and music.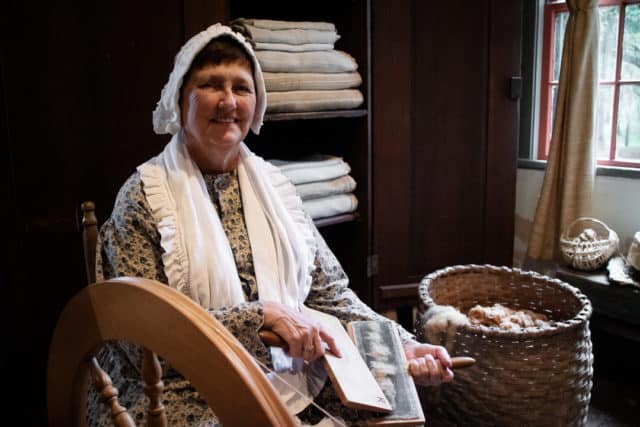 Vermilionville is another great place worth stopping by. It is a living museum that preserves and demonstrate the Acadian/Cajun, Creole and Native American cultures in the Attakapas region from 1765-1890. You can experience firsthand how life was lived by the early Acadians in Louisiana.

What I loved most is that costumed artisans could be found in homes throughout the village demonstrating a craft or telling history through stories!
[irp post=8631]
2| Wander Around Downtown Lafayette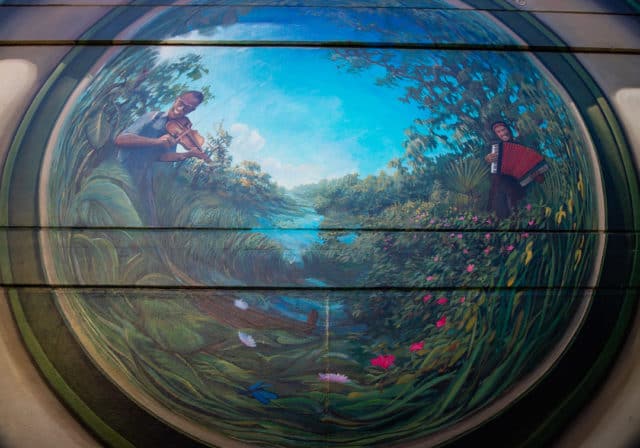 Downtown Lafayette is full of life and home to wonderful boutiques, a large selection of international restaurants, and downtown parks.
Take a walk along Jefferson Street and you will find breathtaking mural arts completed by the internationally renowned artist, Robert Dafford. Each features iconic and lesser-known visual stories unique to Lafayette.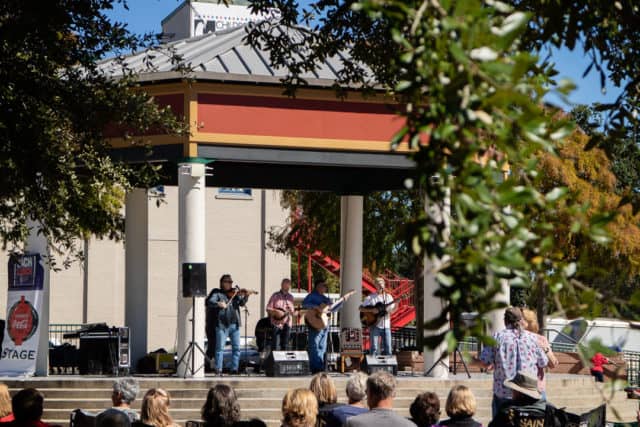 In spring and fall, the city hosts abundant events and festivals to keep people busy and active.
One of the most well-known Lafayette events is Bach Lunch. The free lunchtime concert series takes place every Friday from 12-1pm at Parc Sans Souci in downtown Lafayette. Different local musicians performing every week in a variety of musical genres (you can hear cajun, zydeco, blues…) while lunches are available for purchase from local restaurants.
[irp posts=9454]
3| Go Craft Beer Tasting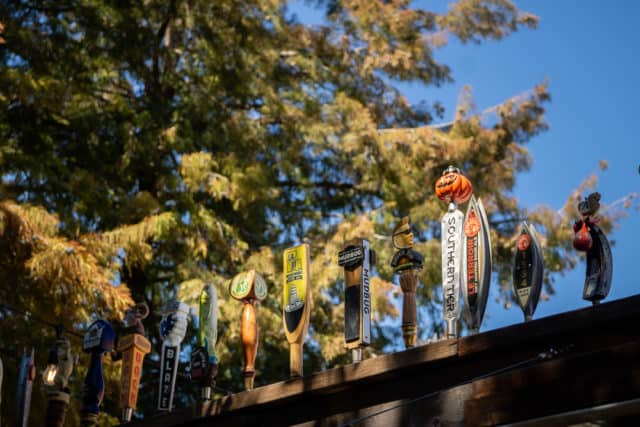 A cold, crisp brew is all you need on a hot summer day.
In Lafayette, there are 2 local breweries that make high-quality beers worthy of your attention.
Bayou Tech Brewing (aka LA 31), located near the Atchafalaya Basin, is a favourite among the locals. This little gem is known for brewing the freshest, most creative beers that complement the Cajun and Creole cuisine. With over 20 beers on tap, there's something for everyone!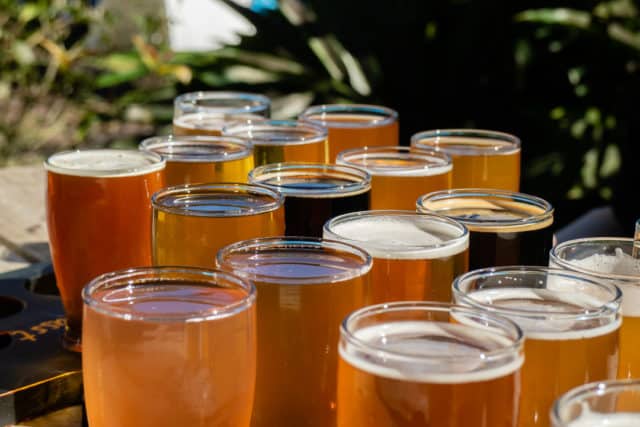 If you don't want to drive so far, Parish Brewing is a microbrewery closer to downtown Lafayette. Best known for its Parish Canebrake, made with honey-sweet sugarcane syrup!
4| Get up Close and Personal with the Alligators
Looking for something fun and different to do in Lafayette? Go on an airboat adventure at Louisiana's wildest place, Atchafalaya Basin!
The Louisiana swamp tour will take you deep into the secluded bayous, giving you an opportunity to get to known the unique mammals and birds along the water.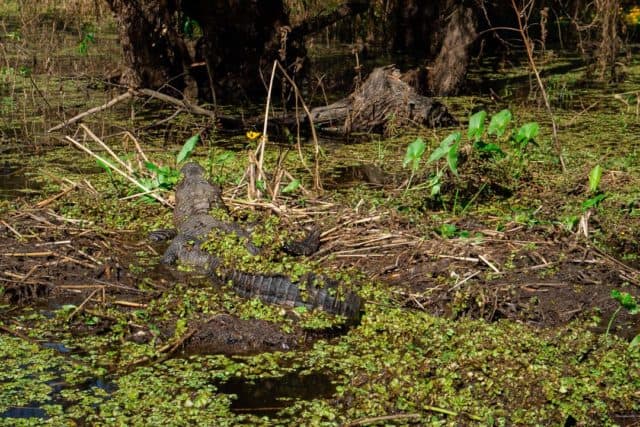 Roseate spoonbills, great egrets, and cottonmouth snakes are just some animals you will encounter on the Atchafalaya swamp tour as you meander through the moss-draped cypress trees.
And of course, alligators are the star of the show! As you watch the interactions between the alligators and the capture, you will be surprised how docile the animals actually are. (Having said that, they may become aggressive if provoked!).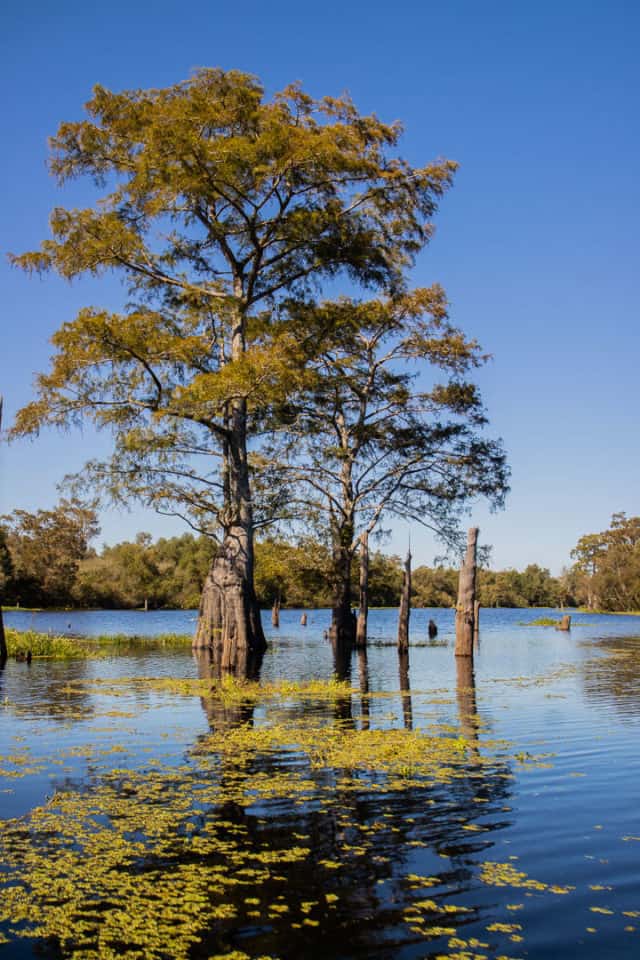 Guided airboat tours are a popular way to explore the bayou. Aside from airboat swamp tours, you can also head out for a paddle, go fishing, and stay on a houseboat!
5| Go Vintage Shopping
Searching for antiques and vintage clothing for a unique souvenir from your trip to Lafayette? The streets in Henderson has numerous antique shops and vintage boutiques where you can hunt for second-hand treasures!
Highlights include Lagnaippe Antique, a gigantic store housing an incredible collection of home decor item, used books, vintage toys and collectibles, and LA Marketshops at the 115, which brings in a full range of Louisiana art, gifts, antiques and products.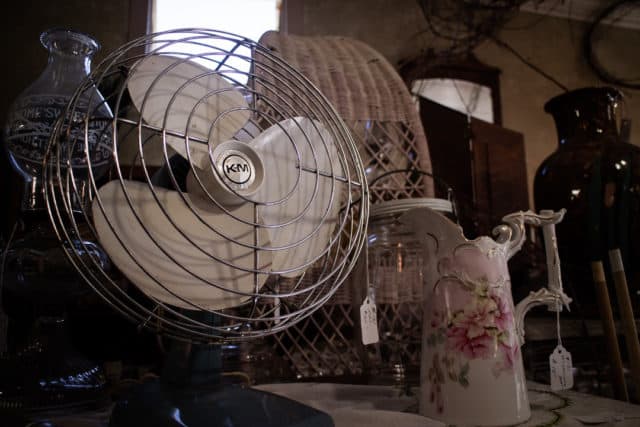 6| Dance the Night Away
Put on your dancing shoes and feel the rhythm of cajun music!
Even if you don't know how to do the 2-step, give it a try. Honestly, it is not about how well you can dance, but the fun you have. I promise you will have a great time!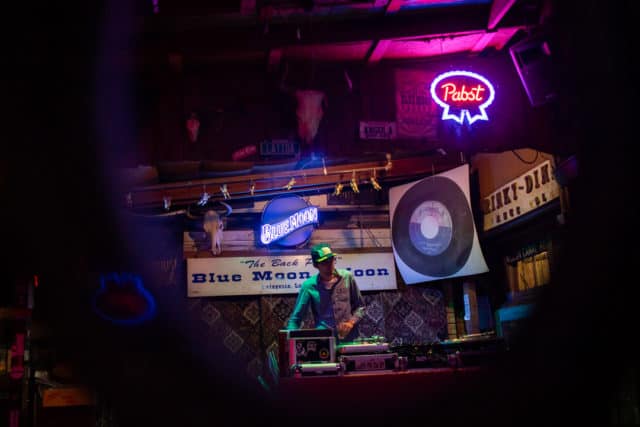 Downtown Lafayette has plenty of venues inviting you to boogie on down and show off your best dance moves.
Boogie on over to the dance floor at Blue Moon Saloon, where live bands take the stage all week long and Cajun Jam happens every Wednesdays. Or cut loose at Artmosphere – the perfect spot to dance to a jambalaya of swamp pop, Cajun, zydeco, soul and blues.
On Friday evenings, join the locals at Downtown Alive! from 6-8pm. This outdoor concert series takes place only in the spring and fall with live band music ranging from cajun to world music, enticing you to dance under the starry sky!
7| Put Your Bowling Shoes on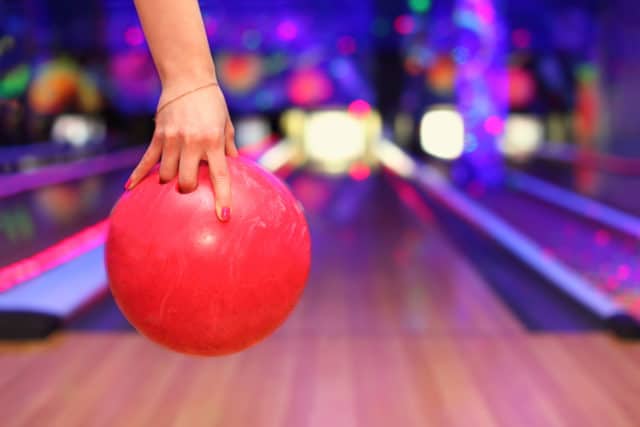 If you're looking for a good indoor activity to keep you busy on colder days and nights, why not go for a bowl?
Rock 'n' Bowl is a popular venue and a cool date spot in Lafayette, LA. It's unique in its pairing of bowling and live music. The spacious 16-lane bowling alley manages to combine a large performance stage, dance floor, and a second-floor space for wedding receptions and private events, all under one roof.
To make things even more exciting, Rock 'n' bowl has private suites on the second floor, resembling windowless opera box overlooking the main stage and bowling lanes.
8| Get Your Cajun Food Fix
Let's be real. You're here for the food, right? We get it!
Lafayette has more restaurants per capita than any other city in the USA so you will surely find something suite your palate.
As a first-time visitor, it can get overwhelming choosing a restaurant when there are so many incredible places to eat in Lafayette, LA. So, we've picked a few best food spots to indulge yourself:
French Press serves the best brunch in Lafayette, LA. Their praline bacon and cajun benedict will fuel your day and make you feel good.
Blue Dog Cafe is my personal favourite. Seafood in Lafayette, LA is extraordinary, and the popular cajun restaurant dishes up mouthwatering seafood dishes like Breaux Bridge catfish and crawfish etoufee that make you lick your plate!
[irp posts=9487]
9| Tour the Tabasco Pepper Sauce Factory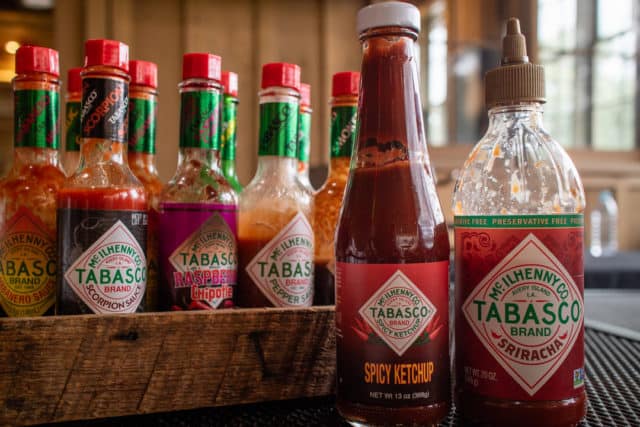 Those who love hot sauces should not miss the chance to tour the iconic Tabasco sauce factory! The company is headquartered on the Avery Island in Louisiana and has just recently celebrated its 150th anniversary.
To see how the world-famous hot sauce is made, take a 10-stop self-guided tour through the factory, from the pepper greenhouse all the way to the bottling centre.
Make sure you stop by the gift shop for free tastings of Tabasco-infused goodies and shopping for all the Tabasco merchandise!
For an additional $7, you can visit the Jungle Gardens – a beautiful sanctuary with a diverse collection of plants, trees and wildlife. You may see alligators, egrets, bears, bobcats and more!
10| Learn How to Make Authentic Cajun Food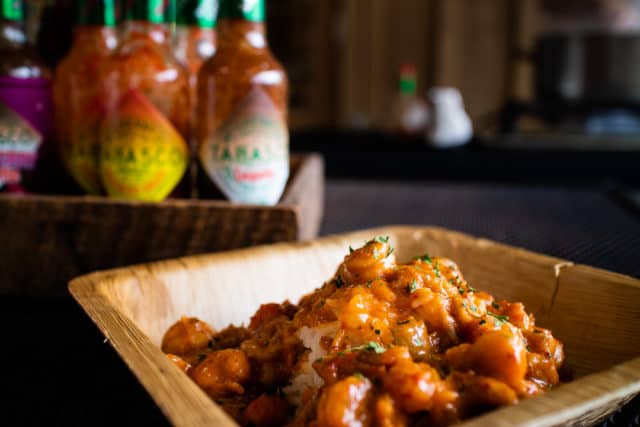 Want to know how to cook authentic Cajun food? Take a cooking class while you are on Avery Island!
Every Tuesday and Thursday, local chef Lionel Robin demonstrates how to make his signature Cajun dishes. Recipes will be given to you at the beginning of the class so you can follow through step by step.
In 1.5 hours, you will discover the secrets to Cajun cooking. It really is a great opportunity to brush up on your culinary skill.
11| Get a Taste of the Cajun Boudin Trail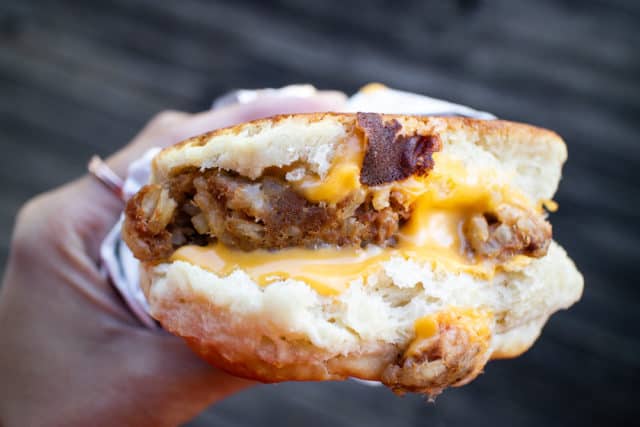 There's one thing you've gotta try in Lafayette and that's boudin!
Stuffed with pork, rice and seasoning, the traditional Cajun sausage is a tasty Louisiana delicacy that will get you addicted in just one bite. I'm not exaggerating.
In Lafayette, you can find boudin in various forms, e.g., smoked boudin, boudin-stuffed bread, or, better yet, deep-fried boudin balls!
The best way to sample the many varieties of boudin is through the Cajun Boudin Trail. Believe it or not, there are more than 30 places to expand your boudin horizons! Check out this brochure to find out where to eat boudin in Lafayette, LA.
Note: if you only have time to try one place, go to Johnson's Boucaniere for a boudin breakfast!
Visiting in October? Be sure to attend the annual Boudin Cookoff that brings together chefs from across the state and test their skills.
12| Enjoy a Zydeco Breakfast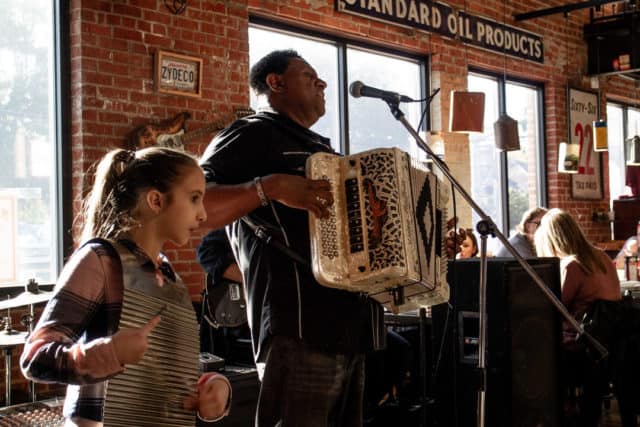 For a truly memorable breakfast in Lafayette, Louisiana, head over to Buck & Johnny's on a Saturday morning which pairs classic Cajun food with zydeco music.
Live band begins playing at 8 am sharp and that's when diners transition to the dance floor and show off their dance moves.
There's no pretension, everyone is welcome, even if you are a complete newbie!
---
Next time when you drive across Louisiana, remember to stop by Lafayette for a taste of the genuine Cajun experience. The food, the music, the people will make you fall in love with the city!
Disclaimer: This post is written in partnership with Lafayette Travel and International Food Wine Travel Writers Association. As always, all opinions on For Two, Please are our own and we only recommend brands that we 100% stand behind.