This site uses affiliate links and we may earn a small commission when you use our links and make a purchase without incurring additional fee yourself. Many thanks for supporting this website. Please see our disclosure page for more details.
Are you a seafood lover? Do you enjoy spicy food? Want to know what cajun food really tastes like? Then Lafayette, Louisiana is the place for you!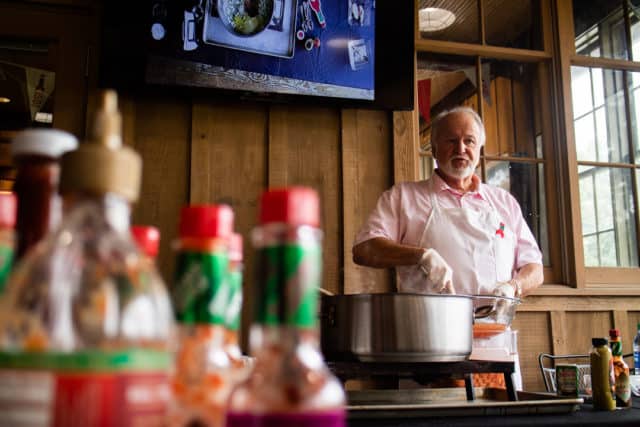 Lafayette, Louisiana, the heart and soul of Cajun country, presents one-of-a-kind culinary experience for food lovers. It is where you can try crawfish etouffee, boudin, and other food that are unique to Louisiana!
A few weeks ago, I had the pleasure to join Lafayette Travel to savour Acadiana's food and culture. Besides having unbelievably great Creole and Cajun food, Lafayette is filled with so many unique food spots to try! To give you a taste, I have rounded up 12 best places to eat in Lafayette, LA.
For Seafood – Blue Dog Cafe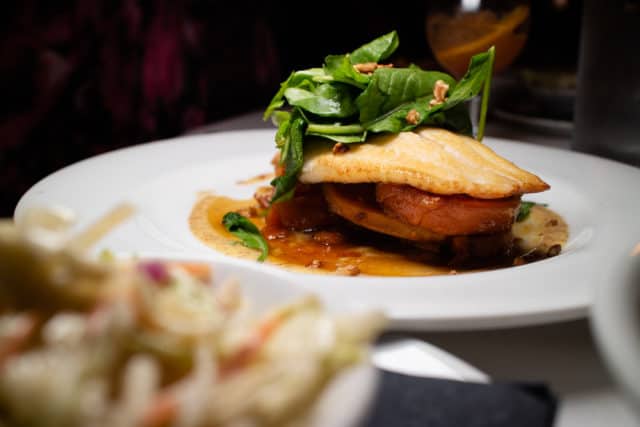 The first thing you will notice when you enter into Blue Dog Cafe is the amusing painting of a blue dog, inspired by a werewolf creature – the loup-garou – from a Cajun legend.
Founded by Artist George Rodrigue in 2000, Blue Dog Cafe is a famous Cajun restaurant in Lafayette, LA, where you can sample the freshest local seafood amidst a series of Rodrigue's Blue Dog paintings.
Locals gravitate here for Chef Ryan Trahan's satisfying seafood dishes, which respects Cajun tradition but is not bound by it. Recently crowned Louisiana Seafood King and American Seafood King, Chef Trahan whips up dishes that will have you lick the plate!
What to order: LA Cajun macaroni gratin, chicken & sausage gumbo, pecan-smoked catfish, half & half (crispy soft shell crab, fried shrimp, crawfish etouffee).
For Brunch – The French Press
Cajun poutine, praline bacon, Cajun benedict: just three reasons why many people rated The French Press their favourite breakfast spot in Lafayette, Louisiana.
Chef Justin Girouard's creative take on tradition Cajun cuisine has won The French Press a spot on SAVEUR Magazine's Top 100 Inspiring places and Things to Eat in 2013. Dishes are presented with bold bursts of flavours and aromas, along with influences from French and Italian cuisine. The delectable combination will leave you wanting for more!
[irp posts=9454]
What to order: Cajun poutine, praline bacon, Cajun benedict
For Creole Comfort Food – Laura's II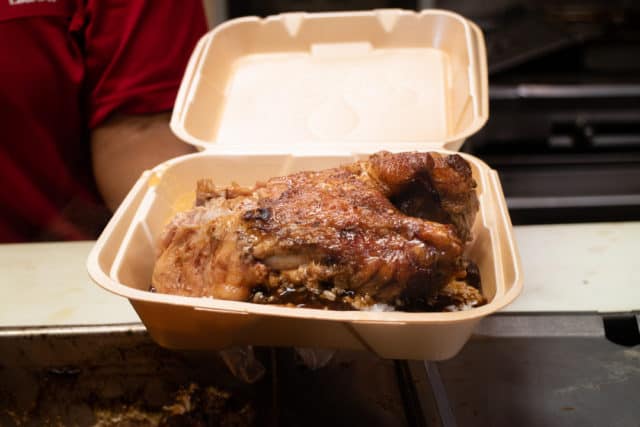 Home of the world famous stuffed turkey wings, Laura's II is serious about bringing heartwarming Creole comfort food to the table.
It's been over 50 years since it first opened, serving up its signature homemade gravy and stuffed baked turkey wings. Five decades on, third generations down, its rice-and-gravy-centric plate lunches taste as good as ever!
Take a bite out of its savoury spiced, fork-tender turkey wing, and you'll understand why Laura's II is so popular among the locals. If you don't believe me, check out the Cajun Mardi Gras episode on Anthony Bourdain's "Parts Unknown."
What to order: baked turkey wing, crispy pork chop, rice and gravy.
For Modern Cajun Food – Sainte Marie (CLOSED)
Tradition meets the 21st century at this downtown Lafayette restaurant, housed in the same building as the famous Rock 'n' Bowl de Lafayette.
Sainte Marie serves classic Cajun and Creole food with a twist in a fine dining setting. Old bank vault and safe deposit boxes traces of the previous occupier you can find in this converted historic bank building.
After dinner, don't forget to stop by Rock 'n' Bowl de Lafayette next door for some late night fun. This bowling alley in Lafayette is one of its kind, with stage and dance floor in the middle of the bowling lanes!
What to order: fried bread pudding po boy, green tomatoes shrimp remoulade, braised beef brisket.
For Zydeco Breakfast – Buck & Johnny's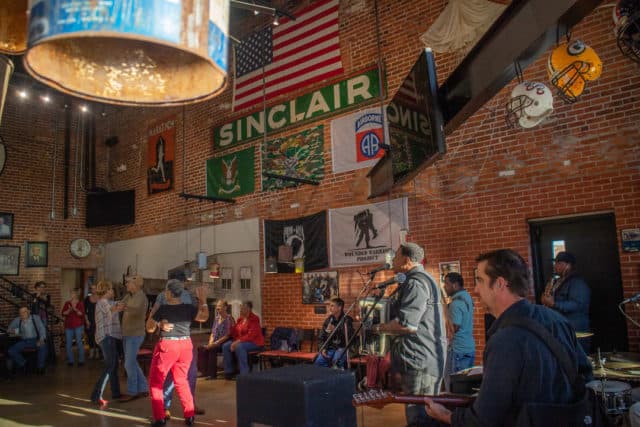 Breakfast at Buck & Johnny's is worth waking up early for on any day, but especially so on Saturday mornings when live zydeco music takes over the entire space.
When the clock strikes 8 a.m., you can expect the restaurant overflowed with hungry diners and eager dancers who are desperate to show off their dance moves.
I was very lucky enough to meet Chubby Carrier, a Grammy award-winning zydeco musician, and his Bayou Swamp Band, on my visit. I even learned some basic steps on the dance floor!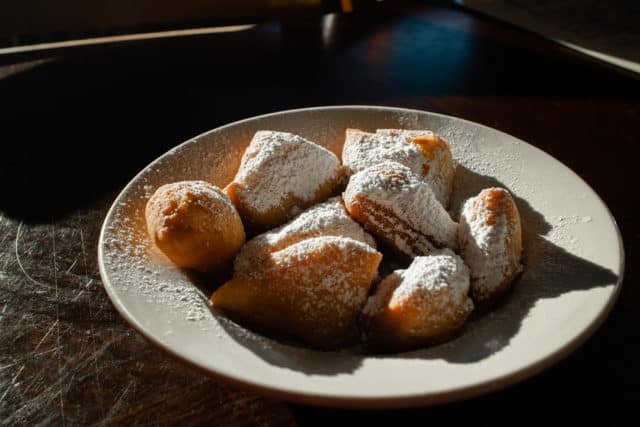 Buck & Johnny's serves up high-quality breakfast dishes to complement the great live entertainment. They make interesting Cajun-Italian fusion food that will impress just about anyone!
What to order: beignets, Cajun swamp rice, big hat.
Pairing zydeco music with breakfast - only in Lafayette, Louisiana!
Click To Tweet
For Fine Dining – Cafe Vermilionville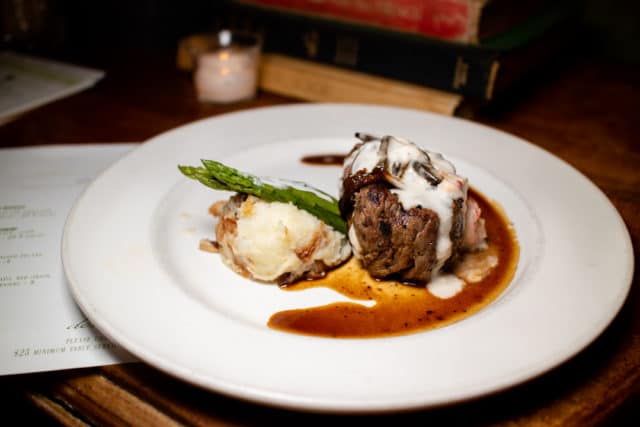 If you're looking for a sophisticated place to impress your date, then look no further than Cafe Vermilionville.
The beautifully restored restaurant exudes historic elegance and charm and offers a matchless fine dining experience in Lafayette, LA. In the spring and fall, courtyard dining and live music further add to the romantic vibe of the place.
The stunning venue is complemented with equally impressive food offerings which elevate classic French-inspired, Cajun cuisine to another level. Everything from duck roulade to coconut snapper are solid options, and any crawfish, appetizer or main, is a particularly smart order!
What to order: crawfish beignets, bacon wrapped shrimp, turtle soup, steak Louis XIII (filet mignon stuffed with crawfish tails).
For Learning Cajun Cooking – Tabasco Restaurant 1868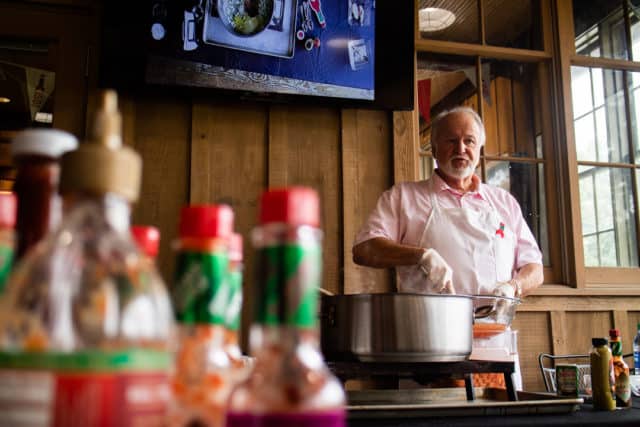 Do you know that the world-famous Tabasco sauce is made right here in Louisiana on Avery Island? From Lafayette, you can easily get to Tabasco headquarter in less than an hour!
Set amidst swaps and marshes, the Tabasco Visitor Center brings its 150-year-old history to life. A tour at the Pepper Sauce Factory takes visitors behind the scenes and gives a closer look at its production process.
But you absolutely shouldn't leave Avery Island without dining at Tabasco Restaurant 1868. Here, you can try authentic Cajun food, including crawfish etouffee, red beans and rice, and crawfish corn maque choux – all flavored with Tabasco!
The best part is that you can learn how to cook these dishes and bring back home the recipes of these Cajun favourites! Cooking classes with Chef Lionel Robin are offered every Tuesday and Thursday. Reservation required. Four-course meal included.

What to order: pepper barrel crawfish etouffee.
For Classic Boudin – Johnson's Boucaniere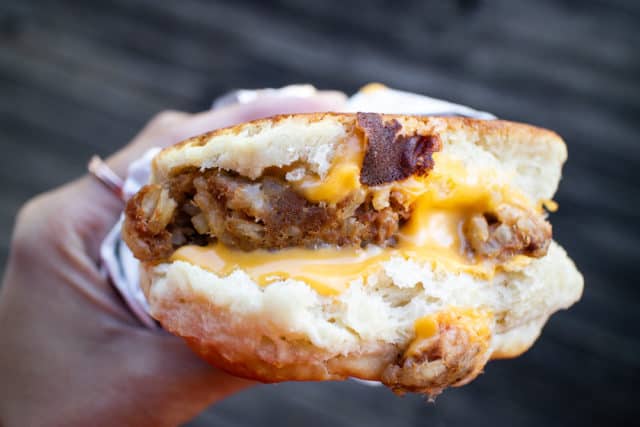 Want to grab a quick bite but not sure where to eat in Lafayette, LA? You can never go wrong with Johnson's Boucaniere.
The mom-and-pop shop has been serving mouthwatering boudin links (traditional Cajun sausage stuffed with pork, rice and seasoning) for decades and is a real treat! The top-secret item? The nenaine special boudin breakfast. Locals obsess over it and its oozy cheese and buttery biscuits.
What to order: nenaine special, Parrain special, Drew's special
For Varieties of Boudin – Billy's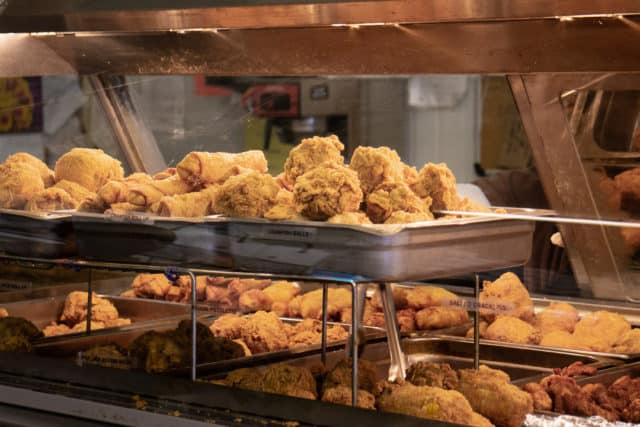 Billy's Boudin & Cracklin takes the basics of boudin and elevates it to another level.
Entering into the spacious establishment, you will find a variety of different types of boudin at the counter, including crawfish boudin and deep-fried boudin balls stuffed with pepper jack cheese. Don't ignore the cracklins and other meaty treats.
If you encounter a line (it's quite busy), have patience, it's worth the wait!
What to order: pepper jack boudin balls, cracklins, crawfish pie.
For Drive-Thru Dacquiri – New Orleans Original Daiquiris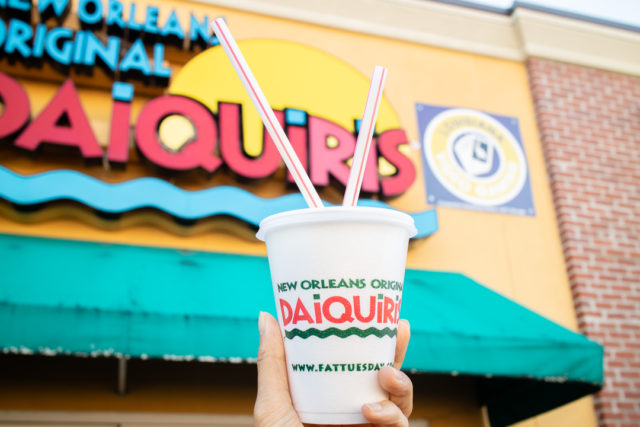 Believe it or not, you can get a daiquiri at a drive-through in Louisiana. Yes, you heard it right! And the trend started in Lafayette after the first drive-thru daiquiri opened on Johnson St. in 1981!
The much-loved New Orleans Original Daiquiris is one of the largest daiquiri chains in the country, offering over 20 unique drink flavours to the curious.
There are a couple of signatures: crawgator, blue bayou, and mardi gras mash. Adventurous flavours, like hypnotic chill, are also available on tap. If nothing interests you, mix things up and create your own flavour!
What to order: 190 octane, mardi gras mash.
For Local Beer – Bayou Teche Brewing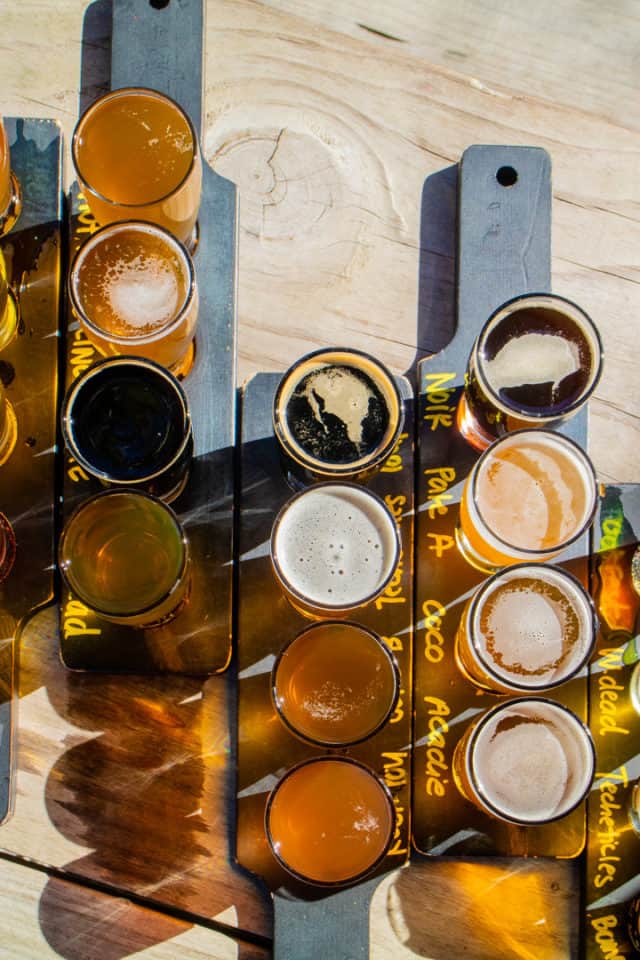 It's no secret: Bayou Teche Brewing is a beer drinker's paradise. The brewery, more widely known to locals as LA 31, has over 20 beers on tap for you to try!
Founded by the Knott brothers, the Louisiana brewery produces craft beers specifically to complement the Cajun and Creole cuisine and showcase local ingredients.
Among the top sellers, biere pale ale goes especially well with hot boudin, chicken and sausage gumbo, and boiled crawfish. My personal favourites are hot tamale baby and rock you like a hurricane, which have a slightly sweeter notes.
The pizzas here are also a delight. For those who love spicy, look for the alien autopsy!
With over 20 beers on tap for you to try, Bayon Teche Brewing is truly a beer drinker's paradise!
Click To Tweet
What to order: biere pale ale, hot tamale baby, rock you like a hurricane.
For Absinthe – Pamplona Tapas Bar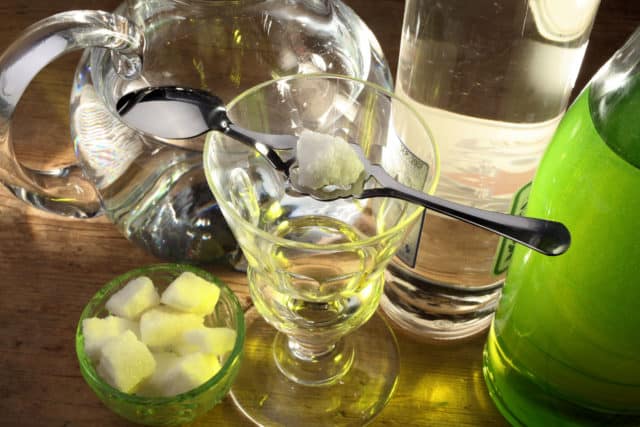 There's a good reason to visit Pamplona Tapas Bar: it's where you'll find an extensive absinthe collection from around the world.
In case you haven't caught on yet, absinthe is making a comeback after a century-long ban. Don't worry if y haven't tasted it before, this is your chance. Order an absinthe cocktail to pair with your meal. Or get the full tableside treatment and see how traditional way to prepare absinthe (you will need to call in advance for this absinthe service).
What to order: an absinthe flight.
---
Now that you know the best places to eat in Lafayette, Louisiana, it is time to plan a trip to the Cajun country. Tell us: where will be your first stop?
Disclaimer: This post is written in partnership with Lafayette Travel and International Food Wine Travel Writers Association. As always, all opinions on For Two, Please are our own and we only recommend brands that we 100% stand behind.