This site uses affiliate links and we may earn a small commission when you use our links and make a purchase without incurring additional fee yourself. Many thanks for supporting this website. Please see our disclosure page for more details.
Looking for an action-packed tropical getaway filled with sunny skies and white sand everywhere you look? Then Florida is the perfect vacation spot for you! There are so many ways to enjoy this sunny state, but we believe driving the Florida Keys is the best adventure you can have on a South Florida vacation, and it is a perfect addition to your cross-country road trip. The 125-mile stretch of coastline offers sun-worshippers many types of beach experiences, and with many other attractions and places to visit you won't have time to be bored!
Need help planning a Florida Keys road trip? We've put together a guide to the Miami to Key West drive to help you discover the best stops along the way. We even incorporate some super fun vacation ideas in this highly curated Florida Keys travel guide!

Prefer a completely different road trip in a much more northern part of the east coast of the United States? Check out our itinerary for your Bar Harbor to Portland, Maine road trip!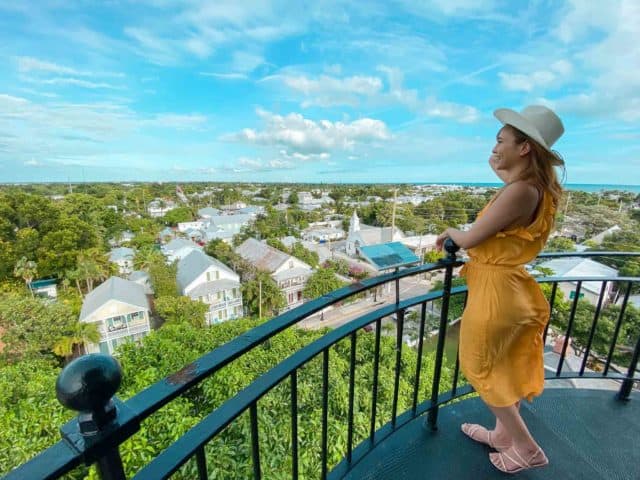 Disclaimer: This post contains affiliate links, meaning if you book or buy something through one of these links, we may earn a small commission (at no extra cost to you!).
Don't have time to read? Save THIS PIN on your USA Travel board on Pinterest so you remember to come back to plan your Key West road trip!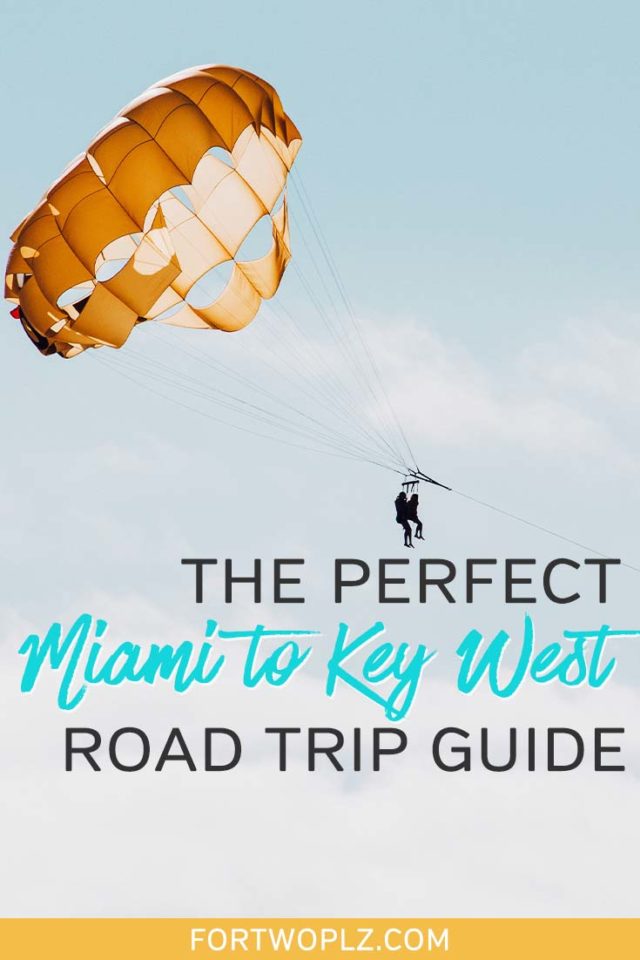 Where are the Florida Keys?
The Keys is one of the top road trip destinations on the east coast USA, just like the Coastal Maine drive. Before diving into the list of best places to see on the way to Key West, let's take a look at where the Florida Keys are on the map.

The Florida Keys is a chain of islands lies on the southern coast of Florida. The Keys are made up of over 1700 islands in the Keys, but very few of them are populated and only 43 are connected by bridges.

So many islands, so little time! Which Florida Keys island is best for couples? And which is the best island to stay in the Florida Keys? We know it is cliche, but each of the major Keys – Key Largo, Islamorada, Marathon, Big Pine Key, and Key West, has its own charm and character. It all depends on what you want to include in your perfect South Florida road trip. We will go into more detail below.

[irp posts="9545″ name="Road Trip Across Southern USA: 12 Exciting Things To Do In Lafayette, LA"]
Planning tips for the Miami to Key West drive
To get the most out of your Florida Keys vacation, we recommend flying into one of the closest airports – either Miami International Airport or Fort Lauderdale-Hollywood International Airport – and then drive to Key West. You can also travel the other way round from Key West to Miami if that better suits you.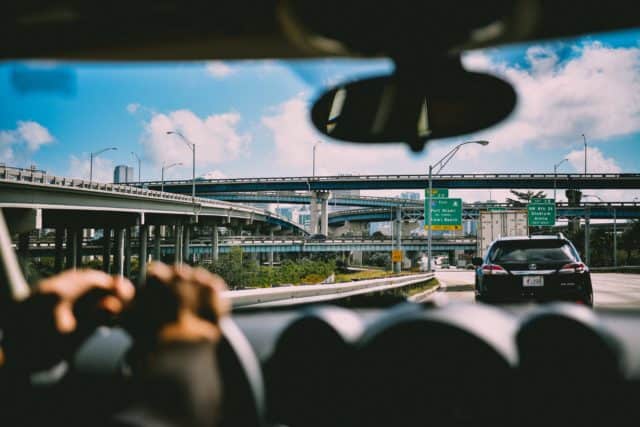 Here are some important things to know about the Miami to Key West drive:
⇢ How far is Miami to Key West? The total distance from Miami to Key West is approximately 160 miles (257 km). From Fort Lauderdale Airport to Key West, it is 189 miles (304 km). The drive from Miami to Key West takes you along Highway 1 Overseas Highway. The Key West highway passes through some 40+ islands before reaching the southernmost city in the continental United States.
⇢ How long does it take to drive the Florida Keys? The Miami to Key West drive time is around 4 hours, and well worth it. With the Gulf of Mexico to the west and the Atlantic Ocean to the east, you will enjoy absolutely breathtaking views throughout your trip.
⇢ How long should you take on your Key West road trip? We spent 4 days in the Florida Keys and felt too rushed. To really enjoy everything the drive to Key West has to offer, we recommend taking at least 6 days – 1 night in Key Largo, 1 night in Islamorada, 1 night in Marathon and 2 nights in Key West.
⇢ Renting a car: Pick up a car at Miami International Airport if you're driving to Key West. Or rent one in Key West if you're heading northbound. To prevent disappointment, plan ahead and make your booking far in advance.
⇢ Useful resources for planning and packing for your Miami to Key West drive:
✓ Refer to these interactive maps for route planning.
✓ For fun activities in Miami, consider this Miami Pass to get you into the best attractions in the city!
✓ If you're looking for a platform for tours and activities in Key West, GetYourGuide is your best friend! Check all the options and deals here.
✓ For hotel bookings, we recommend comparing prices on TripAdvisor first, then book direct or on 3rd party booking sites (Agoda usually has the best deals).
✓ Don't forget to bring a camera to capture the fun moments. A GoPro is small and easy to carry around, plus it is water- and weather- proof!
✓ Lose things easily? Attach a Tile to your valuables (camera, bag, water bottle) so you can track them!
✓ For travel bags and backpacks, we recommend Peak Design. They are light, practical, and stylish!
---
Best stops on the Miami to Key West drive
The Florida Keys is one of the most beautiful places to visit in Florida, even in December. But with so many choices, how do you decide where to go in the Florida Keys? What are the top things to do in the Florida Keys that you absolutely can't skip?
In this section, we highlight all the best places to stop on the drive from Miami to Key West. The wealth of restaurants, water activities and photo spots will make your trip to Key West from Miami an unforgettable one!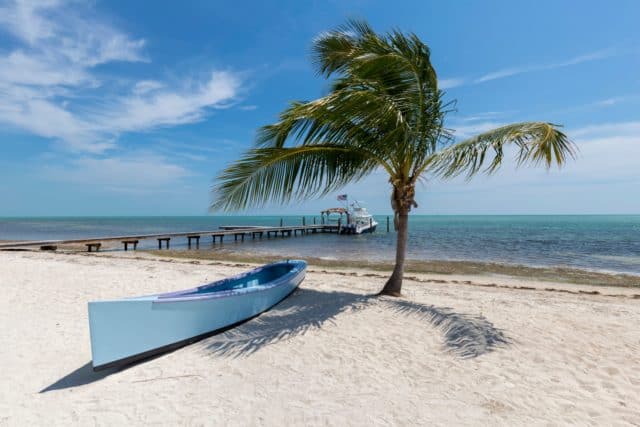 Downtown Miami
Driving from Miami to Key West, it can be easy to overlook everything Miami has to offer. The city buzzes with life and offers tons of things to do!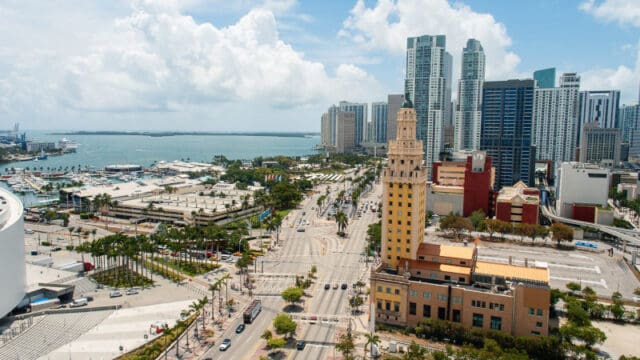 For first-timers, a few hotspots worth hitting up include South Beach and the nearby Espanola Way for music, food, and shopping. The Miami Art District and Little Havana (a vibrant Latin neighborhood, home to chef-driven restaurants) are gems for culture seekers.
Fancy seeing Miami from the air? View the beautiful Miami coastline from above on this private helicopter tour!
Coral Castle Museum
Some say Coral Castle Museum in Homestead, Florida is a sculpture garden, while others think it looks more like a castle. Regardless of which you think it looks like, you will want to discover the story behind the Coral Castle Museum.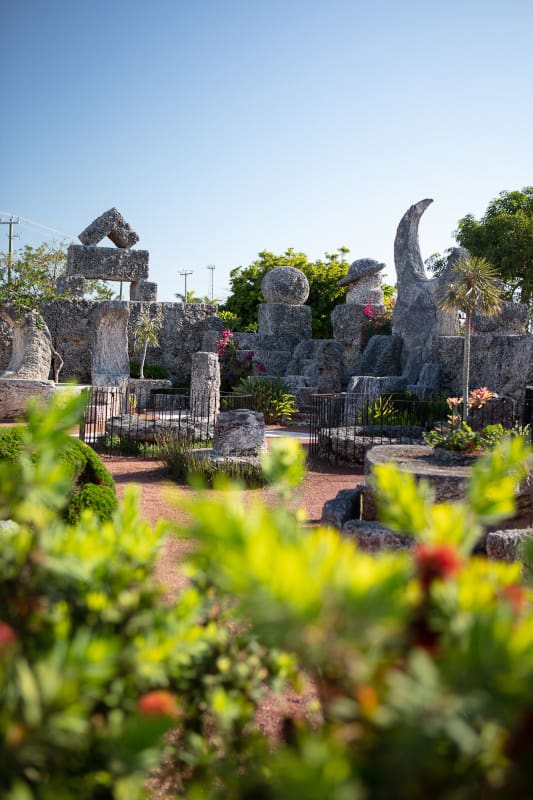 This one-of-a-kind structure was built by a man named Edward Leedskalin over the course of nearly 30 years. The mystery lies in how a man weighing just 100 pounds and only 5-feet tall moved these large chunks of limestone and built the Coral Castle Museum with no help?
No one can seem to find the answer. It is as perplexing as the Pyramids of Giza and Stonehenge!
Homestead-Miami Speedway
Fans of NASCAR will not want to miss a chance to catch a race at the Homestead-Miami Speedway.
The NASCAR Cup Series and NASCAR Infinity Series both race here, and the track also hosts many other events throughout the year.
Before your trip, check online and reserve some tickets to watch the cars racing around the track! Nothing going on? No worries – you can still visit and tour the track!
Everglades National Park
America's Everglades is one of the best national parks in Florida and a must-do stop on your road trip from Miami to Key West.
Everglades National Park covers a huge area made up of 1.5 million acres of forests, prairies and wetlands. Consider trying a wildlife boat tour (some on an airboat like the ones in Louisiana)! You might spot any number of a plethora of native animals like alligators, white-tailed deer, Florida panthers, and even dolphins!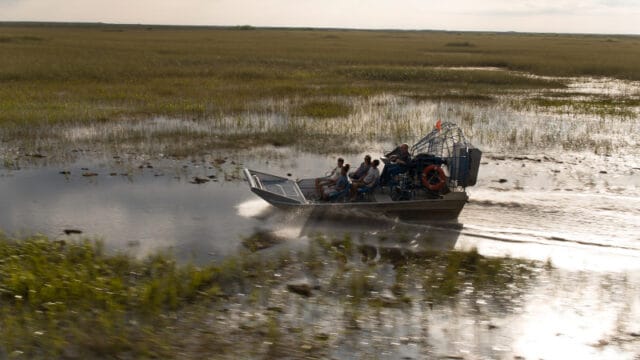 Have a few hours to spend in the Everglades? Why not paddle along the wetlands on a guided nature kayaking tour or hop on an off-road Everglades dune buggy ride?
Key Largo
Key Largo adjoins the Everglades National Park along the southeast border. It is the northernmost of the Florida Keys and the first town you'll come across on your Miami to Key West road trip.
If you're a diver, you'll love Key Largo. This island – known as the "Diving Capital of the World" – is home to John Pennekamp Coral Reef State Park where you can see the "Christ of the Abyss" statue on your dive.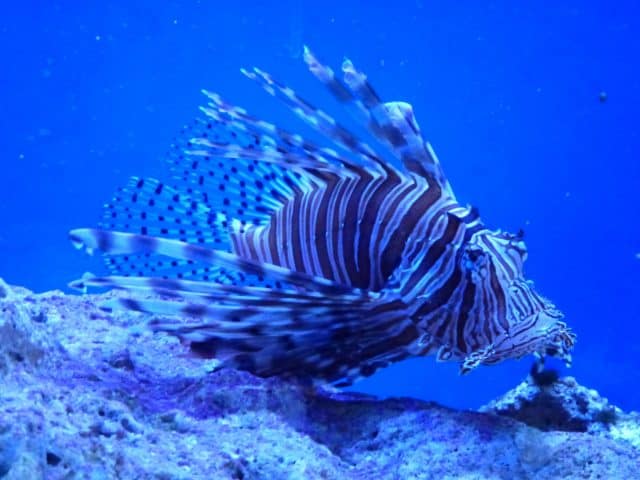 Advanced dive enthusiasts can take the opportunity to check out the famous Spiegel Grove shipwreck and the third-largest artificial reef in the world.

Want to just relax on the beach? Harry Harris Park is one of the best beaches in Key Largo to picnic and soak in the sun. This small man-made beach has a shallow, sheltered lagoon, making it calm enough for swimming.

After a day of activities, try fresh local seafood at The Fish House. This casual eatery is a local favourite known for its scrumptious conch-style cooking. Smoked fish dip is the staple food here, but spicy tuna nachos and shrimp bundles are just as delicious!

How far is it from Key Largo to Key West? Key Largo to Key West drive time is roughly 2 hours (97 miles).

[irp posts="8061″ name="10 Unexpectedly Awesome Things To Do In Riviera Maya"]
Islamorada
As you travel south, you will reach Islamorada, the "Sport Fishing Capital of the World." It is made up of 6 islands: Plantation Key, Windley Key, Upper Matecumbe Key, Lower Matecumbe Key, Indian Key and Lignumvitae Key.
The perfect way to spend a day in Islamorada would be sailing offshore and trying your luck at catching a tarpon, mahi mahi, or any type of fish!
If fishing isn't your thing, no worries, Islamorada is a playground for adventure travelers. At Robbie's Marina, you can get up-close and hand-feed massive tarpon (careful, watch out for the aggressive pelicans!).
You can also take it up a notch and go parasailing. Parasailing is a super fun way to get a bird's eye view of the Indian Key, Everglades National Park, and Alligator Lighthouse!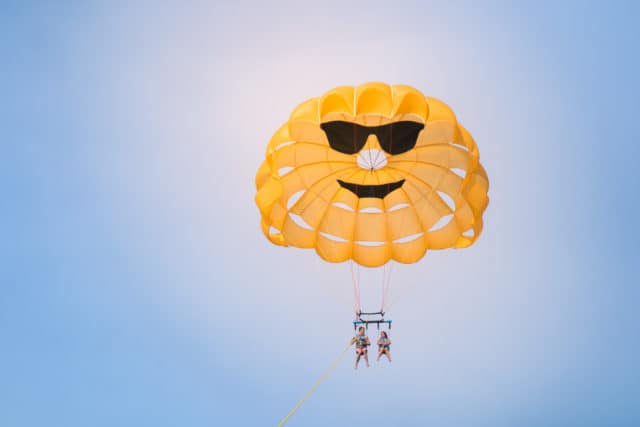 Go deep into the history of exploring the underwater world by visiting the History of Diving Museum, a wonderful attraction absolutely worth adding to your trip.
Grab coffee or breakfast before your day of adventure at Bob's Bunz and be sure to try their cinnamon buns.
For romantic dinners, we recommend The Raw Bar, located inside Postcard Inn. Some of our favourites include beer-battered jumbo shrimp, ahi tuna taco, and ceviche. The best part is – you can drink and dine right by the ocean while enjoying live music!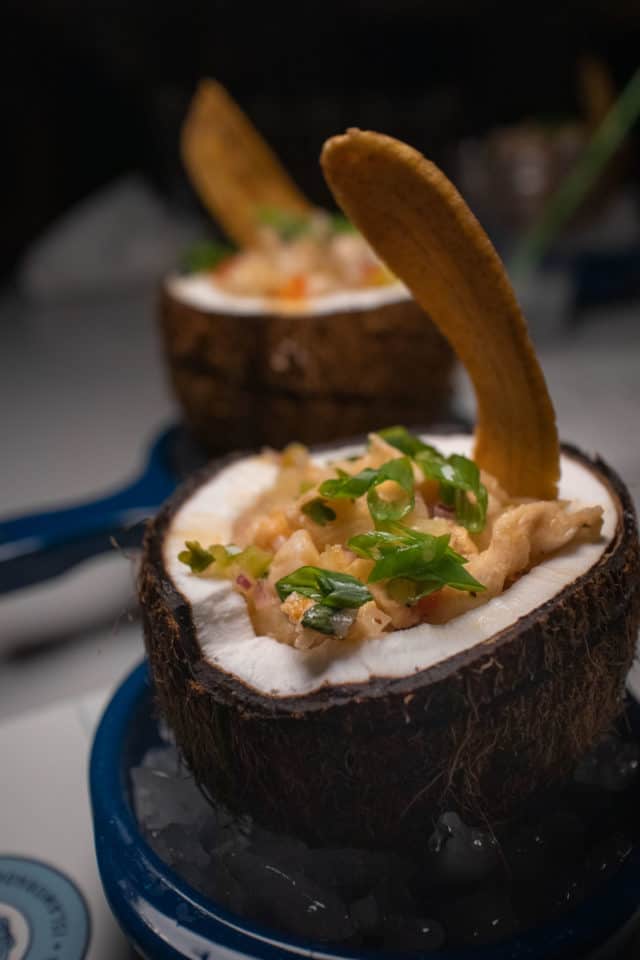 Chef Michael's is another great option. The establishment dishes out creatively inspired Florida Keys cuisine. Fresh fish can be prepared in several ways: Pontchartrain, Ambassador, Adriatic, Juliette, or Mixed Nuts!
Don't skip a chance to tour Florida Keys Brewing Company. The microbrewery boasts a large selection of draft beers on tap, many of which infuses with local flavors such as Key limes, citrus, and local honey.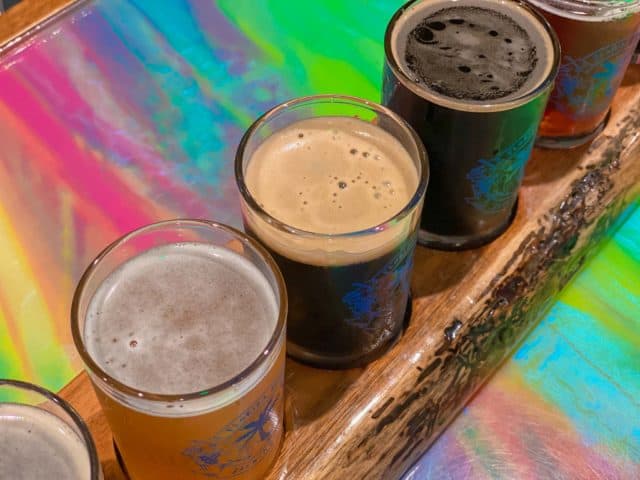 Morada Bay Beach Cafe offers the absolute best spot for sunset photos. The view is unobstructed and simply magical!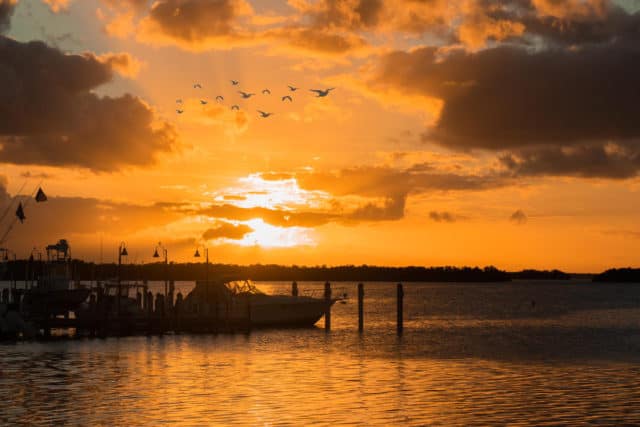 How far is it from Islamorada to Key West? Drive time is roughly 1 hr 40 mins (80 miles).
Don't have time to finish reading? Save THIS PIN on your USA Travel or Road Trip board on Pinterest so you can refer to it later!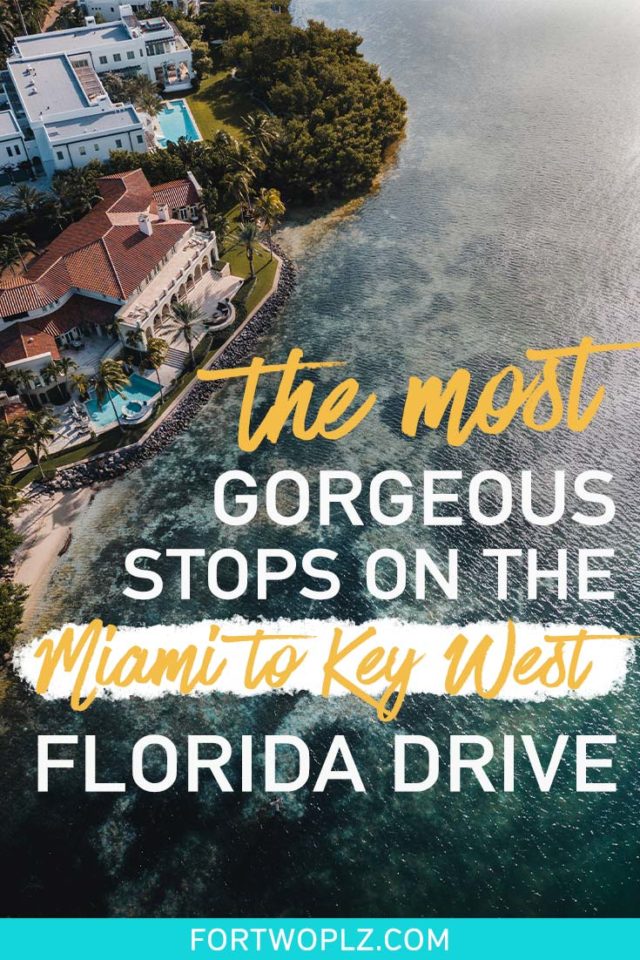 Marathon
Drive a little further and you will arrive at Marathon, a city spread over 13 islands. This is where the famous Seven Mile Bridge begins, spanning the gap between Knight Key and Little Duck Key.
This middle section of the Keys island chain is best for boating activities. People come here for deep-sea fishing, jet-skiing, kayaking or just cruising the blue waters!
Want to do a dolphin swim in the Florida Keys? Dolphin Research Centre is an excellent place to meet the adorable creatures. The non-profit facility offers a few interactive options – from a short meet and greet with the dolphin to a full day intensive trainer experience!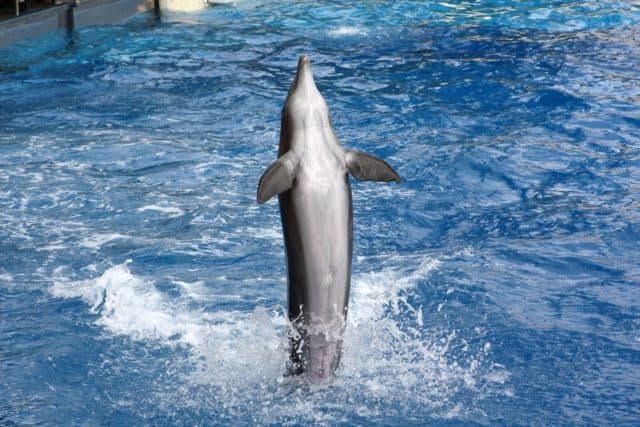 To learn more about the marine life, head over to Florida Keys Aquarium Encounters where you can interact with stingrays, fish, and even sharks!
Make sure to visit the sea turtles at the non-profit Turtle Hospital. The 90-min guided educational tour takes you behind the scenes at the hospital facilities. You will learn about the species of sea turtles found in Florida and the challenges they face, and hear stories about the turtles rescued by the hospital. At the end of the tour, you will have a chance to feed the turtles.
Finish your day by grabbing a bite to eat at Keys Fisheries where they serve local specialties like lobster reuben.
The best place to watch sunrise or sunset is the old Seven Mile Bridge. Don't confuse this with the new Seven Mile Bridge we mentioned earlier. You can really enjoy the views by walking the northern end for two miles on the old bridge from Marathon to Pigeon Key, which was once a railway work camp.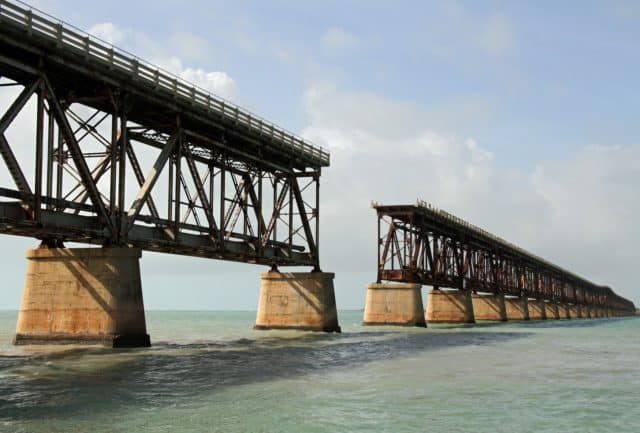 How far is it from Marathon to Key West? Distance from Marathon to Key West is 50 miles. Drive time is around 1 hour.

[irp posts="8094″ name="A Practical Travel Guide To Tulum, Mexico"]
Big Pine Key and the Lower Keys
This part of the Florida Keys island chain has a completely different feel. Home to Bahia Honda State Park, Looe Key Marine Sanctuary, and two national wildlife refuges, the Lower Keys is a real slice of paradise for nature lovers.
Pay a visit to National Key Deer Refuge, an 8542-acre National Wildlife Refuge located on Big Pine Key and No Name Key. It is the only natural habitat for the tiny white-tailed Key deer.
✓ Pro tip: the best times to see them are early in the morning and late afternoon.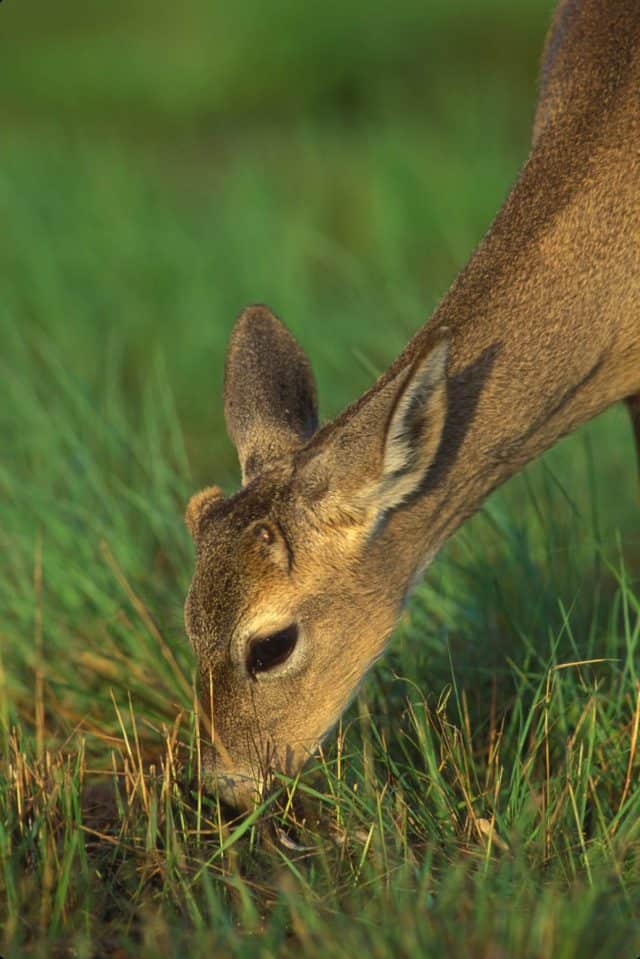 Many bird watchers travel to Great White Heron National Wildlife Refuge to see great white herons and migratory birds.
Looe Key Marine Sanctuary, just south of Big Pine Key, is an excellent place for snorkeling and shallow dives, as well as shore-fishing.
For photo ops, go to Bahia Honda State Park. The park, known for its beautiful white-sand beaches, has the best beaches in Florida. Believe it or not, it was the first-ever Florida site to make #1 on Dr. Beach's famous "Best Beaches" list! There are three in the park: Calusa (the smallest), Sandspir (the biggest), and Loggerhead (great for stargazing).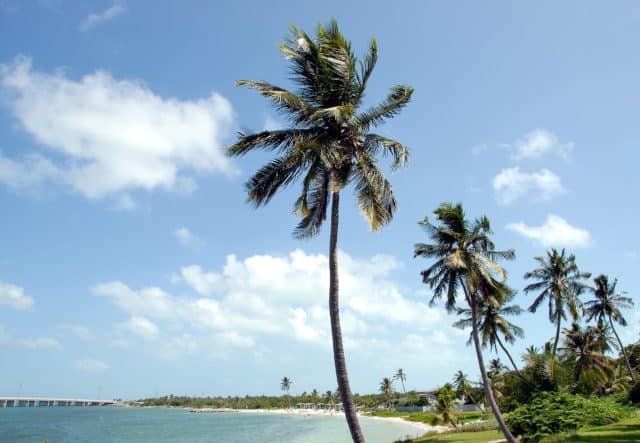 How far is it from Big Pine Key to Key West? Distance from Marathon to Key West is 50 miles. Drive time is around 1 hour.

[irp posts="9288″ name="Things to Do in Guatemala: 7 Activities Every First Timer Should Try"]
Key West
Key West, the largest town in the Keys, marks the very end of the island chain. The town is buzzing with energy 24/7 with their famous nightlife, parties, and all kinds of activity day and night to keep you busy.
A great way to get an overview of the city is by renting a bike and cruising down Duval Street which runs through the center of Old Town Key West. The area is dotted with classic Victorian homes and beautiful bungalows.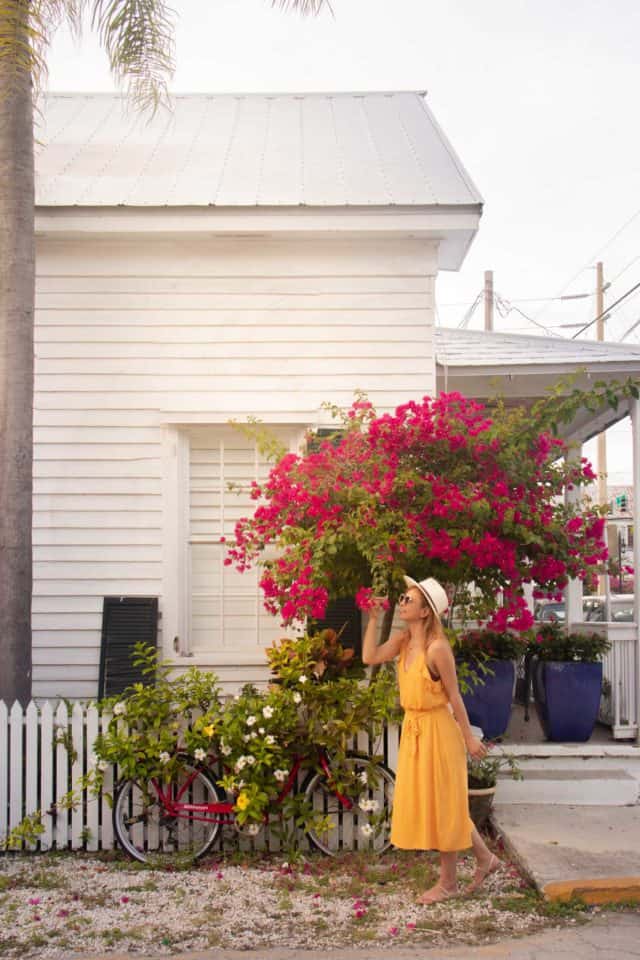 Here are some iconic attractions if you're wondering what to see in Key West:
⇢ Ernest Hemingway Home and Museum: one of the best places to visit in Key West for literary buffs and cat lovers! This beautiful home was where the literary legend lived for nearly 10 years. It is now the happy home to over 50 six-toed polydactyl cats!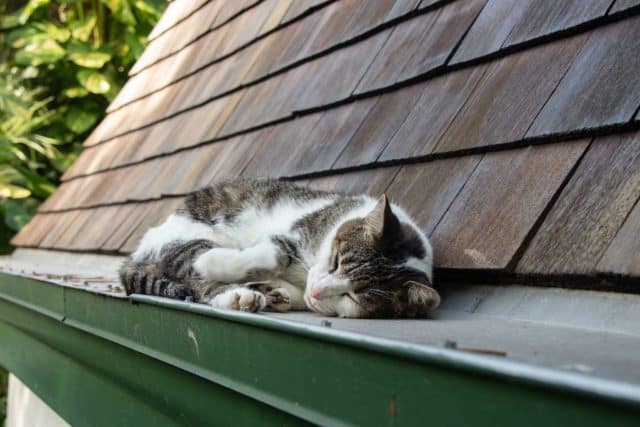 ⇢ Key West Butterfly & Nature Conservatory: Filled with 50 to 60 species of colorful winged creatures, the butterfly park is a Key West must see for nature and animal lovers. This greenhouse is also a refuge for tropical birds and a pair of flamingoes!
⇢ On your travel to Key West, Florida, make sure to stop by and get a picture with the Southernmost Point Buoy that marks the southernmost point of the continental United States! Just be warned there will be a line.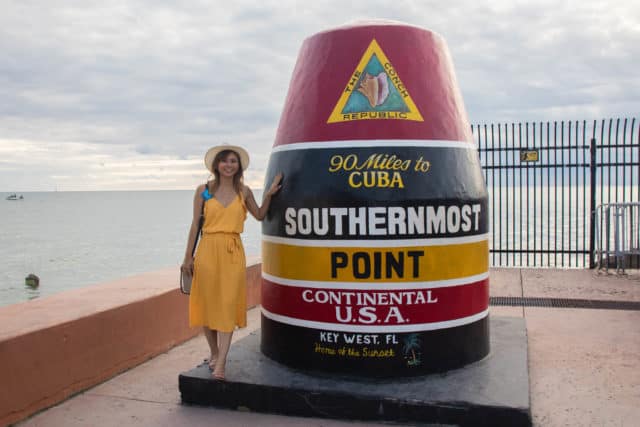 ⇢ Want to know where to go in Key West for the best view? Climb up the 99 steps to the top of Key West Lighthouse! Standing 28m-tall, the tower offers breathtaking views across the entire island!
⇢ Before heading out to dinner, join the street performers and artisans for the famous sunset celebration at Mallory Square. Offering gorgeous views over the Gulf of Mexico, the waterfront is the best place to watch sunset in Key West.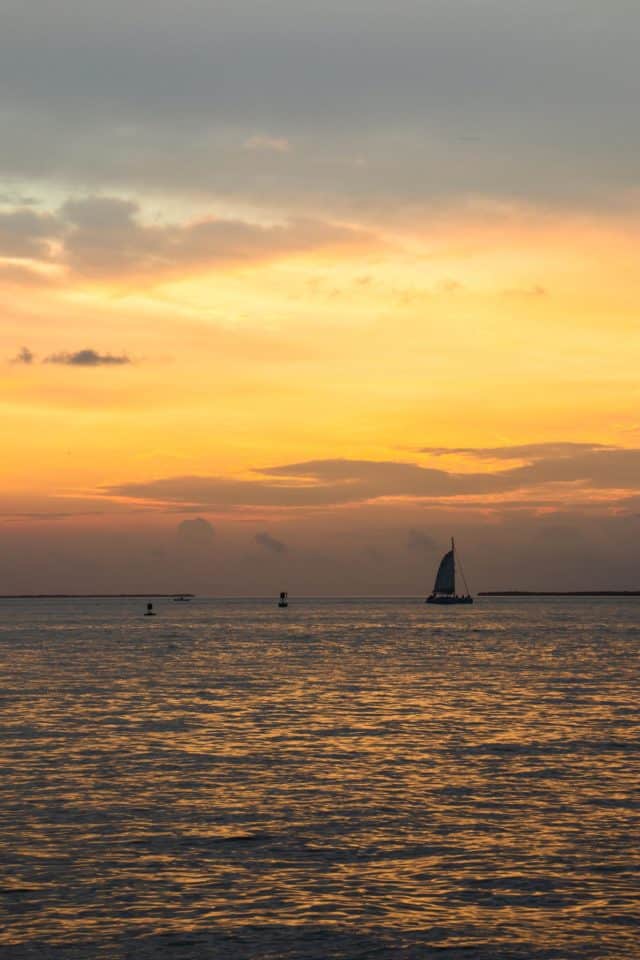 ⇢ Looking for picturesque beaches in Key West? Fort Zachary Taylor State Park is a popular spot for a swim or snorkel in the turquoise waters.
Sunset sail is one of the top things to do in Key West, but for adventure seekers who'd like to discover nature through exciting experiences, we recommend giving Key West Hydrobikes a try. It's just like riding a bike except you're doing it on the water. This fun, eco-friendly activity gives you a unique way to see sunsets. Guided tours depart from Lagerheads Beach Bar.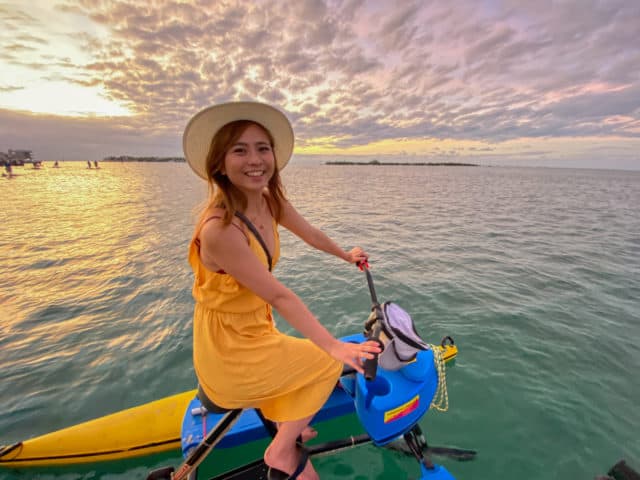 Dolphin Watch is another must do in Key West.
Honest Eco runs sustainable nature tours to watch Atlantic Bottlenose Dolphins in the wild. If time permits, extend your tour and heading out to Key West National Wildlife Refuge. You will kayak through the winding mangroves, discover wildlife, and snorkel in the crystal clear, warm water.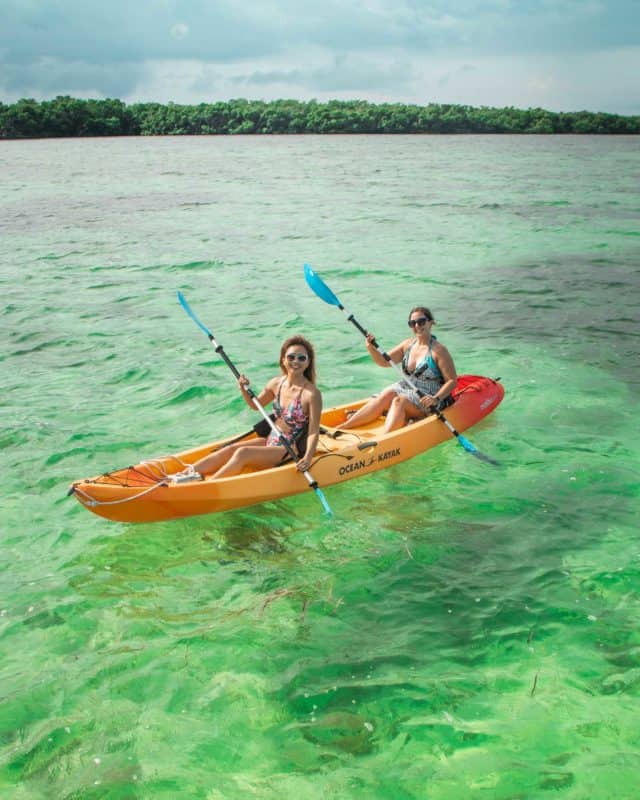 Have an extra day or two? Take a ferry or seaplane and escape to Dry Tortugas National Park. The secluded islands make an excellent destination for bird watching in the spring as many species stop over on their migration route. Thanks to its remote location, you'll find magical snorkeling spots and gorgeous sandy beaches unlike anywhere else.
Dining options are abundant in Key West. Some of the best places to eat in Key West include Fisherman's Cafe (their lobster enchilau tacos are to die for!), Moondog Cafe (lots of delicious baked goods, including Key Lime Pie!), and El Siboney Restaurant (for traditional Cuban food).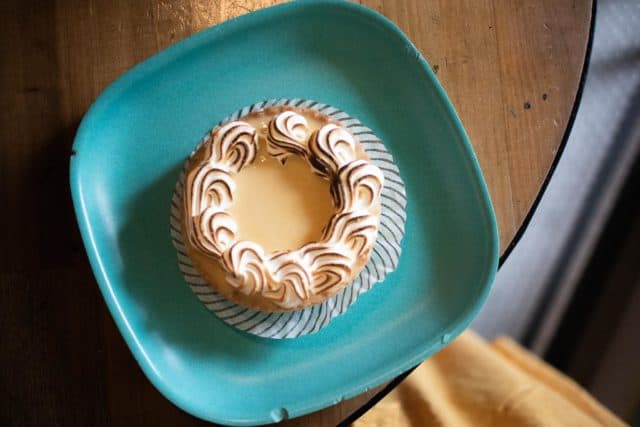 Looking for things to do in Key West at night? Rum is the answer. Visit Key West First Legal Rum Distillery for a private guided distillery tour and rum-tasting session. Owners and "chefs" Paul Menta and Tony Mantia are the first Americans to run rum to Cuba. They even learned from the Cubans how to make Cuban Mojitos so don't leave without mastering the skills of Mojito making!

You can also learn about different kinds of tiki cocktails on this tour!

[irp posts="11218″ name="10 Romantic Things To Do In Key West, Florida For Couples"]
Where to stay in the Keys
Some of the best beach resorts in Florida can be found in the Florida Keys. Below we have curated the best places to stay in the Florida Keys.
Key Largo
Baker's Cay Resort Key Largo exudes effortless refinement and modern comfort. The guest rooms and suites come with private balconies, modern decor, comprehensive amenities and sweeping coastal views. Click here for reviews and availability for Baker's Cay.
Playa Largo Resort & Spa prides itself on having the best modern amenities for a technologically advanced stay. They have a spa onsite for both the gentlemen and ladies to recharge and unwind. Click here for reviews and availability for Playa Largo Resort.
Islamorada
Casa Morada offers a quiet oasis with only 16 Caribbean-inspired suites on the property. A stay includes complimentary breakfast, complimentary use of kayaks, paddleboards, snorkeling gear and bicycles as well as complimentary yoga every Wednesday, Saturday and Sunday. Click here for reviews and availability for Casa Morada.
Marathon
Tranquility Bay Beachfront Resort makes privacy a priority by having a 2.5-acre private beach on-site just for guests. The luxury resort is conveniently located near the Dolphin Research Center, The Turtle Hospital, and is only an hour away from Key West. Click here for reviews and availability for Tranquility Bay.
Key West
We get it. Deciding where to stay in Key West is tough. Taking location, service and design into consideration, Hyatt Centric Key West Resort & Spa tops our list. With spacious modern comfortable rooms, private balconies, and a heated pool, you're guaranteed to have a blissful stay. Plus, it is just a short stroll from the lively Duval Street. Click here for reviews and availability for Hyatt Centric Key West.
If you prefer somewhere quieter, consider The Perry Hotel Key West. This new contemporary, maritime-inspired hotel is located near Key West on Stock Island. Two "boat-to-table" seafood-driven restaurants, Matt's Stock Island Kitchen and Bar and The Salty Oyster Bar and Grill, offer classic Key West comfort food with an innovative twist. Remember to get a glass of their Key Lime Pie cocktail – it is absolutely delicious! Click here for reviews and availability for Perry Hotel.
Best time to visit Florida Keys
Though it is warm all year round, we advise avoiding winter crowds (mid-December to April) and hurricane season (September-October). Taking into these factors, the best times to visit the Florida Keys would be late April to early June and November to mid-December.
Planning a trip to the Florida Keys in hurricane season
While most people avoid the hurricane season, cheaper hotel rates and fewer crowds make appealing incentives for some to travel to the Keys during this season.
The Atlantic hurricane season starts in June and ends in November with mid-August to mid-October marking the peak of the season.
If you decide to take your road trip during hurricane season, just remember your trip can get cancelled or interrupted due to weather events. Our advice is to get travel insurance or trip protection that provides coverage when unforeseen severe weather disrupts your plans.
We also want to remind you to check the news and weather forecasts whenever you can. Know the difference between a watch vs a warning. A watch means hurricane conditions are possible whereas a warning means the conditions are expected.
Also, talk to locals and ask experts (like park rangers) about weather conditions. If the worst should happen, be sure to follow evacuation notices immediately.
What to pack for your Florida Keys vacation
Beyond the obvious like suitcases, swimsuits, and cameras. Don't forget these:
A pair of water shoes
A pair of flip flops
A pair of walking shoes
A light windbreaker
Dry bag
Sun hat
Sunglasses
Sunscreen
---
We had a blast on our recent road trip to the Florida Keys and can't wait to go back for more! We hope this article provides a useful resource to help you plan a Florida Keys vacation!
Enjoy this post? Save THIS PIN on your USA Travel or Road Trip board on Pinterest so you can come back later to plan your trip!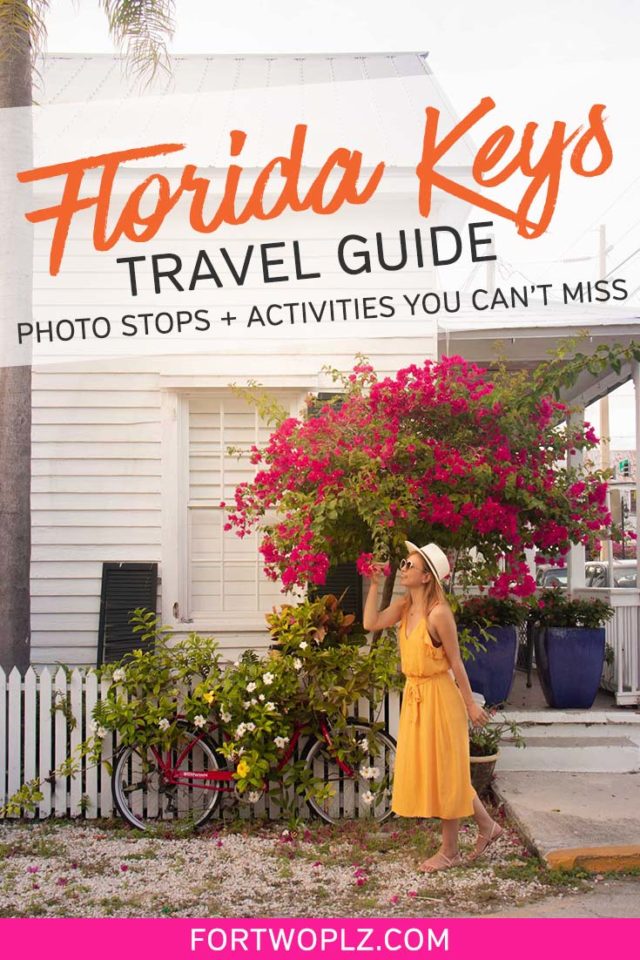 Disclaimer: We are hosted by Floriday Keys Tourism. As always, all opinions on For Two, Please are our own and we only recommend brands that we 100% stand behind.