This site uses affiliate links and we may earn a small commission when you use our links and make a purchase without incurring additional fee yourself. Many thanks for supporting this website. Please see our disclosure page for more details.
Thinking of vacationing in Florida for Christmas to escape the winter chill? Florida is the perfect place to do so! Not only does it have abundant sunshine (that's where the name "Sunshine State" comes from) and stunning landscape, it also has plenty of fun-filled festivals and winter-themed activities to entertain you and your bae!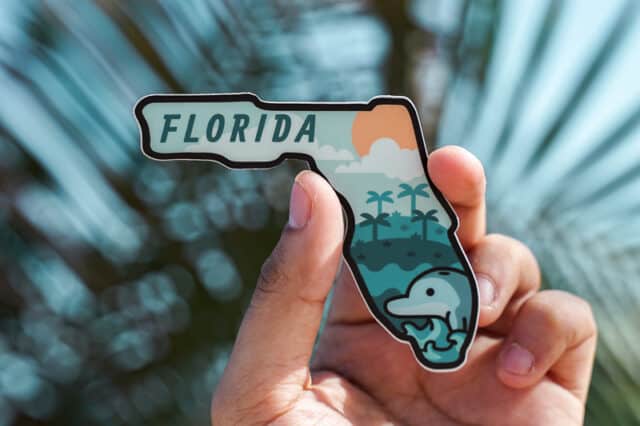 Not sure where exactly to go for your Florida Christmas vacation? This article rounds up 10 of the best places to visit in Florida in December for couples. Whether you're looking for thrills at one of the theme parks or just want to soak up the sunshine on a beach, these places will surely put you into holiday mode!
1| FLORIDA KEYS
South Florida is extremely popular, thanks to its warmer weather. Florida Keys in particular is a sought-after destination especially if you're into outdoor fun. The string of islands with sandy beaches will surprise you and your loved one with wildlife and all the water adventures you can take advantage of.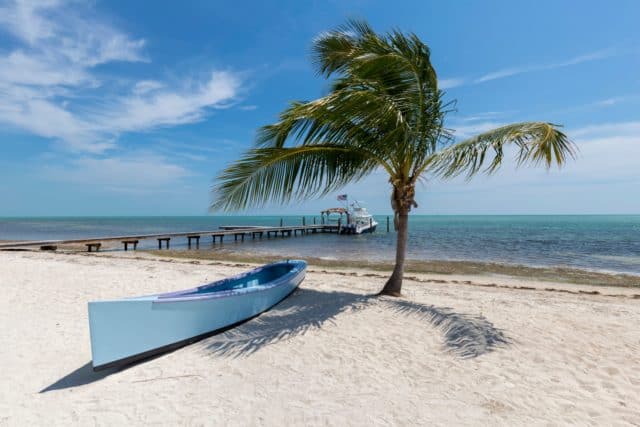 Starting in the northernmost island with Key Largo, you can dive to see "Christ of the Abyss" in John Pennekamp Coral Reef State Park, or check out the famous Spiegel Grove shipwreck. In Islamorada, get up high in the air with parasailing. Swim with dolphins (at the Dolphin Research Centre) and watch sunset or sunrise together at the old Seven Mile Bridge in Marathon.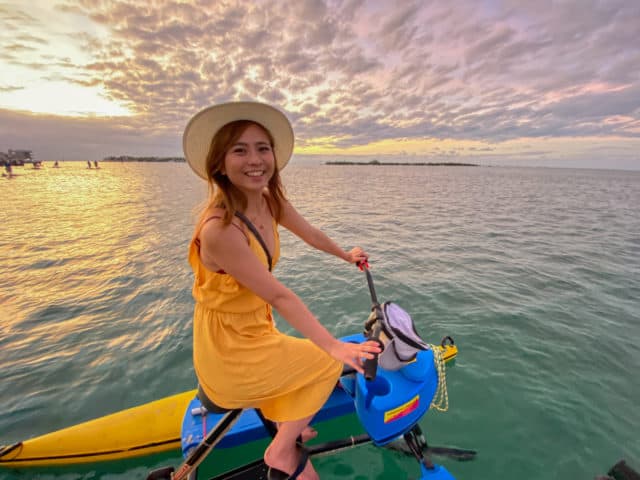 Just south of it is the 524-acre Bahia Honda State Park that is known to have one of the best beaches in Florida. Continue heading to the very south, you will come across more romantic things to do in Key West, including hydrobiking by the pier, kayaking in the mangroves, and taking a seaplane or boat cruise to the secluded Dry Tortugas National Park!
In December, you will find many festive events to get you into the holiday spirits. Couples can enjoy the Annual Lighted Boat Parade, a serious competition where boat owners decorate their sails, masts and hulls with Christmas Lights and festive cheer. Or hop on Old Town Trolley's holiday Lights Tour to see all the holiday lights put on across the island while enjoying cookies and cider.
Fancy some actions on the water on Christmas Day? Sign up for Fury Water Adventure's Christmas Ultimate Adventure – it's a full day of fun-filling water activities with a traditional Christmas meal served on a catamaran.
How many days to spend here: If you are driving from Miami and Key West, it only takes around 4 hours. To see and enjoy the entire Florida Keys, we recommend planning to stay for at least 6 days, one night in Key Largo, 1 night in Islamorada, 1 night in Marathon and 2 nights in Key West.
How to get there: To get the most out of your Florida Keys vacation, we recommend flying into one of the closest airports – either Miami International Airport or Fort Lauderdale-Hollywood International Airport – and then drive to Key West. You can also travel the other way round from Key West to Miami if that better suits you. In that case, you would fly into Key West International Airport.
Recommended accommodations: There are a ton of accommodation options in Key West, but for a luxury stay, Hyatt Centric Key West Resort & Spa tops our list. It is right by the ocean and just a short walk from Duval Street. If you're planning to stay in the other Keys on your Christmas getaways in Florida, we recommend Baker's Cay Resort in Key Largo, Casa Morada in Islamorada, and Tranquility Bay Beachfront Resort in Marathon.
2| BISCAYNE NATIONAL PARK
Suggested by James Ian of Parks Collecting
Biscayne National Park is one of the most unique places to visit in Florida. It consists of a few small islands or keys, and lots and lots of water. Located off the coast of southern Florida, December is the perfect time to visit. Hurricane season is over, and with it, the summer heat. Temperatures are really pleasant, and the water is warm enough for you to spend all day swimming and snorkeling.
There are plenty of things for couples to do. The most popular activity in the national park is snorkeling, and there are several snorkeling tours that leave from near the main Dante Fascell Visitor Center and take you out to the islands.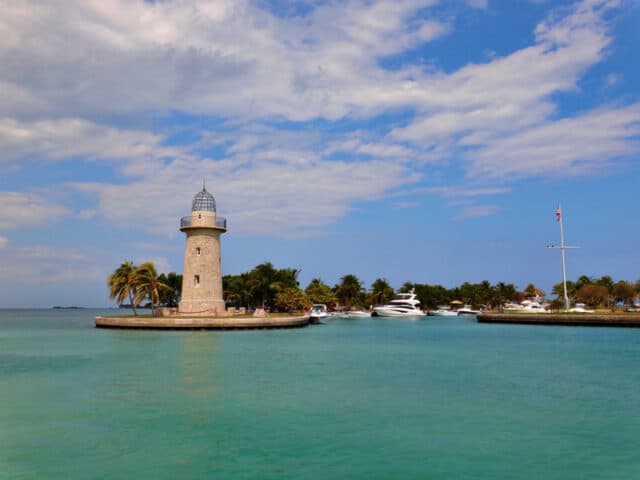 You can see the picturesque Boca Chita Lighthouse and snorkel among coral reefs or over sunken wrecks. For more active couples, guided kayak trips are available. Paddle through the seagrass meadows and around the mangroves that edge the islands.
Looking for something even more romantic? A sailing trip around the islands is the perfect way to spend a romantic weekend.
How many days to spend there: A weekend is perfect to see the best the park has to offer.
How to get there: Miami International Airport services the area. To get to the park from Miami South Beach, head south down FL-874, turn off at the Ronald Reagan Turnpike, then take Exit 6 to SW137th Avenue and finally SW 328th Street to the visitor center and port.
Recommended accommodations: Biscayne National Park is just an hour from Miami, which is the best place to stay, as there are so many wonderful romantic hotels in Miami Beach. A wonderful place is Winter Haven, Autograph Collection. Housed in an art deco building on Ocean Drive, the hotel has beautiful rooms and a rooftop terrace with incredible ocean views. Ask for a room with a view.
3| SARASOTA
Suggested by Candice of CS Ginger
Sarasota is a charming coastal town on the southwestern coast perfect for Christmas in Florida. It is about an hour south of Tampa.
A fun couples' activity is exploring Myakka River State Park. You can go hiking, biking, or kayaking through the park. You can also go on a horseback ride through the park. If you are looking for another adventurous activity in Sarasota, you can ride bikes through the keys of Sarasota. You can either join a wildlife tour or rent bikes to explore on your own. The Legacy Trail is a popular and easy trail.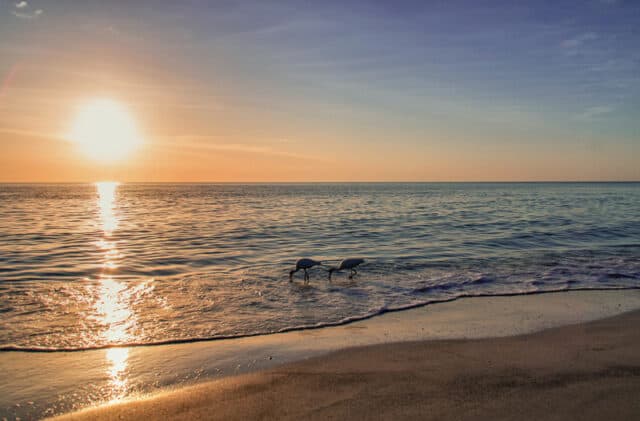 If you are interested in holiday events, be sure to check out the Sarasota Holiday Boat Parade. Since 1986, the John Ringling Causeway has been filled with boats wrapped in Christmas lights. You can park for free at Centennial Park to watch the parade.
Another fun place to visit during the holiday season is the Marie Shelby Botanical Garden for the Lights in Bloom event. There are over a million lights throughout the gardens. You can visit Santa there each night. There is also usually live music and kid's crafts.
How many days to spend there: Spending two to three days in Sarasota will give you enough time to explore the town but also have some time to spend relaxing at the beaches like the nearby Siesta Key beach.
How to get there: The easiest way to get to Sarasota is via Sarasota Bradenton International Airport. The airport is located just a few minutes north of the downtown area making it a quick trip into downtown. If you are looking for another option with cheaper flights, Tampa is just about an hour away and is a larger airport.
Recommended accommodations: The Westin Sarasota is a great four-star hotel in the area if you're looking for luxury and relaxation in Sarasota. It is pet-friendly and has a really nice pool, perfect for relaxing after a day of exploring. It is only a few blocks from downtown and has a short walk to the beach.
4| THE EVERGLADES
Suggested by Victoria of Guide Your Travel
The Everglades are Florida's most famous national park and one of the best places to go in Florida in December to escape the cold of the winter months. The Everglades are warm and dry during December with temperatures in the high 70℉ (21℃)–which is a lot more comfortable than the hot summers when it's really humid. December is actually one of the most popular times to visit southern Florida so make sure to book your accommodation as soon as possible.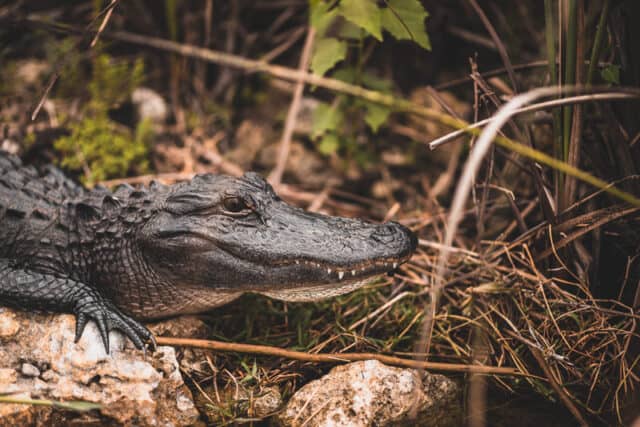 You can reach Everglades National Park in around an hour from the city of Miami which makes this a great spot to visit for a weekend trip from the city. The park is perfect for hiking, exploring, camping and bird watching.
The Anhinga Trail is especially beautiful with fantastic views of the mangrove forests and some of the best spots for bird watching. At just under a mile in length, the trail is perfect for beginners. Everglades National park doesn't have much elevation, so most trails – such as the Bobcat Boardwalk – are very easily accessible and suitable for all levels of hikers. The area just north of Everglades City is best for kayaking. Most tour companies are located there.
Instead of riding airboats (which are noisy and disturb the delicate ecosystems), a relaxed kayaking tour is much more eco friendly and peaceful. You can enjoy the beautiful mangrove forests, see alligators and rare birds. Just make sure to pack mosquito spray to protect you from the bugs.
How many days to spend there: A long weekend is the perfect amount of time to spend in the Everglades to see and do it all.
How to get there: The Shark Valley entrance and visitor center is about an hour's drive west of Downtown Miami. You can get there by driving west on Tamiami Trail (Southwest 8th Street/US Highway 41.)
Recommended accommodations: Everglades City is a great place to stay although you can also book a place somewhere close to the city and drive to the park every day. The Everglades Adventures Hotel Suites by Ivey House is a fantastic choice.
5| DESTIN
Suggested by Disha Smith of Disha Discovers
One of the best places to visit in Florida for couples in December is Destin. Located in the panhandle of the Sunshine State, this coastal gem in the northwestern part of Florida has so much to offer.
December is a great time to visit Destin because the weather is perfect. You'll only need a light jacket and you'll feel comfortable while you're exploring. Also, there will be fewer crowds. You won't have to worry about long lines and you'll get the beaches to yourself. Plus, hotels will be less expensive since fewer people are vacationing here in December.
Destin is brimming with things to do for young couples. You can go on a sunset dolphin cruise or a sunset dinner cruise. If you want to get into the Christmas spirit, you can wander around the HarborWalk Village and see the lights and decorations. Another fun thing for couples to do is to take a helicopter tour. The colorful coastline is gorgeous from the air.
Finally, for an exciting date night, you can enjoy a friendly bowling competition at Uncle Buck's FishBowl and Grill. You'll feel like you're underwater because you'll be surrounded by an aquarium. Even the bowling balls have an ocean theme.
How many days to spend there: Destin is one of the best weekend trips in the USA. But, you should spend at least four or five days to fully experience this paradise.
How to get there: Getting to Destin is easy because you can fly in and out of Destin-Fort Walton Beach Airport. From there, you can rent a car or use Uber to get around.
Recommended accommodations: The Henderson Beach Resort & Spa is a great place for couples to stay when visiting Destin. Not only will you have direct access to a private beach, but you'll also have your choice of five world-class eateries on the property.
6| NAPLES
Suggested by Lori Sorrentino of Travlin' Mad
Naples is one of the best places to vacation in Florida in December for couples. The tourist season is not yet in full swing so it's easy to find relaxation, privacy, and lots of things to do for couples.
Located on the southwest Gulf Coast of Florida, Naples is known for its white sand beaches and year round sunshine. December is the dry season so temperatures are moderate and comfortable with low humidity.
Beyond relaxing in the sun at the beach or by the pool, most activities for young couples revolve around the beach. Barefoot Beach is one of the best for tanning and enjoying the sounds of the ocean.
Before dinner, take a sunset stroll along Naples Pier for a stunning and romantic experience. Adventurous couples can rent jet skis, paddle boards, or kayaks, or hop on a sailing tour to explore the Ten Thousand Islands or the Everglades.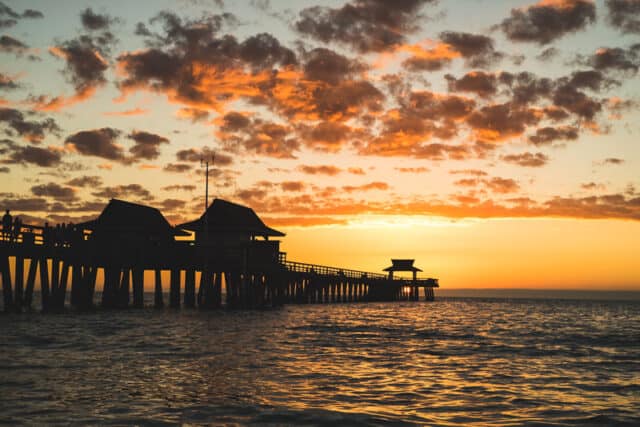 For a romantic evening, enjoy a private sunset dinner on the beach at Baleen at LaPlaya Resort, or dinner at Sails on Fifth Avenue South for incredible seafood. Both are two of Naples' best restaurants and perfect for a romantic occasion.
How many days to spend there: Plan on at least 4 days to a week for your stay.
How to get there: The easiest way to get to Naples is to fly into Southwest Florida International Airport and either rent a car or take a shuttle to your hotel. Naples is at the end of the very long Florida peninsula so it's much quicker to fly.
Recommended accommodations: Naples has an abundance of luxury hotels with upscale spa experiences. One of the best beachfront hotels in Naples is the romantic Edgewater Beach Hotel. For a location in the heart of downtown, the luxe Inn on Fifth is also a favorite!
7| ANNA MARIA ISLAND
Suggested by Nikke Rue of She Saves She Travels
One of the best parts of Florida for couples to visit in December is Anna Maria Island. It's got small-town charm, beautiful white beaches and quite a bit of activities and restaurants on the island.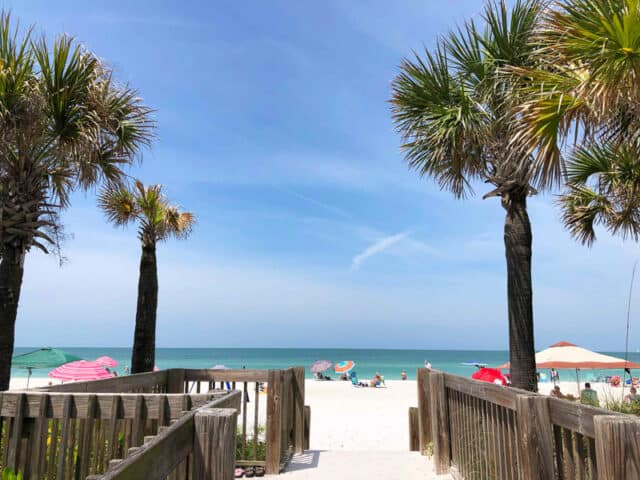 In December, the weather in Anna Maria Island (or AMI as the locals call it) gets to the mid-70℉ (21℃) as the high. So while it may be too cold to swim, you can still relax on the beach and enjoy watching the ocean waves crash on the shore – sounds like a perfect island vacation to me!
One of the best things to do in Anna Maria Island is visit Bean Point and the Anna Maria City Pier. Soak in the relaxing sights of the pristine white sand beaches in Florida. Just be sure to bring towels or chairs to Bean Point. Considering it's so far off the beaten path, there aren't any services here.
Another great spot on the island is Bradenton Beach. There are cute shops and restaurants plus nightlife. Bradenton Beach has a great sandy beach with amenities, too. Couples can find resorts and vacation rentals in Bradenton Beach to be close to the action.
If you can get a rideshare to the island, a rental car isn't really necessary. Getting around via golf cart or bicycle is common and convenient on AMI!
How many days to spend there: You could take a long weekend on the island or even a week enjoying the rest and relaxation that comes with a trip to Anna Maria Island.
How to get there: The closest airport is Sarasota, at about an hour's drive. To get from the Sarasota airport to Anna Maria Island, you'll take Florida Highways 41 and 64 diagonally until you cross over to the island.
Recommended accommodations: The Bungalow Beach Resort is perfect for couples as it has a private beach area which is quiet. Couples will also love the Bali Hai Beach Resort for the beautiful heated pool and spa services.
8| VERO BEACH
Suggested by Cortney Edwards of Tin Can Living
Vero Beach is one of the best beaches in Florida in December. Calmer and generally less crowded than West Palm Beach, it has an amazing selection of things to do for couples, including scenic walks on the beach, delicious restaurants with excellent views, and shopping in quaint boutiques. Whether you're looking for a weekend getaway or planning a long vacation with your significant other, Vero Beach should be at the top of your list!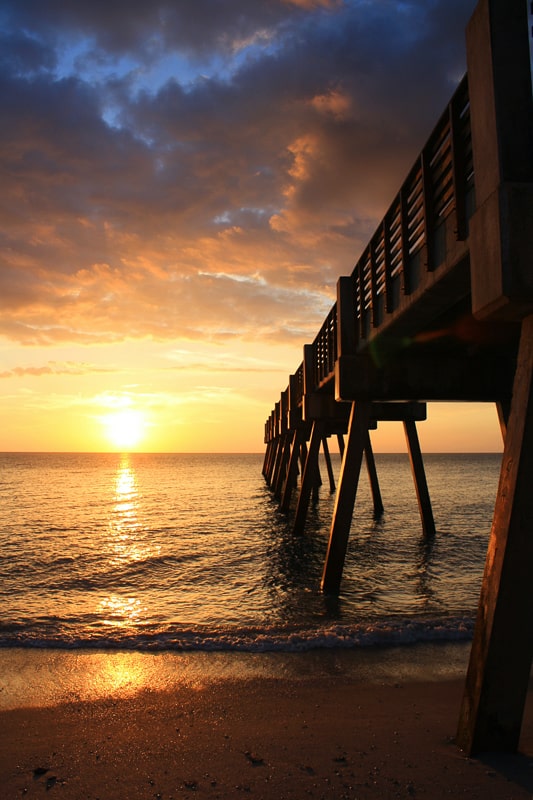 A stroll on the Vero Beach Scenic Coastal Walk is a must. You can breathe in the fresh ocean air and marvel at the incredible coastline. The Vero Beach waterfront is simply stunning, especially during sunset!
If you're looking for things to do in Florida in December, the McKee Botanical Garden has a beautiful display of lights throughout the month. Refreshments are available for purchase to round off a lovely night.
End your day watching the sunset at Driftwood. Enjoy a cocktail while watching an unforgettable Vero Beach sunset over the water. This restaurant has excellent drinks and appetizers, and its open-air atmosphere is perfect for enjoying Vero Beach's beauty.
How many days to spend there: You should plan on staying at least two nights to experience Vero Beach's best activities and take in the great weather that Vero Beach has to offer during this time of year.
How to get there: The nearest airport is Vero Beach Municipal Airport and is approximately 90 minutes from Orlando International Airport. You will need to rent a car and drive from the airport. It is best to have a sun pass for the toll roads to save time and money. You can get one from the rental car companies at the airport.
Recommended accommodations: A great place to stay during your visit is Costa d'Este Beach Resort Vero Beach. This luxury hotel is located right on the Vero Beach shoreline, and offers luxurious amenities like a state-of-the-art spa facility with an outdoor pool, in addition to excellent dining options. This Vero Beach resort's beachfront location ensures stunning views of both sunrise and sunset! Plus you can enjoy Vero Beach's laid-back and relaxed atmosphere all year round.
9| TAMPA
Suggested by Lara Celvenger of LaraClevenger.com
Tampa in December is great for the sporty couple! If you're a fan of football and hockey, then Champa Bay is about to become one of your favorite towns! Watch a Bucs game at Raymond James stadium or venture to downtown Tampa and catch the Lightning at the Amalie Arena.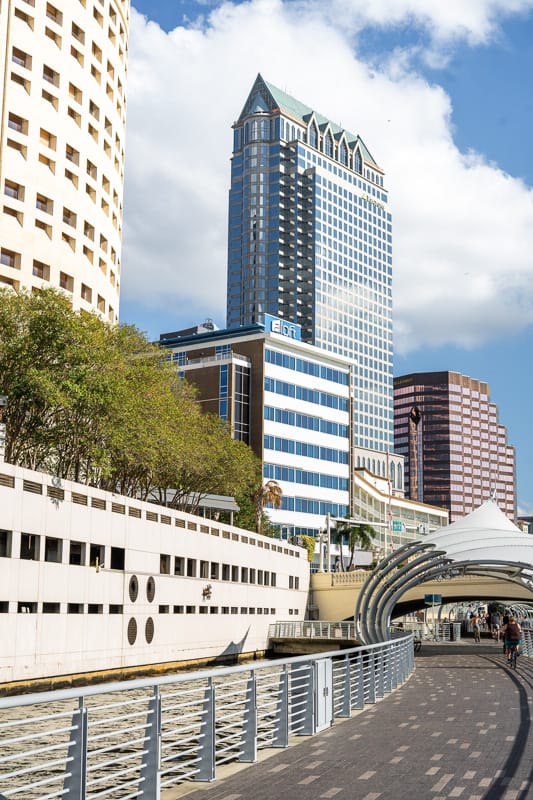 After a Lightning game take a stroll along the water to either Sparkman's Wharf, Harbour Island or the Riverwalk. At any of these picturesque locations you'll be able to enjoy dinner and drinks with a waterview.
For those young athletic couples, you'll love the plethora of walking trails and parks! Walk along the Courtney Campbell Causeway Trail where you'll have 360 degree views of Old Tampa Bay and end your walk at any of the beach bars and have a nice refreshing drink with amazing views. I recommend Whiskey Joe's, Bahama Breeze, or The Rusty Pelican.
Nightlife is huge in Tampa! Thursday night is college night in SoHo so crowds are out in full force. You will find cheap drinks and lots of people watching everywhere you go. Friday and Saturday nights are very popular in Ybor. There is a spot and scene for everyone in Ybor. From Nightclubs, to dive bars, to karaoke bars, to hookah, to gay bars to EDM clubs. You name it, Ybor's got it.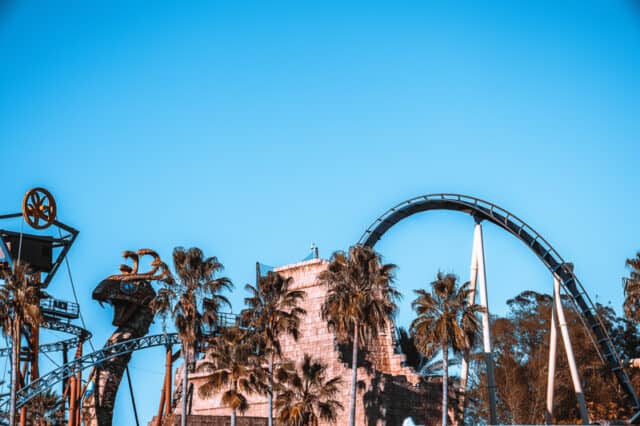 If you're more the theme park type, Busch Gardens and Adventure Island are a short drive or uber away! Want to visit one of the most well-known theme parks in the world? Walt Disney World is just over an hour northeast of Tampa. Add a few nights at Universal Orlando Resort to your trip to get the full park experience.
How many days to spend there: Honestly, Tampa is a dream for young couples! I would recommend 5-7 days, and even then you won't have time to see everything you want! If you have time to see more, don't miss out on the opportunity to visit Caladesi Island State Park, which is only 40 mins away!
How to get there: The Tampa airport is located 10 minutes from Downtown Tampa. It's easy to get to from the toll road, but if you don't want to pay there's local roads you can take. You can get an uber to downtown Tampa and then you can get around downtown very easily on foot and it's the perfect weather in December to be walking in Florida! There's also a free trolley that you can take from downtown to Channelside and to Ybor!
Recommended accommodations: The JW by Marriott or Epicurean Hotel, Autograph Collection are both in downtown Tampa and exceptional services! It's the perfect location whether you want a sunset stroll on the Riverwalk, want to hop on the trolley and go to Ybor, or walk to Harbour Island and get happy hour at Jackson's or American Social.
10| SIESTA KEY
Suggested by Rebecca McKellips of Whatever Packs Your Bags
Siesta Key is the perfect place to visit in December. It has one of the most beautiful beaches in the world. It is the perfect romantic location for couples to visit. If you want a quiet, calm, and relaxing weekend, Siesta Key is the place to go.
Siesta Key is located due west of Sarasota Florida on the Gulf Coast of Mexico. The average temperature in December in Siesta Key has highs of 74℉ (23℃) and lows of 55℉ (13℃) and rain on average only 3 days the whole month.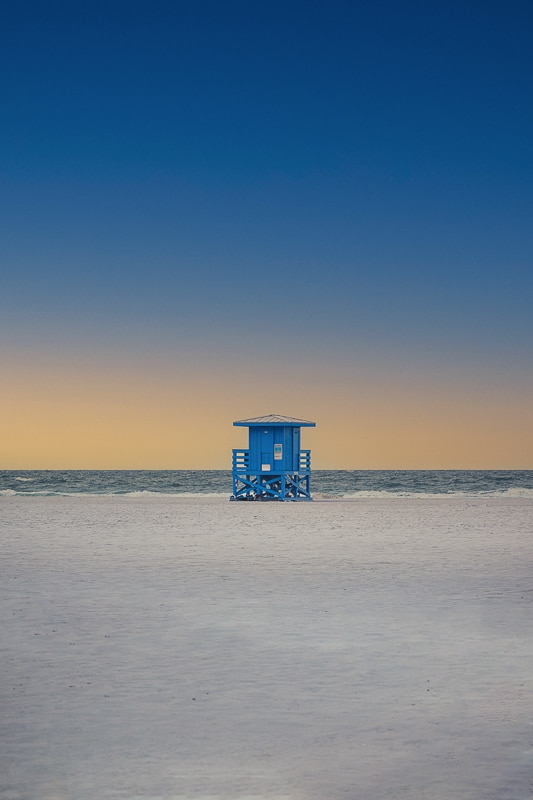 To soak yourself in the Christmas spirit, check out the annual holiday market and SantaFest Celebration. These events usually run in mid-December. If you don't mind driving to Sarasota, the Showfolks Holiday Circus Festival presents a unique outdoor walkthrough circus experience. Talented circus artists come together to bring fun and excitement to this festive season!
Of course, you can enjoy a day on the beach, relax and watch the sunset over the water. The three major beaches that are perfect to watch sunset at are Siesta Beach, Crescent Beach, and Turtle Beach.
For those who prefer to be in the action, consider renting jet skis and racing around. Or, on the slower end, renting canoes or kayaks to enjoy the views over the water is also a fun idea. You can also ride e-bike on sand and admire the sunset as you ride along Siesta Key!
How many days to spend there: You could easily fill a long weekend exploring all the beautiful beaches.
How to get there: The best airport to fly into to visit Siesta Key is the Sarasota Bradenton International Airport (SRQ is the airport code). It is a 20-minute drive from the airport to Siesta Key, you can uber or rent a car at the airport.
Recommended accommodations: The best place to stay is just steps from the beach, there are lots of rental properties available, but the Tropical Breeze Resort is the perfect location, just steps to the beach or to the town center.
---
Florida Road Trip Planning Resources
✓ Plan ahead and reserve a car in advance. Discover Cars is a helpful tool for comparing prices, searching for availabilities, and make bookings.
✓ For tours and activities in Florida, GetYourGuide provides tons of options! Check all the different deals here.
✓ For hotel bookings, we recommend comparing prices on TripAdvisor first, then book direct or on 3rd party booking sites (Agoda usually has the best deals).
✓ Having an action camera is a must when visiting Florida. A GoPro is small and easy to carry around, plus it is water- and weather- proof!
✓ Lose things easily? Attach a Tile to your valuables (camera, bag, water bottle) so you can track them!
✓ For travel bags and backpacks, we recommend Peak Design. They are light, practical, and stylish!
---
There, of all the warm places in Florida in December, we have selected a few charming ones for couples, including some of the best of the best Christmas towns in Florida!
It's time to escape winter wonderland for a beach vacation! Even Santa needs a sunny getaway. A tropical christmas tree is just as festive as a snowy one!