This site uses affiliate links and we may earn a small commission when you use our links and make a purchase without incurring additional fee yourself. Many thanks for supporting this website. Please see our disclosure page for more details.
There is a mind-numbing amount of good vacation spots in Florida for couples, even in December. But road tripping through the Florida Keys and visiting Key West is the coolest thing you can ever do! Whether you're booking a honeymoon in Key West or taking a romantic getaway to rekindle the flames, the island offers a great selection of fun activities to do for couples.
In this article, we partnered with fellow travel bloggers to help you plan a romantic vacation in Key West! Read on to discover the 10 most romantic things to do in Key West.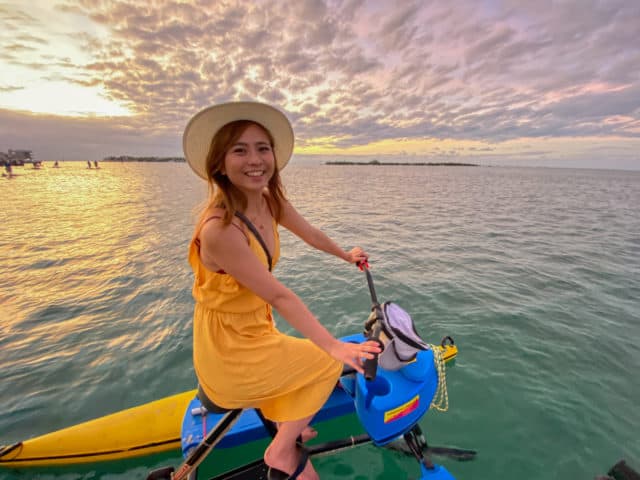 Disclaimer: This post contains affiliate links, meaning if you book or buy something through one of these links, we may earn a small commission (at no extra cost to you!).
Don't have time to read? Save THIS PIN on your USA Travel board on Pinterest so you can refer back when planning your trip to Florida!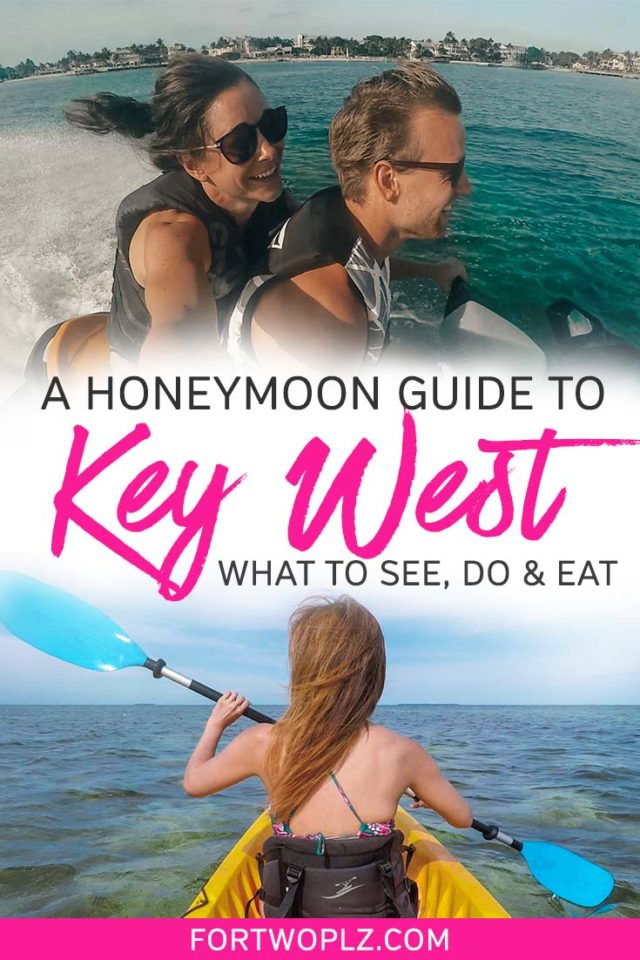 Useful resources for your Florida Keys vacation
✓ Discover hidden gems in the Keys using Lonely Planet Miami & Florida Keys guidebook
✓ Get more Florida Keys vacation ideas with Fodor's In Focus Florida Keys Travel Guide
1| Kayaking Through the Mangroves
Love nature and adventure? Put kayaking through the mangroves on your Key West road trip itinerary!
On a recent visit to the Key West, Kev and I went kayaking and had a blast. Our tour operator, Honest Eco, known for running sustainable nature Florida Keys tours, took us far off the coast to Key West National Wildlife Refuge. The preserve is one of the best places to go in Key West to observe migrating birds.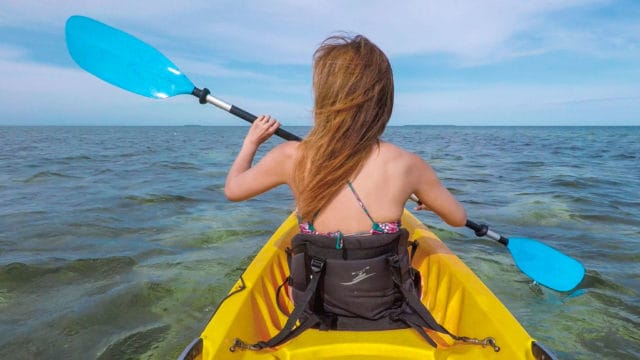 The experience of kayaking through the uninhabited mangrove islands was priceless. We spotted numerous exotic birds and fish and learned so much about the wildlife native to the area (thanks to the marine biologist crew member!). We even had a chance to snorkel in the crystal clear, warm water!
This is certainly one of the top things to do in Key West for couples who'd like to soak up nature. You can even extend this tour and go see Atlantic Bottlenose Dolphins in the wild!

[irp posts="11147″ name="Miami To Key West Drive: How To Plan The Perfect Florida Keys Road Trip"]
2| Riding a Water Bike Together
Sunset sail is one of the most popular things to do in Key West for couples, but instead of Key West sunset cruise, we highly recommend giving water bikes (aka hydrobikes) a try!
What exactly is a water bike? It's just like riding a regular bike except you're doing it on the water. Combining leisure and fitness, this fun, eco-friendly outdoor adventure is no doubt one of the most unique things to do in Key West for adventure seekers – without getting wet!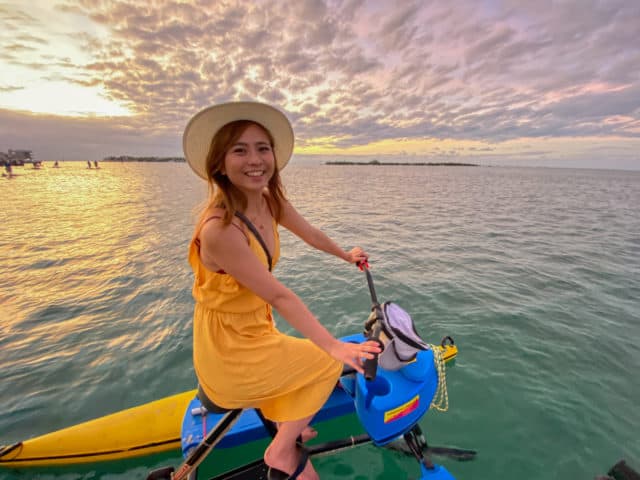 Guided tours are offered by Key West Hydrobikes and depart from Lagerheads Beach Bar. Among the different options, we suggest booking the Mallory Glow tour to watch breathtaking sunsets on the water while enjoying a breezy ride.
Water bikes come in single or tandem. Choose the tandem bike to test your teamwork and compatibility!
3| Catching the Sunset at Mallory Square
Contributed by Noel from Travel Photo Discovery
Watching the sun go down is the most romantic way to spend an evening. The best place to see the sunset in Key West is at Mallory Square. This waterfront area puts on a nightly arts festival called Sunset Celebration, bringing together street performers, food carts, arts and crafts vendors, and tourists from around the world before the sunset. It is magical to watch the sun sinking into the Gulf of Mexico.
The water scene is also active with powerboats, sailboats, and even kayakers or SUP paddlers skirting between the coastal areas and islands.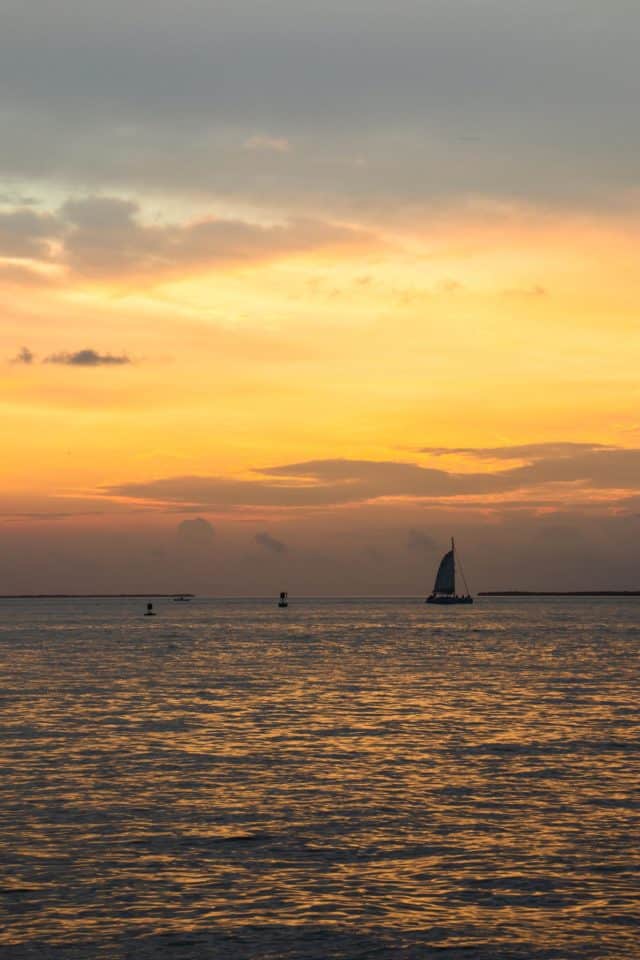 ✓ Pro tip: The timeframe before the sun goes down is the perfect time to do some photography and capture the gold light.

Afterward, you can stick around for the twilight timeframe, enjoying more street food or performances, or even checking out all the open cafes and restaurants for brisk dinner service.

[irp posts="8061″ name="10 Unexpectedly Awesome Things To Do In Riviera Maya"]
4| Biking Along Duval Street
Contributed by Kenny from Knycx Journeying
Key West is merely 13.6 sq km big with an abundance of historic and cultural impacts. To quickly get an overview of what the tiny island has to offer, set up on a leisure bike ride with your boo!
Navigating the streets with a map (or Google Map) and enjoying the time of being together makes sightseeing in Key West so much more memorable.
Seek out some of the most popular "southernmost" spots in old town Key West, from the southernmost point buoy, the southernmost café, to the southernmost shop.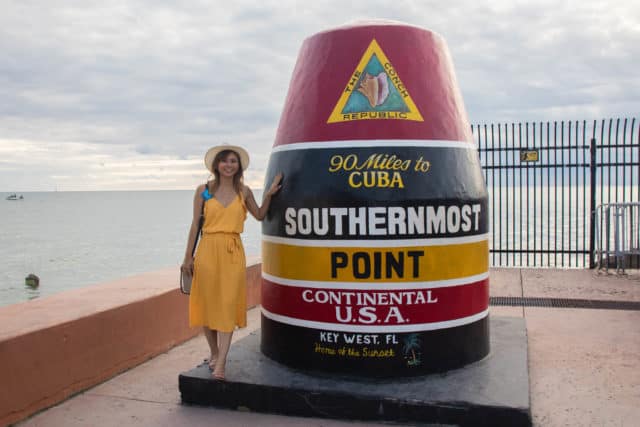 Not sure exactly where to go in Key West? Just ride along Duval Street, the main tourist and shopping street on the island, dotted with famous Key West attractions. Some of the best places to visit in Key West include Key West Butterfly & Nature Conservatory, Ernest Hemingway Home and Museum as well as a number of historic Art Deco buildings.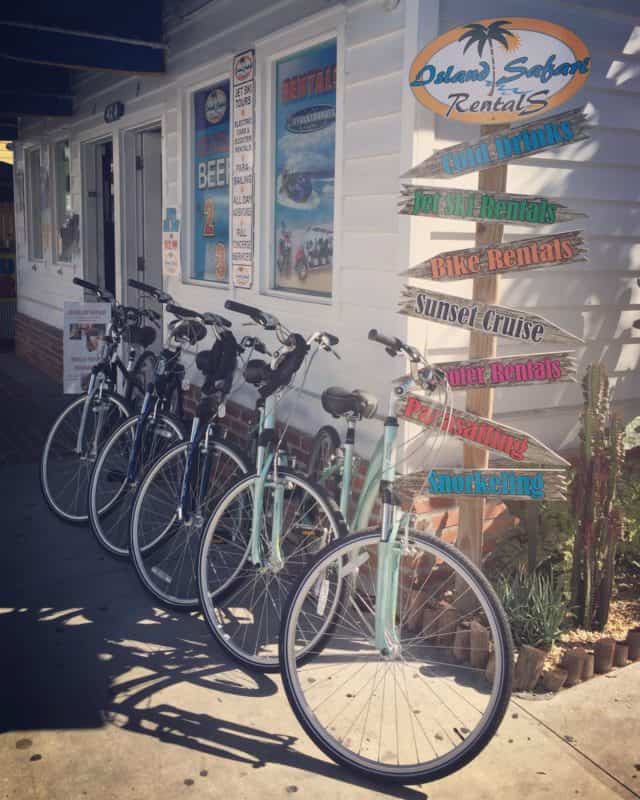 Remember to hit up some local cafes along Duval Street and split the signature dessert, the key lime pie. If time permits, catch a movie at the historic movie theatre or head over to Fort Zachary Taylor for a picnic on the beach!
Be aware that you will see a lot of chicken roaming on the street while you ride!
There are a couple of shops around Mallory Square with bike rentals. Besides, some hotels or tourist agencies usually have bikes lining outside at the entrance for rent – like Island Safari Rental Inc. right at the corner of Greene Street and Telegraph Lane.
5| Climbing to the Top of Key West Lighthouse
Contributed by Vicky from Buddy The Traveling Monkey
Having trouble deciding what to see in Key West? Head over to Key West Lighthouse in the historic district. The lighthouse is not as close to the water as you'd think, but it still offers great views of the ocean and Key West. It's a great place to hold hands and snuggle up with your sweetheart.
Couples can climb the 88 steps of the spiral staircase to get to the top of the lighthouse. From there you can see cruise ships docked at the port and you can even peak over into Ernest Hemingway's home which is across the street. Hands down, one of the best places to go in Key West for a bird's eye view!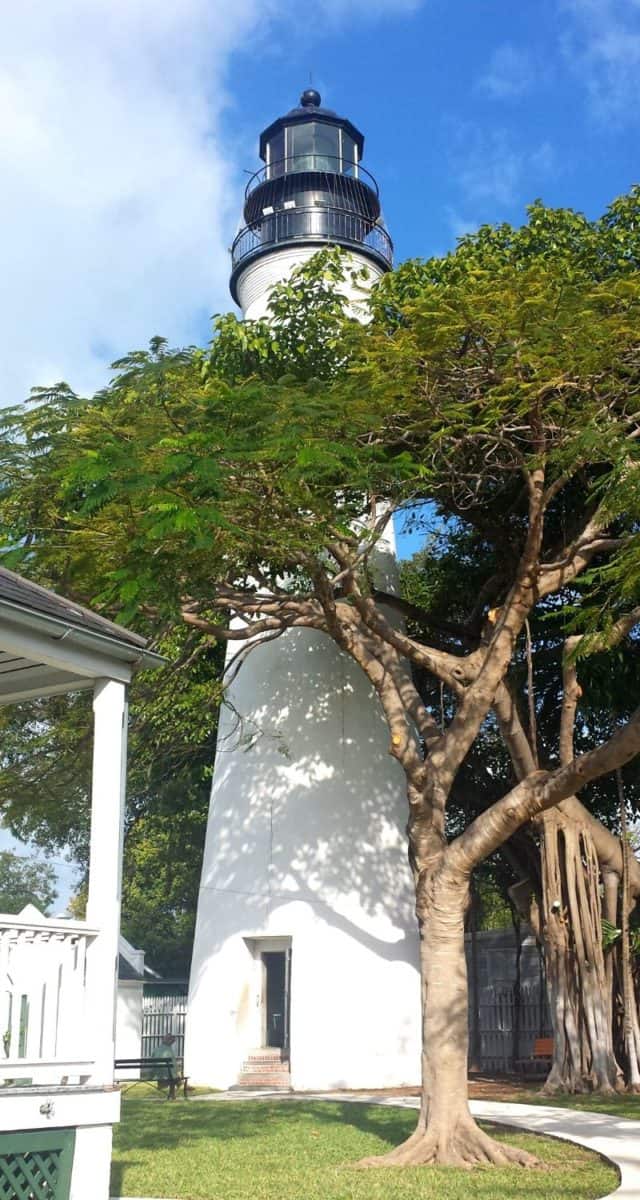 After enjoying the view, head back down and explore the Keeper's Quarters. There, you'll learn about the history of the lighthouse and its keepers. One interesting fact is that when this lighthouse opened in 1848, its keeper was a woman which was practically unheard of at the time. You'll also find some artifacts and exhibits that tell of the nautical history of the area.
The Key West Lighthouse is open every day except Christmas from 9:30 am to 4:30 pm. Admission is $12 for adults and $9 for seniors (62+).
For more unique things to see in Key West, check out Vicky's post on Key West.
Don't have time to finish reading? Save THIS PIN on your USA Travel or Road Trip board on Pinterest so you can refer to it later!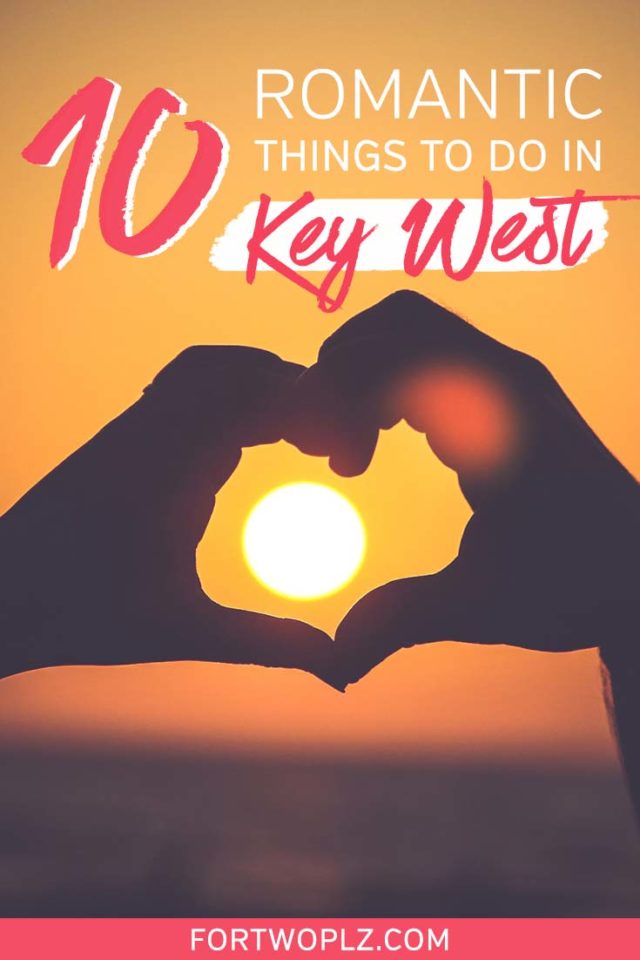 6| Zipping Through the Waters on a Jet Ski
Contributed by Zach & Julie from Ruhls of the Road
Jet skiing in Key West is without a doubt one of the most fun, and surprisingly romantic, activities that you can do in Key West! The water is crystal blue, you will see things you wouldn't be able to see otherwise, and you'll be able to escape into a beautiful setting with your partner.
The water in Key West is one of the main reasons to go there. It is warm enough to swim in comfortably, and the color looks unreal. It literally looks fake, but it is 100% real! The bright blue color is so inviting. On top of that, while you're out jet skiing with the wind in your hair, you'll have the chance to spot wildlife or coral beneath the water as you are cruising around! It is SO fun to be jet skiing across the water at 30 mph and spotting animals or just enjoying the ride.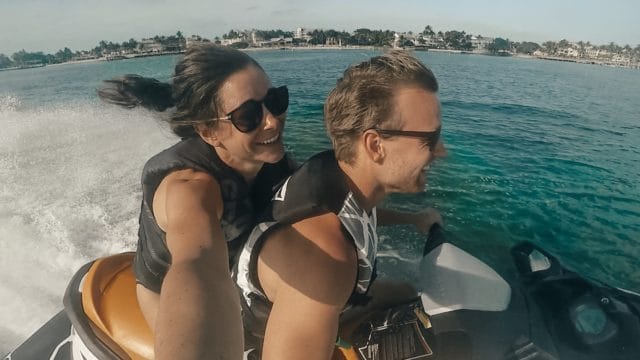 Finally, jet skiing in Key West is romantic because it is a tropical escape for you and your partner. You'll be out in the water without anyone else around to bother you. You can share a tandem jet ski, and once you're alone whoever is in front can flip around for and steal a kiss on top of that beautiful blue water we've talked so much about. You'll have the time of your life jet skiing in Key West, without a doubt!
Join the fun and book a jet ski tour now!
7| Float High Above the Waters on a Parasail
For those who have no fear of flying and want to feel that adrenaline rush, go parasailing!
Flying several hundred feet above the waters might look scary from afar, but it really is not! This high-flying activity turns out to be surprisingly calm and soothing.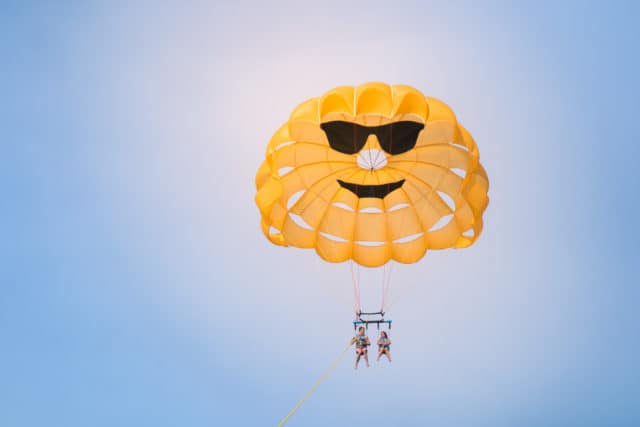 No worries if you haven't tried parasailing before. It requires no expertise to partake in this experience as the boat and the pilot do most of the work. All you need to do is lean back, stay seated, and enjoy the bird's eye view with your bae as you soar above the water!

On a clear day, you may even catch a glimpse of dolphins playing in the surf! How romantic is that!

[irp posts="7004″ name="Greatest Adventures Around the World for Adrenaline Junkies"]
8| Taking Seaplane Adventure to Dry Tortugas
Contributed by Joella from Roving Jo
The Florida Keys are one of the most romantic destinations in Florida. And just 70 miles from Key West is one of the least visited National Parks in the USA. With beautiful white sand beaches and turquoise waters the Dry Tortugas is the perfect destination for a Florida Keys day trip, especially for those who desire a more secluded experience. And there is no better, or more romantic way to get there than by seaplane.
Imagine sharing a 40 minute thrilling ride with your loved one, taking off from Key West and seeing the city from above, then flying over beautiful crystalline waters, private islands and mangroves. The water is so clear that you'll have no trouble spotting marine life and shipwrecks below. Additionally, the view of Fort Jefferson from above and landing on water is an experience you won't soon forget.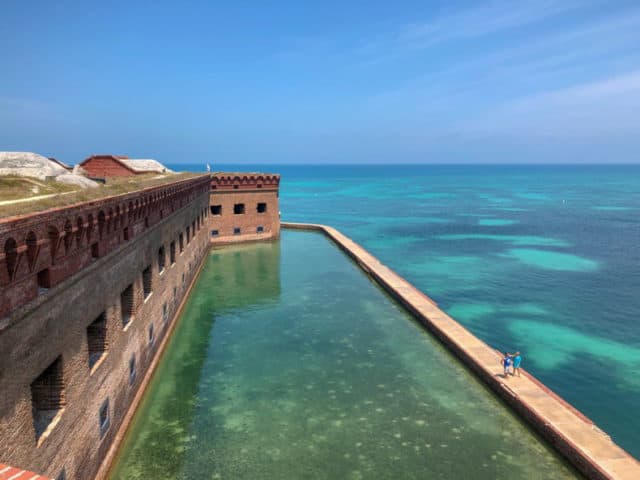 Spending the day in Dry Tortugas National Park is as romantic as the flight there. You can find a secluded spot for sunbathing, have a romantic picnic, go snorkeling or tour the Fort. And if you book the last flight of the day, you will return to Key West just in time to enjoy the sunset.

[irp posts="8094″ name="A Practical Travel Guide To Tulum, Mexico"]
9| Dressing Up for a Candlelit Dinner at Sunset Key
Contributed by Adam & Hannah from Getting Stamped
If you're looking for a romantic thing to do in Key West, having dinner at Sunset Key is a must – we try to go every time we are in the area. Latitude's is one of the romantic restaurants in Key West and is located on Sunset Key.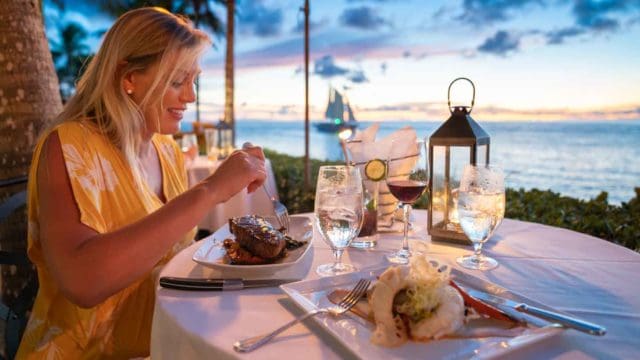 ✓ Pro tip: you definitely need a reservation for this place, as it's a super popular spot for the sunset and it's actually required. For perfect timing, try and coordinate (if possible) your dinner reservations with the sunset – it's best to be seated at least 30 minutes before sunset.
Take a free shuttle boat to Sunset Key, where they will confirm your reservation. And off you go to one of the most romantic dinners of your life, where you'll enjoy fresh, flavorful island cuisine with the most beautiful ocean view to pair!
Even if you can't get in for dinner, it's still worth the visit. Latitude's serves up a delicious breakfast and lunch menu as well.
10| Splitting a Key Lime Pie at Blue Heaven
Contributed by Theresa from Fueled by Wanderlust
Looking for the best food in Key West? Drop by at Blue Heaven. This restaurant is consistently voted as one of the best places to eat in Key West. It is famous for its iconic beachy look, complete with chickens and cats roaming about.
Blue Heaven features a beautiful courtyard dining area, where you can have your toes in the sand, even though you're not actually on the beach. You might even see the occasional chicken cluck by, or enjoy listening to live music while you eat. There is also indoor dining available if you're not feeling particularly outdoorsy.
Although Blue Heaven is very casual, and definitely a place where you can let your hair down, the food is top-notch. While Blue Heaven is open for breakfast, lunch, and dinner, breakfast and Sunday brunch are one of its biggest hits. Their menu features a ton of customizable options, from delicious pineapple pancakes to savory benedicts.
Their key lime pie is also a must – even with breakfast! Each slice is topped with Blue Heaven's signature tall pile of meringue. It is truly a mouthwatering sight to behold, and certainly large enough to share between two people.
Blue Heaven is truly an ambient place to experience as a couple, and the perfect spot to share multiple items off their amazing menu together.
---
This rounds up the top 10 things to do in Key West for couples. Which one would you like to try on your Florida Keys vacation?
Enjoy this post? Save THIS PIN on your USA Travel or Road Trip board on Pinterest so you can come back later to plan your trip!