This site uses affiliate links and we may earn a small commission when you use our links and make a purchase without incurring additional fee yourself. Many thanks for supporting this website. Please see our disclosure page for more details.
New York City is easily one of our favourite cities in the USA, and one that surprises us every time we return. Even for ex-New Yorkers like Cat, there's still so much on the New York City bucket list to explore, and you can find something new to see every time you visit. From our numerous visits, we selected our favourite sights and curated this New York City itinerary to help you pack a ton of excitement into a short amount of time!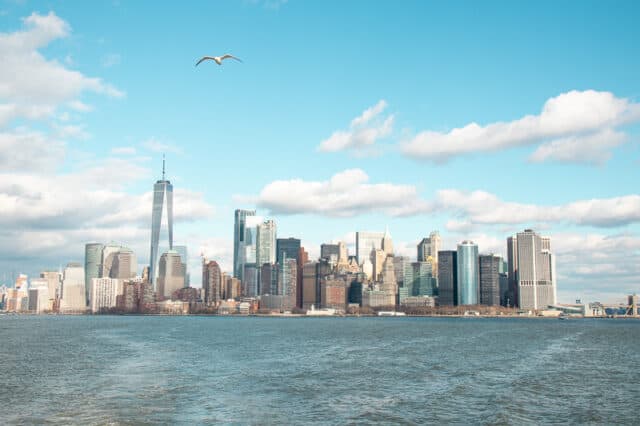 This guide is perfect for first-time visitors, and is just as useful for returning visitors looking for an action-packed 2 days in New York itinerary that includes most of the major attractions. This itinerary will be particularly useful if you are adding NYC to your cross country road trip! We even included a useful New York map and insider travel tips for navigating around the Big Apple! Visiting NYC in winter? Check out our list of the best Christmas Markets in NYC!
Now onto our suggestions of how to make the most out of your New York weekend getaway.
Who is this New York City itinerary for?
Let's be real — everybody has different reasons for traveling, different interests, and different goals for what they want to get out of a trip to New York City. This makes it hard to come up with the perfect itinerary that suits everyone's needs — one size does not fit all, especially in New York City where divergent interests can send travelers to different corners of the city.
First-time visitors often find that planning a trip to New York City is a daunting task. There is SO MUCH to see and do that can easily make you feel lost and overwhelmed, especially when you're only visiting New York for 2 days.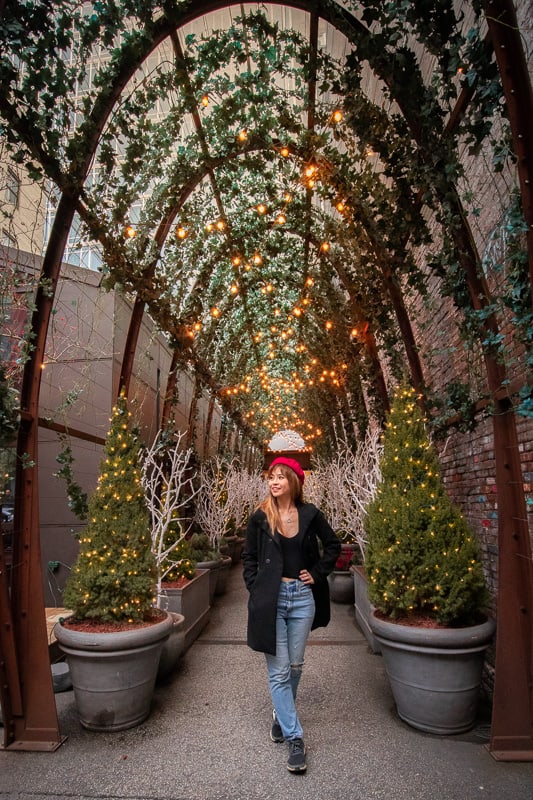 For this reason, we designed a New York itinerary to help those who have never been to the city and want to hit up the most iconic sights while catching the best views in the city.
Much like San Francisco, 2 days in New York would never be enough to cover all the city has to offer, but this itinerary will ensure you see the best of this beautiful city on your very first trip to NYC!
Best way to see New York in 2 days
Day 1 in New York City
✲ MORNING: Central Park, Sarabeth's, Fifth Avenue
On day one, prepare for everything associated with true city style. We promise this is exactly how Carrie (or Charlotte) from "Sex and the City" would plan her day! Let's start with a walk through Central Park, shall we?
The park is the heart and soul of Manhattan and it is enormous! It features a castle, a zoo, lakes, ponds, and tons of bridges … you could easily spend the whole day here.
Since we are short on time, here are the spots you simply don't want to miss: Bethesda Terrace and Fountain, Belvedere Castle, The Pond, and the Alice in Wonderland sculpture. Bow Bridge is really nice later in the day when couples can be seen rowing boats and paddling around the lake.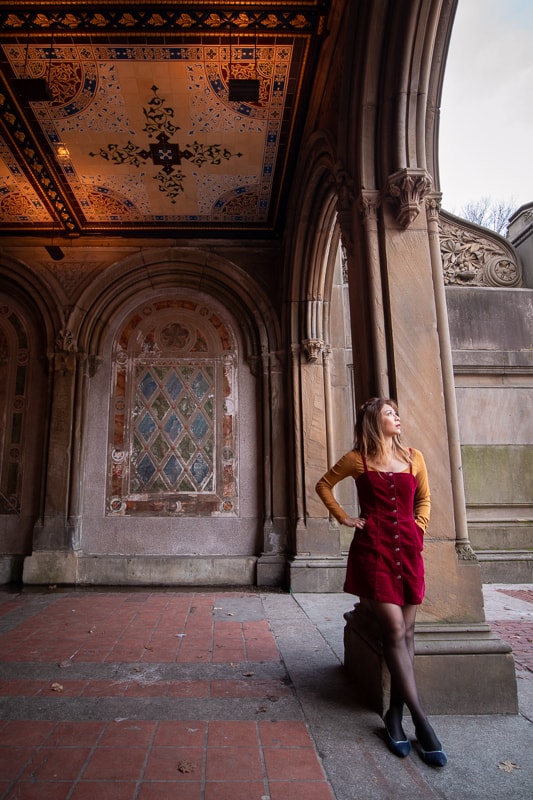 These highlights are concentrated in the southern half of the park, near the Met and the Natural History Museum, so you can see them all in a relatively short time.
After your stroll through the park, have a light breakfast (or brunch if you're visiting on Sat/Sun) at the iconic Sarabeth's. This legendary New York City-based bake shop and brunch stop promises to make your belly happy — whether you are in the mood for something sweet (fat & fluffy french toast, anyone?) or savory (how about a classic lobster roll?).
After breakfast, make your way further south toward Fifth Avenue (aka Millionaire's Row). As New York's most expensive and best shopping street, world travelers will assure you it is comparable to Champs-Élysées in Paris or Ginza in Tokyo.
Making your way down Fifth Avenue, you'll find high-end stores like Cartier, Tiffany & Co., Bergdorf Goodman, Armani, and Saks Fifth Avenue, as well as some famous buildings such as St. Patrick's Cathedral, the New York Public Library, and the Empire State Building.
Some brands like Nintendo, Muji, and Uniqlo also have flagships here if you're looking for something more affordable. Not the shopping type? That's okay. Their window displays are like eye candies that will make you feel like a kid in a candy store!
✲ AFTERNOON: Shake Shack, Museums, Top of the Rock
Once you reach Madison Square Park, swing by the original Shake Shack! The popular fast-food chain started here as a humble hot dog stand. Today, it continues to draw fans and tourists to this location with limited-edition menu items.
Now the sun is right above your head – that's your cue to head indoors. We recommend hitting up the museums! The three that we highly recommend are the Museum of Modern Art (MoMA), The Metropolitan Museum of Art (the Met), and Guggenheim.
MoMA is an eye-opener for those who love modern and contemporary art. There you can view Van Gogh's masterpiece Starry Night and other post-impressionist art from around the world.
Reserve your skip-the-line tickets for the MOMA today for no extra charge!
The Met is one of the largest and most comprehensive art museums in the world. You can find everything from Egyptian artifacts to Asian textiles to musical instruments from everywhere you can imagine! It can make you feel inspired and overwhelmed at the same time 😉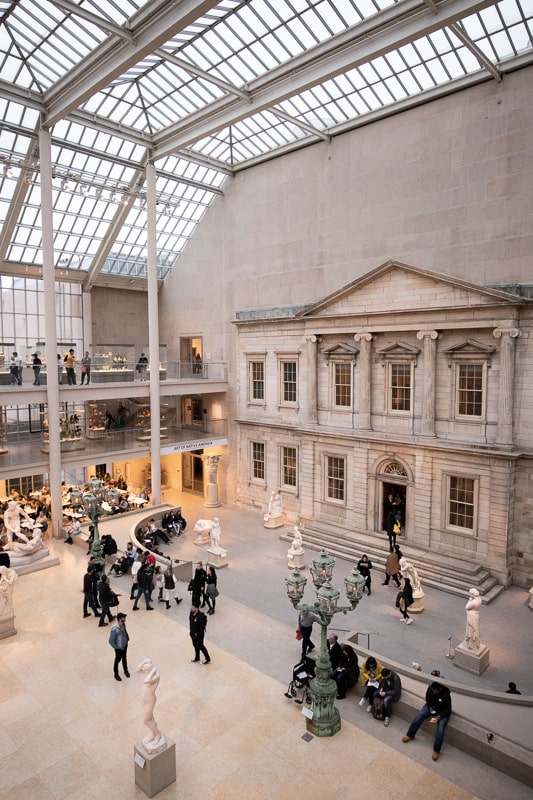 Grab your skip-the-line tickets to the Met now! Or hire a guide to show you the best of the Met.
Right next door is the Guggenheim Museum, part of a UNESCO World Heritage Site. The abstract, modern building itself is a work of art, designed by the famous architect Frank Lloyd Wright. Inside, it houses art from the Impressionist era to the present day.
If time permits, head up to the Top of the Rock Observation Deck at Rockefeller Center. There, you'll get to soak up the best view in all of New York City. Admire the popular landmarks such as One World Trade Center, the Empire State Building, the Chrysler Building, the Brooklyn Bridge, and the Statue of Liberty!
Score discounted tickets to the Top of the Rock with CityPASS.
✲ EVENING: Nobu Fifty Seven, Broadway Show, Times Square
All that action will certainly make you hungry! Sit down at Nobu Fifty Seven and have an innovative Japanese feast. As one of the world's most recognized Japanese restaurants, you're sure to have a memorable experience!
Seeing a Broadway show is a must for first-time visitors to New York City. There are 41-theatres offering Broadway and off-Broadway shows. Some of the timeless classics include Hamilton, Phantom of the Opera, Chicago, and The Lion King. Ticket prices can be steep, though it is possible to score less expensive tickets if you don't mind standing or trying your luck! For a hugely popular show like Hamilton, definitely order your tickets in advance.
Check prices & shop for Broadway tickets today!
I'm sure you have heard that New York City is a city that never sleeps. Drop by Times Square any time of day or night and you'll instantly know why.
Chaotic and eccentric, Times Square is full of bright, oversized electric billboards that seem to attack you from all angles.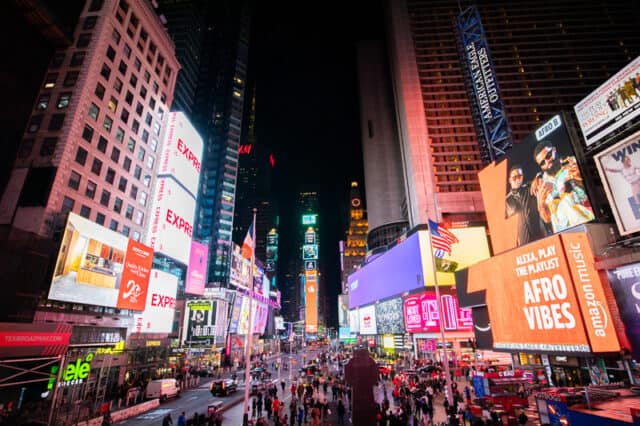 Take a seat at the red steps above the TKTS booth while taking in all the sounds, lights, and action.
A word of advice – be vigilant and aware of pickpocketing. Don't leave your bags unzipped or your valuables unattended while you enjoy the lights and the photo ops!
Day 2 in New York City
✲ MORNING: Inatteso Cafe, Ellis Island, Statue of Liberty
Start your day in the Financial District and get ready to soak in history and culture.
Before you start, fuel up at the modern coffee shop Inatteso Cafe in Battery Park with pastries or a Nutella toast.
Visiting the Statue of Liberty and Ellis Island will take most of your morning, but it's absolutely worth the time, being one of the most iconic landmarks in NYC.
The Statue of Liberty, sent over as a gift to the US from France, represents freedom and opportunity for millions of overseas immigrants throughout the years. It is now a UNESCO World Heritage Site.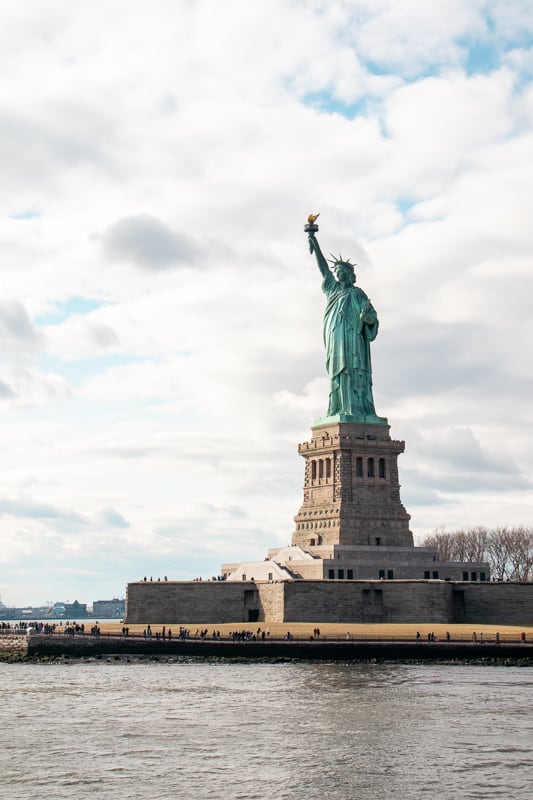 Once you arrive at Liberty Island (you'll have to go through a security check before boarding the ferry), you may sign up for one of the Ranger Guided Tours, explore the grounds with an audio tour, check out the exhibits at the Statue of Liberty Museum, or even climb up to the Crown of the Statue of Liberty!
You can spend as much time as you want on the island before the last boat goes out. All ferries will make a stop at Ellis Island. You may choose to hop off and wander through the fascinating National Museum of Immigration or skip it if there's not enough time. Either way, access to both islands is included in your ticket purchase.
✲ AFTERNOON: Lil Chef Mama, Oculus, One World Observatory, DUMBO, Brooklyn Bridge
Back in the Financial District, enjoy a sit-down meal at Lil Chef Mama. The little joint serves up staple Thai food that promises to warm your soul!
A few blocks over sits The Oculus. Don't be fooled by its futuristic look, it is actually a train station!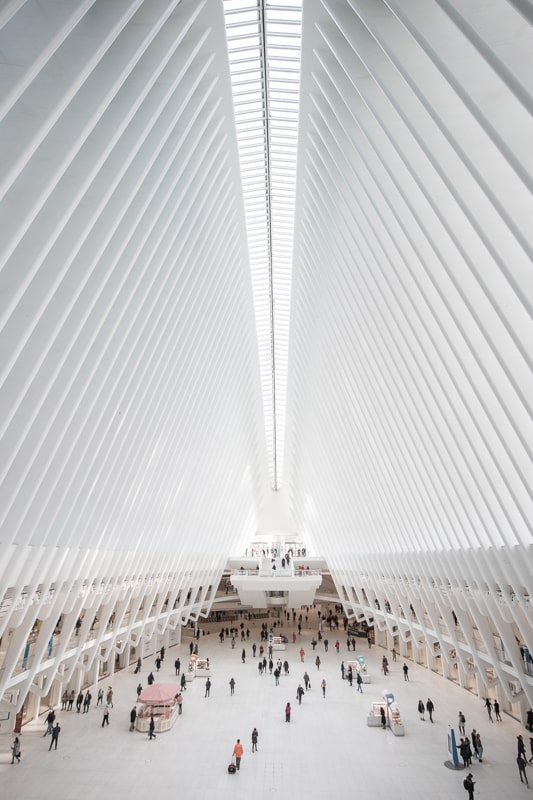 This new, state-of-the-art structure, also known as World Trade Center Transportation Hub, connects the PATH (trains from Newark and Hoboken, New Jersey) to the New York City subway system. You can also find a shopping mall and a few restaurants inside.
Right across the street is One World Observatory at the top of the One World Trade Center. From here, you can enjoy stunning views of Manhattan, the Statue of Liberty, Brooklyn, Staten Island, and New Jersey.
Avoid the crowd by buying tickets to One World Observatory in advance.
Now, get ready to cross the river and visit Brooklyn! To get to DUMBO (short for Down Under The Manhattan Bridge Overpass), we recommend taking the NYC subway. Just hop onto A-Train, quick and easy!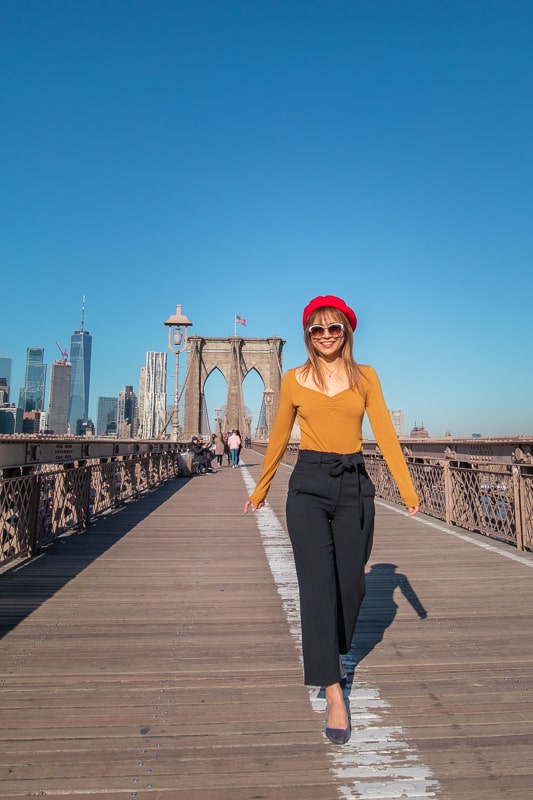 Brooklyn Bridge Park, Pebble Beach, and Jane's Carousel are all popular things to see in DUMBO. Of course, don't forget to get your souvenir photo op at the intersection of Washington Street and Front Street, with the iconic Manhattan Bridge in the backdrop.
Once you're ready to head back to Manhattan, instead of taking the subway, opt for a walk instead! This is your chance to walk the magnificent Brooklyn Bridge – an absolute must-see on a 2 days in New York itinerary!
✲ EVENING: Chelsea Market, Starbucks Reserve, Empire State Building
We hope you're hungry because the Chelsea Market is an absolute food paradise!! There are numerous small restaurants selling food from around the world, but our favourite is Los Tacos.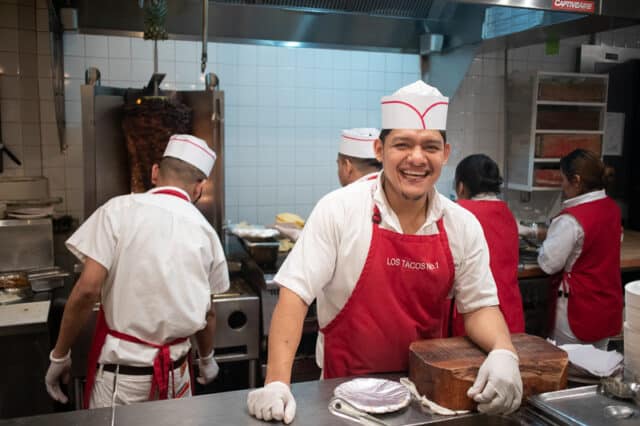 This bustling taqueria serves authentic tacos, quesadillas & aguas frescas in a street-style set-up. You actually watch them make the fresh and mouth watering tacos right before your eyes. The only downside is there's no seating.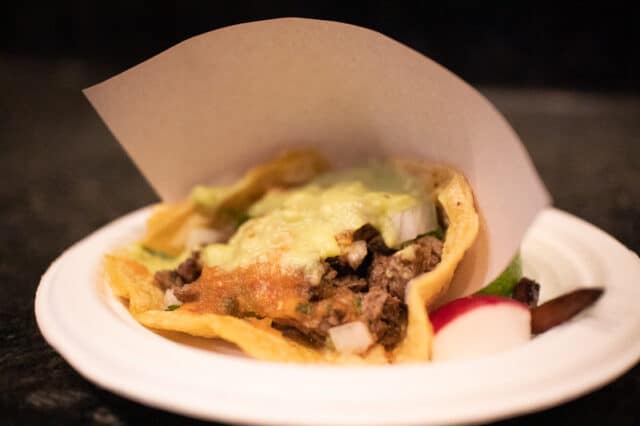 If you are a coffee lover, you'll find paradise at Starbucks Reserve Roastery, just around the corner. The expansive three-level space houses a roasting area, two coffee counters, a bakery, a subterranean warehouse, and a craft cocktail bar (that makes coffee-infused drinks!).
End your 2 days in New York City with a visit to the Empire State Building. This historic landmark has been featured in over 250 TV shows and movies!! The views from the top are breathtaking. Standing 1,453-feet (443m) tall, you can get a real feel for the dense population of New York!
Save money for your Empire State Building tickets with CityPass.
Is it worth getting a New York Pass or New York CityPass?
Do a simple search and you'll find many different money-saving New York City passes. New York CityPass and New York Pass are the two most popular options. We will go over the details between them in another blog post.
In short, these sightseeing passes give you access to NYC's top attractions for less. Usually, you choose from a list of options and the ticket is instantly delivered digitally via the mobile app. It is super convenient, plus you'll be able to skip many ticket lines.
The catch? Some people consider the list of attractions from which you can pick to be restricting. Take New York CityPass for example. The list consists of 12 attractions and for some, you can only choose one or the other, not both. The attraction list for New York Pass, on the other hand, is longer, but some attractions require a booking on their official website so that's an extra step.
Our advice is to check the attraction list carefully and do some math. Does the list include attractions you want to visit? Is it cheaper than buying tickets separately? A little research and planning in advance will help you make a wise decision both financially and considering time.
Quick 2 days in New York itinerary planning resources
If you'd like to find out what's new and happening in NYC, here are some useful resources to help you create your itinerary:
I Love NY: the official site for New York State. Especially helpful for those who have time to explore beyond the city.
For New York sightseeing tours, GetYourGuide is our go-to site. It has a large inventory of tours and tickets for attractions in New York City. You can find almost everything from skip-the-line tickets, walking tours, boat cruises, helicopter tours, bike tours, hop-on-hop-off bus tours, and airport transfers. Some of our favourites include:
Getting around New York
From the airport
There are three airports in the NYC area: JFK (in Queens), Newark (in New Jersey), and LaGuardia (in Queens). If you're flying internationally you will fly into either JFK or Newark.
➤ By Taxi: The easier and less stressful way to get to Manhattan is by taking a cab. All taxis from JFK going into any part of Manhattan charge a flat rate of USD$52 + tips and tolls.
From our experience, there will always be a few of those taxi drivers who ambush travellers right outside the airport and try to solicit them into their car by offering a "better" rate. Ignore them. It is worth queuing up at the designated area and waiting for a taxi.
➤ By Commuter Train: Of course, there's also the cheaper option of taking the train or subway. From JFK, the terminal tram AirTrain runs to Jamaica Station, where you will need to transfer to LIRR (Long Island Railroad) and take it to Penn Station. From there, you can connect to the A, C, or E subway line to continue on to another part of the city
From Newark, take the AirTrain at your terminal to Newark Liberty Airport Station. There, switch to an NJ Transit train for New York Penn Station (do NOT get out at Newark Penn Station). Once you arrive at NY Penn Station (the last stop), you can change to a subway or get a cab to your final hotel. The total travel time from Newark to Manhattan should be about 30-45 minutes.
Around the city
New York City has an extensive subway system. It might be dirty and smelly, but it will get you where you need to go quickly and economically.
A useful tip is to download the New York Subway MTA Map app on your phone (it's free!) to find routes between destinations. MYmta is the new official app that has subways, buses, LIRR and Metro-North trains all-in-one.
A single-ride ticket costs $3. If you're planning to use the subway more than 12 times within a 7-day period, we recommend purchasing a 7 Day Unlimited Ride Metrocard. It costs $33 and you can ride the subway an unlimited number of times in seven days.
How to extend your New York weekend
It goes without saying that there are A TON of other attractions worth seeing in New York City.
The American Museum of Natural History, the 9/11 Memorial & Museum, Union Square, Grand Central Station, Radio City Music Hall and Washington Square Park are popular options.
We also love The Color Factory (a super fun interactive exhibit), the Metropolitan Opera House, and Coney Island (via the Staten Island ferry).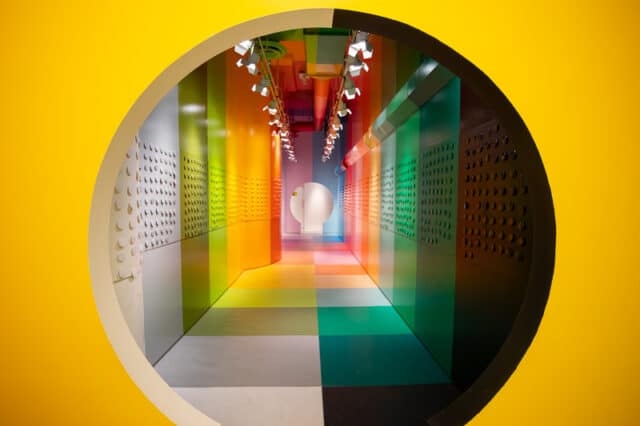 Want to travel beyond New York? You won't believe how easy it is to add one day in Boston to your itinerary!
New York map: Best photo spots and top attractions
Here is a New York map for our visual readers out there. Use this map to plan out your route!
---