This site uses affiliate links and we may earn a small commission when you use our links and make a purchase without incurring additional fee yourself. Many thanks for supporting this website. Please see our disclosure page for more details.
When it comes to San Francisco, people naturally think of the iconic Golden Gate Bridge, cable cars running up and down the steep hills, the notorious Alcatraz Island, and Karl – the fog. But we want to let you in on a not-so-well-kept-secret: the city is also a haven for foodies! Whether you're into the fine-dining of Michelin star restaurants or the fun, relaxed atmosphere of fast-casual food halls, good food can be found on all corners of the city.
Wondering how to spend 3 days in San Francisco as a foodie couple? To get you started, we put together a food-centric 3 days in San Francisco itinerary. Each day groups together places that are located near each other, with a great mix of incredible eateries, scenic spots and key experiences.
Scroll down to see what you can't miss on your San Francisco travels. Stay longer for tips on the best time to visit San Francisco, where to stay in San Francisco, and how to get around this amazing city. Let's start now!
Day 1 in San Francisco, California
Afternoon: Farmhouse Kitchen Thai Cuisine, Mission Dolores Park, Twin Peaks
Kickstart your 72 hours in San Francisco with a soul-warming lunch at Farmhouse Kitchen Thai Cuisine. The fun Mission District restaurant celebrates the bold flavours of Thai dishes with a modern, creative twist. Everything from neua num tok rolls to 24 hours beef noodle soup promises to make your mouth water. Adventurous eaters will not want to miss the chance to try interesting menu items like volcano cup noodle and kai yang som tum, which taste as good as they look!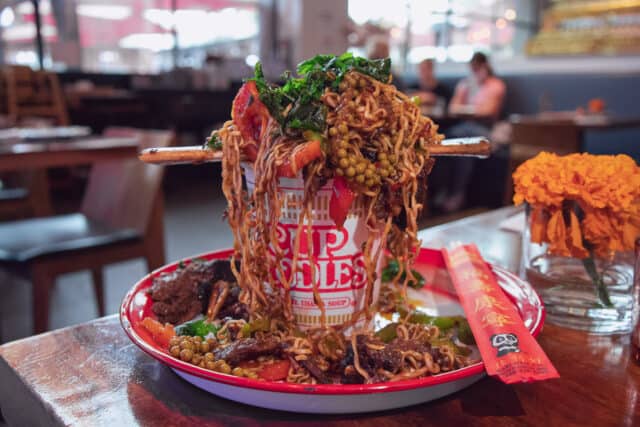 After lunch, if the weather isn't too foggy or rainy, consider stopping by Mission Dolores Park. One of the most popular city parks, it offers an unobstructed view of downtown San Francisco.
For an even better view, hike up the Twin Peaks to see a gorgeous panorama of the bay area!! Don't want to hike the entire 3.4 km (2.1 m) trail? Drive to the Christmas Tree Lookout Point instead, where you can find plenty of parking.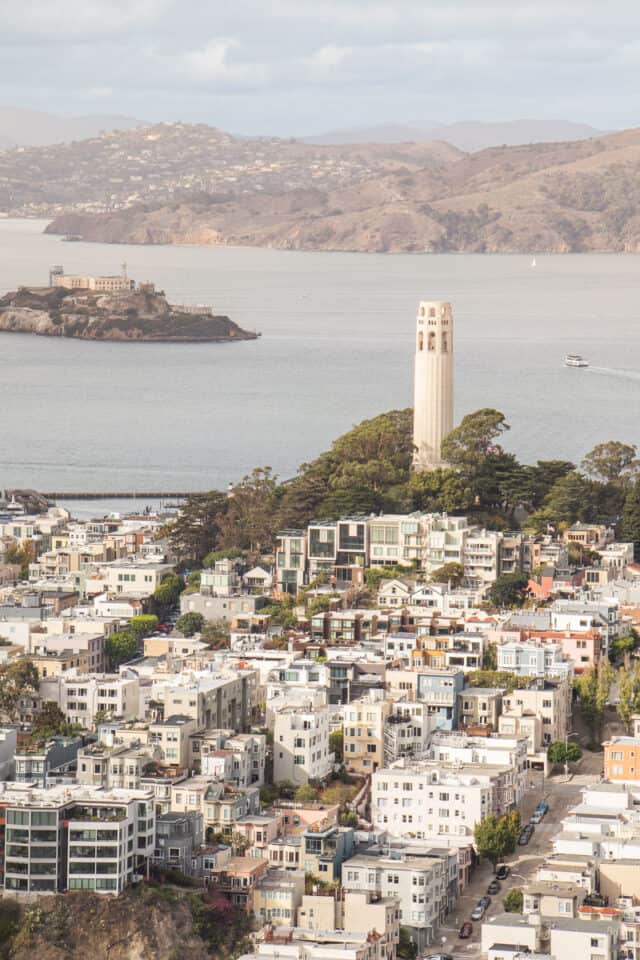 On a clear day, you can easily spot the Golden Gate Bridge in the distance, along with other popular landmarks including Alcatraz Island and Coit Tower. Don't miss your chance to snap a photo of the San Francisco skyline spread out before you.
Pro Tip: Make sure to bring a windbreaker as it can get quite windy at Twin Peaks.
Evening: Lazy Bear
San Francisco is home to more than 30 michelin star restaurants, and one of the top things to do in San Francisco for foodies is to visit one.
The Michelin star restaurants around San Francisco offer a ton of variety – including Chinese, French Moroccan and many others – and they are all ready to impress. One of the most frequently mentioned is Lazy Bear, which we had the honour to try on our recent trip to San Francisco!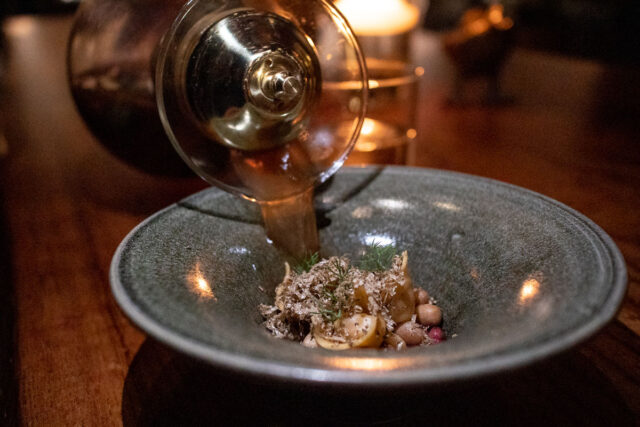 Lazy Bear serves modern-American dinner in a tasting menu format, where several bite-sized dishes designed by the chef are served over the course of the evening. The highly-rated 2-stars restaurant promises to offer one of the most unusual and phenomenal dining experiences in San Francisco. Its cuisine centers around nostalgia and a reverence for the wild, presented like a performance.
The space is styled as a hunting lodge. Diners are given a pencil and pamphlet informing them of the night's menu and tips on surviving in the wild. The 12-course menu takes you on a culinary adventure like no other, drawing on seasonal ingredients sourced locally and inventive cooking techniques.
If you only have time for one Michelin star restaurant in San Francisco, fit Lazy Bear into your schedule. It's worth every penny!
Pro Tip: Many restaurants are booked out months in advance so be sure to reserve a table early! Each restaurant has its own policy when it comes to scoring a seat. Some, like Lazy Bear, release tickets monthly and do require you to pay in full when you book. Make sure to do your research!
Day 2 in San Francisco, California
Morning: Zazie, Golden Gate Park
Wake up to the West Coast sunshine and ease yourself into the day with a meal at Zazie. This cute, petite French bistro is known to locals as the best brunch spot in San Francisco. Indulge in their breakfast classics – croque madame, eggs benedict, and French toast. Whether you like English, American or European breakfast, they have it all! Pair it with a bowl of Mayan mocha with cinnamon & chili and you are ready to take on your day!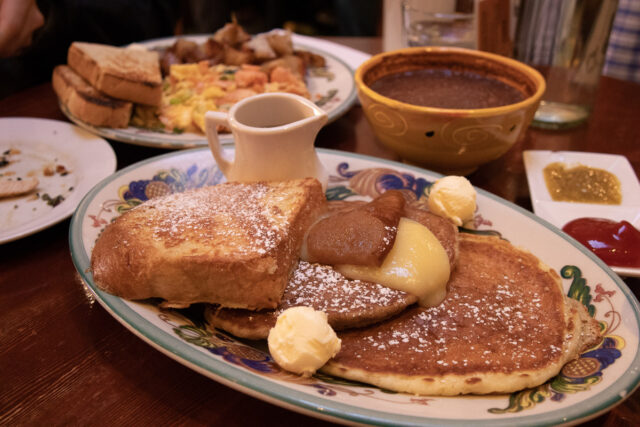 Want another reason to visit Zazie? They are tip free! They treat their staff as employees with insurance, 401K and paid leave covered. Isn't that amazing?
Near Zazie you can discover one of the largest green spaces in San Francisco – Golden Gate Park, where locals go to get closer to nature. Similar to New York City's Central Park, the park features several attractions, including:
Dutch Windmill: made up with two functioning windmills. Perfect place to stop by in the spring to admire blooming flowers.


Japanese Tea Garden: adorned with classic oriental elements including an arched bridge, Japanese pagodas, koi fish, and a lovely tea shop on site! Free admission on Monday, Wednesday, Friday from 9 am to 10 am.


Hamon Observation Tower at de Young Museum: This glass-walled space is free to visit and boasts 360 degree breathtaking panoramic views of Golden Gate Park and beyond!


Conservatory of Flowers: A perfect place to roam the greenhouse and admire rare and exotic flowers (over 2000 plant varieties!). The building itself is a historic landmark.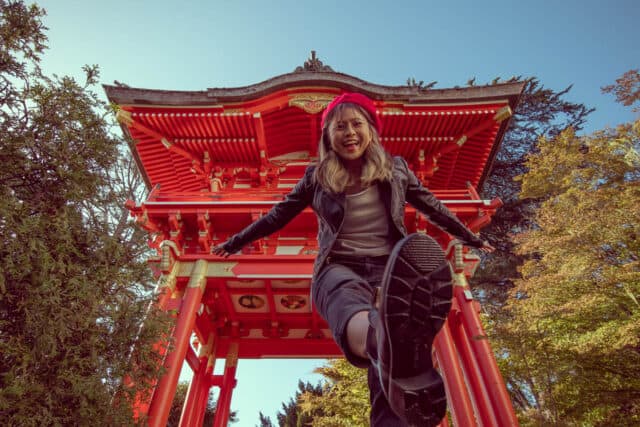 Keep your eye on the bison herds – and be sure to give them their space! Yes, they are residents of Golden Gate Park, along with other animal friends like deer and elk!
Afternoon: Presidio, Son & Garden
What's a trip to San Francisco without seeing the Golden Gate Bridge?!
The best place to see the iconic Golden Gate Bridge is Crissy Fields, located inside the Presidio of San Francisco. The beach area is many photographers' favourite spot to capture the Golden Gate Bridge from the water. Locals come here to enjoy a day on the water in kayaks, paddleboards, or yachts!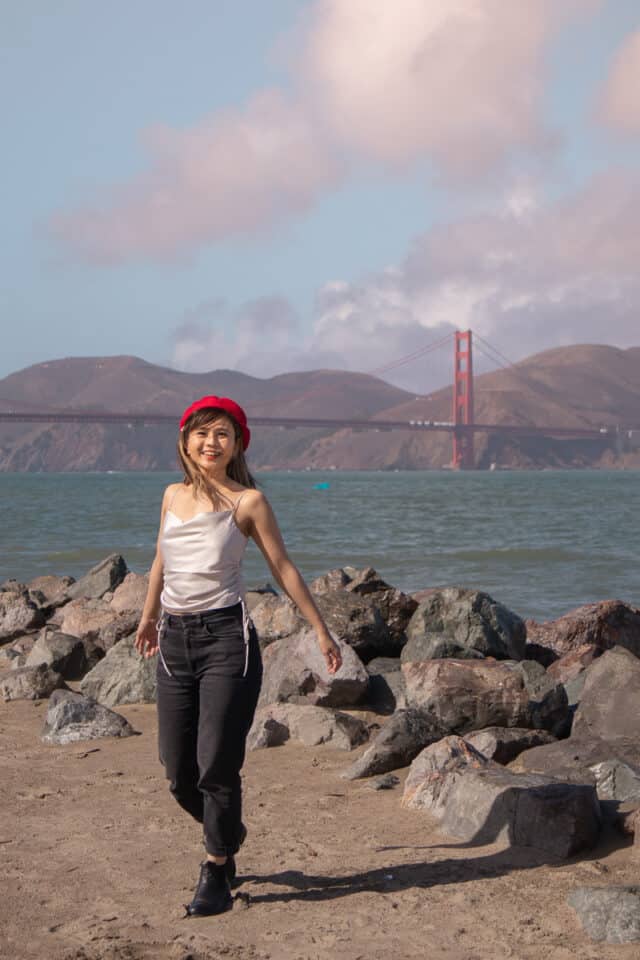 For more up close viewing options, you can follow one of the many trails that leads you to the Golden Gate Bridge.
On a sunny day, you will often see people walking across the bridge. Along the 2.7 km (1.7 miles) span, you'll find some of San Francisco's best Instagram spots. You can also bike across the Golden Gate bridge for a unique experience!
Another spot worth visiting inside Presidio is The Palace of Fine Arts. Designed to look like a Roman ruin, this historical building is actually a theatre that hosts concerts and performances. You are free to stop by to view the majestic columns, dome, and statutes of gods and goddesses. The pond in front is a popular spot for couples to pose for their wedding photos!
At this point you may be thinking, "Well, all this is great, but what is there to do in San Francisco when it rains?"
If you happen to get rained on, the best way to spend the day away is indoors at a foodie spot! We recommend an afternoon tea at Son & Garden. The eatery knocks it out of the park with fabulous floral arrangements and dazzling pastel décor. Not to mention their afternoon tea set with tiers of delectable savory and sweet treats guaranteed to make your day! Reservations required.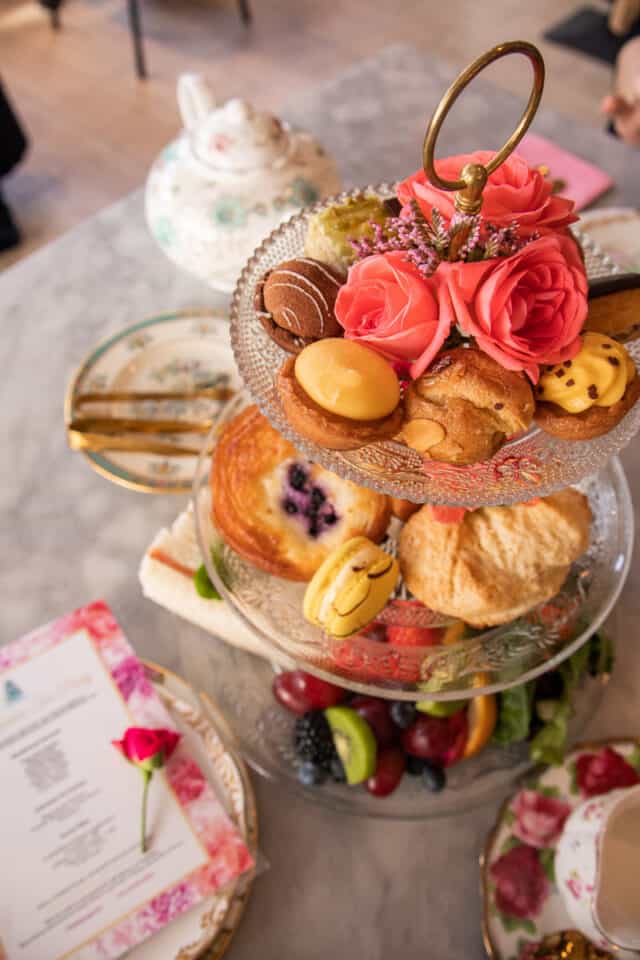 Evening: Mensho Tokyo SF
Cap off the evening with a slurp bowl of ramen at Mensho Tokyo SF. This little ramen shop rose to fame with its thick, curly noodles and ultra-rich creamy chicken broth. There's almost always a line outside the shop!
Expect to find a wide variety of ramen flavours, from wagyu truffle to matcha ramen! Their appetizers are also tantalizing. Corn wings and enoki chips will leave you feeling satisfied (spicy versions available!). Come hungry!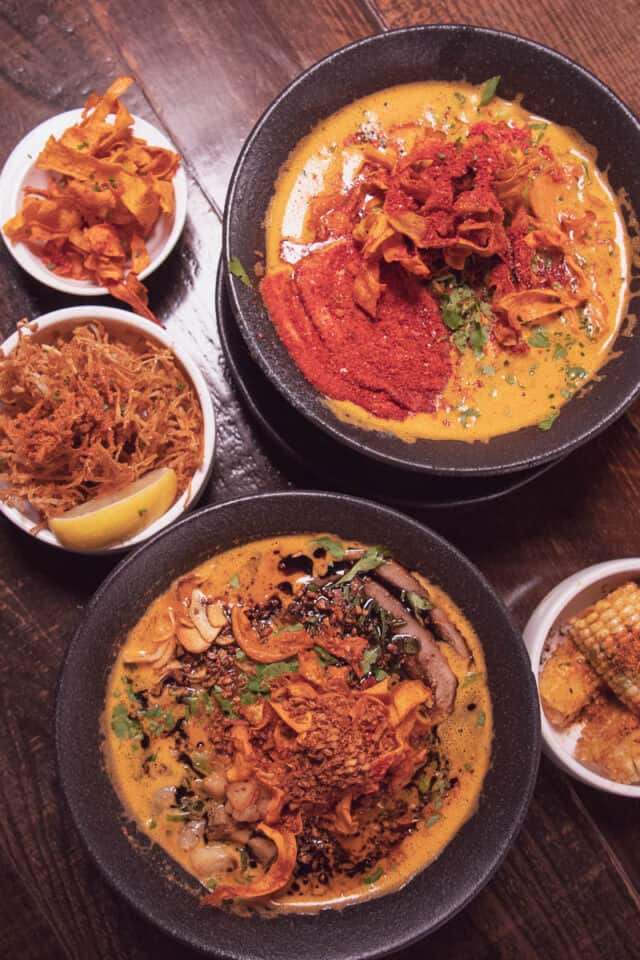 Day 3 in San Francisco
Morning: Coffee at Philz or Blue Bottle
One of the top things to do when in San Francisco is to try the local coffee! The two local coffee chains, Philz and Blue Bottle, each have their own devoted following.
Which one is better? Depends on what you prefer in your cup of joe.
Philz has an informal charm and is known for their flavoured creations. Try a sip of their iced mint mojito or mocha tesora, and you'll get addicted!
Blue Bottle on the other hand exudes a more upscale feel. The menu is smaller, simpler, and focuses more on classics like pour overs and cold brews. Though their flavoured caffeinated drinks like New Orleans-style iced coffee (roasted chicory and cane sugar) and shakerato (vanilla, cane sugar, and milk) are also delightful.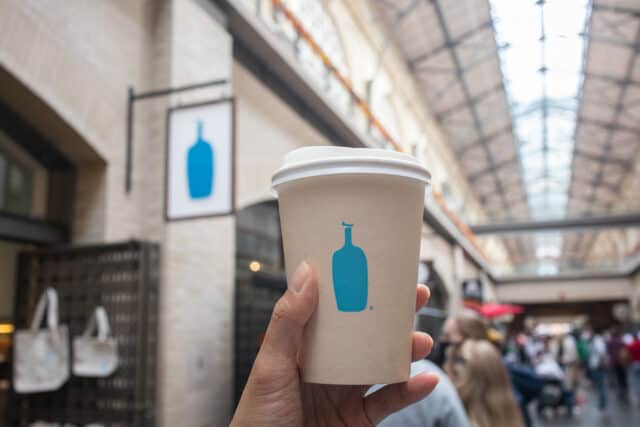 Afternoon: Cable Car from Union Square to Lombard Street, North Beach, Hog Island Oyster Co., Ferry Building Marketplace
We know why you're here… to ride on one of San Francisco's famous cable cars!
Do you know that San Francisco is home to one of the world's last manually operated cable car systems? Though it is not as widely used by locals today as a mode of transportation as when it was first created in 1873, you can still easily hop on one of its three remaining lines for a ride through the city.
Take Powell/Hyde Cable Car from Union Square to Lombard Street. The historic San Francisco street car will take you up and down the hilly city, and eventually drop you at the top of Lombard Street.
It's the most crooked street in the city, famous for its series of eight hairpin turns that zig-zag down one city block. Walk down the staircase on the side of the street for photos of the famous curves and beautifully landscaped houses. This is such a fun experience and might very well be the highlight of your weekend trip to San Francisco!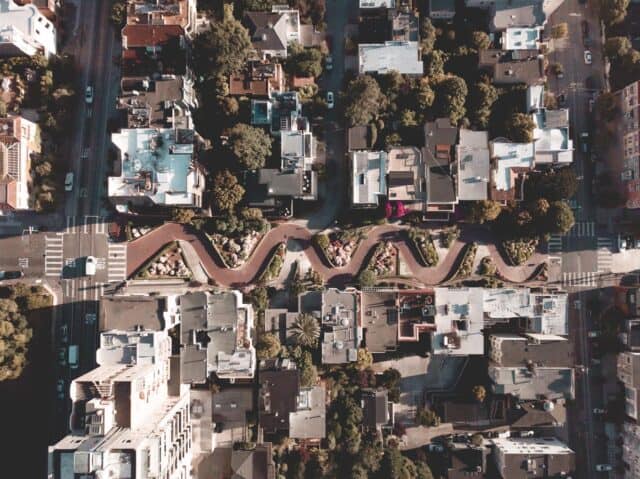 Just a few blocks away (15 mins walk) is North Beach, aka Little Italy. This little part of San Francisco has the most 'European' feel to it with quaint shops and Italian-themed cafes along Columbus Avenue.
The Italian neighborhood is famous for being the heart of the Beat movement (an American social and literary movement) in the 1950s. To pay homage to the Beat Generation, visit City Lights Bookstore & Publisher, the early gathering place for the Beats and the store that published Allen Ginsberg's famous poem Howl.
Then slowly make your way to Ferry Building Marketplace for lunch. Inside the historic building is a huge food hall where you will find famous San Francisco eateries. One of the most famous restaurants is Hog Island Oyster Co. Oysters and clams are grown and harvested locally at their farm in Tomales Bay in the north.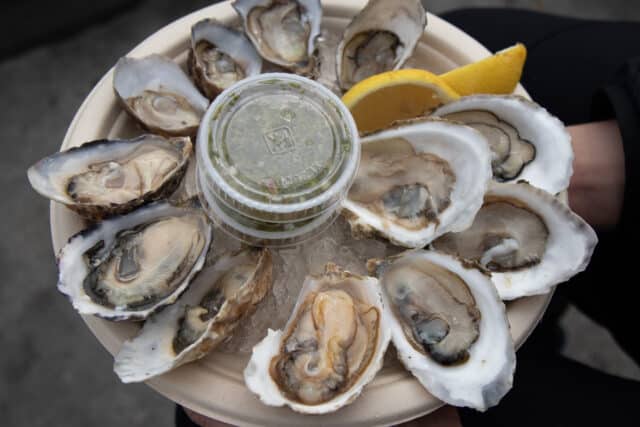 Queues of long lines are often spotted outside the restaurant. For a unique experience, order takeout and sit at the piers. They also have a booth at Ferry Plaza Farmers Market (south of the building) if you just want freshly shucked oysters!! The Farmers Market is open Tuesdays, Thursdays, and Saturdays year round, rain or shine.
After lunch, stop by Humphry Slocombe inside the ferry building for a scoop of incredibly fresh-tasting ice cream. On a mission to make ice cream less vanilla, you can expect to see unique ingredients and bizarre combinations on their menu.
Order their top selling flavour, secret breakfast, made with bourbon and delicious cornflake crunch. Or go crazy and try white miso or foie gras!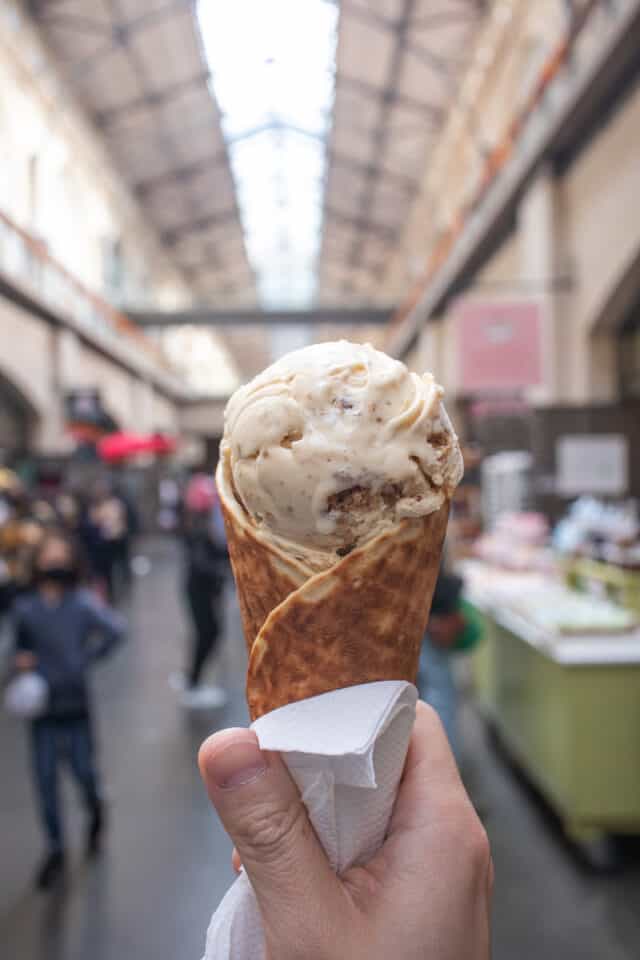 Evening: Ghirardelli Square, Palette Tea House & Dim Sum
Complete your San Francisco weekend trip with a visit to Ghirardelli Square, another popular attraction in the Fisherman's Wharf. The plaza is known for housing the headquarters of Ghirardelli Chocolate Company (totally worth a stop for a scrumptious ice cream sundae with chocolate fudge).
But the main reason we recommend a trip here is for dinner at Palette Tea House & Dim Sum. The restaurant is all about Cantonese cooking and dim sum, but not in the traditional style.
Instead, they surprise guests with a refreshing, modern take on traditional Cantonese cuisine. Come here with a big appetite because you'll want to fill the table with orders including palette soup dumplings, abalone siu mai, lobster dumpling with butter sauce, classic ha gow, and cha siu bao!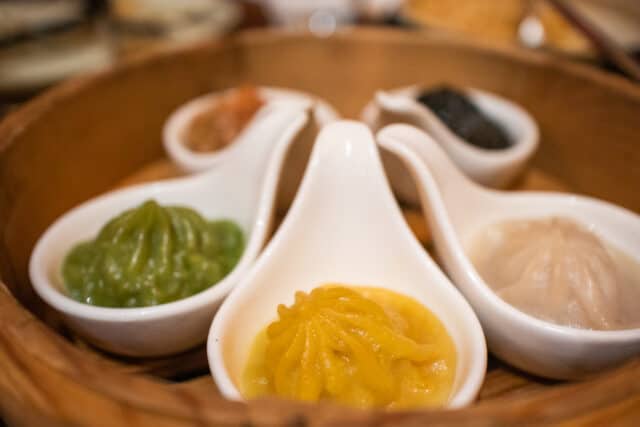 Getting Around During Your 3 Days in San Francisco
There are so many different ways to get around San Francisco. Some people like to explore on foot to really experience the vibe of the city and find hidden gems along the way. Having said that, the city is very hilly so be prepared for steep slopes on your walk. This website gives you an idea how steep the streets are across the city.
While we made an effort to plan this 3-day San Francisco itinerary by grouping locations nearby to minimize travel time, we encourage you to utilize scooters (Lime, Scoot, Spin, or Jump) and ride sharing services (Uber/Lyft) to get around quicker and more easily.
San Francisco is also well-connected by public transportation (Muni). Buses, trains, cable cars and street cars can take you to many places across the city. If this is a travel mode you prefer, we advise downloading the city's MuniMobile app to plan routes and pay fares in advance!
You might wonder how about renting a car? Parking is difficult to find (and expensive!) in SF, plus car break-ins are quite common. If you have a car for the later part of your California trip, we would recommend parking it at the hotel and exploring the city on foot or via ride sharing.
Where to Stay for 3 Days in San Francisco
We recommend staying in the northeast area of the city. Russian Hill, Telegraph Hill and Embarcadero/Financial District are all excellent places to stay. Presidio Heights is also a very nice area.
Avoid staying in the Tenderloin and Mission Districts, where homeless set up camps across the neighborhoods.
Here are some luxury hotels worth considering for your trip:
Four Seasons Hotel San Francisco at Embarcadero: This brand new hotel boasts newly renovated, spacious rooms with panoramic views of the city, looking out to the Golden Gate Bridge and Telegraph Hill. Easy access to popular tourist attractions like the Fisherman's Wharf.


St. Regis San Francisco: The five star hotel is located in SoMA, right next to San Francisco Museum of Modern Art. Perfect for those who desire to be pampered. The hotel will fulfill all your needs with 5 star service and excellent culinary offerings. If you stay in a suite, you'll have exclusive access to butler service!


Hotel Drisco Pacific Heights: Hidden in Presidio Heights, the hotel is tucked away in a quiet location and delivers personalized service. Excellent for those who want to stay close to The Presidio Park and the Golden Gate Bridge! Coffee and tea are available all day, with handmade biscotti served in the afternoon. You'll even get daily morning chauffeur service to any destination within the city limits.
When to Visit San Francisco
The mild climate makes San Francisco a year-round travel destination. Winter is never freezing cold; summer barely rises above 20 ℃ (68℉) with occasional thick fogs cooling the city. You can really plan to make a trip to San Francisco anytime of the year.
That being said, the best time to visit San Francisco is in the fall from September to November. You get to enjoy the warmest temperatures (enough to dip in the water). The crowds are also way lower than the peak summer season.
Is 3 Days in San Francisco Enough?
3 days is sufficient to get a glimpse of the different aspects the city has to offer. But to really see the entirety of the City by the Bay, you will definitely need longer than 3 days in San Francisco. We haven't even talked about Alcatraz Island, Treasure Island, Chinatown (the oldest one in North America), and Baker Beach yet!
Other Things to Do in San Francisco and Beyond
Have a few extra days in San Francisco? Here are some additional places to add to your California itinerary:
Hayes Valley: Spend a few hours in this trendy neighborhood rich with chic boutiques, home decor shops and trendy restaurants. To catch a sight of one of the most photographed locations in San Francisco, Painted Ladies, head to Alamo Square. The row of Victorian houses backdropped by San Francisco's ultra-modern city skyline makes for a beautiful contrast.


Muir Woods National Monument: Known for its towering old-growth redwood trees. The park is part of California's Golden Gate National Recreation Area and is home to one of the world's last remaining coastal redwood forests. The trees here are older than your and my ages combined, ranging from 400 to 800 years old!!


Alcatraz Island: aka The Rock, this small island is just 2km (1.5 miles) offshore from San Francisco. It once served as a federal prison for the most dangerous prisoners, including Al Capone, George "Machine Gun" Kelly, and Robert Stroud. The only way to visit the island is to book a tour with Alcatraz City Cruises. Allow at least half a day to tour the site. Tickets are often sold out so reserve yours early!


Chinatown: Many cities have Chinatowns, but the one in SF is the largest Chinatown outside of Asia and the oldest Chinatown in North America. It is the best place to soak in Chinese culture and get a taste of the Chinese delicacies. Must visits include Golden Gate Bakery (hours are sporadic, check this Facebook page for live updates from fans), Pineapple King Bakery, Golden Gate Fortune Cookie Factory, and Moongate Lounge.


Yosemite National Park: Among the top national parks in the US, Yosemite is the closest one to the city of San Francisco. It is approximately 269 km (167 miles) away and takes at least four hours to drive there. A Yosemite National Park road trip allows you to see the renowned giant sequoia trees and the dazzling canyons of the Sierra Nevada mountain range.


Napa Valley: Wine tasting in California's most famous wine region makes a fantastic getaway from San Francisco! Within an hour's travel time, you can find some of the state's most famous wineries, including Castello di Amorosa, a medieval-style Tuscan castle in Calistoga! For a less touristy alternative, consider Sonoma County!


Monterey Bay and Carmel-by-the-Sea: Need ideas for a 3 days road trip from San Francisco? Venture south to Monterey Bay and Carmel-by-the-Sea! The wild and rugged coastline along the iconic California's Highway 1 (aka Pacific Coast Highway) provides ample opportunity to enjoy marine creatures (sea lions and seals are everywhere!). Whale-watching tours are a must if you're visiting between March and November! You can also take a ride down the 17-Mile Drive. We have a dedicated Monterey and Carmel post to show you everything the area has to offer.


Big Sur: Continue on the Pacific Coast Highway southward to see the Big Sur. Stretching from Carmel to San Simeon, the drive along this rugged, mountainous section looks out to jaw-dropping views of the Pacific Ocean on one side and lush wildlands on the other. Enjoy a rustic retreat away from the everyday city life and see for yourself why it is crowned as one of the best scenic drives in the world!
---
This itinerary will help you get started planning your own itinerary for San Francisco featuring the best places to eat and sightsee when you're in the Bay Area for a short amount of time. We hope it makes your San Francisco trip planning a breeze!