This site uses affiliate links and we may earn a small commission when you use our links and make a purchase without incurring additional fee yourself. Many thanks for supporting this website. Please see our disclosure page for more details.
Want to explore one of the most picturesque regions in Central California? Take a road trip along the 17-Mile Drive! You will see the best the Monterey Peninsula – one of California's most iconic destinations, located just south of San Francisco on the northern edge of the Big Sur coastline. The 17-Mile Drive is a perfect day-long road trip, offering striking ocean vistas along with some of the most popular golf courses in the world.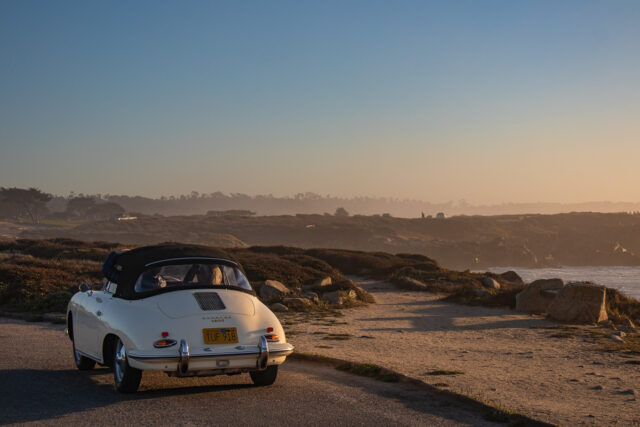 In this comprehensive article, we will walk you through everything you need to know about the 17-Mile Drive, including the best stops for photos, the best time to visit, how to get there, and where to stop for food. Let's dive in!
Is the 17-Mile Drive Worth It?
Before going on to list the 17-Mile Drive best stops, let's answer two very important questions: What is 17-Mile Drive and is this drive worth your time?
17-Mile Drive is a privately owned scenic road that hugs the coast of Monterey Peninsula. As the name suggests, the road is seventeen miles long, winding through the gated community of Pebble Beach.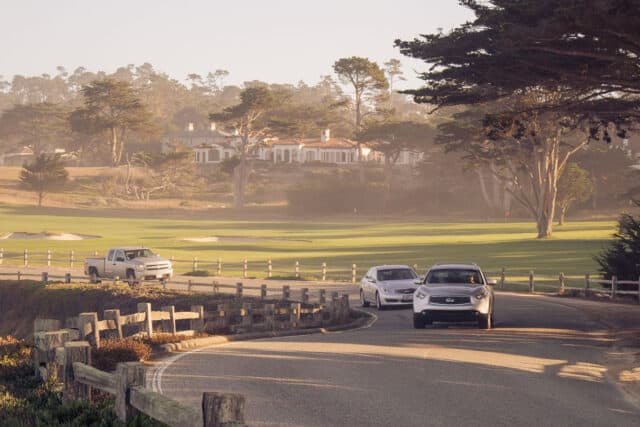 Back in 1881 when it was first constructed, the 17-Mile Drive was intended to take guests from Hotel Del Monte to the picnic grounds along the coastline of Pacific Grove, Pebble beach, and Carmel.
Today, non-residents can pay a toll to enter and enjoy the beautiful vistas.
If you love the ocean, golf, or both, then you need to set aside time to see the 17-Mile Drive. This idyllic stretch of coastline takes you through a wide range of landscapes, from dramatic coastal cliffs, white-sand beaches, and mystical forests, to well-groomed golf courses. You'll also get a glimpse of luxurious mansions as you pass by. Some wildlife like deer, sea lions and harbour seals may also make a guest appearance!
It is one of the best routes we've driven in North America! The best part? It only takes a few hours to see it all!
Everything You Need To Know About the 17-Mile Drive in Monterey
Where are the entrance gates for the 17-Mile Drive?
You can access the 17-Mile Drive through five gates:
Pacific Grove Gate: One of the most common entry points if you're coming from Monterey or Pacific Grove. To arrive at this gate, follow the road through Pacific Grove, just south of Sunset Drive.
Country Club Gate: Another popular entrance for the 17-Mile Drive. This gate is located on Forest Lodge Road, just off Congress Avenue.
S.F.B. Morse Gate: This gate can be accessed from Morse Drive. It's right off Highway 68, also known as Holman Highway.
Highway 1 Gate: This 17-Mile Drive entrance is off of exit 399A. Take the second exit out of the roundabout, and follow the signs to Pebble Beach.
Carmel Gate: The south gate into Pebble Beach and the closest gate if you're coming from Carmel-by-the-Sea. The entrance is located on San Antonio Avenue.
How do you get to the 17-Mile Drive?
If you're coming from out-of-town or have never been to Monterey before, here are more specific directions to help you find the 17-Mile Drive entrance:
➤ Driving Directions from San Francisco: Navigate your way to Highway 17 in Los Gatos heading toward Santa Cruz. Just north of Santa Cruz, take exit 1B. Continue on Highway 1 toward Monterey for 68 km (42 miles) until you reach exit 399A. The Highway 1 Gate is the second exit out of the traffic circle. Drive time is approximately 2.5 hours.
➤ Driving Directions from San Jose: The Highway 1 Gate is the best entrance point. From San Jose, take 101 south to exit 336 (toward Monterey/Peninsula). You will be on Highway 156, which turns into Highway 1. Then follow the directions above to find Highway 1 Gate.
➤ Driving Directions from Monterey: The Pacific Grove Gate is about 6.5 km (4 miles) from Monterey. To get to the gate, make your way through Pacific Grove on Pine Avenue until you reach Sunset Drive.
How much is the 17-Mile Drive entrance fee?
Admission to the 17-Mile Drive is $11.25 per vehicle. You can explore it for free if you are on bikes, walking, or staying overnight at one of the 17-Mile Drive hotels such as The Inn at Spanish Bay, Casa Palmero, and The Lodge at Pebble Beach.
If you're a foodie, you can have your entrance fee reimbursed if you spend $35 or more at any Pebble Beach Resorts restaurants (excluding Pebble Beach Market).
What are the 17-Mile Drive hours?
The 17-Mile Drive is open to the public from sunrise to sunset year-round. The gates are manned 24 hours a day.
Can you bike the 17-Mile Drive?
You absolutely can! In fact, it is the best way to tour this scenic road! Whether you're bringing your own or renting an electric bike, you're guaranteed to have a wonderful time.
Here are a few places that offer bike rentals in the area:
Adventure by The Sea: Has five locations throughout the Monterey Peninsula. Traditional and e-bike rentals are available.
Big Sur Adventures: Has shops in Cannery Row, 17-Mile Drive, and Carmel, with a wide range of electric and standard bikes for hire.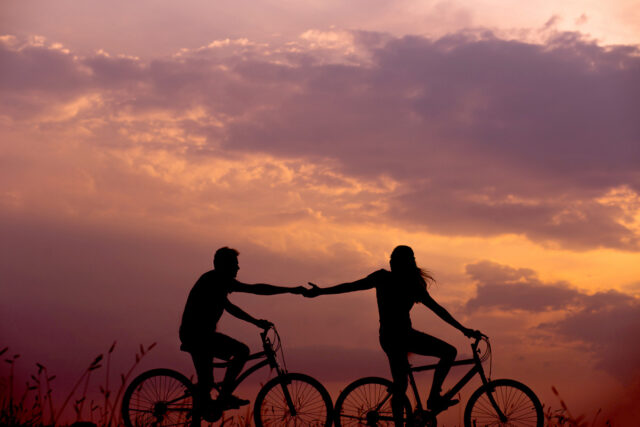 Feeling overwhelmed by all the planning and coordinating? Head out on this guided ebike tour with a professional leading the way to all the scenic viewpoints along the famous 17-Mile Drive!
Note: there are only two public restrooms on 17-Mile Drive: one at Bird Rock, the other one at Pebble Beach Visitor Center. Others are located inside the restaurants or at the golf courses for customers only. We recommend making a rest stop before starting the 17-Mile Drive to avoid rushing through for bathroom breaks.
The Best Photo Stops on the 17-Mile Drive
There are 21 points of interest during the 17 miles, but out of all these options, which ones are actually worth stopping?
We did you a favour and handpicked the best stops on the 17-Mile Drive, going from north to south:
Spanish Bay: This iconic landmark features a white sandy beach backed by sand dunes and a gorgeous golf course named The Links at Spanish Bay. It offers stunning views of the Pacific Ocean as you stroll the boardwalk along the seashore.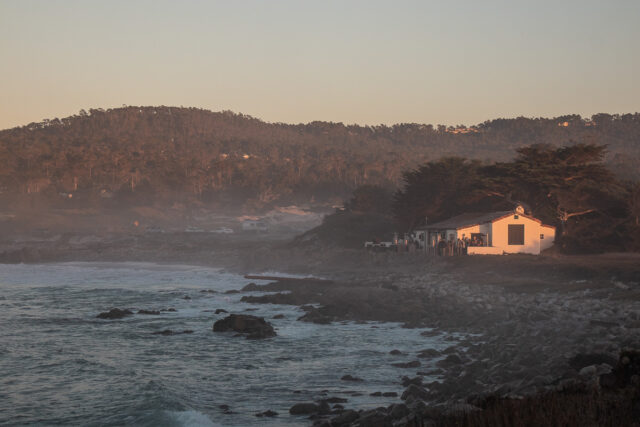 Point Joe: You will start seeing unique rock formations from this point forward. Apparently, this rocky area is infamous for numerous shipwrecks as it was often mistaken as the entrance to the Monterey Bay Harbour in the early days. Instead of shipwrecks, today we are blessed with an impeccable view of the Monterey Peninsula Country Club's golf course!
China Rock: This was a site of a small Chinese fishing village in the late 1800s. You can climb the rocks for a scenic view of the rocky shore.
Bird Rock: one of our favourite places for viewing wildlife! Birds, harbour seals and sea lions are often spotted here. Brandt's cormorants nest in the spring, and brown pelicans roost in the summer. From November through March, you might catch a glimpse of the grey whales migrating south!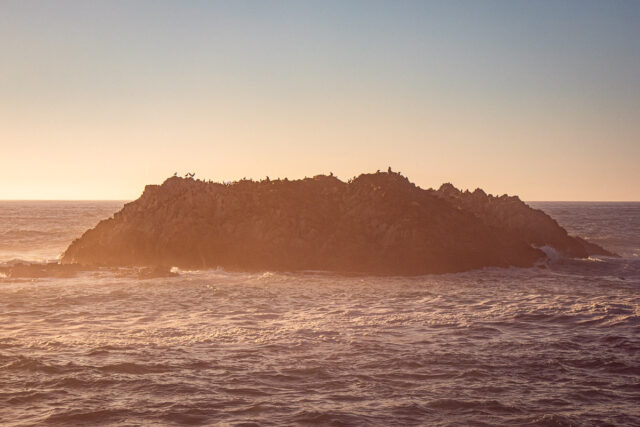 Seal Rock: You'll find a tucked-away beach at the mouth of the Seal Rock Creek. It is a perfect spot for picnic and a little tide pool exploration. A short walk on the broadwalk will lead you to a fairytale-like cottage known as the Gingerbread House.
Fanshell Overlook: A fantastic spot to take in the views of uninterrupted coastlines and to observe harbour seals! In fact, this is one of the primary pupping habitats for harbour seals! During the pupping season (April-June), this section is closed to give them some peace and quiet.
Cypress Point Lookout: A spectacular spot to catch sunsets complemented with sweeping coastline and the Del Monte Forest of Monterey Cypress trees in the distance. The other side of the road is populated with impressive mansions. This overlook is closed from April to June to protect harbour seals.
The Lone Cypress: The most famous stop along the 17-Mile Drive, aka the Midway Point on the original 17-Mile Drive route. It has been standing atop a rocky cliff for over 250 years, surviving through many storms! In case you haven't realised, this iconic tree is also the official symbol of the Pebble Beach Resorts.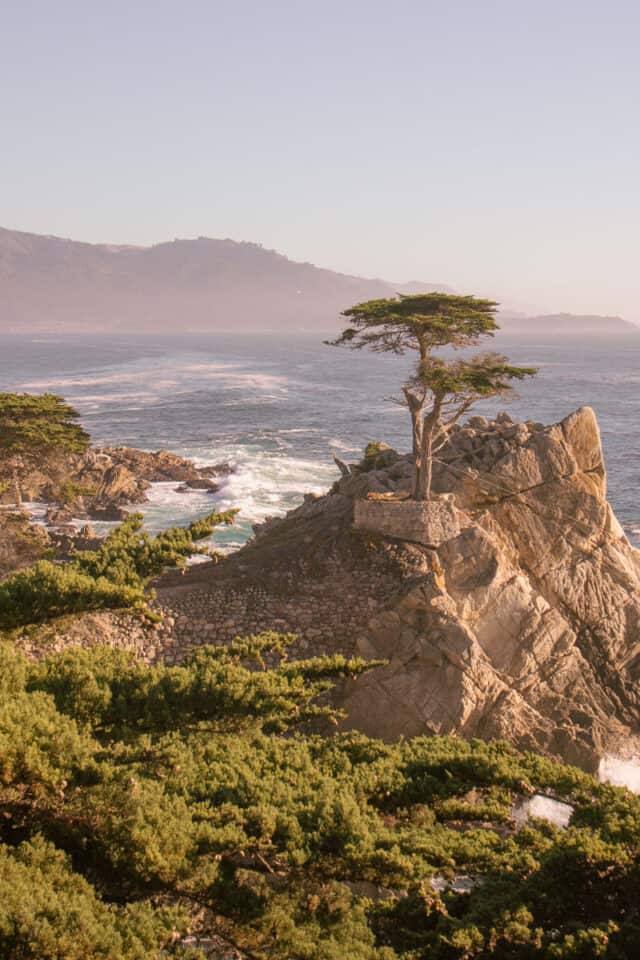 Pescadero Point: This southend stop near Pebble Beach looks out to Carmel Bay and Stillwater Cove. Here, a small grove of Monterey cypress clings boldly to the cliff rock. Some are bare, bleached, and twisted, earning them the name Ghost Trees.
Pebble Beach Golf Links: Even if you don't play golf, it is worth stopping by the world-famous Pebble Beach Golf Links. This 18-hole course is one of the most iconic venues for golf championships! You can admire it from The Lodge at Pebble Beach. And across from the first tee is The Hay, a new nine-hole short course designed by Tiger Woods and his TGR Design team!
Bonus: if you are near The Links at Spanish Bay around sunset, stop by for a bagpiper performance. The tradition has started to complement the Scottish-style golf course. The bagpiper plays at sunset every day to give the crowd a chance to reimagine the Pacific as the Scottish Highlands. Click here to find the exact performance times and location.
There you have it! Below is a map of all the 17-Mile Drive stopping points along with the entrance gates. You can also click here for a PDF map of the 17-Mile Drive.
Expert Tips for Planning An Epic 17-Mile Drive
Where is the best starting point for the 17-Mile Drive?
You can start at any of the five 17-Mile Drive gates mentioned above. While most people begin at the north gate (Pacific Grove) and head south (Carmel), you can also start from the south and head north. The route is a two-lane road that allows you to drive either northbound or southbound.

Pro-tip: most pull-over points are by the coast so it is easier to access them if you are going southbound. Northbound traffic is less congested though —something worth considering if you're visiting during peak season (June-September). Also, if you want to watch the bagpiper, you'd want to end your trip at Spanish Bay.
How much time is sufficient to tour the 17-Mile Drive?
If you want to pull over and stop for photos, you should give yourself three to four hours to complete the drive. Add in extra time if you plan to stop for food.
Want to explore beyond 17-Mile Drive? Discover the nearby fairytale town, Carmel-by-the-Sea, on a quick 2-hour guided tour!
Where to eat along the 17-Mile Drive?
The two main places to grab a bite are at The Inn at Spanish Bay (north end) and The Lodge at Pebble Beach (south end). Both offer an exciting array of dining options to provide a memorable seaside experience.
At The Inn at Spanish Bay, your options include Hawaiian fusion (Roy's at Pebble Beach), northern Italian (Peppoli at Pebble Beach), sports bar fare (Sticks, Traps), and wine-tasting and small bites (Stave Wine Cellar at Spanish Bay).
At the Lodge at Pebble Beach, there's a steakhouse (The Tap Room), a casual restaurant with Mexican-inspired menu (Hay's Place), a seafood restaurant with phenomenal view (Stillwater Bar & Grill), an eatery with wood-fired and artisanal specialities (The Bench), and a cafe for a hearty home-style breakfast/lunch (Gallery Cafe).
Remember: You can reimburse your gate fee when you spend more than $35 at any of the restaurants. You can do so by presenting your gate receipt to the server.
Where to picnic along the 17-Mile Drive?
Looking to picnic along the 17-Mile Drive? You can stop by Pebble Beach Market right outside The Lodge at Pebble Beach for made-to-order sandwiches and gourmet snacks to pair with the striking scenery. You can also bring your own food, but not alcohol—it is prohibited on the beach.
Spanish Bay and Seal Rock are the two picnic areas that are equipped with picnic tables and benches.
When is the best time to visit the 17-Mile Drive?
Although the area enjoys moderate temperature all year round, the best months to enjoy the 17-Mile Drive are in autumn (September-November) as there tends to be none or very little fog. During the spring especially, the fog can get thick and take most of the day to burn off.
Try to avoid the drive during the Pebble Beach Pro-Am golf tournament each February, the Pebble Beach Food and Wine Festival in April and the Concours auto show in August.

As for the best time of the day, we recommend starting the drive in mid-afternoon so you avoid the tour bus crowds. Bonus: you can see the sunset as you make your way through the area!
What to bring for the 17-Mile Drive?
A lightweight mirrorless camera or a GoPro – something easy to bring around!
Binoculars (optional) – high chances to see wildlife!
Water bottle – insulated stainless steel would be best to keep your water cold or warm!
Snacks – for picnicking along the way
A light jacket or windbreaker – it can be cool and windy!
Sunscreen
Hat
Sunglasses
Alternatives to the 17-Mile Drive
The 17-Mile Drive is magnificent, but if you don't have time to drive the entire course, here are some other options with equally great scenery:
Pacific Grove Oceanview Boulevard: This scenic roadway starts at Monterey Bay Aquarium in the east and wraps around Point Pinos Lighthouse before merging with Sunset Drive. The seaside drive offers a front row seat for wildlife viewing and unforgettable sunsets! By car, it takes approximately 10 minutes to reach from one end to another.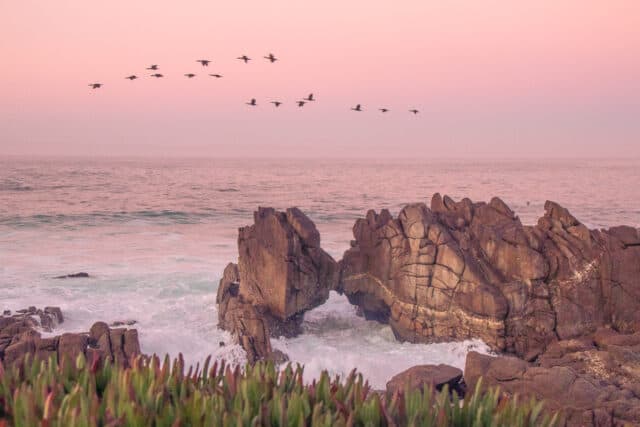 Point Lobos State Park: This California state park offers a network of hiking trails which stretches 8 km (5 miles) long by the shoreline, with plenty of opportunities to view seabirds, observe marine life, and admire the unique seascape. You can easily spend half a day here soaking in nature!
Feeling inspired and want to plan a trip to California? Check out our California travel guide which answers all your questions and can help you plan the perfect trip!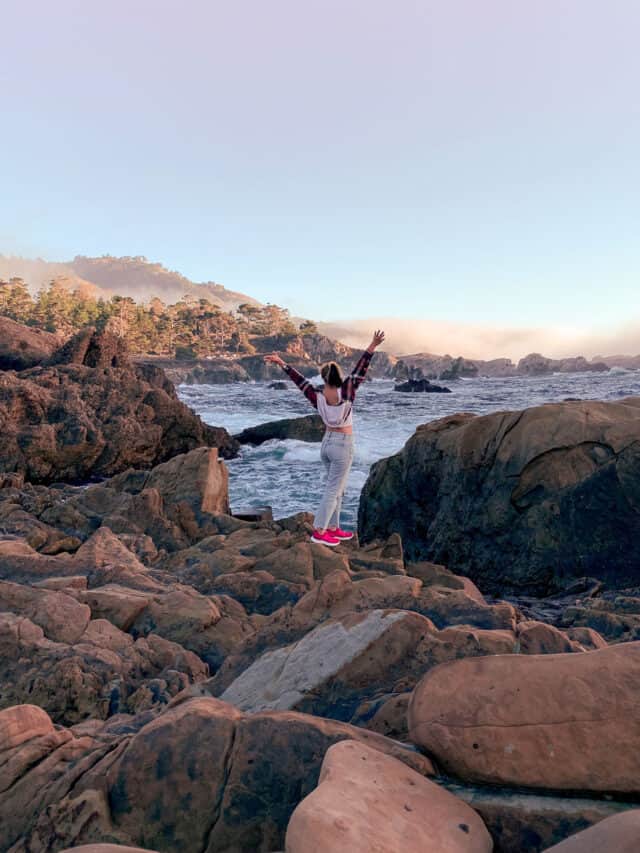 ---