This site uses affiliate links and we may earn a small commission when you use our links and make a purchase without incurring additional fee yourself. Many thanks for supporting this website. Please see our disclosure page for more details.
The United States is a large and varied country, offering a ton of beautiful sites and things to do year round. If Fall is your favorite season, with cool, crisp weather and beautiful, colorful scenery, we have curated a list of the best Fall vacations in the United States including spots from the northeast corner of the US all the way to Hawaii!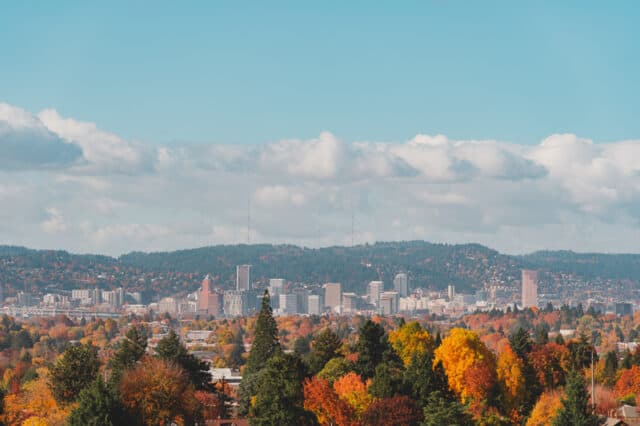 Trip Planning Resources
Before we begin, here are some useful resources for helping you plan your next road trips in the United States:
✓ Plan ahead and reserve a car far in advance. We recommend Discover Cars for booking.
✓ If you're looking to book tours and activities in the area you're visiting, GetYourGuide and Viator are your best friends!
✓ For hotel bookings, we recommend comparing prices on TripAdvisor first, then book direct or on 3rd party booking sites (Agoda usually has the best deals).
✓ Remember bring a camera to capture the fun moments. A GoPro is small and easy to carry around, plus it is water- and weather- proof!
✓ Lose things easily? Attach a Tile to your valuables (camera, bag, water bottle) so you can track them!
✓ For luggage and bags, we recommend Away, Peak Design, and Lo & Sons. They are light, durable, and stylish!
ACADIA NATIONAL PARK, MAINE
Suggested by Mark of Where Are Those Morgans.
A diverse range of hikes, a chance to be among the very first people in America to see the sunrise, and of course spectacularly radiant Autumnal foliage make Acadia National Park in Maine one of the most popular places in the entire US to visit in Fall.
If you and your partner love the outdoors, you will find plenty to do in Acadia. Climbing the exhilarating Precipice Trail, taking a romantic stroll around Jordan Pond, photographing a stunning sunrise at the summit of Cadillac Mountain, and eating a fancy dinner in glitzy Bar Harbor are just a handful of many amazing things to do in Acadia National Park.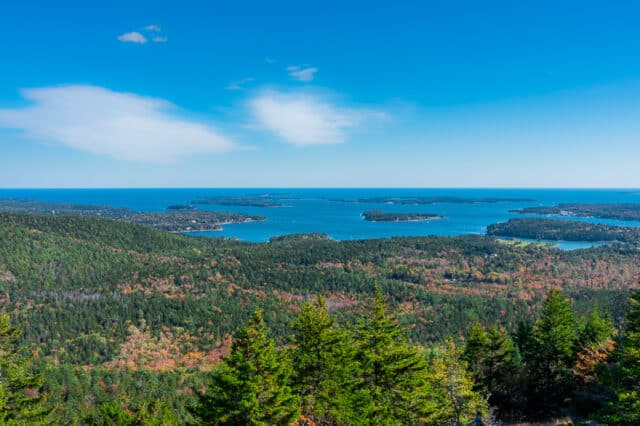 The best way to soak up vibrant Fall foliage colors in Acadia is to get lost among its network of carriage roads. Mountain summits are short, easy to reach and provide remarkable views of lakes, islands, the Atlantic Ocean and a blanket of Autumnal colors.
Make the most of your drive through Acadia National Park with this informative audio tour! You'll be taken on an audio journey with insightful location-based stories and tips. The best part? It works offline! 🚙🌲
Summer is typically peak season in northern US national parks, but Acadia is just as busy in Fall, so being organized is crucial. Plan to spend at least 2 full days in Bar Harbor and Acadia, but 3 or even 4 full days would be a much more relaxing experience. You can even add on a road trip to Portland, Maine if you want to extend your vacation!
How to get there: Most visitors to Acadia fly into Boston, hire a car and drive 4 – 5 hours up the coast to Bar Harbor. The coastal drive is wonderful, but if you have extra time, remember you are in New England in Fall, one of the best places in the world for dazzling orange, red, yellow and green leaves.
Recommended accommodation: Bar Harbor is naturally overflowing with luxury accommodation options, but Balance Rock Inn represents one of the very best.
BURLINGTON, VERMONT
Suggested by Karen of Outdoor Adventure Sampler
The vibrant city of Burlington, Vermont is simply stunning in the fall. The foliage is at its peak with brilliant colors spreading across the hillsides. There are numerous hikes within the city limits to see the blazing leaves. A hike up to the tower at Ethan Allen Park gives incredible views of the Adirondack Mountains across the lake. Rent a bike on the Burlington bike path to pedal along Lake Champlain to the spectacular sand beaches to the north.
Take a cruise on the Spirit of Ethan Allen to see the foliage from the lake. The boat travels on Lake Champlain with excellent glimpses of the Adirondack and Green Mountain colors. You will also learn about the region's rich history. Couples will enjoy the champagne cruise in the evening.
The pedestrian mall of Church Street is a wonderful place for cute shops, fabulous restaurants, and street performers. Grab an outdoor table at one of the many farm to table restaurants and enjoy fabulous people watching with your meal.
Since Vermont has more breweries per capita than any other state, don't miss Burlington's craft brew scene. Look for special fall brews specially made to fill out your flight of beers. Local favorite Foam Brewery has views of Lake Champlain from its outdoor beer garden.
How to get there: Burlington is easily accessible by car, plane, or train. Fly into the Burlington airport, or drive north on Route 89, or relax on the comfortable Vermonter Amtrak train that runs along the east coast beginning in Washington, D.C.
Recommended accommodation: Book a lake facing room at the Hilton Burlington Lake Champlain to watch the sunset right from your window. The Hen of the Woods restaurant around the corner is the perfect place for a nightcap after a packed day in Burlington.
CATSKILL MOUNTAINS, NEW YORK
Suggested by Melissa of Navigation Junkie
When you think about New York state, you may think the only fun vacation spot is New York City, but the state offers so many other great options for places to visit in mid-October in the USA. With 700,000 acres of forested area, the Catskill Mountains of New York are naturally a great destination for a couple's getaway in the fall.
Fall brings the cooler temperatures we crave and the transformation of the lush, green wilderness into an array of spectacular colors. Aside from the fall colors, you can enjoy the Catskills Beverage Trail and fun fall festivals with your other half.
If one of your main reasons for choosing the Catskills for your fall destination is leaf peeping, plan on visiting during early October when the fall foliage is at its peak. Hiking is a great way to see it all! Choose from one of the many hikes or for an alternative way to see the fall foliage, try the Hunter Mountain scenic skyride, which brings you all the way to the 3,200-foot summit.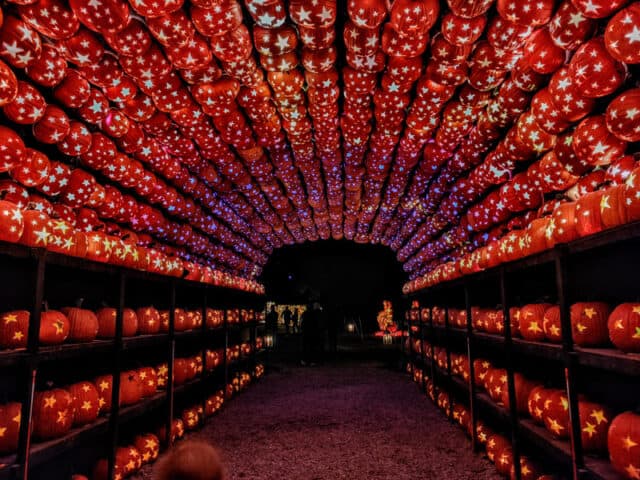 Another great activity for two is a tasting tour through the area's many breweries, cideries, and wineries. A unique fall festival found a short distance outside of the Catskills but reachable by car is The Great Jack O'Lantern Blaze. After nightfall enjoy a romantic stroll as thousands of hand carved pumpkins come aglow in different designs, from a moving carousel, the headless horseman bridge, and even the Statue of Liberty!
While a visit to the Catskills is perfect for any length of time, to really experience the area you should plan on spending at least 5-7 days, the more the better!
How to get there: The best way to get to and explore the Catskills is by car. If you are flying in, Albany is the closest airport and after just an hour and a half of driving you will find yourself surrounded by the natural beauty of the Catskills.
Recommended accommodation: For overnight accommodations, check out The Roxbury, where you can find the perfect romantic themed room or a fun and unique theme, from the coconut cream pie room to the Wizard's Emeralds.
SHENANDOAH NATIONAL PARK, VIRGINIA
Suggested by Erin from Go Hike Virginia
For eye-pleasing fall colors, there's nothing more rewarding than cruising the length of the 105-mile Skyline Drive at Virginia's Shenandoah National Park in October and November. Just 90 minutes west of Washington, D.C., Shenandoah National Park is an easy weekend getaway and fall is among the best times to escape to the majestic Shenandoah Valley.
More than 75 scenic overlooks, like Thornton Hollow (milepost 27.5) and Rockytop (milepost 78.0), implore visitors to pause for dramatic bursts of fiery orange and amber leaves. Leaf-peepers will find that each overlook is more spectacular than the last as vibrant splashes of persimmon and golden yellow drape the landscape.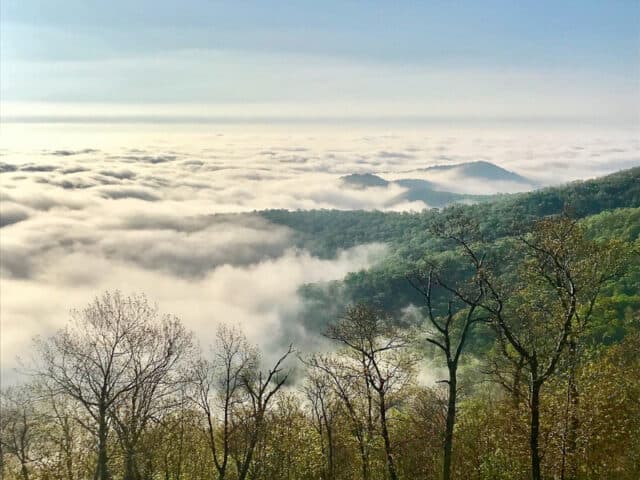 Trail-seekers should scramble to the top of Bearfence Mountain for foliage-filled 360-degree views. Alternatively, consider one of three hiking routes to the top of Hawksbill Summit, the highest point in the park.
For waterfall-watchers, revel in vibrantly-colored leaves as you hike to South River Falls or Jones Run Falls.
How to get there: Fly into Washington, DC, then take Route 66 west all the way to the park's north entrance in Front Royal, Virginia. There are two primary airports in this area (DCA & IAD), and directions from both lead you along Route 66 to reach the park.
Recommended accommodation: Stay the weekend in a rustic chic cabin or modern guest room in the park at Skyland or Big Meadows Lodge. Both well-appointed stays boast a full-service restaurant, outdoor terraces and access to some of the best Shenandoah National Park hikes, including Stony Man and Dark Hollow Falls. Cap off a well-spent day in the park with an evening of stargazing.
If you want to stay in the D.C. metro area but you still want to see gorgeous Fall colors and enjoy some walks outside, try Rock Creek Park. The beautiful space even offers horseback trail riding, not something you would expect to find in a huge city like D.C! Though there are no camping facilities, there are plenty of hiking trails, areas for picnics, and even locations suitable for weddings.
ASHEVILLE, NORTH CAROLINA
Suggested by Julia from The Cure for Curiosity
Another one of the best fall vacations in the United States is Asheville, North Carolina. Situated in the middle of the Blue Ridge Mountains, this quaint city features everything a vacation destination should have. From stunning mountain scenery that bursts into bright reds, oranges, and yellows in the fall to delicious restaurants and breweries, it's a city you simply can't miss.
Whether you have just one perfect weekend in Asheville or can spend a full week hitting the local trails, you'll find plenty to keep you busy. For one, the hiking in the area is amazing, offering hundreds of trails with panoramic views over the mountains and thundering waterfalls. Even if hiking isn't your thing, you can jump on the famous Blue Ridge Parkway which goes right through Asheville, and drive this scenic parkway to admire the breathtaking fall colors.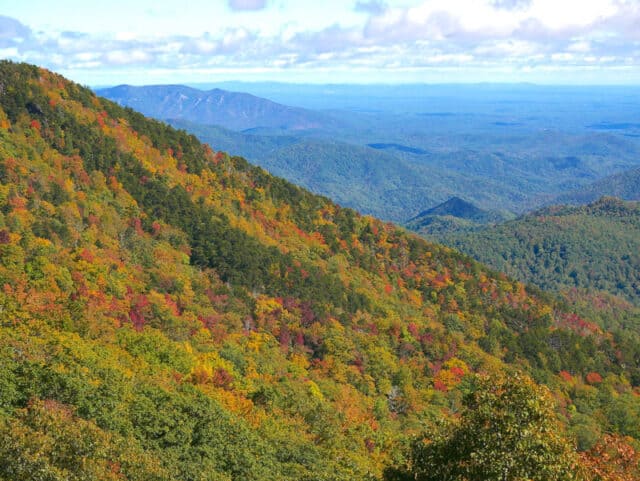 Another can't miss activity in Asheville is visiting the Biltmore Estate. It's the largest home in America. You can tour the 250-room house, walk through the gardens, and sip wine at the Biltmore Winery. If you have time, stop by the River Arts District to admire the local artists' work, and then spend your evenings cozied up around a fire pit at one of the 40+ breweries in the area.
How to get there: Located in western North Carolina, you can plan a road trip through Asheville, or fly into the small Asheville airport. Either way, treat yourself to a stay at the Omni Grove Park Inn. It's situated just 2.3 miles from downtown and offers fabulous views of the Blue Ridge Mountains allowing you to maximize your fall experience!
Recommended accommodation: If you are feeling particularly fancy, check out The Inn on Biltmore Estate. It has beautiful views, an outdoor pool and spa. If you'd prefer to stay in downtown Asheville, head for the Windsor Boutique Hotel, a restored 1900's hotel with an art gallery on site.
MILWAUKEE, WISCONSIN
Suggested by Martin from Travel Explorator
One of the best places to visit in September in the USA which might not immediately come to mind when you think of Fall destinations is Milwaukee. Milwaukee, Wisconsin is perhaps the most well-known city in Wisconsin. During the fall, Milwaukee hosts many events like music concerts and festivals, so you can definitely find something you enjoy. The weather is perfect for those who want to enjoy spending time outdoors while avoiding cold winter temperatures.
The city has quite a lot of great places to visit no matter the season. Couples can check out the popular Milwaukee Art Museum. In addition to the beautiful art pieces inside, the building itself is a unique piece of architecture by the lakeside. The area also makes for a great place for a walk with gorgeous views of the lake.
A famous attraction in the Milwaukee area is the Mitchell Park Horticultural Conservatory. It's made up of three domes that house varying plants and animal life. It's the perfect place for a romantic date and unique experience that's hard to find anywhere else.
You can stay in Milwaukee for as long as you want. It's a huge city with so much to do. You can find something different to do each day for an entire week. If you're only staying for a few days, things are close enough in proximity to do multiple things per day.
How to get there: If you're from a nearby state or city, you can consider taking a train to get here. Otherwise, a drive might be your best choice. Large and popular highways like I-94, I-43, I-794 run through the city. If you're far away on a different end of the country, then you can fly straight into the city with the Milwaukee Airport. Otherwise, if you want to stop by a bigger city first — Chicago, you can land at the Chicago O'hare Airport which is quite popular with Milwaukee residents since it's cheaper to fly in and out.
Recommended accommodation: If you're looking for a place to stay, one of the most famous hotels in Milwaukee is the Pfister Hotel. It's one of the state's most luxurious hotels with fine dining, spa services, salon services, and much more available for guests. It's also the place where most celebrities tend to stay when visiting the city, so you may luck into a celebrity sighting!
LUTSEN, MINNESOTA
Suggested by Shelley from Almost There Adventures
A great, unknown place that may not be on your list for enjoying fall leaf color and waterfalls is the North Shore along Lake Superior in Minnesota. The North Shore is a gem that can be accessed with a two-hour drive north of Minneapolis-St Paul airport. Duluth is where the journey starts, but for the full experience continue northeast two more hours to Lutsen, Minnesota.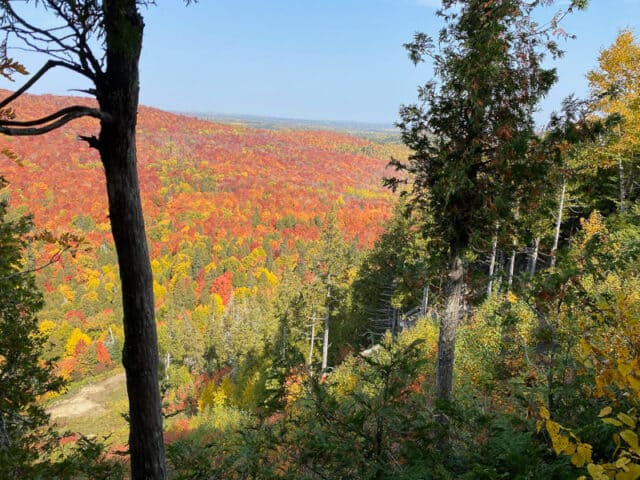 Start in Canal Park in Duluth and take in views of the iconic Aerial Lift Bridge while you explore the lighthouse pier and the Lakewalk. The scenic drive north will continue with must-see stops at Gooseberry Falls, Split Rock lighthouse, and Temperance River State Park.
An aerial gondola ride in Lutsen is an experience you don't want to miss if you want to see the best fall foliage. Hiking is the best way to experience everything the area offers so head to Bean and Bear Lake or Oberg Mountain to discover some of the best hikes. All of this and more can be done in a long weekend.
The window for peak fall color on the north shore varies but can be seen the last two weekends in September through mid-October. Fall colors continue to be beautiful beyond that window. If you haven't yet experienced the North Shore of Minnesota in the fall it's one to add to your list. If you want more ideas for a trip to the North Shore go here.
How to Get There: If coming from out-of-state, fly into Minneapolis-St. Paul International Airport and take 5E to I-35E which turns into I-35E N. You will take I-35E N all the way to Duluth which is about 2-2.5hrs.
Duluth is where the North Shore begins and the scenic drive from there to Lutsen (1 hr 45min) is part of the experience. From Duluth, you take MN-61 N the whole way and it runs along the shore of Lake Superior for great views. There is a small airport in Duluth that has limited service from Minneapolis or Chicago.
Recommended accommodation: Bluefin Bay on Lake Superior is a great place to stay, and there are great AirB&B's in Lutsen or Grand Marais if that is your preference.
ASPEN, COLORADO
Suggested by Tanya from My Right Sock
Aspen in the fall is a whole mood. Brilliant fall colors with snow capped mountains and violet skies in the backdrop are the perfect treat for your eyes. Aspen has warm, sun-kissed days in the fall and the nights are slightly nippy. The color among the Aspen trees, willows and tundra plants is a beautiful shade of golden, turning the whole city into a fairy tale setting.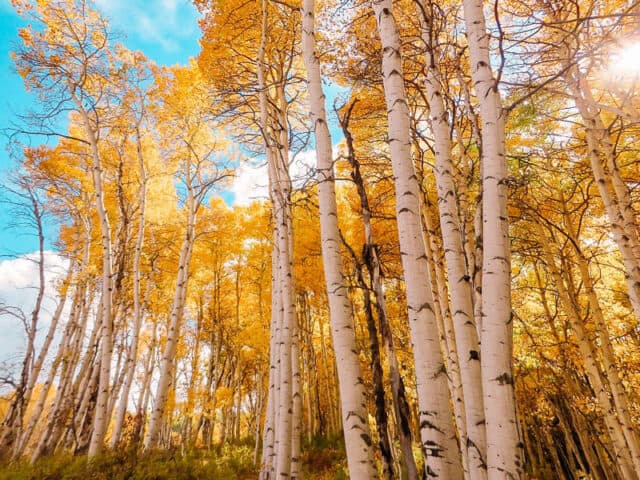 Besides admiring the magical colors of fall, there is plenty to do in Aspen. You can mountain bike through the groves, go on one of the many amazing hikes, visit historic sites, or explore the gastronomic experiences the city offers.
Aspen is home to Aspen Art Museum, The Wheeler Opera House, Belly Up Tavern and many other wonderful sites that attract visitors from over the country. There is also a Saturday farmers' market near the Art Museum where you can enjoy fresh and local produce.
Aspen restaurants are known for their farm-to-table ethos, and the menus change seasonally. Some of the best restaurants are Pyramid Bistro and Bosq, both known for their sustainable and locally-sourced ingredients.
Prefer to drive instead of hiking? Take in the views and visit the attractions on the Alpine loop scenic byway.
How to Get There: Some of the airports nearest to Aspen are Pitkin County Airport (ASE) (4 miles), Eagle County Airport (EFGE) (65 miles), and Denver International Airport (DIA) (220 miles).
While flying into DIA is better from a budgeting perspective, thanks to hundreds of daily flight connections and cheaper options, your best bet is to fly into ASE. This way, you won't have to bother about renting a car/shuttle service. If you choose to fly into Denver, you can catch the Colorado Mountain Express, or rent a car.
Recommended accommodation: You should ideally allow at least 3 days for your visit to Aspen. A great place to book for a luxurious stay is The Little Nell. In addition to being centrally located, the hotel has outstanding service, contemporary and spacious rooms, and fantastic hospitality.
ZION NATIONAL PARK, UTAH
Suggested by Ale from Sea Salt and Fog
Zion National Park is the perfect getaway in the cooler fall months. Not only is the weather perfect, but the crowds usually start to dissipate as well.
The natural beauty of Zion is incomparable. The park is made up of soaring red rock canyon walls dotted with green vegetation. In order to see the park, you'll want to lace up a pair of hiking boots and explore the trails on foot.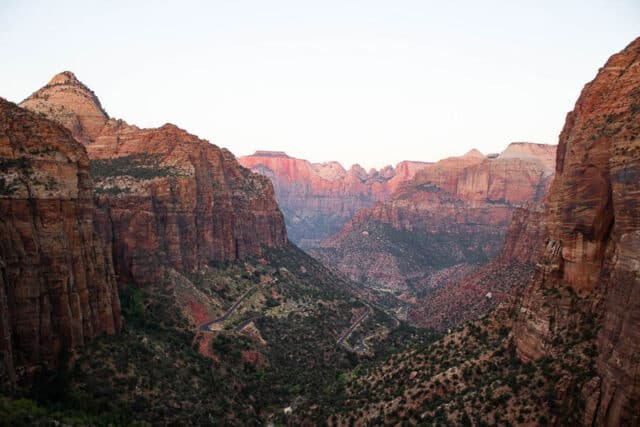 Zion is home to epic, bucket-list worthy hikes, including the ever-popular Angels' Landing and The Narrows. Angel's Landing is a strenuous climb up to an epic view of the park, but it's not for the faint of heart (or those with a fear of heights!) The last bit of the hike is completely exposed cliffside, and the drops are steep. For another unforgettable experience, head to The Narrows where you'll be hiking and wading through the river while canyon walls tower almost a thousand feet above you.
Want something more mellow? Drive the Zion-Mt. Carmel highway or alpine loop scenic backway for beautiful views, or walk the Pa'rus trail and catch a colorful sunset surrounded by meadows blooming with yellow flowers in early October.
How to Get There: Getting to Zion is easy. Two major airports are close to the Park, Las Vegas and Salt Lake City. To get here, make the less than three-hour drive northeast on Interstate 15 (from Vegas), or do the less than four-hour drive from Salt Lake City, also via Interstate 15!
Recommended accommodation: You'll want to plan to spend at least two days in Zion for the best experience, and stay in nearby Springfield. The town butts up right against the park entrance, making it a super convenient place to stay. The SpringHill Suites by Marriott is a great hotel option that'll put you close to the park!
SAN FRANCISCO, CALIFORNIA
Suggested by Jiayi from The Diary of a Nomad
San Francisco is a gorgeous city to visit at any time of the year, but fall is the best time to explore it for two main reasons. The city is surprisingly warm in the autumn, with temperatures averaging between 51° and 65° F, (10 to 18 C) only slightly colder than the summer months. Additionally, most people visit in the summer, so visiting in the fall will actually allow you to see the city without the crowds!
One of the best things for young couples to do in SF is rent a bike and ride across the famous Golden Gate Bridge onto Sausalito. The vistas along the way are breathtaking, and it's an absolutely unique experience. If you're feeling famished after your ride, you can grab a meal at a waterfront restaurant in Sausalito.
Another amazing thing to do for young couples is to stroll the pier at Embarcadero. You'll see lots of seagulls and stunning seaside views. If you're there on a Saturday, you can stop by a farmer's market with lots of delicious food!
It is recommended to spend at least 3 days in San Francisco to fully experience what this city has to offer. Consider adding a few more days to your trip to see some unmissable places nearby, such as the stunning Carmel Beach, one of the best hidden vacation spots in the US. Other nearby attractions include the must-see Alcatraz Island and the romantic Napa Valley.
How to Get There: If you're coming from far away, the San Francisco International Airport (SFO) connects the city to pretty much every big city in the world. Alternatively, you can take a Greyhound bus from other cities in California, or better yet — drive and enjoy the stunning southern California scenery.
Recommended accommodation: Couples will love the luxurious Hotel, Fairmont San Francisco, where they'll be spoiled with an on-site spa and gorgeous sea views.
MAUI, HAWAII
Suggested by Jen from Glasses and Boarding Passes
Maui, Hawaii is great to visit any time of the year, but is especially nice for a fall vacation! Temperatures will be balmy and in the 70s F, (21 C) but you won't find the pesky crowds of summer.
While the highlights of Maui can be seen in a few days, a week on the island will give you enough time to explore and relax. Make sure to visit Haleakala National Park for an epic sunrise on top of a volcano – watching the sun peek over the clouds at 10,000 feet is an experience you won't soon forget.
The Road to Hana is another must-do activity. Start in upcountry Maui and drive 60 miles through over 600 hairpin turns for an unforgettable road trip! Luckily, the drive isn't as scary as it sounds and includes some of the most beautiful spots on Maui, such as the lava rock-filled Keanae Peninsula and the black sand beach at Waianapanapa State Park.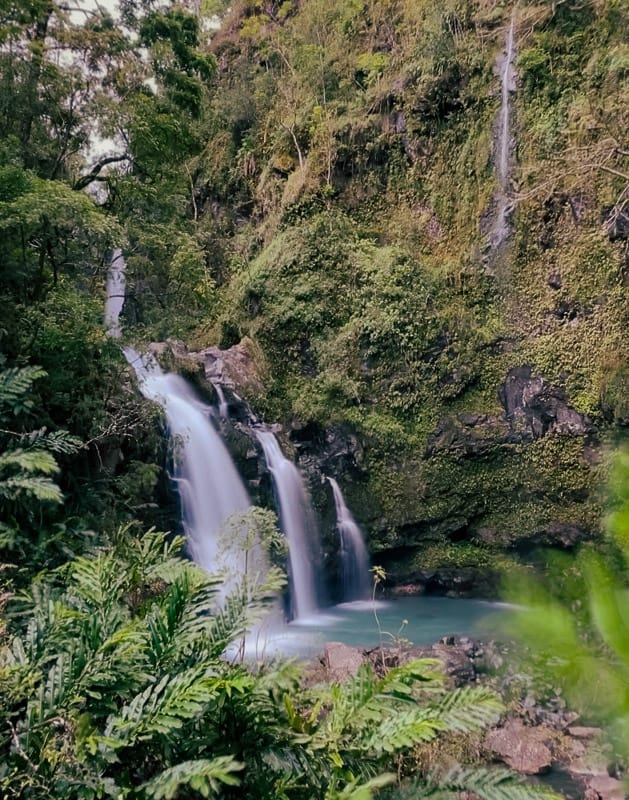 How to Get There: You can fly directly into Maui's only airport, Kahului, from most major cities in the US. For more options domestically and abroad, fly into Honolulu on Oahu and connect to Maui via a short 30-minute flight on a local airline. It's best to rent a car upon arrival to have the ultimate freedom to explore the island at your leisure.
Recommended accommodation: For the ultimate couple's trip, treat yourself to Maui's only adults-only resort, the Hotel Wailea. This luxurious property is set back slightly from the beach, but offers guests a short, complimentary Tesla ride to the shoreline whenever they want. Plus, the seclusion makes it even more quiet and romantic!
---
We have given you a ton of options for the best US Fall vacations for couples, but if you still haven't seen one you love, or you are looking for one closer to your area, we suggest seeking the closest National Park. You can't go wrong in a National Park, and almost every single one in the US offers excellent Fall views.
Two parks we think you will love in Fall are the Great Smokey Mountains NP and The Grand Teton NP.
The Great Smokey Mountains National Park in Tennessee and North Carolina offers magical views in the Fall, and should be included in every Fall cross-country road trip.
Heading west? Stop by the Grand Teton National Park in Wyoming to see sights you can't find anywhere else and offers a beautiful spot to camp.