This site uses affiliate links and we may earn a small commission when you use our links and make a purchase without incurring additional fee yourself. Many thanks for supporting this website. Please see our disclosure page for more details.
There's no better way to see the beauty of the Canadian Rockies than by hitting one of Jasper's myriad of hiking trails. But not all of us are ready for "roughing it." Don't fret – there are plenty of easy hikes in Jasper ideal for beginners that don't involve rough ground and steep slopes!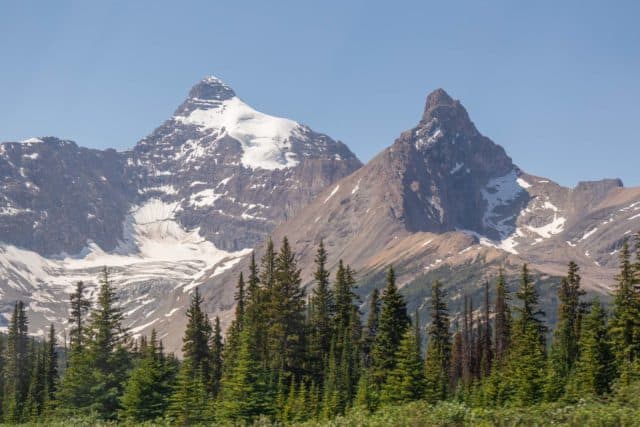 To make our point, here are 12 Jasper day hikes that will add a healthy dose of outdoor goodness to any Canadian Rockies itinerary. They are also the perfect addition to the end of your travels on the Rocky Mountaineer.
Post-hike, enhance your adventure by exploring nearby attractions, fueling up with food, or partaking in fun outdoor activities!
Best Hikes in Jasper National Park: 11 Easy but Rewarding Trails to Try in the Summer
1| Maligne Lake Area – Mary Schäffer Loop
Trailhead: boathouse
Distance: 2.9 km loop
Elevation gain: none
Estimated time: 1-2 hours
One of the highlights of Jasper National Park, Maligne Lake offers trails of varying lengths and levels of difficulty, from the one-hour lakeshore trail to the half-day Bald Hills hike.
For a leisurely day, walk the short and popular Mary Schäffer Loop Trail that skirts the eastern shore of Maligne Lake. The 2.9-km paved is an easy stroll that takes you through breathtaking scenery with azure-blue waters on one side and a canopy of coniferous trees running along the other side.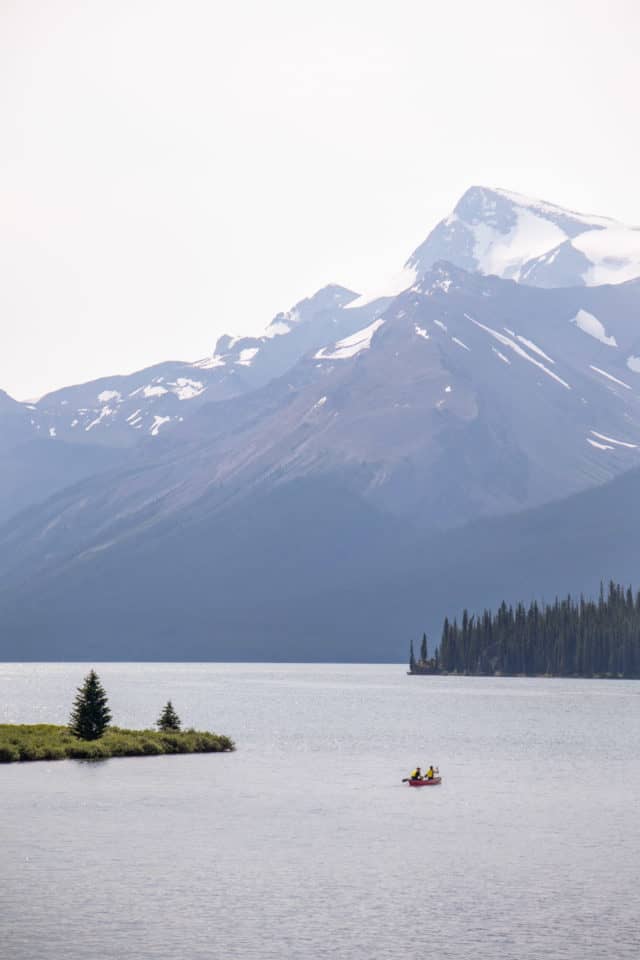 The path will eventually lead you to a scenic viewpoint with a set of interpretive panels. There, you will learn about who Mary Schäffer is and her adventurous exploration through the Canadian Rockies.
After the Hike: Head over to the historic Curly Phillips Boathouse and rent a canoe, kayak or rowboat for a paddle around the lake. The silence and the beauty of the nature surrounding you will leave you speechless! Rentals are available on a first-come-first-serve basis. To find out more about the rates, consult the Maligne Lake boat rental website.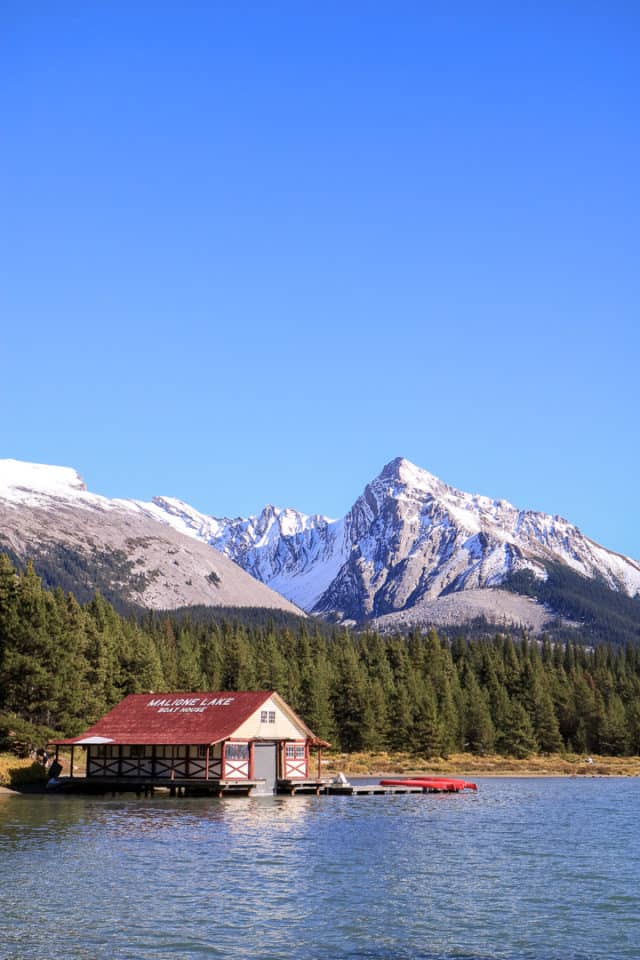 2| Maligne Lake Area – Moose Lake Loop
Trailhead: picnic area at the end of Maligne Lake Road
Distance: 2.7 km loop
Elevation gain: 59 m
Estimated time: 1-2 hours
If you want to up your odds of a wildlife encounter, the Moose Lake Loop Trail is perfect for you! The 2.7 km-long trail winds through a dense pine forest to a small, picturesque lake.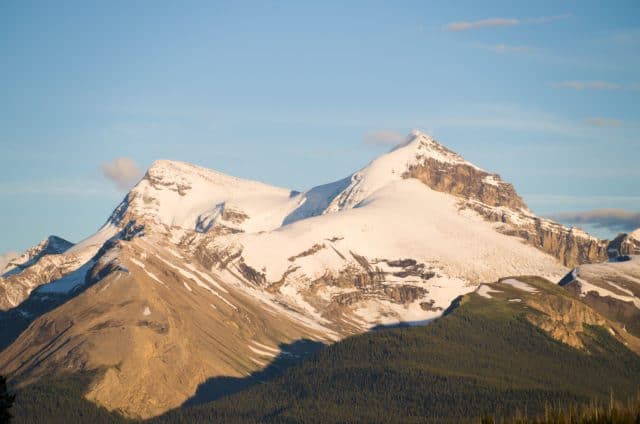 As its name suggests, moose sightings are relatively common here. You will most likely see them around in early mornings or about an hour before sunset. If you do, make sure to keep your distance!
After the Hike: Grab a bite at The View – a perfect place to unwind after a day of adventure. The lakeshore restaurant has a mouthwatering list of gourmet options made with fresh, in-season regional ingredients. There's no bad move: get the char-grilled sirloin steak with whipped herb butter, or vegetable gnocchi in fruity tomato sauce. Pair that with the glittering mountain-lake view, you can rest assured that your visit will be memorable from start to finish!
3| Maligne Lake Area – Spirit Island Viewpoint Hiking Trail
Trailhead: turn left once you walk off the docking area on Spirit Island
Distance: 181 m
Elevation gain: 7 m
Estimated time: 5 mins
Let's be honest: you're really here to see Spirit Island. We get it – it is, after all, the most iconic spot in Jasper National Park and one of the most photographed places in Canada.
To reach Spirit Island though, you will have to take a boat cruise… unless you want to canoe 26 km across the glacier-fed lake.
Maligne Lake Cruise runs multiple times throughout the day, from May through September, and is staffed with a certified guide who is well versed in the history and the geology of the area. You will learn all about the diverse wildlife and geological feature unique to Maligne Valley.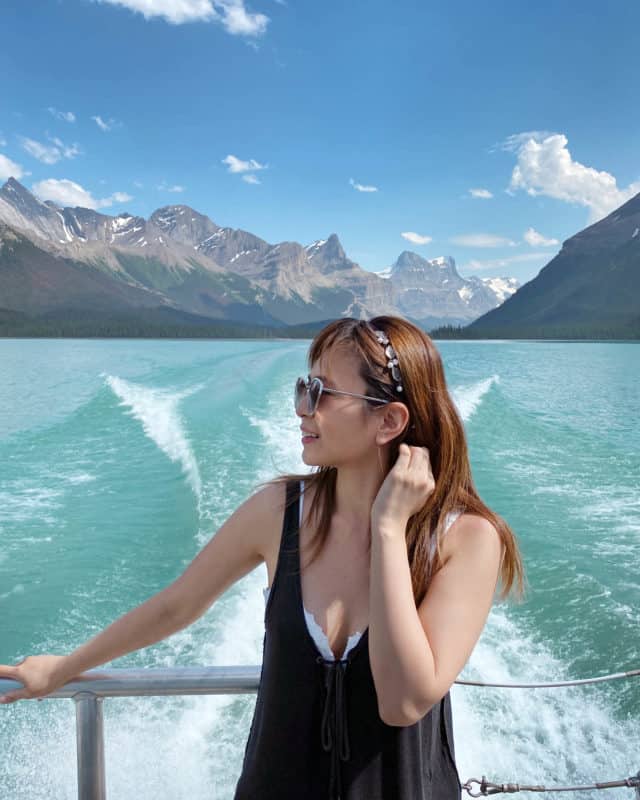 Once the boat docks near Spirit Island, you'll have 15 minutes to explore the area. Take a short walk to the lookout point that offers a spectacular perspective of the island from higher up.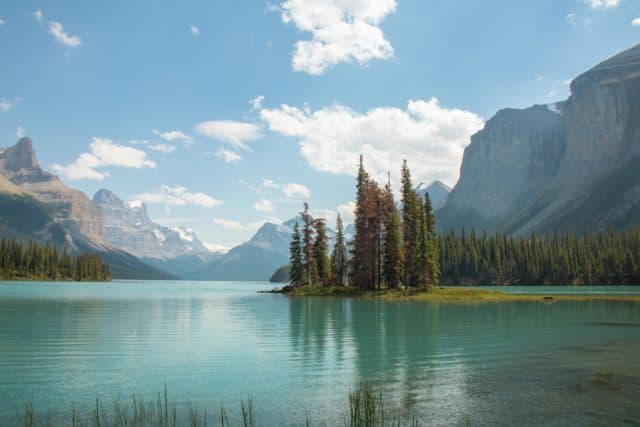 The boat tour takes approximately 90 mins so make sure you schedule enough time in your itinerary for the activity. To prevent disappointment, it is highly recommended to book the cruise in advance.
After the Hike: Snap that shot with the iconic Parks Canada red chairs! They can be found at the Maligne Lake picnic area on the eastern shore. Click here to get their precise location!
4| Jasper Town Area – Pyramid Island Loop
Trailhead: the parking area by Pyramid Island, about 1 km from Pyramid Lake Resort
Distance: 500 m
Elevation gain: none
Estimated time: 15 mins
Okay, instead of a hike, this is more like a nature walk. And unlike Spirit Island, which is protected from human foot traffic, Pyramid Island is reachable by a wooden bridge. With towering views of Pyramid Mountain in a distance, the location offers a spectacular setting for weddings frequently serves as a backdrop for photoshoots.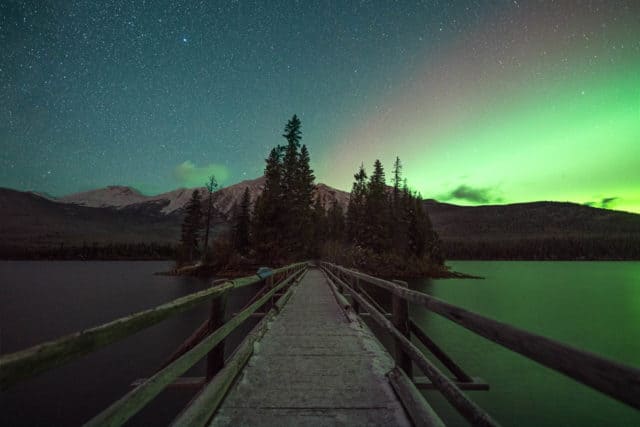 Arriving on the island, you will see an old shelter and picnic area on the left. Don't just stop here – take the short circuit along the shoreline. A full loop around the tiny, forested island only takes a few minutes to complete and is remarkably scenic. On a clear day, you can spot the majestic Mount Edith Cavell and Whistlers Summit nearby!
After the Hike: As a must see in Jasper National Park, Pyramid Lake offers a ton of fun activities for you to get close to nature. Why not set up a picnic on Pyramid Island? Or dip a paddle and cruise across the lake in a canoe (boat rentals available at the Pyramid Lake Resort reception)? The area is also popular for mountain biking.
Consider coming back at night to watch countless stars light up the night sky. Pyramid Lake is one of the best locations for night sky viewing and stargazing in Jasper.
5| Jasper Town Area – Maligne Canyon
Trailhead: the parking lot by Maligne Canyon Wilderness Kitchen
Distance: 2.2 km one way (4.4 km return) from the first to the fifth bridge; add another 1.6 km to hike all the way to the sixth bridge
Elevation gain: 118 m
Estimated time: 2-4 hours
If you're looking for one of the best hikes in Jasper that is truly unique, then you will definitely enjoy a visit to Maligne Canyon. The attraction reigns as the deepest canyon in the Canadian Rockies and is considered by many as one of the prettiest (even more so than Johnston Canyon in Banff!).
Hiking Maligne Canyon is a magical experience. The self-guided interpretative trail follows the flow of the Maligne River and winds along the top of the canyon across a series of six bridges.
Roaring waterfalls, jagged rock formations, deeply carved potholes, and even fossils can be found all along this trail as you explore this incredibly dramatic canyon.
You can make this trek as short or long as you'd like. Though the first and second bridges cross the deepest part of the canyon, providing the best views of this Jasper attraction. If time permits, we recommend walking to the fifth bridge at least to get a different perspective and see the changing views of the canyon.
Magline Canyon is accessible all year round. A guided ice walk in the winter months offers a chance to admire the canyon blanketed by snow and ice! For more details and guidelines on visiting Maligne Canyon in winter, check out this guide.
After the Hike: At the end of an active day, indulge in tasteful gourmet food at Maligne Canyon Wilderness Kitchen. The restaurant specializes in delicious smoked meats like pulled pork, wild boar, slow-cooked brisket, and hickory-smoked chicken. Their bison burger is to die for and will fuel you for whatever activities you have planned for the rest of the day!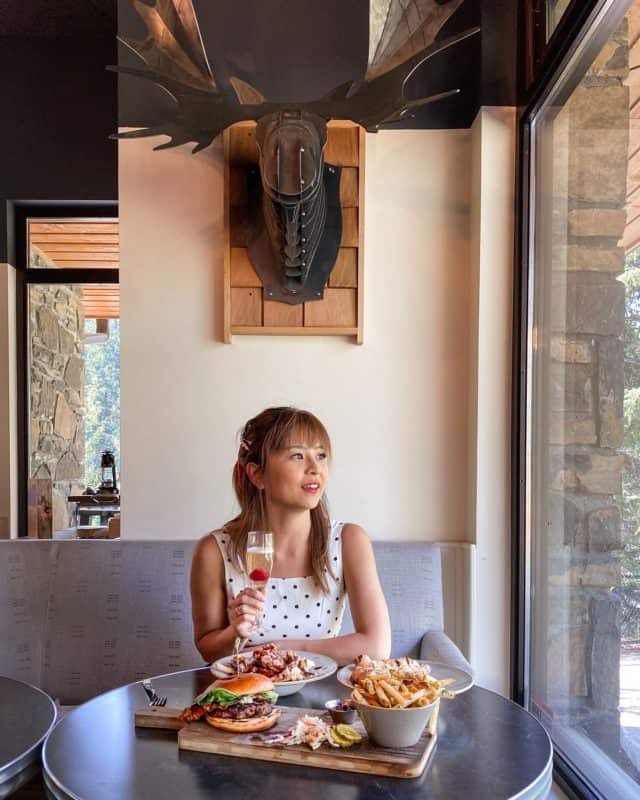 6| Jasper Town Area – Lake Annette Loop
Trailhead: the parking lot at the end of Lake Annette Road
Distance: 2.4 km
Elevation gain: none
Estimated time: 1-1.5 hours
The glacier-fed mountain lake is one of the very few places in Jasper where you can find a sandy beach. Along with its crystal-clear waters and jewel-like shades of blue and green, Lake Annette attracts many visitors in the summertime.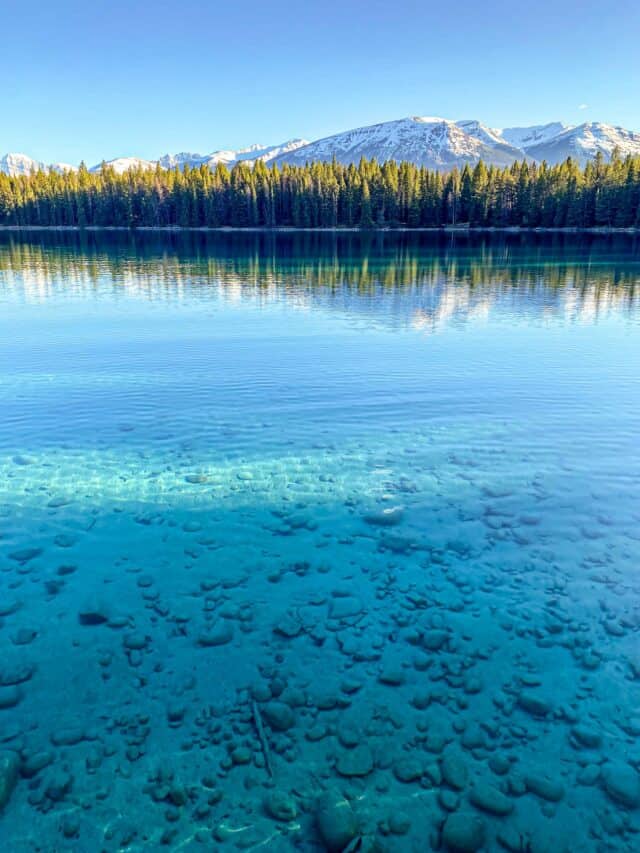 To fully appreciate the panoramic views of the majestic Rocky Mountains surrounding Lake Annette, follow the well-marked paved path. A steady hike along the shore will introduce you to the surrounding mountains as well as the unique properties of this glacial lake!
After the Hike: On a hot summer day, put on your swimsuit and wade in the sandy beaches of Lake Annette (or Lake Edith right beside). Then, end the day with a picnic or barbecue by Lake Annette's lakeshore!
7| Jasper Town Area – Lac Beauvert Loop
Trailhead: the parking lot down Old Fort Point Road at the south end of Lac Beauvert
Distance: 3.5 km
Elevation gain: none
Estimated time: 1-2 hours
Sitting alongside Fairmont Jasper Park Lodge and Jasper Park Golf Course, Lac Beauvert is a relaxing place to soak in the spectacular scenery of the Canadian Rockies.
To see the emerald green lake in full summer glory, hike the scenic trail hugging the shores of the pristine Lac Beauvert. As you journey through the forest and shoreline, you will find abundant lookout points to take in the amazing sight of Jasper Park Lodge and the surrounding valley.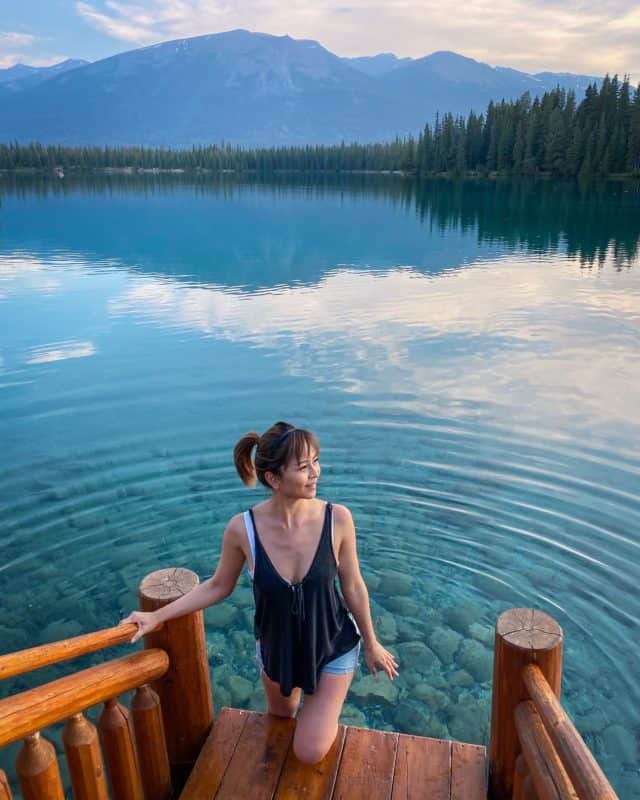 Elks are often spotted near the golf course. They can be aggressive towards people during the calving season (mid-May to early July) so be sure to stay alert! Also, keep an eye out for bears in the spring.
After the Hike: As one of the world's largest dark sky preserves, Jasper is no doubt the best location to get unspoiled views of the night sky. For those interested in stargazing, make it a point to visit Jasper Planetarium. Their virtual guided tour and telescope experience give you a better understanding of the universe we live in and help you gain a new appreciation for the night sky.
Visiting in October? Add the annual astronomy event, Jasper Dark Sky Festival, to your Jasper itinerary!
8| Jasper Town Area – Whistler Mountain Summit Trail
Trailhead: Jasper SkyTram upper terminal
Distance: 1.1 km one way
Elevation gain: 150 m
Estimated time: 1 hr
For the best view of Jasper National Park, ride up the Whistler Mountain on Jasper SkyTram. The trip will leave you breathless with fascinating views of six mountain ranges, glacier-fed lakes, and the Athabasca River.
Once at the upper terminal, venture up to the summit for an even more spectacular view. This area has a high chance of wildlife sightings so don't be surprised if you see ptarmigan, pikas, or bighorn sheep!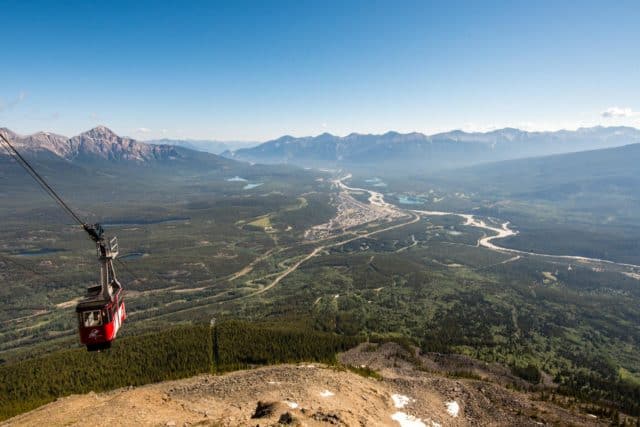 After the Hike: Stop by the cafe at the upper terminal for a quick bite while taking in the panoramic view of the town of Jasper and the surrounding landscape at 2263 m above sea level!
9| Icefields Parkway – Sunwapta Falls
Trailhead: 54 km south of Jasper on Icefields Parkway
Distance: 4 km return
Elevation gain: 87 m
Estimated time: 1-1.5 hours
Want to get up close to the rushing water? Sunwapta Falls is a popular waterfall hiking trail easily accessible via Icefields Parkway. The best part? You get to see two sets of waterfalls in one visit!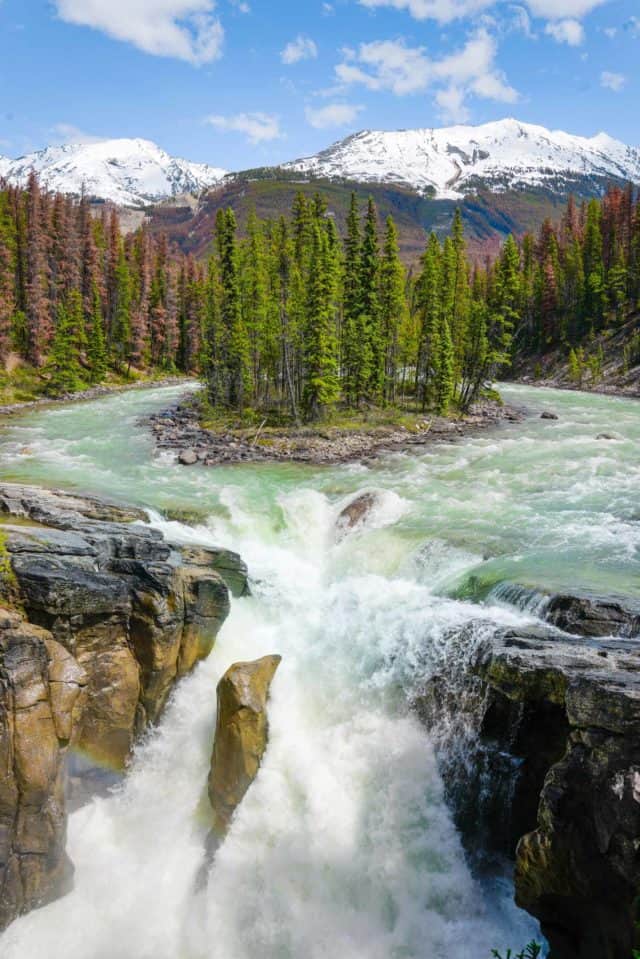 A short walk from the parking lot will lead you directly to the Upper Falls, where the turbulent flows plunge 18 meters into a limestone gorge. Don't stop here! Continue on the trail for 1.3 km through a dense forest. You will be rewarded with the gorgeous views of the three powerful waterfalls that form the Lower Falls.
10| Icefields Parkway – Athabasca Falls
Trailhead: 30 km south of Jasper, junction of Icefields Parkway and Highway 93A
Distance: 1.6 km return
Elevation gain: 26 m
Estimated time: 1 hour
This 23-meter falls offer a short, easy hike into one of the most powerful and breathtaking waterfalls in Jasper National Park! Standing close, you can feel the roaring sound vibrate your chest and the mist dampen your face.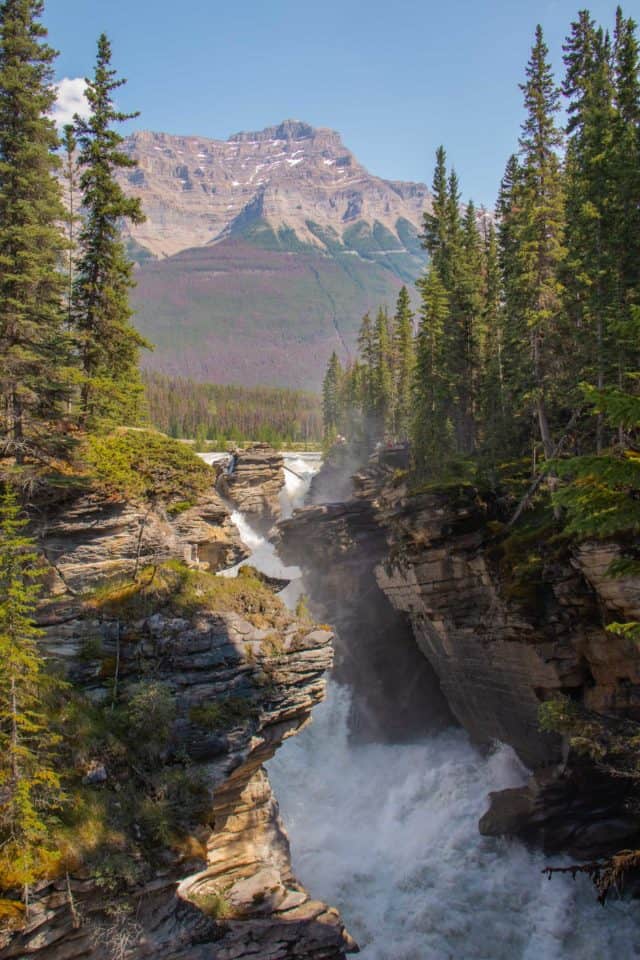 Set against a scenic backdrop of forests and mountains, Athabasca Falls plunges into a deep canyon, creating a picture so stunning that looks almost unreal. Make sure to hike further down into the canyon to see how the powerful water has cut through the rocks over thousands of years!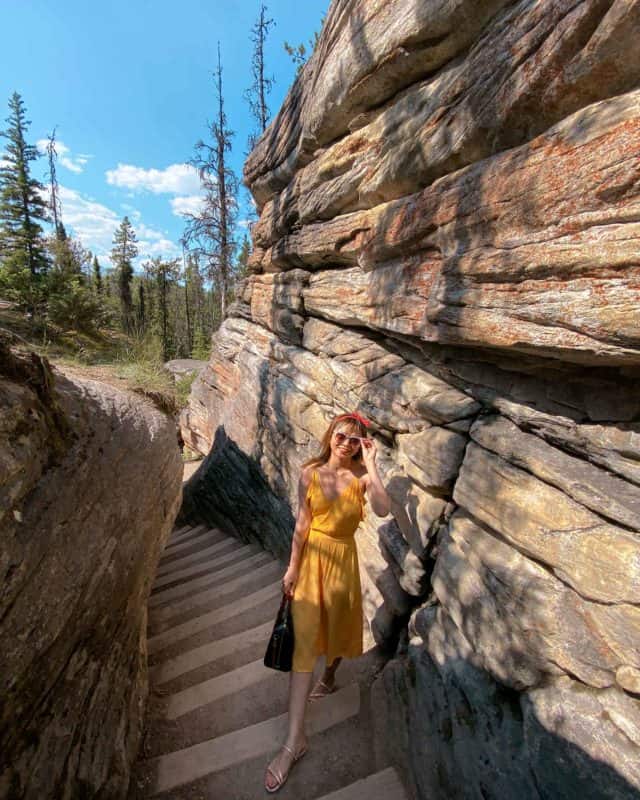 After the Hike: Go for a swim at the base of Athabasca Falls (can be found at the end of the trail). Or better yet, set out for a whitewater rafting adventure as you surge through the rapids and explore the canyon!
11| Icefields Parkway – Valley of the Five Lakes
Trailhead: 9 km south of Jasper on Icefields Parkway
Distance: 4.5 km return
Elevation gain: 66 m
Estimated time: 2 hours
If you only have time for one hike in Jasper, make it the Valley of the Five Lakes. The 4.5 km loop is our favourite hiking trail in Jasper National Park, leading to 5 colorful lakes, each with a unique shade of jade and blue!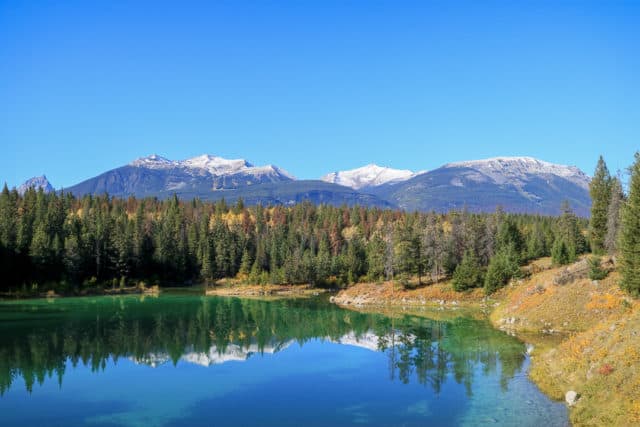 Here, you can see the surrounding mountain peaks reflect in the peaceful waters. The pristine lakes and unrivaled beauty of the mountains will captivate you from the moment you arrive. It is tempting to stop after the first lake, but keep on going, because the views only get better and better!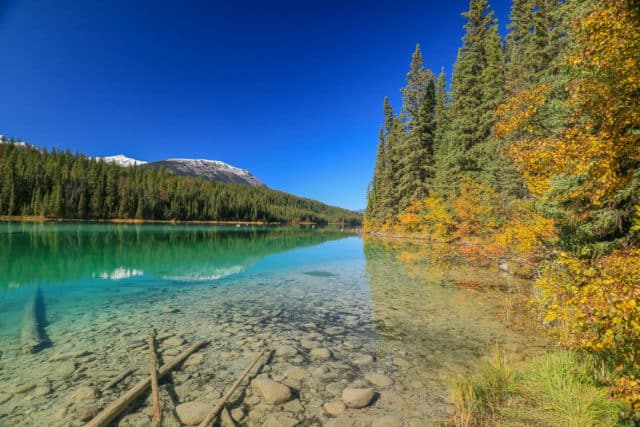 From the parking lot, take trail 9a through a flowery meadow to reach the Fifth Lake first, then Fourth, Third and Second Lakes follow closely one after another. Then, loop back on trail 9b to see the First Lake and connect back to the parking lot.
12| Icefields Parkway – Toe of Athabasca Glacier
Trailhead: Across from the Icefield Discovery Centre at the end of the Toe of the Glacier Road
Distance: 1.4 km return
Elevation gain: 60 m
Estimated time: 30 mins
Columbia Icefield is one of the top attractions in the Canadian Rockies. Among the six "toes" of the Columbia Icefields, Athabasca Glacier is the most accessible one.
From the parking lot, the gravel trail starts out relatively flat. Follow the path upwards through a steep section to get a clear view of the mighty Athabasca Glacier. Along the way, you will see signs marking how far the glacier has receded in the past years.
Once you reach forefield, further access is roped off. Walking on the glacier is not possible unless you book a guided icewalk tour. Don't attempt to walk on the ice on your own. Stepping in the wrong area can cause the ice to collapse!!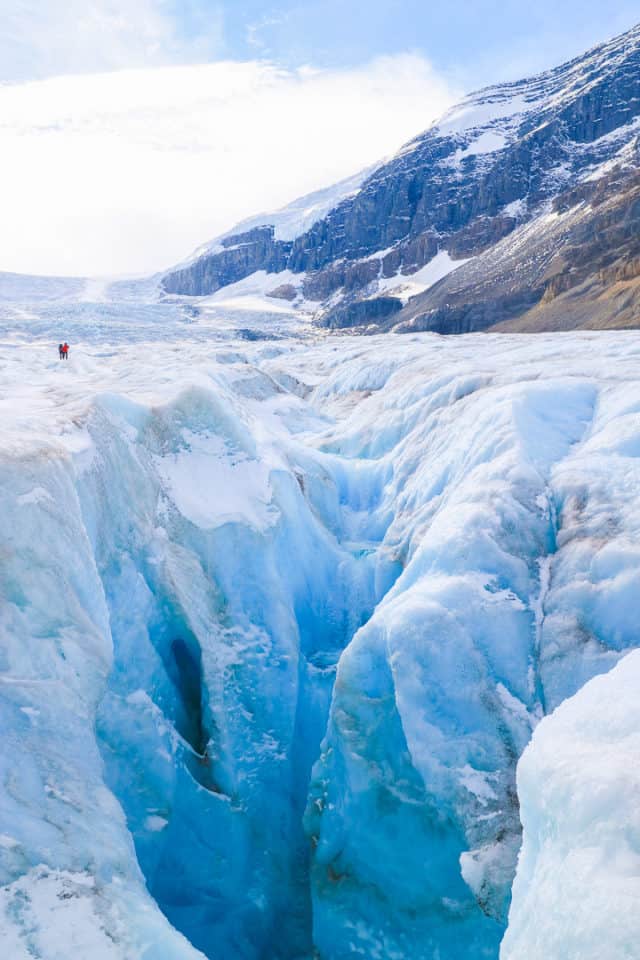 Map of the Best Hikes in Jasper – Beginners' Version
To make things easier for you, we created this Jasper trails map. The Google Map will show you where all the easy hikes in Jasper are located around the Canadian Rockies. It can be extremely helpful when it comes to choosing which hikes in Jasper to take and which to skip! We recommend bookmarking the link to refer back to during your trip!
Where to Stay in Jasper National Park
Here are a few options for places to stay in Jasper depending on your location preference and budget.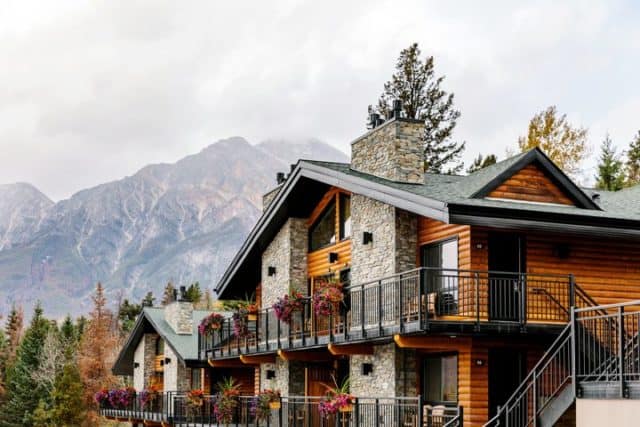 Pyramid Lake Resort: the waterfront chalet-style property is the only accommodation in Jasper National Park with exclusive access to Pyramid Lake. Buildings are nestled on a terraced hillside allowing for mountain views from each room. In the summer season, the resort offers onsite kayak, canoe, paddleboat and mountain bike rentals. When the lake freezes over during winter, it becomes the stomping ground for a plethora of winter activities such as skating, snowshoeing, cross-country skiing, and horse-drawn sleigh rides!
The Crimson Hotel: is perfect for those who'd like to stay close to the town of Jasper. Its convenient location to the shopping and dining district makes it an ideal base to explore Jasper. The hotel provides clean rooms with modern decor for a comfortable stay.
Fairmont Jasper Park Lodge: the luxury mountain resort wraps around the shores of Lac Beauvert and forms a charming village of heritage log cabins spreading throughout the expansive property. With 700 acres of wilderness, golf course, restaurants, spa, swimming pool and more, you'll have plenty of amenities to keep you entertained. It is a place where nature and luxury are one and the same!
Final Thoughts on Hiking in Jasper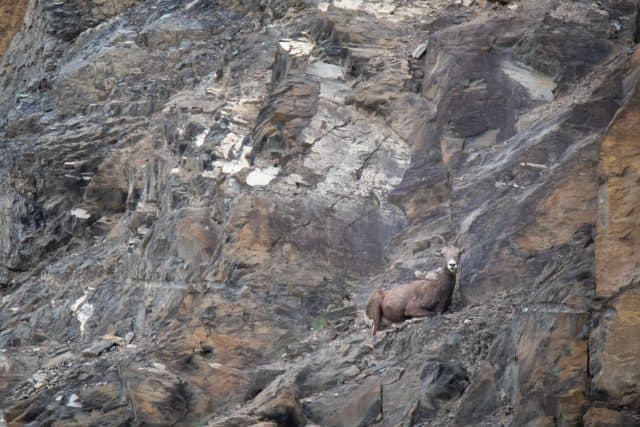 Before hitting the hiking trails, check Parks Canada website for trail condition and take note of any closures.
There's a good chance that you'll encounter wildlife when hiking in the national park. For safe viewing, make sure you stay at least 30 meters away from elk, deer, moose and bighorn sheep. If it's a bear, wolf or cougar, stay at least 100 meters away.
Hike in a tight group of four or more. On a less-trafficked trail, it's best to make noise when on the trails to alert wildlife of your presence. This gives them time to walk away. It is also a good idea to carry bear spray while in the backcountry.
---
Did you find this guide to easy hikes in Jasper helpful? Which hikes do you want to check out on your road trip to Jasper National Park?
Disclaimer: We were hosted by Pursuit. As always, all opinions on For Two, Please are our own and we only recommend brands that we 100% stand behind.