This site uses affiliate links and we may earn a small commission when you use our links and make a purchase without incurring additional fee yourself. Many thanks for supporting this website. Please see our disclosure page for more details.
Lobster rolls are a special summer treat from Atlantic Canada. We found this Canadian staple being served everywhere when we visited Nova Scotia two summers ago – from roadside stands, food trucks, to award-winning restaurants. But did you know you can whip up Nova Scotian lobster rolls in the comfort of your home with a little know-how and a few simple ingredients?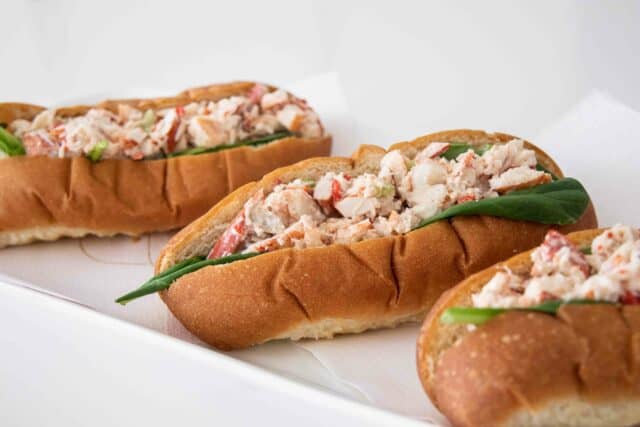 In this post, Alain Bossé, the Kilted Chef, shares his super easy lobster roll recipe and the fascinating history of this delicious sandwich. When you reach the end of the post, you will know exactly how to make authentic Nova Scotian lobster rolls and where to find Nova Scotia's best lobster roll when you get a chance to visit this beautiful coastal province!
Bonus: we are hosting a contest with Tourism Nova Scotia to give away a seafood package from Atlantic Canada and copies of Alain Bossé's cookbook, the Acadian Kitchen!! Make sure to stay with us until the end for details.
Don't have time to read? Watch this video (with eng sub) instead!
Where Are Lobster Rolls From?
Cat: There is no denial that lobster rolls are a Maritime classic and an extremely popular dish that captures the hearts of locals and visitors alike. Let's take a step back and talk about the facts about Nova Scotia lobster rolls. Where did lobster rolls come from and how it became a world-famous staple?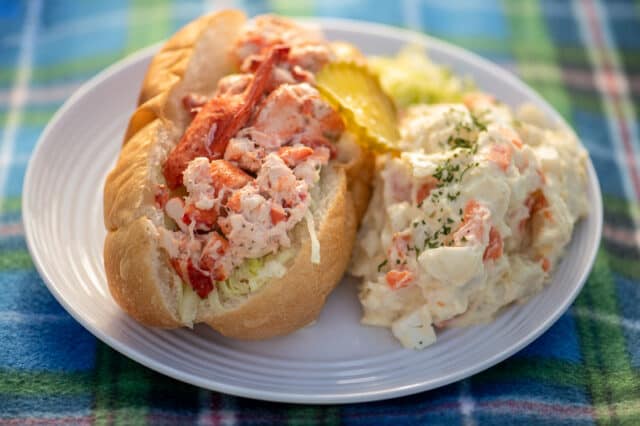 Chef: It is difficult to pinpoint the origin of Nova Scotian lobster rolls and exactly who came up with the dish. But I would say that the real tradition started when lobster was very inexpensive.
Back then, people would host huge lobster parties where they put piles of lobster on big picnic tables. The next day, they would take all the leftover lobster meat and make them into lobster rolls.
And as lobster got more evolved and people didn't want to shuck it, the dish started to appear on menus in restaurants.
Now, everyone puts their own twist on a lobster roll to make it their own.
Nova Scotian Lobster Rolls vs New England-Style Lobster Rolls
Cat: Each east coast region has its own take on lobster rolls. Simply google "lobster rolls," and many different lobster roll styles would pop up in the results. What is the main difference between Nova Scotia lobster rolls and New England-style lobster rolls?
Chef: In New England, their lobster roll is typically served on a bun – cold, with a little bit of lettuce. Their lobster is mixed in with either mayo or butter. And you've got some classic variations like Maine-style, Connecticut-style…etc.
Whereas in Nova Scotia, we serve lobster rolls with our bun buttered. By doing that and by mixing lobster with mayo, it gives you the allure of dipping that lobster in butter. When you eat it, it is like eating lobster dinner in a way, in a sandwich.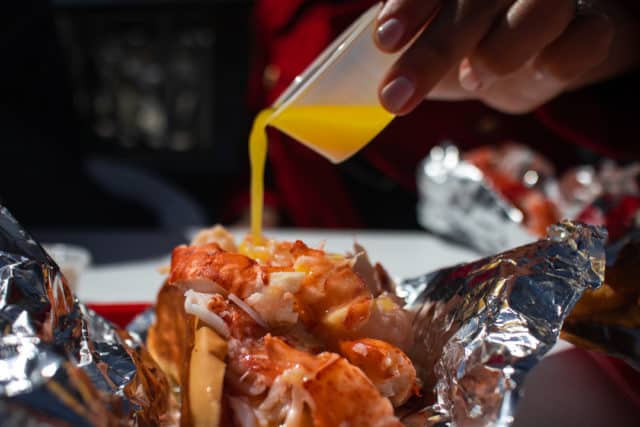 Is A lobster Roll Served Hot Or Cold?
Cat: What's the traditional way of serving a lobster roll in Nova Scotia? Hot or cold?
Chef: Typically, we eat lobster rolls cold, dipped in hot butter. A lot of people who come to visit sometimes prefer to have it hot – that's okay as well. The only difference is the flavour.
When you do it cold, the lobster is cooked in its own juice. You will get a nice, simmering flavour. But when you cook lobster in hot water, that disappears in a way.
What Makes A Good Nova Scotia Lobster Rolls Recipe?
Before drilling down into the steps of making homemade lobster rolls, let's take a look at the essential ingredients we need.
Fresh Lobster
Yes, you guess it right, the number one ingredient we need is lobster. But not just any lobster. You need to get some FRESH lobster. Preferably from Atlantic Canada.
If you live on the west coast like we do and have no clue where to buy fresh lobster, don't worry. Head over to Clearwater Seafoods' website and get yourselves a few wild-caught and sustainably harvested fresh lobster. Cooked or raw, your choice. The best part is it's available year round!
Tips For Cooking Fresh Lobster
You want to take on the challenge to cook live lobster? Wondering what is the best way to cook Canadian lobster?
Here are the top tips from Chef Bossé for cooking fresh lobster:
First, bring your water to a rapid boil (with the lid on) BEFORE putting the lobster into the pot.
Then, add salt to the water. 1 cup of salt for every 4 litres of water. Yeah, an awful lot of salt. The idea is to make the water in the pot similar to that of the ocean. By using tap water, your lobster will lose flavour as it cooks.
Now, grab the lobster. When picking up the lobster, crisscross the front claws and hold on to the body. Make sure to remove the rubber band on the claws, otherwise, your lobster will take taste like rubber!
It's time to put in the lobster. Submerge the lobster into the water headfirst so it dies right away. Then, put the lid back on.
Cooking time for the lobster starts when the water returns to a boil. The timing is very important from this point. You don't want to overcook it.
For a 1 to 1 1/4 pound lobster, you'll need to cook for 11-12 mins. 11 mins for male lobsters and 12 mins for females. Add 1 or 2 mins for every 1/4 pound increase in size.
If you're not 100% sure it is cooked, lift an antennae and give it a tug. If the lobster falls back into the water, that means it is cooked. If there is resistance, it is a little undercooked.
If you ever discover the roe of the female is black, don't panic. It just means the roe is not cooked. The lobster meat is fine. All you have to do is put the uncooked roe into a frypan with a bit of butter and it will turn a bright orange colour when it's ready.
Choice of Bun
The bun is just as important as the fresh lobster.
Don't go too fancy on the bun. The basic, old-fashioned hot dog buns will do the job. Pick up half a dozen of those moist hot dog buns from a grocery store. If you can buy some freshly baked ones from a local bakery even better!
The Mayo
This is the key to bind the lobster meat together. Grab a jar of Hellmann's or prepare your own homemade mayo.
An important thing to keep in mind is to not use too much mayo. You want just enough to hold the lobster, but not so much as to drown it in dressing.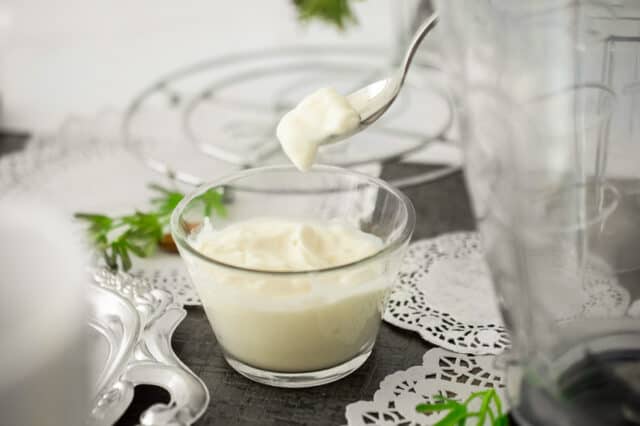 The Greens and Other Ingredients
This is where things get interesting. Many chefs and restaurants will put their own twist on a lobster roll. It is common to see celery, chives, lemon juice, herbs, and various other toppings added to lobster rolls.
Traditionally though, finely chopped celery is all that's added to the lobster mayo mix. It will give you a little bit of a crunch.
You will also want to have some kind of greens, e.g., spinach or lettuce, on hand. Put a layer of it at the base of the bun to prevent the lobster mixture from wetting the bread. This way, the bun will not get soggy.
Steps For Creating The Perfect Nova Scotia Lobster Roll
So, how do you make a lobster roll?
Chef Bossé shares his secret lobster roll recipe below. Follow along to get a taste of Nova Scotia!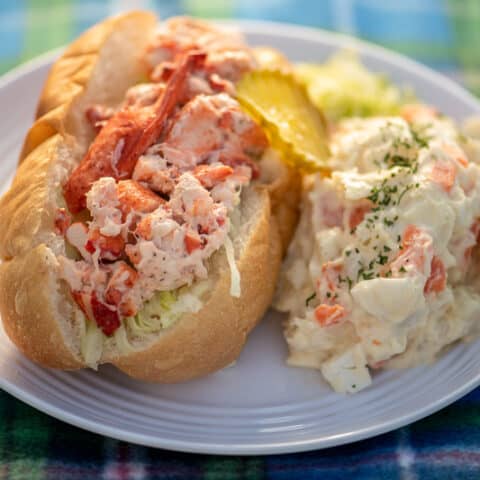 How To Make Nova Scotian Lobster Rolls
Yield: 6
Prep Time: 30 minutes
Cook Time: 10 minutes
Total Time: 40 minutes
This is Chef Bossé's secret recipe for old fashion grilled lobster roll, a perfect summer treat and pairs fantastically with a bottle of Tidal Bay!
Ingredients
1 pound (500 g) lobster meat
6 hot dog buns
3 oz soft butter
2 tbsp mayonnaise
1/4 cup diced celery
salt
pepper
3 oz spinach
Instructions
Crack the cooked lobster and extract lobster meat. Roughly chop lobster meat into bite-sized pieces
Finely dice celery stalks
Butter hot dog buns on both sides and grill them on a frying pan. Toast the outside of the hot dog buns until golden brown
In a bowl, mix the lobster meat, mayonnaise and celery. Add salt and pepper to taste
Open the grilled bun and place 1/2 oz spinach per bun. Spoon the lobster mixture onto the center of the hot dog bun. Squeeze lemon juice on if preferred. Enjoy!
Notes
You can substitute spinach with lettuce
Nutrition Information:
Yield: 6
Serving Size: 1
Amount Per Serving:
Calories: 294
Total Fat: 18g
Saturated Fat: 8g
Trans Fat: 0g
Unsaturated Fat: 8g
Cholesterol: 37mg
Sodium: 491mg
Carbohydrates: 27g
Fiber: 1g
Sugar: 4g
Protein: 7g
What To Serve With Lobster Rolls?
Traditionally, Nova Scotians serve lobster rolls with homemade french fries or potato chips. Potato salad is also a classic that pairs well with the rolls.
Remember – keep things simple. The last thing you want is to serve it with a strong flavored dish like pasta.
Visiting Nova Scotia
Making a trip to Nova Scotia? Here are some suggestions on how to plan a lobster-filled vacation!
What are the Best Restaurants in Nova Scotia for a Classic Lobster Roll?
For the best east coast lobster roll, head over to Barrington (the lobster capital of Canada) and visit Captain Kat's Lobster Shack. Their lobster rolls taste as good as Chef Bossé's (actually they use the Chef's recipe!).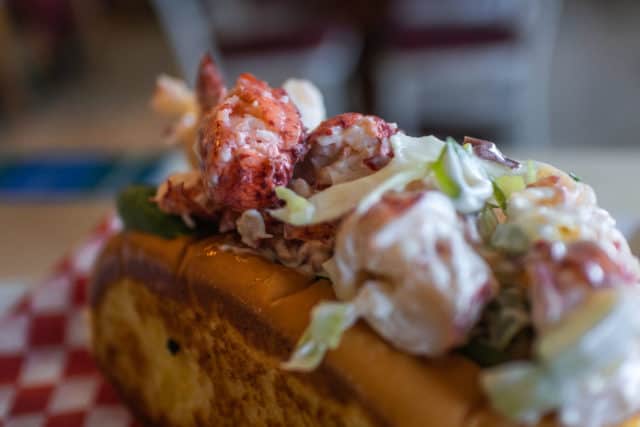 There, you will also find a long list of mouth-watering lobster dishes including the creamed lobster, a south shore favourite! You can have it serve on a toast and make it into a hot lobster sandwich – a must try in Nova Scotia!
If you're looking for the best lobster roll in Halifax, try Dave's Lobster or Esquire, both are popular among locals.
What is the Lobster Season in Nova Scotia?
You can buy or eat lobster year round in Nova Scotia!
The lobstermen fish lobster in different regions of Nova Scotia depending on the time of the year. Each region or territory would have its own regulated season for lobster fishing to prevent over-fishing. The region that is "in lobster season" would supply lobster to other regions.
Which Lobster Fests in Nova Scotia Worth Checking Out?
Lobster is a popular food in Nova Scotia and you can find all sorts of lobster festivals year round. But there is one festival in particular that features lobster rolls, and that is the Nova Scotia Lobster Crawl.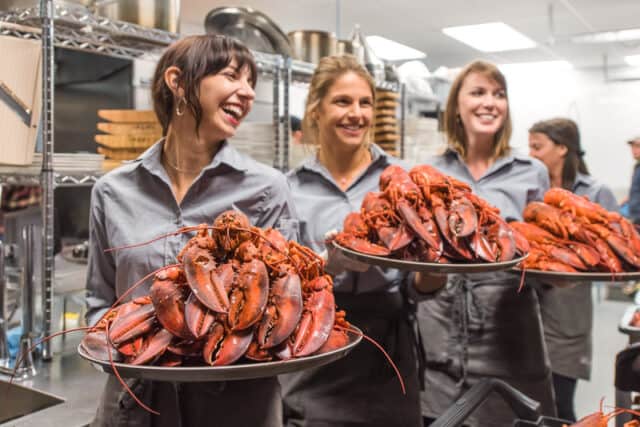 It takes place every February during the winter season on the South Shore. Restaurants in the region would compete every year to win the title of "Best Lobster Roll". Of course, you can also expect to see other kinds of celebrations and entertainment throughout the entire month in salute to the yummy crustacean.
East Coast Seafood Giveaway!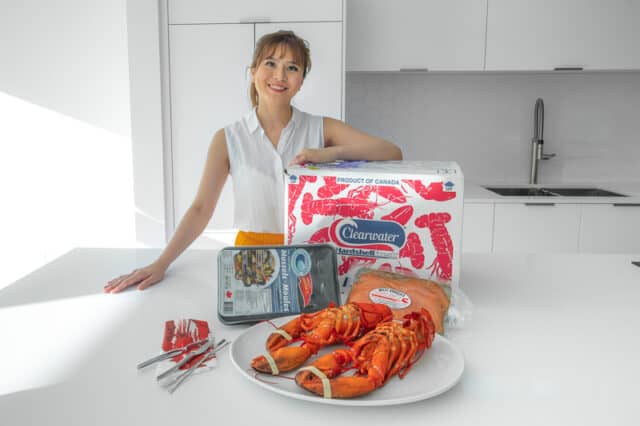 To give you a chance to make lobster rolls at home, we partner with Tourism Nova Scotia to give away one seafood package from Atlantic Canada! Included in the package are two regular cooked lobster (1 ¼ – 1 ½ lb each), 2 lb bag of Fresh PEI mussels, 225 g pack J. Willy Krauch Sliced Smoked Salmon, and an eating kit (2 plastic bibs, 2 metal picks and 1 metal cracker)!
In addition, three lucky readers will get to take home a copy of Alain Bossé's cookbook, the Acadian Kitchen!!
Act fast! Use the widget below to enter the giveaway. The contest is open to Canadian residents. Good luck!
East Coast Dinner Package Giveaway