This site uses affiliate links and we may earn a small commission when you use our links and make a purchase without incurring additional fee yourself. Many thanks for supporting this website. Please see our disclosure page for more details.
As much as I love dining out at a fancy restaurant on a date night, sometimes it is just more wonderful (and comfortable) to spend it at home. But let's be honest, cooking for that special someone can also be nerve-wracking and exhausting, especially when you don't know what to prepare. Don't worry, I've got you covered. In today's post, I will show you exactly what to make that is simple, creative, and perfect for impressing your date!
01| Dishing Up Orecchiette with Veal, Capers and White Wine
Roll up your sleeves and let's start cooking! This delicious orecchiette with veal, capers and white wine recipe is easy to follow and turns basic pasta into an elegant affair. The buttery, garlicky sauce coats every bit of pasta and capers. Packed full of meaty flavours, the pasta dish is summery and is sure to get the mouth watering.
Cooking Time: 40 mins | Difficulty: Medium
02| Grilling Shrimps on a Himalayan Salt Block
Next, spice up your date night with salt block cooking! It is the boldest new technique that makes cooking more interactive and entertaining. The thick slab of pink Himalayan salt can be used for serving sashimi, curing watermelon into a ham, grilling chicken, and even chilling caramel! Regardless of the technique, it adds delicate flavours into your food. Kev gave it to me last year as a Christmas gift and I fell in love with it ever since. Grab one for yourself. I promise you won't regret!
You can play around with different recipes, but for the date night, I recommend choosing an ingredient that is quick and simple to cook. Shrimp is a perfect example. While you wait for the salt block to heat up to 450°F in the oven, toss the shrimps together with vegetable oil, a pinch of cayenne pepper and a dash of cumin. Set that aside for 20 mins. Once the salt block has reached the ideal temperature, you can then sizzle up the shrimp on the block! It's fun, creative and completely stress-free!
Cooking Time: 6 mins | Difficulty: Easy
[bctt tweet="A simple, create way to set up a #datenight dinner that's sure to impress! #homechef @invivowines" username="fortwoplz"]
03| Sipping Invivo Sauvignon Blanc
Lastly, set the mood and add a touch of romance to your special evening with a little wine. To pair with the grilled shrimps and orecchiette, Invivo Malborough Sauvignon Blanc 2014 is an excellent choice. This award-winning wine is charming and sweetly fragrant on the nose displaying passionfruit and white flowers. The palate features tropical fruit flavours, including pink grapefruit, guava and pineapple, balanced with a bright, crisp finish. Irresistibly refreshing, it will enchant even the most discerning palate. I could see why this wine (and the Invivo brand in general) has gained popularity in Canada and has a special appeal to millennials!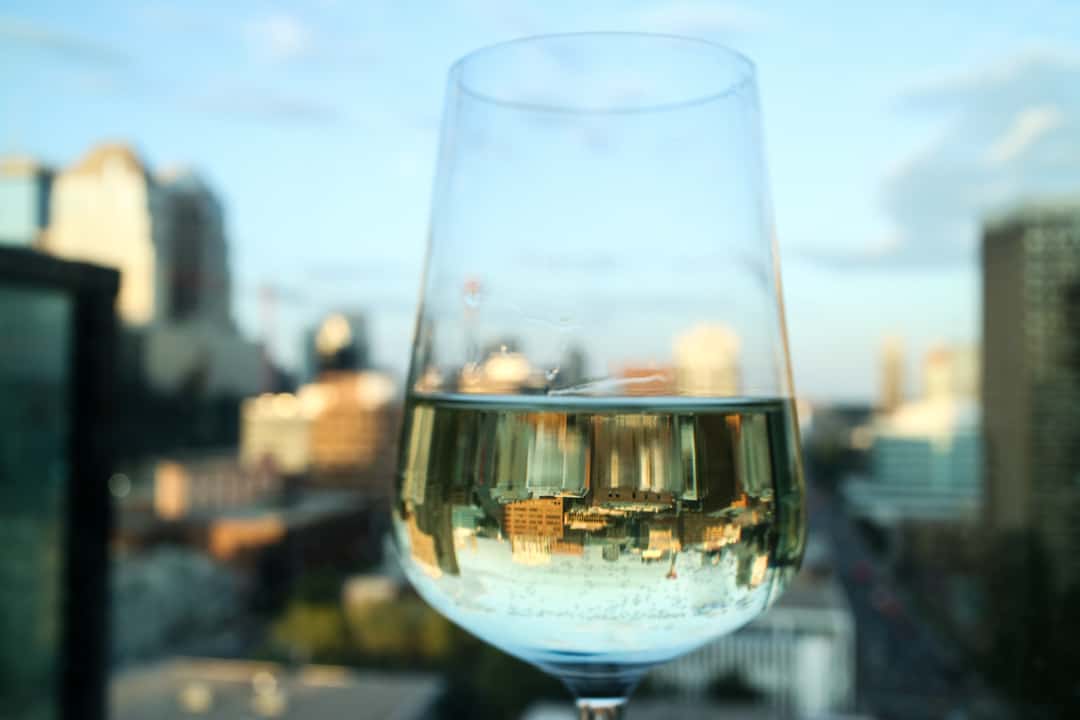 All that sounds easy, doesn't it? Now, get ready to set up your fun and fabulous stay-at-home date night!
Disclaimer: The wine is provided by Invivo Wines. All opinions on For Two, Please are my own and I only recommend products that I 100% stand behind.