This site uses affiliate links and we may earn a small commission when you use our links and make a purchase without incurring additional fee yourself. Many thanks for supporting this website. Please see our disclosure page for more details.
There were so many activities that made our Maui trip fun and unforgettable. Be it paddleboarding along Maui's sunny south shore or ziplining on the slopes of Haleakalā, they made us appreciate being surrounded by the spectacular natural beauty of the island. But if I had to choose one activity as the highlight, it would be the whale-watching tour we took with Ultimate Whale Watch. Watching the Humpback Whales swam right under our boat was the most memorable of all my Maui moments. Even after coming home, my heart still skipped a beat when looking at the photos and footage we took! Let me share with you this magical experience of being surrounded by the Humpback Whales, along with the dolphin and turtle encounters on our snorkeling trip to Lanai!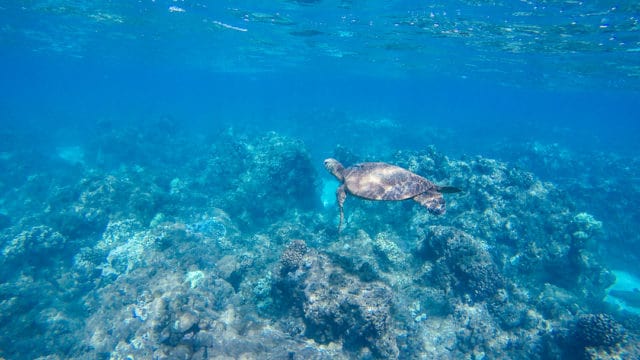 A Little Background on the Whale Watching Season in Maui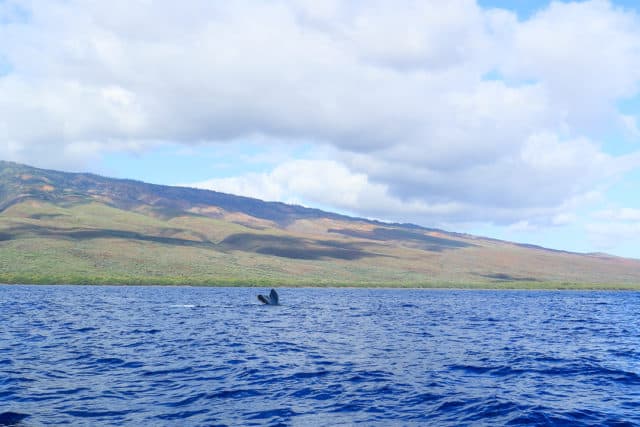 Winter months are especially busy in Maui. Around 12000 North Pacific humpback whales travel 3500 miles from Alaska to the waters around Maui every year, between late November to early April. They migrate here to mate and give birth. And the warm, shallow waters of Maui is the ideal place for these activities!
Looking for a spot that has whale watching year round? Check out Monterey and Carmel, CA, two seaside villages you can easily add on to a vacation in San Francisco!
Fun fact: Can you believe that the Humpback Whales do not eat at all during their time in Maui? In fact, the waters here lack the nutrients the whales need so the whales fast and live on the blubber (fat) that they have stored during their Alaskan summer!
Many people who have been to Maui would tell that you can whale-watch from the shore. That is true, but to get a closer look, going on a whale watching boat tour is the way to go!
Picking Whale Watching Tours – Why We Chose Ultimate Whale Watch?
There are tons of companies in Maui offering whale watching tours. One of the main differences is the type of boats the company offers. Your options include a) a catamaran, which is a large vessel that can hold up to 149 passengers with a stable viewing platform (safe for families!), b) a sailboat or yacht, which is smaller in size (~22 passengers) and built for speed and stability, or c) an inflatable raft that travels fast and gives a more intimate, personal experience (great for adventurers, but not recommended for pregnant women and people with recent back surgery).
An inflatable raft is the best choice to see the whales close-up so that narrowed down the options for us.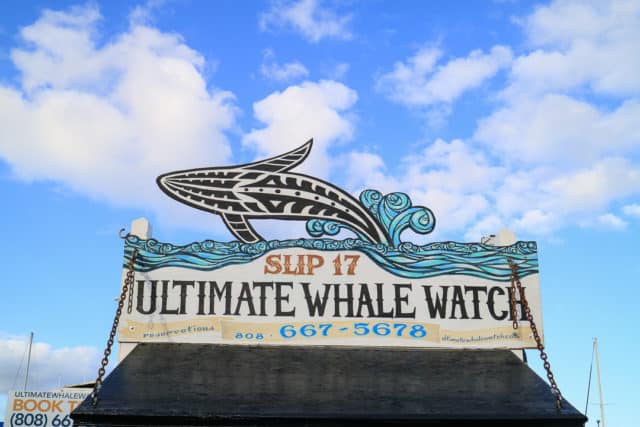 When booking a whale watching tour, it is also crucial to pick a company with an experienced crew and one that contributes to the local marine conservation – which is why Ultimate Whale Watch caught our attention. The company owns quick and safe vessels with all seats boast a 360° view and guarantee close whale encounters. In addition, its captains and crew member are ocean experts who know so much about the Humpbacks' habits and instincts. Above all, they are dedicated to protecting the Humpback Whales by rescuing entangled whales and providing funding for permitted Humpback Whale research.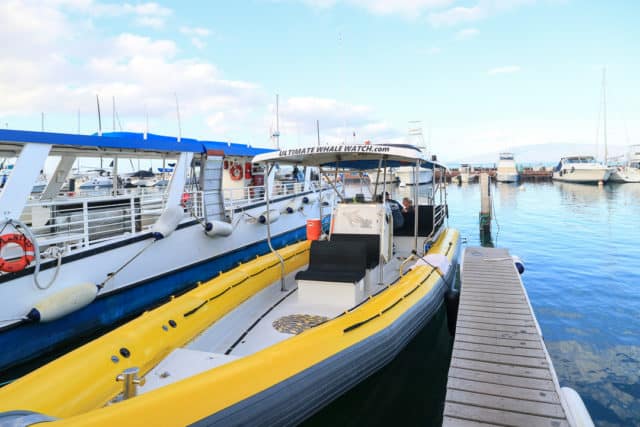 Going on a 2 Hour VIP Whale Watching Tour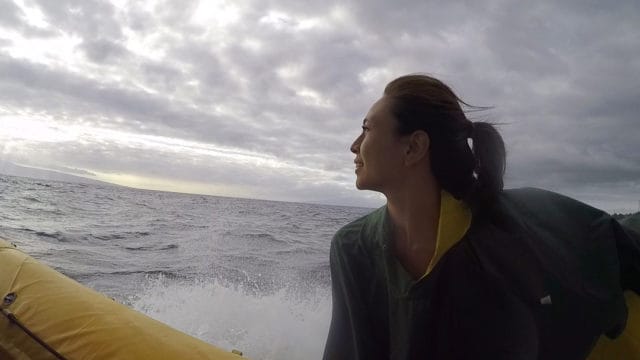 To be honest, I was worried about the odds of seeing whales before our whale watching adventure with Ultimate Whale Watch. It was the end of the whale watching season when we visited, and this year, the whales arrived in Hawaii much earlier than the previous years and many had left already! Many locals were pessimistic about our chances of seeing the magnificent creatures.
15 minutes after our departure from Lahaina Harbour, my concern quickly dissipated. The marine naturalist, Sergio, attentively looking for "footprints" (circular area created by the whale's tail that is visible on the water surface) while Captain Dave swiftly steered us towards the channel between Maui and Lanai. Suddenly, we spotted a Humpback Whale spraying from its blowhole as it rose to the ocean's surface for breath!
Everyone onboard exclaimed with excitement. The magic did not stop there. We knew that they usually come up for air every 15-20 mins so we waited patiently for the Humpbacks to make another appearance.
The whales usually swim in groups. A group of up to 20 males may jostle to get close to a single female. The males would sing, breach, fight, and show off, to get the female's attention and to vie for the breeding rights with her. At one point of our tour, we sighted 2 to 3 males exhibited aggressive behaviors towards one another!! Check out the photo below of a male threatening another male with a head lunge, which consisted of raising its head above the water and thrusting it forcefully towards the rival whale!
Throughout the afternoon, Captain Dave continuously searched for whale action to make sure we had a whale of a time! We witnessed a few instances of fluke up dive, where the tail arched up out of the water and slipped down again below the surface, without any slapping action.
Maui has regulations that prohibit any person or vessel from approaching Humpback Whales within 100 yards. Captain Dave did a great job keeping the distance. But the most incredible moment occurred when a whale swam straight to the boat and exposed its white underbelly just beneath the surface of the water! I dipped my GoPro right into the water and snapped this once-of-a-lifetime photo!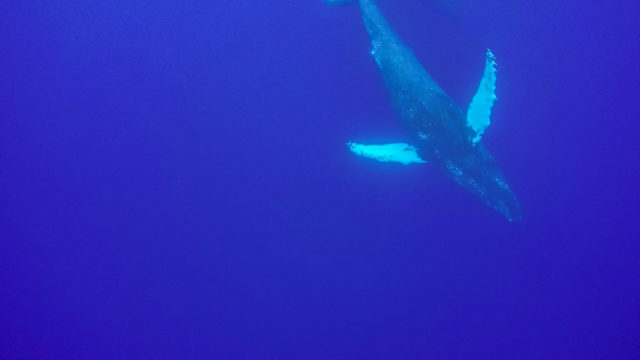 [bctt tweet="Traveling to #Maui? Make sure you see the Humpback Whales! #travel #bucketlist" username="fortwoplz"]
Joining a Full-Day Lanai Dolphin Excursion
Besides whale watching tours, Ultimate Whale Watch also offers dolphin excursions. Their full-day Lanai snorkeling tour was a blast and provided us plenty of opportunities to observe the underwater life!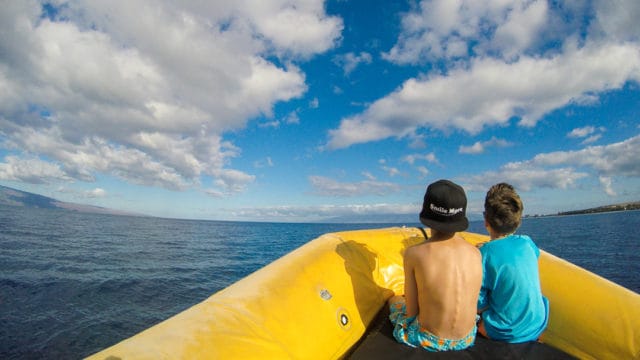 We visited a total of 3 snorkel sites on Lanai and Lāhainā, Maui. My favourite spot was Kahalepalaoa (a.k.a. Club Lanai) off the southern shoreline of Lanai. This location is home to healthy coral reef formations, convict tang, yellow tang, octopus, sea urchin and Hawai'ian green sea turtle!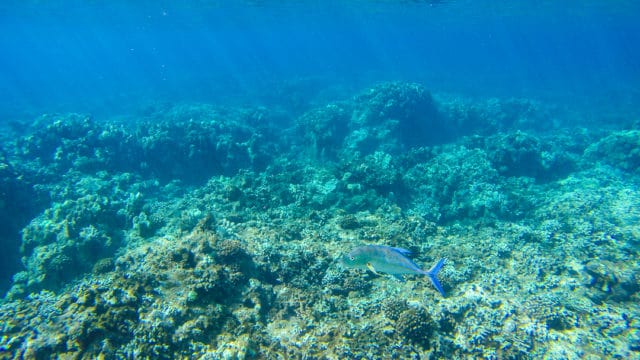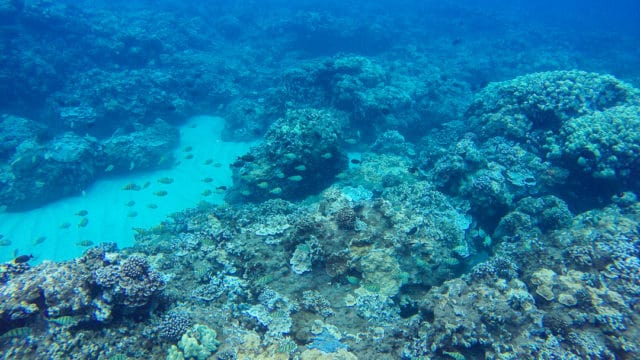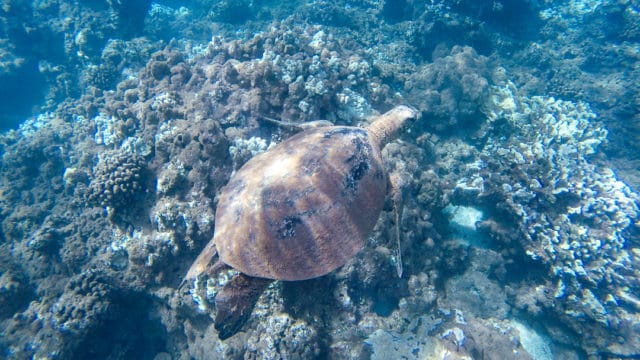 Right after my swim with the turtle, our captain, John, motored along the southern coast of Lanai for us to catch glimpses of Spinner Dolphins leaping from the water!
Do you know why they are called Spinner Dolphins? Actually, those dolphins are aptly named for their spinning ability! They can leap high into the air and spin as many as 7 times before hitting the water again!! How impressive is that?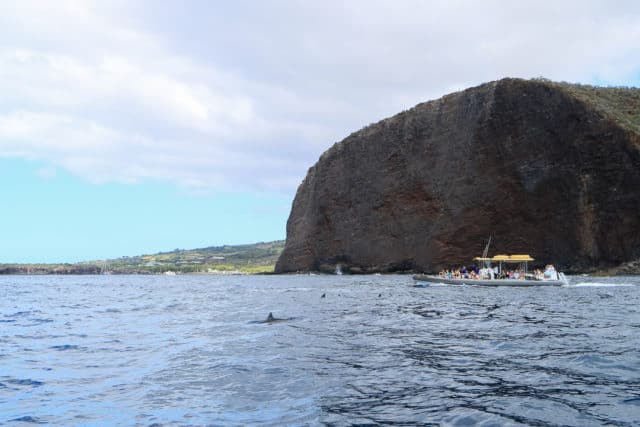 Unlike the whales, those beloved ocean creatures are permanent residents in Hawai'i. They feed offshore at night and return to the sheltered bays and coastlines to rest during the day. Their cuteness was irresistible and all I wanted to do was to hop into the water and swim with them! BUT, nope, it is not allowed as it will disrupt their sleep cycle. So let's just admire them from a distance 😉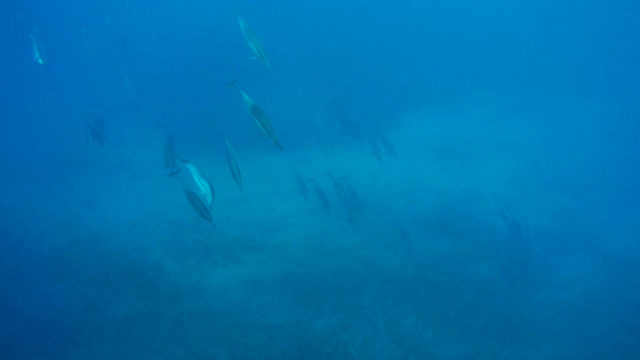 Captain John and our guide, Becca, kept us informed about the safety rules and were very knowledgeable about the marine life. Snorkeling in Lanai is amazing and I strongly recommend adding this to your list of things to do in Maui!
What to Bring for the Tours
Bring a waterproof camera, a camcorder, or a GoPro. Gotta capture those special moments!
For snorkeling, also bring a towel, swimsuit, sunscreen, and a dry bag. They provide mask, snorkel, and fins, but if you have your own, welcome to use yours.
Very important: take motion sickness medication if you're prone to get seasick. Consider putting on a scopolamine patch at least 4 hours prior to the activity (its effect can last up to 3 days).
---
We absolutely love the Humpback Whales and the Spinner Dolphins. We hope our experience and photos have inspired you to travel to Maui in winter! Have you been whale watching before? If so, where? Let me know in the comment below!
About Ultimate Whale Watch
Website: http://ultimatewhalewatch.com/
Address: Lahaina Harbor, Slip #17, 675 Wharf Street Lahaina, Hawaii 96761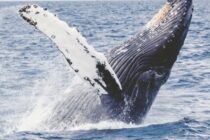 Disclaimer: This post is written in partnership with Ultimate Whale Watch. As always, all opinions on For Two, Please are my own and I only recommend services that I 100% stand behind.