This site uses affiliate links and we may earn a small commission when you use our links and make a purchase without incurring additional fee yourself. Many thanks for supporting this website. Please see our disclosure page for more details.
If you want the thrill of soaring above the magnificent natural wonders of West Maui and Moloka'i, then you will love this exhilarating helicopter tour with Air Maui! On our last day in Maui, Kev and I jumped at the chance to go on our very first helicopter flight, and ever since, we couldn't stop dreaming about the untamed wilderness and serene seascapes of West Maui and Moloka'i! Hands down, it has to be one of the best activities in Maui we've ever done. Think I'm exaggerating? Let me take through our one-hour journey in the air and judge for yourself!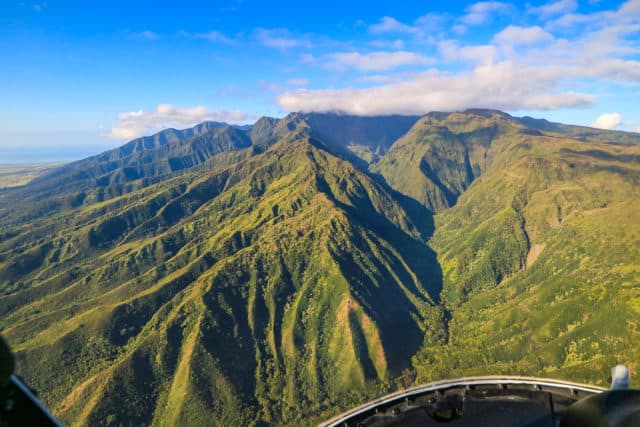 Welcome Aboard the West Maui & Moloka'i Helicopter Tour!
We couldn't hide our eager excitement when we arrived at Kahului Heliport. After checking in, we impatiently waited to hop on the flight. It was such a beautiful day and we couldn't wait to immerse yourselves in all the beauty and splendor Hawai'i has to offer. But safety first! The staff gave each of us a life vest to put on and briefed us on safety procedures before entering the helicopter.
Our pilot, Captain Kirk, greeted us with a big smile and a warm "Aloha!" as we stepped into the seats next to him. Prior to taking off, he ensured our seat belts were fastened, noise-cancelling headsets were in place, and for the one last time that we were familiar with the safety tips. And… off we went!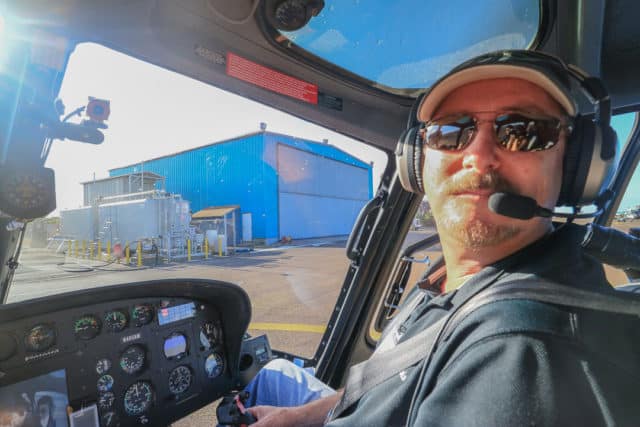 Up in the air, we flew! Soaring above West Maui, we looked down on the lush Waihe'e Valley and the magnificent (and lesser-known) Wall of Tears, a series of 17 waterfalls near the summit of Pu'u Kukui.
The magical beauty of Hawai'i continued as we headed towards The Friendly Island, Moloka'i! This tranquil island, with a population of 7400, preserves the rural Polynesian way of life, without much tourism development, and offers a taste of unspoiled Hawai'i.
[bctt tweet="Get on an exhilarating helicopter tour w/@airmaui to explore the stunning sceneries of #Hawaii! #maui #travel" username="fortwoplz"]
We paid a visit to Moloka'i's oldest community, Hālawa Valley on the east shore. We followed the historic valley all the way to the end where we were greeted with the enchanting Moa'ula Falls.
The northern shore of the Moloka'i stretches 38-mile long and is the home fo the tallest sea cliffs in the world, dropping 3,315 feet to the Pacific Ocean. Nestled deep in the Papalaua Valley is one of Hawaii's tallest and most jaw-dropping waterfalls, the 1,200-foot Pāpalaua Falls. Shortly after, Captain Kirk maneuvered the helicopter so we could snap a postcard shot of Moloka'i northern shore.
The real gem lies on the southern shore, which boasts 30 miles of fringing reef that is truly pristine and unspoiled. The incredible colours of the ocean and rugged coastline left us in undeniable awe! I would want to swim, snorkel, and even paddleboard here!
Read more: Stand-Up Paddleboarding – Why You Should Try It On Your Maui Vacation
Our adventure almost came to an end. We flew above the 'Au'au channel in between Maui, Moloka'i and Lana'i as we slowly made our way back to Maui. These warm, shallow and protected body of waters between the islands offer the best place to see humpback whales in the winter months!
Before we touched back down at the heliport, we caught glimpses of the Kā'anapali shore and the busy Lāhainā Town. What a perfect end to our Maui vacation!
Things to Keep in Mind
Isn't this the best way to explore the stunning sceneries of Hawai'i? If you're going on a helicopter tour with Air Maui, I recommend you:
book online to get internet discount
choose the front seating for the best viewing ($50/person for the upgrade. Or, you can state that you prefer front seating when making a reservation; however, an upgrade is not guaranteed in this case)
wear dark colored clothing for picture taking
bring your camera and sunglasses!
check in at the heliport 30 mins prior to the scheduled flight time
For a little more excitement, book a doors-off tour! (only cell phone is allowed on this flight)
Even if you don't get to go on a helicopter ride in Maui, there are many opportunities to do one in other Hawaiian islands, e.g., Novictor Oahu Helicopter Tours in Honolulu!
---
About Air Maui
Website: http://www.airmaui.com/
Contact: letsfly@airmaui.com
Disclaimer: This post is written in partnership with Air Maui. As always, all opinions on For Two, Please are my own and I only recommend services that I 100% stand behind.