This site uses affiliate links and we may earn a small commission when you use our links and make a purchase without incurring additional fee yourself. Many thanks for supporting this website. Please see our disclosure page for more details.
We all have our own ideas of a perfect vacation. While many may consider lying on the beach sipping a Mai Tai the ideal getaway, some of us crave for something new, exciting and a little crazy to fill our travels. Whether it is jumping out of a plane, or rafting on the challenging rapids, we seek out opportunities to get our thrills, to push ourselves out of our comfort zone, and to feel alive again.
In today's post, I partnered with fellow adrenaline junkies to share with you our best picks on adventure activities around the world. Now, get ready to get your blood pumping and the adrenaline flowing!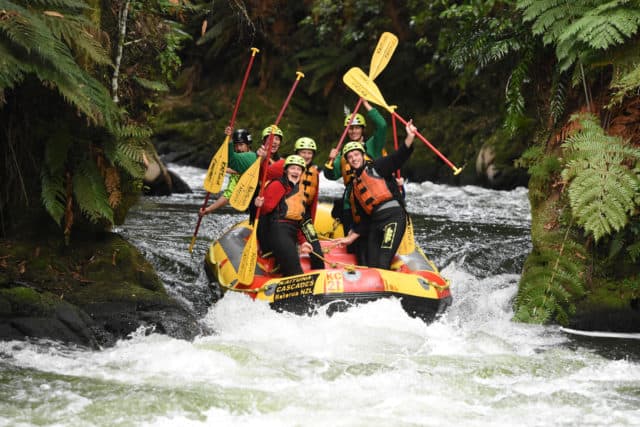 01| CN Tower EdgeWalk, Toronto, Canada
Everyone has heard of the CN Tower in Toronto. Many have taken a selfie on the glass-bottom floor with a view 342m straight down. So I thought to myself – how can we make our Toronto experience unique and memorable? That's what prompted me to start looking into the EdgeWalk tour, which challenges adventure lovers to take a walk outside, around the circumference of the roof! Doesn't that sound exhilarating? Without a moment of hesitation, I bought us the tickets to experience the highest hands-free circular skywalk!
Standing 356 meters above ground, I'd be lying if I said I had no fear at all. I could feel my heart beating hard, but the spectacular panoramic views (and the desire to impress Kev) soon calmed my nerves. Even after pushing our limits by trying out some daredevil stunts, including sticking our toes over the edge, leaning forward & backward, and walking on the edge, I enjoyed every. thrilling. minute. of. it. It was a memory that we would never forget and would treasure for a lifetime!
Interested in reading more about our Edgewalk tour? Then you gotta check out my CN Tower EdgeWalk post!
⚡️ Service provider: CN Tower Edgewalk / Cost: CAD$225 + tax
02| Skydiving, Lake Wanaka, New Zealand
Robyn Spice from Rupert on the Road: "I am scared of heights and flying, so of course it made sense to choose to do a skydive when I was traveling in New Zealand. So why did I do it? It was for the brief couple of seconds that your life seems to pause. You are sitting at the edge of an airplane about to put your existence into the hands of a complete stranger – it's about trust, about doing something that scares you and being a little crazy. That's why I decided to do a skydive.
New Zealand is a beautiful country. It is for the outdoor enthusiast, the lovers of nature and also the adrenaline seekers. I didn't feel right leaving the country without doing some sort of crazy adrenaline experience. The reason my friends and I picked Lake Wanaka was pretty simple, the scenery is gorgeous. Instead of paying for a scenic flight over the area, we took the 10-minute flight up to 12,000 feet and then experienced the 45-second free fall. The moment we jumped I remember being upside down and looking over to Mount Cook, the tallest mountain in New Zealand. Obviously, there was no picture opportunity but that image will stay in my mind forever.
Am I still scared of heights? Absolutely. But I would do it again? In a heartbeat."
⚡️ Service provider: Skydive Wanaka / Cost: starting from NZD$289
03| Canyoning, Karijini National Park, Western Australia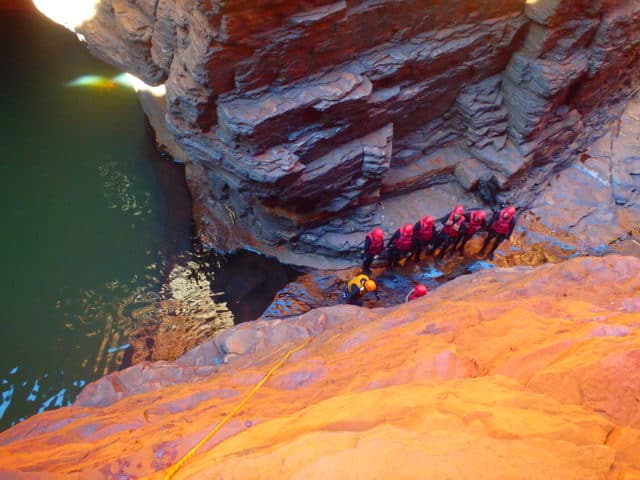 Maartje van Ringen from Quokka Travel: "Karijini is Western Australia's oldest National Park, it is known for its breath-taking gorges. The park offers a spectacular scenery, ancient geological formations with tree-lined watercourses winding their way over the dusty plan. I joined the only canyoning tour in Karijini NP and it genuinely has been one of the coolest days of my WA camping trip!
Our guide and tour company owner, Pete, was a passionate guy whose humor made my day! Sliding down waterfalls, scrambling on rocks, abseiling, tubing, climbing. It was all part of this awesome adventure. We spend most of the day in restricted areas of the national park, so it really felt like a special day with our tour group.
We kicked off the tour at Knox Gorge – go check out Google images! – hiked through waist-high waters and made our way down to the beautiful Red Gorge. We had lunch at a spot where you will only have lunch once in your life. After tubing and paddling, we arrived at Junction Pool, a unique spot where four gorges come together. The highlight of the day was the vertical climb along Kermit Pool and the Spider Walk. There are worse locations in the world to be as an adrenaline junkie!"
⚡️ Service provider: Spacechameleon Adventure Co / Price: AUD$375
04| Sand Buggying, Huacachina, Peru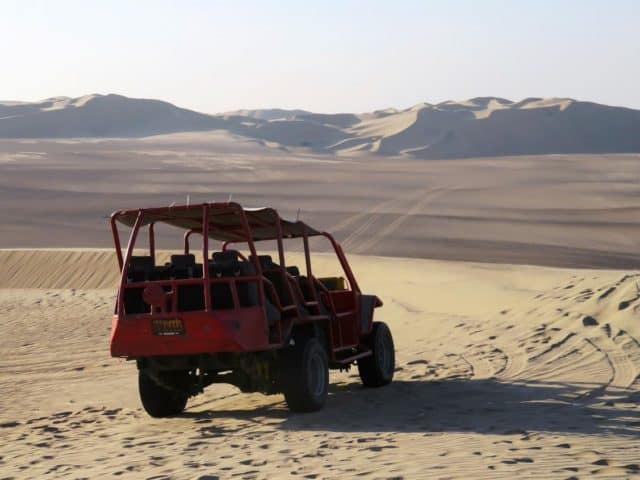 Ellis Veen from Backpack Adventures: "Despite traveling all over the world, I am actually not that adventurous. I am afraid of big insects, heights, and speed. On my most recent trip to Peru, I signed up for an afternoon sand buggying and sand boarding in the desert of Huacachina for 25 dollars.
I was not sure what to expect, but I did not think it would include height or speed. I did not even know there were desert and sand dunes in Peru before I booked my tickets. I thought it would be a gentle ride through the desert and then sliding down some sand dunes. Peru isn't really known for its sand dunes so how high can they really be?
At the normal speed, we were driving out of the small oasis town into the desert. The scenery was amazing. That was when our driver gestured to us to securely fasten our seatbelts. After that, he continued on full speed driving up and down sand dunes like a roller coaster. And yes, sand dunes in Peru are actually quite high. He would drive to the top and then go down at full speed. Every time I was so scared that I thought I was going to die. I did survive, but I have to be honest that while the others went sand boarding I stayed on top to enjoy the view and get back to a normal heart rate."
⚡️ Service provider: Huacachina Tour & Package / Price: USD$25
05| Diving, Loreto, Mexico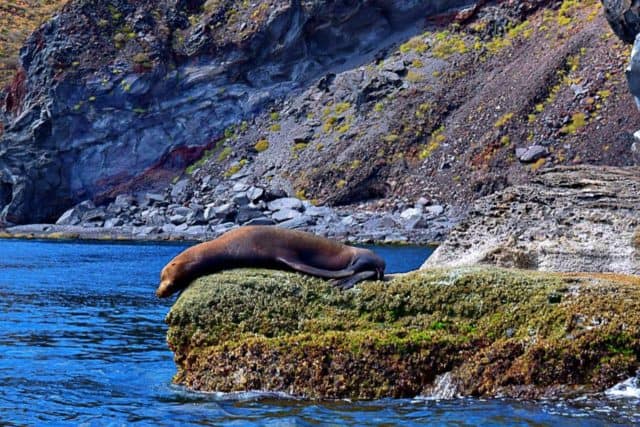 Ed and Jenn Coleman from Coleman Concierge: "We chose Loreto because the bay is a federally protected national park, and Dolphin dive center because the online reviews were phenomenal. This was going to be our first dive after certification and we weren't sure we would be ready.
The water of Loreto Bay is the bluest water I have ever seen. Every bay looked like it came straight off a postcard. Above the water, we saw giant humpback whales, huge schools of mulba rays breaching and sea lions sunning on volcanic rocks. It was beautiful beyond compare, but we were here to explore the depths.
Below the water, we found sea horses, sea stars, and giant sea bass. We weren't sure we could remember everything from our open water course, but the quality staff was there to help. Diving has lots of critical life support gear to take you into regions where humans can't naturally live. You have to use your gear and trust your training like your life depends on it because it does.
Not only was this our first dive trip out of dive school, it was our first trip as bloggers. We realized how many adventures there are in the world and how much more fun, play, and adventure there is ahead of us."
⚡️ Service provider: Dolphin Dive Baja / Price: USD$169
06| Jet Boating, Lake Taupo, New Zealand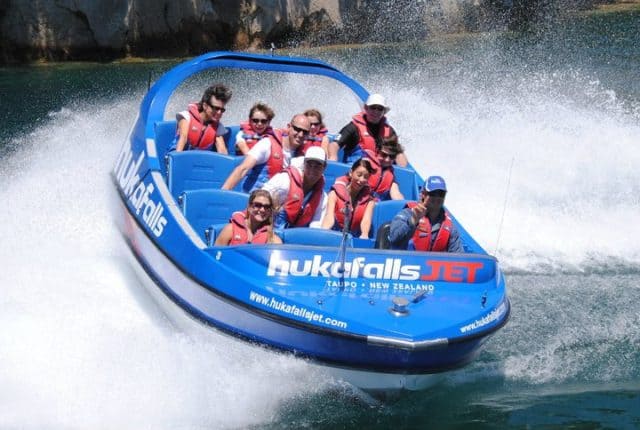 Ashlyn George from The Lost Girl's Guide to Finding the World: "It was in New Zealand where I first realized my crazy obsession with trying as many extreme adventure activities as possible. So crazy that I decided to book in for an insane day with 4-Play Lake Taupo. This meant completing four of the most adventurous activities on the planet in just one day. What encouraged me to do it was the price. At the time in 2011, it cost me less than $400 dollars. I went skydiving and bungy jumping then hopped in a helicopter and finished with a jet boat ride to Huka Falls.
The jet boat ride was something I had never even heard of before but was a blast – literally! A jet of water propels the boat, making it highly maneuverable. So maneuverable in fact that the drive would skim across the water at high speed, cut the engine, crank the steering wheel then start the engine again. This caused us to 360-degree spin our way across the river – repeatedly. Would I do the day over again if given the chance? In a heartbeat!"
⚡️ Service provider: 4-Play Lake Taupo / Price: NZD$665 for all 4 activities
07| Swimming with Humpback Whales, Ha'apai Resort, Tonga
Nicole LaBarge: "Tonga is one of those places that doesn't receive a lot of love (except during the Olympics when their flag bearer made headlines), but the small Pacific Island has a lot to offer and is one of the few places in the world where you can swim with humpback whales.
One day we watched four males showing off to prove who was the dominant one. They were breaching, and blowing bubbles and all around showing off for us. It was amazing to then get in the water with them and watch this. I still remember this gigantic male swimming below our boat and he was belly up so you saw the bright white of his underbelly in the deep blue of the ocean. And he was fast. So fast. And then two flicks of the tale and he breached again. It was an amazing experience."
⚡️ Service provider: Ha'apai Beach Resort / Price: USD$120
08| Shark Cage Diving, Gansbaai, South Africa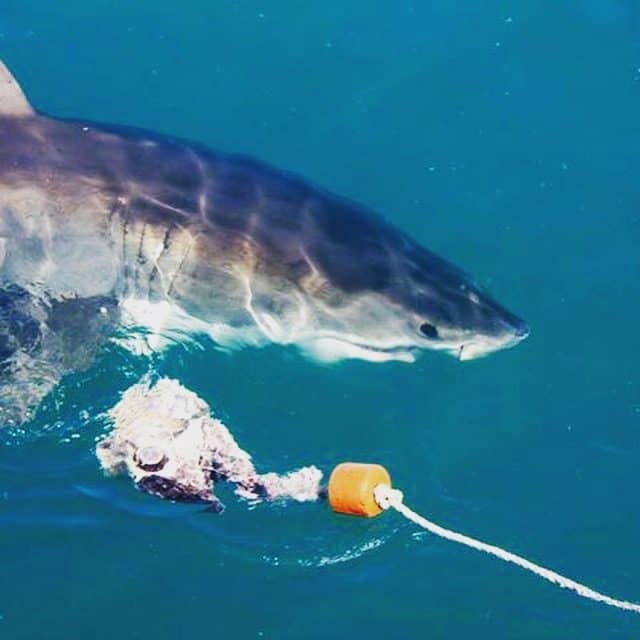 Nicole LaBarge: "It's the ultimate adventure, but I was scared to death to do it. In the end, it turned out to be one of the most enjoyable and peaceful things I've ever done. SHARK CAGE DIVING!
As I was eating breakfast I realised I was getting more excited to dive with Great White Sharks. Before I was kind of dreading it, hoping it would get cancelled. There was still a part of me that was saying 'I don't have to get into the water if I don't want to' or 'All the best shots will be taken from the boat'. I was trying to reason with myself before that on why I wouldn't get in the cage, but now I was looking forward to it.
After our briefing – basically no one can put their arms or legs outside the cage….umm yeah, not a problem – we had a 30-minute boat ride out onto the water where we would anchor and start throwing out the chum which is fish guts and blood to attract the sharks.
Then, everyone was given a wetsuit, boots and a hood. I wish I could say they kept you warm, but I would be lying. It definitely helped but the water was cold – 12 degrees Celsius to be exact. I waited in the cage until the guide told me to dive down. I held my breath and used the bar to pull myself below the water to see the sharks. Diving with the sharks is an adrenaline rush but I also found it quite a peaceful experience. As the sharks swam right past me, I looked into their giant black eyes. At that moment, I forgot everything I saw on 'Shark Week' and was there in awe of what a spectacular species I was looking at.
And then just like that, the experience was over and I was talking with my new found friends about how cool that was on the boat ride back to the shop."
⚡️ Service provider: White Shark Diving Company / Price: USD$130
09| Ziplining, Labadee, Haiti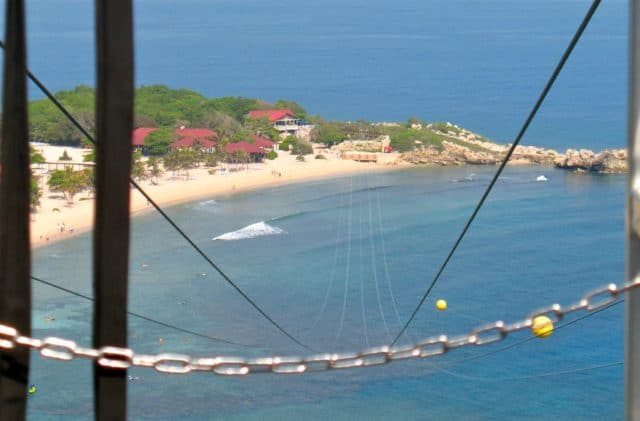 Mandy Carter from A Cupful: "Dragon's Breath Flight Line is the World's Longest Over Water Zipline and is by far the best zipline I have done. It is a one continuous line expanding 2500 feet over the Caribbean water of Haiti. After a brief training and test line, you are driven to the mountain top to the launch pad where you can gain a speed of 50 mph as you zip back down to the land. The only way to experience this zipline is by visiting the private island by way of a Royal Caribbean Cruise ship.
This zipline helped me overcome a fear of heights and required me to relinquish some of my control freak tendencies. Had I not took a chance on this excursion I may have passed up many wonderful opportunities that involved heights. Almost 10 years later of ziplining, I have still not found one I enjoyed as much as this one. So much I have gone back 3 times to experience it again!"
⚡️ Service provider: Royal Caribbean / Price: USD$105
10| Powered Hang Gliding, Cabo San Lucas, Mexico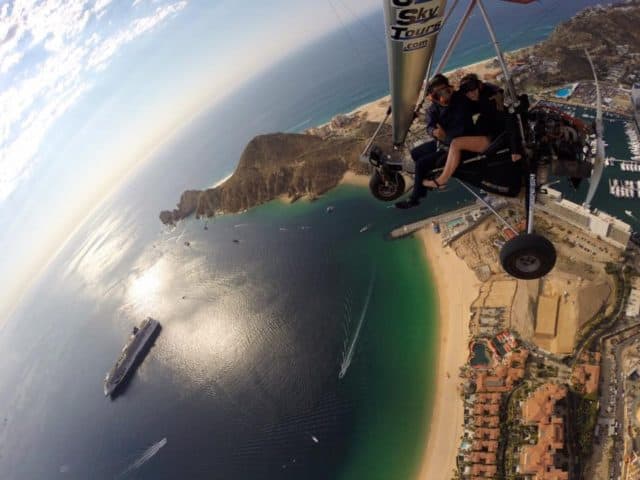 Christina Ropp from Littles, Life & Laughter: "There are not many things that scare me but the open ocean and heights top the list. It only makes sense then, when I booked my trip to Cabo San Lucas, that I would include a powered hang gliding tour, right? I had heard so many positive reviews about flying with Ernesto in his powered hang glider that I knew I had to give it a chance. As we were going over safety procedures before our flight, I told Ernesto about my concerns and he immediately reassured me with a big goofy grin, "You will love it!" Luckily for me, he was right!
As soon as we were in the air, my fears disappeared. Flying in a powered hang glider over Cabo San Lucas offered breathtaking views of Land's End, the infamous El Arco, and the Sea of Cortez. Ernesto dipped and dove so that we could get up close to the whales that had migrated down from Alaska, pointed out dolphins swimming alongside a boat in the ocean, and over the sand dunes where the movie Troy was filmed. Whether you opt for the smooth or extreme version of his flight, be prepared for an adrenaline filled adventure you will never forget."
Service provider: Cabo Sky Tours / Price: starting from USD$95
11| Bungy Jumping, Bloukrans Bridge, South Africa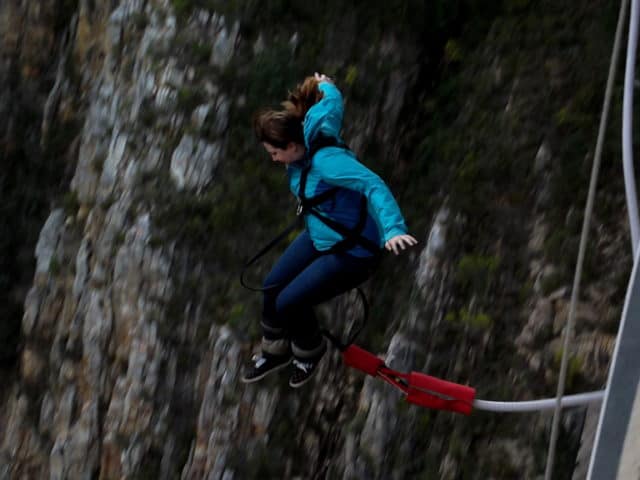 Eemma Iseman from Always A Gringa: "Bloukrans Bungy is the world's highest commercial bungy bridge. It is also the highest commercial natural bunny jump in the world. Bloukrans River Bridge is run by Face Adrenalin Bungy and the bridge's height measures up to an astounding 216 meters! Your jump will take you down around 160 meters or so, depending on your weight. Once you sign your wavier and are strapped in there is not turning back. I've heard stories of stallers getting a quick nudge. While I managed to jump on my own, it was not an elegant swan dive, but more of a pencil drop. The descent was super smooth and after the initial jump, I couldn't even tell the difference between falling and recoiling."
⚡️ Service provider: Face Adrenalin Bungy / Price: starting from R$1200
12| White Water Rafting, Rotorua, New Zealand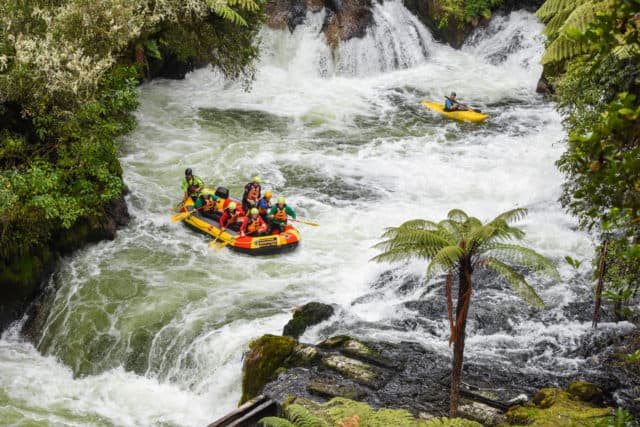 Birthe Vandermeeren from Wandering The World: "Even though Queenstown is known as the adventure capital of the world, it's not the only place in New Zealand where you can get your adrenaline fix. Brecht, my SO, wanted to go white water rafting for a while now, and when he spotted a deal with Kaituna Cascades in Rotorua, it was on! I honestly had no idea what I was getting myself into, and looking back, that was probably for the best.
Kaituna Cascades, just like a couple of other companies, offers a white water rafting experience on the Kaituna River near Rotorua. It's said to be a white water rafter's dream come true, as it has the highest commercially rafted waterfall in the world: the 7-meter Tutea Falls.
Before we hit the water, we practiced how to react in each scenario, including the worst case one. Silently praying we wouldn't need those moves, we were enjoying our first white water rafting experience. Fast forward to the bottom of the Tutea Falls, where I found myself rolled in a tight ball waiting to get above water again. Classic: everyone was still sitting in the raft, Brecht and I were in the water.
Even though the photos clearly prove that Brecht took me in the water with him, we all could laugh about it afterward. We're glad to have shared this adventure and the nearly-drowning part just makes it even more fun and memorable. We still laugh about it sometimes, even a year later. Guess this proves it was an adventure activity worth the money!"
⚡️ Service provider: Kaituna Cascades / Price: NZD$115
13| Kayaking, Antarctica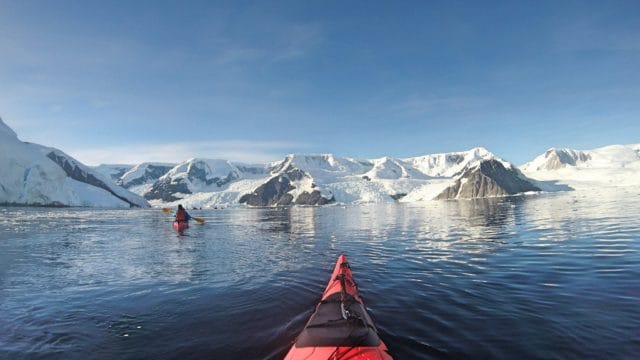 Lauren Jessica from The Traveller's Guide By #ljojlo: "Gaining a certificate qualification in kayaking while in Antarctica is certainly something unique. Learning a self-rescue in the frigid waters of Antarctica is not something you do every day, that is for sure.
On a recent trip to the 7th continent, my partner and I decided to sign up for the kayak course, with certificate qualification, because we believed this was the best way to witness the exquisite ruggedness that is Antarctica. The course allowed us to kayak within the waters of Antarctica every day, navigating icebergs, breaking the thin ice on the top of the water and even experiencing wildlife up close and personal.
Kayaking in Antarctica and submerging myself within its waters is something I honestly cannot put into words. It is without a doubt the best travel experience I have had to date and one I would love to do again. So, my advice, if you are planning a visit to the 7th continent, be sure to see whether the boat you are on offers kayaking and if so, definitely consider taking up the extreme yet magical activity that is kayaking within Antarctica."
⚡️ Service provider: Hurtigruten Cruises / Price: NOK$5900
14| Piloting a Cessna 172, Toronto, Canada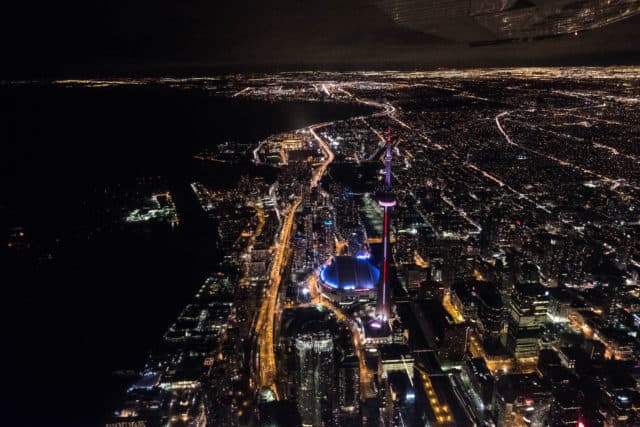 Alaska Rue from My Dot on the Map: "We took off from Ward's Island and flew over the pitch blackness of Lake Ontario. There was nothing beneath us except darkness, perhaps the occasional odd glint off a wave in the night. We followed the curve of the land, venturing out to the Scarborough Bluffs before veering back and entering a city of lights. The impressive billboards outside Eaton Centre were reduced to smartphone screens; the throngs of people walking on the sidewalks were ants. We cruised around the CN Tower, watching its slow blink from red to green to blue.
Our seats seemed to drop out from beneath us, or maybe we leaped into the air. My brother and I laughed as my co-pilot maneuvered us into a series of zero-gravity drops. I grabbed the wheel and spun the plane into a 90-degree turn. We danced through the sky as the world fell away. When we finally landed, the sky seemed even bigger than before.
I'd been depressed for a good part of my 21st year and so decided to pilot a Cessna 172 on my 22nd birthday. Flying this plane was a metaphor for the rest of the year. No longer would I be a passenger, led through life on the tailwind of someone else's whims.
No, I was going to be the pilot and decide where exactly I was going to go."
⚡️ Service Provider: Island Air Flight School and Charters Inc. / Price: CAD$320 for an hour flight.
---
With so many fun ways to experience the world, which one would you like to experience on your next travel?