This site uses affiliate links and we may earn a small commission when you use our links and make a purchase without incurring additional fee yourself. Many thanks for supporting this website. Please see our disclosure page for more details.
A holiday to Indonesia is not complete without relaxation, and Lombok is rated as one of Indonesia's most secluded and relaxing destinations. Imagine strolling along a pristine white beach, taking a dip in the ocean, or hiking in tropical rainforests – all without the frustration of a crowd. It's no wonder that Lombok is so popular among local tourists. Seeking privacy and comfort with a touch of luxury, we said goodbye to Bali and Gili Air and headed towards the blissfully quiet island of Lombok with a 3-night stay at Jeeva Klui Resort!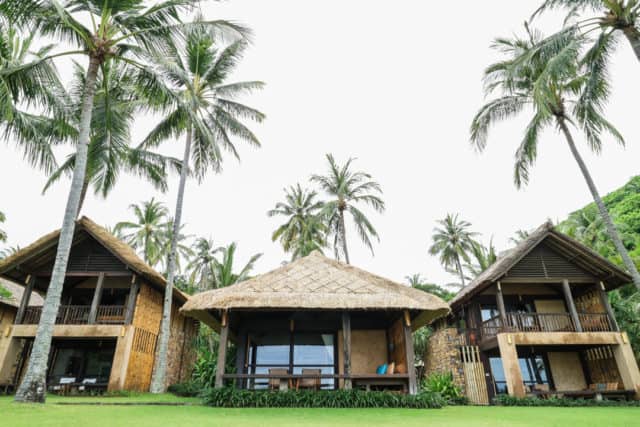 About Jeeva Klui Resort
A few luxurious hotels can be found near the Bangsal harbour, where boat services to the Gili Islands are available. These accommodations' close location to the harbour has a considerable appeal to travelers who desire to take a day trip to the Gilis. But since Kev and I had just visited Gili Air, we chose to stay a bit further down the northern shore at Jeeva Klui, to be more central to tourist attractions!
As soon as we arrived at Jeeva Klui, we knew we had stepped into a tropical paradise. The soothing sound of the ocean and the warm summer breezes let our senses come alive. Standing on the Klui beach, the resort offers an exotic blend of traditional Sasak architecture, modern luxury, and a laid-back beach life.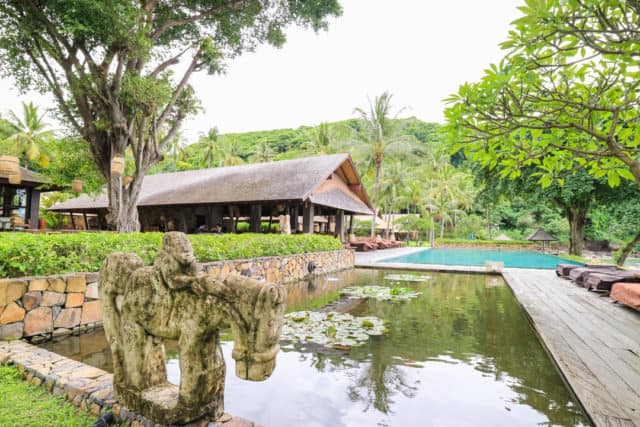 With a beachfront infinity pool, two spa centres, an adults-only pool, a gym, a library and an onsite restaurant, this boutique hotel aimed to make our holiday an unforgettable, relaxing experience. No words could describe how much we enjoyed their spa service. And that quieter, less crowded adult-only pool makes for a seriously serene hideaway!
Pro tip: The drive from the airport to Jeeva Klui takes about 1.5 – 2 hrs. Fast boat harbours (Teluk Kodek or Teluk Nara) and public boat harbour (Bangsal) are all approximately 30-35 mins from the resort. Only Senggigi harbor is 5 mins away from the property. Regardless where you plan to travel from, I highly recommend booking your stay directly on their website to receive a round-trip airport or boat harbor transport, as well as a complimentary 30-min massage for two!
Luxury Travel's New Trend: Sustainable Tourism
While all that sounds lovely, what really makes Jeeva Klui stand out is its strong dedication to the environment and local communities, which is visible at every corner of the resort. Locally sourced and recycled materials such as stone and timber were used in building the resort. Water is recycled for use in the gardens. Through its sensitive design and green practices, it is made possible for us all to experience and appreciate natural spaces and cultures while minimizing our effect on the environment.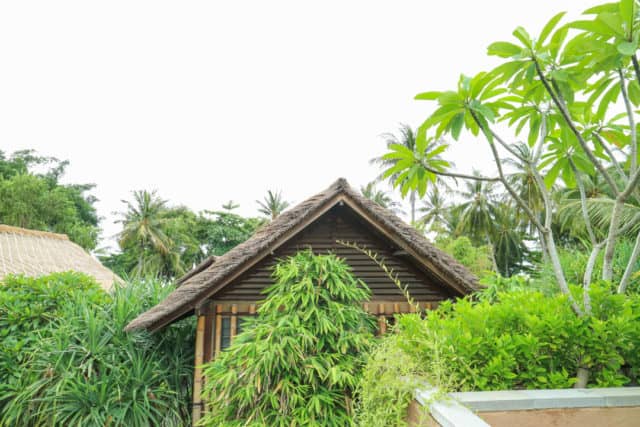 The Room
The 35-room resort overlooks the Indian Ocean and the mountains of Bali. No matter which room you choose, be it beachfront, ocean view or pool suite, you'll be able to take in the gorgeous Balinese sunset straight from your room! On top of that, you can expect tropical barefoot luxury, including a hand-carved king-sized four poster bed, private bath with outdoor rain shower, expansive garden, flat-screen TV and DVD player, as well as air-conditioning and complimentary wifi.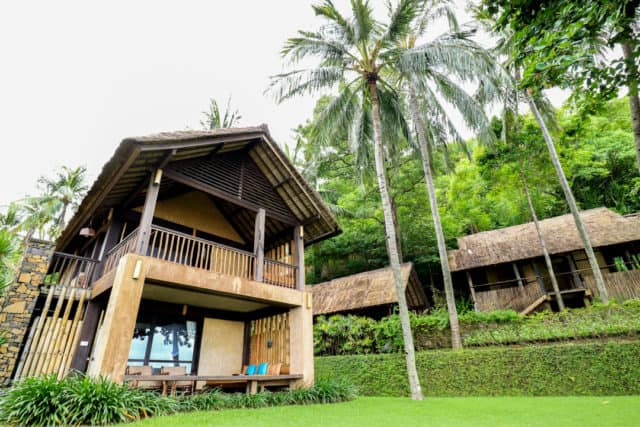 Walking into our beachfront suite, we were welcomed by an incredibly spacious room with luxurious amenities and plenty of natural light. Its traditional Indonesian décor gave us a taste of local village life and allowed an escape from the everyday!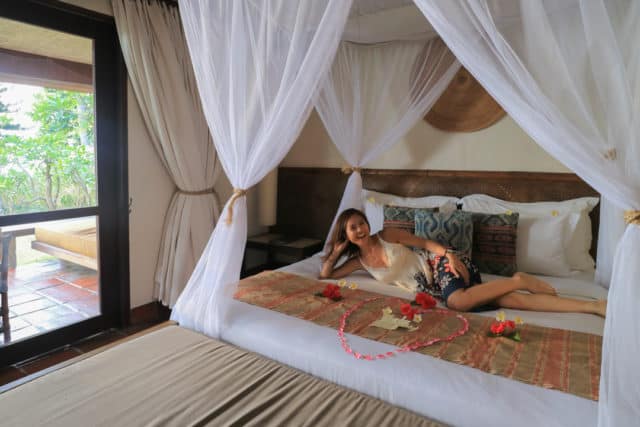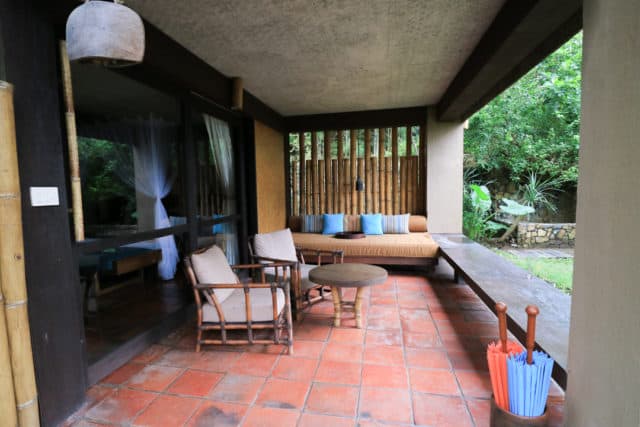 [bctt tweet="Jeeva Klui: perfect place to drown out the buzz & melt your stress away! #WonderfulIndonesia" username="fortwoplz"]
Food & Drinks
Waroeng is the one and only restaurant operating at Jeeva Klui, serving both Asian and western style food, each done to perfection. Complimentary afternoon tea is available daily, presenting Indonesian snacks and local fruits along with coffee and tea. Every Friday evening there's Indonesian barbecue, highlighting freshly prepared Indonesian cuisine from around the archipelago.
Want to create a romantic night for your loved one? Book a special romantic dinner (Indonesian and western set menus available) at one of the beachfront huts or in the privacy of your villa!
Not gonna lie, but after two days, we got bored with the food served at Waroeng. So one day, we took advantage of the complimentary shuttle and ventured over to Jeeva Santai (another property under the Jeeva brand that's 15 mins away) for a change. Perched high up on a cliff, the restaurant, Pearl's, boasted panoramic ocean views from the rooftop deck and deliciously prepared fresh seafood and Indonesian specialties. Up until today, I still couldn't forget its open air style, warm hospitality, and exquisite food!
Spa & Leisure Activities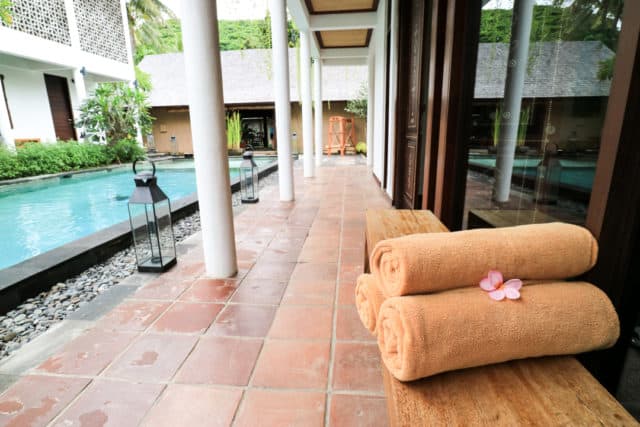 Break away from the stress with a visit to Jeevaniya Spa!  It offers a comprehensive range of traditional and contemporary spa treatments designed to relieve fatigue and re-energize your body. You can choose to enjoy your spa treatment in the Jeevaniya Spa pavilion or in the oceanside therapy rooms with open views of Klui beach and the Indian Ocean.
Pro tip: if you are thinking of including multiple spa treatments during your stay, look into the SPA Discovery Package upon booking. The 4-days-3-nights deal includes 5 different treatments plus 1 private yoga session for two. Booking it on their official website will give you an extra 30-min massage!! Life couldn't get any better than this!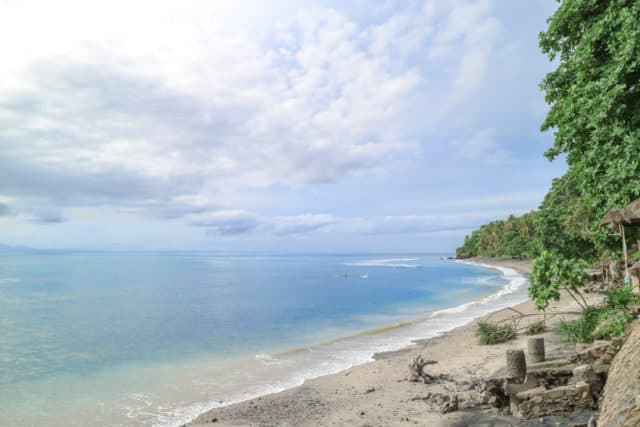 Looking to fill your days with activities? Enjoy a programme of complimentary activities on-site, including snorkeling, cycling, Balinese weaving workshop, Indonesian dance lesson, yoga, tai-chi, and meditation. Lombok cooking classes, fruit carving, and other cultural activities are provided at a cost. To explore Lombok and witness the beauty of this incredible island, the front desk staff is there to help you arrange surfing lessons, a trip to the Gili Islands, a waterfall excursion, or a Rinjani Mountain climb!
You can also hire a taxi and explore the rest of the island, e.g., Mataram, Masbagik, or Kuta, Lombok!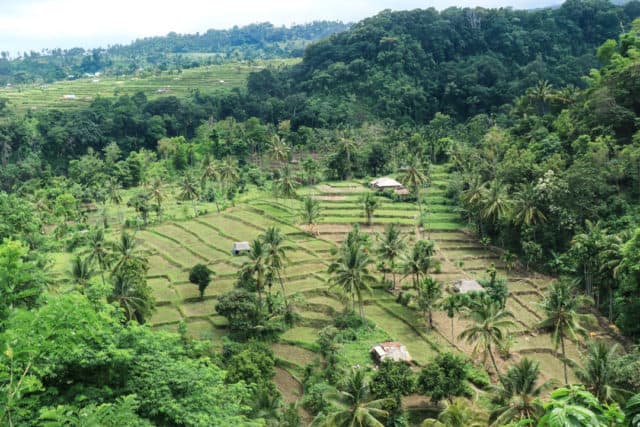 ---
If you're looking for a secluded relaxing beach getaway, look no further than Jeeva Klui. It is an ideal place to enjoy the moment, drown out the buzz and melt your stress away!
About Jeeva Klui
Website: https://www.jeevaresorts.com/klui/the-resort/
Address: Jalan Raya Klui Beach No. 1, Lombok, Indonesia