This site uses affiliate links and we may earn a small commission when you use our links and make a purchase without incurring additional fee yourself. Many thanks for supporting this website. Please see our disclosure page for more details.
One morning while on the Hawai'ian island of Maui, I found myself balanced on a paddleboard over the pristine Wailea coastline off Polo Beach. Started off in a kneeling position, I positioned myself in the center of the board and rhythmically paddled forward. The water was calm and astoundingly clear that I could see vibrantly colorful coral lay just below the surface!
After gaining some momentum and getting comfortable, I gathered up my courage and rose to my feet. The board wobbled a little bit as I regained my balance, but I managed to keep my legs steady. Right then, the sun slowly rose over Haleakalā Crater and painted the sky in pink and purple hues. I paused to savor this zen moment before continuing on paddling in search of the Hawai`ian green sea turtles.
In just 2 hours of gliding across the waters, I have already mastered the basic strokes. Stand-up paddleboarding is so easy that it has become my new favorite water activity! Below are the reasons why I love stand-up paddleboarding and you should too!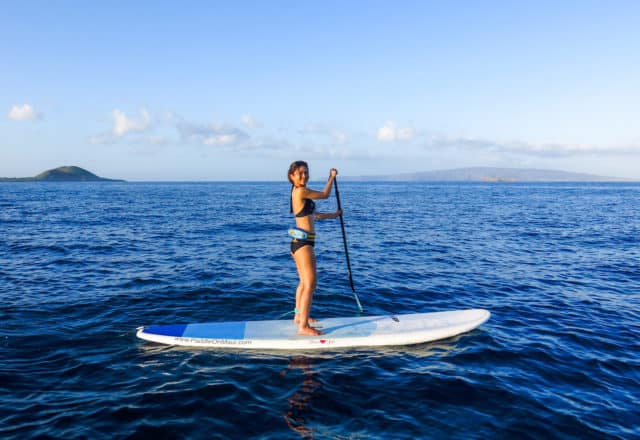 1| It's easy to learn and a whole lot of fun!
If you love outdoor adventure and love being in, on, or around water, stand-up paddleboarding (a.k.a. SUP) is for you!
SUP is the calm, or some may have argued the "lazy," version of surfing. Unlike surfing, you don't need to have any paddling experience to enjoy SUP. All you need is a board and a paddle, and off you go! A good sense of balance will certainly help, but it is something you can improve on. With only 10 or 15 minutes of practice, you'll completely master your stand-up paddle skills!
For those of you who are a scaredy-cat, I strongly recommend booking a private guided SUP tour, which would typically cover the basics (standing up and steering your board) and water safety. My guide, Brittany from Paddle On! Maui was extremely helpful and encouraged me every step of the way. With her guidance, I managed to stay dry the entire time! #SUPLikeAPro
2| It's a great workout!
I'm not gonna lie, SUP is a total body workout. It puts almost every muscle in your body to work to keep you balanced. Your legs are hard at work to keep you upright on the unstable board. Your core is needed to help stabilize your body. Your arms, back, and shoulder are used to propel the paddleboard in the water. The best part? You won't even realize you're working out until you attempt to get out of bed the next morning 😉
[bctt tweet="Take your #hawaii adventure to the next level with stand-up #paddleboarding! #maui #travel" username="fortwoplz"]
3| It is meant for everyone
SUP is a water sport that anyone – of any age and fitness level – can enjoy. You can take it easy and go for a scenic paddle, race against your friends, or do yoga exercises on a SUP board!
If you're a yogi, there's no better way to engage your core than SUP yoga! All your senses will be stimulated while enjoying the natural splendor of floating on water. This will no doubt bring a whole new level of fun and challenge to your regular yoga practice!
4| It brings you closer to nature
How does paddleboarding with turtles sound to you? In Maui, this is not a dream. On my tour with Brittany, we paddled amongst some beautiful marine life and coral reefs. As we got close to the lava rocks off the shore, we spotted a few Hawai'ian green sea turtles peeking out of the water. During whale-watching season, it's not uncommon for humpback whales to make an appearance!
5| It offers a sense of tranquility
Gliding across the water, you will get a chance to fully immerse yourself in nature. No thoughts, no distractions, only presence. A sense of serenity and freedom takes over your mind and body. For once, you can get in touch with your inner zen and it is liberating!
---
There are so many good reasons to try paddleboarding – it is fun, easy, scenic and a great way to work the muscles! When you plan your next Maui vacation, give SUP a shot. Who knows, you might find a new passion in life!