This site uses affiliate links and we may earn a small commission when you use our links and make a purchase without incurring additional fee yourself. Many thanks for supporting this website. Please see our disclosure page for more details.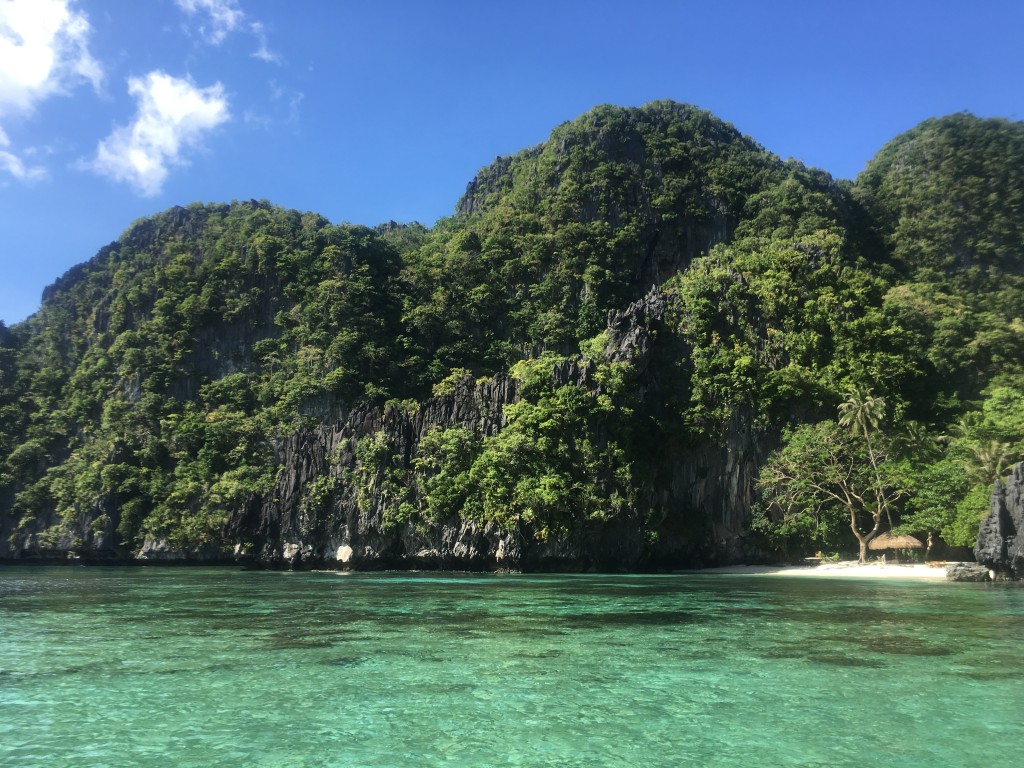 Palawan, often called 'the last frontier' of marine biodiversity, is one of the most popular destinations in Philippines. In 2013, the island of Palawan had been officially awarded by Travel + Leisure Magazine as the "Overall Top Island" and "Top Island in Asia". No matter you are backpackers, honeymooners, or divers, you've got to visit there! 
If you're still unsure, check out my post on the reason I chose it as my honeymoon destination and you'll be booking air tickets before you know it.
2 days after our wedding in Taiwan, we found ourselves in slumber mode at Taoyuan International Airport, catching a red-eye flight to Manila. Though we wished we would look fresh as a daisy, it was the best option we'd got as there are currently very limited flights available connecting Taipei and Palawan. That's why although Palawan is just 3.5 hours away, we were stuck on a 5-hour long layover at Manila and only able to land at Palawan's Puerto Princesa International Airport after nearly 9 hours!!
Let's step back for a moment and take a look at the map.
You might also like: 7 Day Palawan Itinerary
Where exactly is Philippines located in relation to Taiwan? And where is Palawan situated?
The Philippines lies south of Taiwan in the western Pacific Ocean. It consists of 7,107 islands, of which only about 2,000 are inhabited. Palawan is an island province of the Philippines located southwest of Manila (the capital city of the Philippines). Puerto Princesa is the capital of Palawan.
Many people has the preconceived notion that Philippines is dangerous, but if you know where to avoid, you have nothing to worry about. Remember – stay away from southern Sulu Sea region including the southern tip of Palawan and the island of Mindanao. Those places in close proximity to Sabah, Malaysia are believed to be prone to pirate and terrorist attacks.
Where is the best place for currency exchange and buying tourist SIM card?
We were told by our travel agent that Manila International Airport is our best bet. Once we cleared the customs, we saw a few booths set up by mobile service providers as well as money exchange services at the arrival area.
The exchange rates were practically identical between the different banks. Make sure you calculate your budget beforehand and exchange all into the Philippine Peso. At Palawan, it won't be very easy to locate a bank on the fly.
As a foreigner, we were able to obtain a free prepaid SIM card by presenting our foreign passport. However, it was only free for the SIM card. We still needed to top-up to connect to Wi-Fi networks or make phone calls. P$600 got us access to 15-day unlimited data, call and text. That's good enough.
What airlines offer flights to Palawan?
Air Asia, Cebu Pacific and Philippine Airlines all offer flights from Manila to Puerto Princesa. Our travel agency booked us flights through Cebu Pacific, a Philippine-based low-cost airline, for our Taipei-Manila-Puerto Princesa trip. The crew members were energetic and lively. They even played popular pop songs as the in-flight background music ? (Warning: Delays are prone to happen on Air Asia flights. Please reconsider if you're on a tight schedule).
Cebu Pacific uses small aircrafts for domestic flights. Upon boarding time, we queued up at the gate, waiting to board the bus that brought us to the aircraft.
The plane ride from Manila to Palawan was a short one. The best part was enjoying the awe-inspiring view out the window at take-off and landing!
[easy-image-collage id=3624]
It was nearly 9:30 AM when we arrived at Puerto Princesa International Airport. As an 'international hub' for Palawan, it is considered relatively small. On the plus side, it is super quick and easy to get in and out and claim your baggages.
First thing first – we met up with our tour guide, Eric, and local driver as soon as we landed. We checked in at our hotel, grabbed breakfast, then started the first day of our honeymoon in Palawan with city tour.
Puerto Princesa City Tour Main Attractions
Immaculate Conception Cathedral: Painted in pastel blue, the catholic church was built during the Spanish colonization around 1872, then later developed into a cathedral in 1961. Eric explained to us that the majority of the population adheres to Roman Catholicism, which strictly prohibits abortion. Poverty is prevalent in Palawan, making birth control unaffordable and unprotected sex a common practice. When teenage boys realize they've knocked up their girlfriends, they usually run away from the responsibility. That's why there are many young single mothers in Palawan. [easy-image-collage id=3633]

 

[easy-image-collage id=3634]

Plaza Cuartel: Across from Immaculate Conception Cathedral, Plaza Cuartel documented another chapter of the Palawan history. As a military fort during WWII, this ruin was where Japanese soldiers imprisoned 154 Americans. These unfortunate prisoners were caged in the underground bunkers, poured petroleum over and burned alive. Only 11 prisoners managed to escape the horrible massacre by swimming their way out to Iwahig. The bronze markers listed the name of the 11 survivors and 143 victims.[easy-image-collage id=3638]
Palawan Butterfly Ecological Garden and Tribal Village: The garden showcases different species of fluttering butterflies and other insects, but what's special about this place is the tribal village.[easy-image-collage id=3642]

Palawan is home to several indigenous groups, who live in remote villages in the mountains and coastal areas. The owner of the Butterfly Garden invites different tribal families to come to the city and share their culture and daily lives with tourists. They are friendly and truly simple. They live a nomadic, fishing and hunter-gather lifestyle. At our visit, they showed us their hunting weapons, their musical instruments, and their way of life. Even though they speak no Tagalog or English, there was translator onsite to help us communicate.

[easy-image-collage id=3649]

By showcasing their culture, they are able to get extra income from tips and shares in entrance fee. Very informative and inspiring! Of course, the tribal people still go back to their home in the mountains after a few weeks, rotating with other tribal groups. 

Baker's Hill: Started as a simple bakery, this place has turned into a theme park. You can call it the Filipino version of Disneyland. There's no doubt you will find Snow White, Shrek and other widely known fairytale/cartoon characters here. In addition, there are also the baker's kitchen, pizza house, mini zoo, souvenir shop, view deck, etc.[easy-image-collage id=3660]

Best known for its pastries, you've got to stop by the bakery and try its best selling hopia! Or be extra-adventurous like us and try a random pastry products!

[easy-image-collage id=3661]

Listen to the jakebox playing and enjoy an unforgettable romantic meal at the restaurant. If you don't like exotic food, that's okay. They serve popular western dishes as well!

Palawan Wildlife Rescue & Conservation Center: In short, it is a crocodile farm, breeding hundreds of crocs from young hatchlings to gape-jawed behemoths. Guided tours start every 30 minutes. Aside from crocodiles, the center also houses other animals that are endemic to the island of Palawan like the bearcat.[easy-image-collage id=3671]
What is Puerto Princesa like?
Puerto Princesa is an extremely small, underdeveloped city, with only a handful of primary roads. The roads are dusty and congested with traffic. We barely saw any traffic lights (only exist at super busy conjunctions). Big tourist buses are nowhere to be found. Foreigners typically hire local van drivers to travel to different places, or alternatively, ride the 'trikes' (equivalent to taxis).
People in Palawan are welcoming, charming and super friendly to foreigners. Most of them speak English and Tagalog. As I mentioned earlier, poverty is prevalent there. Many families live in bamboo huts with no access to electricity and water supply. Can you believe that some of them have to walk for hours to collect clean water? The city has only 12 hours worth of electricity on a daily basis from 6 pm to 6 am. Most hotels and resorts have their own power and water supply.
Whew! That concludes our first day in Palawan. What a jam-packed day of activities! Next week, we will explore popular island-hopping sites in the Honda Bay. Excited!