This site uses affiliate links and we may earn a small commission when you use our links and make a purchase without incurring additional fee yourself. Many thanks for supporting this website. Please see our disclosure page for more details.
Continued on our honeymoon vacation, we kissed goodbye to the morning sunshine at Apulit and made our way back to the Taytay port. Our destination today was Miniloc Island, which is all the way on the opposite side of Palawan, in the Bacuit Bay.
Back at Taytay port, a private van was already standing by, getting ready to take us on a 2-hour road trip. We used that time to catch up on some sleep ?
Once we arrived on the northwest coast of Palawan, we worked our way through the El Nido Airport (also known as Lio Airport) and took a short break at the designated waiting area for El Nido Resorts.
Similar to the one at Taytay port, the waiting area at El Nido Airport had light refreshments prepared for the resort guests. The outdoor land was covered in greenery. A sign was erected on one side, outlining the Ten El Nidos by which every single visitor should abide, just like the Ten Commandments for Christians. Fundamentally, it reminds us of being environmentally friendly – "take nothing but photographs, leave nothing but footprints, bring nothing but memories, kill nothing but time".
When time was up, we hopped onto a bus heading towards the port. This time round, it only took us 20 mins to reach Miniloc Island! Woohoo~
Miniloc Island Resort
Situated at the heart of Bacuit Bay, Miniloc Island is an ideal location for family and friends to relax and unwind.
Featuring a total of 50 garden, cliff and water cottages, the island offers a variety of nature-based activities, including kayaking around the island, snorkeling at the house reef, swimming with the silver jacks, or scuba diving at 20+ diving sites, all easily accessible from Miniloc Island!
The wealth of activities you can do on this island really makes it one of the most unique hotels around the world.
Stepping onto the wooden docking area, we were immediately standing in awe with a wonderful view of the fascinating house reefs, enchanting white sandy beach, and the impressive limestone cliffs.
At the reception area, the staff warmly welcomed us with a song sung in local dialect, a glass of refreshing buko pandan juice (sweet coconut with gelatin cubes), and bamboo crafts.
Before checking in to our room, the guest activity coordinator approached us and booked us some activities for the next day. Most of them are complimentary so might as well take advantage of it!
When everything was settled, the housekeeping staff led us to garden cottage, just few steps away from the beach. (Originally, I wanted a water cottage. Unfortunately, all 7 of them were booked up so we compromised to a garden cottage).
With a 3-person capacity, the room was extremely spacious for the 2 of us. We appreciated the extra single bed, which we ended up using it as a place to put our carryons.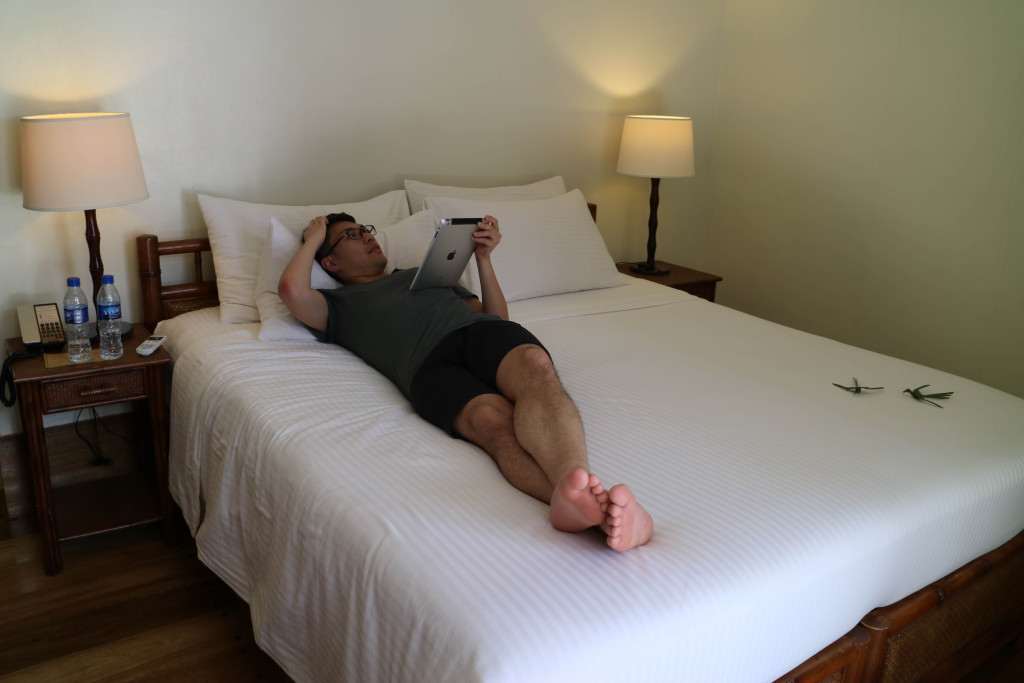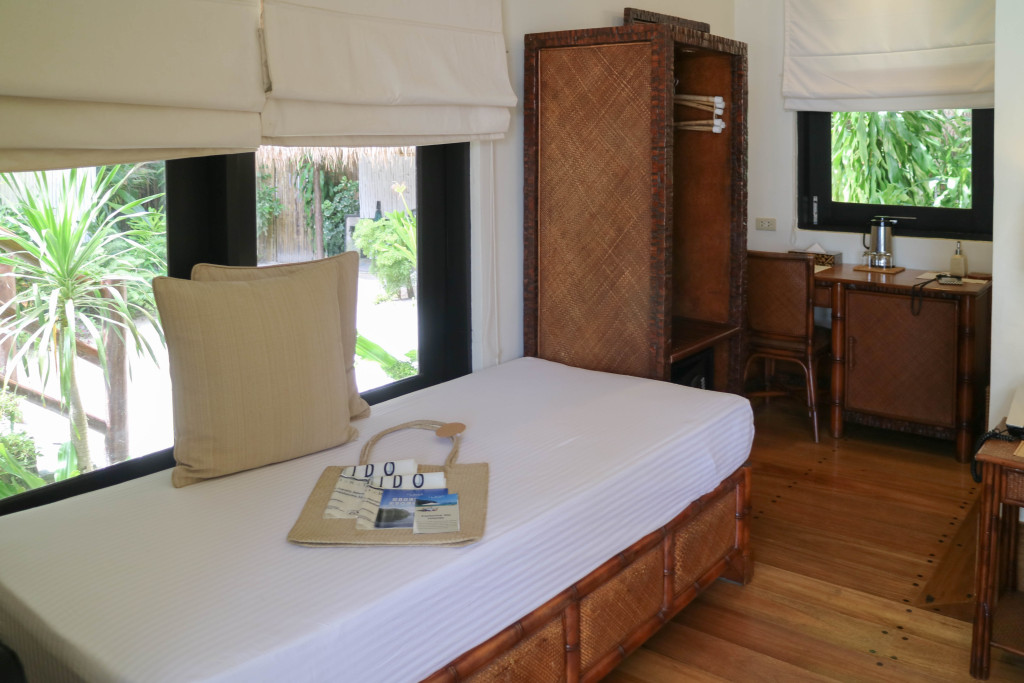 The bathroom was much larger than the one in water cottages- it even echoed!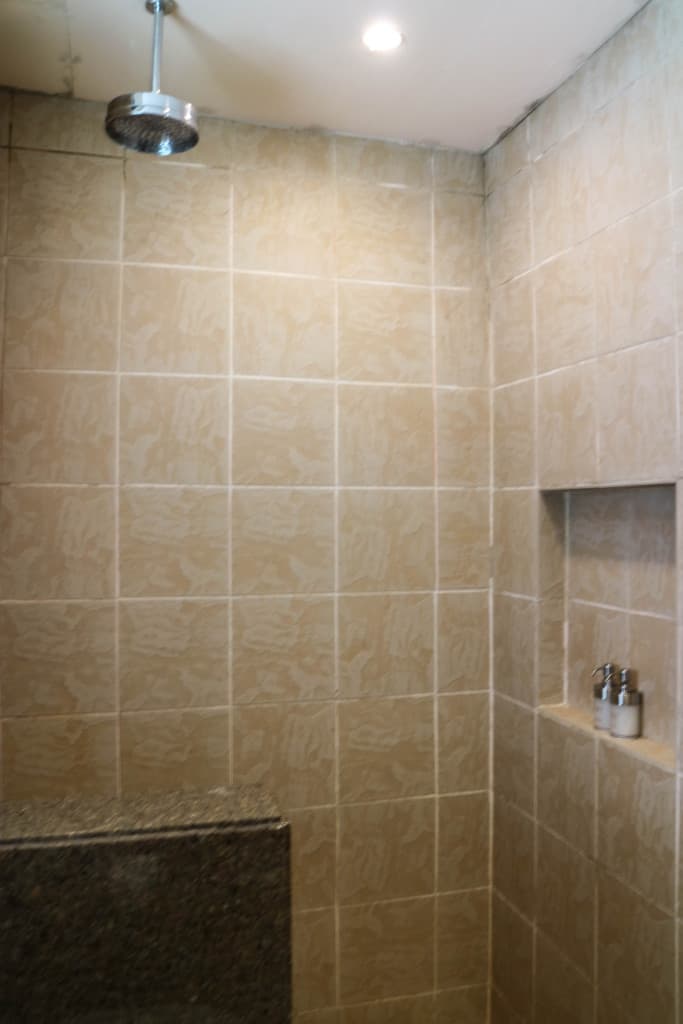 We had not much complaints, except that the room was extremely noisy when our upstair neighbour had a kid who couldn't stop stomping around. We had to call housekeeping several times to help resolve the issue. Also, you could tell the resort was much more older than Apulit that impending maintenance is much needed.
At the resort, several facilities are at your disposal: the bar, recreation center, beach, spa treatment room, restaurant, and….
drinking water station! Fresh water is a valuable resource here, but thankfully we didn't have to pay extra just to keep ourselves hydrated. Simply bring empty water bottles to refill here at any time!
Restaurant at Miniloc Island
This is where we took care of our breakfast, lunch, and dinner – all prepared in buffet style with both Asian and western dishes. Compared to Apulit Island, it was obvious that Miniloc was more crowded. It especially appeals to families with small children and elderly.
Spa Treatments at Miniloc
There was a variety of Asian, European and tropical face & body treatments from which we could choose. Normally, the treatments are offered in the Spa Treatment Room, but since I booked a 2.5 hrs body relieve package (P$3300) that required access to shower, we had the service at our room instead.
Big & Small Lagoon
One of the most beautiful spots in El Nido must be the Big Lagoon for its deep emerald waters that is frequented by sea turtles. Located literally just around the corner, many visitors snorkeled at the mouth of the big lagoon to explore the rich and unspoiled coral reefs.
To enter the Big Lagoon, the guide took us on a boat ride, slowly cruising into the shallow body of water. On the way, we spotted some marine life like jellyfish and stingrays in the water!
To see the beauty of Small Lagoon, you need to be physically active (just a little). When we arrived at the amazing turquoise-green, shallow water bay, the boatman suddenly parked the boat and the guide hurried us to transport onto a kayak in groups of 2.
Kev and I paddled and found the small crack between the rocks that would bring us into the secluded sanctuary of Small Lagoon along with the tidal streams.
Ta-dah!! With the great help of Kev, we made our way through! The Small Lagoon is enclosed by towering marble walls. As we continued paddling to the innermost part of the lagoon, we found ourselves surrounded by MONKEYS! ???? Don't fret- they don't attack ?
If you come prepared, you can snorkel and explore the water-filled cave at the back of the small lagoon. Since we left our snorkeling gears on the boat, we just enjoyed our relaxing kayak trip.
Cudugnon Cave & Snake Island
Another exciting attraction in El Nido is the Cudugnon Cave.
To get into the cave, we had to crawl through the slippery opening. Be careful of your head and feet, don't injure ourselves. As a precaution, rubber closed-toe shoes are recommended.
The Cudugnon Cave is composed of eerily beautiful stalactites and stalagmites along with elevated cavernous ceilings. The crevices of the roof used to be inhabited by barn swallows and insectivorous bats. However, as the site became increasingly popular, the frequent visits by humans drove the animals away.
Another interesting fact about the cave is that – it is an important archeological site for evidences of Neolithic burials and believed to be burial sites before. Archaeologists have discovered bones and artifacts there before.
Not too far away is the Vigan Island (more commonly known as Snake Island). Famous for its natural sand spit, an s-shaped sand formation that is clearly visible at low tide. A short 5-min hike up to the top of the island leads to a view-deck, yielding a fabulous view of the entire bay!
Entalula Beach Club
To get away from the overcrowded beach at Miniloc, we took a trip to Entatula island, a private beach where many residents from Miniloc Island can reserve for a private lunch.
Fine white sand. Blue waters. Coconut trees. Rugged cliffs. Having the whole island all to yourselves? It should not be missed!
Enjoyed a El Nido style pinic lunch on the beach was an utterly wonderful experience.
With a portfolio of unique hotels under its umbrella, El Nido Resorts markets Miniloc as an eco-discovery island, I can see why.
The greatest pleasure of our stay lied not in spending our entire time at resorts, but in exploring the gorgeous nature around in. Participate in the activities and get involved. You will be constantly amazed by what the mother nature has to show.
About El Nido Resorts – Miniloc Island
Website: http://www.elnidoresorts.com/miniloc-island/
Social Media: Facebook / Twitter / Instagram