This site uses affiliate links and we may earn a small commission when you use our links and make a purchase without incurring additional fee yourself. Many thanks for supporting this website. Please see our disclosure page for more details.
Good news! I'm giving out free pizza passes. Details below.
Ever have a hankering for pizzas but worried about all that calories? Wish to have all your favourite toppings on one pizza without thinking about the price? Good news to you! Blaze Pizza just opened its first location in Northeast Calgary last week, bringing artisanal pizzas that are both fast and affordable to pizza lovers in the city.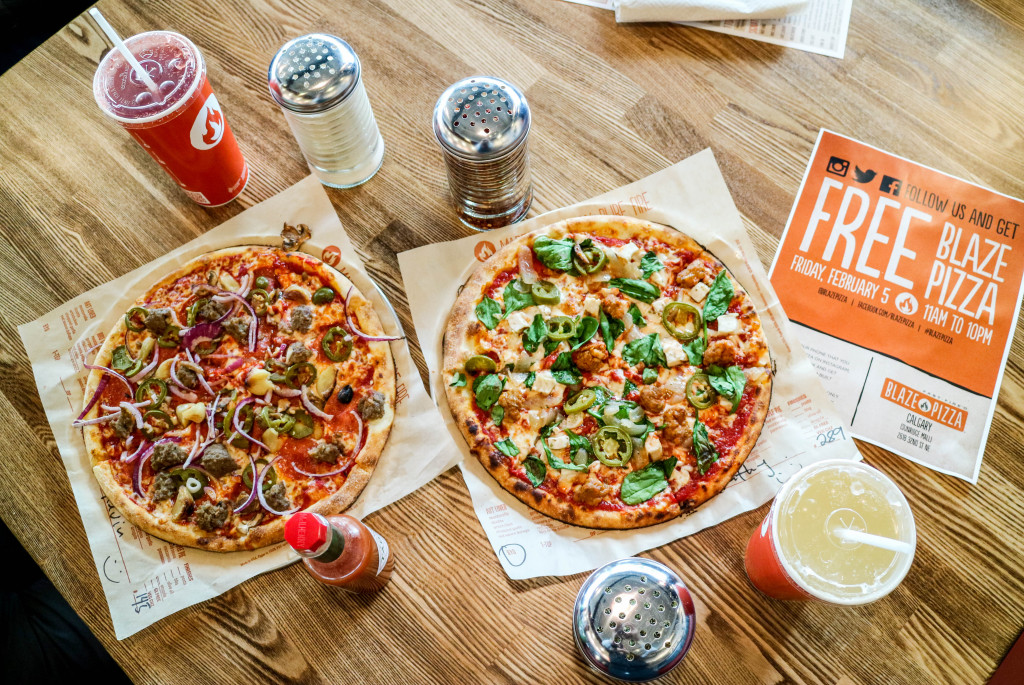 Originally from Irvine, California, Blaze Pizza quickly expanded across the country under the model that centers around chef-driven menu, customer-focused service, and fast-casual concept.
Following the opening of its Toronto location, Calgary became the second city in Canada where Blaze marked its territory. An even more exciting news – the second Calgary location will open its door in the Southwest this coming July. People living in the south will no longer need to travel far for good pizzas!
So… what's so unique about Blaze Pizza?
Besides its casual hip atmosphere, what I loved most is its interactive open-kitchen format which gave me a chance to customize a signature pizza or build my own, all at one price ($10.45).
After I chose my base sauce, cheese, meats, veggies and finishes, the pizza was immediately sent to the blazing hot open-flame oven, where the pizzasmith took care of the cooking process and ensured the pizza would be ready in 3 mins.
Of course, if you feel lazy, just pick a signature pizza from the menu and let the staff take care of the rest!
How did the pizzas taste?
Kev and I ordered a pizza each – a meat eater and a customized pizza. The awesomely thin, crispy crust really hit the spot. Above all, it held up under the pressure of all that toppings. Even though Blaze is a pizza joint, the restaurant prepares the pizza dough from scratch everyday and let it ferment for 24 hours.
Blaze Pizza sells the personal pizza as a meal for one, but the actual serving size is a "medium"- enough to feed 2 persons. You no longer need to pay extra for extra extra ingredients. The restaurant serves up a generous portion of ingredients that deliver both quality and taste. Everything is so fresh and you can taste it.
What else is on the menu?
For weight watchers, you have the option of eating light by ordering the salads. All items on their menu have a calorie count next to it. By the end of the meal, you will know exactly how much you have consumed.
Craving for something sweet? Try the s'more pie ($3 each). Melted chocolate and toasted marshmallow sandwiched between digestive biscuits – this decadent dessert will sure bring back your childhood campfire memories!
The store carries gluten-free dough and vegan cheese to accommodate those who have dietary restrictions.
Conclusion
Thin crusts with blistered rims carry superfresh topping combos. Blaze is a little slice of heaven. The one-of-a-kind, interactive experience really sets Blaze apart from the current competition. After all, who could say 'no' to fast, fresh, affordable pizzas?
Disclaimer: I was formally invited by Blaze Pizza for the grand opening at their Calgary location. The meal was paid for by Blaze Pizza. All opinions are my own and I tried my best to highlight the goods and bads. All photos are my own. 
---
Alright, now it's time for GIVEAWAYS!
Until Feb 21st, you have a chance to win a free pizza pass to Blaze Pizza!
Here's how it works:
Comment below ? and tell me your favorite pizza toppings combo; and
Subscribe to For Two, Please. To do so, enter your email address over at the sidebar ?
I will choose one lucky winner on Feb 22nd!
Bonus: I am running the same contest on my Facebook page. To increase your chance of winning, go on to my FB page and enter the contest (rules are outlined on the post). One FB fan will be chosen for a free pizza pass!
Restrictions: The pass can only be used in the Calgary location. Only applies to in-store orders. Expires on June 30th.