This site uses affiliate links and we may earn a small commission when you use our links and make a purchase without incurring additional fee yourself. Many thanks for supporting this website. Please see our disclosure page for more details.
Set foot on the Calgary market in 2015, Pampa is a prix-fixe, all-you-can-eat restaurant that focuses on bringing authentic, traditional Brazilian barbeque to the table. Over the last 2 weeks, Kev and I had the opportunity to dine at Pampa TWO times, sampling their lunch menu and learning about the history of churrasco (Brazilian barbeque).
I know, that's A LOT of meat over such a short period, but we were glad to have met the owner, Oscar Lopez, and Chef Joao Dachery who introduced us to some of the most classic Brazilian food/drinks and surprised us with a truly authentic Brazilian experience.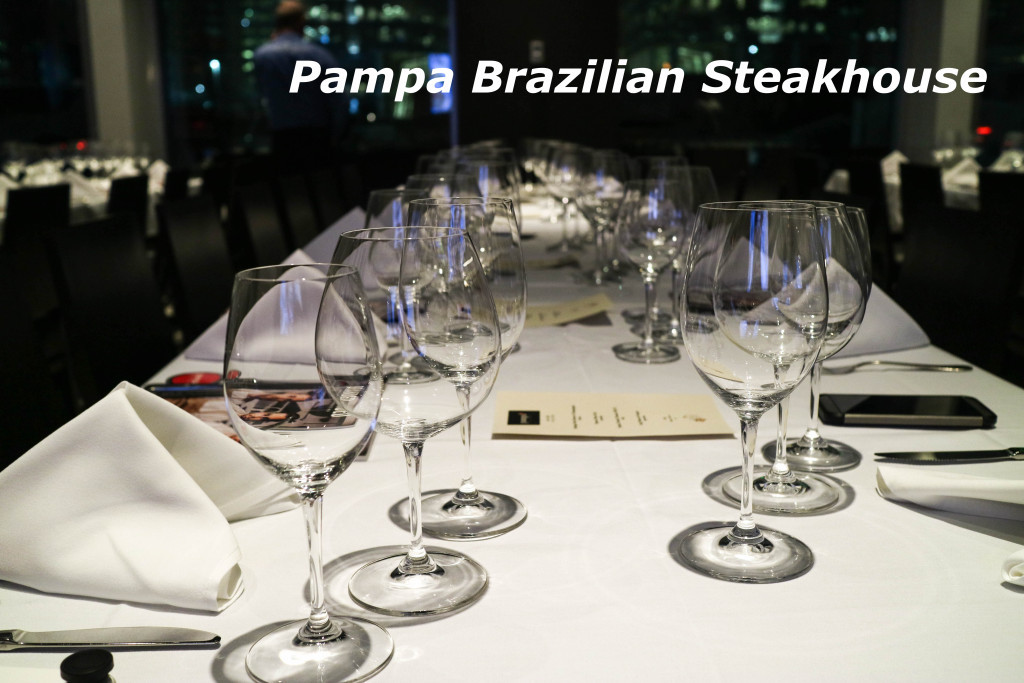 A Little History Behind Brazilian Barbeque – The Gaúchos
Speaking of Brazilian barbeque, the first thing we needed to familiarize with is the "gaúchos," which refers to South American cattleman (almost like the North American cowboys). They are inhabitants of the Brazilian State of Rio Grande do Sul, where Brazilian barbeque originated. In fact, the name "Pampa" refers to the prairies region in Brazil.
The Restaurant
Eschewing rustic, gritty, old cowboy style, the restaurant captures cosmopolitan elegance with rich red accents and dark wood furniture.
Enthusiastic wine drinks will be amazed by their wine room where an exhaustive collection of wines is displayed floor to ceiling behind glass.
Rodizio-Style Service
Pampa is meat-eater's paradise – offering limitless servings of charcoal-grilled meats (6 different cuts for lunch, 11 for dinner) which the gaúcho chefs brought directly to the table and carved fresh from the skewers.
A little tip here: eat as soon as the meats are carved and served. Don't let those juices sit on the plate and waste away.
We sampled all 6 different cuts of meat offered at lunch time, including top sirloin, turkey tail, pork sausage, parmesan pork loin, chicken drumsticks, and our favourite, the rump steak. The picanha (rump steak) has a beautiful layer of fat, which lends the meat flavor and juiciness. Since this specific cut of beef is not a muscle, it remains extremely tender.
[easy-image-collage id=4086]
The red meats are seasoned only with sea salt to magnify the stunning natural flavour. To further enhance the flavours of meat, farofa (toasted cassava flour mixture with crispy, nutty flavor) and the incredibly robust, garlicky, herby chumichurri serve as excellent condiments.
At Pampa, there's no need to worry about what to eat. The only question you really need to ask yourselves is "how much can I eat?" The discs on the table are double-sided and can be used to signal to the gaúchos if you want more meat (green) or take a break from the service (red).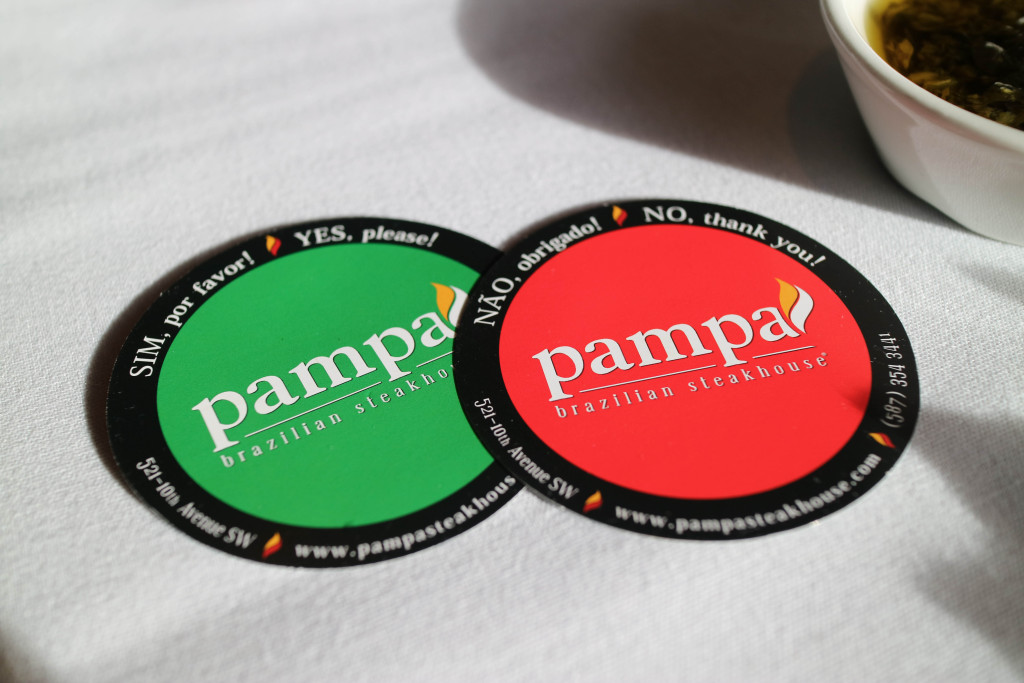 A Little History Behind Brazilian Barbeque – How The Meat Was Cooked
Historically, gaúchos cooked the meats over coals, usually in a pit dug in the ground, skewered on large wooden or metal spits. The only seasoning being coarse salt.
Recreating that traditional Brazilian experience, Pampa seasons the meats with sea salt then roasts them with the embers of charcoal. Diners can see the meats being prepared at the open-concept charcoal grill.
Dinner Event with It's Date Night
During the dinner event hosted by It's Date Night, we savoured 3 outstanding dishes, each featuring a specific cut of meat with the perfect wine-pairing.
To start off, the appetizing Brazilian cheese bread, pao de queigi, was extremely addicting. Made with cassava flour, canola oil, milk and plenty of cheese, the bread results with a pleasantly crispy exterior and amazingly soft, chewy interior.
Coated in parmesan cheese, the delicious porkloin melt in the mouth, a little bit sweet, a little bit salty. Together with the delicately sweet béchamel sauce, caramelized pineapple and honey balsamic reduction, it's the most heavenly taste ever!  Paired wonderfully with the strongly acidic, cinnamon-flavoured Opawa Pinot Gris from Australia.
What's better than the smell of bacon? Bacon-wrapped chicken thigh! Served with Brazilian-style potato salad, watermelon pickles, and charcoal-roasted beets, the dish was almost impossible to beat. The Italian Volpaia Chianti Classico DOCG is a great match, offering low tannin, cherry notes and a tad bit of earthiness.
As mentioned earlier, the picanha triggered the taste buds with its wonderful taste. Combining with farofa and chimichurri – it's goddamn unbeatable! Blended well with the intense and velvety Luigi Bosca de Sangre from Argentina.
Dessert & Drinks
The only items that are not included in the prix fixe menus are desserts and drinks. If you think you will never have room for desserts, give it a second thought as the staff brings out plastic models to represent each of the delicious treats.
Pampa's papaya & cassis liqueur ($12), a popular desserts in Brazil, did not disappoint. Blended together vanilla ice cream and fresh papaya in a martini glass, then finished with crème de cassis liqueur, the end result was wonderfully refreshing!
Want something stronger to sip on? Then you can't miss out on the Brazilian national cocktails, caipirinha! While the classic recipe calls for cachaça, sugar, lime and ice, Chef Joao presents creative variations with seasonal, fresh fruit flavors. For the demo, we only tried 3 of the creations (starfruit, kiwi and chili). Now all 12 amazing flavours are available in house!
Conclusion
High quality meats. Courteous staff. Efficient service. Needless to say, Pampa has officially become the spot to satisfy our guilty pleasure. Not a carnivore? Opt for the salad bar instead, where an extensive selection of healthy food options is stocked with the freshest ingredients.